UEE, Choi Woo-shik headline tvN romance drama Ho-gu's Love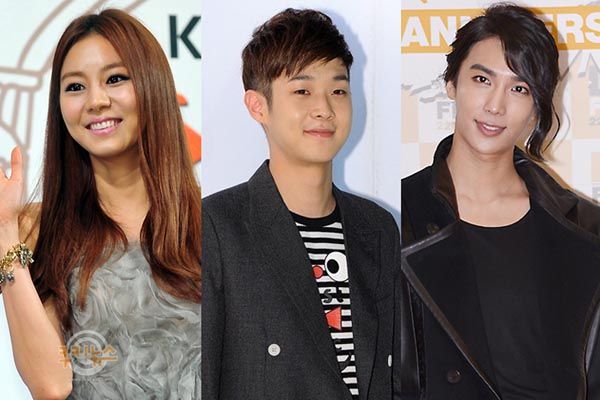 A new tvN drama has just announced its lineup and secured a slot on the scehdule: Based on a webtoon of the same name, the drama is titled Ho-gu's Love (it can also be translated Fool's Love, but dramaland loves its punny titles).
Ho-gu's Love will be headlined by UEE (Gold Rainbow, Jeon Woo-chi) and baby-faced Choi Woo-shik (Fated To Love You, Rooftop Prince) in his first leading role, playing the title character Ho-gu. The character is in his seventh year of attempting to pass the civil service exam, and somehow ends up looking after an unidentified child.
UEE will play "swimming goddess" and national team member Do-hee, while Park Jung-min (formerly of idol group SS501) will play love interest to Ho-gu's fraternal twin sister Ho-kyung, who has yet to be cast.
I like the leads well enough, but I'm more interested in this drama's producers, who were last teamed together on tvN's bubbly rom-com Flower Boy Ramyun Shop — that show was fizzy and adorable, and if they can produce something along those lines, I'd be very happy. Other credits on their respective resumés: PD Pyo Min-soo worked on IRIS 2, You've Fallen For Me, Coffee House, The World They Live In, and Full House, while writer Yoon Nan-joong also wrote Queen of the Office and several Drama Specials including The Great Gye Choon-bin.
Furthermore, the creator of the original webtoon for Ho-gu's Love, Yoo Hyun-sook, was also the artist/creator of the webtoon that was turned into Flower Boy Next Door, which was another sweet romance that aired on tvN. And if I can't get another Ramyun Shop, I'd love another Flower Boy Next Door instead. Either/or. I won't be picky!
Ho-gu's Love is set to follow Monday-Tuesday drama Valid Love and premieres in February.
Via TV Daily
RELATED POSTS
Tags: Choi Woo-shik, UEE