Kill Me, Heal Me: Episode 7
With Do-hyun in more danger than ever, Ri-jin has to figure out what lengths she's willing to go to protect him. Do-hyun's enemies are all around, even inside his mind—what difference can a lone psychologist-in-training really make? That question haunts Ri-jin as she comes to face her most difficult decision yet.

EPISODE 7 RECAP
We back up a little to fill in some of the gaps before last week's cliffhanger (so to speak). Chief Ahn looks through a display case of Omega-3 murder mysteries at a bookstore, as part of his search for the elusive author.
Who else should sidle up next to him but Ri-on, the Omega writer himself. He greets Chief Ahn and observes impishly that the author of Omega-3 is supposed to be very handsome, I mean really handsome, like Won Bin level. Pfft. Chief Ahn didn't think anyone had ever seen the author's face, but Ri-on replies that he's only repeating the rumors.
While heading back to the company Chief Ahn runs into Grandma Seo, who tells him to get into her car. She has noticed that something is off about Do-hyun, and is searching for answers. Chief Ahn sees Do-hyun walking away from the company, and although it seems strange he can't get out of the car without rousing Grandma Seo's suspicions.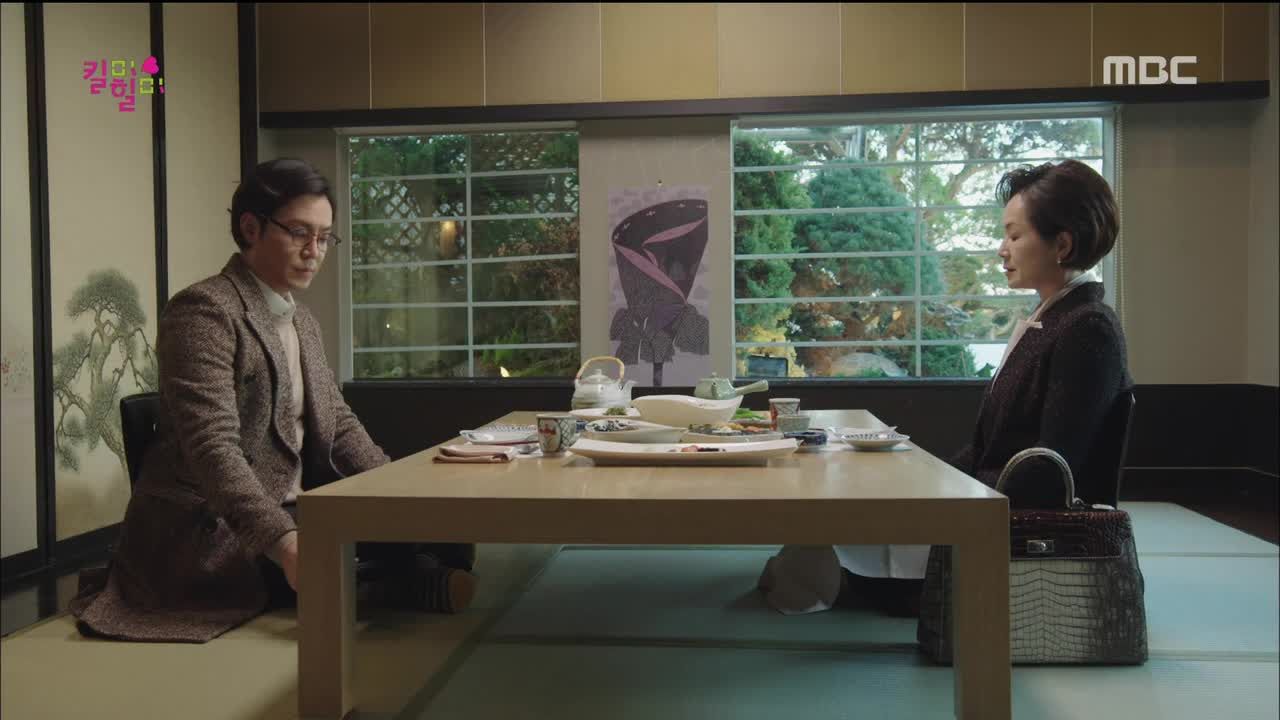 This brings us to Yo-sub arriving at the rooftop, and the challenge to find him in one hour that ended last week's episode. Ri-jin tries to call Chief Ahn, but he cannot answer as he is still being interrogated by Grandma Seo.
Step by step, Grandma Seo lays out the things that made her suspicious. She knows Do-hyun's problem can't be anything as simple as a hidden woman somewhere, because he practically exiled himself to America when he was only fifteen. There must be a reason he never came back, not even when his mother called him, and that reason is probably connected with why he is determined to return to America in three months. "What secret is he hiding from me?" demands Grandma Seo.
When Chief Ahn doesn't pick up the phone, Ri-jin calls Dr. Seok for advice. She learns that aside from having suicidal tendencies, Yo-sub is seventeen, a painter who hates anything ugly, and has a near genius-level intellect. When Ri-jin relays Yo-sub's words about the sky becoming his grave, Dr. Seok realizes that he must be on a rooftop somewhere.
They know he won't be at the company, because there are too many people and CCTVs for him to be able to wait for an hour without anyone noticing. Ri-jin sees a skyscraper in the distance that gives her an idea, and she ends her call with Dr. Seok. "I'm taking chances—I'm either right or wrong. I have to at least try."
Chief Ahn prepares to tell Grandma Seo the answers to her questions, but it turns out that she's not interested. "I don't care what he's hiding, or what secrets he has," she declares. She only wants Chief Ahn to make sure Ki-joon's father doesn't figure out the secret and use it to gain power. "Until my son comes back," she says, "that child must be protected." And what happens after that, I wonder?
Ri-jin sees a craft store, which triggers her memory of the sound of Yo-sub's spray bottle over the phone. She recreates the scene in her mind, watching Yo-sub purchase art supplies and then head across the street to a building that is conveniently closed for remodeling.
After painting all seven personalities as his dying message, Yo-sub waits on the rooftop of the building. He checks his watch and sees that the hour is up.
Rising to his feet, he advances to the edge and balances on one foot. He leans forward, arms spread to the sky. "NO!" Ri-jin's shout makes him freeze, and Yo-sub turns away from the ledge.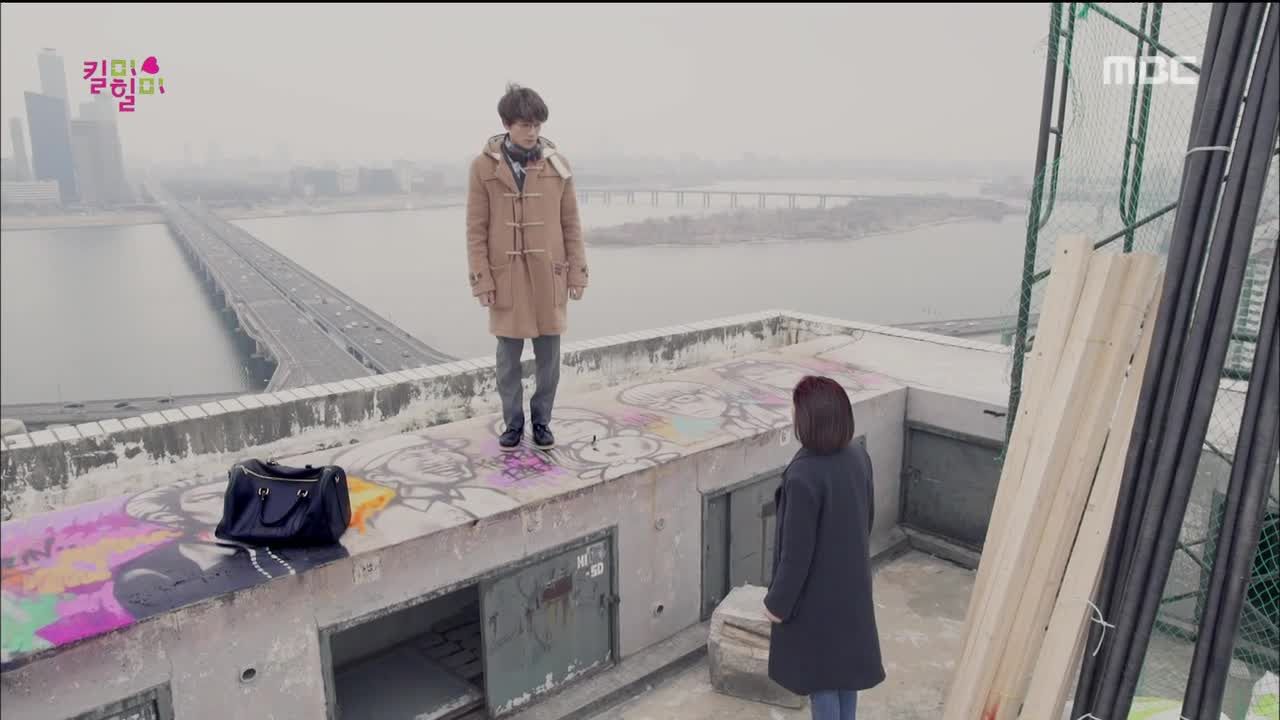 Ri-jin confronts Yo-sub, telling him he doesn't have the right to die when he pleases, since he shares the body. Yo-sub believes he's only doing what the others don't have the courage to do. He's tired of living this way, as a mutant, never knowing which personality will control the body next.
Ri-jin" "Everyone has several people living inside of them. There's the me who wants to live, and the me who wants to die. I live every day fighting against the me who just wants to give up. You don't even have the courage to fight!"
"Come down," Ri-jin says, holding out her hand. But Yo-sub holds up two fingers, since she was two minutes late in finding him. "If you wanted to save us," he tells her, "you shouldn't have been late."
Ri-jin grabs at Yo-sub's leg, but he shakes her off. She crashes into bundles of poles, which land on her head and inflict a nasty gash. Yo-sub looks dismayed to see her hurt, but he turns to the ledge nevertheless. Shaking off the pain, Ri-jin climbs up next to him and throws him to the lower level of the roof.
As Yo-sub struggles, Ri-jin grabs him by the collar and starts to call Do-hyun by name. Heedless of the blood dripping from the gash on her forehead, she yells for Do-hyun to stop being scared and come out.
We see the real Do-hyun suspended in dark, murky water, representing how he is trapped and senseless inside his own mind. Then Ri-jin's voice echoes from somewhere far away, calling Do-hyun's name again and again. His fingers twitch; his eyes open.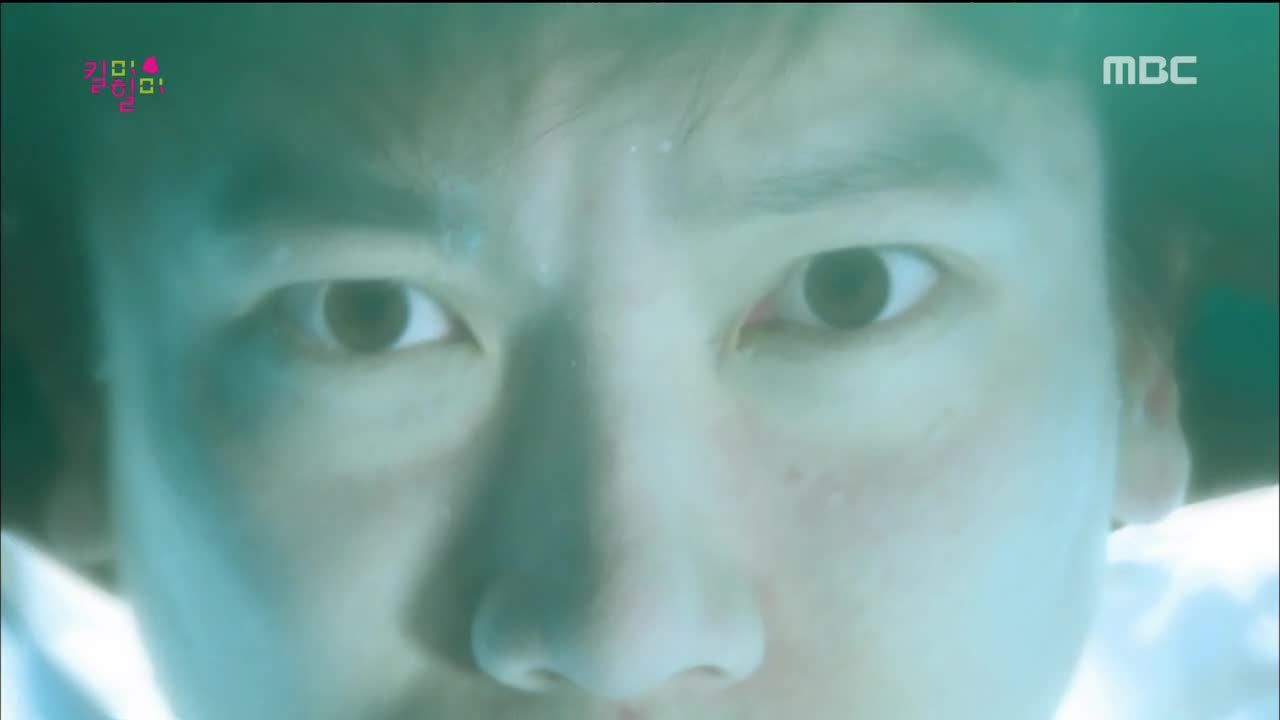 Do-hyun wakes up—the first thing he sees is Ri-jin's face, bloody and tear-stained, as she pleads with him to come to his senses. "I am Cha Do-hyun," he whispers. Ri-jin looks into his eyes, and what she sees there finally allows her to relax: "That's right," she confirms. "You really are Cha Do-hyun."
With the danger averted, all the emotions Ri-jin has been suppressing come welling up. She starts to cry, wailing that she thought Do-hyun was really going to die. He caresses her cheek, wiping away both blood and tears, and hugs her close.
Do-hyun doesn't say anything, but only holds Ri-jin as she cries. A few tears run down Do-hyun's face as well, and they cling to each other on the rooftop.
Back at the hospital, Ri-jin recovers while Do-hyun reports to Dr. Seok. The doctor asks Do-hyun not to pursue Ri-jin as his secret physician. She will be in danger the longer she stays near him, and she has the opportunity to study at Johns Hopkins and further her career. As if Do-hyun didn't already feel guilty enough, Dr. Seok points out that this is the second time Ri-jin has been in the emergency room because of him.
Do-hyun recalls how it felt to be drifting within his mind, when suddenly he could hear Ri-jin's voice calling to him. He admits to Dr. Seok that he wishes someone would call for him every time he loses himself. "Is that just my greed?" he asks. "Must I keep living like a monster?" Torn between his compassion for Do-hyun and his fear for Ri-jin, Dr. Seok has no answer for him.
Do-hyun sits on the hospital stairs, staring at his reflection. Ri-jin joins him, asking if he's looking at anyone in particular. "If you see Yo-sub," she says, "tell him I'm not letting him off easy next time I see him!" Tell it, sister.
Do-hyun replies with a seeming tangent—he says that everyone who ever found out his secret became rich, and then left him. As a child, he often wondered why people always wanted to get rich, and never wanted to play with him. But as he grew, he understood that they were only being smart; that people too close to him got hurt. "I thought I could pay you to stay by my side and not get emotionally attached," he admits to Ri-jin. "But now I'm not confident."
Do-hyun takes back his offer, asking Ri-jin to leave and not look back. "I'm not a beast who will turn into a handsome prince when the magic wears off," he says. "I'm just a monster." He leaves Ri-jin behind as he walks out of the hospital.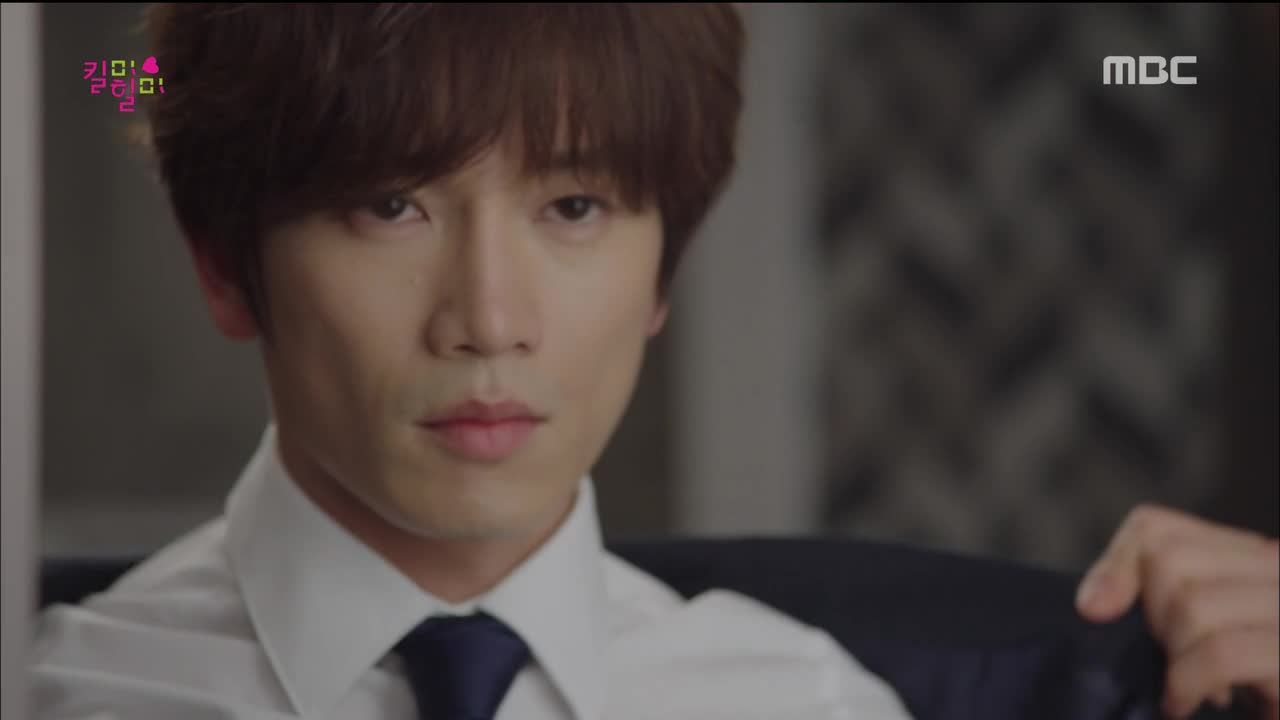 Do-hyun prepares for work alone, staring into his mirror. He receives a call from his mother, who asks him whether he still gets nightmares these days. She's still worried about the "I am Nana" message that Do-hyun scrawled in the wine cellar, though she doesn't mention that to him. Do-hyun claims that he doesn't get those nightmares any more, while remembering the dream in which an adult Ri-jin appeared before his child self.
Do-hyun's mother hangs up when her private investigator arrives. She orders him to look into Min Seo-yeon, the ex-chairman's first wife, in order to find her missing child. She makes him promise to maintain the utmost secrecy.
Ri-on meets with his editor, getting past the other employees by posing as the leader of Omega-3's fan club. The editor has read the new storyline and wants to know more. Ri-on is happy to oblige, presenting the story of his past as if it were the outline for a novel.
He was adopted as a child, but lost all memories of what happened before his adoption. One day he overheard his parents talking about his adoption. They mentioned a certain chaebol family, which first put Ri-on on the trail. As Ri-on lays out this tale before his eager editor, we see his mother searching his room, growing ever closer to the wooden board which hides his Wall of Stalkery. Mom slides the board aside, revealing… dirty pictures. Very classy, Ri-on.
Ri-on stops his story there, much to his editor's dismay. But his editor muses that Ri-on even went to America to cover this story, so he wonders if it's fiction or nonfiction. "We'll just have to wait and see," Ri-on replies.
Chief Ahn reports to Do-hyun about the Omega-3 writer. He believes that they may be able to approach the author through his fan club. Do-hyun asks Chief Ahn to think of ways to attract Omega-3's interest, then leaves for a blind date arranged by his grandmother.
Chae-yeon meets Ki-joon's parents for lunch, but Ki-joon himself does not show. Chae-yeon grows annoyed when he brushes her off, since she canceled her appointments to eat with his family.
From outside the dining room, Chae-yeon overhears Ki-joon's parents arguing about her and Ki-joon. His father thinks Ki-joon is busy finding a "weapon" he can use to take out Do-hyun, while his mother worries that if Ki-joon keeps treating his marriage lightly, Do-hyun might marry Myeongsun Group's second daughter and consolidate power more quickly. It's clear that, despite their disagreement, both parents see Chae-yeon only as a bundle of stock options.
Do-hyun spaces out during his blind date, looking at the snow through the window. His date calls him out, but then Chae-yeon swoops in with a major chip on her shoulder. She says that Do-hyun isn't nearly as innocent as he looks, since he's out dating even though he already has a doctor girlfriend.
She asks Do-hyun's date if he told her to run away from him too, and takes vicious pleasure in throwing Do-hyun's words back in his face about not stringing multiple people along.
Ri-jin meets Dr. Seok before leaving for Johns Hopkins. He says he was worried that she might not leave because of what happened with Yo-sub. As he shakes her hand, he reminds her that a doctor is not a savior—they can't save everyone, and it's dangerous to think they can.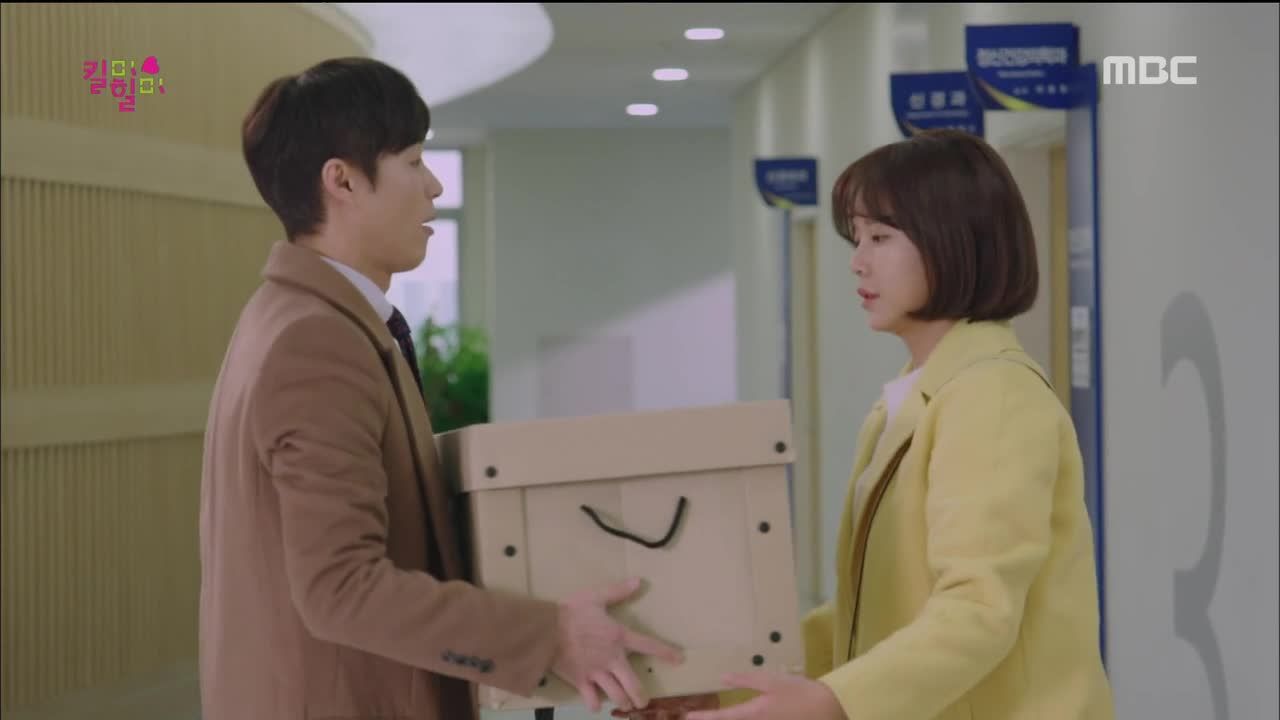 As Ri-jin carries her belongings out of the hospital, she runs into Ki-joon. He helps her gather everything up before heading to Dr. Seok's office. The doctor is tormented with thoughts of Do-hyun asking if he's condemned to live like a monster.
Ki-joon turns on the charm for Dr. Seok, claiming that Do-hyun recommended his skills. But Dr. Seok sees right away that Ki-joon only wants to figure out why Do-hyun needed to see a doctor in the first place.
Rebuffed by the loyal Dr. Seok, Ki-joon asks a receptionist about Oh Ri-jin, who is his other lead. He finds out that he missed her by minutes, and realizes that the woman he ran into in the hallway must have been Ri-jin.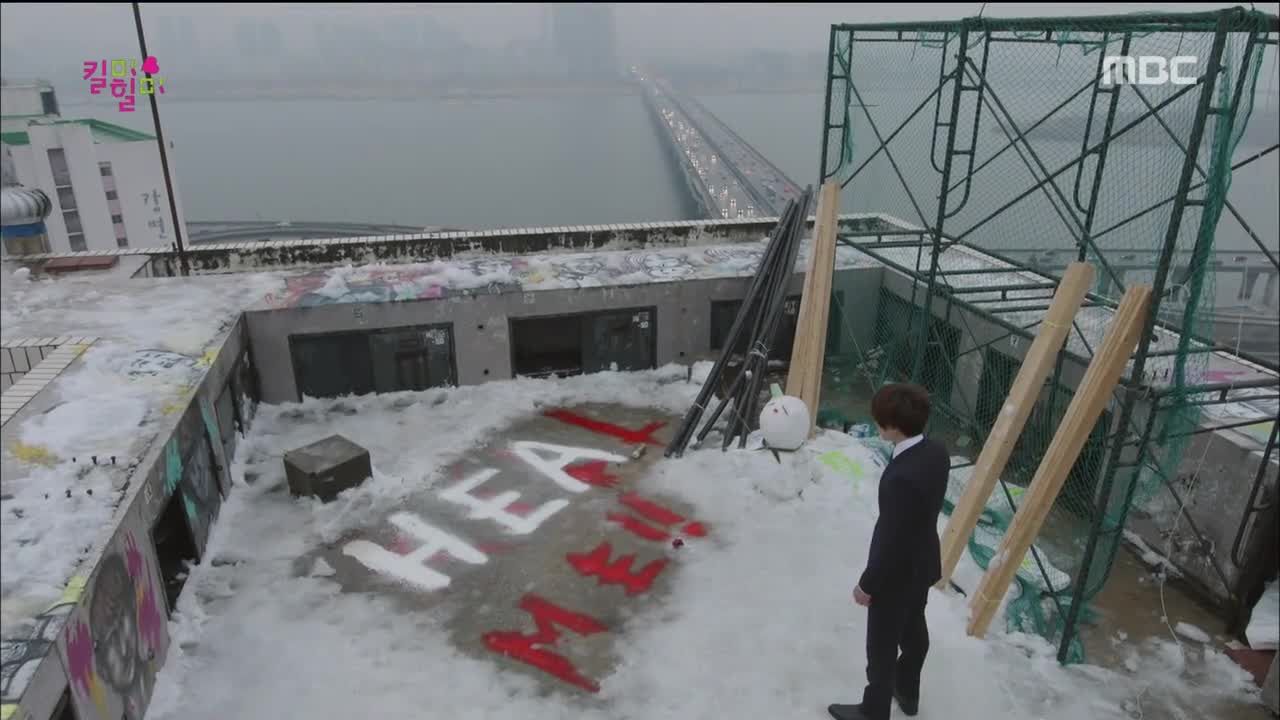 On a whim, Do-hyun decides to go up to the rooftop where Yo-sub tried to commit suicide. Ri-jin has already been there, clearing snow away from Yo-sub's mural and making a cute little snowman. Do-hyun pauses at the stairs, looking down at the "KILL ME" message Yo-sub scrawled on the floor. Ri-jin has spray-painted over it, so it now reads "HEAL ME."
At the airport, Ri-jin says goodbye to her family. Mom is all teary, while Dad asks for a nice pair of black shoes from America—he even has the catalogue with him and the page marked out. "The caramel brown is better," Ri-jin sniffs. "Limited Edition."
There's one thing left to do, and that's to take a family picture. Dad grumbles at first about being a nuisance to the other customers, but that doesn't last long as they get out the selfie stick. The four knuckleheads jump in a circle, chanting "Johns Hopkins!" and coming perilously close to whacking one poor lady in the head with their camera. I've said it before, but this family is my favorite.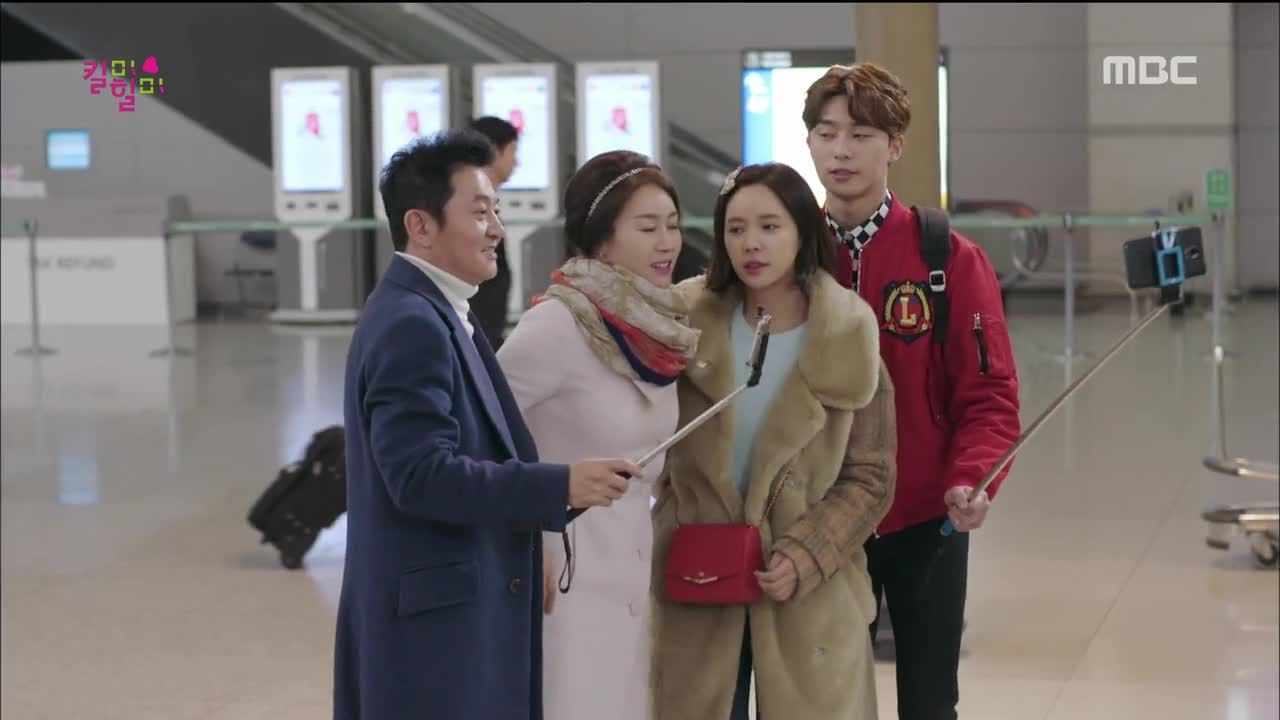 Ri-on presents Ri-jin with a pair of shoes with wings on them, reminding her of his promise that he would always be there to help her fly. Whatever choice she makes is the right choice, he says, dropping his goofy persona to let his sincerity shine through. "I love you, Ri-on," says Ri-jin. Poor Ri-on knows she means it like a sister, and the stricken look on his face shows his dilemma.
Back at his house, Do-hyun asks Chief Ahn to make sure that his next secret physician is male, because having a female one could lead to "complications." But he is distracted by the sound of someone entering his passcode at the front door. Ri-jin enters, trailing her luggage, and Do-hyun's jaw drops.
"My introduction is a little late," Ri-jin says cheerily. "I'm your new physician, Oh ri-jin!"
Ri-jin promises three things. First, she will not put either Do-hyun or Se-gi to sleep (i.e., kill one of the personalities), but she will try to calm down Se-gi if the situation calls for it. Second, she will act as a mediator between Se-gi and Do-hyun, so the two of them can communicate. Third and last, she will try to talk down the other personalities so that Do-hyun can live his life and perform his duties without fear.
In voiceover, Ri-jin apologizes to her family for deceiving them. She has been blessed with such a loving, supportive family, and she feels sorry for Do-hyun because he has no one. She wants to help him, to provide some of the support she has received all her life. We see Ri-on stretch out on the bank of the Han River, troubled by his thoughts and emotions.
Ri-jin holds out her hand to Do-hyun. "One of the things I want to teach him," she thinks, "is that it's okay to take someone's hand if she offers it to you." Do-hyun doesn't take her hand right away, so Ri-jin huffs that she'll just go back to Johns Hopkins. Do-hyun reaches out to stop her from leaving.
Do-hyun says that if she really takes his hand, there's no turning back. "Even if it's just a ball that rolled accidentally into my castle, I won't return it. Is that okay?" He holds out his own hand.
Ri-jin laughs, accepts his outstretched hand, and the two of them trade the most adorable shy smiles. Then her eyes narrow, and she squeezes Do-hyun's hand mercilessly. "Why is it harder to shake your hand than a Hallyu star's?" she snarls. "Just go for it!"
In voiceover, she asks her parents for their understanding. Chief Ahn follows them around the room as Ri-jin continues to crush Do-hyun's hand. There's a moral here, I think: Be careful what you wish for!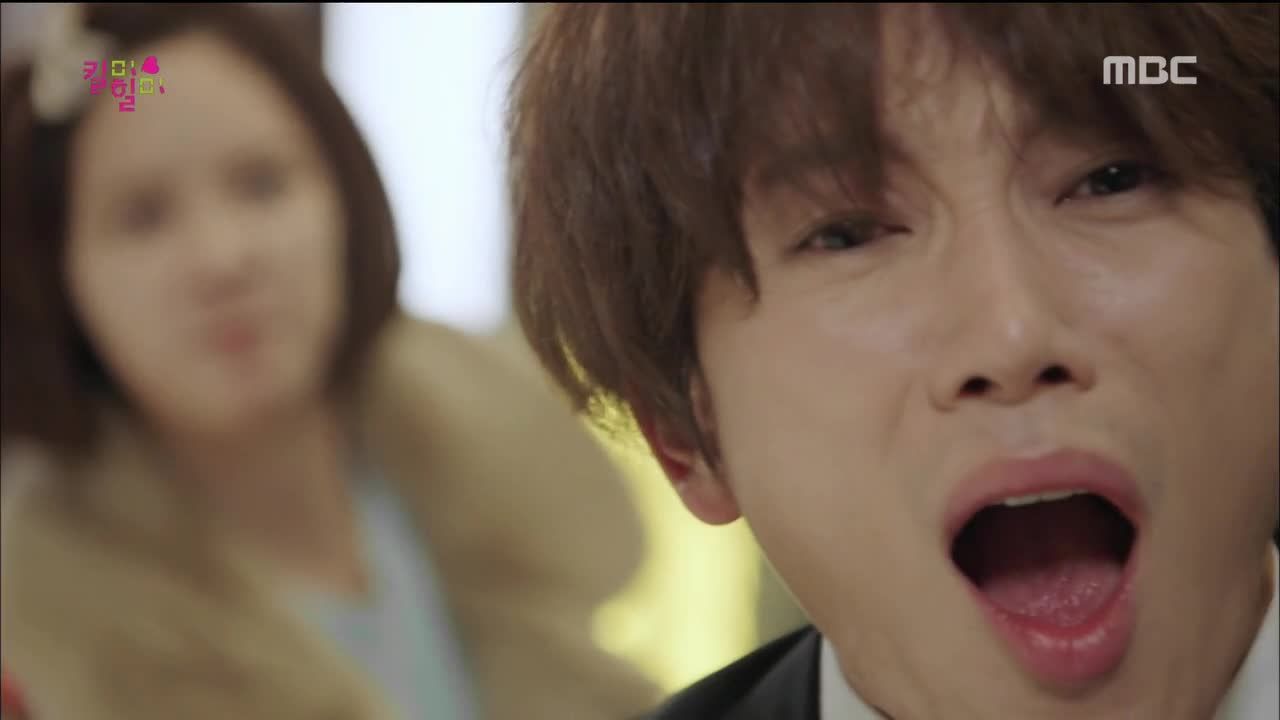 COMMENTS
Now we know the full story behind the title, and I love it. "Kill Me, Heal Me" makes so much sense now that we realize that it's a shift from the first phrase to the second. It's not so much heal Do-hyun by 'killing' him (his other personalities), or something paradoxical like that; instead, it is getting Do-hyun himself to change his plea from "Kill me" to "Heal me." He has to open up to someone else, to trust someone once more, to let himself be vulnerable.
Yo-sub is the part of him that can't stand his heartbreaking existence, that can't handle always living alone while divided even from himself. But then Ri-jin arrives, spray-painting over his original message and holding out her hand. If she can inspire Do-hyun to hope again, rather than merely clutching at straws while hating himself, then healing becomes a real possibility.
The show continues to slide between genres, although the episode as a whole was much more contemplative, much slower than in previous weeks. I thought that was the strength of this episode, building up Do-hyun's guilt, his flickering hope, and then the wonderful moment when he asks Dr. Seok if he must always live like a monster. The pacing is assured, allowing us to follow along with the main characters as they sort through a complex mixture of emotions that drive them down roads even they can't see clearly.
After watching Secret, I knew that Hwang Jung-eum and Ji Sung have great chemistry together. But even chemistry can fail if the characters aren't written in a way that makes their relationship blossom. Here, there's no question that these characters are right for each other.
Just look at how Ri-jin figured out Yo-sub's intentions, then kept her wits about her while saving the day. And when she lets down her defenses after Do-hyun returns, he is there to comfort her and lend her a shoulder to cry on. I like the two of them apart, but I LOVE it whenever they're together; chemistry is great, but so is a partnership where each person is there for the other, never hesitating to sacrifice for the other's benefit.
This has nothing to do with anything really, but Dr. Seok reminds me of a wise, neurotic, slightly chubby chipmunk. Am I wrong?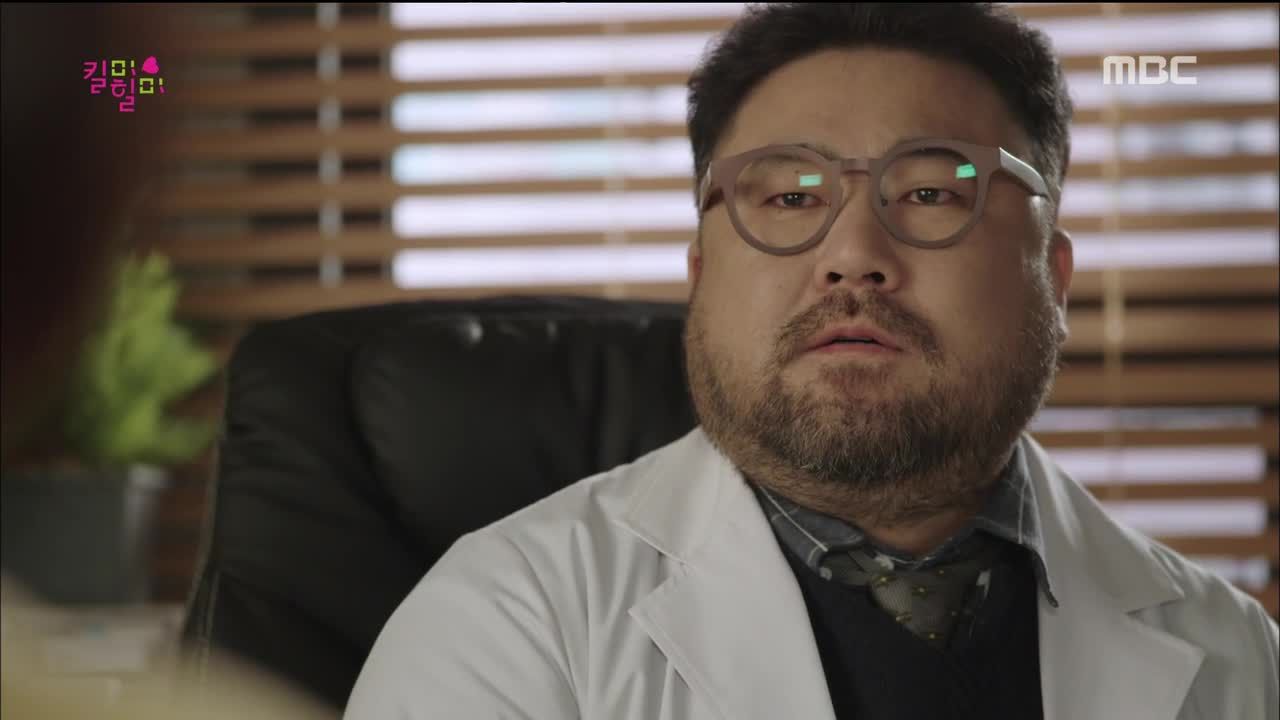 Once again, Kill Me, Heal Me faked me out. During the entire airport scene, I worried that Do-hyun was going to show up at the last moment to ask Ri-jin to reconsider. And I absolutely didn't want that to happen, because it was as clear as day to me that the only right way for this to end was for Ri-jin to take action and reach out to Do-hyun. I was preparing to yell at the screen, and then we cut to Do-hyun's apartment and Ri-jin's sneaky arrival. I may have cheered—it was awesome.
This may be me reading too far into things (I do that sometimes), but I stand by my comment from Episode 5 that one of my favorite things this drama does is to shift fluidly from Beauty and the Beast into Cinderella. This episode as well, we have an overt Beast reference when Do-hyun says that he won't turn into a handsome prince—he will only ever be a monster.
But when he tries to run away, figuratively speaking, it's up to Ri-jin to run after him and hold out her hand. That makes her Prince Charming in my book, and I love that she won't let Do-hyun get away with his self-sacrificing nonsense. She's rewriting his story, just like she rewrote his message on the rooftop—and if Ri-jin has anything to say about it, Do-hyun's story is damn well going to end happily!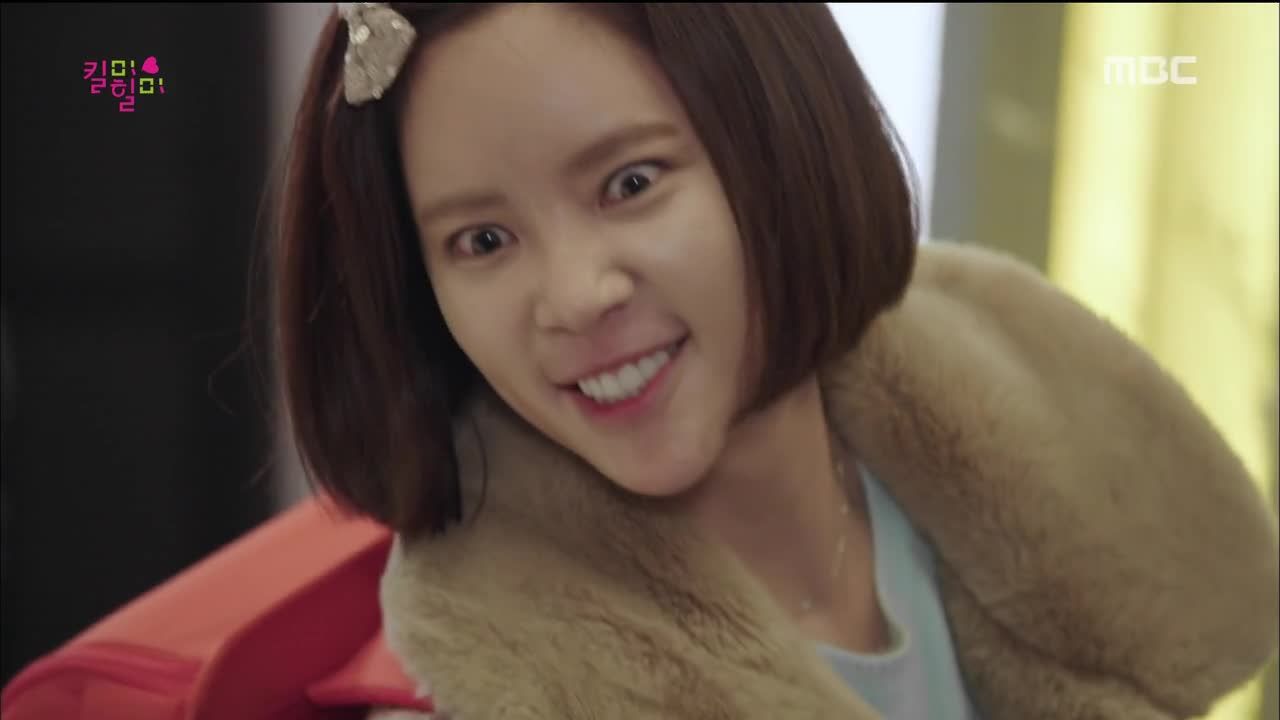 RELATED POSTS
Tags: featured, Hwang Jung-eum, Ji Sung, Kill Me Heal Me, Park Seo-joon