Hidden Identity: Episode 8
Two steps forward, one step back. Getting closer to the Ghost is harder than it looks — and that's saying a lot, considering it hasn't exactly been a walk in the park so far. This time the Investigative 5 Unit must work together to protect the nation from threat of biochemical warfare, but cracks in the team are beginning to show themselves as the Ghost continues to pull his puppet strings.
EPISODE 8 RECAP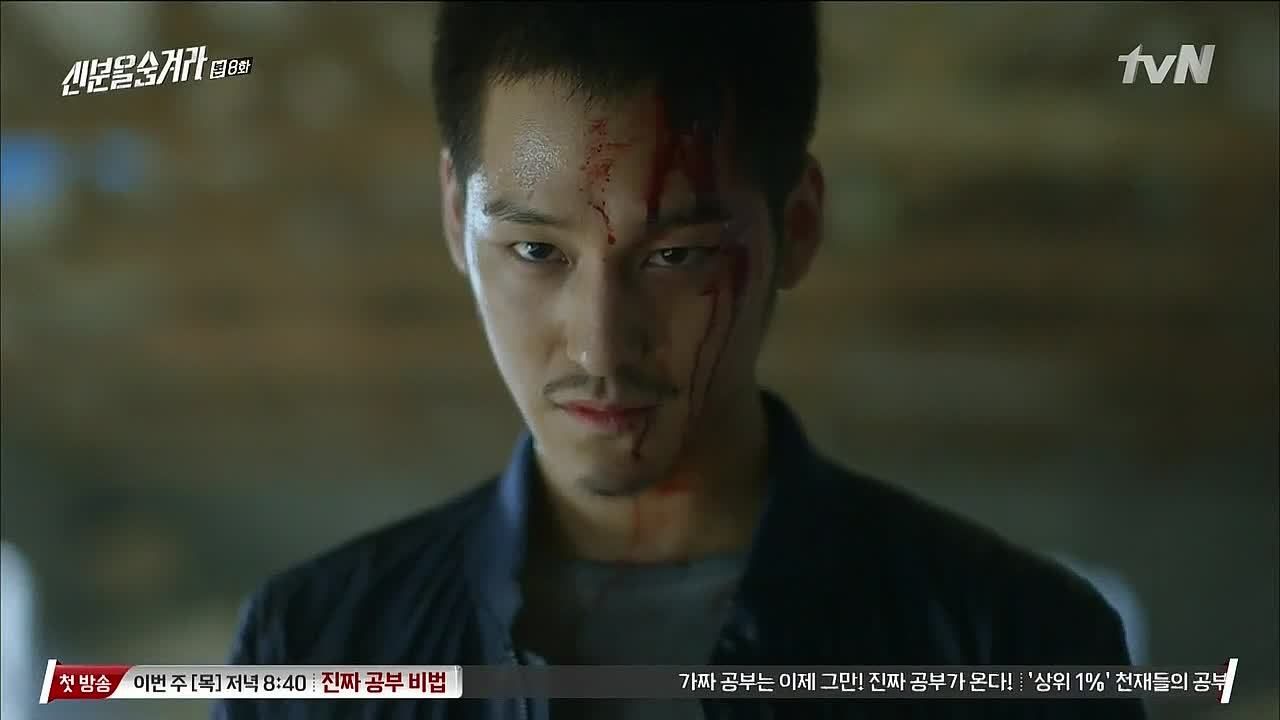 We catch up to the moment where a bloody Gun-woo beats down all the other dudes with his pipe, then turns his attention to the nervous Pil-sung. The trap the bad guys were setting isn't working out so well, it seems, since Min-joo's "I smell gunpowder" warning is enough notice for Team Leader Jang to take out the fake cop who was about to shoot him in the back of the van.
Once the fake cops are dealt with, Jang returns to the van, where In-ho still sits, handcuffed. In-ho wasn't going to cooperate at all, was he? This was just the Ghost's elaborate plan to free him. But In-ho corrects him — this was the Ghost's plan, all right. But it wasn't just to free him.
In-ho sneers as he says he's heard that the Investigative 5 Unit has interfered with the Ghost's business, and wonders if Tae-pyung and Gun-woo are still alive. Even though Jang doesn't know what kind of trap they walked into, he knows that Gun-woo isn't the same guy In-ho remembers.
Indeed, Gun-woo continues his menacing walk to Pil-sung, who stumbles backwards until he can't go any further. Gun-woo looks seriously scary as gets in a few punches, quietly telling Pil-sung that he has all the time in the world to wait for him to talk.
The desperate Pil-sung confesses that he doesn't know anything — he was just following orders to kill one and bring the other. Gun-woo: "Bring him where?"
To Jang, apparently — it's a hostage exchange. Tae-pyung is blindfolded, hands tied together, as one of the Ghost's guys haul him out of the car. Everyone has guns aimed at each other, and one of the Ghost's men shoves Tae-pyung forward, holding a gun to his head and yelling that he won't get hurt if Jang gives them In-ho.
Meanwhile, an unsupervised In-ho has managed to pull out a thin wire from under the skin on his wrist (ew) and sets about discretely picking the lock on his handcuffs. He steps out of the police van, still in cuffs, and taunts Jang for the decision he has to make. If he doesn't release "the psycho," he might not get his colleague back.
Jang trains his gun on In-ho and orders him to walk. The blindfolded Tae-pyung staggers forward, carefully headed towards Jang and Min-joo. But when the two hostages meet halfway, In-ho signals to his men to throw him a gun, and he tosses aside the handcuffs he unlocked.
Spinning around, he grabs Tae-pyung as his shield, holding a gun to Tae-pyung's head as they walk back towards the waiting cars. Once In-ho is close enough to get in one of the cars, he releases Tae-pyung — and shoots him in the back. Noooooooooo!
Jang shoots at In-ho and the other men as they drive away, but the bullets are wasted. Min-joo rushes to Tae-pyung's side, cradling him in her eyes as she yells at him to wake up. She's in tears as she tells him she's calling for an ambulance, when he coughs and quietly tells her that her face… is too close?
He sits up, stretching his back. He'd had a bad feeling about today's mission and decided to wear a bulletproof vest, so the gunshot knocked the wind out of him, but didn't kill him.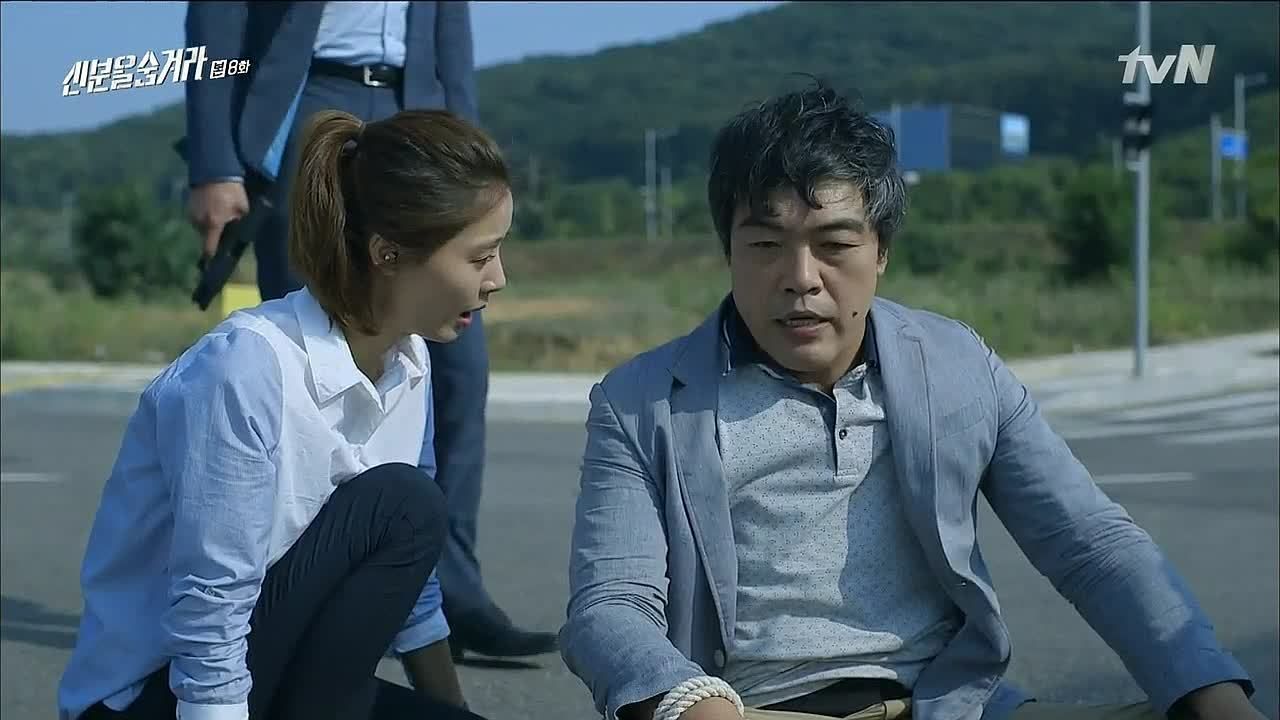 Tae-pyung lives another day! Gun-woo drives up just then — the team is assembled, and more importantly, still alive. But that doesn't erase the fact that In-ho got away. Tae-pyung points out that the Ghost was willing to kill all of them to free In-ho, which means he's not your run-of-the-mill bad guy. Yeah, I think we've already figured that one out.
The freed In-ho is driven to meet with another one the Ghost's men, and In-ho is mildly disappointed that "the old man" isn't there to meet him. But that just gets him a chiding for referring to "the chairman" so disrespectfully.
It seems "the chairman" is an actual chairman. He and a senator are awfully chummy as they discuss the benefits of establishing an Independent National Defense and restoring the Wartime Operational Control.
Their conversation sounds like just polite small-talk and flattery, but the meaning is all business — the senator is there to tell him that his pharmaceutical company the chairman recently acquired will likely see some investments soon, and the chairman is there to discretely bribe the senator to smooth over the legislation and keep the public's attention away from him and his work.
Tae-in casually browses a book shop, and as he puts a book back, he slips a phone into it. A few minutes later, Jang arrives, also browsing, and he pulls out the book with the phone. Ooh, sneaky old-school spy techniques.
He pretends to read as he looks at the video evidence Tae-in downloaded to the phone. Tae-in believes that the file (the one that Yoon-mi downloaded after hacking into the NIS database) is now in the Ghost's hands.
Jang meets with the Chief of Police who apologizes for what happened during the In-ho prisoner transfer, admitting that it seems like there is, indeed, a spy within the NIS. The chief tells him that the NIS will stay out of any investigation of the Ghost until the spy is caught, and Jang reassures him that his team will quietly investigate, especially since there's a chance that it could be someone of a high rank.
But the chief has other plans that require more immediate attention. A well-known broker in the Chinese blackmarket, Kim Sae-jin, recently kidnapped a biochemist from North Korea. When North Korea tried to track down the biochemist, they only found his body and proof that he was working on a weaponized virus. It seems that Kim Sae-jin is in South Korea, and if the virus is complete, it could cause serious repercussions between the two Koreas.
At NIS headquarters, Tae-in quietly waits as Director Choi solemnly berates himself for not being able to stop the Ghost's spy. He names off the men who were killed during In-ho's failed prison transfer, sighing that these were men with families. Yes, they died serving their country, but their families will be forever ignorant of the duty his men performed.
He wryly adds that, even though he works for the country, it sometimes feels like the country keeps turning a blind eye. Tae-in's eyebrows raise a little at that last statement.
Investigative 5 Unit (sans Gun-woo) is busy researching the weaponized virus, known as VD107. It's considered to be one of the deadliest viruses, capable of wiping out at least one percent of a population. The documents from North Korea give them leads on some suspects, starting with James Jung, a Korean-American who works for the Libatra consulate. They believe that James is the one providing the laboratory space for Kim Sae-jin.
Tae-pyung asks the important question: how does this relate back to the Ghost? It turns out that Moo-sung, the human trafficker, was also in contact with Sae-jin when he was in China. Jang also reminds them about the file Yoon-mi downloaded, which contained the research about a top secret bomb. The Ghost has that file and Sae-jin has the virus, and the team has to stop the Ghost from exchanging that for the virus.
In order to do so, they need to find out more about Sae-jin, and the way to do that is through James. Tae-pyung sighs that this is all too complicated, and for a moment I think it's a meta-commentary on the Ghost's tangled web and all the new characters we have to remember each week, but his worry is due to James being a diplomat, and therefore untouchable. Jang reminds him that their team is there to make the impossible happen.
Meanwhile, Gun-woo is busy taking out his emotions on the gym's punching bag, remembering the look on Tae-hee's face when she died before his eyes.
The team sets out on a new undercover mission, and this time Duk-hoo gets to play a role! Yay!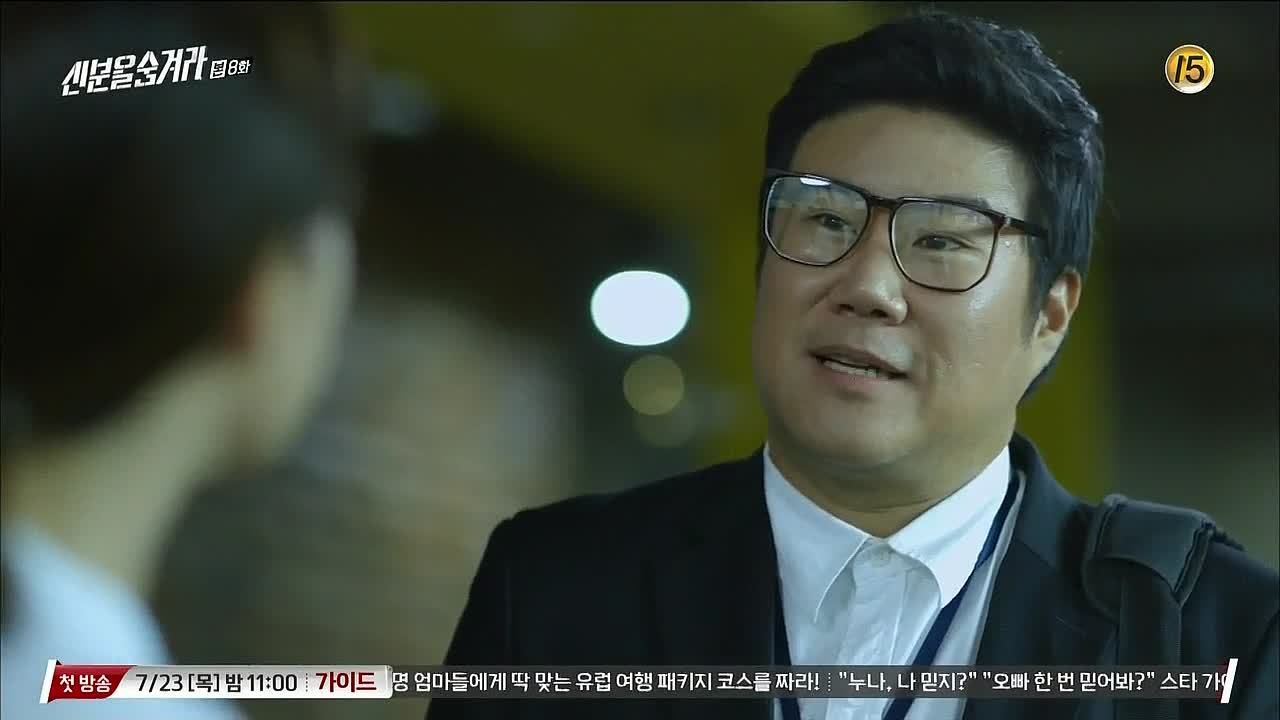 In his cute Clark Kent glasses, he poses as a reporter seeking information about a recent incident in the country, and in doing so, scopes out the office area where he learns that James' computer and safe requires a fingerprint scan to access.
It won't be easy to gain access to the files, thanks to the consulate's beefed up security. but Duk-hoo gets an idea — make it smell like a gas leak and the consulate would require everyone to evacuate the building.
Jang meets one-on-one with James, who's confident that he can't be touched, saying there's nothing wrong with a third-generation Korean-American meeting with a North Korean. Besides, where's the evidence that Sae-jin has a weaponized virus? Even if they had proof, they can't arrest him, because he works for the consulate, and as a diplomat, he has immunity.
Confident he won't be caught, he smugly offers to pay for Jang's coffee before leaving the restaurant. Once he's alone, Jang carefully uses a napkin to pick up James' used glass. Oh ho, sneaky — the point of the meeting was actually to get his fingerprint. Jang calls his team and gives them the go-ahead.
Tae-pyung is undercover as a tourist as he follows a group taking a tour of the consulate, learning all about the African country of Libatra.
He discreetly sprays the chemical to make it smell like a gas leak, and then dramatically starts sniffing the air. He gets the ball rolling with his overly worried insistence that it smells like a gas leak, and soon everyone is hurrying towards the exit as the tour guide escorts them out.
Gun-woo and Min-joo arrive, dressed in official uniforms from the gas company and they order everyone to evacuate so they can track down the source of the leak.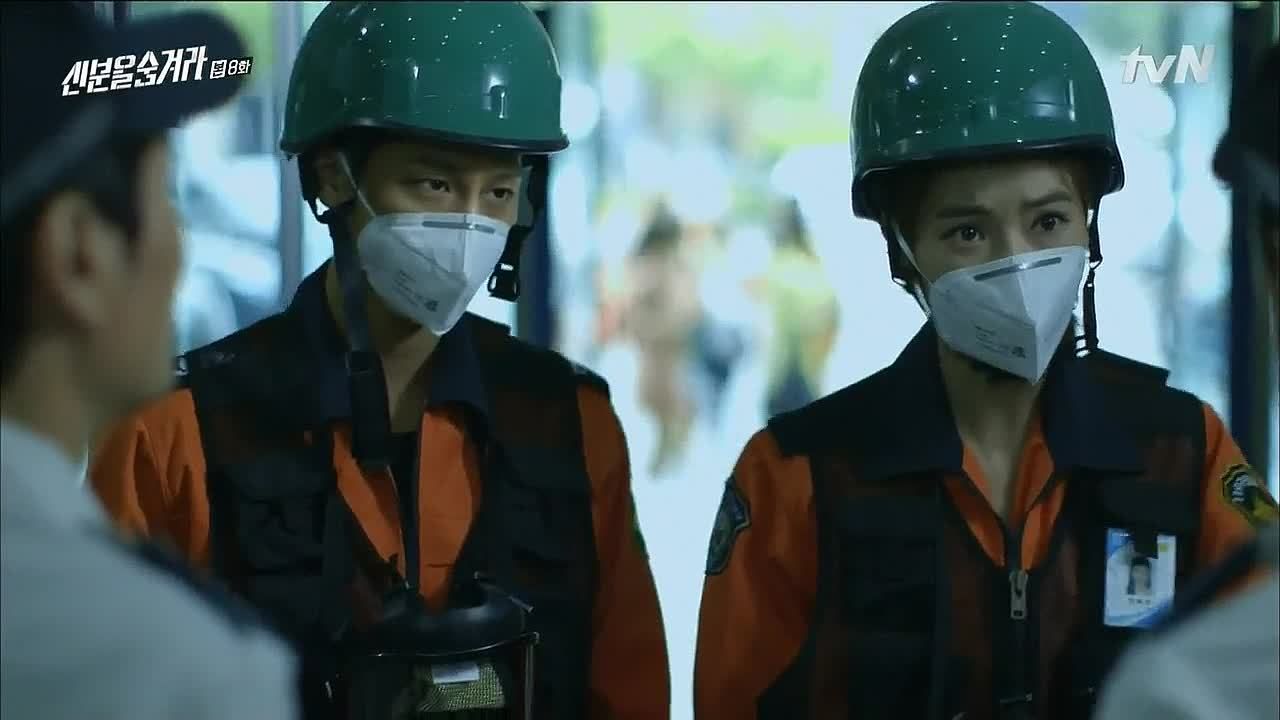 As all the employees start to leave, Gun-woo and Min-joo hurry to the office where they use a copy of James' fingerprint to get into the safe and hack into his computer. They're not finding much, and time is wasting, because James pulls up to the building.
Jang watches from around the corner, warning them that they'll need to hurry before he steps out to intercept James. But they still can't find evidence of anything and Gun-woo is ready to call it quits because they only have a few minutes left.
Just then Min-joo spots a personal picture of a woman with James, and her instincts kick in. She recognizes the woman as one of the employees she bumped into on her way into the building, and she quickly finds the woman's desk.
She's convinced that since the two have such a close relationship, they might also share other secrets. The woman's computer is much easier to hack into, and success! It looks like she has the file they need. But Jang was only able to distract James for an extra few minutes, and now they're against the clock as they wait for the file to download. It's a close call, but they manage to escape unnoticed.
When Jang meets with James again, he tosses down proof of a private Swiss bank account. Although he's slightly unsettled, James cockily tells Jang that there's still no way to connect him to this account, and there's nothing that mere Korean cops can do to him.
But Jang doesn't need to connect him to the account — he just needs to send it to the Libatra government as proof that James was a spy and sold information about their country. He wryly adds that he hears Libatra still has the death penalty. James's cock-sure attitude is finally shaken, and they learn Sae-jin's location.
Tae-pyung and Gun-woo stake it out, and Tae-pyung discovers there's at least three people staying there. Noticing that Gun-woo is withdrawn, Tae-pyung asks if he's still thinking about In-ho. He adds that he understands how Gun-woo feels, because his son was hit by a taxi and suffered severe head injuries that the doctors believed would be fatal.
He survived, thank goodness, but ever since his son almost died, Tae-pyung's view of the world changed, so he knows how Gun-woo feels. Gun-woo: "'Almost' doesn't count. Only real death changes everything."
Jang reports to the Chief of Police, warning him that it looks like the Ghost is involved with VD107 and if they arrest Sae-jin now, they could lose their connection to the Ghost, making it harder to capture him in the future. But the chief reminds him that if this virus exists, it could take out at least 100,000 people in Seoul (and that's just to begin with). It's not worth it to risk the potential death of so many citizens — and loved ones — for the added chance to catch the Ghost.
When Jang informs his team of the change in plans, Gun-woo angrily asks if that means they'll lose the Ghost. Jang tells him it's important for him to put aside his feelings and focus on the case. He reassures Gun-woo that it's just a step back, and they'll still find a way to catch the Ghost with their own hands.
But Gun-woo scoffs at the idea, asking if Jang thinks they're a team just because they share an office and have been on a few missions together. As Gun-woo storms off like the broody tortured soul that he is, Jang calls after him, telling him that Tae-hee's death wasn't Gun-woo's fault. Are… are those tears lurking in Jang's eyes?
That night, Gun-woo drinks alone as he robotically flicks his lighter open and shut, remembering Tae-hee's death and Jang's reassurance that it wasn't his fault. His face crumples as he fights back tears, then he composes himself, and with one final click of the lighter, a look of determination settles in.
Also that night, Min-joo and Duk-hoo stake out Sae-jin and his crew. They're stationed on the rooftop across the way, and Min-joo watches them through a telescope. Nothing's happened so far, and when she reports back to Jang, he tells her the operation will start soon. Cautiously she asks about Gun-woo, but he tells her not to worry about him and instead focus on the mission.
Watching Sae-jin's crew eat has made Duk-hoo hungry, and he asks if Min-joo wants him to get anything from the convenience store. She tells him she's fine, but her grumbling stomach says otherwise. Before she can stop him, Duk-hoo's off like a flash to buy some kimbap and ramen.
On the way back with his treats, a looming Gun-woo nearly startles him out of his skin. Duk-hoo's delighted to discover that Gun-woo is joining them on their stakeout, albeit surprised since he thought Gun-woo didn't know about it. Even so, he's happy that Gun-woo is joining the team tonight — but Gun-woo has other ideas and he slowly slips a pair of handcuffs out of his back pocket.
Min-joo is also surprised to see Gun-woo when he arrives on the rooftop. As they wait together, Min-joo notes that he keeps playing with the lighter, and asks him why he always seems to do that.
He replies that Tae-hee gave it to him a long time ago, and Min-joo teases him for finally opening up to her. But Gun-woo's serious gaze and clenched fist set off her instinctive warning bells, and she pulls out her phone, loudly wondering where Duk-hoo might be.
Gun-woo tells her to call, so she does, and immediately starts asking Duk-hoo where he is and why isn't he coming. But the man on the other end of the phone is Jang, who immediately picks up on the fact that something isn't right. He asks if Gun-woo is there, and Min-joo continues to chatter at "Duk-hoo," asking him why he's taking so long.
Except Gun-woo knows that there's no way Duk-hoo could have answered the phone, because he's currently gagged and handcuffed to the stairway railing. He knocks out Min-joo and picks up her phone, telling Jang that he can't take a step back — there's no time. He hangs up the phone and turns it off.
A worried Tae-pyung asks Jang what Gun-woo is going to do, wondering if they should call the nearest police station. But Jang knows that they're dealing with highly trained and unusual people, and the local police won't be able to handle them. Instead he'll call the SWAT team for back-up.
When one of Sae-jin's men sets out the empty jajangmyeon delivery container, he's met with Gun-woo's gun to his head. He's used as a hostage while Gun-woo explains to Sae-jin that the police will be there in twenty minutes, so unless they want to rot in prison, they'd better come with him.
The guy with the gun to his head protests that they don't even know him, so how can they trust him? But Gun-woo points out that for someone from North Korea, he knows the Seoul dialect pretty well. Gun-woo then asks if the metal briefcase contains VD107.
That's pretty convincing, but Sae-jin is still wary. How do they know that Gun-woo won't betray them? Gun-woo shoves his hostage over and aims his gun at Sae-jin, while the ex-hostage pulls out his gun to aim at Gun-woo, who says if they don't trust him, then they can kill him. Or — he flips his gun around and hands it to Sae-jin — they can trust him and follow him.
Sae-jin takes the gun, smiles briefly as he looks at it, then points it at Gun-woo's head.
COMMENTS
Oh show, I still love you, but we need to have a little heart-to-heart. I've been able to easily look past any little plot quibbles because you've been just so much fun to watch, but I've finally reached my breaking point, and it's Libatra. Why, oh why, did you feel the need to create a fake country?
I tried to play along, but it really took me out of the show for the second half of the episode, because at first I was too distracted with figuring out why I've never heard of this country (or recognized the flag), and then later disgruntled that the show felt the need to make up an African country to serve its purpose. I get that the show has its unrealistic moments, such as the fact that no one seems to actually feel pain or sustain wounds for very long since apparently once you join the Investigative 5 team, you have superhuman healing abilities.
Or the fact that Tae-pyung had a worrisome dream the night before and decided to wear a bullet-proof vest, even though he normally doesn't. Fine, whatever. We need our core characters to continue living until the final episode. I get it. Most of the time I can gloss over them since the action and characters are so excellent and make up for those weaknesses.
But "Libatra" — really? Really? I spent too much of my time being bewildered and wondering if I was just hearing wrong (like, maybe it isn't a country but a political organization, or a charity, or something that couldn't possibly be a fake country). Then they gave me a fake flag (trust me, I did attempt to look it up because I was determined to figure out what the heck Libatra was). I don't know why I'm willing to accept all sorts of make-believe when it comes to dramas and fiction, but screech to a halt when it comes to creating a fake country.
Also, Gun-woo, what the heck, man. I mean, I get it. You're emotionally compromised. You have been since the start of the show (and before that, too, based on your character's back-story). But seriously, WTF. You don't think your partners in your unit have never had to deal with death or catastrophe in their lives? Your man-pain is the only pain that counts? So much so that you'd put your partners in jeopardy and take over a case that you're so emotionally close to you can't think straight?
I'm hoping against hope that this is just another "gotcha!" mind-game ruse dictated by Jang to somehow get both Sae-jin and the Ghost (instead of one or the other) because I'm not at all happy that Gun-woo is self-destructing and taking the team down with it. Everything Investigative 5 Unit has done up until now has clearly shown how important they are to each other, that they are a team, and to have Gun-woo sneer at that teamwork just because he's got some personal vendetta is infuriating.
Especially since I felt like we were starting to see some character growth with him, but now he's back to some snarling puppy who doesn't trust anyone. I'm just gonna blame the writing and hope this is just a bump in the road because, like I said, I still really like the show. It doesn't pretend to be anything it's not (like a super-gritty mind-bendy thriller you'd be more likely to find on OCN) and what it does (fun action mystery-procedural), it does very well.
And maybe my complaints this episode are just me being cranky, because it was generally an entertaining episode. Although I'm wise to your ways, cliffhanger endings. This is not the first time we've ended an episode with a gun to Gun-woo's head, and I'm sure it won't be the last. So here's hoping the true cliffhanger is whether or not Gun-woo realizes what an awesome team he's a part of, and then doesn't actually end up ruining it.
RELATED POSTS
Tags: featured, Hidden Identity, Kim Bum, Lee Won-jong, Park Sung-woong, Yoon So-yi