ATHENA: Episode 7
Kim Myung Guk is alive! Sean Richard has a name (Randy)! BoA appears! And Hye In continues being a cold-hearted Athena agent – except she gets caught. Or does she? My belief is suspended in this episode, but now, I'm used to it. I'm just going along for the ride because really, the acting trumps all else.
SONG OF THE DAY
"Hurricane Venus" – BoA (Well of course I gotta give a shout out to her!) [download]
Audio clip: Adobe Flash Player (version 9 or above) is required to play this audio clip. Download the latest version here. You also need to have JavaScript enabled in your browser.
So before I get a chance to be all pissy over Sook Kyung's lack of protocol and wonder if everyone in NTS is somewhat incompetent, she steps outside to make a call. She has leaked the information to Hye In, and now all they have to do is wait for a reaction (presumably Son Hyuk's or DIS) to figure out where her loyalties lie.
Is she reporting to Director Kwon? Chul Hwan? or Jae Hee? Either way, it's interesting that Sook Kyung suspects Hye In, while going ga-ga over Son Hyuk.
Son Hyuk calls Randy in, who doesn't initially believe that Kim Myung Guk is alive – after all, there was a bombed house and a dead body… Son Hyuk practically calls him an idiot for believing the NTS reports, and properly chastened, Randy goes to retrieve satellite images of the house during the bombing.
Hye In and Jung Woo are working late and she offers to make a cup of coffee for the both of them. Well hell's yeah he's going to accept that offer. They chit chat, and he tells her that an NTS report regarding all the terrorist organizations in the world is what's keeping him at work late. He brings up Athena, and asks if she's ever heard of it. She retains that frozen, wide-eyed, "I do not know and I'm trying to convince you that I do not know" expression as she denies any knowledge of it.
Well how about IRIS? That she heard of. While IRIS tries to control weapons development, Athena tries to control the world's energy resources. What's more is they have infiltrated into the CIA and DIS (and who do we know is part of DIS, dear Jung Woo?!). He speculates that the two guards' deaths were Athena's doing.
Director Kwon calls Jae Hee to his office. Since she's read the report about the terrorist organizations, she should know that the kidnapping of Jo Soo Young and the attempt to get Kim Myung Guk were probably all Athena's doing. As the liaison between DIS and NTS, she should be even more careful. He's not suspecting Son Hyuk, oh no, but is "keeping his mind open."
Randy gives Son Hyuk the satellite images, showing a partially-masked man looking up at the sky prior to helping Kim Myung Guk in the getaway car. An identification system ID's him as Jung Woo. Son Hyuk: "You should have done a better job covering your face, Lee Jung Woo." Kaedejun: "I so agree."
Son Hyuk calls up Hye In to inform her that they've found Kim Myung Guk and need to meet. She excuses herself, and Jung Woo offers to drive her home. Clingy much?
Son Hyuk informs her that Dr. Kim is in Japan, although they're not sure where, and taken by none other than Jung Woo. He wants her to get even closer to him and find out where Dr. Kim is exactly. Likewise, Hye In tells him that NTS has a report on Athena, and advises him to be more careful. A look of surprise mingled with fear flashes across his face, and I'm wondering, shouldn't you have expected this?
The next day, Jae Hee calls Son Hyuk informing him that she has something to report to him. Since he refuses to go to NTS for a while, they arrange to meet outside. Ooh – a date?
As for Hye In, she is intercepted by a couple of guards who are to take her for more questioning by Internal Auditors in regards to the two security guards' death. Hye In sits at her seat uneasily, and when she sees Jung Woo sit across her stonily, she begins making up excuses defending herself, saying that she had a solid alibi and was questioned more than enough.
Jung Woo is not here to ask her about that though; he's here to confront her about her affiliation with Athena.
WHOA Jung Woo – when'd you get so good?!
Hye In covers her shock by laughing it off nervously. Jung Woo says with a straight face that they found evidence but Hye In says she's never heard of Athena until yesterday. Jung Woo begs her to confess, and Hye In becomes increasingly nervous.
I'm thinking this has got to be a dream sequence, like what Italy was for Jung Woo. Except this has got to be Hye In's worst nightmare.
Hye In doesn't say a word, and so Jung Woo calls in the "evidence": Sung Chul, Sook Kyung, and Joon Ho, and a couple of other ITS agents. Joon Ho comes out from the back…with a cake!
Happy birthday Hye In! Hope we scared you to death!
Hye In doesn't react, and Sung Chul immediately blames Jung Woo for using such a serious prank. Jung Woo apologizes, and that's when Hye In cries. She looks touched – but she's just quaking in her boots. Mwahah – Cold Hearted Hye In ain't so strong anymore.
They cut the cake, and Sook Kyung presents her artificial wine. It's hilarious that everyone doesn't want a sip of it, claiming that they'll have stomach problems later. Joon Ho tells his junior to drink it – he'll pump his stomach later. They all have a good laugh, and the one outside looking in is Jae Hee. Yep – she's hurt at not being included in this love fest.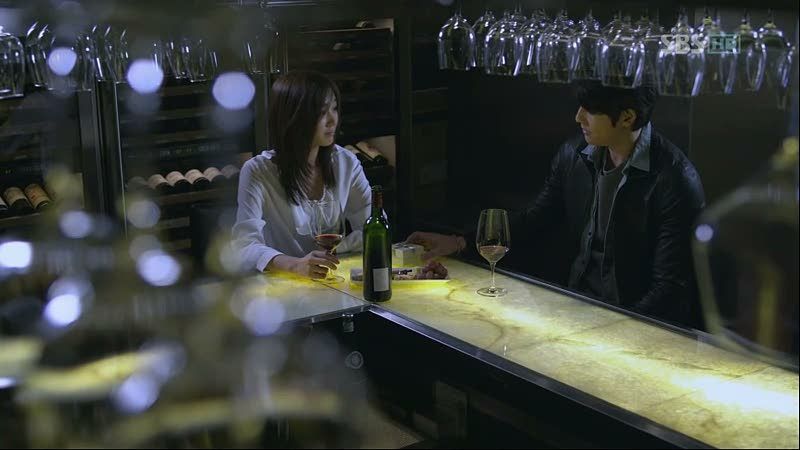 Hye In later asks Jung Woo to go for a drink with her (a real drink), and at the bar, he presents a small gift for her. She breaks the news that today's not her real birthday. As a Black agent, her profile is all fake. Wow – go ahead and just broadcast your Black status even more – and while you're at it, might as well tell him that nothing about you is real since you're an agent for Athena!
He tells her that he hadn't expected her to have such a severe reaction to his accusation of her being part of Athena; instead, he thought she'd see right through his prank. Hye In brushes it off to being scared since she was already blamed for a murder. She then brings up the oddities surrounding Kim Myung Guk's death, and it becomes Jung Woo's turn to be at unease.
She receives a call from Son Hyuk, who informs her that they know where Dr. Kim is – so she can stop pumping Jung Woo for information now. Now their drinking session can be purely casual.
As for Jae Hee, she's got her own love fest to attend – she meets Son Hyuk for drinks and admits that she has nothing to report. She just wanted to ask what it feels like to be a Korean working under the U.S. and doing things that may harm his mother country. Son Hyuk responds that he's never felt any allegiance to either country – he only works for himself and aims to only wield power and influence since he was completely helpless when he was younger.
Hye In arrives home and opens up Jung Woo's gift. It's a necklace too, but with a very simple cross pendant. Unlike how she treated Son Hyuk's gift, she holds on to the necklace and ponders thoughtfully, probably wondering about that sudden rush of warmth or compassion that she must have for Jung Woo.
In Osaka, an agent is running like mad from a group of other agents. He does his best to escape through a warehouse but is shot through his side. Despite his wound, the agent takes down as many as he can, shooting some, beating others senseless, and strangling the last. He stumbles over to a laptop that was hidden in the warehouse and sends through a document.
It's that document that sends Chul Hwan running to Director Kwon's office. They received word that Dr. Kim has been kidnapped (and Son Hyuk is super pleased in his car), and his bodyguards killed, except for Agent Jang Myung Shik, who had sent those damaged files.
Sook Kyung recovers those damaged files Agent Jang had stolen from the enemies, and it contains a concert schedule for a singer in Japan. (Oh my! Who could it possibly be?!) Since under official records Dr. Kim is dead, Director Kwon orders that this entire operation be kept under wraps, and that Jung Woo and Jae Hee will be sent undercover but with no knowledge that they're trying to locate Dr. Kim.
So Jung Woo thinks he's got a bodyguard gig for BoA, since he just has to keep a look out for intelligence activities that may occur during her concert. Sung Chul is mad jealous – he should go instead, he knows the moves to "Hurricane Venus"!
Jung Woo meets with BoA's manager Han Jeong Suk and the singer, who's practicing her choreography for her concert. Two members of SHINee even make an appearance and say their hello's before disappearing. During the meeting, BoA plays on her phone the entire time while Jung Woo gives her a summary on security protocol while in Japan. BoA must be playing a diva-fied version of herself, since she snarks that she must be working for Jung Woo instead of the other way around.
Ki Soo leaves his office to find his gambling parlor completely empty. He goes in search of them, but encounters a couple of tough guys – agents who want to take him away. Ki Soo can't believe this ridiculousness and kicks all of them in the nuts. Yeah – even badass agents go down when kicked down there. He tells them to get the hell out – but another agent comes in – with a gun. It's Jin Young – a fellow agent in North Korea.
Ki Soo is awakened by a splash of water and finds himself in a basement tied to a chair. Jin Young calls him a traitor, but Ki Soo leans forward threateningly. In comes a bigger agent – it's none other than Park Chul Young himself, and this time Ki Soo cowers. He does a weak salute, and then realizes that a salute is no longer appropriate since Chul Young is no longer a simple lieutenant.
Son Hyuk sends Randy off to retrieve a package in exchange for money. As soon as the hand-off is done, the other man walks right into Hye In's knife. Blood squirts onto her hands, and she then leaves for Randy to clean up the mess.
Hye In goes to a bathroom to wash off the blood. As she runs the water over her hands, she thinks back to all the people she's killed, how she used to kill from afar with sniper guns but how recently more of the blood literally spilled on her body. She thinks of the young daughter crying in the funeral parlor… and a couple of tears escape her eyes despite her stony expression. She ain't doing too well on getting rid of her compassion…
In a junkyard, a bunch of cars are being taken in to get smashed and destroyed. But when a particular silver car gets crushed, a worker notices blood oozing out of the trunk. It's none other than Lee Yong Chan, the man Hye In killed. Lee was a professor at the Korea Institute of Science and Technology.
In her investigation, Sook Kyung finds remnants of dysprosium – a metallic element used to control nuclear reactors or guided missiles. Yep, that's what our dear Randy wanted! While it's not that suspicious for the element to be found on a nuclear scientist, the amount in the car suggests that it was transported somewhere. Hye In takes this information in silently.
Joon Ho reports his findings in a meeting: scientists have developed a tool, SNC, that can allow for new nuclear reactors to run without needing a replacement for 100 years. It's now missing. NTS is responsible for making sure the SNC doesn't leave Korean shores; they will track it down and start investigating Lee Yong Chan's coworkers.
Ki Soo broods in his gambling parlor, released and back in business. His conversation with Chul Young had him all bothered. Chul Young lays on the guilt, saying that though Ki Soo was never that loyal, he never expected him to defect to the South. I love it – bad ass Chul Young is back! He tells him that Ki Soo left some unfinished business behind – including his mother, who is now in a prison camp. Chul Young: "It's not too late. You can save your mother." GAH! Cheesy but effective – Ki Soo calls up Sung Chul for a meet-up.
He meets Sung Chul for dinner and starts complaining about how NTS didn't compensate him for saving Jo Soo Young in Italy. Now having broken the ice with that bit of fluff, Ki Soo asks about what Dr. Kim is up to nowadays. Sung Chul wonders why Ki Soo cares so much.
I'm wondering why Sung Chul isn't the least suspicious about how Ki Soo knows that Dr. Kim isn't dead.
Ki Soo brushes it off, saying that people Jung Woo saved are people he saved too – ha! He then finds out that Jung Woo is on "business" in Japan, and looks away uneasily.
The problem having escalated, Director Kwon must now report to the President that Dr. Kim has been kidnapped and the SNC is missing. The pressure is on for Kwon to find the both of them, because if anyone else has them both, they will have the technology South Korea has been working on for years.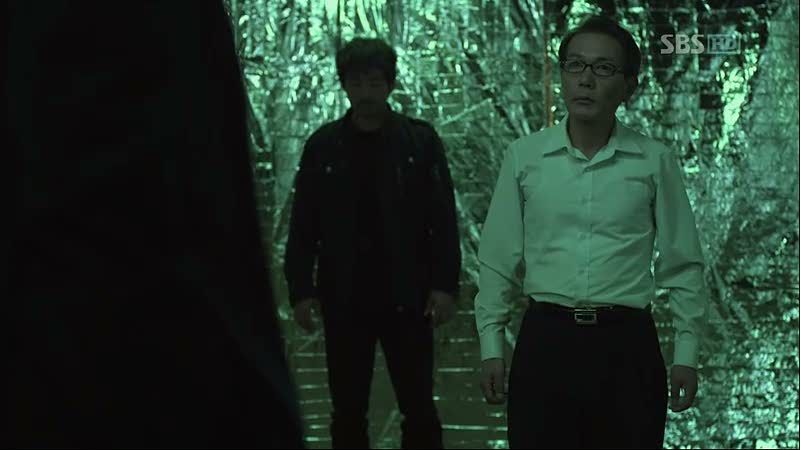 Tottori, Japan – first stop in BoA's concert tour. Also the location of where the kidnapped Kim Myung Guk is taken to. He enters a warehouse that conceals a nuclear research lab, and is greeted by none other than Son Hyuk. Dr. Kim doesn't know who Son Hyuk is, but fearfully asks what he wants from him.
BoA prepares for her concert while Jung Woo and Jae Hee inspect the concert venue. Of course, Jung Woo takes a few minutes to watch BoA practice. Who wouldn't?
Back at the hotel, he checks the CCTV cameras in the hallways and spots BoA leaving her room unannounced. He goes after her and blocks her from leaving. BoA just gives him a surly look, and her manager shows up in time to explain that she needs to spend time alone on stage to ease her nerves before the concert. Jung Woo escorts her to the venue, and drops her off as he goes to park the car.
BoA comes upon three men backstage taking apart the speakers to remove heavy duty cases from within. She asks them in Korean who they are, and when they don't respond she asks in Japanese. One of them gets up and starts dragging her away. Jung Woo arrives in time to hear her scream and he runs to save her.
He takes down couple of them and then goes for the third. The third puts up a good fight, and BoA decides to help out by grabbing him from behind. That leaves Jung Woo free deal with the other two. BoA grabs a guitar and slams it on the back of the third one, but he grabs it from her and pushes her violently against the wall.
She falls, semi-conscious, and the third man raises the guitar…
Comments:
Bam! Slightly better cliffhanger, except, as much as I love BoA, I don't really care what happens to her. I know she won't get hurt, 'cause Jung Woo will be amazing like that and save her.
This drama is somewhat surprising in the sense that I was beginning to think it was predictable and all the characters were going to be lame agents. Son Hyuk will always find things out through Hye In, Jung Woo will do anything for Hye In, Jae Hee will always be moody, and Dr. Kim will be in the center of another fiasco, etc. But this episode was surprising in that it put Hye In in the spotlight to show that things are not as shallow as it seems. I just wish that Jung Woo could be given the same treatment. I would like to delve deeper in his relationship with Jae Hee, because I feel like there's a lot of bad blood between them, more so on his part than on hers. And I want to know why he seems to hate being around her so much, since it's not her fault that they broke up. (Or so it seems.) Right now, it feels like Jae Hee is just getting closer to Son Hyuk to seduce him for information and to make Jung Woo jealous – which, if that's the case, makes her more bitter and hard-core than she appears.
Another surprising element was the fact that Sook Kyung knowingly leaked the information to Hye In. I guess it may not be so surprising for a spy-genre drama, but it was for me because, again, I was expecting everyone in NTS to be lame agents. And Ki Soo? Damn – with the little that he's given, Kim Min Jong really adds a lot of depth to his funny character.
At least these bits of depth make up for the nonsensical BoA plot line, which I don't understand why it has to be included at all.
RELATED POSTS
Tags: Athena: Goddess of War, Cha Seung-won, Choi Siwon, featured, Jung Woo-sung, Kim Min-jong, Lee Jia, Su Ae