ATHENA: Episode 9
OH MY GOD WE HAVE MOVEMENT! On the romantic front, and the nuclear energy front. It did border the State of Cheesy but I guess the good thing about the slow and long build up of Hye In and Jung Woo's romance is that it justifies his actions in this episode. Sort of. Not that I agree with his decisions, but I can't yell "Where'd that come from!?" at my computer.
Warehouse. Jung Woo screams. Hye In writhes in pain at being electrocuted within a water tank. He cries out that he'll do it – he'll steal back the SNC as long as they don't hurt her anymore. Well that was easy.
It's funny that the terrorists apologize to Hye In later for hurting her so – it was all for the sake of being believable. Son Hyuk enters for a private moment, and gently asks if she's OK. He's clearly so into her, but she responds with blank eyes, unmoved by his concern.
Jung Woo returns to the NTS headquarters in Japan, pissed that he couldn't save Hye In and is forced to betray his country. But in the end, it's not that hard – he just goes into the room where it's being kept and unlocks it from the safe. The room is also under surveillance, and Kwon witnesses Jung Woo's act of treason through the cameras. Agents rush in, and bring him to Chul Hwan for questioning.
He is aware that Athena has moles within NTS and was warned not to mention of Hye In's kidnapping. Therefore, he's unable to explain himself properly to Chul Hwan about why he's stealing the SNC. Chul Hwan suspends him from his duties and arranges to have him sent back to Seoul.
Jae Hee is smarter; her hunch is that Jung Woo is acting strangely because of Hye In, who oh-so-coincidentally is now unreachable. Something is fishy! Jae Hee wants to let him go, and take the SNC, because he just might lead NTS to the people who kidnapped Dr. Kim. Kwon allows for Jae Hee to take over the case.
She visits Jung Woo in his holding room and starts off with expressing her disappointment in his inability to admit what is going on. Jung Woo keeps mum and Jae Hee begs for him to just talk, or else she will be put in a difficult position. She reaches out to hold his hand in comfort, gets up, and then touches his shoulder. She tells him that Jin Seok is at home and about to leave with the SNC, and then exits.
Jae Hee had palmed a paper clip to Jung Woo. He pretends to go into shock and topples out of his chair, causing guards to rush into his room. He knocks them out and handcuffs them together. He takes out everyone in his way and runs out. And guess who drives up with his getaway car?
KI SOO! WHEE! My bromance is back. Jung Woo is suspicious as to why Ki Soo is in Japan, but he also has no time with men chasing after him. He gets in the backseat and let's Ki Soo drive him off. Jae Hee follows in pursuit.
Ki Soo and Jung Woo arrive outside Jin Seok's apartment and split up. Guards rush up to protect Jin Seok, but they're of no match. Despite having a gun trained on him, Jin Seok refuses to release the briefcase from the handcuffs around his wrist. In less than five moves, Jung Woo disables Jin Seok and unlocks the case. He runs out the balcony, and when cornered, leaps off the balcony, grabs hold of a cable line, descends far enough and jumps into the water. Ki Soo comes up to him in a speedboat, and as Jae Hee watches overhead the two of them speed off. Cute.
Hye In wakes up from a nightmare with Son Hyuk beside her bed. She's having the same dream of being locked under a deck and how she was always saved – but this time around, no one came for her. (Prophetic? Nah – Jung Woo will come!) Son Hyuk apologizes for having her involved in all this, but she tells him it was her choice. He has nothing to be sorry for.
Pachinko parlor – Ki Soo can't seem to win as many mini balls as the old man next to him. When the old man asks Ki Soo to watch his winnings as he goes to the restroom, Ki Soo decides to switch machines. While I'm yelling at the computer screen for him to just steal the old man's winnings, Ki Soo plays again, and the output is very little. The old man returns, sits at Ki Soo's original machine, and hits the jackpot. I TOLD you to just take the old guy's winnings! You're too upright!
Jae Hee and her agents arrive at the parlor. At the same time Ki Soo calls in to report to Chul Young; he's in Japan and still trying to figure out what is up with NTS' activities. He finishes up the call before Jung Woo sits beside him. Jung Woo has one request – for Ki Soo to get a rifle. Ki Soo also notices that there's a tracking pin on Jung Woo's collar; he takes it and puts it on a random guy while Jung Woo makes his escape.
When the agents report that they're tracking the wrong person, Jae Hee rushes into the parlor and finds Jung Woo. She threatens to shoot him if he doesn't cooperate with her, but he walks anyways, knowing she doesn't have the guts to do it. And she doesn't.
The other agents spot Ki Soo too late, but now they know who Jung Woo is working with.
Now it's time to put their plan to action. The meeting spot is at a cemetery. Ki Soo rides up in a motorcycle and sets up his sniper position (putting the eyepiece the wrong way too. Teehee). Jung Woo arrives with the SNC. A minute later two cars drive up, one with the main captor and the other with the hostage, a hood over the face. Jung Woo hands over the SNC, and after it's been confirmed, the captor gives the signal. One of his guys shoots the hostage execution style, and Ki Soo shoots that man in the head from the distance. Jung Woo and Ki Soo take out as many of the baddies as they can, just as Jae Hee and NTS agents arrive.
Jung Woo is sick with grief as he stands over the dead body. He cradles the body against his own and removes the mask… It's Kim Myung Guk.
Hye In is watching the scene unfold from a distance. Guess having a flat chest means the guy who loves you can't tell you apart from a man when the hood is covered.
Dr. Kim grabs Jung Woo and transfers a small crumpled piece of paper into his hands before he dies. Two terrorists manage to still get away but Jung Woo quickly chases after them. They report positively to Son Hyuk, and he orders for their warehouse headquarters to be cleared. Hye In thinks it will be difficult for her to return, so Son Hyuk takes out his gun, shoots two of his men dead, and tells her to use the bodies whichever way she chooses.
Damn. Well that was generous.
Ki Soo and Jung Woo arrive at the warehouse, where Hye In and the head captor are setting up bombs to destroy all evidence. Despite Ki Soo's warnings of being cautious, Jung Woo prefers to go in guns a-blazin'. He shoots as many down dead as possible, alerting Hye In and the head captor. Jae Hee arrives as backup, and they notice that gas has been released into the air. But no matter, Jung Woo wants to find Hye In!
He yells out her name; Hye In is already out the back door (the head captor with the SNC already gone), and sees Sean Richard waiting for her in the distance. Son Hyuk is watching her from the car. She's about to join them when she hears Jung Woo – he's alive! She is absolutely torn that he's working so hard to find her. The bombs count down and there's only 20 seconds left.
Hye In makes her decision: she runs back into the warehouse. Son Hyuk looks absolutely morbid as he watches her run off.
With less than fifteen seconds before everything goes KABOOM, Ki Soo forces Jae Hee to get out of the building with him. With less than five seconds, Hye In finds Jung Woo and drags him out the back door, just as the warehouse explodes behind them.
Hye In is knocked out, but OK, and they are reunited with Jae Hee and Ki Soo. But Jung Woo isn't done – now he has to go after the SNC.
He grabs Ki Soo's motorbike and chases the terrorists, all of whom are on a motorboat. Jung Woo fires a few choice shots, killing a couple of them and making the motorboat leak gas. He drives the bike up a plank, lets it fly into the boat and causes it to explode. Jung Woo, having landed in the water, swims up to retrieve the SNC case floating in the water.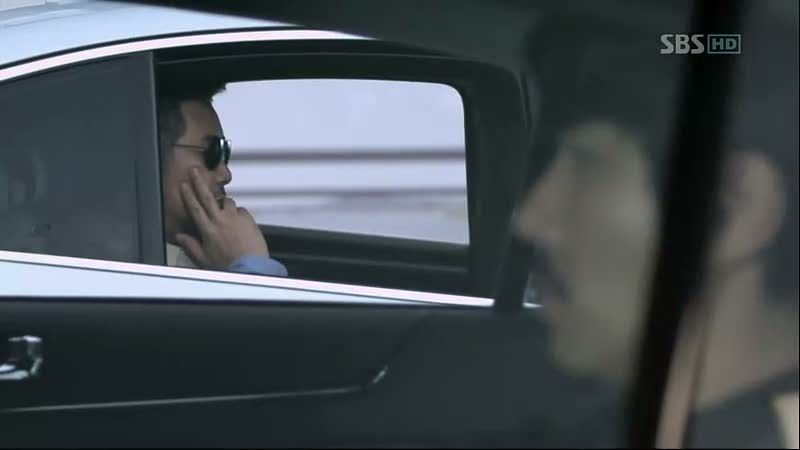 As NTS and Kwon make their way to the site, Sean Richard drives Son Hyuk away. The two cars pass each other on the road but neither side notices the other.
Jung Woo is a hero! But also a traitor. An internal investigation team arrives at NTS to interrogate Jung Woo, Hye In, and Ki Soo, also confiscating all of their belongings. Kwon orders Chul Hwan to take over matters in NTS – he's going to step down as director and take responsibility for the recent fiasco.
Jae Hee overhears about this and arranges to meet her father. She asks him for a favor – to find out who is part of the Special Investigations Committee and where they are holding the "prisoners" for questioning. Her father can tell she's still worried about Jung Woo, but she asks that Jung Woo be let go – he would never betray his country.
During a meeting with the President and all advisors, Jae Hee's father calls for someone to be held responsible. Kwon steps up and announces his resignation. Of course, the president won't let him go just like that, so he addresses Kwon privately. If the group behind the recent kidnappings is Athena, then he won't let Kwon resign. Kwon must help in fighting off corrupt groups and regain his honor. I feel bad for the president – either he's lax about security (which makes me feel worse for South Korea), or just plain unlucky to be hit with two rogue groups (IRIS and ATHENA) during his presidency.
Because everything has to happen in a warehouse or a big building in the middle of nowhere, the three prisoners are interrogated separately. One is suspicious as to why Dr. Kim was killed in place of Hye In, while Ki Soo tries to avoid getting caught for running a mahjong parlor. Another one grills Jung Woo about choosing to risk national security for the life of a fellow agent, and Hye In's interrogator makes her feel guilty that Jung Woo would risk so much for her.
Son Hyuk on the other hand is in a really foul mood. Not only did he lose both Dr. Kim and the SNC, but he also lost Hye In. Sean Richard also couldn't find out where Hye In is being held, so Son Hyuk grabs him by the throat and tells him to do it quickly.
I'm kinda hoping Sean Richard will betray Son Hyuk, based on that bitter glare he gave him. Or, he's just pissed Son Hyuk isn't more interested in him…
But he does find out that Jae Hee's father is in charge of the investigation. Son Hyuk immediately meets up with him – in a garage no less – and slaps him hard right across the face. He asks why Han Jeong Pil didn't bother to report to him about the investigation.
Wait whut? Han Jeong Pil…works for Athena?!
Son Hyuk wants Hye In released immediately. No reason given. He doesn't care whether it'll be easy or not, he just wants Director Han to do it. Son Hyuk: "If you keep on disappointing me, things will get more difficult for you."
With no choice, Director Han orders a halt on investigations on Ki Soo and Hye In. But for Jung Woo, he's still stuck inside.
The moment Ki Soo's out, he calls up Chul Young. He's got information to share.
Comments:
Yes! I am so happy Kim Myung Guk died! I've never been so happy to see someone die. His death can propel the plot forward, because there are no more games to be played, no more, "He's kidnapped!" "He's rescued!" Now, it's just straight up trying to finish the development of the nuclear technology (so that Kim Seung Woo can continue hounding the President) and finding Athena (so that NTS can stay busy).
This would have been a better time to introduce the BoA storyline because she could have had a connection to Athena, rather than the nuclear technology. Since the Kim Myung Guk story is done, we could have another "case" or "incident" like the Jo Soo Young kidnapping – something that seems kind of peripheral, but is part of the main plot.
I think Son Hyuk is putting himself on the line a bit too much. He's so blatant about his feelings towards Hye In that whenever she's hurt, he goes to great lengths to protect her. When he went to confront Director Han directly, I wondered how much longer he could go before he got caught. Doing the slapping, the killings, the threats all by himself… some camera's got to catch him one day!
And as for Hye In-Jung Woo coupledom – he's incredibly stupid, but he's been stupid around Hye In for the past nine episodes. At least he's getting some of those feelings reciprocated now. It's nice to see Hye In so conflicted, because it allows for a bunch of betrayals and double crossings to be made. I welcome those with open arms – as long as we can see some sleight-of-hand passes like Alias did.
What was that?
RELATED POSTS
Tags: Athena: Goddess of War, Cha Seung-won, Choi Siwon, featured, Jung Woo-sung, Kim Min-jong, Lee Jia, Su Ae