Scent of a Woman: Episode 9
With feelings confirmed and out in the open — hence putting to bed the conflict of self-denial — it's time for the Dreaded Others to step in as antagonist of the day. With the burden of bad guy shifted to meddling others, at least we get some cute, sexy, happy times with our main couple in the brief window of time they get before Yeon-jae's cancer steps to the fore. And I think that's gonna happen sooner than later, to my sadness. Why is happiness so fleeting in K-dramaland?
SONG OF THE DAY
Scent of a Woman OST – "화답" (Response) [ Download ]
Audio clip: Adobe Flash Player (version 9 or above) is required to play this audio clip. Download the latest version here. You also need to have JavaScript enabled in your browser.

EPISODE 9 RECAP
Sae-kyung's family is taken totally by surprise at Ji-wook's defection, and while Chairman Kang is trying to slap some sense back into them, the parents wonder what's going on. Hot-tempered Big Brother is particularly insulted and doesn't hide it when Chairman Kang returns to the party and hangs his head apologetically. But Chairman Im's decree puts an end to the potentially squabbling: He tells his family to keep today quiet, and tells Chairman Kang to do what he can to bring Ji-wook back around.
Sae-kyung battles her conflicting desires to speak up out of fairness to Ji-wook, and to keep her mouth shut so as not to incur blame. Ultimately she says nothing while Chairman Kang receives her family's scorn.
And then, on their way out of the restaurant, Dad collapses, clutching his heart. Ah, that old chestnut.
Ji-wook arrives outside his home and crushes Yeon-jae in a hug, not letting her break the embrace and only letting go once she gasps of not being able to breathe. He asks her to come inside, and at her hesitation he laughs, "What are you imagining?" and tells her he has something to say.
He tells her he called it off with Sae-kyung, and she takes this in quietly and asks why. Her response isn't as dramatic as he may have expected, and he tells her not to think it was because of her: "I did it because of me. I want to live my life, too."
His tone is uncertain because of her calm response, so he asks why she asked him out — what if he said no? But that's moot since he admits he isn't averse to the idea, and the mood lightens.
A phone call delivers news of Sae-kyung's father's collapse, however, cutting this short and taking him to the hospital, where the Im family has already arrived.
The mood is fairly hostile as Sae-kyung's brother tells Ji-wook's father to leave, since he's technically the cause. Perhaps feeling guilt for not speaking up earlier, Sae-kyung steps in and speaks to him more kindly.
Ji-wook arrives just as his father is leaving, and Dad faces him with scorn, telling him to fix this or he's never speaking to him again.
Chairman Im's condition isn't life-threatening; his angina has been aggravated by stress-induced shock, but he'll be fine soon. Sae-kyung's brother blames her, though, and reminds her that she'd caused Dad grief with man troubles five years ago, too.
When Ji-wook arrives, Sae-kyung asks why he didn't use her extorting ex as a reason to take the heat off himself. She's got tears in her eyes, as though she wishes he hadn't taken the high road because it's just easier to hate him than to feel like he's done her a kindness. Ji-wook says he didn't use that as an excuse because it had nothing to do with the reason he broke it off.
Both Ji-wook and Sae-kyung spend the night in the hospital room, until Chairman Im wakes in the morning. He asks Ji-wook again about the engagement, giving him a chance to take it back, but Ji-wook replies that he's sorry.
Sae-kyuung's bitter that he couldn't even pretend to reconsider, if only out of consideration for her father's weakened condition. Ji-wook answers that the marriage wouldn't happen in any case:
Ji-wook: "There are times when I think my father has even picked out the coffin I'll lie in when I die. I felt suffocated to death, but I always did as he wanted. But I can't any longer. I've begun to want to live a life of my own, rather than my father's. Live your own life, too."
Eun-seok spots the two of them talking and puts two and two together, figuring this is Ji-wook's fiancee. So when Ji-wook runs into him on his way out, Eun-seok tells him pointedly, "You're busy this morning. This woman, then that woman. Whichever side you choose, shouldn't you tie up loose ends quickly?"
Ji-wook tells him he has. Eun-seok's face registers his surprise (and alarm, poor Dr. Poopy!) when Ji-wook adds that he's called off the engagement.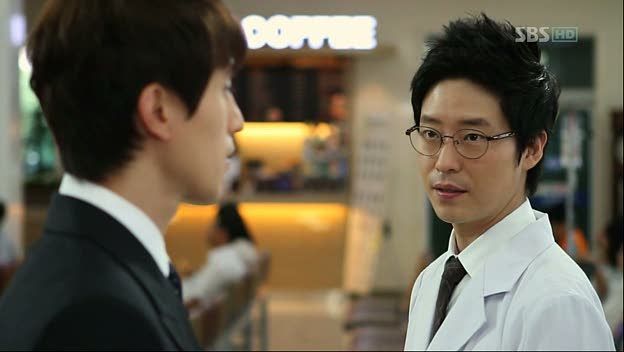 Chairman Im isn't ready to take this lying down, and tells his secretary to apply pressure to Line Tour, "just enough to scare them." The engagement has advanced so far that any step backward would be a public embarrassment for both sides, so this is really more for saving face than anything. And when you're a huge conglomerate like Seojin Group, there's a lotta face needing saving.
Ji-wook is adorably nervous as he works up the nerve to call Yeon-jae, tapping his fingers and fidgeting as he asks her out to dinner. She's nervous as well, but handles it with more composure, whereas he breathes a sigh of relief so big at her acceptance that you'd think he'd just been granted a stay of execution. So cute.
Hye-won pops out of work to drop by Yeon-jae's house, bearing health foods for her cancer. She's happy to hear about the broken engagement, although Yeon-jae feels much more conflicted about it — she's happy, of course, but uneasy and a little afraid as well.
I can see why Yeon-jae wanted to keep her cancer to herself, given that now Hye-won is overwhelmed with her own feelings of sadness and grief, while Yeon-jae wants to savor her remaining time without the label of Cancer Patient. But it's not all badness, because at least now she has somebody to cry with her and miss her and understand how precious her time is.
When Hye-won returns to work, Manager Noh makes a sarcastic comment about her extended break, but that doesn't have its intended effect (of cowing her into submission). Instead, Hye-won bursts out, feeling frustrated at the unfairness of Yeon-jae's cancer, "This is all your fault! It's because of the stress you cause!" He's left scratching his head over why women in that desk always blow up at him, ha.
Suddenly, all the office phones start to ring, with clients canceling plans left and right. Clearly Seojin has swung into action, and Line Tour is forced to jump into emergency meetings to try to make sense of all the chaos.
These aren't just individual travel packages, but huge deals like partnerships with airlines and hotels. The execs quickly make the connection to Seojin, and guess that there's trouble in the air with the would-be in-law family.
Sae-kyung remains unaware of her father's doings as she meets with the Line Tours team for an MOU-related meeting. It's only when Ji-wook takes her aside to apprise her of the developments that she realizes what Dad has done, with some surprise at the swiftness and magnitude of his actions.
Eun-seok's boss assigns him to handle Chairman Im, which means there's a complication that the tests uncovered. A small growth was detected in the chairman's throat, and while it appears benign at the moment, it must be examined further.
The Line Tour office is swamped with calls, keeping them busy well past closing time. With the employees frantically fielding calls, Ji-wook volunteers to meet one client in person, which means he has to cancel dinner plans with Yeon-jae. To take the sting out of the last-minute cancellation, he jokes that he's playing hard to get intentionally, to make her miss him.
He takes care of the matter, then comes home late to find his father waiting for him. Chairman Kang tells him to beg forgiveness of Chairman Im immediately and continue with the engagement.
Ji-wook stands up his father, saying that he can't live by his father's dictate anymore. Dad blows his lid, yelling that he worked his ass off to build this company, which Ji-wook would ruin in one blow. Ji-wook replies, tears pooling in his eyes, "Do you think I don't know that? In doing that, you abandoned Mother and me. You were so crazed with work that you didn't even know she died!" Ji-wook recalls attending her funeral alone, at the tender age of 12, scared to death.
Ji-wook asks his father why he's changed — he was fine without Seojin Group, building his company from a tiny office with one employee. After such an accomplishment, why is he so dependent on Chairman Im's strength now? Ji-wook insists that Dad will be fine without Chairman Im's support — and Ji-wook won't let the company fall to ruin. "So please, Father, just leave me be."
Mention of Mom's death is a sore point, and Dad sits down heavily and says with a sigh, "What could you do? What do you think you can do?"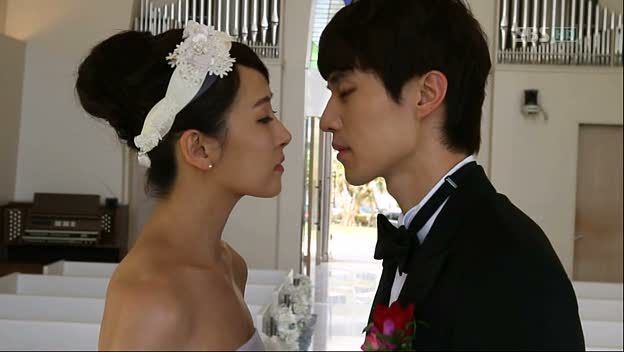 Yeon-jae goes through the morbid process of guessing how many days she has left to live — 127 or so, she figures — and flips through her bucket list. At the wish about wearing a wedding dress, she imagines marrying Ji-wook in a chapel like the one she saw in Okinawa. Then she shakes her head ruefully and flips ahead to another one: To ride a bicycle along the coast.
Ji-wook texts her from outside her house, continuing the joke about playing hard to get and saying that he's showing his face to her now so she won't miss him all night. With that, they send each other cute little goodnight waves as Yeon-jae makes her way (very, very slowly) back inside the house, pausing to look back and wave some more.
With the upcoming travel season fast approaching and all their overseas tours virtually frozen because of Seojin's power play, Ji-wook decides to turn their attention to domestic travel packages in the pipeline, like Yeon-jae's Wando tour idea. With other employees too busy to take on the necessary work needed to launch a new campaign, he again volunteers himself and prepares to make the trip.
Chairman Kang hears about Ji-wook's intention to go to Wando directly and grumbles about the futile endeavor, but it's worth noting that his dismissal isn't quite as sneering as before. I suspect we're going to continue to see Dad express his skepticism, but with his cynicism diminishing as Ji-wook proves him wrong with each mini-victory.
Yeon-jae calls Hye-won out with a birthday cake, her good cheer contrasting with her friend's heavy mood. In addition to worrying about Yeon-jae's health, she's weighed down by the work mess and tells Yeon-jae about the Seojin crisis. Hye-won expresses sympathy for Ji-wook's burden as he runs around in damage control, heading to Wando alone.
Chairman Im's endoscopy goes smoothly, and Eun-seok tells the worried family that the growth was removed successfully. He adds that if it had grown, Dad could have been in greater dancer — a fact that big bro ungraciously twists around on Sae-kyung, saying bitterly that it's great that the problem she caused actually saved him from greater harm. And Daddy loves you too. God, why are you such an ass, spoiled little manboy?
Yeon-jae heads in for her next chemo session, preoccupied with the Seojin crisis and how Ji-wook is running himself ragged trying to fix things. By the time she sits with Eun-seok for their appointment, she has decided she can't sit by without doing something about it, and asks to push her treatment back two days.
Eun-seok can't approve the move, telling her that she's not in a position to delay her sessions. But her mind's made up, and Yeon-jae rushes out with an apology.
Despite her worries, Ji-wook is actually managing on his own quite well. He charms the Wando contacts, who are thrilled to receive him personally and pleased with the way the travel package showcases their highlights.
Yeon-jae pulls up while he's out seeing the sights in person, and Ji-wook reacts to her arrival with pleasant surprise. She tells him teasingly that she came because she was afraid he'd give this his usual half-assed — daechoong — attention, and had to make sure her project was carried out properly.
They continue the tour together, from harvesting abalone to scoping out camping sites.
Sae-kyung hears about the chaos at Line Tour and how Ji-ook is trying to salvage the situation. She calls him to say that she's sorry for the trouble and offers to tell her father the truth once his condition has improved. Ji-wook tells her that he anticipated fallout when he broke the engagement, letting her off the hook, but she says that she wants to repay the debt since he didn't use her ex as an excuse to cry off.
Just then, Yeon-jae (who's pitching their tent) cries out in pain after accidentally hitting herself with the hammer, and Sae-kyung narrows her eyes suspiciously. Is he there with Yeon-jae? All of a sudden her calm understanding dissipates and her jealousy rears its head, and she exclaims angrily about being passed over for a woman like that. Ji-wook tells her that it's none of her concern, and ends the call.
That just makes Sae-kyung fume even more, and she remembers her last meeting with Yeon-jae, when the latter warned her of revenge. Uh-oh. This isn't going to turn into some big misunderstanding, is it?
Ji-wook and Yeon-jae set up camp and sit together, enjoying the night air. Now that she knows that his actions brought the wrath of Seojin on his company, she hesitantly asks if he regrets breaking the engagement. Ji-wook says merely that if he hadn't, he'd have even bigger regrets.
In a sharing mood, he tells her that after his mother died, he stopped caring about things: "I didn't want anything, and nothing was interesting." But since Dad provided everything, he figured that it made sense that he follow Dad's orders, including marriage. "But I started thinking that I couldn't live that way anymore. And the reason for that seems to be you."
She doesn't know how to take that — it's touching, but also a lot to take on — so she nervously babbles that it's time for her to leave. Hurrying through a muddled goodbye, she stands up to go. Ji-wook grabs her wrist and asks her to stay.
She stays, and they settle down to sleep, albeit separately: Ji-wook sits in his car and Yeon-jae takes the tent. But he's bored, and keeps calling out to her using the littlest excuses to continue talking.
For instance, he tells her to zip up the tent tightly so bugs won't get in, just in time for her to spot a beetle crawling across the floor. She shrieks and jumps, so Ji-wook races to the rescue and barges into the tent. Wrapping the teeny widdle bug in his jacket, he tosses the whole thing outside and hurriedly re-zips up the tent, both of them waiting for their racing hearts to calm down from the fright.
Ha. I suppose he couldn't have asked for a better excuse to end up on the same side of that zipper. Especially since she's more freaked than he is and tells him not to open the tent again, lest it come back. And you two city slickers are the ones planning a camping project? Isn't that like a deaf man planning a concert?
With the danger (snerk) passed, Ji-wook's attention takes a turn and he registers their closeness. He moves in close for a kiss that goes from vertical to horizontal…but hilariously, that sideways move collapses the tent and they roll around clumsily until they break free of the vinyl prison and start bickering about who built what badly and who didn't help.
In the morning, Yeon-jae emerges from the tent wondering where Ji-wook went, then sees him appear at a distance with two bicycles. He comments about having seen her notes about the bike ride (which just happens to be in her bucket list – another item to check off).
He invites her to join him, although his face falls hilariously when she admits she doesn't know how to ride.
I'm pretty sure their compromise makes up for that:
Then, it's time to head home. On their drive back, Ji-wook pulls over at the side of the ride to take a quick look at the bluff, explaining that he's looking for a particular hill. Most likely it's the vision he had of the tree where he buried his time capsule with Mom, based on his earlier memory of it.
This isn't the right spot, though, so he turns to head back. Yeon-jae follows behind him, so he misses seeing the flash of pain when she doubles over and clutches her stomach. He looks back and asks if she's in pain, but she lies and tells him no.
But it's not so easily dismissible, especially since she white-knuckles it the entire trip back. Ji-wook asks again about the pain, but she waves it off again, saying that it's probably just a stomachache and that she'll be fine soon.
Arriving at her house, she sends him off quickly, not wanting him to see her dealing with the pain that's becoming harder to hide. They don't see that Sae-kyung is parked in front, eyeing them with a death glare.
She waits until Ji-wook is gone before approaching Yeon-jae, who is leaning against the gate heavily, doubled over.
Sae-kyung practically breathes hatred as she asks Yeon-jae if this is the revenge she spoke of — stealing her man and wrecking her engagement.

COMMENTS
I can't say I love this Seojin Juggernaut storyline any more than I liked the Wilson one, because it feels like a retread of the big guys bulldozing over our heroes out of snideness. I think there's plenty of emotion and story to be mined out of the relationships and the resolution of how Yeon-jae lives out her remaining days that I'd rather see that be the focus of the drama, rather than more corporate assholery. Like Eun-seok's conflict as he watches the woman he loves both finding another man AND dying. Ugh, just punch me in the stomach while you're at it, will you?
Yeon-jae's starting to feel pain, which means that the giddy, free-spirited days of Living (capital L) are winding to a close. Well, come to think of it, so are her days of living (lower-case L). With the drama halfway over, it's probably about time this development showed itself, and it's true that I wouldn't want the drama to skimp too much on showing the cancer part, because as painful as that would be to watch, it gives her conflict stakes and heft. But now the ticking clock is really making itself heard, and it makes me nervous and sad.
On the upside, the onset of her symptoms makes it harder for Yeon-jae to keep her condition a secret. And while I do understand her reasons for wanting to keep it to herself — she doesn't want to be treated like a Cancer Patient, and she wants to enjoy what remains of her life without being defined by illness — I do think it's frustrating that she withholds it using the argument that they wouldn't be able to handle the truth. It's one of those staples of self-sacrificing, silently suffering K-drama heroines that drives me up a wall, because even if you're right, you've stripped people of the ability to react, to prepare themselves, to say the things they want/need/hope to say before the ultimate goodbye. Yes, it's your right to the kind of death you want, just as it's your right to live the kind of life you want, and it's your right to be selfish. And it's my right to hate to the fiery death the kinds of heroines who use that line of thinking.
RELATED POSTS
Tags: Eom Ki-joon, featured, Kim Sun-ah, Lee Dong-wook, Scent of a Woman, Seo Hyo-rim