School 2013: Episode 10
Major developments drive today's episode, not in one but two broken friendships. Sacrifice is the name of the game, though thankfully not of the stupidly noble variety; it's more like stepping up to prove how much your bromance is worth to you. For a species (the teenage male, I mean) that's so averse to candid and emotionally frank communication, quite a lot gets said today, maybe just as much via nonverbal actions than through words.
SONG OF THE DAY
Marigold – "8 Years" [ Download ]
Audio clip: Adobe Flash Player (version 9 or above) is required to play this audio clip. Download the latest version here. You also need to have JavaScript enabled in your browser.

EPISODE 10 RECAP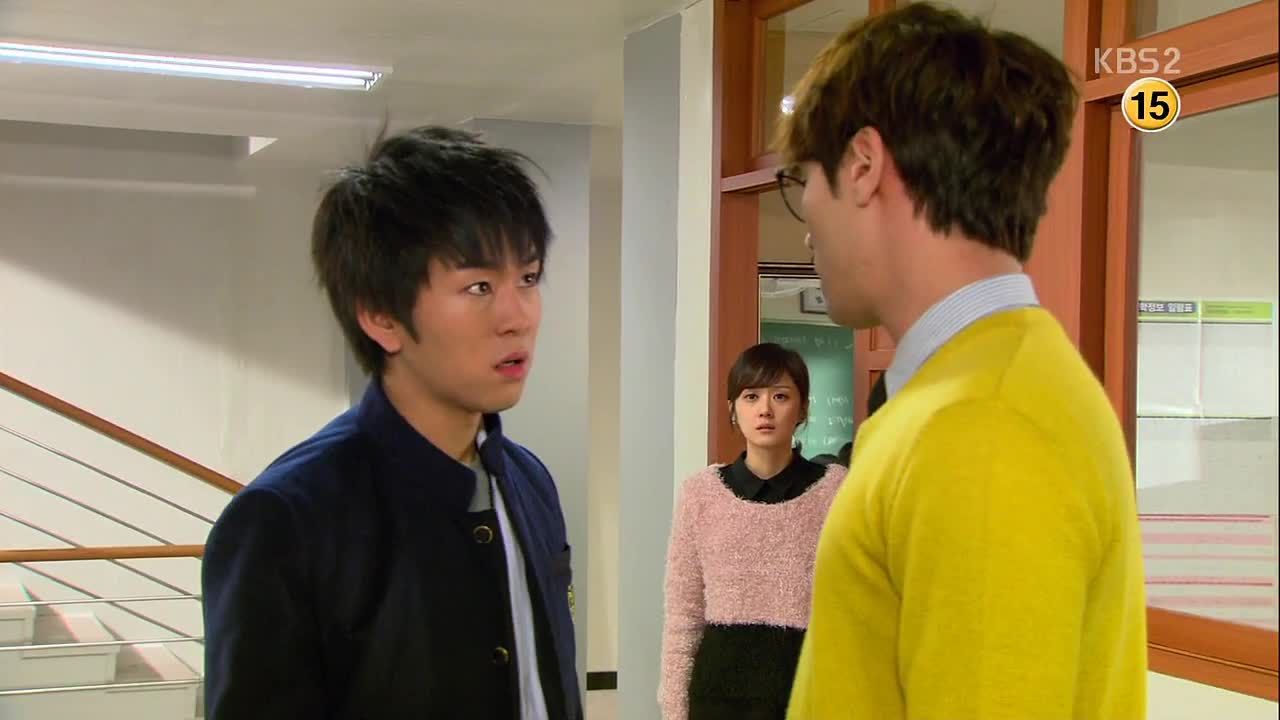 Pulling Jung-ho out of the testing session he's disrupting, Se-chan gives the ultimatum to stay at school or never come back.
This seems like a brilliant idea if your goal is to get rid of the kid. As I doubt that's his intention, chalk this one up in the "whoops, miscalcuated" files. Jung-ho leaves, to nobody's surprise.
Meanwhile, Nam-soon and Heung-soo are stuck in the storage shed, having been locked in accidentally. Heung-soo's hating this and asks what they're going to do. Nam-soon misinterprets (perhaps deliberately) and answers, "Everything—I'm going to do everything I should have done three years ago."
Heung-soo doesn't want to hear apologies, but Nam-soon presses on—it was an accident, that he was just planning to repeat the initial hazing in that last fight. Heung-soo starts pounding on the doors to get out, trying not to listen as Nam-soon raises his voice to say that no matter how messed-up he was, he had zero thought to injure his leg.
Heung-soo grabs him by the shirtfront and growls, "I know! I know it was a mistake! So shut up." Nam-soon persists, "But it was still my mistake. I wronged you."
Heung-soo is unmoved. "If it was an accident, if it was your mistake, what does that change?"
Nam-soon holds back tears. "That's why. Because nothing changes, because this isn't something that will change just by trying, I'm sorry, you bastard. I'm sorry to death. I'm so sorry I can't even say the words I'm sorry—"
Heung-soo punches him in the face.
Nam-soon comes back from the punch literally asking for more—he says Heung-soo should have done this at the start, and when Heung-soo doesn't punch him again Nam-soon challenges him to be honest with himself. He grabs Heung-soo's fist and tells him to have at it, to beat him as he must've beat him up a thousand times in his mind since that day.
Heung-soo agrees that yeah, he did. His temper finally flares, and he shoves Nam-soon as he yells, "What are you gonna do about it?!"
Only, the shove sends Nam-soon into the tower of precariously stacked chairs, which come crashing down on top of him. He falls unconscious under a pile of metal, and Heung-soo frantically digs him out.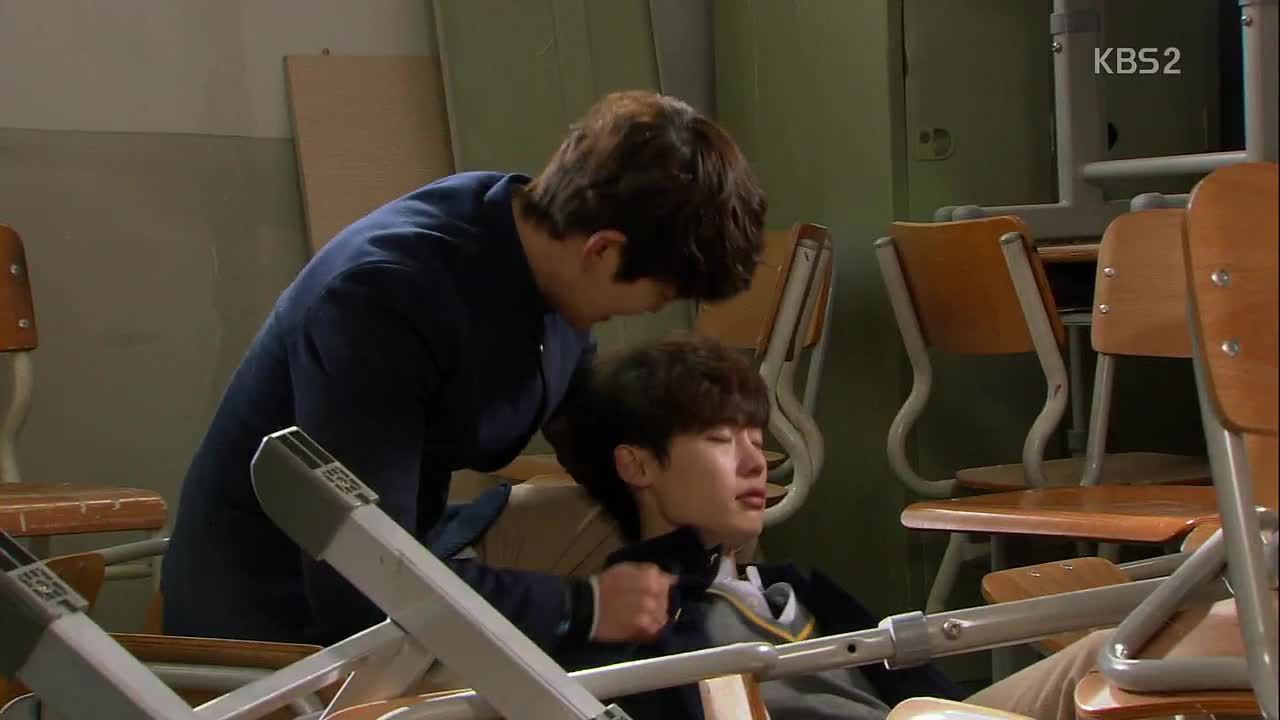 Their absence is noted by the teachers, but Se-chan supposes that they're just off attending to their own matters. That's what happens when cutting class becomes so routine; nobody looks for you anymore. Uhmforce does puzzle at their absence, noting that they left their bags and cell phones behind. That means they're still on campus somewhere, and he goes off determined to see what trouble they're brewing up.
Heung-soo pounds on the door and screams for help in a panic, which is all the more heartwarming for the look of confusion that crosses his face when Nam-soon stirs awake. He's not totally unscathed but neither is he on the brink of an early demise, and Heung-soo heaves a sign.
Ha, you almost see him wishing he could take back his worry, but that's the thing about love—once it's out in the world, it ain't yours to keep anymore.
Heung-soo settles back, drained, and Nam-soon says matter-of-factly that he'd been scared: "I was scared of you abandoning me to go to Seoul to play soccer." Heung-soo points out that he didn't end up leaving, so why'd Nam-soon run away?
Nam-soon answers, "Because I thought you'd throw me away for good. That you'd say you'd never see a bastard like me again. Because all I had was you. If I heard those words coming from your mouth, I had nowhere to go."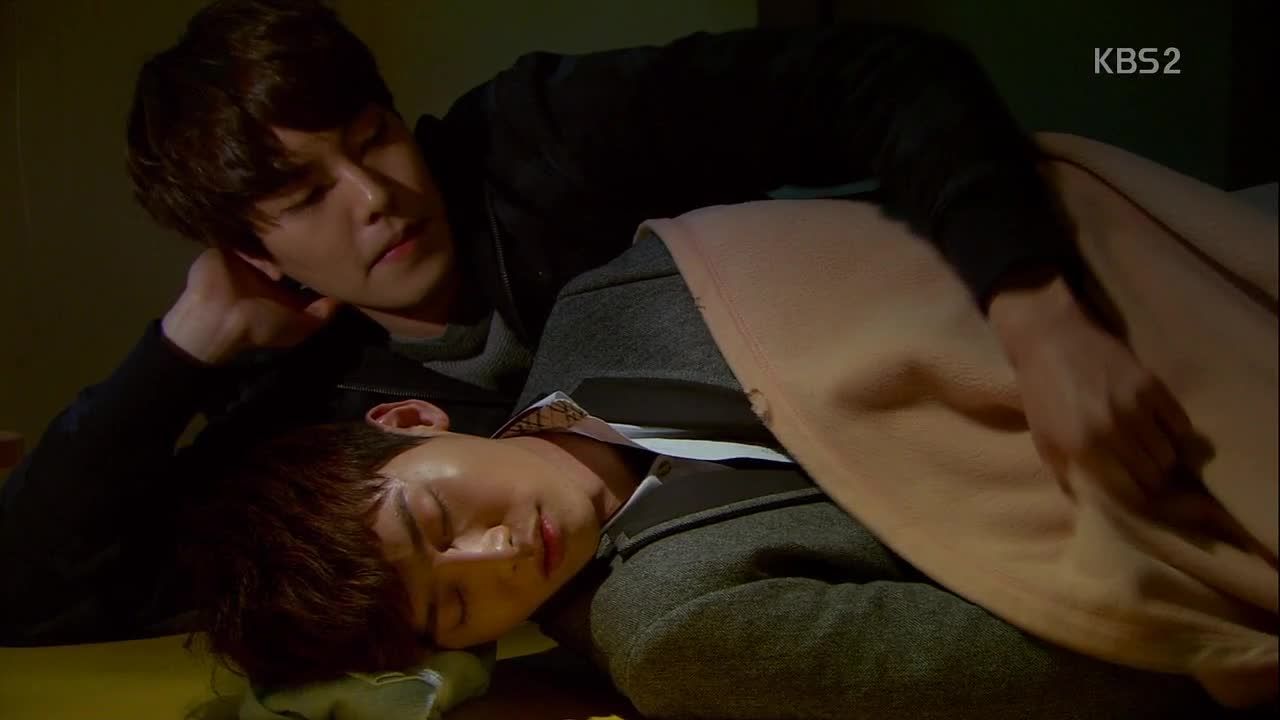 Flashback. Nam-soon quietly sneaks into Heung-soo's room, their daily routine, and settles in to sleep. Heung-soo asks why he doesn't sleep at home, and Nam-soon answers, "I'm comfortable here." Plus he's a loyal friend. Heung-soo scoffs that he just didn't want to be alone at home: "Don't you have anywhere to go except to me?" Nam-soon feigns sleep, and Heung-soo tucks him in.
The same memory seems to be playing in their heads now as they sit on opposite sides of the room in silence.
Uhmforce arrives just outside the shed and sees the smoke puffing out from its open window—Heung-soo's just lit a cigarette. Aw, is he going to assume he just skived off for a smoke?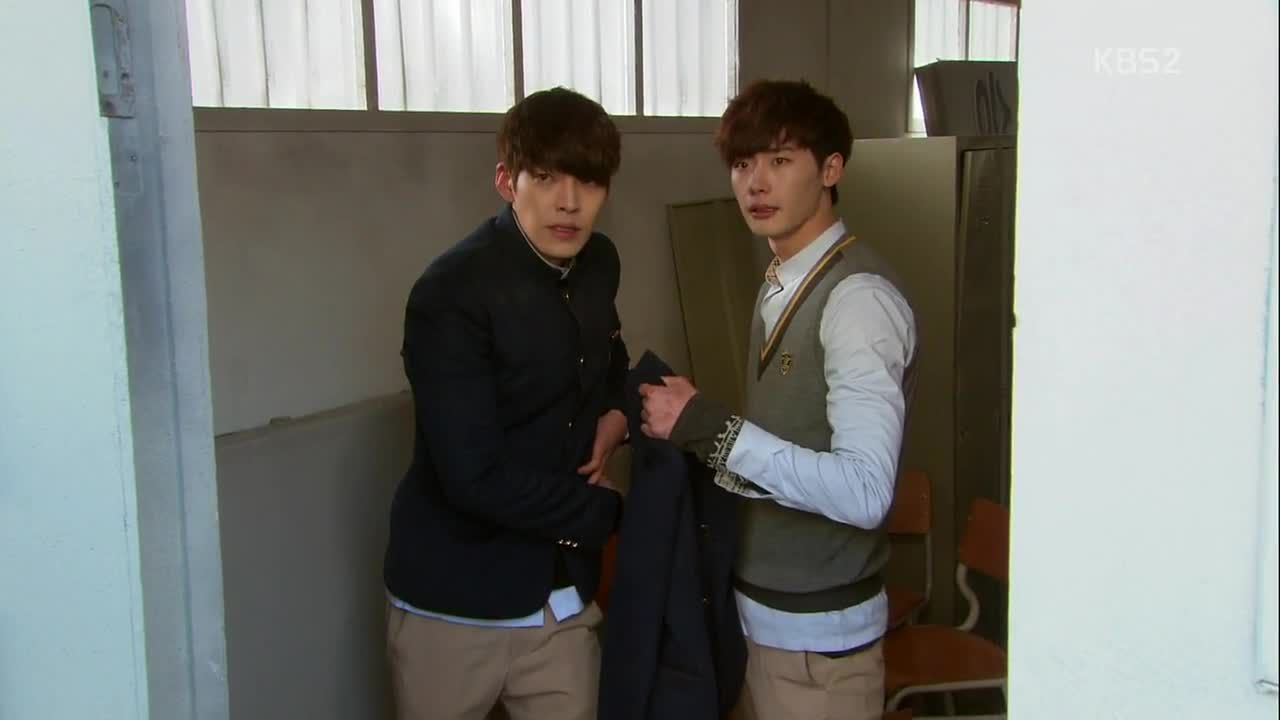 He goes for the janitor, and the door swings open just as the boys are hurriedly fanning the air to thin out the smoke. HA. Way to not look guilty, guys.
But it's not Uhmforce who's let them out—it's Se-chan, who assesses the scene: fallen chairs, scraped hands, stamped-out cigarette butt. He notes, "I've caught you red-handed."
Uhmforce arrives and takes over, ordering the smoker to step forward. At which point Se-chan steps in front and baldly lies, "I was thinking of my youth when I came here to smoke, for old time's sake. It was me."
Pwahaha. This isn't exactly convincing but Uhmforce steps aside, leaving Se-chan to the disciplining of the truants. Se-chan sends them this smirk, saying they are his now.
Minions 1 and 2—I suppose we can call them Yi-kyung and Ji-hoon now—find Jung-ho napping up in the pool hall, which is also home base for the older gangsters that even Jung-ho finds intimidating. Ji-hoon wants to talk, but Jung-ho's still smarting from his earlier betrayal (y'know, for wanting to go to school and have a future) and snaps at him. They should scram, since he's got a new crowd now—these hyungnims.
For all their braggadocio at school, the two friends are shocked at this bit step toward adult delinquency; you get the sense they'd only thought to keep up the teenage rebel thing till high school was over. They don't really want to live this way forever.
Ji-hoon can't believe Jung-ho would decide to become one of those hyungnims' underling. It seems like Jung-ho needs to be pushed—no, wants to be pushed—back to the safer side, but pride dictates he keep up the big talk and he insults Ji-hoon into stalking away in frustration.
Yi-kyung, the peacemaker, sticks around and assures Jung-ho that he wouldn't leave him, which appeases him somewhat. But then Jung-ho turns to the gangsters to announce that he found out who their bike thieves are, and they happen to go to his school. Gulp. Nervous Yi-kyung clearly feels this is going too far, but he's hardly in a place to stand up to any of them.
Se-chan sets the boys to sweeping the office, annoyingly pestering them to do a good job. Then he sends the boys to write essays on their wrongdoing, which elicits twin looks of aggravation on their faces. It's pretty priceless, but given the choice to write essays now or write them under Uhmforce's direction, they grudgingly comply.
Then he levels with them: Do they really not want to come to school? Do they really insist on one of them being transferred out? If that's not the case, they'd best give school a proper try. Stop fighting, stop smoking, and act like students.
The boys stoically grimace through Se-chan's orders that they return here tomorrow, and if they ditch or are late, he'll hand 'em over to Uhmforce. Ha. I love how Uhmforce is the universal threat.
As they leave campus, Nam-soon spots the gang of hyungnims hopping the wall. Even without knowing the reason for this visit, it can't be good news and he yanks Heung-soo back out of sight, indicating that they'll sneak out back.
Heung-soo asks how long he's going to keep running from them, since he'll inevitably have to confront them someday. Nam-soon figures that'll happen when it happens. For now, it's best to avoid.
The principal also advises our teachers to do nothing about the Jung-ho situation—if he doesn't return to school of his own accord, the school won't step in. Se-chan tells In-jae that there's no use going after him, because without a change of heart coming from Jung-himself, he'll just keep stirring up the same trouble.
In-jae knows that, and she's not disagreeing. It's just that she wonders whether Jung-ho would be able to come back even if, say, he were to decide he wanted to. She asks whether Se-chan would be able to do it—to admit he was wrong in the face of all the embarrassment. Isn't telling a kid to do something that an adult couldn't do just the same as telling him not to bother?
Nam-soon and Heung-soo get pulled out of class by Se-chan, who presents them with test sheets. He wants to see how much they know, and takes a jab at their pride—if they get stuck in remedial class, that means they're as dumb as third-graders.
Nam-soon speaks up to vouch that Heung-soo's smarter than he is. Ha, Heung-soo shoots him this look.
Ha-kyung goes to Se-chan for advice on her academic file—she's feeling uneasy about her admission chances and wants to beef up her activities. He advises her what she can add, recommending a debate competition or some such activity, and wonders why she came to him. She replies, "Just tell me how to study." As in, that's all he's good for—the numbers and the odds and how to beat them.
The teachers note that with the nationwide exam results out, the students are finally spurred to study—even if, in the case of Class 2, that means as little as asking what page of the book to turn to. At least they're feeling the panic, which is motivating.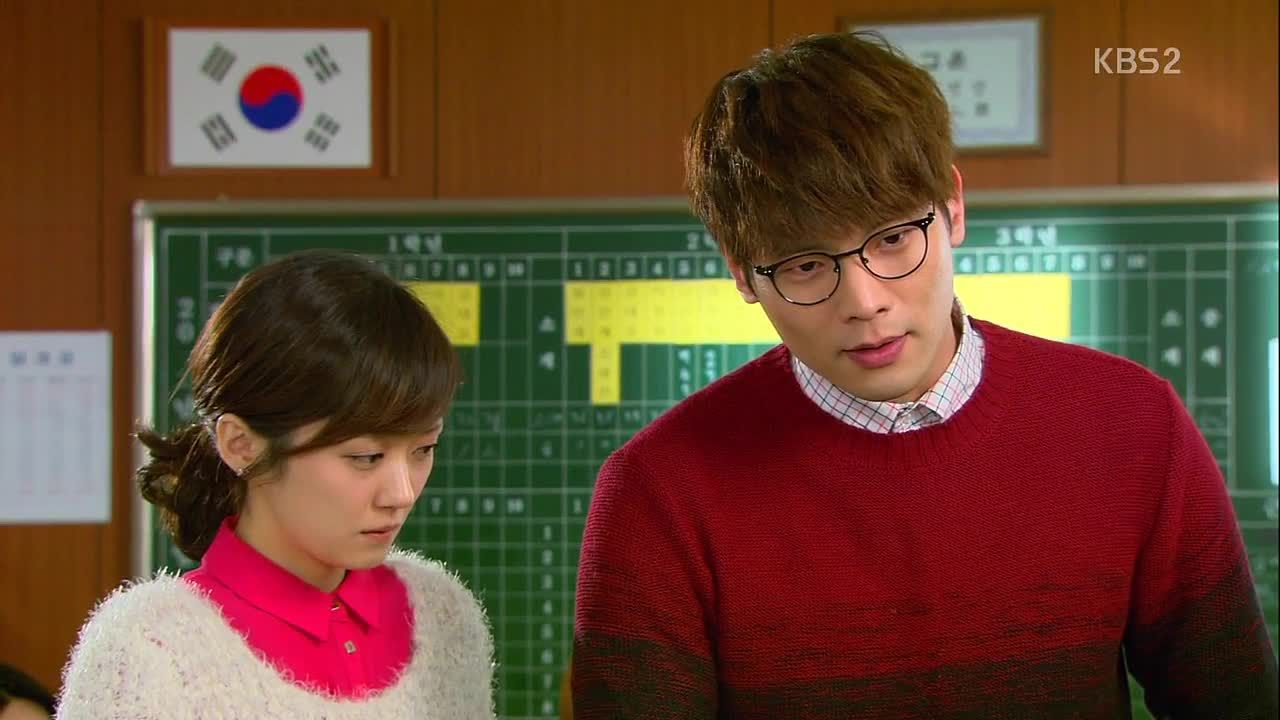 Principal Im makes her next move, which is to make Class 2 evaluate In-jae's lessons—but not Se-chan's, or anybody else's. He's outraged on her behalf and takes it up with the vice principal, aware that the school is actually soliciting negative critique of In-jae. Basically, the principal's steamrolling In-jae into compliance, so that Se-chan's test-prep methods prevail.
But In-jae says she'll allow it, to Se-chan's surprise. He asks point-blank whether she's using the kids as her excuse to give up: "Do you have so little confidence in your teaching?" It looks like he hit the nail on the head, because she just asks back, "Do you have confidence in yours?"
She admits that she's at a loss to know how to teach to everyone's levels, or to instruct kids who don't even know why they need to be in class. They're in charge of teaching kids who've already give up and kids who aspire to go to Seoul National University in the same classroom: "Wouldn't having confidence in the class be stranger?"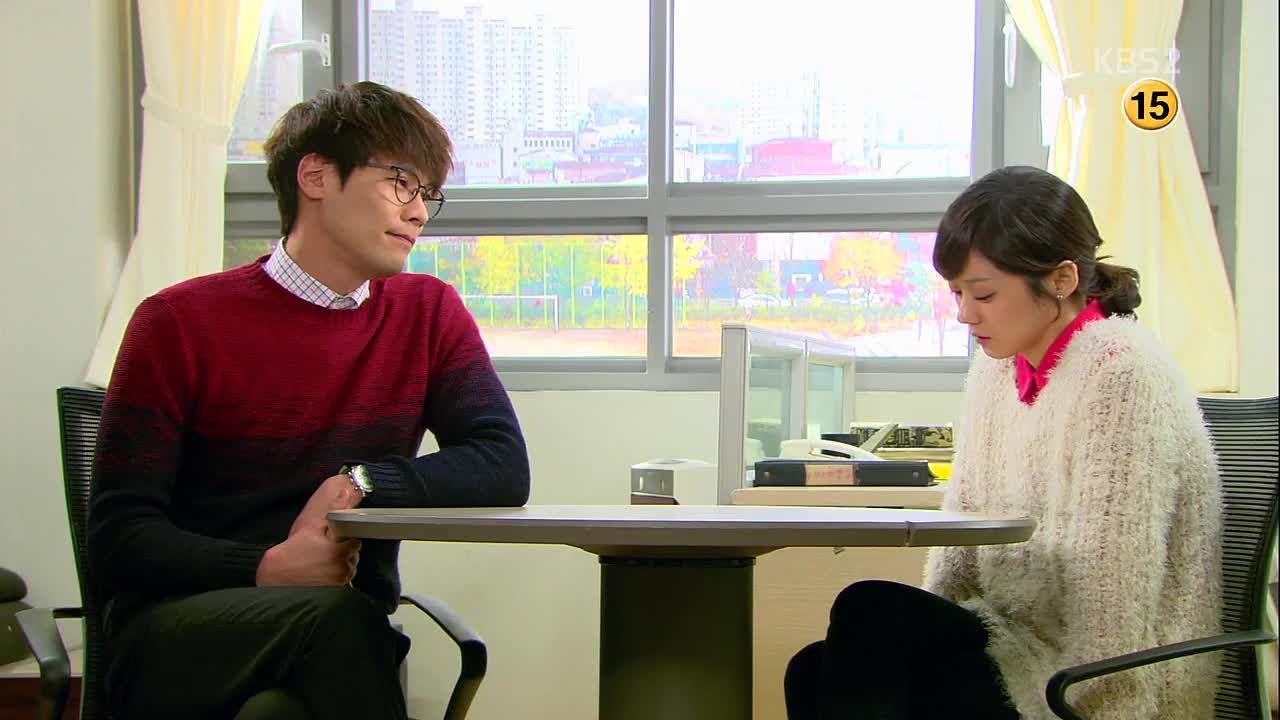 So in the next class, In-jae hands out the forms to her students, and the results come back as we might expect. "Class is boring," "I don't think the teacher prepared for class very much," and "This is not helpful for the college entrance exam."
The other teachers try to cheer In-jae up, telling her that the kids are feeling pressured right now and would reply the same way about all the teachers. Of course, the trouble is that none of the other teachers are being evaluated.
It's thoroughly disheartening, and In-jae admits it was more than she'd expected; she feels incompetent. Se-chan gives her a cute little pep talk about how not every teacher in the world can have his talent and charisma, which gets a smile out of her. But he says that she can teach plenty with her level of abilities.
The kids bicker amongst themselves, with the overachievers snapping that In-jae's probably had the sense knocked into her and won't continue her discussion group classes. A few kids seem to recognize that it's not In-jae to blame, and Kang-joo retorts that their stress is more to blame than In-jae's teaching methods.
In-jae announces that from today, they won't need to arrange themselves into their groups anymore, having carefully read all their replies. At least some students have the grace to look abashed. They offer mumbled excuses, like how her classes were fun but it made them nervous with thoughts of the future ahead of them, and how they haven't been able to show Mom their dismal score yet.
But Young-woo raises his hand and stutters, "I-I started liking poetry." Aw.
After class, Ji-hoon stops In-jae to ask her whether she could step in again and appeal to Jung-ho, one more time. She answers that this time Jung-ho has to make the decision for himself and come to school. She suggests that the friends try persuading him.
But Ji-hoon sighs that they have no effect. Even if he did want to come, Jung-ho needs an excuse—so what if she tries one more time? He and Yi-kyung will go with her to step in if needed.
She asks if he's scared of Jung-ho, but Ji-hoon chuckles it off, saying there's nothing to be scared of. In any case, Jung-ho has no other friends aside from them.
In-jae provides the excuse needed to bring Jung-ho, telling them to inform him that she has his cell phone (left behind from test day), and that if he wants it back he'll have to come get it.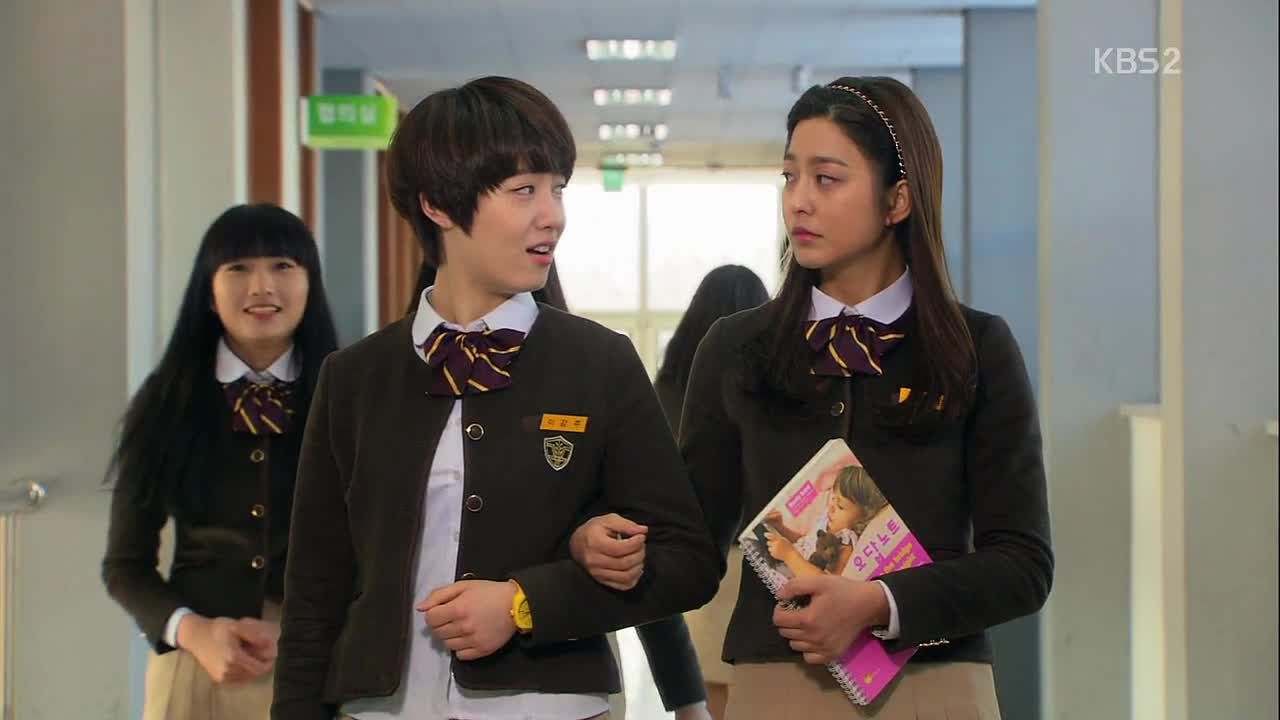 Se-chan is given the task of selecting two students to represent the school at an upcoming debate competition (based on their essays). His choices are Kang-joo and Min-ki, who have differing responses: Kang-joo's excited but asks to think it over, while Min-ki asks nervously, "Does my mother know?"
When Kang-joo shares that info, Ha-kyung doesn't betray a reaction, but it's not too hard to guess she feels put out for being bypassed, especially when Se-chan told her that the competition would be good for her profile. Ha-kyung takes it out on her friend, saying that such a prime resumé-builder is wasted on Kang-joo. Ouch.
Kang-joo gets it—Ha-kyung means that the opportunity benefits a Seoul U aspirant but does nothing for a bad student's chances. Ha-kyung replies evenly, "Realistically speaking that's true." Dig that grave.
Kang-joo snaps back, "Then you should've written better essays than me. If it's not me, do you even have the skill to go in my place?" Oh snap.
Back to Nam-soon and Heung-soo, FINALLY, who have been taking the longest test ever. Who thought it was a good idea to make these two take a test offscreen for half the episode? Se-chan collects their answer sheets and sends them along to study hall.
As they get up to leave, Heung-soo advises Nam-soon to give it up now—they'll never be able to go back to how it was. "We can't erase what happened, or forget it, can we? So let's stop now."
Nam-soon hangs his head and says, "Okay."
Min-ki steps aside to call his mother, and asks if there's a way he can avoid the debate competition. She must be insisting he go, but he protests that none of his essays were written by him. AH, that explains his stricken expression whenever his papers are singled out. But Mom goes off on a tirade and he sighs heavily, defeated.
Uhmforce pulls Se-chan aside and warns him about something in the school guidelines regarding violence. Hm. What's this new trouble now? Whatever it is, Se-chan keeps this from In-jae, looking perturbed.
Nam-soon seems willing to give Heung-soo his space, but when he sees Heung-soo heading for the gates and the team of gangsters heading in, he has to step in. He calls Heung-soo with a trumped-up excuse that Uhmforce is looking for him, then heads out to face the gang. Alone. Arg!
Nam-soon is grabbed by both arms the second he steps outside. Gulp.
Except… Heung-soo senses something wrong. Turn back! Save him! Bromance powers activate!
So when Heung-soo heads back out, he catches a glimpse of Nam-soon being escorted into a van by the thugs. He runs after the car, though he's left in the dust gasping for breath.
The two minions head to the pool hall, where Jung-ho is actually quite cutely excited to see Yi-kyung. He's less thrilled to see Ji-hoon next to him, but Yi-kyung shoves Ji-hoon inside and tells them to have their little talk, shutting them inside. Ha.
Ji-hoon passes along the message to pick up his cell phone, which Jung-ho dismisses in two seconds flat. He tries another tack, saying they should all graduate together, and Yi-kyung is being a whiny brat without Jung-ho around. Plus, the students have quieted down in all their talk about jjang hierarchies.
Jung-ho isn't fooled by any of these excuses and asks why Ji-hoon's butting in. Ji-hoon fires back that he's his friend, which seems to kill a lot of the animosity.
Before this bromance has a chance to heal, though, the gangsters return to the pool hall with their scapegoat in tow, ready for his beating. When instructed to call his buddy in to join him, Nam-soon puts down his bag and clenches his fists… and kneels. Whoa.
He's not begging for mercy, at least not in the traditional sense, because he says, "Just beat me up and let's finish this today." That's his trade-off for not dragging Heung-soo into it.
The beating begins. The gang members all crowd around Nam-soon to get their kicks in while he just takes it, not fighting back. Jung-ho watches with a smirk on his face, though Ji-hoon shoots him a look. Jung-ho feigns disinterest, and Ji-hoon asks, "Are you really just going to let this go on?"
So Ji-hoon steps forward instead and tells them they got the wrong guy. Jung-ho mutters at him in alarm—is he crazy?
Must be, because Ji-hoon admits to being the instigators of the bike incident, because they were pissed he sold off Jung-ho's bike.
Funn enough, hyungnim actually says he's got balls and tells "baby" he can leave, scot-free. But they'd better not come around here anymore.
Jung-ho storms off furiously, because he's just been ejected from the gang, no matter the part where Ji-hoon just saved his future. He's not thankful for the interference, and tells Ji-hoon he was almost fooled—they're not friends. Jung-ho has no friends.
Nam-soon barely has enough strength to keep upright, but he does muster the energy for a smile. Well I'm glad you can enjoy the moment even when you're half-pulp.
Just as Jung-ho's stalking off, Heung-soo comes running in, and gets to the pool hall just in time to catch Nam-soon, literally, as he falls to the ground. The sight of his bloodied and cut-up face is startling, and Nam-soon sighs, "Damn, you caught me." Like you thought you were gonna be able to hide this?
After walking some way in silence, Heung-soo asks if Nam-soon took his beating for him. Didn't they just agree to cut this out? "D'you think acting like this will make my leg better? Will I be able to play soccer again?"
Nam-soon says fiercely, "What am I supposed to do? I can't pretend not to know and I can't take it back." He says he'll do anything and everything—and even if he can't pay him back, he has to at least try, to act like he can.
Heung-soo grabs his jacket. "You dumb bastard. You should have just been there from the start. No matter what! You should have just stayed there. All I had besides soccer was you—and when soccer was gone and I wanted to die, you should have just been there, bastard."
He's shouting and crying now, and Nam-soon's crying too, and so am I for that matter. He continues raggedly, "So what I'm saying is, didn't you miss me, bastard?"
In-jae watches over her class during the after-school study hall. She'd asked Se-chan to have this duty for a particular reason, but all she's doing is watching her students work in silence. Uh… she's not planning another goodbye, is she?
Finally she speaks up, saying that there was something she wanted to do in her last discussion class. She asks if they can do it now, and recites a poem, called "Flowers That Bloom When Shaken" by Do Jong-hwan.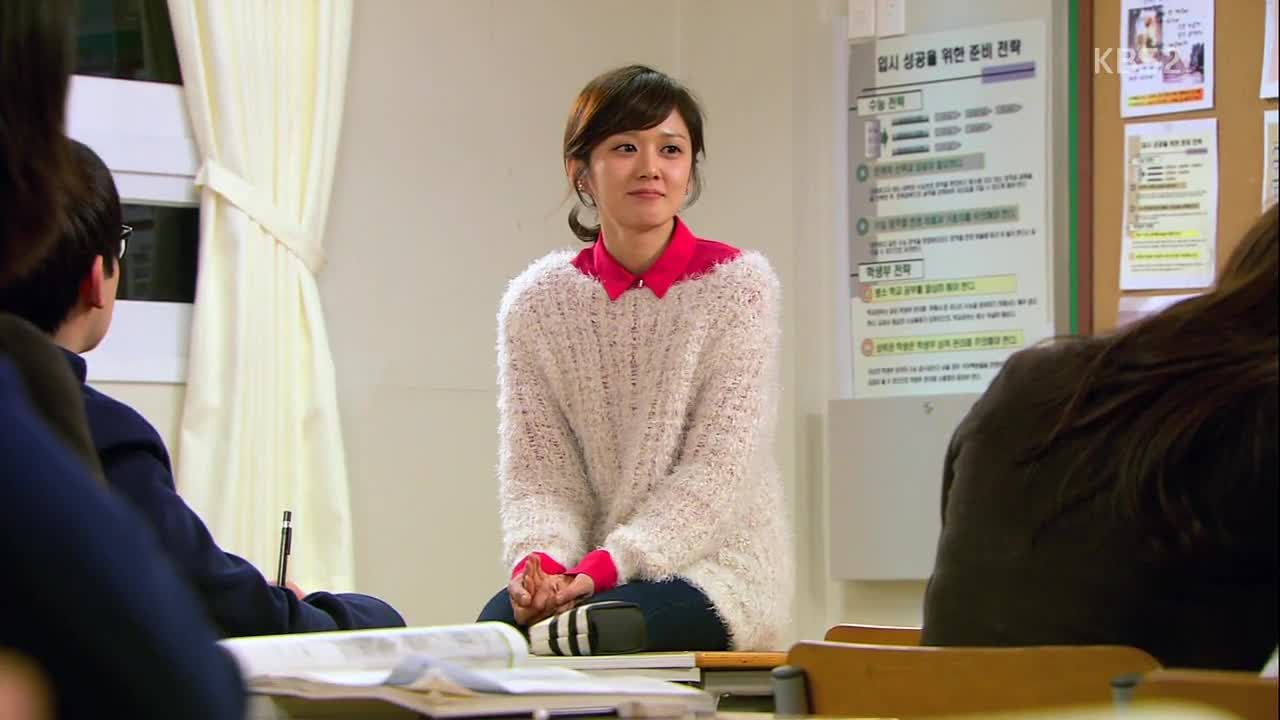 Where is the flower that blooms without shaking?
Any of the beautiful flowers of this world
all bloom while being shaken
They shake on stems that grow upright
Where is the love that goes without shaking?
Where is the flower that blooms without being soaked?
Any of the shining flowers of this world
bloom as they are soaked
Soaked by wind and rain, petals bloom warmly
Where is the life that goes without being soaked?
Se-chan reads over the school policy book with a grim face, and asks Uhmforce if this means "one of the two" will be forced to transfer out. In-jae happens to catch the conversation, and there's no more hiding it from her. Either Nam-soon must go, or Heung-soo.

COMMENTS
Ack! Of course this happens now, just when the boys finally confront their feelings and are on their way to mending. 'Cause Fate's a bitch, as we've established drama after drama.
It's such a cathartic moment for Nam-soon and Heung-soo to be able to actually say what they're feeling—perhaps to themselves as much as to each other. Who else loves that it's the time-worn romantic trope that forces the conversation, of locking the two quarreling parties in a room and not letting them out of the bind until they've hashed out their subtext?
While I believe Nam-soon has had a bit more time to process the aftermath and get acquainted with his guilt over the accident, Heung-soo's always seemed one step behind, still stuck in denial an anger and unready to walk through the remaining stages of grief. So when he accuses Nam-soon of leaving when he should have stayed and asking whether he missed him, I wonder if this was the first time Heung-soo had allowed himself to admit he'd missed Nam-soon too. As the guilty party, Nam-soon is free to admit that he was wrong and that he misses their friendship, but Heung-soo's got that stabilizing, energizing anger to hold fast to. It's one way to get through the hurt, but it's also an obstacle to self-actualization.
The admission also makes so much sense—not that Heung-soo's resentment wasn't perfectly understandable before—because the cut actually goes deeper than a bashed-in knee, a lost career. Heung-soo's not betrayed by the injury so much as he's betrayed by the abandonment, even though it was driven by fear and guilt and not, say, an emotional chucking. Same with Nam-soon—he was so afraid of being left behind that he had to do the leaving. Maybe he found some sort of twisted solace in wallowing in his guilt, because he was the one who caused the rift, he is solely to blame. I'm not sure he could have taken it if Heung-soo had done the abandoning. Only, he loved his friend too much to see that he perpetrated his greatest fear right back at him.
In that way he's not totally unlike Jung-ho, who showed a little more of his softer underbelly today. We've seen hints of it before, but now it's pretty apparent that Jung-ho is a deeply lonely person who lashes out before he can be hurt. His rejection of Ji-hoon is so much like Nam-soon's self-destructive (and okay, plain destructive) response to Heung-soo leaving him behind for soccer—now that Ji-hoon's showing an interest in having a life beyond him, he's afraid of being the odd man out and attaches himself to a different group, even if he's the loser minion at the very bottom. It speaks volumes about how small-potatoes Jung-ho actually is with his badass routine that his friends are actually shocked that he'd take this step—because for all his posturing, Jung-ho still went to school, he still must've wanted to graduate. Right now his pride is his big stumbling block, but the more people who clue into the fact, the closer he comes to being reachable.
I do wonder where the Nam-soon/Heung-soo resolution takes us for our story, because that friction has been the key driver of their storyline thus far, and a lot of that has been resolved. I hardly think they'll be back to their former camaraderie now that they've had this confrontation, but now with this threat of transfer, our conflict goes from an internal one to an external source. My favorite aspect of School 2013 has always been the conflict between Nam-soon and Heung-soo; it's one that's fraught with so many emotions and terribly complicated to unravel, because there's no easy way to pin the blame on someone and feel better about things for having that scapegoat. That complexity and grounding in emotional reality are what give the relationship its heft. I hope the transfer storyline continues that.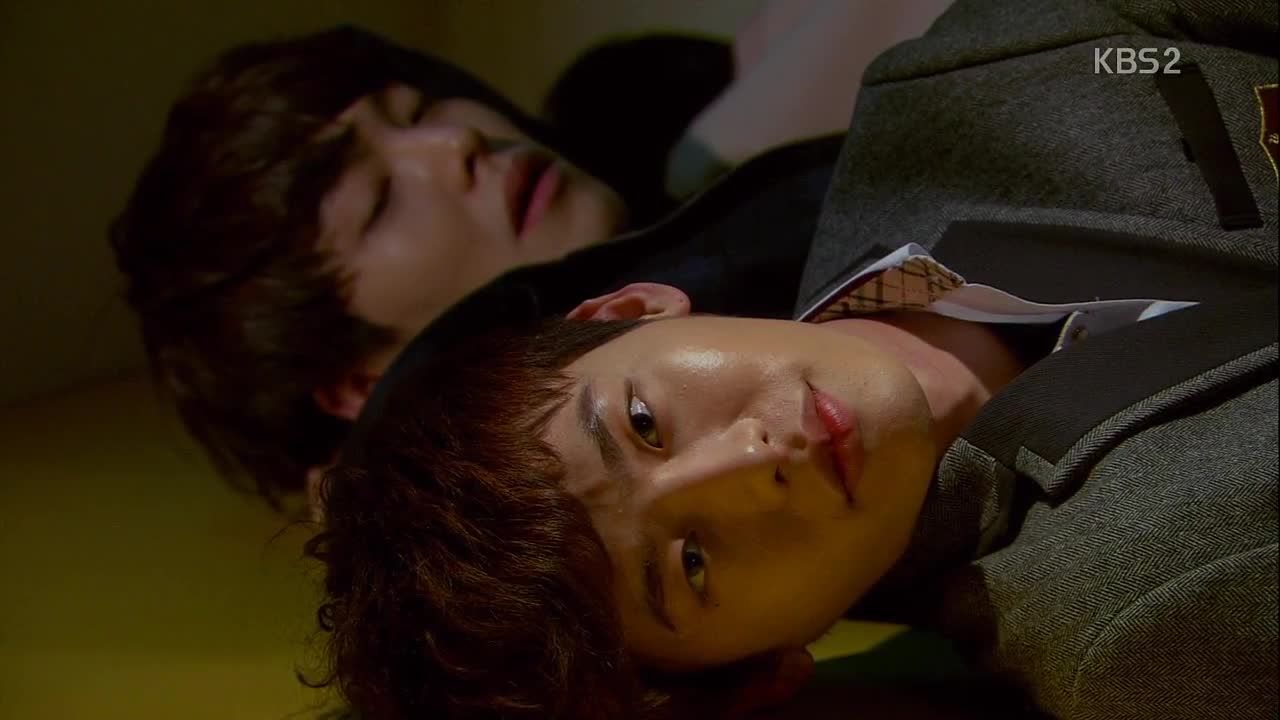 RELATED POSTS
Tags: Daniel Choi, featured, Jang Nara, Kim Woo-bin, Lee Jong-seok, Park Se-young, School 2013