Age of Feeling: Episode 18
Whether holding our hero's treasured girlfriend hostage or massacring a bunch of innocent people, our ambiguously awful duo of baddies go the extra mile this episode to make sure that not one argument can be made for their redemption—which is a handy trick to employ when you want to make your good guys look even better by comparison. Not like our good guys needed the image boost, since they're doing pretty well and looking mighty fine as is. Is that shallow? You bet it is.
On a similarly superficial note: ratings! Age of Feeling slipped into second place with 12.6% while Three Days barely (and I mean barely) edged into first with 12.7%.
SONG OF THE DAY
Roh Ji-hoon (ft. Shorry J) – "A Song For You (너를 노래해)" [ Download ]
Audio clip: Adobe Flash Player (version 9 or above) is required to play this audio clip. Download the latest version here. You also need to have JavaScript enabled in your browser.

EPISODE 18 RECAP
Ok-ryun is finally released from a separate prison where Aoki had hidden her, though the man who comes to fetch her is none other than the sleazy Dokku, acting under the auspices of Hwangbang.
He offers her a record contract under Hwangbang's name that she has no choice but to sign—after all, it's less about her singing and more about Jung-tae's life.
At least Dokku keeps his word about taking her to Jung-tae, which has Ok-ryun puzzled when he stops outside the gates of the municipal intelligence building/prison/Hogwarts. It's there that she sees Jung-tae and his buddies scaling the wall, realizing that he's trying to save her.
Her first inclination is to jump out and stop him, but Dokku holds her back and bids her to keep quiet for Jung-tae's sake. If he's caught, the best case scenario would be that he ends up in prison. Worst case scenario? Death by firing squad.
While Jung-tae sneaks into the prison (we're still backtracking), Kaya enters through the main gate. Turns out she was inside when Jung-tae and Aoki took their fight outside, and is determined to do something about it.
Meanwhile, Jung-tae's voiceover thoughts confirm his tactics from the last episode—he can tell that Aoki's strength lies in his confidence, which means his weakness lies in his pride.
He purposefully takes jabs at Aoki's ego to unsettle him, and it works. Aoki becomes much more personally invested in the fight like he has to prove something, which gives Jung-tae an advantage to wait until the opportune moment to deliver a few strong blows that send Aoki tumbling to the ground.
But there's a twist! Aoki knew exactly what Jung-tae was trying to do, and puts his jacket back on like the fight's over. Jung-tae tries to goad him back into it ("Are you giving up already?"), which only earns a scoff from Aoki as he gives the signal for snipers on the rooftop to set their sights on Jung-tae.
Baek-san delivers the news of Jung-tae's wall-scaling to Leader Seol, who laughs as he notes that everything is going according to plan. It shouldn't be a surprise that he did agree to Aoki's offer to trade Ok-ryun with Jung-tae, which is why Aoki was so well-prepared.
Leader Seol explains his reasoning for giving Jung-tae to Aoki: he wanted to see how sharp a man Aoki was to know who they're dealing with, and he wanted to confirm that Jung-tae's weak spot really is Ok-ryun. Now he knows for sure, and is confident that if they get Ok-ryun under their control, Jung-tae will have no choice but to become their puppet.
For maybe the first time ever, Baek-san actually asks a relevant question: "Wouldn't he have to come back alive first?" Of course Baek-san would rather Jung-tae be dead and gone since he doesn't think they'll ever be able to control him. That's where he and Leader Seol disagree, since the old man is not only confident that Jung-tae will survive, but that he'll become Hwangbang's greatest asset.
In a last-ditch attempt to stop the fight, Kaya sets a fire near the building. Meanwhile, Aoki isn't swayed when Jung-tae mentions how cowardly it is for him to bring a gun to the fist fight.
Aoki's more of a "history is written by the victors" guy, and prepares to give the firing squad the signal… but Kaya's fire causes an explosion that distracts the guards. "You seem to be lucky," Aoki grits out. "Next time, I won't let you leave alive."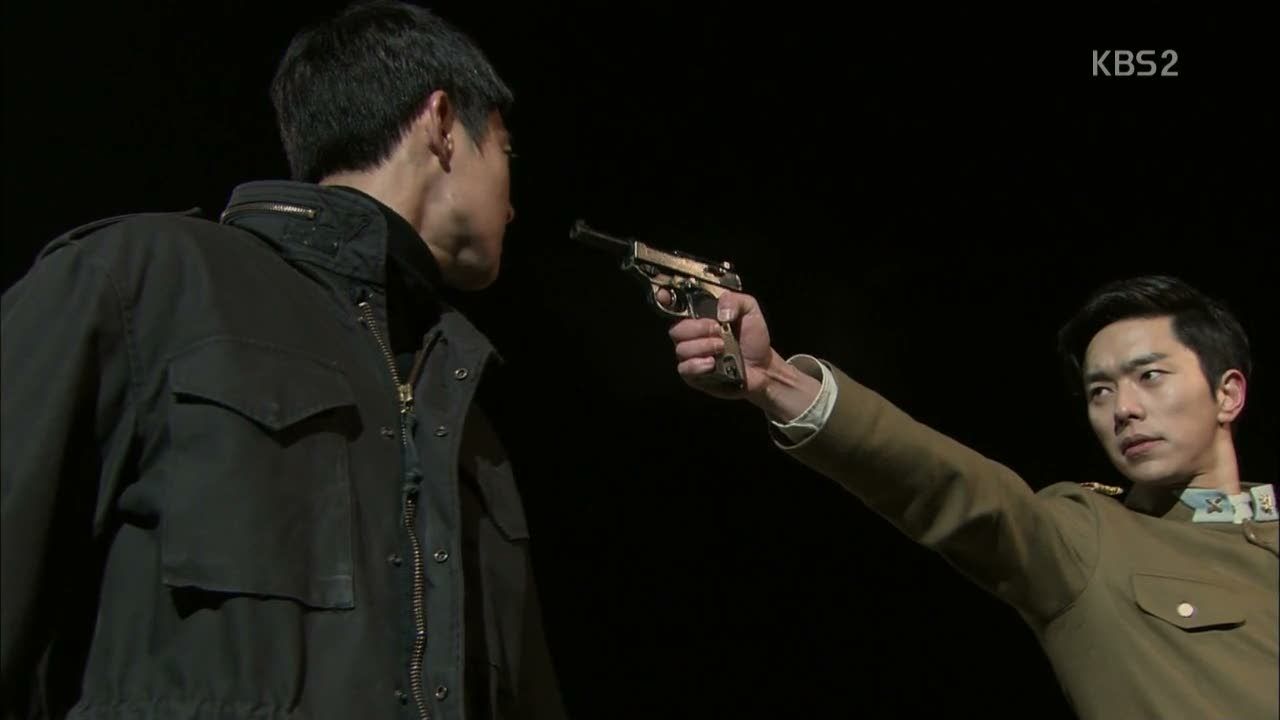 But Jung-tae is still determined to get Ok-ryun's whereabouts from him, causing Aoki to turn viciously and aim his pistol at Jung-tae's head. He was so ready to shoot Jung-tae dead a second ago, but now that he has the option, he doesn't take it.
Kaya denies her role in the crime to Yamamoto and speeds away in her car, but she doesn't escape Aoki's notice. Jung-tae and the lackeys also flee the scene.
Dokku drives away with Ok-ryun, and uses the time to convince her that for every time she's in danger, Jung-tae will put himself in danger to save her. And since there's no way for her to get Aoki off her tail, she only has one choice—to ask Hwangbang's Leader Seol (aka Jung-tae's new father) for help.
He makes Leader Seol sound like the bee's knees and the very reason why he came to save her in the first place, like Leader Seol did it out of concern for his son. (Yeah right.) No matter how wary Ok-ryun is of Dokku and his magical record contract, she'll do whatever it takes to keep Jung-tae safe and signs.
Dokku would be rubbing his hands together in glee if they weren't on a steering wheel. "You just watch, Ok-ryun," he says. "I'll make you the best singer in Shanghai." Wasn't that going to be Soo-ok's job?
Shinichi reams Yamamoto for taking Kaya to the municipal building in the first place, and warns him not to tell a soul—especially Denkai. But Kaya reveals that her grandfather already knows everything because she made the report, curious to see how he'd react to the news that she saved a Korean man from danger.
Then she drops the bomb that Leader Seol told her everything the day she visited Hwangbang, and that she's known since then that Shinichi killed her mother(!) and who ordered it. As for why she kept it in so long, she claims it was due to her hiding her "sin", much like her mother's, of loving a Korean man (aka Jung-tae).
Now that the cat's out of the bag, Shinichi offers Kaya his sword and the chance to kill him for the sin he committed in killing her mother. Kaya reigns in her emotions as she tells him that only Denkai can decide who will live or die… until Shinichi all but whispers that it won't only be him.
"I'm not afraid of death," Kaya says defiantly, only for Shinichi to ask, "Even if Shin Jung-tae is killed?" He asks her to think about why her father died, and claims that Jung-tae will face the same fate just because Kaya loves him.
He even offers her a hint of information about her mother, and promises to tell Kaya everything she's wanted to know if she'll only place all the blame on him, kill him, and be done with it. Shinichi doesn't want her to face off against Denkai and would rather die so that she wouldn't have to, but Kaya won't listen to his pleas.
Jae-hwa & Co. are having to shell out money to literally everyone but themselves, which has the lackeys complaining that too much goes to Hwangbang.
Jae-hwa doesn't like it any more than they do, and despite his speech about how anal retentive Leader Seol is about counting every cent, he still filches a little money to give to a morose Jung-tae.
Dokku and an elegantly-dressed Ok-ryun bump into Jae-hwa as they're leaving Hwangbang, and Dokku introduces her as Hwangbang Record's main singer. In fact, she already caused a stir as the main act at Club Hwangbang (because that exists), a feat which makes Dokku proud.
Ok-ryun keeps her eyes down and her lips shut, which is a little curious—did her contract entail her not being able to talk to Jung-tae or the boys? I had assumed Jung-tae was so down because he thought she was still missing, but clearly that's not the case.
Aoki is creating a Chalkboard-o-Intel dealing with all of Shanghai's main players, and takes his lackey by surprise when he tells him not to pursue Jung-tae (who's been hiding in Club Shanghai for a week). Apparently he's talked some things out with Leader Seol, and the deal is for him to cover up the intelligence building incident and let Jung-tae off the criminal hook.
He's none too happy when Shinichi pays him a visit, considering the pains he's taken to keep his affiliation with Ilgookhwe a secret. No matter, since Shinichi breaks the news to him that he won't get another opportunity to catch Jung-tae, since the big bad Denkai's coming to town.
Aoki heaves a sigh of frustration when he learns that Kaya reported everything to Denkai, and doesn't need Shinichi to tell him that she set the fire when he already knew. That's why Jung-tae's been safe, since he's been folded up into the general cover-up for Kaya's crime.
But when Shinichi asks Aoki if he still has Kaya in his heart, Aoki doesn't hesitate to say yes. Shinichi seems pleased with this answer, because he'll have to depend on Aoki to protect Kaya from the coming storm. Aoki promises that he will, but by using his own methods.
While Jae-hwa piles up all the profits from Club Shanghai that must go to Hwangbang, Leader Seol smirks like the old annoying cat who ate the canary. He knows very well that there's no money left over for the people of Bangsamtong after the cut he takes, but blames that on Jae-hwa—he'd be able to make more money if he only sold opium.
That's an idea that Jae-hwa finds repugnant, since he's seen the havoc wreaked by opium addiction in his neighborhood for two decades. It's a mistake Daddy Shin made (by not knowing what he was dealing with), and one that he won't make. In fact, he'd sooner borrow more money from Ilgookhwe's bank to feed the people rather than sell opium.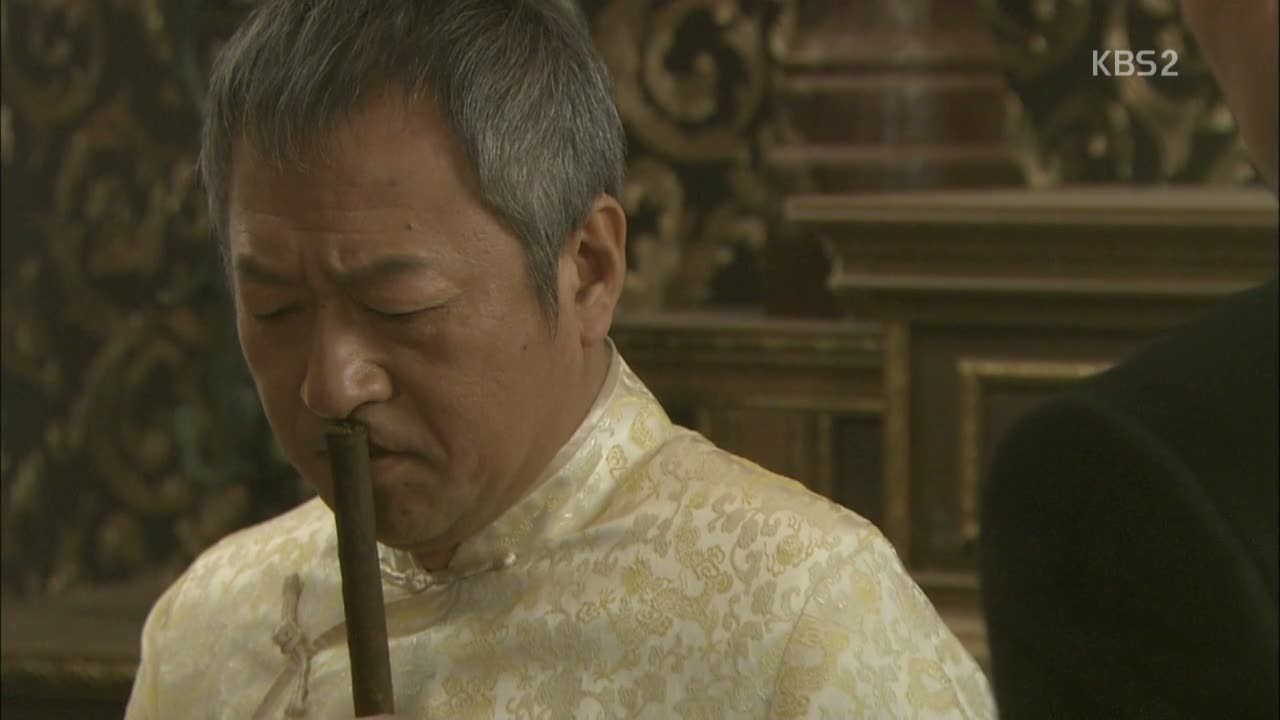 But at least Leader Seol is back to doing stupid and unintentionally funny things with his cigar prop, since today he's decided to conduct an imaginary orchestra while Baek-san updates him on the state of affairs.
Because of some fuzzy reasoning having to do with Aoki investigating their finances, Baek-san claims their only choice is to kill Jae-hwa in order to take over Club Shanghai, which they'll then use to sell opium. Leader Seol gives the okay.
The fact that Ok-ryun is perfectly well and has come to visit Club Shanghai comes as a shock to everyone there, especially Jung-tae and So-so. They hadn't known that she signed with Hwangbang and thought that she was still imprisoned by Aoki, so So-so's anger at her friend's absence seems pretty justified.
She's unable to understand why Ok-ryun couldn't have at least called, but while she and Jung-tae were in the dark, Club Shanghai's snooty singer announces that Ok-ryun was singing for Club Hwangbang—and that she had to sleep her way into the job.
Ok-ryun denies the allegations that she did any casting couch deals and claims that she got signed with them fair and square. But she's also signed a contract with Club Shanghai(?), which explains her presence. (I'm confused too.)
When Jung-tae pulls her aside to ask what's going on, Ok-ryun puts on a smiling face and acts like it was all a big misunderstanding because Dokku forgot to call him.
Jung-tae isn't really buying it, but Ok-ryun passes off his concerns by acting extra bubbly about how great things are for her now that she signed a record deal with Hwangbang. Before she has to leave for the stage, she holds Jung-tae's hand close for a brief jolt of support.
Jung-tae drags Dokku out for some real answers about Ok-ryun, and Dokku tells him the truth: Leader Seol rescued Ok-ryun and put her under his protection, because as long as she drives around in Chilinbang-marked cars and stays within Leader Seol's borders, she won't be arrested again.
Though Jung-tae goes to his father to "thank" him for taking care of Ok-ryun, he knows what's really going on. He wants to bring Ok-ryun over to Club Shanghai, which Leader Seol thinks he's doing out of nervousness because he doesn't want Ok-ryun under Hwangbang's control.
"Your eyes tell me that you see her as my hostage," Leader Seol tries to joke. "Are you not?" Jung-tae retorts, causing Leader Seol to laugh it all off like he's making an issue out of nothing.
In order to prove just how wrong Jung-tae is about him, Leader Seol readily agrees to let him take Ok-ryun to Club Shanghai. "If you have the confidence to protect her, then you can take her anywhere you'd like," he adds, and Jung-tae knows better than to contest the offer.
So Jung-tae wastes no time in grabbing what little money he has and Jae-hwa's car in order to run away with Ok-ryun. When Dokku objects, Jung-tae punches him in the face. Ha.
In the car, Jung-tae admits that he doesn't know where he's taking her but that it's somewhere safe. He gives her all the money he has and tells her to lay low until he can come for her after completing his revenge against Leader Seol, but Ok-ryun doesn't want to leave.
Jung-tae brings up how she'd wanted them to live together in Shineuijoo, and she has to remind him that they don't have a place there anymore. She entreats him to try giving it a go in Shanghai. "I'll try to live well," she promises. "I won't be a burden to you. So let's turn around, huh?"
"Do you know what kind of place that is? How can you even say that?" Jung-tae demands to know, after slamming on the brakes. "I won't send you there. Even if I die, I won't send you back to Hwangbang."
Ok-ryun finally become more truthful as she asks Jung-tae if he has a better idea. She's wanted for assassination, is he going to scale a wall every time she gets caught? "Yes, I will!" he says without hesitating. "Even if it's a hundred times, or a thousand. If you're there, I'm going to find you."
She fires back that that's the very reason he's such a fool, and exactly why she always lives in fear that he'll die doing something stupid. She doesn't want to live like that anymore, and promises him that she'll do well in Hwangbang. It's only when she tells him that Aoki is the same man who killed her mother and Ajusshi Choi that he realizes just how much danger she's in, and seems to actually listen to her reasoning that she'd rather hide near him than somewhere far away.
Suddenly, an injured Bangsamtong man falls against the car door, begging Jung-tae to save his wife and children. After ordering Ok-ryun to stay in the car, Jung-tae runs toward the sound of screams only to find masked bandits stabbing and killing people in the streets.
After the tattooed bandits shoot at Jung-tae to make their getaway, Ok-ryun hunkers down to hide from the masked murderers and and is saved by the grace of nearby police whistles. The fright of seeing Jung-tae standing amongst all those dead bodies is enough to have Doctor Jung sedate her for the night in her clinic.
Dokku isn't happy about this, and worries whether Ok-ryun will miss her singing gigs that night. Then he defends himself by acting like she'll be the biggest loser if she misses her schedule. (Is this throwaway bit the writer's way of getting back at the actress for double booking?)
Jung-tae finds Il-hwa outside the clinic where Doctor Jung is currently up to her elbows with all the wounded victims from the Tattooed Bandit Attack. He's brokenhearted at all the suffering, and asks Il-hwa how Hwangbang could have done such a thing.
But Il-hwa, ever the rational one, explains that there's no direct evidence tying the attack to Hwangbang. However, he agrees with Jung-tae that this is likely their doing—after all, Leader Seol was once responsible for a massacre of thousands of workers in Shineuijoo, so this kind of thing isn't beyond him.
"Then why did Hwangbang choose me?" Jung-tae asks helplessly. "There are plenty of others, so why me?" Il-hwa stoically replies that it's just Jung-tae's fate—like his father, his destiny is now intertwined with Bangsamtong. At least he offers Jung-tae a reassuring shoulder squeeze?
Jae-hwa comes to assess the damage and is left furious. He thinks it's Ilgookhwe's fault, until Jung-tae tells him it was Hwangbang. "How can I defeat Hwangbang?" Jung-tae asks. Maybe now Jae-hwa will listen.
Il-hwa tracks the Tattooed Bandits down to Hwangbang's territory and engages them in a fight, easily taking each man down. He's stopped only when a hand shoots out to grab him—it's Baek-san. Booo.
After superficially thanking him for saving his family in Dandong (considering that Baek-san threatened them in the first place), Il-hwa throws down the meat goblet and engages in a duel with him. Oh no. Kick his butt, Il-hwa!
Their skills are pretty evenly matched, so they just end up playing patty-cake. Baek-san asks if Il-hwa is declaring war upon Hwangbang by fighting him and their tattooed guests, and Il-hwa's evasive reply is so like him: "How about considering it as me taking a walk beneath the beautiful moon?" Ha.
He even has a convenient excuse for why he attacked the Tattooed Bandits, though both Baek-san and Il-hwa know what's up. For now though, Baek-san has to let him go, and they part as courteously as two enemies can.
The Dream Team (Jae-hwa, Jung-tae, and Il-hwa) assembles in order to figure out a way to defeat Hwangbang, though it's no small order—Hwangbang's power is far-reaching, especially because they own so many different establishments in order to fund Chiang Kai-shek's army.
But since Leader Seol needs more revenue to do so, he needs Club Shanghai to turn into the epicenter of the opium trade. Jung-tae's father died trying to stop Leader Seol, and now the Dream Team is facing the same fight.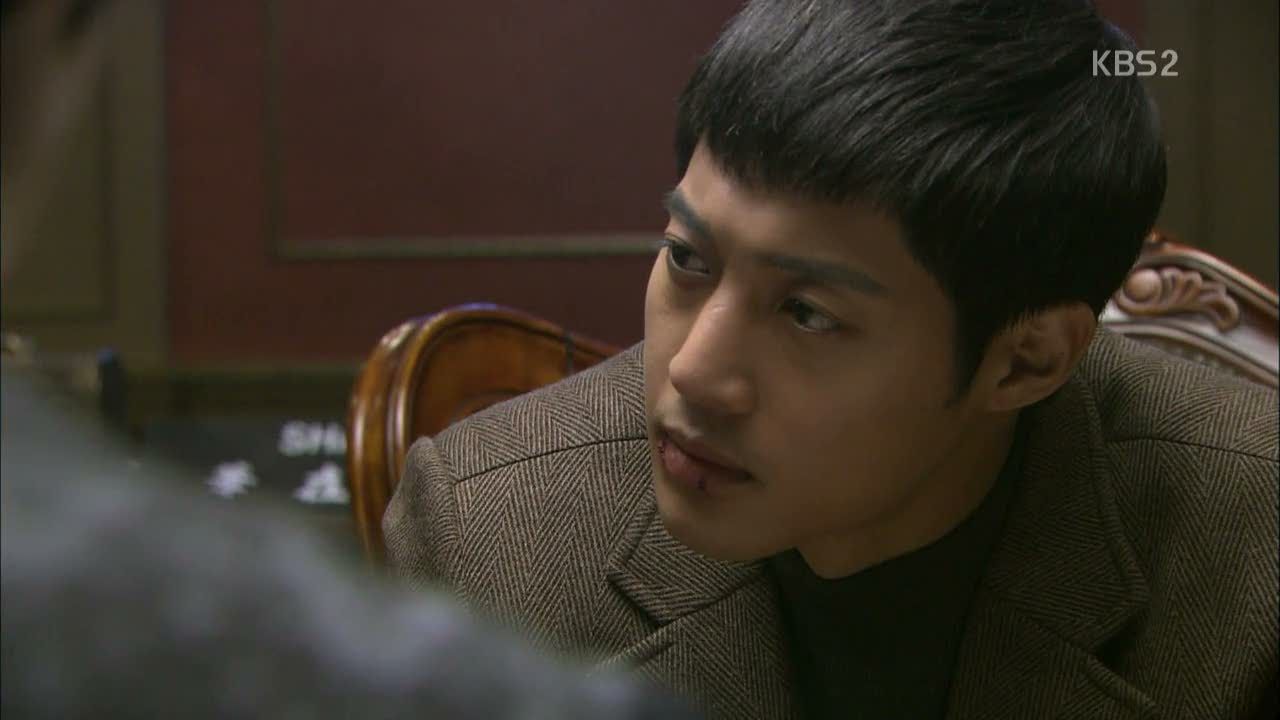 At least Jung-tae asks the real questions, like why Hwangbang can't just run Club Shanghai themselves. Jae-hwa's explanation is flimsy at best, since he claims that Leader Seol is somehow (one might say unrealistically or magically) keeping his evil dealings a secret from the people. They would turn against him as the head of Chilinbang if they knew what he was really doing.
So all that boils down to the reason why Leader Seol needs someone loyal to him to run Club Shanghai in name only. Finally.
Jung-tae goes into the lion's den to play the part of the prodigal son, and Leader Seol is overjoyed to think that Jung-tae has finally come over to the dark side. He asks Jung-tae to become Hwangbang's sword and shield, and all but faints at every affirmative answer Jung-tae gives. Dude, were you this easy all along?
He's so happy that he wants Jung-tae to run Club Shanghai, but when Jung-tae asks about what that means for Jae-hwa, his pseudo-father smiles. "As Hwangbang's sword, you should do your best. Kill Jung Jae-hwa."
Speaking of, Aoki pays a visit to the new human target to offer a deal. "A deal," he says, "that you can't turn down as Bangsamtong's owner and as Club Shanghai's operator."

COMMENTS
They've been working the Club Shanghai angle for what feels like an eternity now, but it really wasn't until this episode that they finally managed to explain why it's so important in a language we can understand and in a context that actually carries weight. Part of me wonders why they couldn't have done this sooner, especially when whole episodes were wasted fighting over what was just a building to us. But the other part of me doesn't want to look a gift plot point in the mouth, since I'm just happy that the stakes are finally starting to make some sense.
Even if it took assembling our Dream Team and making their first order of business a round-table discussion over what needs to be done, at least we're all more or less looking toward one goal now. Now that so much time has been dedicated to making Hwangbang into The Ultimate Evil Organization (For Two), it makes sense that our inherently good characters would finally want to do something about it. And yes, maybe having Hwangbang randomly massacre people was a bit heavy-handed, but if that's the kick in the pants Jae-hwa needed to join Jung-tae and Il-hwa, then what can you do?
I did have to laugh a little when they explained that Leader Seol needs someone he can control to run the club so that his pristine white name doesn't get sullied with his evil deeds. It's funny because Leader Seol progressively went from (1) being afraid of Chilinbang, to (2) being a member of Chilinbang, to (3) being the freaking leader of Chilinbang, that most arbitrarily powerless of organizations. And apparently he's been able to get by with owning X number of casinos, racetracks, and opium-dealing clubs without arousing anyone's suspicion? Please. Leader Seol is about as subtle as an elephant in a kiddie pool, and only half as smart. Let's be real here.
The addition of Aoki to the mix in the end makes things extra interesting, since Leader Seol's request wasn't such a shocker when we've known Hwangbang wanted Jae-hwa dead for some time. I like the idea that Aoki could start veering off the course set for him by his evil adoptive daddy if it comes down to protecting Kaya, even if her storyline is getting precious seconds in the limelight these days.
And even though the idea that good ol' grandpa would kill her and the man she loves just because she loves him is complete lunacy, as well as a weirdly specific rule that Denkai feels compelled to enforce when it comes to the women in his family. Is Kaya supposed to be chaste forever in Denkai's eyes, or is it the fact that Jung-tae is Korean? It better be because Denkai's afraid of rebellion and not just because Ilgookhwe is full of racists. I'll take a bunch of weirdos over that any day.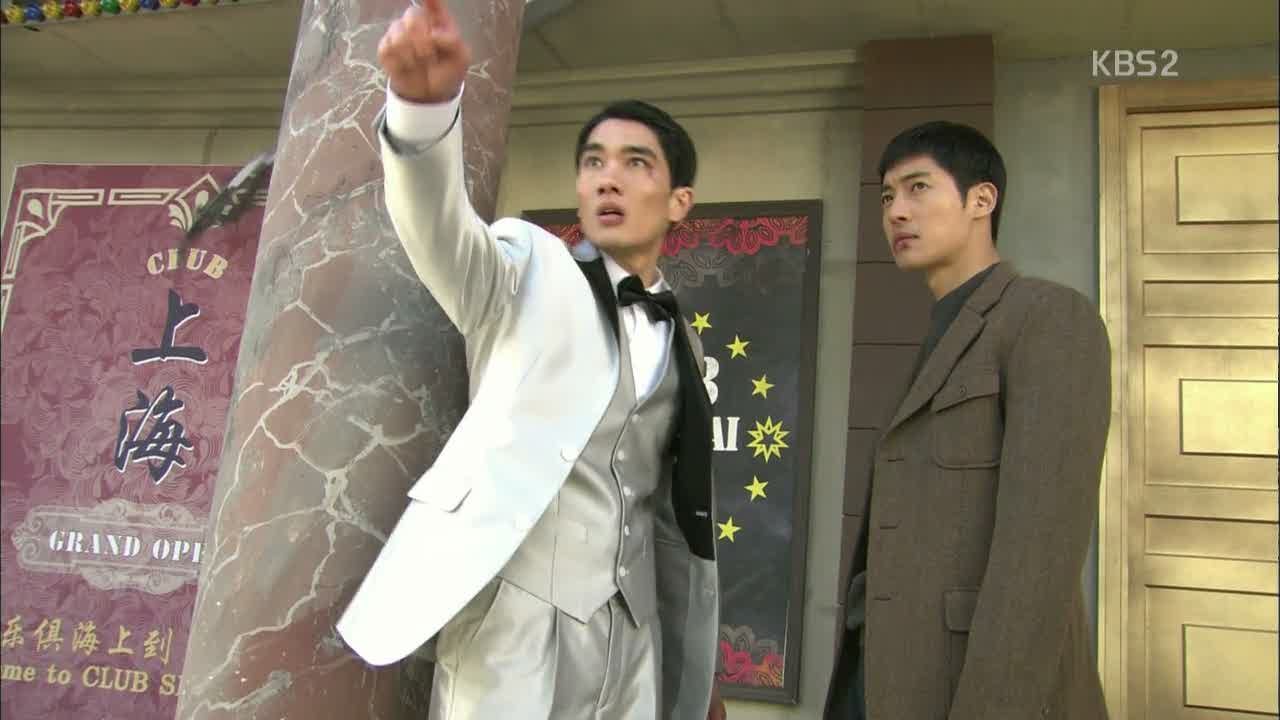 RELATED POSTS
Tags: Age of Feeling, featured, Im Soo-hyang, Jin Se-yeon, Kim Hyun-joong, Kim Jae-wook