Hyori gets some old-school backup
Kpop girl group Fin.K.L's been disbanded for several years now, but its members all reunited to support former member Lee Hyori's first solo concert on December 18.
Fin.K.L was quite popular in its own right back in the day, but the group's members have all gone on to greater success in their solo careers: Ok Joo-hyun in musicals, and Sung Yuri and Lee Jin in dramas. Lee Hyori also came into her own as a kpop sex symbol after going solo.
(It's always a curious thing to trace the careers of former pop superstars — some like Shinhwa, SES and Fin.K.L. have propelled its members to greater success, while others have faded. Remember R.ef, Deux, Noise, Clon, Roo'ra, DJ Doc?)
Fin.K.L. debuted in 1998 and last performed onstage as a group in 2005; they did, however, stand together in March for Sung Yuri's "One Fine Day" fanmeeting.
From left to right in the first pic below, Ok Joo-hyun, Sung Yuri, Lee Hyori, Lee Jin:
Hyori's ex-teammates had a few words of support for her:
Sung Yuri said, "Hyori unni was very sick during her concert preparations, but seeing her wonderful onstage preparations makes me proud as a member of Fin.K.L. … I'm really happy that all us members of Fin.K.L are able to stand together."
Lee Jin said, "This year is Fin.K.L.'s ten-year anniversary. I hope you'll cheer on her concert and remember Fin.K.L. forever, too."
Ok Joo-hyun said, "I came to the rehearsal yesterday, and I was worried because she was sick, but she found a greater strength… I'm so glad to be able to come together, thanks to her concert."
And then there's this, just because: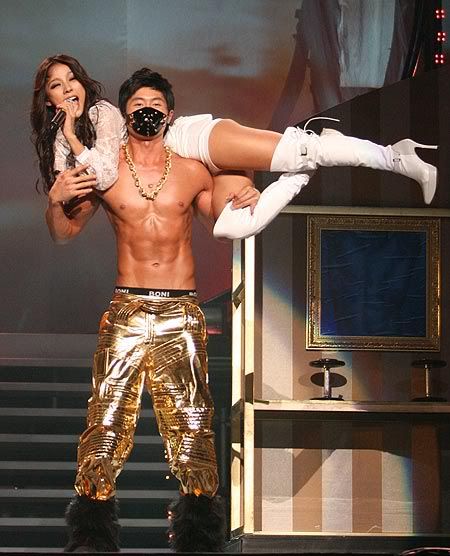 Via Newsen
RELATED POSTS
Tags: Lee Hyori, Lee Jin, Ok Joo-hyun, Sung Yuri