Baeksang Award nominees announced

Lee Min-ho and Kim Bum of "Boys Before Flowers"
Wow, that's kind of fast — only three weeks into the drama and already a Baeksang nomination.
Both Kim Bum and Lee Min-ho of KBS's Boys Before Flowers are up for the 45th Baeksang Arts Awards in the same category (new actor). (Kim Bum's nomination, however, comes for his four-episode turn playing young Dong-chul in MBC's East of Eden.) They're also nominated in the popularity award category.
As much as I like Lee Min-ho's portrayal of Jun-pyo, I think Kim Bum's performance in East of Eden was more award-worthy — but they've got pretty good competition: Eom Ki-joon (The World They Live In), Lee Sang-woo (First Wives Club), and Jung Kyeo-woon (Women in the Sun).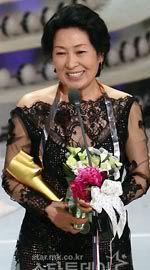 Kim Myung-min, Song Il-kook, Moon Geun-young, Kim Hye-ja

In the actors' Top Excellence category, meanwhile, nominations went to Beethoven Virus's Kim Myung-min and East of Eden's Song Seung-heon — who split the MBC Daesang Award back in December. Let's see who wins out here, although they're also up against Lee Junki (Iljimae), Park Yong-ha (On Air), and Song Il-kook (Kingdom of the Wind). I'm always bad with predictions, but I'm throwing my vote to Kim Myung-min, with the dark horse going to Song Il-kook.
For Top Excellence for actresses, we have KBS Daesang winner Kim Hye-ja (Mom's Dead Upset), SBS Daesang winner Moon Geun-young (Painter of the Wind), Kim Haneul (On Air), Han Ye-seul (Tazza) — WTF, Han Ye-seul?? — and Han Ji-hye (East of Eden).
(How you can nominate Han Ye-seul in the same breath as Moon Geun-young and Kim Hye-ja is BEYOND ME.)
The awards ceremony will be held on February 27 and broadcast on SBS.
Via Kuki News, E News Today
RELATED POSTS
Tags: awards, Eom Ki-joon, Han Ji-hye, Han Ye-seul, Kim Bum, Kim Haneul, Kim Hye-ja, Kim Myung-min, Lee Jun-ki, Lee Min-ho, Moon Geun-young, Park Yong-ha, Song Il-kook, Song Seung-heon