Wish Upon a Star: Episode 14
Could these two be any more adorable? And to think, when the drama first aired, silly Pa-rang was my least favorite sibling. (For shame.)
In keeping with this drama's pattern, there are so many cute, funny, heartwarming moments that it's too bad that there are other hateful characters muddying up the plot. On the other hand, I do appreciate having characters I can love to hate — if they're going to be villains, at least they're entertaining to disdain.
SONG OF THE DAY
Mary Jane – "Super-Showman." I think I've listened to this song several dozen times on repeat.
[ Download ]
Audio clip: Adobe Flash Player (version 9 or above) is required to play this audio clip. Download the latest version here. You also need to have JavaScript enabled in your browser.

EPISODE 14 RECAP
This time when Kang-ha hugs her, Pal-gang doesn't push back angrily against him, but asks gently, "Why are you doing this? Is something wrong?"
Turning away, he keeps his (teary) gaze on the wall as he says, "I keep making mistakes with you. I'm sorry. It won't happen again." He heads into the house, ignoring Pal-gang's concerned calls after him. (And I cry, It's okay! Make more mistakes!) You know she doesn't really mind his mistakes either, but it's better for her to go along with it.
In his room, Kang-ha tells himself, "Let's stop this. You aren't someone who ever needed love anyway. You have Jun-ha. Just think of that."
(The secret SEEMS to be merely that Jun-ha and Kang-ha have different mothers. However, until we are shown the full story, I'll hold off on judging where this is going. But for the record, if that is ALL there is, I find it totally weak and unconvincing.)
Despite that, Kim Ji-hoon does a nice job conveying Kang-ha's conflict, that in order to preserve one form of love (and his brother's happy illusions), he has to give up his hope for a different kind of love.
Pal-gang sees that Kang-ha is drinking and brings him some soup to eat with his alcohol. He asks, "Are you worrying about your landlord's health, as a housekeeper?" She hesitates a little before agreeing.
The mood grows more serious when he asks, "Why me? Five years ago, why was it me instead of Jun-ha? Shouldn't it have been Jun-ha, instead of a heartless jerk like me?"
Pal-gang thinks back to the day it started, which was her first day of training at work, when she had been dozing. He had scolded her, saying that she should be embarrassed of going through life half-heartedly. He doesn't remember, but she adds in a wistful tone, getting lost in the memory:
Pal-gang: "In life, there are those moments. He might be the one. The person I'm supposed to meet in my life. And so, I felt my heart constrict on that day."
She recounts her feelings with a dreamy look on her face, then shakes herself out of it a little sheepishly. As she turns to go, Kang-ha grabs her hand and says, "It would've been better if it wasn't me. You wouldn't have wasted your time racking up card debt then."
Carefully, she removes her hand and tries for an upbeat tone: "That's why I'm back to my senses and working hard now. Don't feel too sorry." Still in his serious voice, he says, with some difficulty picking out his words, "Just… I'm sorry. I'm really… very sorry."
This time, Pal-gang has difficulty shaking off his words. She keeps her back turned so he doesn't see her tears, which she lets fall after she has left his room. He turns back to his liquor, a tear falling from his eye, too.
That night, Pal-gang thinks over Kang-ha's behavior as she feeds Nam.
Pal-gang: "That ajusshi was acting strange today, wasn't he? You know, I said that I regretted it, that I don't know why I followed around a guy like him. But that's not true. I have to live as a mother now, but still, I'm happy that I liked someone for five years. And I'm glad that the person I liked was him."
Kang-ha and Jae-young sit down with her parents to announce their marriage plans. Or rather, Kang-ha sits with a stony expression while Jae-young beams through all the Botox to present the happy news. While In-gu is pleased to welcome Kang-ha as his son-in-law, Min-kyung isn't. She's suspicious about his change of heart and asks her daughter about it with some skepticism.
Jae-young is so wrapped up in "winning" Kang-ha that she isn't swayed by her mother's concerns and says that she'll eventually sway Kang-ha to her emotionally — she has to take it gradually given his tough personality. It's amazing how much confidence she has in something she has no business being confident about. Take, for instance, his reaction to her news that her mother is preparing a nice lunch at home for him tomorrow. He doesn't even act like he hears her invitation and says he has work to do.
Jun-ha also can't believe she pulled it off, not buying her coy explanation that Kang-ha must have changed his mind. He prods her to give up her secret tactic. Did she get him drunk and seduce him?
It might be the teeniest bit sad that nobody — not even her mother — believes that Jae-young actually has the ability to win Kang-ha's love, and that they suspect her of tricking him or forcing him into agreeing. Only, well, she's spiteful and horrid so I shed no tears for her.
Case in point: When Pal-gang runs into Jae-young and Jun-ha in the hall, she's happy over gaining two new contracts. Pal-gang thanks Jae-young for all her help in putting up with her, and Jae-young can't even be gracious (even though she has already "won" Kang-ha) and says snottily that getting the contracts isn't as important as retaining them. UGH.
Jang-soo has been doing more investigation into that shady man from the previous day, Kim Do-shik. He had felt so suspicious after the run-in that he had returned to the man's home the night before in time to see him leaving with his packed bags. He followed him to a motel, then talked to the man's landlord to confirm that Kim Do-shik gave up his room.
In light of recent events, this looks mighty suspicious, and Jang-soo is certain that Kim Do-shik is involved in the accident. He intends to keep following him to see what else he can find out.
Grandpa Jung shows Pal-gang the photo of the woman he's searching for, whom she recognizes as one of her mother's old hometown friends. She doesn't know where the woman lives because she had only come by once a year, but Grandpa asks her to think hard about any clues she may have into her whereabouts.
Over lunch, Pal-gang again chides Grandpa for spending money. He assures her he has money, and today he actually hands her his bankbook as proof. The balance is 31 million won ($27,000) — which makes Pal-gang's eyes widen. She asks, "Grandpa, did you rob a bank?"
He brings up her mother's friend again (they call her either "Jung-yi" or "Jung-ae ajumma") and confides that she's his daughter-in-law. She's also the mother of his grandson, and he has to find her. So if she can think of information that'll lead him to her, he will give her all that money.
I like that he's finally being honest, but even so, Pal-gang doesn't realize that he's a chaebol group CEO. She merely thinks he's been scrimping over all the years, and graciously declines the money, telling him to use it to live with his daughter-in-law.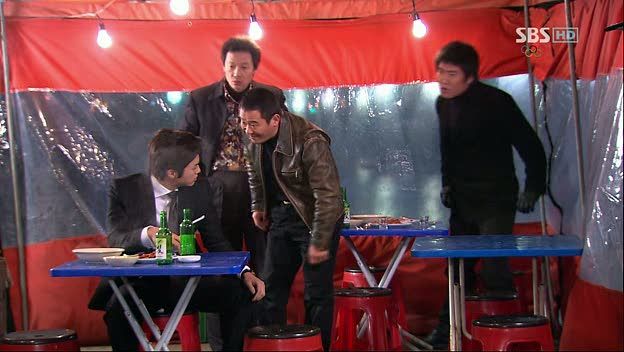 Kang-ha is in an awful mood and drinks alone that night at a pojangmacha. He thinks back to Pal-gang's dreamy answer of why she liked him, which contrasts sharply with Jae-young's ugly threat to tell Jun-ha that they have different mothers. In anger, Kang-ha throws his bottle to the ground, splashing soju on the men sitting behind him.
He gives a perfunctory apology, but the thugs take offense to his rudeness.
Kang-ha is in no mood to beg for forgiveness, so he talks back and escalates the situation until one of the guys grabs him and throws a punch. They walk away, but Kang-ha's feeling self-destructive and lunges after him, throwing a punch of his own.
Not surprisingly, he gets thoroughly beaten up, but he hardly even cares. As he stumbles on after the fight, he thinks back to the day he had offered Pal-gang a ride for the first time — the ride that led to that series of unfortunate events involving car theft, subway vomit, and diaper poo. It's sorta hilarious to see that miserable "date" portrayed in a semi-romantic light now, as Kang-ha thinks, "I should never have given her a ride."
Tae-kyu begs Jun-ha to give up on Pal-gang, afraid that he won't be able to measure up against him. He's not uneasy about Kang-ha anymore because Pal-gang has seen him at his meanest, but Jun-ha is a different story. Won't he let go, for Tae-kyu's sake?
He won't, which causes Tae-kyu to storm out indignantly. He assures Pal-gang, "One day you'll realize how strong my love is!" She just tells him to go to bed, and he pouts at not being taken seriously.
Meanwhile, Pa-rang hangs around, not wanting to go to bed until Kang-ha gets home. Pal-gang urges him to go to sleep, but Pa-rang runs upstairs to sleep in Kang-ha's room anyway.
Kang-ha stumbles in all dirty, bloody, and drunk. He mumbles that he's okay, but Pal-gang looks at his disheveled appearance in shock and tries to help. He shoves her back and bursts out angrily that he's fine, heading up to his room.
Pa-rang wakes up, while Pal-gang and Jun-ha follow him up to ask in concern what happened. Kang-ha is not in the mood for explanations and yells at everyone to leave the room, then shoves them away.
(Oh, Kim Ji-hoon has taken some of Shin Dong-wook's overacty pills! I'm sorry, but I was giggling throughout this scene.)
The adults are puzzled, but it's Pa-rang who cries, "What if he dies?" Jun-ha assures him that Kang-ha is strong and tough, so he won't die. He's a Power Ranger, after all.
Kang-ha collapses on his bed while the others continue to worry. Pal-gang waits outside his bedroom door with a first aid kit, and sees him lurching to the bathroom to vomit.
Pa-rang also lurks around, waiting to check on Kang-ha. Perhaps sensing that her presence would be less than welcome, Pal-gang urges her brother to go in and pound on Kang-ha's back, which he does.
Kang-ha has been feeling irritable on top of physically ill, but when he catches a glimpse of Pa-rang's face, he registers that the boy is crying. He asks why, and Pa-rang answers, "Because you're hurt."
Kang-ha asks why that would make him cry, and Pa-rang replies, "Because you're hurt, it feels like I am too."
Although Kang-ha grumbles that he won't be able to survive this world with such a weak heart, he's clearly touched by the boy's concern.
Now he lets Pal-gang tend to his face (being a wimp all the while). Pal-gang takes him to task for going around fighting, but Pa-rang sticks up for him. Why is she scolding him when he's sick? Pal-gang: "Because he did something deserving scolding! I'm so upset it's killing me."
That doesn't have such a bad ring to it, and Kang-ha wonders, "Is it really so bad that you feel that upset?" Pal-gang gives the safe answer that they live in the same house, so seeing someone come home bloody is naturally cause for concern. She adds, "You said you work out!" as though turning it back on him. LOL.
Kang-ha can't let her just mock his physical prowess, so he defends himself, "It was three to one. And they were big thugs!" She scoffs, "Not even seventeen to one, but only three to one?" ("Seventeen-to-one" is a line popularized in the movie Beat.) He complains, "If it was 17 to 1, do you think I would have made it back home?"
They bicker back and forth (Pal-gang: "Why are you raising your voice? You didn't do anything to be proud about." Kang-ha: "It's because you're treating the three-to-one as nothing!") so much that the arguing aggravates Kang-ha's face injuries.
They take a moment to calm down, but no sooner than they resume the conversation do they escalate into bickering again. She points out that his mouth wouldn't hurt if he keeps it closed; he takes offense to her implication that he'd better shut up.
Pal-gang urges Pa-rang to leave so Kang-ha can get his sleep, but he refuses. This time Kang-ha says that Pa-rang can do whatever he wants (read: stay), although of course he saves face by maintaining his brusque attitude. Still, when Pa-rang says with his little-boy maturity, "Please be understanding, for my sake," Kang-ha has to burst out laughing.
When Kang-ha wakes in the middle of the night, still feeling queasy, he rushes to the bathroom. Pa-rang leaps after him to pound on his back again as he vomits, then asks, "Next time, just fight one on one, okay?" Kang-ha agrees.
Instead of going back to sleep, Pa-rang watches over Kang-ha, and blows on his wounds. He explains that whenever he had a rash on his face, his mother would blow on his face at night. Touched, a few tears slip from Kang-ha's eyes as he smiles up at Pa-rang.
And then the tears threaten to fall in earnest so Kang-ha lies that it doesn't hurt anymore and tells Pa-rang to sleep, turning away quickly. He lies on his side, face turned away, but Pa-rang peers over his shoulder and notices that he's crying. He assumes it's because of the (physical) pain, and asks Kang-ha if he's crying because it hurts. The meaning isn't lost on him as Kang-ha answers, "Yes, it hurts a lot."
(Awwww. What a great scene. They keep outdoing themselves with the Kang-ha/Pa-rang scenes, at least.)
In the morning, the other kids look at Kang-ha's face and wonder what happened. Kang-ha tells Ju-hwang, "I was acting like I had force and it backfired." (This refers to his previous talk with Ju-hwang when he'd gotten beaten up, and he'd assured Ju-hwang he had force.) Ju-hwang says, trying to be consoling, that Kang-ha doesn't lack force. Kang-ha says dryly, "Thanks for the comfort, kid."
Recalling that the kids go back to school in March, Kang-ha asks Pa-rang what kind of gift he wants to receive, as a thank-you for tending to him all night. Does he want a new bag? A bicycle? Pa-rang perks up and translates this into childlike terms: "So this means you're granting me a wish?"
He bursts downstairs to tell his siblings that Kang-ha is granting them his wish: they're going to an amusement park today!
Kang-ha urges the kids to hurry and get ready if they want to get there early and make the most of their day. But at the park, he's cranky with Pal-gang and uses the amusement park as an excuse for his bad temper. This makes Pal-gang point out that it was his idea to come here.
He counters that it wasn't his idea, he was just fulfilling the kids' wish. She asks why he had to take care of the wish today, and he retorts, "Because I'm impatient!"
I LOVE how nonsensical their arguments are becoming. They're so ridiculous I laugh out loud every time. JUST DO IT ALREADY, YOU TWO.
They're interrupted by the kids, who urge the two adults to join them on a ride. Kang-ha says he doesn't know how to ride them, since he's never come to a park like this before. The kids say that they've never come to a park before, either, which surprises him. Pal-gang explains that with six children, it's a pretty big expense.
This segues to a reference to how they used to eat samples at the grocery store, which takes him aback. He knew they weren't rich, but I don't suppose that fact translated into real things in his mind, like not being able to afford fun days at theme parks or fancy dinners. The kids don't talk with any shame, but he feels more for their situation upon hearing it.
He does let Ju-hwang pull him on the ride, from which he emerges swaying and queasy. Granted, he has just had a rough night and is probably still hungover, but his reaction is still pretty amusing, in light of his usual cold exterior.
He has forgotten about Jae-young's lunch invitation — or perhaps he hasn't forgotten but doesn't care to oblige her. (After all, she didn't ask him or wait for his response, and he didn't technically say he was coming.) But Jae-young has assumed that he was coming, and has been preparing with excitement.
She calls him repeatedly — and he does see the call on his phone — but he ignores it, choosing not to answer. Likewise, Jun-ha finds the house empty and also tries calling Kang-ha, but his calls go unanswered as well. The Jungs wonder what the matter is, since they have all prepared for Kang-ha's arrival.
I don't think Kang-ha's being a jerk about it; it seems more like he's enjoying his moment and doesn't want "reality" to intrude. He buys the kids hot dogs, and in a funny moment, he has trouble remembering how many there are, and counts using the system "Red, orange, yellow, green, blue, navy…"
Pa-rang wants to go to their old neighborhood grocery store for "dinner" (i.e., samples), saying that their pork is the best. Kang-ha initially thinks he means he wants pork for dinner and offers to buy that, but the kids clarify that they want to eat AT the store.
There's another super-cute moment when they're all eating pork samples and the store vendor recognizes them. He assumes that Kang-ha is Pal-gang's prospective husband, to which Pa-rang pipes up and says yes. Pal-gang shushes him and covers for her embarrassment by ordering the man to keep cooking. The vendor asks, "Why are you shouting at me?" Kang-ha leans in and says dryly, "That's her hobby." Misinterpreting Kang-ha's comment, the man laughs and notes, "You've fallen for her charms!"
They go from stand to stand, and even Kang-ha has to comment that at least they're getting a full course meal. Pal-gang starts to comment on her mother loving this, but that mention wipes the smile from her face.
Kang-ha figures that she must have really loved her mother. She says yes as though that's an obvious statement: "Is there anyone in the world who doesn't love his mother?" But seeing his reaction, she guesses that he must not have a good relationship with his own mother.
Jae-young calls Jun-ha to ask where Kang-ha is. Jun-ha doesn't know so he's not entirely lying when he says that Kang-ha had been hurt last night, suggesting that he went to the hospital. Worried, Jae-young arrives at the house — but she's pretty sharp and realizes that the house is empty. If Pal-gang and the kids are also gone, there's a chance they're all together.
Jun-ha tries to spin this in a positive light, saying that Pal-gang is only pricking her pride, and that she's no real danger. She should be cool about this.
Just then, the family returns home, and everyone stops in their tracks to see Jae-young there. They can tell this is not good, even though Jae-young greets them with a smile. (An insincere, stupid, ugly smile.)
Jae-young tries to keep her cool even when hearing that the family had gone to the amusement park. She tells Kang-ha, "Thank you. Are you practicing with kids before you marry?" Mention of marriage grabs everyone's attention, and Jae-young confirms, "We'll have to invite Pal-gang and the kids to our wedding."
This is shocking news for the kids, Tae-kyu — and for Pal-gang. Kang-ha looks at Jae-young in dissatisfaction, but that doesn't deter her from asking with a not-so-sweet smile, "Pal-gang, would you like to catch my bouquet?" (And shove it up her ass, maybe?)

COMMENTS
I've stopped separating out the "Other Storylines" section because now the Jungs are more integrated to Pal-gang's storyline. While that probably makes more sense for the overall drama, as a viewer I think that's too bad because I think the tedium of the Jung family is being brought into the other threads.
Previously, I would pay attention to the other stories just enough to get the plot, but I shut off my attention and waited for the more fun stuff going on chez Won. That enabled me to think of this as a super-fun drama with occasional boring little blips that I mostly ignored. Now, however, the overdramatic Jung storyline is bleeding into the rest of the characters, so I think the tonal mismatch is becoming more obvious.
This is really a drama that is best when it's comedic. To that end, witness Wimpy Kang-ha above. I LOVE IT. He can be as cool and mysterious he wants, but I don't think it's any coincidence that the drama started getting more interesting after it pushed things up a notch in Episode 7 and then really kicked it up in Episode 8, with his dignity taking a hit. Subsequent episodes have beaten and battered his pride to pieces, but it's through those bits that Kang-ha went from a pretty face to a lovable dork. (And when he's being wussy, he is SUCH a dork.)
The love relationship isn't terribly romantic, but I'm there with Kang-ha and Pal-gang because I enjoy how their characters have developed. Aside from the physical and outward attraction, they're good for each other on a more fundamental level, so I enjoy seeing them dealing with their developing emotions.
When the drama tries to get too mysterious and/or serious, however, it tends to go over-the-top, resulting in hilariously overemoted scenes like Shin Dong-wook's yesterday, and Kim Ji-hoon's today.
Lastly, I don't think I've really noticed this in previous dramas, but does this one have a great lighting director or what? It's not just that the shots are clear and crisp, but in emotional moments, somehow the camera manages to perfectly capture every glistening tear in the characters' eyes. It's really impressive — take a look at the two above, for example.
RELATED POSTS
Tags: Choi Jung-won, Kim Ji-hoon, Lee Kyun, Shin Dong-wook, Wish Upon a Star