Song Joong-ki cast as a young king in sageuk drama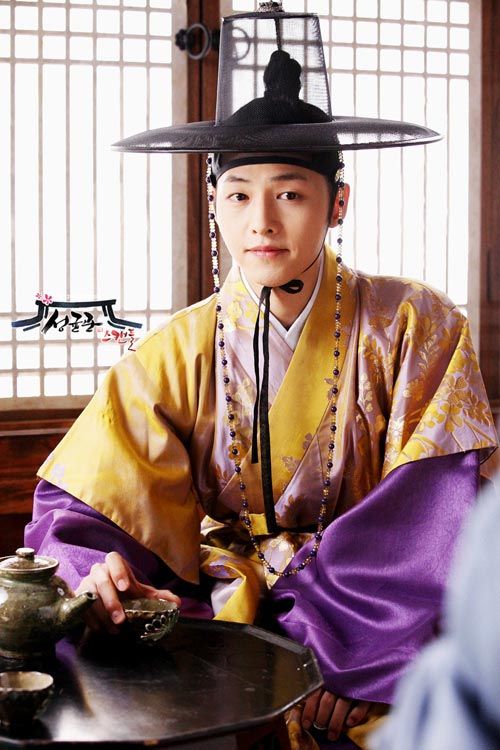 Sungkyunkwan Scandal's fashionista, Song Joong-ki, is returning to the sageuk fold for the anticipated historical series Tree With Deep Roots, which is the drama from the Queen Seon-deok writers about King Sejong the Great that stars Han Seok-kyu, Jang Hyuk, and Shin Se-kyung.
Song will play the young Sejong, whose older counterpart will be acted by Han Seok-kyu. The two actors look nothing alike, but no matter if they nail the acting; I'm recalling Will It Snow For Christmas, where Kim Soo-hyun and Go Soo likewise looked nowhere near the same person but managed to both get on the same page about the character's mood and personality. Giant's another recent drama that had a strong childhood portion, and frankly sometimes I find the youthful parts even more compelling than the grown-up ones. (When the two actors don't match up, on the other hand, we get a jarring effect — I'm thinking Kim Bum and Song Seung-heon in East of Eden, where I just couldn't see them as the same character.)
Too bad this also means that Song Joong-ki's screentime will be limited. Despite that, he's totally capable of making an impression, and producers explained casting Song for his focus and expressiveness. (He had small roles in Triple and Will It Snow, but certainly made his time count with his onscreen warmth and personality.) Plus he's just so darn cute.
The youthful Sejong that he'll portray is a genius growing up under the rule of a tyrannical father. He "realizes the futility of power early in life" and hides in his books, but nonetheless becomes king. In order to steer clear of turning into his father, he learns how to maintain a patient, enduring attitude and represses his own self. The fact that there's something to repress makes me think he'll display a more impassioned spirit at first, which he'll work to control, and that's a duality I'd love to see from Song, who's mostly played warm, friendly, approachable characters. Bring on the intensity!
The drama will premiere on September 28.

Han Seok-kyu
Via Star News
RELATED POSTS
Tags: Han Seok-kyu, Jang Hyuk, Shin Se-kyung, Song Joong-ki, Tree With Deep Roots