Romance Town: Episode 17
The revenge is ON! This episode was way better because for one thing, there was far less crying, whining, and greediness going around. Everyone's reached a somewhat secure and happy place. But some fortunes are still reversing, as the rich families of 1st Street are still suffering. On top of that, I call this episode the redemption of Soon Geum's father.
Bong Yi has dinner with Sang Hoon, and of course he knocks back a few drinks, which of course means his mouth loosens up. If Sang Hoon promises to quit gambling he'll let him in on a secret. Sang Hoon: "My daughter won first place in the lottery, didn't she?" Bong Yi: "How'd you know?!?!"
Strangely – and funnily – enough, Sang Hoon actually breaks into tears of joy, so proud that his daughter has done well for herself. But Bong Yi desperately begs Sang Hoon to promise to quit gambling, perhaps afraid that Sang Hoon will go and try to get his hands on Soon Geum's money.
Soon Geum keeps her new bank book close, and serves coffee to the Kang family. Tae Won orders her to invite her father over for dinner. That's a shocker for everyone, because no one actually believes that Tae Won is willing to do the whole Meet-the-Parents-thing. Tae Won shrugs it off – Gun Woo's already met the father, hasn't he? Soon Geum can prepare a nice dinner for all of them.
That evening, Gun Woo follows Soon Geum worriedly, wondering if having her father over is a wise thing to do. If Tae Won insults her father, she is determined to leave. No one can diss her father except her. Gun Woo hugs her from behind; he'll let her leave the house. He won't let her or her father endure humiliation just so they can be together.
The three maids wallow in self-pity and misery over being locked up. No one visits them either, as no one has family who's close to them to come. Suddenly, Zar Lin spots Hyun Joo. Immediately, the maids apologize and beg her to free them. They'll be nicer, and give their fair share just like Soon Geum and split the money equally. Too little too late, is Hyun Joo's thinking.
Outside of the station, Soon Geum and Young Hee are waiting around, and still fighting about whether she should leave the neighborhood or not. Young Hee thinks it's unfair she's staying there when she's being disrespected, while she really wants to be accepted for who she is, not for what she has. He declares his alliance with Hyun Joo for her revenge, but also views himself as "on the fence" between the rich people and the maids.
Hyun Joo leaves the station – alone. The two of them are surprised she didn't bail out the other maids, but when they turn around – tada! They're free. (Bah.) As soon as she's out of her cell, Soo Jung immediately goes back to bad mouthing Hyun Joo for being such an evil pain. Geez woman – can't you ever be grateful for once?
They all gather in front of Young Hee's lawn. Hyun Joo wants to entrust all the money to him; she wants him to invest it in the stocks and increase their riches so that she can enact revenge upon the households of 1st Street. Young Hee happily accepts, but everyone else is aghast.
Soo Jung backs out – she just wants her share as she doesn't know anything about the stock market. The same goes for Zar Lin, who has little interest for it. Most of them just want to buy a house, so instead of splitting the money equally, Young Hee suggests they all decide what they want to do with the money and split it accordingly.
Da Kyum declares that she knows exactly which house she wants to buy – Young Hee's. And yes, she's also taking her revenge on him by buying it. And yes, she wants him to invest the money in the stocks so that she can have enough to buy it. She'll trust him to take care of it well!
Hahah – puts Young Hee in quite the bind, doesn't it?
If they plan to purchase the houses on 1st Street as a way to kick out those rich people, then only Jang Chi Gook and Young Hee's houses are on sale. However, Young Hee notes Kang Tae Won might sell his house soon as he will go bankrupt from evading taxes. Soon Geum is uneasy, but a bulb lights up over Hyun Joo's head – this is her chance to take revenge on her so-called friend Yoon Joo.
Night falls, and Sang Hoon arrives at the Kang Residence for dinner. Immediately, Tae Won and Yoon Joo are turned off by the way Sang Hoon eats. Afterwards, Tae Won asks Gun Woo in front of everyone, "What's Ahjumma's name?" Sang Hoon does not fail to notice the insult. Then Tae Won says that everyone's clamoring for Soon Geum because she's such a wonderful cook, to which Sang Hoon brushes away humbly – it's not that special to know how to cook.
Tae Won wants to learn to play Go Stop, which makes Gun Woo and Soon Geum very uncomfortable. They watch as Sang Hoon wins and claim 5,000 Won (about $5) from Tae Won. However, Tae Won only has 1 million Won bills, and pays 5 million ($5000) instead. He claims he just wants to give Sang Hoon some pocket money and cab fare. That insult and show of wealth are also not lost on Sang Hoon.
What's worse though, is that Sang Hoon takes the money. But then he offers to play another round – "Because I need a lot of cab money."
Later, Sang Hoon storms into Soon Geum's room and orders her to leave. She's endured that kind of disrespect for three years?! He won't let her have it. He took the money as a form of severance pay and wants her to break up with Gun Woo and leave. Soon Geum angrily shoots back, "You knew I was doing this for three years and acted as if you didn't know anything before!"
Overhearing their conversation, Tae Won and Yoon Joo secretly rejoice that Sang Hoon will help them get rid of Soon Geum.
Sang Hoon drags Soon Geum out of the house, with Gun Woo following closely. Soon Geum argues that no matter where she goes, she will be looked down upon because she doesn't know anything other than housework. She also had such a hard time with her father that dealing with the Kangs was much easier, and his acceptance of the money embarrassed her further.
Sang Hoon knows that the money is to get the two kids to break up, so that's why he accepted it so readily. He trusts Gun Woo to force Soon Geum to quit and then leaves. Yelling at his retreating back, Soon Geum wishes her father were dead, that he would never ever be her father if she were born again!
Back inside, Tae Won hopes that Soon Geum will now leave, but he can't bother himself with all these games. So Yoon Joo decides to take the initiative and take care of their "Soon Geum Problem."
She goes to the bank to claim the lottery ticket Tae Won gave her, but is informed that the prize has already been claimed. Bong Yi looks over the ticket and notes that her winning numbers are for the 334th lottery, but her ticket is for the 336th. Her ticket is fake, and the shock of it lands her in a car accident.
Meanwhile, Young Hee shows the Three Maids how well Hyun Joo's stocks are doing. They've earned quite some money, and it's enough to make Zar Lin and Soo Jung jealous. Young Hee knows they don't trust him, so if they really want to make some money, then they can just give however much they trust him with to invest in stocks.
As for Hyun Joo, she's now dressed quite well, and visits Jang Chi Gook in the hospital. Only his wife Soon Ok is there, sleeping in the cot by his hospital bed; Boon Ja packed up and moved back with her parents. Jang Chi Gook is so happy to see Hyun Joo, and reassures her that the surgery is sure to be successful. Soon Ok on the other hand is none too pleased.
Hyun Joo hands an envelope with some money; it's not much, but she hopes Soon Ok can use it. Soon Ok accepts it, but she takes out the money and throws it back on Hyun Joo's face. No way in hell is she going to take her former maid's money. In fact, she'll never take Hyun Joo's money, because no matter which household she goes to, she will remain being a maid in status. She forces Hyun Joo to pick up the money and take it back, which aggrieves Chi Gook greatly.
Ugh. Well – more money for you Hyun Joo!
As she leaves the hospital, she doesn't notice Yoon Joo being wheeled in after her minor car accident. Tae Won visits Yoon Joo and finds out that his ticket is fake. It might have something to do with the robbers that night, so he hires a private investigator to look into the robbery and the lottery ticket, and to follow Hwang Yong.
Sang Hoon meets with Soon Geum outside the convenience store to return the money he won from Tae Won. But then, he asks his daughter for some money as well! Soon Geum claims she has no money, and gets up to leave. Sang Hoon quickly grabs her wrist – did she really want him dead? Does she really wish mom were alive, and he were dead? With a straight, solemn face, she says yes, and he lets her leave.
No matter how bad he was, it's a little sad to see him down a bottle of soju and look at the winning lottery sign a little regretfully; he seems to know he may never get his hands on it.
Gun Woo stops by the trading place to see Young Hee, and informs him that he sold some of his stocks so he could buy Soon Geum a room. Young Hee scoffs; a room isn't much, and Soon Geum left him her money so that he could double it. And he will – because he wants Soon Geum to look his way finally.
Gun Woo steps up to his friend: "I acknowledge your skills in these matters, and I acknowledge that this is the way it should be done (as they compete for Soon Geum). I only wish for anyone to make Soon Geum smile." And he gracefully makes his leave.
The private investigator manages to track down one of the robbers, who after some forceful persuasion admits that he replaced the real one with the fake lottery ticket. The real one was taken from him by none other than Hwang Yong, and so he has no idea what happened to the money.
Tae Won muses over the information; knowing that Tae Won could not have reported the ticket to the police, Hwang Yong might have sold it to another person.
Gun Woo hangs around in Sang Hoon's home, waiting for the father. He takes a picture of a picture of Soon Geum and her father in happier times. Little does he know, Sang Hoon is stumbling home, and encounters a few rough loan sharks who are demanding to be paid back. They beat him up when he doesn't have any money to give, and it's only when Gun Woo leaves the home that he spots the attack.
He runs in and uses his body to protect Sang Hoon from the kicks and punches.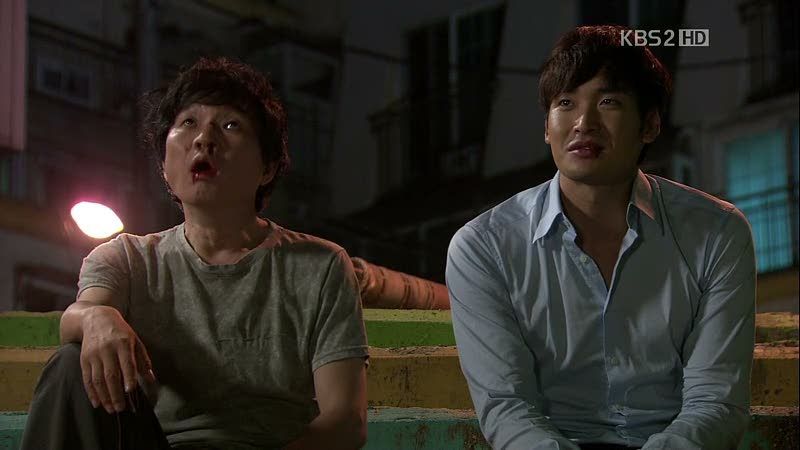 A little later, both are bruised and bloody, sitting on the steps outside. Sang Hoon still wants them to break up though, even though Gun Woo helped him. A little cheekily, Gun Woo asks if Sang Hoon is alright, and rues that he weren't a better fighter, since he used to do judo. (Yeah, what happened to flipping thieves over in one swift move?!)
Sang Hoon asks him what he sees in Soon Geum, since if it were him, he'd have given up a long time ago. Gun Woo replies that he finds Soon Geum charming, and she's the type that means the opposite of what she says. She says she has no money? That really means she has money! And if she tells you to go die? She really means she hopes you live a long life!
Gun Woo wants to keep this meetup a secret from Soon Geum, as it will only worry her more. Besides, they're the cause of all her suffering.
Tae Won places an anonymous call from a phone booth to the prosecutor's office, reporting that someone on 1st Street is selling winning lottery tickets. Narrowing it down to Hwang Yong, the prosecutor's assistant goes to check it out, pretending to be a winner and wanting to sell it to Hwang Yong. He says that he no longer buys lottery tickets; after the fiasco with Soon Geum and the maids, he's told everyone in his office to never buy lottery tickets ever.
The prosecutor's assistant points out that he still has a sign up saying that he buys lottery tickets. One glare, and Hwang Yong's men hurriedly take down the banner sign and stuff it under their feet. Hee.
Meanwhile, as Hyun Joo cleans up Hwang Yong's home office, she shifts around the painting and discovers the safe hidden behind it.
Tae Won brings Gun Woo into his office to ask what "that thing" Gun Woo wanted to give him in prison was. Gun Woo smirks – so does Tae Won think he needs it now? He tells his father to accept Soon Geum first, but that's no go. Too bad – Tae Won is left without the real ticket, again.
That evening, Yoon Joo drunkenly calls Tae Won, who's still fretting at work. She wants the house deed under her name now, because if and when they do divorce, she wants to have at least something out of it. Tae Won yells that he's given her everything he's owned, and the house will not amount to much once it's mortgaged. He's so mad that Yoon Joo won't do anything for him during this situation. What – did you really think she married you for love, and not for your money?!
Across the lawn, the maids are fawning over Young Hee as he gives them the stats on their stocks increasing. He advises that they sell now and not get too greedy, as the stocks could plunge any day now. Only Soon Geum is disinterested, as she's worried about why Yoon Joo is acting so strangely.
Suddenly, Yoon Joo appears, super drunk on wine, and Young Hee immediately hides his tab from the table. Soon Geum tries to get Yoon Joo to go home with her, but Yoon Joo pushes her away. She announces to the table that Soon Geum is dating her "son," and wants to see if they find it just as weird, as both are not of the same status. "We see her as a servant, so isn't it strange?"
The other maids stand up in outrage, but Yoon Joo plows on – don't they know that Soon Geum's father accepted money from them, and yet Soon Geum has the gall to stay on and work. What, does she expect more money from the Kangs? The maids don't know what to say to that, and they don't notice that Sang Hoon has actually come to the neighborhood and is watching from afar.
Angrily, Soon Geum takes out the wad of bills her father gave her earlier. "I was going to give this to the president, but I'll give it to you instead. I didn't forcibly bring this; my dad wanted to return it." She tells Yoon Joo that she and Tae Won should not be proud of themselves in thinking that money solves everything. Pissed, Yoon Joo throws a glass of wine in Soon Geum's face.
OK, that's it. The maids all stand up and start lecturing and yelling at Yoon Joo, while Sang Hoon turns away to leave, having seen enough.
Hyun Joo: "Who are you calling a money slave, when all you do is grovel for money yourself? Why are you insisting that you are a family (with the Kangs) when you haven't done anything for them?"
Soo Jung: "Did you give birth to Gun Woo? Did you raise him, or even cook rice for him? Do you think he'll eat with you or with Soon Geum?"
Zar Lin: "You can't be doing this – you're having an affair with my boss, right?!"
Da Kyum: "I don't like Soon Geum but you've gone too far. [What do you have that lets you act] like this and put Soon Geum down? When it comes to money we have loads –"
Young Hee thankfully shuts her up and continues: "If you oppose, go talk to Gun Woo – he's the problem! I wish they would break up too! But do you think a maid is a servant or a criminal?"
Yoon Joo pours another glass of wine and everyone takes a step back – is she going to throw it on all of them?! Instead, Yoon Joo downs the entire drink and yells at all of them for being rude. They all leave, save for Soon Geum, thinking that she's just drunk.
Yoon Joo advises she break up with Gun Woo; she knows Tae Won – he will never give up, and they can't win against him unless they run away. Soon Geum says that it's possible for Yoon Joo to beat Tae Won. He clearly loves her more than she loves him, and she believes that the person who loves more is the loser.
Yoon Joo wonders who loves more between Soon Geum and Gun Woo, and Soon Geum thinks she likes Gun Woo more. Therefore, she can endure the insults. Immediately, Yoon Joo rejects her; not only is Soon Geum just not "qualified," but she's the woman and should be loved more than giving love.
The prosecutor's assistant begs and pleads with Hwang Yong to accept the winning ticket. She gives him a sob story of needing to pay off debts, and since Hwang Yong is a big softie, he finally agrees that he'll do it just once.
As he counts out the bills to pay her upfront, the police and prosecutor burst into the office to catch them in the act. Scared, Hwang Yong quickly stuffs the lottery ticket in his mouth and chews, but the assistant slams him on the desk and pops the ticket right back out. He is arrested with the rest of his men, and his absence the next morning worries Joo Won.
That next morning, a realtor tells Soon Ok that someone has come to look into purchasing the house, and she happily follows into the living room… until she sees that the "someone" is none other than Hyun Joo, once again dressed in fine clothing. The revenge is now fully underway!
Sang Hoon arrives at the Kang residence, soju in hand. He wants to play Go-Stop again, this time with the aim of losing money. Tae Won asks if he wants to win his car; if that's the case, he can fire his driver and hire Sang Hoon instead. Having one family be his serving staff just makes the household stronger.
Tae Won's insults continue – he believes that money follows the bloodline, and one's wealth is determined at birth based on whom they're born to. Sang Hoon disagrees: "Our Soon Geum has a lot of money. Through luck."
Soon Geum and Gun Woo freak out, but they can't shut Sang Hoon up without being too blatant.
At the same time, Hwang Yong is being questioned by the prosecutor. Though he refuses to divulge any information (which could have led to a lesser sentence), the prosecutor manages to fill in all the holes. He knows that Hwang Yong bought the lottery ticket #334 for 10 billion so that he/she could avoid taxes. By purchasing it, Hwang Yong aided and abetted a criminal in tax evasion. On top of that, he sold it to someone for an extra 1 billion, which would have led to a profit. Minus taxes from that and Hwang Yong would be left with 300 million Won.
There would be so many penalties and charges against Hwang Yong for this, but if he only said the names of the people he dealt with for that ticket, the charges could be reduced.
Back at the Kang Residence, Sang Hoon blurts out the truth: Soon Geum won the lottery. Soon Geum and Gun Woo's eyes widen; Yoon Joo covers her mouth in shock; Tae Won stares searchingly at Soon Geum, wanting to know if it's true. She is unable to answer, which pretty much confirms it.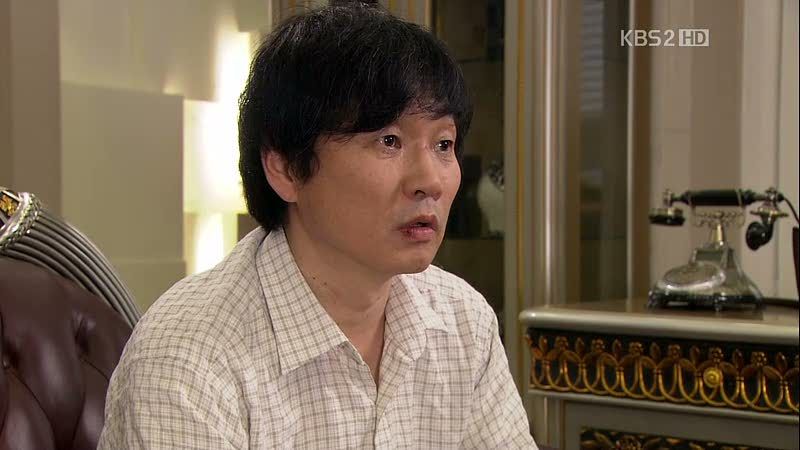 Sang Hoon: While I wasted my life making my wife and daughter unhappy, I never quit playing Go-Stop. But now, I will quit it! I won't take one cent from my daughter. Instead, please think of my daughter not as a maid, but as a lady your son likes and has chosen. I am not bragging for my daughter. I just wish that I can make my daughter smile.
Comments:
Oh man. We are moving forward with the romance front! Now, every rich residence has fallen (most recently with Hwang Yong's arrest), and every maid happily has earned some money without fighting over what they earned or lost. The lottery ticket is still an issue, but not in the annoying, pain-in-the-ass way that it was last week.
I have spent 16 episodes no longer trusting any of the characters. Everyone is either backstabbing and greedy, or I just don't understand their motivations or feelings for one another. I am always ready for Soo Jung to betray someone again (though I think she's calmed down by now) and I am still wondering if Soon Geum really loves Gun Woo more because she doesn't act like it. The father? I never trusted him. But then he has come a long way in this episode in realizing that he's done absolutely nothing for his daughter, and he's trying to turn it all around. If she wants him to die so badly, then perhaps he can soften the hatred with this one act. I'm impressed that he doesn't want a single cent of the money, but at the same time I can't fully believe him. I'm afraid to believe him.
But he did say he wanted to make Soon Geum smile, which is exactly what Gun Woo had said before to Young Hee. So since Soon Geum's happiness is more important to these two men, I will console myself that the wish is truly sincere on both men's parts.
RELATED POSTS
Tags: featured, Jung Kyeo-woon, Kim Min-joon, Min Hyo-rin, Romance Town, Sung Yuri