Lee Min-ho heads for Los Angeles
javabeans: Hey, have you heard Lee Min-ho is on his way to your neck of the woods?
girlfriday: *drops everything, gives jb full attention*
javabeans: Uh, so, Lee Min-ho is on his way to your neck of the woods. He just hopped on a plane a few hours ago.
girlfriday: OMG, did I finally get through to the powers that be?
javabeans: You'll have to fight it out with everyone else in LA who just dropped their Monday plans to stalk Lee Min-ho through the (very large, might I add) city.
girlfriday: Koreatown's not so large. I'm on it.
javabeans: Crap, did I just blow your advantage? Um, I mean, he's totally on his way to South Dakota!
girlfriday: Right. Koreatown in South Dakota! Totally.
javabeans: So, whatchoo gonna do with/to Lee Min-ho in the full ten seconds you'll get before you're forcibly escorted away?
girlfriday: That part's rated R, but what's important is how to get close to him. First, I need to go shopping.
javabeans: Only R? I'm disappointed in your lack of creativity.
girlfriday: How's a girl to get past R in under ten seconds? Time is against me!
javabeans: If you really loved him, you would find a way.
girlfriday: Okay, I'm revising my plans to camp out overnight so that I can sneak attack and get a few extra seconds.
javabeans: Also, you're gonna have to learn how to outshine/overpower/knock aside Yoona, who's going with him. Some clothing brand shoot.
girlfriday: Pffft, she's like a stick.
javabeans: You could take her.
girlfriday: Totally. I'm not above some catfighting.
javabeans: Plus, she's got that pristine idol star image to uphold. You…are not so burdened.
girlfriday: Right? She can't fight back. Golden.
javabeans: Maybe you can take a few tips from Myung-wol and save him from an explosion. Then again, you'd need an explosion to save him from…
girlfriday: This is going to a bad place.
javabeans: Uh, I'm not gonna get a call from you asking for bail money, am I? 'Cause let me tell you right now, I don't have the cash.
girlfriday: Hey, you owe me, from the time with Yoon Kye-sang at the thing…
javabeans: Shhhh! I'm still keeping on the downlow for that one.
girlfriday: Oh, you're on the lam are you?
javabeans: It's all for loooooove. Anyway, his plane lands in the morning. Get your game face on.
girlfriday: Okay, here's a thought. What if I sacrifice my fifteen seconds of inappropriate contact (I know, it's very big of me), and I kidnap him instead, so that we can make him star in our version of City Hunter Season 2?
javabeans: Win-win!
girlfriday: I know, right? Though then we'd also have to kidnap the PD. And his crew.
javabeans: First things first. We wouldn't want to get ahead of ourselves, now would we?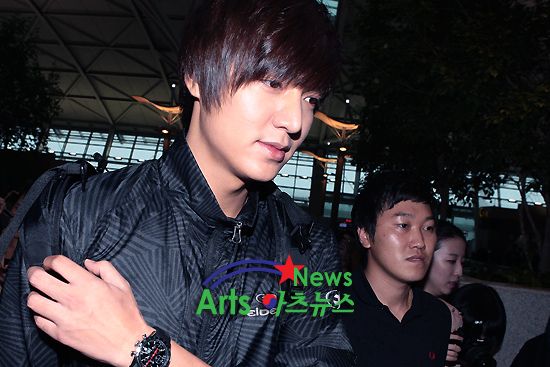 girlfriday: Right. Okay, so how to overpower a guy so tall? Well if Nana Bear managed to slam him over her shoulder, I could too, right?
javabeans: Go for the bum knee.
girlfriday: HA. Not above fighting dirty. I like it.
javabeans: Well, with great risk comes great reward. His risk, our reward.
girlfriday: As long as we've got that straight. But then where will we keep him? Will we have to tie him up and feed him and read to him, like Ajusshi did with McCreepy?
javabeans: You ask too many questions. Kidnap first, details later. I'm sure it'll all work out.
girlfriday: Especially when I've worked out all the details, like swapping out a fake identical getaway car under a bridge. It's foolproof.
javabeans: What could possibly go wrong?
girlfriday: By the by, since I'm doing all the work, hands off my Lee Min-ho.
javabeans: WHO GAVE YOU THE TIP?
girlfriday: I'm the one risking the jailtime!
javabeans: Not if you're good.
girlfriday: If I get caught, I'm selling you up the river as the mastermind.
javabeans: I can live with that.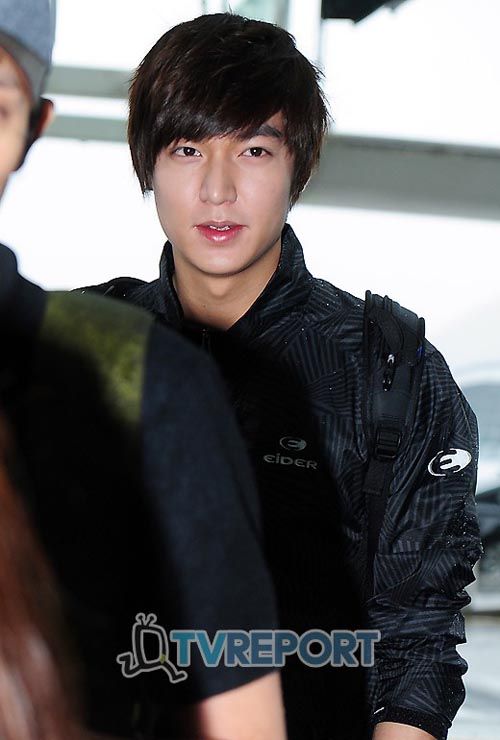 Via Arts News
RELATED POSTS
Tags: conversation post, Lee Min-ho, Yoon-ah