Me Too, Flower: Episode 11
The last cat is out of the bag and we're given more evidence as to why "Bong Sun > Hwa Young." Jae Hee climbs a baby step towards freeing himself and Dal toes the slinky slutty line.
Also, Happy Holidays!!
Bong Sun rushes out past Jae Hee and heads to her car downstairs. As she pulls out the garage, Jae Hee stops in front of the car and slips into the front seat. She doesn't say anything and continues to drive. She turns the emergency lights on and swerves from lane to lane on the highway as she and Jae Hee try to control their emotions. My driver's ed teacher would've cried at the number of traffic violations that just occurred…
Jae Hee drops the bomb that he killed Hwa Young's husband, which causes Bong Sun to slam on her brakes. She stares at Jae Hee as he informs her that Ah In and Hwa Young are the people he needs to protect for the rest of his life. She breaks down and Jae Hee reaches over to embrace her as tears flow from their eyes.
A while later, they sit at a café and Jae Hee recalls the first time he met Hwa Young. He was seventeen and was working at Mr. Bae's company while Hwa Young was managing the clothing shop she had inherited from her father. Hwa Young recruited Jae Hee and they started working together. He met Ah In's father and had admired his modesty and goodness.
Bong Sun heaves a sigh and tells Jae Hee that she needs to leave and pick up Maru. Before she leaves, she tells him that the death of Ah In's father was an accident. Jae Hee isn't obligated to care for his family forever… But she cuts herself off when Jae Hee looks at her and she walks away.
Hwa Young and Dal meet at the Han River so Hwa Young can inform that Dal that she has an invitation to a party. I was expecting some serious conversation to happen but no. They discuss Jae Hee's girlfriend and Hwa Young bashes on Bong Sun's lack of style. She states that Bong Sun is a stupid, frumpy woman who doesn't know how to appreciate beauty. !!!
Dal wonders what this woman looks like and Hwa Young suddenly asks to see Dal's cell phone. She hesitates and Hwa Young stops the car to take Dal's cell phone, which has been recording this conversation. Hwa Young kicks Dal out of the car with a warning: don't cross her.
Jae Hee and Hwa Young converse about bringing Dr. Park in for company counseling sessions to give sales employees who deal with difficult customers some stress relief. Hwa Young is adamantly against the idea but Jae Hee stubbornly declares that he's going to talk to Dr. Park anyway. He also informs her that he'll be moving into a different apartment on another floor or building.
Hwa Young's eyes widen and she immediately asks if Officer Cha told him to move out. He shakes his head and says it's his decision. She swallows her anger and calmly requests that he attend an upcoming party that Perche is hosting. He declines, but she presses that it's his duty. All he has to do is eat some bread and drink a glass of champagne.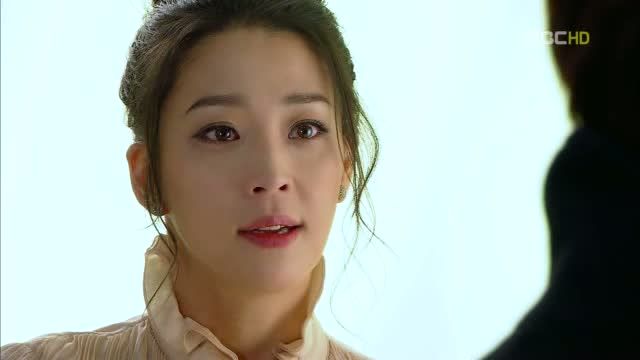 He replies that he doesn't like bread (lol…his inner Tak-gu would disagree) and that he won't be attending. He gets up to leave which is when Hwa Young's frustration bubbles over. She tells him that he can't move out nor can he leave her side…unless he returns Ah In's father, her youth, and her heart. I kind of understand the husband part but youth and heart? Ugh. I hate when people use the "take responsibility for the fact that I do crazy things because I love you" card. It's called agency, woman.
In reality, Hwa Young just tells Jae Hee that he has to attend the party, and he reluctantly gives in. Darn. It's the return of the dreaded fake-outs.
Bong Sun goes to therapy and asks if Dr. Park knows Hwa Young. He replies that they're cousins, which surprises her. She brings up Jae Hee and Hwa Young's strange living conditions and Dr. Park's answer is interrupted by Hwa Young's entrance. Bong Sun can direct any questions to her directly.
They both order Dr. Park outside and he slinks away quietly. Bong Sun throws the first barb, stating that she always felt that Hwa Young was jealous of her. Hwa Young's smile disappears and she cuts to the chase. Bong Sun needs to take her grubby, undeserving hands off of Jae Hee stat. Bong Sun smirks and comments that there's usually an envelope of money or a hair-pulling session in these situations.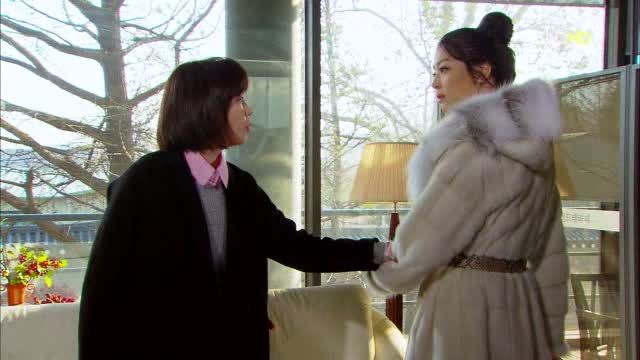 Hwa Young tells Bong Sun that she doesn't know Jae Hee enough. Jae Hee is a good person, but he has a dark side to him that she's probably unaware of. Wrong, but continue. Hwa Young comments that Bong Sun glows like a blooming flower lately because she's in love. But how long does she think that love will last? She advises Bong Sun to come back down to reality.
Bong Sun returns that Hwa Young is the one who can't understand Jae Hee. She calls her out on the tight grasp Hwa Young has on Jae Hee's neck. Hwa Young shoots back that Bong Sun can love or do whatever she wants; she will never let go of Jae Hee. Bong Sun offers that Jae Hee isn't an object that can be passed around and that Hwa Young has no authority over Jae Hee anymore. She'll be beside Jae Hee now.
Hwa Young smirks and tells her that they'll have to wait and see. Bong Sun grabs Hwa Young's arm and Hwa Young immediately shakes her off, as if Bong Sun is unworthy of touching her. Outside, Tae Hwa tells Hwa Young that she's on the verge of losing his respect. She responds that she doesn't need his respect and that he should just mind his own business.
Bong Sun heads to Jae Hee's office and she holds her arms open towards Jae Hee, saying that he has three seconds to come to her. He cautiously walks to her and she embraces him while asserting that he's not alone now. She pats his back and says that he just had bad luck; he doesn't have to cry anymore.
They sit on his work desk and he asks why she's suddenly acting like she understands everything. She replies that she doesn't, but she's trying. He gives her a piece of good news: he's moving out. The catch is that he'll still be near Hwa Young and Ah In. She asks him if he has to work with Hwa Young, and he responds that she's not a bad person. No, but you have to admit she's a little bit crazy…
Bong Sun admits that while she's accepted Seo Jae Hee the man, she's still having a hard time swallowing his different background and situation with Hwa Young. She's thought about what it would be like to fly in private jets and wear designer clothing, but she always came to the same conclusion. To live large later would mean giving up parts of her simple life now, which scares her.
Jae Hee promises that he'll work hard to preserve the things that are precious to her. They embrace and Bong Sun apologizes for not being able to help him finish painting his office. Aw. She is one of the sweetest heroines to walk about in K-dramaland.
Dal comes to get her cell phone from Jae Hee, but he says that she left it at home. She attempts to help him finish painting the wall but ends up moving her mouth more than her arms. She asks if his girlfriend is pretty, and he replies yes. She's beautiful inside and out.
Jae Hee's answer miffs Dal and she makes a disgusted look at his back. She gets the brilliant idea to spill paint on herself and asks to go to his place to clean up. At Jae Hee's apartment, Dal spots Hwa Young spying and they lock eyes. Hwa Young gives Dal a cold smile and walks away. Seeing Hwa Young flusters Dal, but she moves to fulfill her "Seduce Jae Hee" plan anyway. Ick ick. This part is so painful to watch.
Luckily, Jae Hee rejects her advances and admits that she seemed cool when they first met. Now she's just acting creepy. He flatly tells her that he has a woman now and that he has work to do. She can stay as long as she wants though. With that, he walks out with a box of supplies.
The next morning, Jae Hee shows up at the police station with a stack of pizza boxes. Bong Sun mutters that she's embarrassed and the other officers tease her. They wonder if they'll ever see her do some aegyo and Jae Hee answers that she's an aegyo monster. Puhaha.
Jae Hee gives a bunch of hot packs to Bong Sun and comments that they need to take a picture together. Right then, Hwa Young calls and informs him of an emergency. Ack. Why does she always ruin every cute moment? There's been a lack of the cute already.
An article by a woman named Jo In Sook has been circulating the Internet, and it points to the self-marketing ploy that Perche pulled with the diamond bag. The article states that it got this crucial information from a local police officer. Hwa Young suspects Bong Sun as the officer and Jae Hee quickly shuts her down. Bong Sun would never do that. Oh no. Why do I feel my heart breaking already?
Jae Hee meets with the journalist, who asks for an exclusive interview. If he does one, then she'll take the article down. Before the interview begins, Hwa Young calls. Omg. Hwa Young asks the journalist where she got her information, and she replies that it was a female officer at the scene. Hwa Young's eyes light up and I scream at my computer screen. Nooo…..
Jae Hee meets with Bong Sun and he nudges her head over and over again without informing her why. She tells him she's going to beat him up if he continues and he just smiles. She asks what's going on and Jae Hee just advises her to visit his company's website tomorrow at 2PM.
The next day, Jae Hee introduces himself to the rest of the world. He tells female colleagues to call him oppa and announces that his door is open to everyone if they have questions or concerns. Oh, you're just asking for a flood of girls to come in now. He also brings Dr. Park next to him and declares that Tae Hwa will be the personal counselor for Perche's employees.
He also informs the viewers that a new system for calculating salaries will be implemented soon. These new announcements cause Hwa Young's temper to rise, but it's not until Jae Hee talks directly to Bong Sun that she explodes. He addresses his bad-tempered girlfriend, saying that he'll never forget that meal she cooked for him or the promise he made to her in his office.
Dr. Park and Jae Hee head towards the company party together and they throw around harsh comments about each other's style. Apparently Jae Hee looks like a beetle and Dr. Park looks older than ever. Lol. Jae Hee asks why Dr. Park is going to the party and Tae Hwa snaps that it's because he's a chaebol. His dad has more money than Hwa Young's dad and he has more connections.
Jae Hee concedes that Dr. Park's upper arm is thick with money and influence, and Dr. Park returns that it's not just his arm that's thick. Jae Hee looks down to a certain manly area on Tae Hwa's body and Tae Hwa immediately smacks Jae Hee. Think more sophisticated thoughts. Hahahaha.
Hwa Young drives Dal to the party and advises Dal to talk to the best-looking man at the party. Even if Dal isn't Jae Hee's, he'll probably feel some jealousy. Highly doubt it but Dal agrees anyway. When the girls pull up, Tae Hwa wonders who the woman next to Hwa Young is, and Jae Hee responds that it's their main model.
Tae Hwa opens to the passenger door to reveal Dal, and they both gape in half-surprise, half-exasperation at each other. As they walk into the party, Tae Hwa comments that she looks like a totally different person. Dal responds that she's always been elegant. They call each other names like the mature adults they are until Dal slips in a final insult and runs away.
Hwa Young introduces Jae Hee to a chairman's daughter, who says that she's talked about him with a lot of other people. Jae Hee wonders who these "other people" could be as well as why the daughter needs to open up a bakery. Isn't she rich enough already? Hwa Young saves the situation by saying Jae Hee has a unique sense of humor.
As they walk around the bakery, Hwa Young asks why he brought Tae Hwa into the company without her consent. He replies that he was too lazy to persuade her into agreement so he just did it anyway. Puhaha. Well, it is his company. Dal sidles up to Jae Hee and tries to flirt, but he continually shoots her down. A frustrated Dal then tries to incite Jae Hee's jealousy by fawning over Tae Hwa. Hahaha. Oh man. Wrong tree, Dal. Wrong tree.
Jae Hee laughs that Dal and Tae Hwa would make an interesting couple and offers his support for their relationship. He walks away and Tae Hwa smirks that Jae Hee already has a girlfriend.
Other party guests gossip about the noise marketing incident while Jae Hee talks to Bong Sun on the phone. As they converse, Dal leaves her phone on the table in front of Jae Hee for no reason other than to move along the plot. He asks what Bong Sun's doing, and she replies that she's doing laundry and cleaning.
He says he's jealous of the clothes and vacuum cleaner because they're next to her right now. Ack. My goosebumps have goosebumps. He tells her he'll visit her soon and they hang up. Bong Sun sifts through the laundry and notices a cardigan that looks similar to one Jae Hee wore before. She calls Dal to ask where the sweater is from, but a man answers the phone.
Jae Hee states that Dal is busy at the moment, and Bong Sun hurriedly apologizes. Jae Hee and Bong Sun both cock their heads to the side as they try to figure out why the voice on the other line sounds so familiar.
Comments:
I think the writer has checked out a little bit at this point because other than the cute couple moments and the witty banter, this episode was mostly just filler. The beginning was great and the scene in the car where Bong Sun and Jae Hee cry together killed me. Her feeling of betrayal and his helplessness mixed together and my heart went out to both of them.
My dislike for Jae Hee rescinded a lot with this episode because he's finally calling some shots. I like that he's finally using his power to stand up to Hwa Young. Ignoring your partner and announcing a bunch of policy changes right away might not be the best business tactic, but Jae Hee's company changes aren't out of selfishness. He truly cares about each employee and wants them treated correctly, because he's been through customer service hell himself.
On the other hand, Hwa Young has just been utilizing anyone and anything possible to get her way. It's slowly going to unravel, especially with this noise marketing incident. It's going to be refreshing and a little scary to see such an elegant, cold woman slowly lose control. Han Go Eun is amazing at showing Hwa Young's insecurities, fury, and haughtiness in a single scene.
The part where she slams her computer screen and calls Jae Hee is haunting. Her eyes are teary, her hands shake, and anger just radiates from her body, but her voice remains composed. It's really a shame that YSY looks so young, because sometimes I feel like I'm watching an aunt and nephew fight whenever Jae Hee and Hwa Young scream at each other. Otherwise, their dynamic and interactions would be much more riveting to me, especially because both are amazing actors.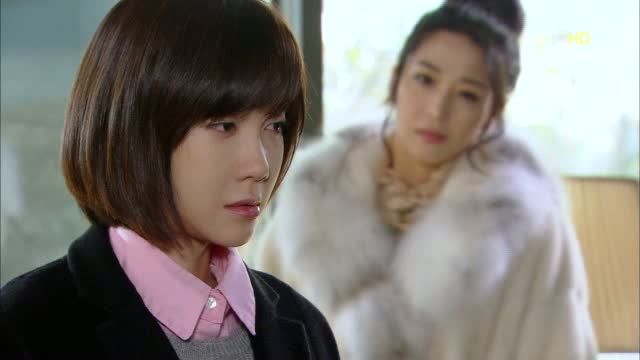 Also, can I just say that I love Bong Sun? She has such a kind heart that she'll try to understand and accept an otherwise WTF situation because she thinks about how much suffering Jae Hee felt when the accident happened. But she's also not some self-sacrificing, noble idiot who lets Hwa Young (and Dal for that matter) walk all over her.
She accurately sizes up Hwa Young, who (rightly) feels threatened by Bong Sun. Bong Sun has seen how cruel and calculating Hwa Young can be and she isn't afraid to call Hwa Young out on her crap. Bong Sun even places herself as a shield to protect Jae Hee from Hwa Young. It's unnecessary and she'll probably end up getting hurt, but I find Bong Sun's declaration particularly moving because it's a testament of who she is as a person.
Hwa Young's immoral actions against Jae Hee light up Bong Sun's deep sense of justice and she immediately jumps to protect the people she cares about. Her stubbornness and prickly temper might turn off a lot of people, but Bong Sun is one of the more admirable heroines that I've had the pleasure of getting acquainted with. Interestingly, she's much more afraid of being alone than she is of rich, powerful aristocrats who can ruin her career at the snap of a finger.
What half-frustrates me and half-kicks me in the gut is her unwillingness to see what an amazing person she is. The title of the drama refers mostly to Bong Sun, who's a beautiful, blooming flower. Unfortunately, flowers (and humans) can't always see their own beauty because they're always surrounded by other flowers. Hwa Young has a similar problem, only she's slowly turning black from the inside out.
We haven't focused on Bong Sun's depression of late, so it's hard to say if she's slowly being "cured." We don't see her sleeping at odd hours, eating too much, or crying without reason…but that might also be because we're spending so much extra time on stuff that I don't particularly care for. I'm waiting to see when Bong Sun realizes that she's one hell of a catch. Hwa Young and Dal have nothing on you, girlie.
Lastly, I like Dal so much better when she's bickering with her sister and Dr. Park. This whole seduction thing really disturbs me, and it's not just because of my inner feminist. I just picture her as a snake curling itself around Jae Hee's body and it is so not sexy. Ick.
RELATED POSTS
Tags: featured, Han Go-eun, Lee Jia, Me Too Flower, Seo Hyo-rim, Yoon Shi-yoon