Dr. Jin: Episode 18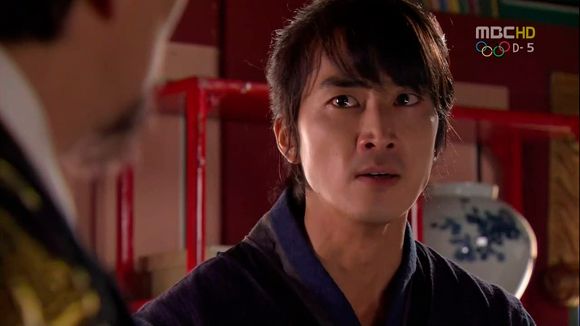 Leave it to Dr. Jin to show us the miracle of childbirth via C-section in all its horrifying high-definition glory, because, why not? Young-rae spanks babies back from the brink and Hyuk finds something he actually cares about in an episode that nosedives into its political plots and plans, and one that finally gives Hyuk a problem he can't immediately solve through surgery. Well, not yet, anyway.

EPISODE 18 RECAP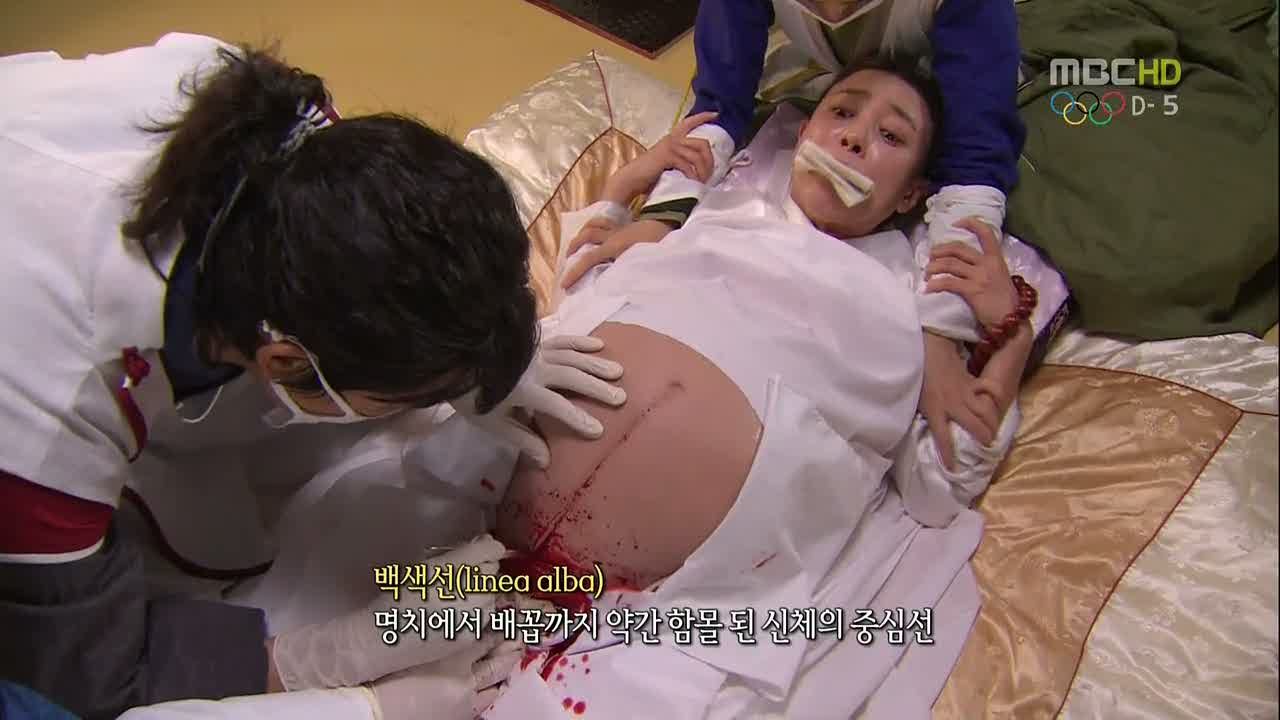 The surgery no one wants to see is about to start, with Wife stressing to Hyuk that even if something happens to her, he must save her baby. Hyuk mentally preps as we hear in voiceover, "I have done many surgeries since I came to Joseon. However, I was hoping that I would not have to do obstetrics and gynecology surgery, because two lives are at jeopardy with one surgery."
Okay, so, this is a horror show. This is also not an appropriate time to play the Vocalized Medical Revelation track of the OST; we should be hearing Phantom of the Opera levels of creepy organ playing. This woman is having her stomach cut open with no anesthetic. Repeat, NO anesthetic.
Hyuk inner monologues over the bloody proceedings, noting that the woman won't be able to withstand this for long. Gee, you think? Stop monologuing and focus, damn it!
Outside, Ha-eung tries to talk Officer Lee into siding with him against the Queen Dowager and the Andong Kim clan. He's not keen on betraying his wife's aunt, and I'm pretty sure that while politics are important, now is not the right time.
It looks like the broadcaster stepped in and blurred the surgery, and while I'm normally not a fan of censorship, thank goodness for small favors. We can still see her stomach completely split open, and while Young-rae's tumor removal was a blood ocean, there's surprisingly very little blood in this surgery.
Ha-eung still works on Officer Lee outside, and I'm happy to see the earnest part of him has returned. He entreats Officer Lee to think of his child and the world he'll grow up in under the Andong Kim's power.
The blurring actually isn't helping much, as we see both of Hyuk's hands disappear into the woman's stomach like a magic trick gone wrong. Mazel tov, it's a gummi baby!
But it's not breathing, so Young-rae takes it and not only proves that she'd kill it by holding it by the neck, she also holds it upside down by the ankles and starts spanking its bum. Young-rae, that is a baby, not a rubber chicken. Dafuq is going on here.
Her method works, and the gummi baby starts crying. Mom is still coherent enough to be happy it's a boy while her stomach is just there, open to the world. Luckily she gets some anesthetic while Hyuk sutures her up.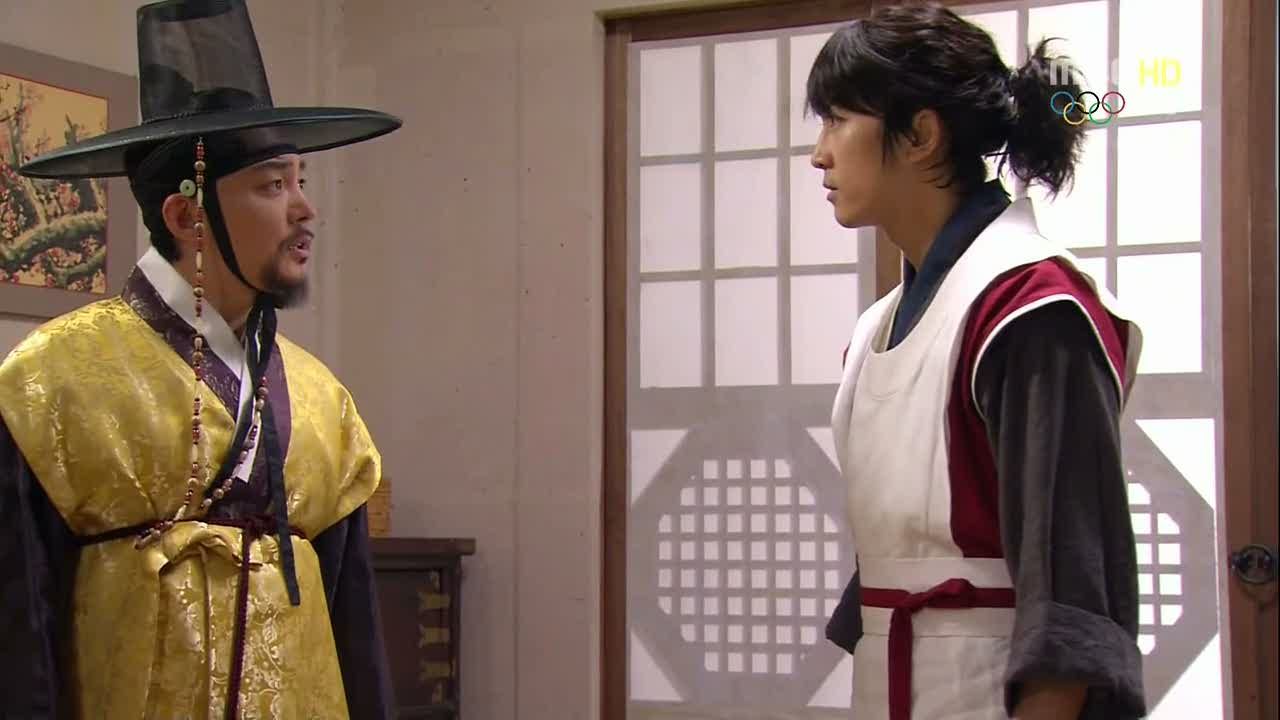 Young-rae practically does a drive-by in showing the baby to Officer Lee, letting him get half a glimpse before she takes it away. Hyuk updates him on post-surgery care for his wife, and Ha-eung pulls him away to ask him to 'negotiate' with Officer Lee using his child, and Hyuk understands that 'negotiating' means 'threatening', and refuses to do it.
Heo Gwang decides to play cupid on their walk home, and makes up excuses to leave Hyuk and Young-rae alone. Hyuk congratulates her on a job well done and wonders if she would have been living a normal and happy life if it weren't for him. She replies that she probably would be, as someone's wife, but that someone told her to become the best doctor in Joseon.
She jokes that she won't be able to take that position as long as Hyuk is here, but he assures her, "Even if you were born in a different world, you would've been an excellent doctor."
That night, Kyung-tak sneaks into Ha-eung's house and steals Hyuk's letter, while his dad and Doctor Yoo guess that Ha-eung failed in recruiting Officer Lee.
Ha-eung's frustration shows in the way he paints orchids, and Young-hwi declares that they must strike Officer Lee first by interrogating him until he confesses to discussing the heir before Cheoljong's death. I assume that'd be a way to blackmail and control him, but Ha-eung decides to exercise caution and wait, because he feels a change in the political wind coming soon.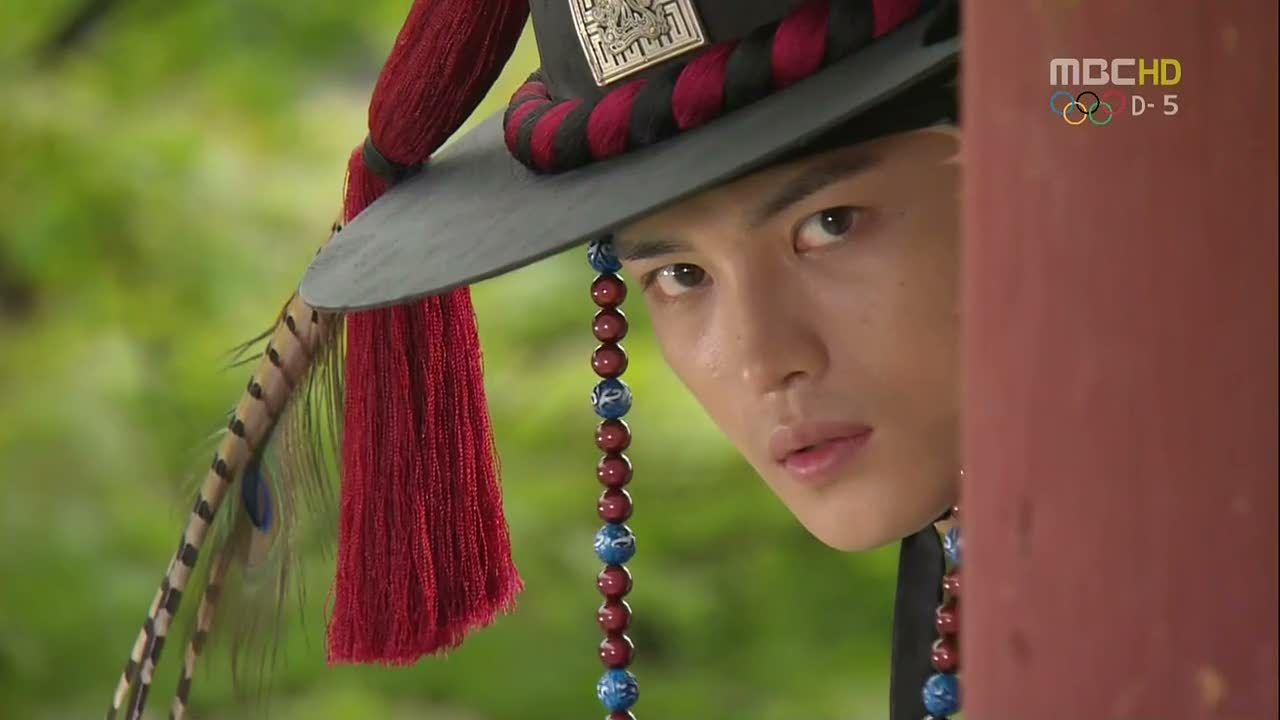 Officer Lee talks Ha-eung's proposition over with his wife, who's sitting up just fine despite that foot-long suture that would be healing up if this drama actually cared. She's pretty open to the idea of betraying her aunt if Ha-eung's intentions are good, and declares that she'll side with her husband no matter what.
Kyung-tak spies while Officer Lee approaches Ha-eung, and it looks like he's taken the deal. Together, they go to the Queen Dowager's quarters and not-so-subtly threaten to release the truth that she'd discussed the future heir and committed high treason, which would spark countless petitions asking her to step down.
She doesn't like the idea of stepping down and becoming a powerless old lady, nor does she want to hold her niece's newborn son now that Officer Lee has sided against her. She reminds Officer Lee that he owes his position and power to her, and orders them to leave.
Looks like everyone's turning their back on the Queen Dowager, since Minister Kim denies her request for an audience to meet with Kyung-tak instead, who suggests that they cut ties with her before they're dragged down with her. They know Ha-eung will go for their throats once the Queen Dowager is gone, so Daddy tells Kyung-tak to follow Ha-eung more closely than ever.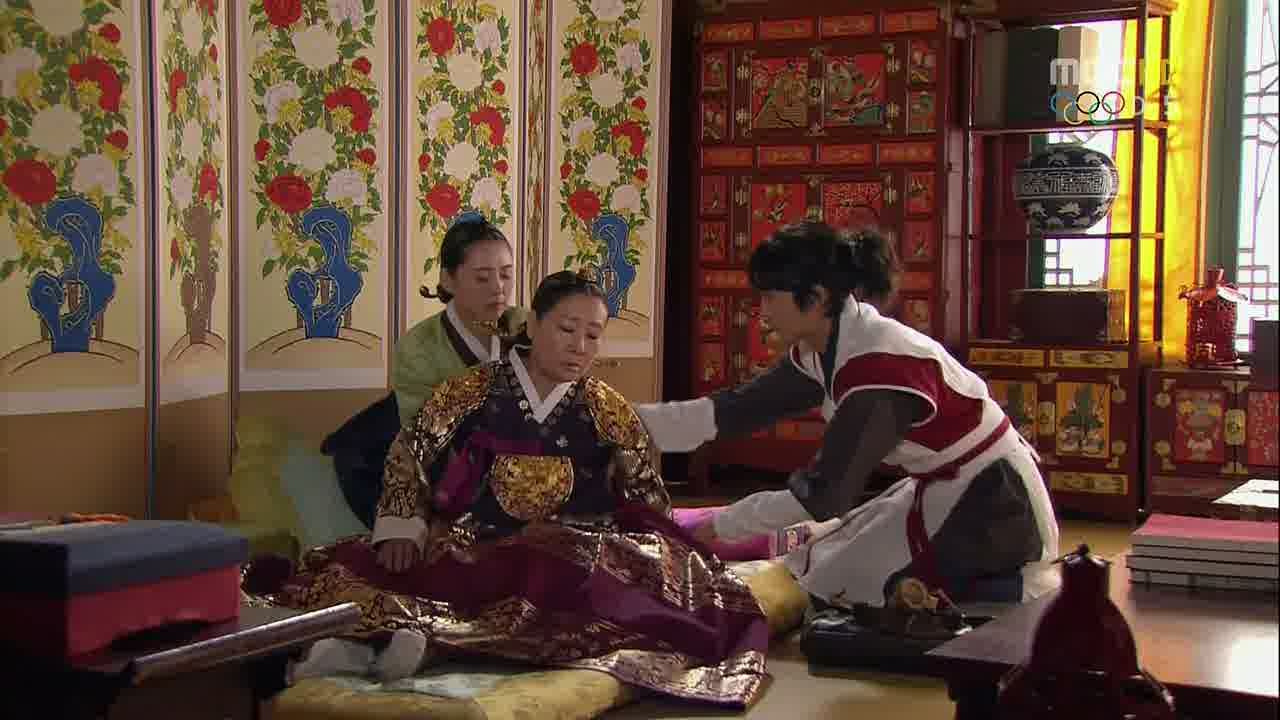 The Queen Dowager gets so upset that Minister Kim refused her request, that she passes out. Hyuk is called to check in on her, and she's more resigned than ever that Ha-eung will take over Joseon. She knows Hyuk is just a doctor (ha, please), but because he's close to Ha-eung she implores him to help him lead the country on the right path.
Hyuk's Historical Facts tell us that though the Queen Dowager helped to put King Gojong (Myeong-bok) on the throne, she faded out from politics shortly after. Once again totally redundant and unnecessary, because we see Officer Lee giving her formal address to the Court that she's stepping down from politics. Do they honestly think we can't follow along?
Outside, Minister Kim sarcastically congratulates Ha-eung now that he won't have to give heartless flattery to the Queen Dowager any longer. They trade veiled barbs, with Ha-eung mentioning the rumors that Minister Kim is preparing a new heir, something he swiftly denies. I like that it's Officer Lee who goes, "Even if it's a false rumor, where there is smoke, there must be a fire."
They part on awkward laughing terms, with Officer Lee noting that Minister Kim must be sharpening his knife. Ha-eung: "Not more than I. Forty years… I have been sharpening my knife for forty years. Now I'm holding the knife, so I have to wield it."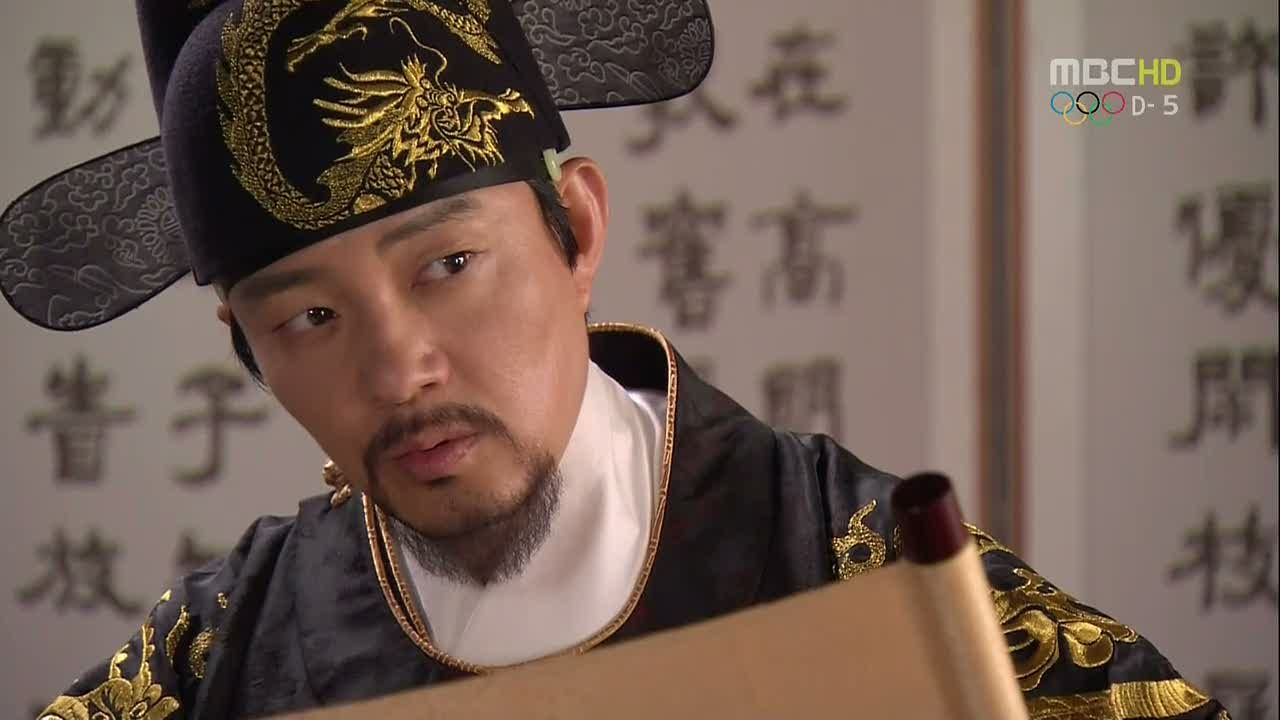 Hyuk pays a visit to Ha-eung, accusing him of pushing the Queen Dowager away to keep his power. Um. Hyuk, you're the historical "genius" here, why is this a surprise? Ha-eung argues that the ends justify the means and hands Hyuk the secret order he gave Young-hwi, because Hyuk is so smart that he can read Hanja flawlessly.
The order has to do with seowon, common educational institutions (for the noble class) that served as Confucian shrines and preparatory schools for the national civil service exams. Historically, Ha-eung is known for shutting most of them down, and Hyuk knows this because the script says so.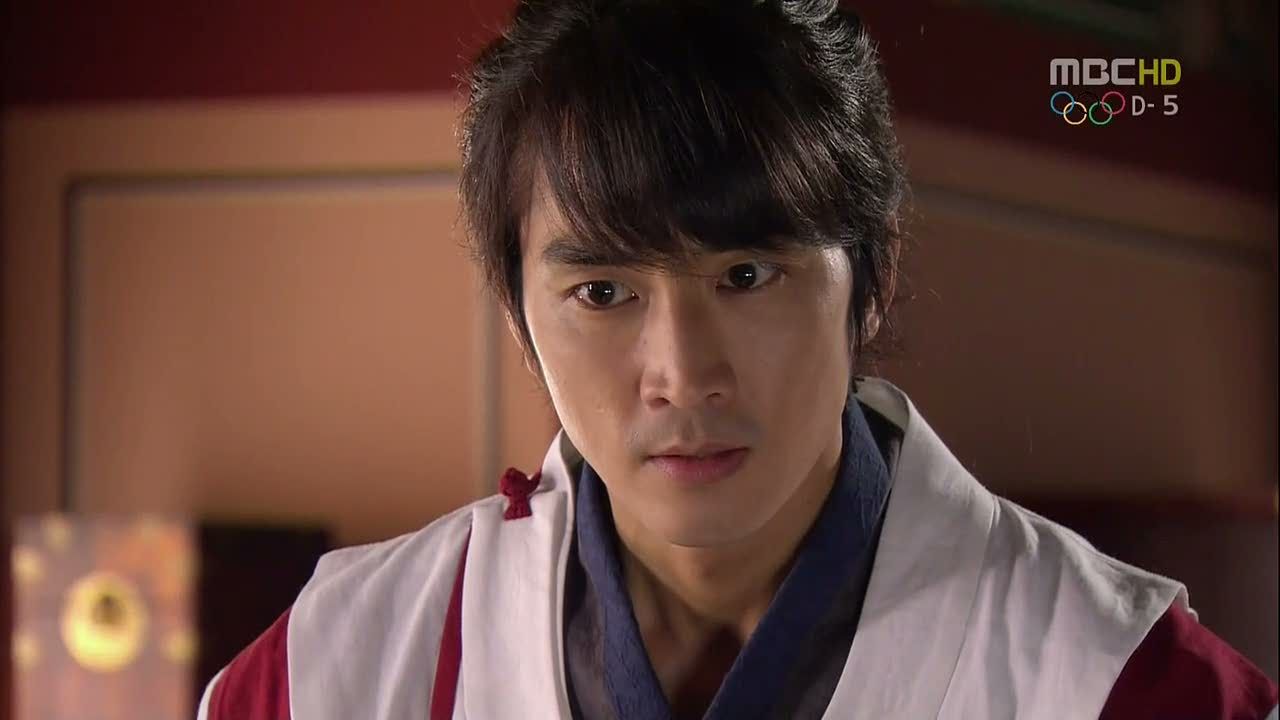 Ha-eung asks him if this policy succeeds historically, and Hyuk puts on his dunce cap before telling him, "It will succeed. And the people in the country will support it too." And here's the "but" – this is happening faster than Hyuk remembers it in history. He warns Ha-eung that he might fail if he rushes this, but Ha-eung reminds him that time is not on his side, and that he'll have to strike first before Minister Kim does.
I love that Hyuk is all aghast that history is changing when Minister Kim is still running around causing trouble, all thanks to him. He reminds Ha-eung of his promise not to kill Catholics, because "There is someone I need to protect."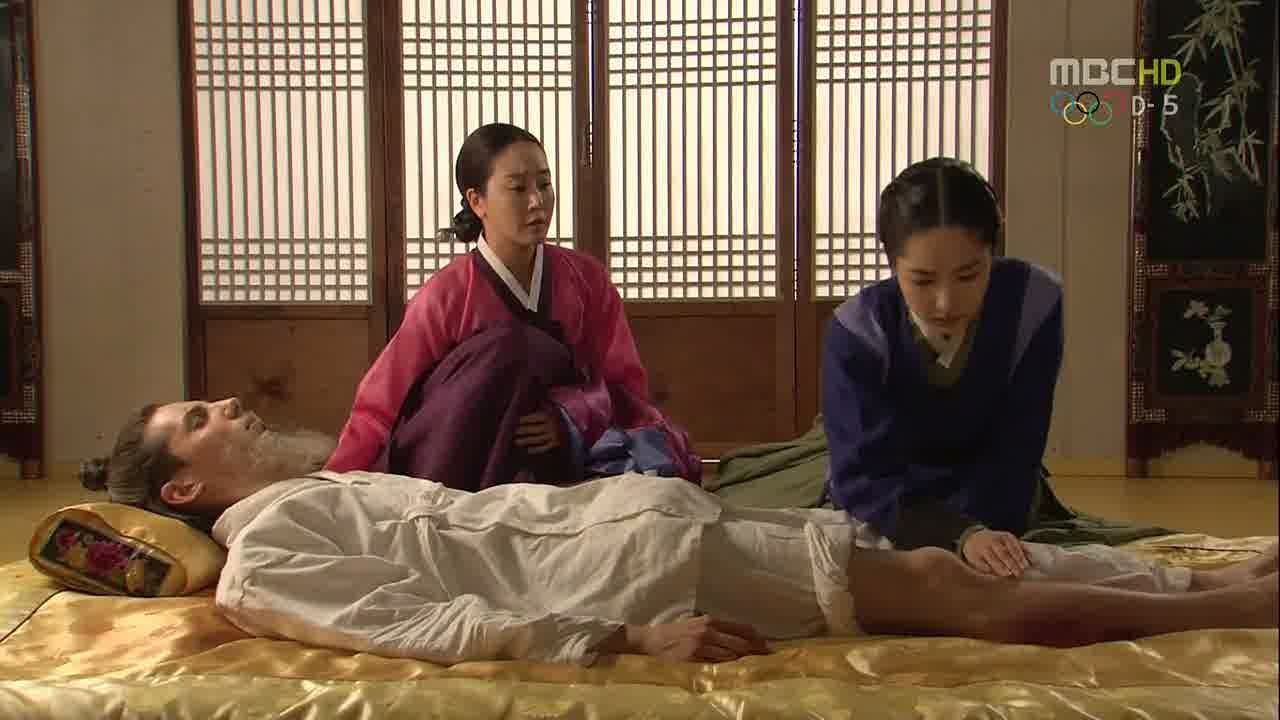 Ha-eung's wife (who we'll just call by her name, Yeoheung) visits Young-rae at her house to ask why she hasn't been attending church, but also to ask for her help in treating a secret patient. He turns out to be a historical figure – a French missionary by the name of Father Félix-Clair Ridel.
He's sustained an injury to his leg by escaping from soldiers, and it looks decently infected. Young-rae goes to get medicine, with Yeoheung warning her to keep this a secret.
Kyung-tak reads Hyuk's letter to Ha-eung, which outlines how Ha-eung will close most seowon. Hyuk, never have I wanted to punch you in the face more than I do now. Luckily for him, Kyung-tak just sees it as fortune-telling and dismisses it.
Young-rae interrupts Hyuk as he looks through his trappings from the future, and describes her patient as suffering from hematosepsis, an obsolete word for septicemia, which is basically a very bad, life-threatening infection. She asks for his help after telling him that he's a western Catholic priest.
Hyuk inspects Ridel and finds the infection to be severe, but he's stopped from administering a shot of penicillin by the priest, who actually speaks Korean. He claims he's never heard of this "penicillin" even in this country and refuses it, but eventually comes around when Young-rae assures him that as a fellow Christian, it's safe. He gets injected.
He'll need another injection, so Hyuk tells Young-rae that he'll take care of it from here, and makes her promise again that she won't go to church or associate with other Christians for the time being.
Minister Kim watches Ha-eung and his entourage on a mission to the Court, and muses that Ha-eung has been sharpening his knife. "I'm not sure what he wants to slice off exactly, but… it will be bloody," he adds.
Once in Court, Ha-eung petitions little King Gojong for permission to close down the 1,700+ seowon, claiming that by being built by local scholars and their private funds and thus being used for their personal activities, all seowon are exploiting the people of Joseon and affecting local government finances. Minister Kim is shocked at the announcement.
A montage of police forcibly removing scholars and shutting down the seowon is shown as we hear Ha-eung say in voiceover that he won't forgive anyone who hurts the people of Joseon, even if Confucius himself came back from the dead. He equates the seowon to dens of thieves since they don't pay taxes, and asks Myeong-bok/Gojong to also mandate that no more seowon can be built in the future.
Kyung-tak rushes into his room to re-read Hyuk's letter now that the seowon mandate has come down, only now realizing that it wasn't mere fortune-telling.
Hyuk sees the people cheering for the new mandate, and gives us yet another redundant and grating voiceover stating exactly what we're seeing. This is all going according to history, but he worries that the Catholic persecution will be unavoidable.
The scholars stage a protest outside the palace gates, even though the common people side with Ha-eung. Joo Pal and a contingent of soldiers come out to break up the protest, and use force to send the scholars running.
The Council of Evil couldn't be unhappier about the events unfolding, though Doctor Yoo advises Minister Kim against acting rashly against Ha-eung, since public sentiment is on his side. He sends everyone out in a huff, venting to Kyung-tak only that Ha-eung closing the seowon is a direct hit against the Norons, the supporting faction of the Andong Kim clan.
Contrary to other opinions, Kyung-tak suggests that now is the time to strike, because so many victories must put a gap in Ha-eung's armor somewhere. He vows to find that gap.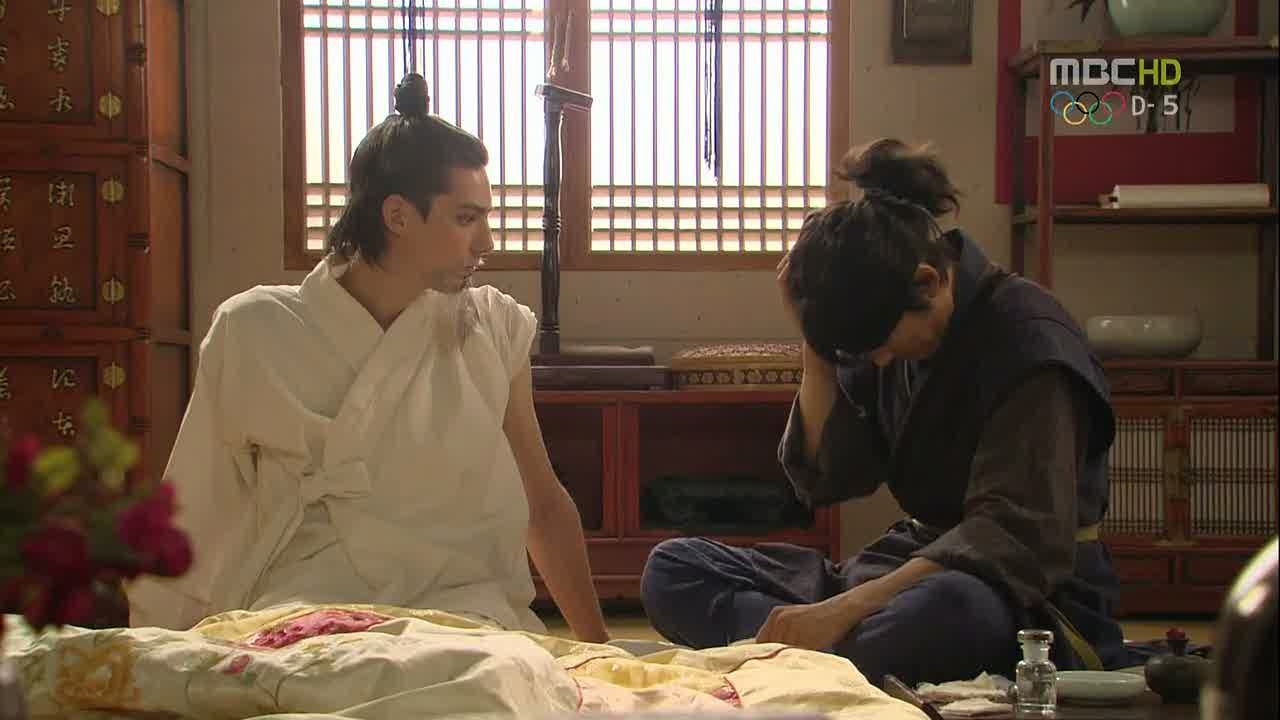 Hyuk administers the next dose of penicillin to Ridel, who warns of an impending disaster if Joseon keeps suppressing their faith by force. Of course, once he mentions his name, Hyuk opens the encyclopedia that is his brain and tells us that Ridel later brought French battleships to Joseon in 1866 as a reaction to Ha-eung's Catholic massacre.
I'm so, so, so sick of these voiceovers. Just tell us a freaking story minus all this worthless exposition. Or hey, maybe you could leave some facts out so we (gasp) watch events unfold on their own, almost as if we're watching a bonafide drama! I know, I know, this is probably too novel of an idea for you, Hyuk, but just think it over. Oh right, there's that whole you-don't-think thing. Never mind.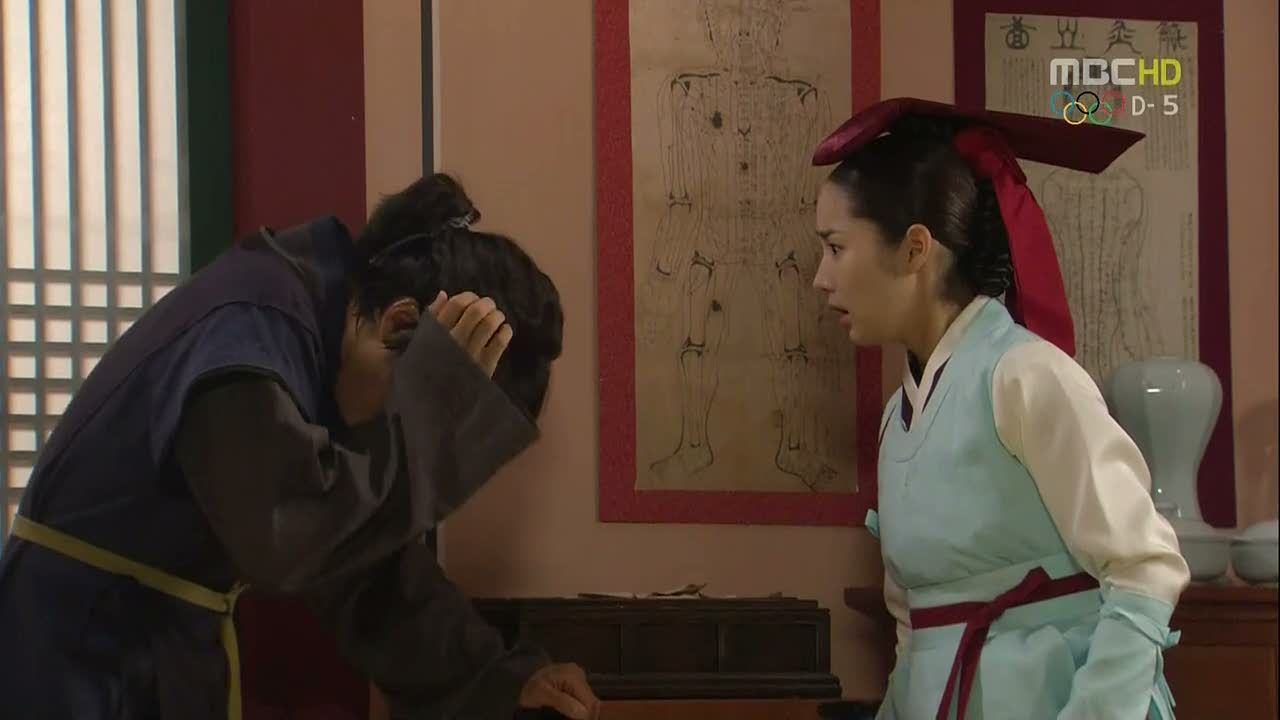 Only when Hyuk is talking to the priest does the Jar Fetus decide to zap him one, and he returns to the Royal Clinic with his head in his hands. Where have you been this episode, Jar Fetus? You're slacking on the job here.
Hyuk tries telling Young-rae that if Ridel goes back to China… but the Jar Fetus zaps him until he shuts up. Ah, blissful silence. Only, Kyung-tak arrives and calls Hyuk out for a chat. He remarks that all the astonishing things happening recently, like Ha-eung's ascension to power and dying people being saved, all had Hyuk in the center.
He wants to know Hyuk's identity, and Hyuk replies: "I… am just a doctor." NO YOU'RE NOT. Not when you write your BFF a letter detailing history as you know it and don't bother to think that it could fall into the wrong hands. That just makes you a tool.
Whatever the case, Kyung-tak is onto him, and Hyuk will have to tread carefully. But we know he won't. And here's the best part – he hasn't caught on that Kyung-tak might have read the letter of the future he wrote, and instead asks Young-rae if she's talked about him being from the future to others. Unbelievable.
Ha-eung is acting as Kyung-tak predicted – arrogant, and slightly reckless. He thinks he can read Minister Kim like the palm of his hand because of his spy, unaware that Kyung-tak is a triple agent.
Hyuk then goes to the gibang to ask Chun-hong if she's talked about him. Hah. Seriously? He gets a brain zap and collapses, but he tries to rise anyway and tells Chun-hong that he has to go to the priest to tell him about the war… AAUGH. I can't. I can't with you anymore, Hyuk. You literally get physically harmed each time you do this, yet you don't learn. You don't stop. You don't think.
He gets zapped until he passes out. La-di-frickin-da.
Young-rae attends church to find that Father Ridel is having his farewell mass, and she decides to take him to Hwalinseo for one final treatment. After they leave, soldiers storm the church and drag everyone – including Yeoheung – out. Young-rae and Ridel escape by the skin of their teeth.
The next day, Young-hwi pulls Kyung-tak aside to ask if he's still got connections in the police department, because he needs to get someone out of jail. Kyung-tak coaxes the details from him, finding out that Yeoheung was jailed for committing the crime of Christianity.
Ha-eung already knows about it, but they're in a bit of a pickle – not only do they need to get her out, they need to do it before interrogations start and Minister Kim finds out that Ha-eung's wife is Christian. Young-hwi reports that Kyung-tak can't pull her out, since Christians fall under the Ministry of Justice's supervision, which is overseen by Minister Kim.
So Ha-eung does the only thing he can, and makes it an executive order to free all the prisoners.
Hyuk dreams of Mina in a hospital bed, before he wakes up in Chun-hong's room. He's disturbed by the dream and claims that it felt too vivid and ominous, but Chun-hong seems like she wants to avoid the topic. That's never good.
Kyung-tak delivers the news of Ha-eung's wife to Daddy Dearest, who revels in this new secret he can use to exploit Ha-eung and turn public sentiment against him. Dae-gyun gets turned down flat while the adults are speaking, and learns what it's like to be the new unfavored son, and Kyung-tak can't hide a little smile of victory. D'aww. You're a bad guy, but you're still adorable.
At the next Court meeting, Minister Kim addresses the King (but moreso the Court, considering Myeong-bok's age) and explains how their country honors the teachings of Confucius in the separation of men and women and the class system, but that the false religion called Catholicism has come to their shores, spreading heinous lies about all men being equal.
Then he drops the bomb – that out of the Catholic criminals arrested last night and then released by Ha-eung, he's beginning to wonder if one of them was Ha-eung's wife. Ha-eung shoots him a glare but says nothing, while the Court remains in shock.
Hyuk hears from Heo Gwang that the palace is in chaos over the rumor that Ha-eung's wife might be Catholic, and that Ha-eung is being called upon to prove his innocence by arresting all Catholics immediately. Hyuk sets off running.
Ha-eung is under some serious pressure, not only by the people but from his own close allies like Officer Lee and Young-hwi. Petitions are flooding the palace and Young-hwi warns that if Ha-eung continues to protect Catholics he'll lose the public favor that has sustained him until now. Ha-eung asks him if he's suggesting that they wipe out Catholics right now, and in some ways, Young-hwi seems more heartless than Ha-eung.
Everyone seems to be encouraging him to prosecute Catholics, but Ha-eung is torn, and wants time to think. That's when Hyuk comes rushing in, "You can't do this. You promised me. You absolutely cannot do this!"
Meanwhile, we find Young-rae and Ridel unable to get out of the city due to inspectors at the gates.
Back with Hyuk, who displays his knack for easy solutions by telling Ha-eung to just not kill Christians, no matter what Minister Kim thinks. Hyuk: "What does it matter? As long as you decide not to do it, that should be all right."
Ha-eung: "Politics is not that simple. See what will happen if I take the side of Catholics; they will say it's because of my wife, or because I joined hands with Westerners. I'll be attacked from all directions for sure, and in the end, I will lose political power." So Hyuk asks him if he's sacrificing people's lives for his position, though Ha-eung replies that Minister Kim won't leave them alone if he gets Ha-eung's seat.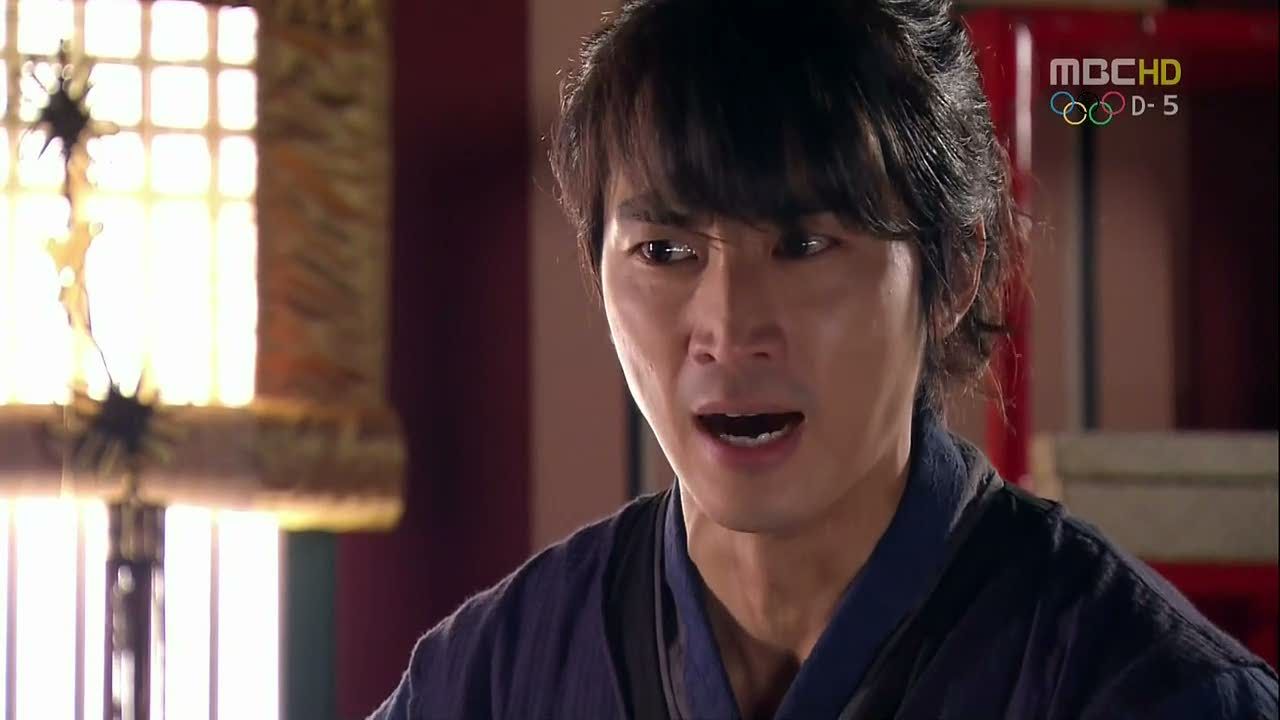 Hyuk loses his temper when Ha-eung claims that they'll be sacrificed anyway, whether he's in power or not, and spills the secret that Young-rae is Catholic and probably being chased as they speak. He pleads with Ha-eung to grant this one favor, but Ha-eung won't let the Andong Kim clan take over Joseon again, and declares that he'll have to make a difficult decision for the good of the country.
There are tears in Hyuk's eyes as he says, "Don't lie, please. All politicians say the same thing. For the country, for the people… But in the end, it's for them. Isn't it true?"
Ha-eung asks him if he can't trust him, and Hyuk replies that he can't trust the authority Ha-eung doesn't want to lose. It's a shouting match as Hyuk tells him that if he wanted to know about how history would perceive him, this persecution was the first of many mistakes Ha-eung made. Hyuk: "Do you know what will happen to this country in the end?!"
Ha-eung claims that his history will be different from the one Hyuk learned, but Hyuk doesn't feel the same way – Ha-eung is acting according to history, and changing just like he was meant to. He leaves in a rage, while Ha-eung tries to find Hyuk's letter and comes up empty handed.
So Ha-eung goes to Court the next day, and just when you might think that he's changed his mind, he instead declares that all Catholics are to be incarcerated, along with five houses around the household of a Catholic in order to set a strict example. Yikes.
Hyuk sees the streets in chaos as soldiers root out Catholics, and it's only when he thinks of Young-rae that he gets brain zapped. So wait, he could have that whole history-changing conversation with Ha-eung without a single zap, but just thinking of Young-rae gets him uber-zapped? O-kay.
Young-rae and Ridel get stopped by soldiers nearby, while Hyuk stumbles through the street, getting repeatedly zapped. This time he envisions Mina in her hospital bed, flatlining.

COMMENTS
Try as this show might to make gratuitous surgical scenes relevant to the plot, the long and short of it is that the political storyline is pretty much taking over, which is giving this drama even more problems in the form of serious tonal disconnect.
As usual, the surgery scenes are awful/hilarious/awful again. I think this C-section has set a new bar for surgical WTFery, with the icing on the cake being Young-rae's Hulk-like grip on that gummi-baby's ankles while she spanked it back to life. Did NO ONE on set raise their hand and say, "Hey guys, maybe we should try to act like this baby is real and not break all its bones the second it comes out"? Seriously, not one actor, even Park Min-young, thought that was completely ridiculous? No?
After that kind of opening act I didn't think the rest of the episode could compare, and it didn't, at least on the crazy scale. That was our surgery of the week and thus the extent of what Hyuk could contribute, so the focus inevitably switched to Ha-eung. I get that they're playing to their strengths by giving Ha-eung so much time, but part of me wishes they would even try fixing the automaton that is Hyuk. He was convincing for the first time in maybe ever when he tried to sway Ha-eung, probably because he finally showed conviction for something he can't overcome with surgery. The horror!
So we have a "hero" absent of an arc, just doing things at random and going where he's called, the same ol' same ol' as the moment we met him. Oh, right, he had that one patient of Mina's that he didn't care about, but after that, it was Bleeding Heart Nation. It seriously bothers me that he seems incredibly unconcerned about his head fetus, and is almost stupidly stubborn when it tries to zap him into submission. Anything for Young-rae, right? Because while I believe that Hyuk the Person would probably have an issue with lots o' Catholics being massacred, something tells me he wouldn't be so involved if Young-rae wasn't his personal stake in this fight for religious rights. He's only "just a doctor" when it's convenient for him, only he doesn't seem to realize that. Surprise surprise.
Does he even want to go home anymore, or is he trying to have his cake and eat it too, by saving Young-rae first? Only, that doesn't make sense with Chun-hong's logic that he can't mess with history in order to go home. Just once, just once, could he realize that playing God with thousands of lives in the balance could do untold amounts of damage too? Is he now actively trying to change history for what he thinks is better? Can we get a glimpse inside his head that isn't of his brain fetus?
The only curious thing is that the Jar Fetus didn't zap Hyuk while he argued with Ha-eung, and only seemed concerned as far as Young-rae went. How does that make sense, if Ha-eung is the bigger historical fish to fry? The only thing I can think of, aside from someone just forgetting to write a zap in during that scene, is that there is a course of history that Hyuk can't change no matter what, like Ha-eung killing Christians. If that's the case, it makes our hero a powerless idiot rather than just an idiot, which is honestly no fun at all.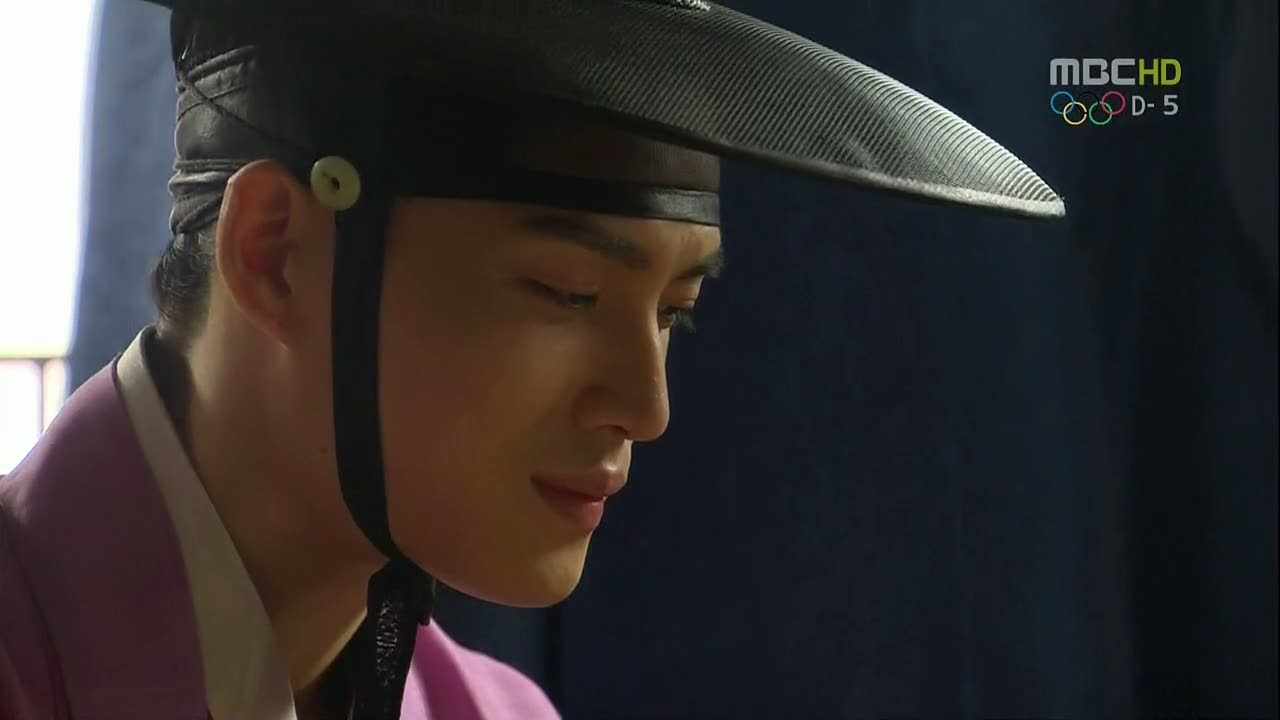 RELATED POSTS
Tags: Dr. Jin, featured, Jaejoong, Lee Beom-soo, Lee So-yeon, Park Min-young, Song Seung-heon