Full House Take 2: Episode 1
This drama makes my head shake and my body shudder in laughter. It's so bad it's awesome. The format is a little different than usual dramas, being only 30 minutes long to air on Mondays through Thursdays, on cable channel SBS Plus. Episode 1 is split into Part 1 and Part 2, and aired on Monday and Tuesday. Because of that, I'll be recapping them two parts at a time… but it'll really be one episode.
And so, I present to you the sequel that has nothing to do with the original, the spinoff that has nothing to do with the original, the drama that you should not have any expectations going into… Full House Take 2.
(Available on DramaFever as well.)
Part 1
We begin with the arrival of little Michelle Jang (who grows up to be Hwang Jung-eum) and her mother at Man Ok Gymnasium. The gym is where her burly grandfather (Jang Hang-sun) teaches hapkido. Grandpa is a formidable man, but he takes a liking to his sweet granddaughter who will now live with him. (Why? We don't know, but we just take it for granted.) He renames her Jang Man-ok after the gym, 'Man' meaning 'Full' and 'Ok' meaning 'House.' We just got so literal in the first two minutes.
Little Man-ok ends up being Grandpa's protegee and goes everywhere with him dressed in her hapkido uniform. They go to a fancy housewarming party for the Lee family; Grandpa seems to be good friends with the father of the household (perhaps even mentor). The parents, who seem to be the loving and nurturing kind, snub one of their guests, Lee Joon, a young college student who won a singing contest and has deep respect for the father. Father must be a music producer then…?
This is where we get the first glimpse of Lee Tae-ik (who grows up to be Noh Min-woo). Tae-ik thinks Man-ok is a weird dude, with his short hair but girlish voice. Man-ok: "But I am a girl!" Tae-ik: "But girls wear dresses!" They go off on their own for some snacks and to play, but it's clear they don't like each other very much. Later in the evening, Tae-ik searches for Man-ok, who seems to have gone missing. She's trying to reach something under a hole in a small bridge, crying out, "Chateau!" She won't even explain what "Chateau" is, saying only, "Chateau is Chateau!"
Tae-ik pushes her aside and reaches under the bridge, grabbing hold of "Chateau." It's a cute white kitty! Immediately Tae-ik starts sneezing because of course he has an allergy. He throws Chateau at Man-ok and runs off, sneezing away.
As Tae-ik sneezes his way home, he passes the pillars that shade the pathway to the front door, and ages before our very eyes. Finally at the front door, it's grown up Tae-ik, still sneezing, but this time because of the polyester in his clothing. Ah – he's so sickly, it explains his skeletal and pale look… Tae-ik dumps almost all of the clothing the stylist has prepared for him because of the material, and opts for a safe tuxedo that he's already got. Flashing abs no less!
At an airport in China, fans greet the arrival of Take One, a boy duo comprised of Tae-ik and Won Kang-hwi (Park Ki-woong). Clearly Kang-hwi is the more awesome member of the group, being dressed all idol-like instead of looking like a stiff butler like Tae-ik. (Tuxedo Man called by the way; he's kind of pissed you couldn't rock it with a top hat.) But their seeming bromance is all for the cameras; once on their private bus, the two of them get into a lengthy spat over who's more popular, and therefore can sit in the backseat. Kang-hwi knows he's the more likable one, even though he's also the worse singer.
Tae-ik steals the spot anyways, and when Kang-hwi hurries over to pull him away, Tae-ik pulls back the shades so Kang-hwi has no choice but to smile at their fans.
At least Kang-hwi gets the last laugh when news reports come out about their arrival and label him as the fashionista, while Tae-ik is the fashion disaster. Tae-ik looks so affronted that it's hilarious; I mean really, who comes out of an airport wearing a tuxedo!? But that's the problem, considering Tae-ik will only wear clothing he's not allergic to, and are sponsored by brands. He's more picky than Kang-hwi, which causes headaches for their stylist.
Kang-hwi notices a scarf that the stylist is offering for their outfits, but because he grabbed it first, now Tae-ik wants it. It's clear that Tae-ik is also the bigger star, and more talented, as the stylist and assistant manager Bae Go-dong (Lee Seung-hyo) quickly make sure Tae-ik is appeased first. Kang-hwi refuses to hand over the scarf and drapes it over his neck. Oh yeah? Well then Tae-ik's gonna yank on it and choke Kang-hwi to death!
No I'm serious. I mean practically creating a noose with that scarf and choking him to the point poor Kang-hwi is red in the face. These people are so murderous…
Tae-ik wins the scarf, and the outfit. Kang-hwi stomps out and leaves – he's not going to perform at their concert! See if Take One can survive! He would, since he has Go-dong's money! But when Go-dong informs the manager Bum-soo during breakfast at the hotel's cafe, Bum-soo remain calm. "Kang-hwi would not allow himself to be caught dead outside wearing a t-shirt and tracksuit pants. He'll be back in no time! Plus, he doesn't know Chinese except for basic greetings!"
Kang-hwi: (in Chinese) "How much is this? But it's too expensive! Ok, I'll take it, but can I also have your sunglasses? I can't be seen today."
Back in Korea, Man-ok sends Grandpa off in the airport, as he's taking a three-month trip. She's still dressed in an exercise outfit, and plays every part of the filial granddaughter. But the moment his back is turned, she's off to the bathroom for a whirlwind makeover! Man-ok reappears, much more stylish and ever so girly, the new Michelle Jang.
She takes her best friend Han Ga-ryung out on the scooter to the shopping mall, where they begin purchasing cheap clothing to resell. Grandpa disapproves of making money in any other method but in teaching hapkido, which means, they make no money. So Man-ok has three months to make as much money as she can to pay bills, and clear out the stuff before Grandpa comes back. Thankfully, one of the mothers of her students discovers her store – and wonderful taste in fashion – that she recommends the place to many of her friends. While Man-ok teaches her young students, business is booming.
It's time for the concert, but Kang-hwi is still nowhere to be found. So Tae-ik is forced to do the press conference by himself. His interview is projected on a large screen outside the theater for all the waiting fans to see, and also Kang-hwi, who's shocked that no one has come looking for him yet. Kang-hwi tsks over Tae-ik still wearing the scarf that he told him not to wear, and he seems to find it a very big problem…
The manager wants to cancel the show, since they can't do the show without Kang-hwi! But Tae-ik is adamant they continue; the fans paid a lot of money for it, and even if they don't do the show, they still have to pay for the venue. He goes on stage and performs their song, solo. Well, if Kang-hwi's a terrible singer, Tae-ik is a terrible lip-syncer.
Soon enough, Tae-ik freezes up onstage. He begins dancing erratically, not following the choreography at all, and before too long, he collapses onstage.
The fans gasp, the music pauses, and the manager is unsure what to do. Never fear, Kang-hwi's here! He's already anticipated this and is set up with a headset. He jumps onstage and the music continues as Tae-ik slowly gets up. Kang-hwi manages to distract the fans for a moment before Tae-ik falls again. It seems the scarf he so adamantly insisted on wearing is giving him a severe allergic reaction.
So Kang-hwi swoops over to Tae-ik, picks him upright, gives the crowd a mischievous smile, and KISSES HIM RIGHT IN THE MOUTH! Before you think it's a short smooch, he then SENSUOUSLY TAKES OFF THE SCARF FROM TAE-IK'S NECK and DROPS IT FLIRTATIOUSLY ON THE GROUND!
Who's having an anaphylactic shock right now?! Oh wait, that's me. *Breathes into bag* Talk about a creative CPR solution.
Part 2
Well, someone's not appreciative. Backstage, Tae-ik socks Kang-hwi in the jaw, leading to a bloody lip. Is Kang-hwi a pervert!? Kang-hwi is affronted by such accusation – he's too good-looking to be a pervert!
Tae-ik leaves first, pissed off, with the manager, and they get a call from their agency president. Oh looky here – the president just so happens to be Lee Joon, and the agency called UEnterLJ.
Pause. Laughs at all the innuendos. Stares at screen and replays line. Laughs again. Continues episode.
Tae-ik doesn't want to work with Kang-hwi anymore, although it isn't the first time he's said it. He's concerned about all the reports and rumors surrounding Kang-hwi's "performance," even though Lee Joon has said he'll block all the reports. Tae-ik wants out; after all, didn't the president promise him he could leave whenever he wanted? Lee Joon: "I did promise that. But it's not enough yet. You haven't made enough money… You want to settle with your little house? If you want to get  this house back, shut up and work."
Looks like Tae-ik is going to have to be an indentured servant for a while… Hmm…
The stylist turns up at the house, where Go-dong and Kang-hwi quickly try to shoo her away from Tae-ik's room. He might fire her over the scarf incident after he sees her! But it's too late. He calls her inside his room – how could she give him something that wasn't 100% pure? How could she be his stylist and not know about his sensitive body?
Kang-hwi attempts to soothe the crying stylist, but it's too late. She finally bursts and throws a bag full of samples at him. Does he think his body is luxurious?! If so, why does he use samples all the time and treat her like dirt?! She quits right then and there, and Tae-ik is so embarrassed at being seen with samples. Even Kang-hwi thinks it's ridiculous that a rich idol is using free store samples. (I bet it's because all that money ends up in Lee Joon's pocket.)
To add fuel to the fire, Kang-hwi turns on Tae-ik and says that he should never have worn the scarf that was meant for him to wear. After all, Tae-ik should have known right away that it wasn't pure silk; he was wearing it out of stubbornness and competitiveness. It's a good thing Kang-hwi kissed him, because then he was able to take off the scarf that was killing him.
Of course, the rest of the world doesn't know about that, so they assume that Kang-hwi is gay (which seems to be a death sentence for Korean idols). Lee Joon orders Kang-hwi to do a round of variety shows and community service documentaries to help his image with the public. Of course, Kang-hwi complains; can't the public just be cool about his little performance? And why can't Tae-ik pull his share in the variety show roulette? Just because Tae-ik says he doesn't want to, he doesn't have to?
Tae-ik is happy to hear Kang-hwi getting punished… until Lee Joon berates him for firing yet another stylist. Tae-ik is fine with that – he doesn't want to work with anyone who can't cater to his needs. Likewise, Kang-hwi doesn't need one because he can style himself and still be called a fashionista.
But there is a stylist looking for work! Man-ok hurries Ga-ryung to find out if her internet mall got anymore orders, but Ga-ryung is too busy catching up on the latest Take One gossip. They get an email from user 'Na-nim', who sent back a picture of him wearing one of their clothes as a form of thanks, and blocked out his face. Ga-ryung wonders if they can get him to model their clothes, since he's a perfect fit, but Man-ok thinks the money would be better well-spent somewhere else…
Like purchasing an entire outfit on a mannequin (and the mannequin) with that same amount! Man-ok nicknames him "Billy," her new model for men's clothing. As she lugs him around Seoul, she bumps into a man and knocks his hat over.
His blonde hair unveiled, Man-ok recognizes him to be Kang-hwi, probably playing truant again. She's star-struck, and soon a legion of fans come swarming to take his picture. Man-ok senses his discomfort and starts to swing her mannequin at everyone to back off, giving Kang-hwi enough time to run. She's a fan, but not enough to let him be ogled like an animal!
Kang-hwi runs off, but the rabid fans make chase until he's blocked off by a gate. Good thing Man-ok is around the corner to help him escape to a deserted street. She makes him take off his jacket and pose with her mannequin in order to avoid his fans, and he praises her quick thinking and cute style. He gets her number, as he wants to repay her with tickets to their concert. Ding ding! And one of our male leads hits it off with our female lead!
Turns out Kang-hwi is late for a show recording with Tae-ik, who's on his way with Go-dong in the group's van. Tae-ik gets competitive and tells Go-dong to speed up the car, as he needs to be there before Kang-hwi. Just 'cuz, yunno, he needs to be the better one.
But Go-dong stops the car, and it beeps down… looks like their out of gas! Go-dong calls for some help from Bum-soo, but the first person to arrive is none other than Man-ok on her scooter, with Billy riding in the back. She's not there to help them at all, but Tae-ik notices a Take One sticker on her scooter and guesses she's a fan. When he gets her attention, he requests that he take her scooter as he has a live recording to attend. Man-ok says no; she's not his fan, and whatever show he's recording can't be live, so why rush?
But Tae-ik just pushes her out of her seat, puts on her helmet (which fits him perfectly), and scoots off, leaving Billy crashing on the pavement. Man-ok cries at Billy's dislocated arm; she paid W200,000 for him!
Go-dong tries to apologize to her on Tae-ik's behalf, but she just grabs his arm and flips him on the pavement. Hell yeah. At least Bum-soo arrives in time to drive her back home, hoping she won't press charges. She promises she won't – as long as she gets home on time… to answer Grandpa's call! Looks like he's still checking up on her to make sure she's in the gymnasium all day long.
Kang-hwi arrives at the recording later than Tae-ik, and doesn't bother to listen about the change in the choreography. They go straight into rehearsals, and Kang-hwi does his rapping solo bit before WHAM! He walks right into the camera and falls, suffering a small cut above his eyebrow. Tae-ik looks concerned that his partner got hurt, but also angry that he never listened.
The actual recording goes off without a hitch, and right after it, Tae-ik hurries to the nearest cafe to get a bag of ice. Aww – looks like it's for Kang-hwi! But when he returns to the room, he hears Kang-hwi complaining to Go-dong about Tae-ik rushing off and leaving him behind to finish the recording when he's the one hurt. Tae-ik's hurt, and he throws the ice bag to the ground.
Oh you two and your petty misunderstandings.
Tae-ik drives home by himself, all bitter and leaving Man-ok's scooter with Bum-soo for him to return. He sees a delivery man who can't enter through the locked gates; he's got a package for Kang-hwi, except no one's home to receive it. Kang-hwi begs Tae-ik to accept it on his behalf, but of course, that just makes Tae-ik more angry for being ordered around.
When Kang-hwi returns home, Tae-ik says he threw it out. "Oh and today's recycling day…" he adds, as Kang-hwi rushes out to check the bins. It's too late – his limited edition shirt from Man-ok's Closet is now gone! He calls up Man-ok and asks if it's possible to get another limited edition shirt in his size. She can't promise anything, but learns that he's 'Na-nim.' (She still hasn't figured out she's talking to Kang-hwi though.)
Out of revenge, Kang-hwi makes his injury a much bigger deal than it really is: how can he do all the variety shows with a bruised face?! So now Tae-ik has to step in, and he goes on a documentary show where he plays with little kids for an hour.
Tae-ik is the stiffest person ever as the little kid he's playing with, Joo-young (played by 'Ding Dong' from Best Love), builds a tower and plays on a mini plastic slide. The filming crew takes a break, as it's like pulling teeth to get Tae-ik to do anything. Joo-young is even hurt that Tae-ik doesn't seem to like him. Of course, not wanting to be perceived as mean, Tae-ik says he'll play, and they begin a spinning game. (Grab each other's arms and spin in a circle.)
They spin hard and fast – to the point that each pulls the other's shoulder's out of the socket and fall to the ground. Great – now they both have dislocated shoulders! Tae-ik wants to go to the hospital, but Joo-young says his hapkido teacher can fix his shoulder in a jiffy. Uh-oh…
Joo-young and Tae-ik head over with Go-dong and another film crew member to Man Ok Gymnasium. Joo-young runs to teacher Man-ok for help, and with one grasp and a sharp pull, Joo-young's dislocated shoulder has been set right again!
Then Tae-ik enters, needing the same treatment. He doesn't recognize her initially, but Go-dong sure does! And he cowers behind the singer in fear of "the lady who flipped him in the middle of the street." That's when Tae-ik realizes she's the scooter lady… and he dislocated her "man's" arm too…
Tae-ik: "Let's go to the hospital…" But as he turns away, Man-ok grabs his arm and pulls – hard.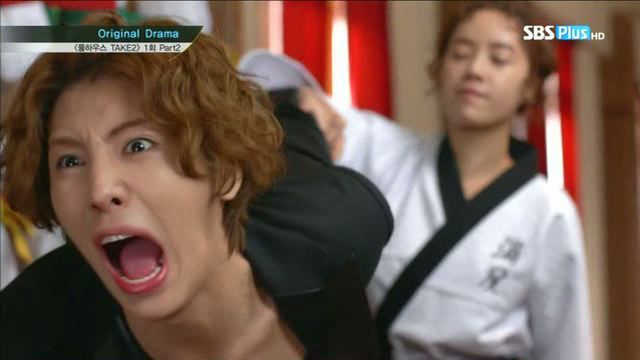 Comments:
Oh what to say!? So much running through my head but I don't know where to start!
First off – that ending of part 2 was a little lame, only because I wish it ended when he sees Man-ok for the first time in her gymnasium and Go-dong cowers in fear. That might have made me anticipate the next episode more (not that it matters, since it airs the next night). But moving on…
Full House Take 2 is To the Beautiful You and You're Beautiful on crack. It wasn't enough to give Tae-ik similar allergies to Hwang Tae-kyung, but also had to give him a similar name and have Noh Min-woo channel as much Tae-kyung personality as much as possible. The over-the-top silliness of the drama makes it seem like a dismissive comedy that doesn't merit any attention. However, it's what makes the drama so endearing for me. The actors are of that right age where they can act like juvenile ten-year-olds and still get away with it. Their world, their dialogue, their hair lets all of that happen. I'm not going to say it's the greatest drama; heck, I wouldn't be surprised if this drama ends up being terrible. But it's so hard to hate – especially when you have two men who just have to beat each other for no real reason at all.
Park Ki-woong and Noh Min-woo: the two of them bicker for the sake of bickering, shoot zingers back and forth that aren't necessarily smart, but are terribly funny, and make a dynamic duo (ha!). The bromance is in the air – if only they could pause and stop misunderstanding each other so much, they could get along. But then we wouldn't have their ridiculous rivalry, which really makes the show. This one-up-manship is just too precious.
What I love is that the two actors go all out in their emotions. They over-act in some cases, and in scenes where Tae-ik tries to look pained, it just…fails. But I have to give them credit for going all the way. Park Ki-woong can do no wrong in my eyes; he may choose weird projects, and while this one may be a blot on his resume, it certainly shows his comedic range. He's got no qualms about going all out.
Story wise, I think it's intriguing that Tae-ik has in a way become an indentured servant to Lee Joon. I'd love to explore more of that story and find out what Lee Joon's grudge against Tae-ik's family is, and also how he ended up "owning" Tae-ik's home. It looks like that home is being used as Take One's residence, so I imagine that later, Man-ok will move in and then make it a truly "full house." This drama has veered so far from the first series so far that I wonder if a contract marriage will even occur! (It could – especially if the rumors about Kang-hwi or Tae-ik being gay cause a severe public backlash, and then Man-ok is there to help improve their image.)
But before they all move in together – I think Tae-ik and/or Man-ok need to change their hair styles. It does not help that I cannot tell who is who from the back of their head. (Who on earth styled these people!? Fire their stylists, STAT!) I'd like to know the difference between my male and female leads, thank you very much, and to see the faces that I recognize, rather than pale stick figures with a mop for a hair!
RELATED POSTS
Tags: featured, first episodes, Full House Take 2, Hwang Jung-eum, Noh Min-woo, Park Ki-woong