Running Man: Episode 134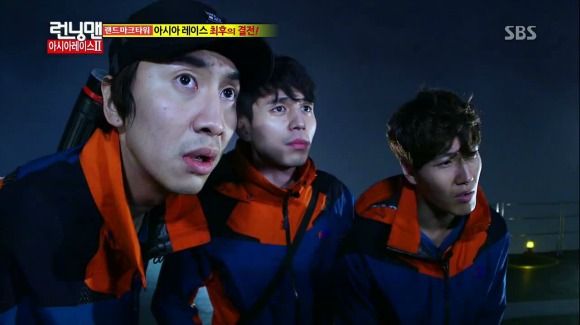 We're back for the second half of our Asia Tour and this time, the cast is off to Vietnam where they get the greatest international welcome this show has seen thus far. And who could have guessed that the center of all that attention is our lovable Kwang-soo himself? It's time to hunt down the rest of the nine daggers and unlock the golden dagger.
EPISODE 134. Broadcast on February 24, 2013.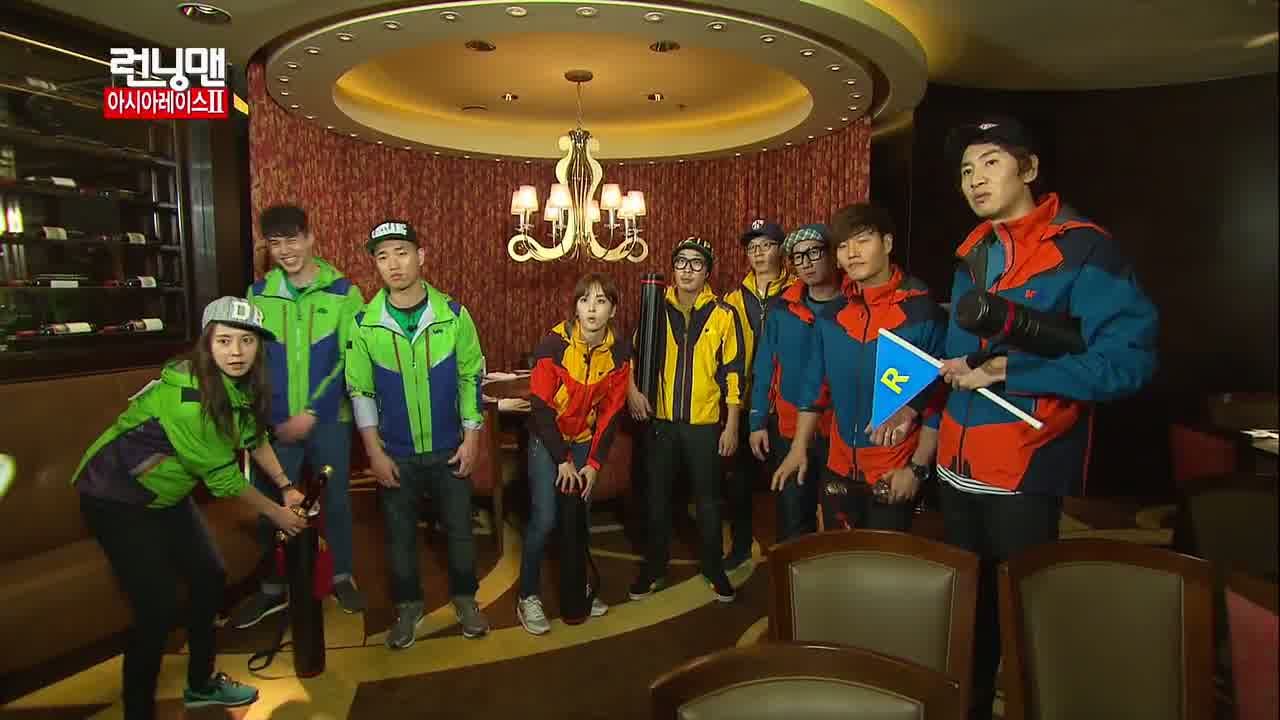 After an adventure-filled first day, our cast is given instructions from three interpreters. Kwang-soo is the first to wake the following morning at 7 AM, but he looks nervous and confused.
Then we see that his team chose the Mandarin-speaking interpreter (thanks Wei!) and despite their best efforts, were unable to understand a word. Kwang-soo: "We'll listen for 100 days and still not understand!"
Oho – usual sleepyhead Ji-hyo is up early as well. Turns out her team received instructions in English and she waves to the camera.
Kwang-soo spots her and gives chase down the hallway. Confused, he asks where she's going and Ji-hyo puffs: "I'm going to Vietnam!" She's like, Didn't you see the headlines? We gotta go! and poor Kwang-soo mutters that his teammates are still asleep. Aw.
Gary sticks his head out in the hallway and… is he nekkid? Hee. As usual, Peaceful Gary is in no rush, cutting up some apples to eat for breakfast. And the Yellow Team is already out the door.
It looks like the Blue Team is going to have to get moving – if they don't make their flight, they'll catch the next plane back to Korea. Jong-kook doesn't seem too worried and says, "We'll just follow another team!"
They tail the Green Team's car but both teams get caught at the traffic light. When Dong-wook looks over, the Blue Team immediately tries to hide from view. Psh, like they're gonna fall for that.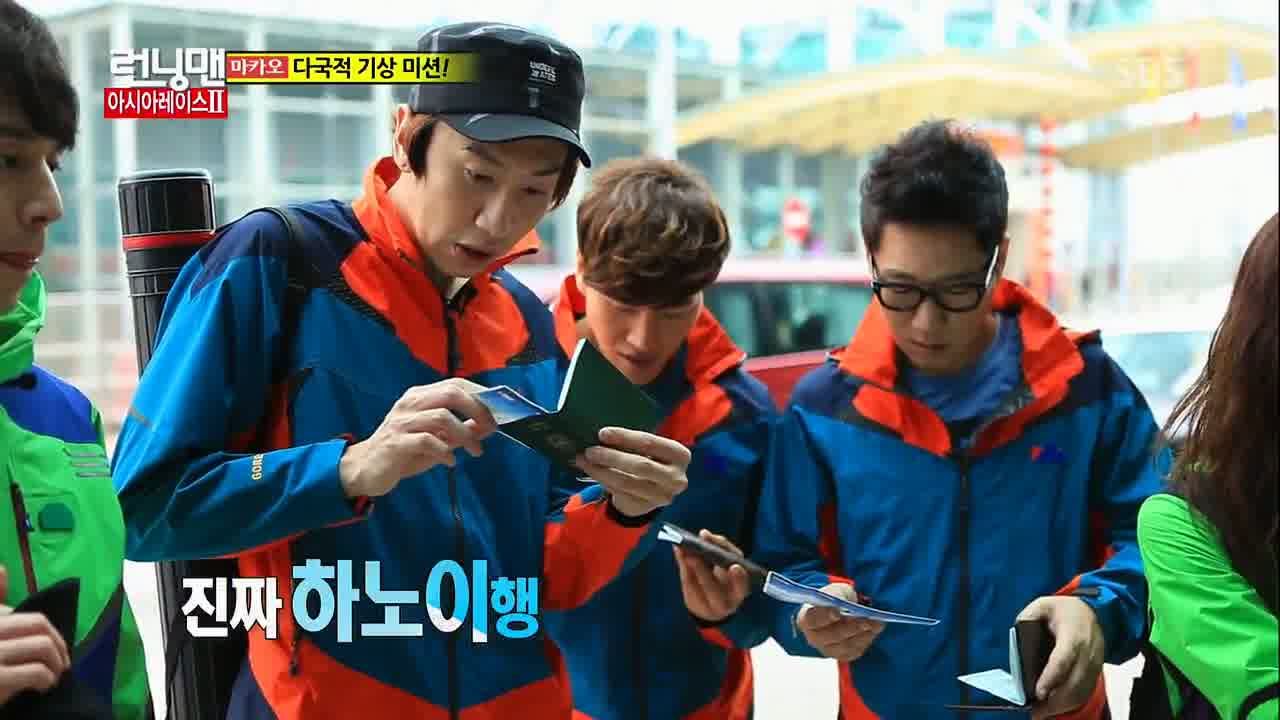 The Yellow Team picks up the fifth dagger at the airport and the other teams arrive minutes later. The idea that they're actually headed to another country doesn't hit the Blue Team until they get their tickets. Kwang-soo: "Hanoi? Vietnam?"
While airborne, the cast switches members via a Dagger Roulette. Kwang-soo stuffs his team's daggers in his own suitcase, only to get them taken away by the Yellow Team. Spartakooks is NOT pleased at this turn of events and asks that Kwang-soo stick with them. So they do and Kwang-soo gets punished.
After all of the switcheroo our new teams are as follows: Green (Ji-hyo, Jae-suk, and Suk-jin) with one dagger, Yellow (Gary, Hye-jin, and Haha) with a whopping four, and Blue (Jae-suk, Dong-wook, and Kwang-soo) with none.
They're off to Hoan Kiem Lake as soon as they arrive at Vietnam and Hye-jin marvels at the crowds of fans waiting for the cast. Haha jokes, "Do you wanna become friends with us?" Hye-jin: "I want to join [your cast]."
As for the Green Team, Ace Ji-hyo sighs that with the mat hyungs as new teammates, victory is out of their reach.
Woah, is the entire city here to greet the cast? I can't even begin to start counting the hundreds, if not thousands of fans that crowd the streets, chanting: "Running Man!"
To say that the show is popular here is an understatement and it's clear that Kwang-soo is the obvious favorite as the Blue Team try to move through the sea of fans. When they finally join the rest of their cast, Jong-kook tells them: "Kwang-soo is like Jang Dong-gun here!" Meaning, he's basically god-status.
After the cast jokes a bit more about Kwang-soo's popularity (his cheeks burn a fierce red from the attention), they watch a pretty cool play about a golden dagger stolen by a Hoan Kiem turtle. (Fun fact: There are barely a handful of these turtles left in the lake.)
The turtle disappears into the lake and reappears with the cast's mission card in its mouth. The cast will need to find all nine daggers before they can search for the missing golden dagger.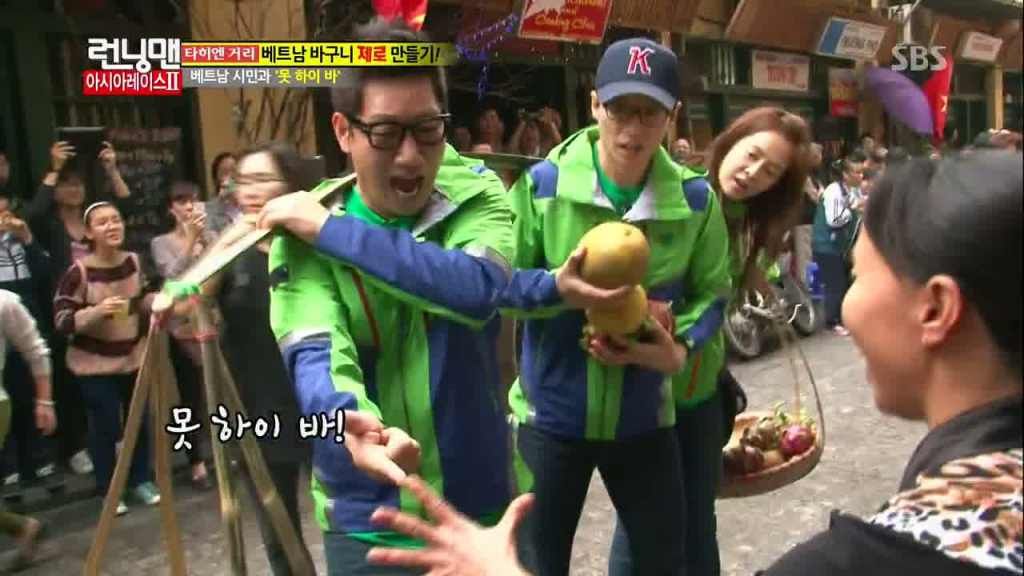 Now it's finally time to start this leg of the Asia tour! First stop is Ta Hien Street where Myuk PD waits with their mission. They'll need to play rock-paper-scissors (mot hai ba) with the vendors here in order to relieve themselves of their burden (various fruits).
The Green Team are off to a good start whereas Dong-wook loses twice in a row. Jong-kook barks: "You're really not good at this!" It's funny since "mot han da" in Korean sounds similar to "mot hai ba."
Haha stalls for time with the vendor before he loses and Hye-jin gulps, "You can give us the smaller ones!"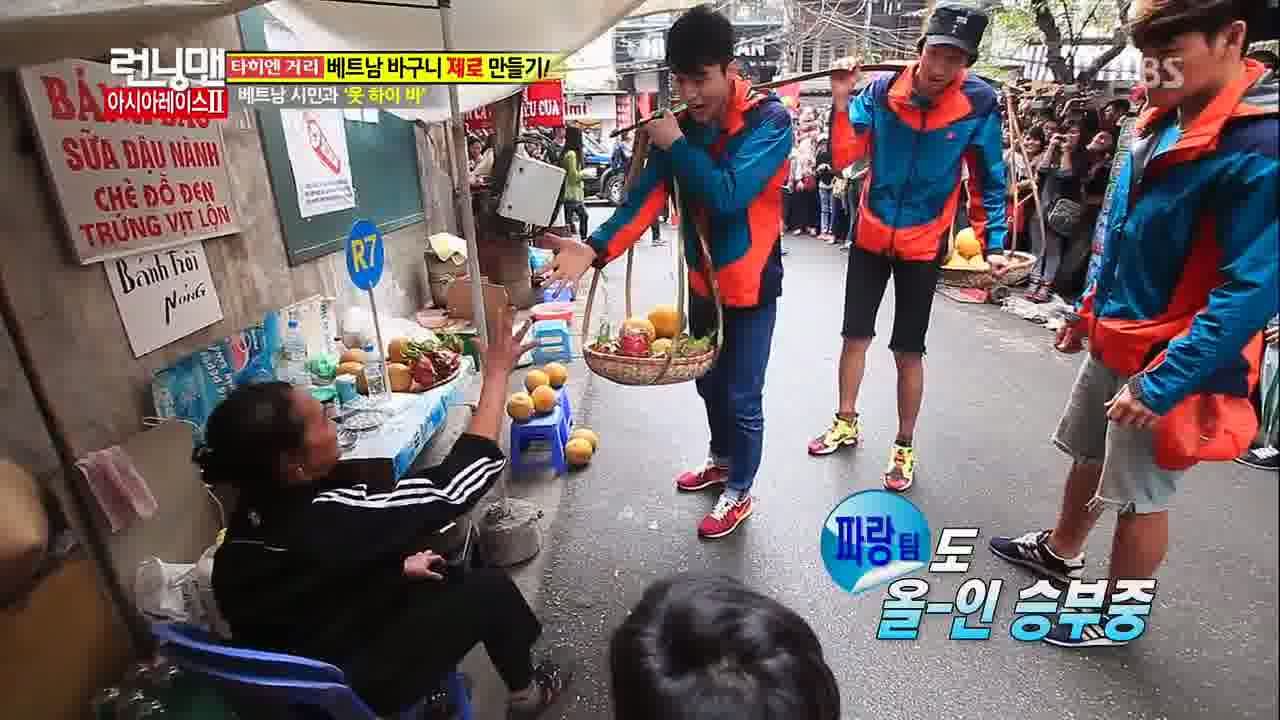 Though Asia Prince Kwang-soo tries his best to get the crowd to root for Jong-kook, they all eventually chant the Giraffe's name anyway. Even the captions are amazed at this level of popularity and wonder: (1) Is Kwang-soo's name easy to pronounce? (2) Does 'Kwang-soo' mean something else in Vietnamese? HA. Cheeky.
The weight has become too great for the Green Team with three basketfuls and now they resort to going "all-in" with their burden. Go big or go home, right?
It's a risky move but Jae-suk wins the first round. Then it's Ji-hyo's turn… and she loses. Curses!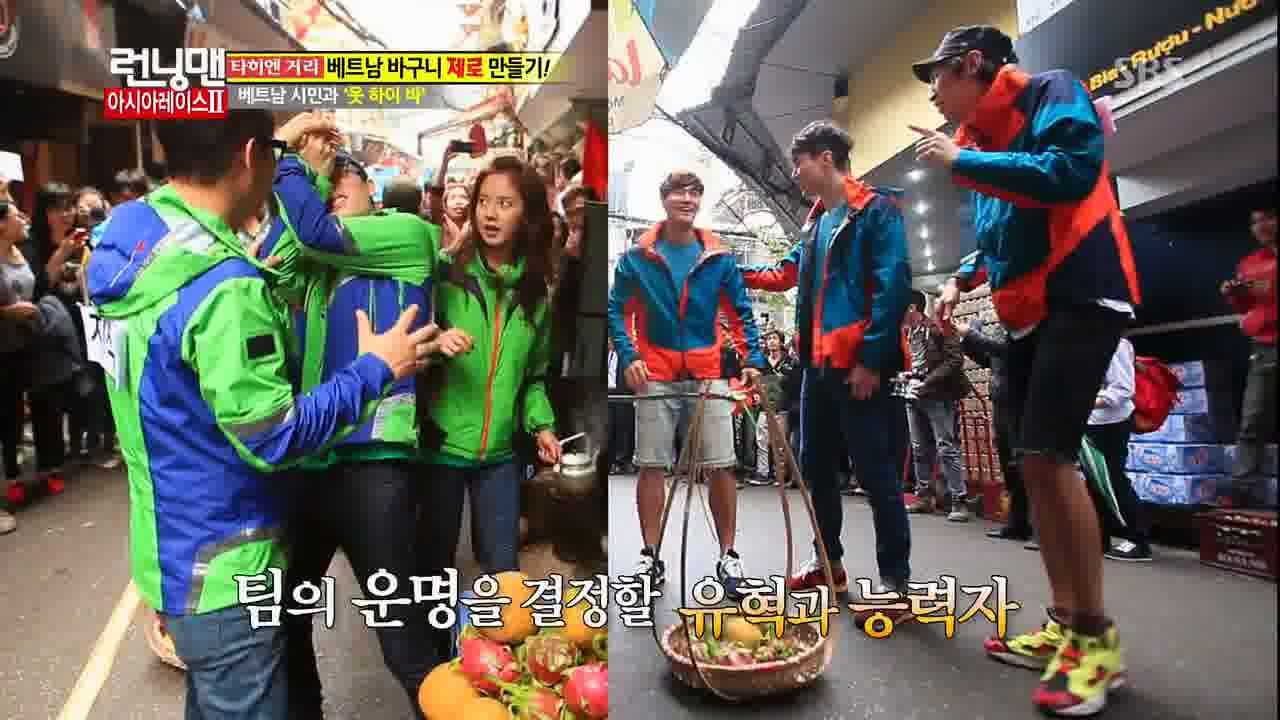 The other teams have taken to going all-in with their own burdens and both the Green and Blue Teams need to just win one more round before they can move on. This is seriously one intense game of rock-paper-scissors.
BOTH of them win. Woah. But who won first? Then a little later, we see the Green Team pick up the sixth dagger.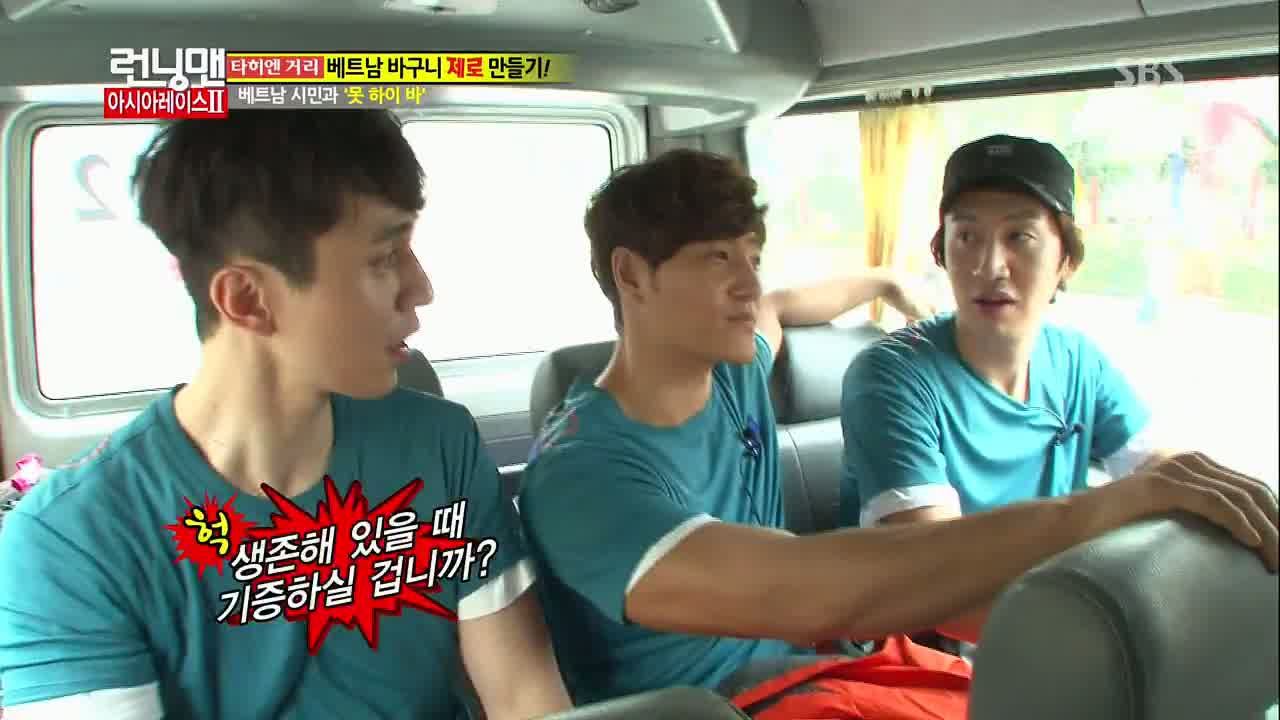 The Blue Team isn't bitter about coming in second and Jong-kook tells Asia Prince Kwang-soo to give some love to the international fans. Kwang-soo: "I love Vietnam. And Thailand! Hong Kong! Macau! I have very many hearts! My heart is yours!" Aww, you have ours too.
Kwang-soo's eyes grow wide when Dong-wook teases that he just said he'll give his literal heart. "Do you plan to donate it when you die?"
The Yellow Team have an incredulous 36 fruits on the line and Mr. PD's like, "You know how much you'll have if you lose, right?" Gary sighs: "72." Their victory rests upon Haha's shoulders and luckily, he wins.
The teams head off to three separate locations where each member from each team will face off. We first head to West Lake where Dong-wook, Jae-suk, and Haha sit for a game of 31.
They notice four chairs set to the table and are soon joined by the chef himself. Ooh interesting – the chef isn't limited to the three bites rules. That ought to shake up the battle of wits nicely.
Gosh, I knew I should have eaten something before I started this recap. The members dig in and Haha salivates just looking at the delicious food.
Elsewhere, Suk-jin, Hye-jin, and Jong-kook worry about their mission. They'll need to guess the Korean songs the local sing, but more than that, none of them know any recent Kpop songs. Said the Turbo now ballad singer.
Not that it makes guessing any easier and they stare blankly as the woman hums the song along. The lady compliments Hye-jin mid-answer which makes her smile, but her answer ("Super Junior's Cha Cha Cha!") is completely off the mark. That's trot, not pop!
Suk-jin gets it right and Hye-jin asks with genuine curiosity what that famous Super Junior song is. Jong-kook: "Sorry Sorry." HA – and that just happens to be the next song.
Back to the restaurant where the chef is practically beaming watching the cast members enjoy his food so much. Both Jae-suk and Dong-wook encourage the chef to keep eating as Haha starts to sweat in his seat.
Jae-suk asks the chef if he's done in Vietnamese and the chef just laughs, "No." Why so cute?
Did the chef really just clean out like 10 of those dishes? Dayum. In any case, poor Haha gets eliminated.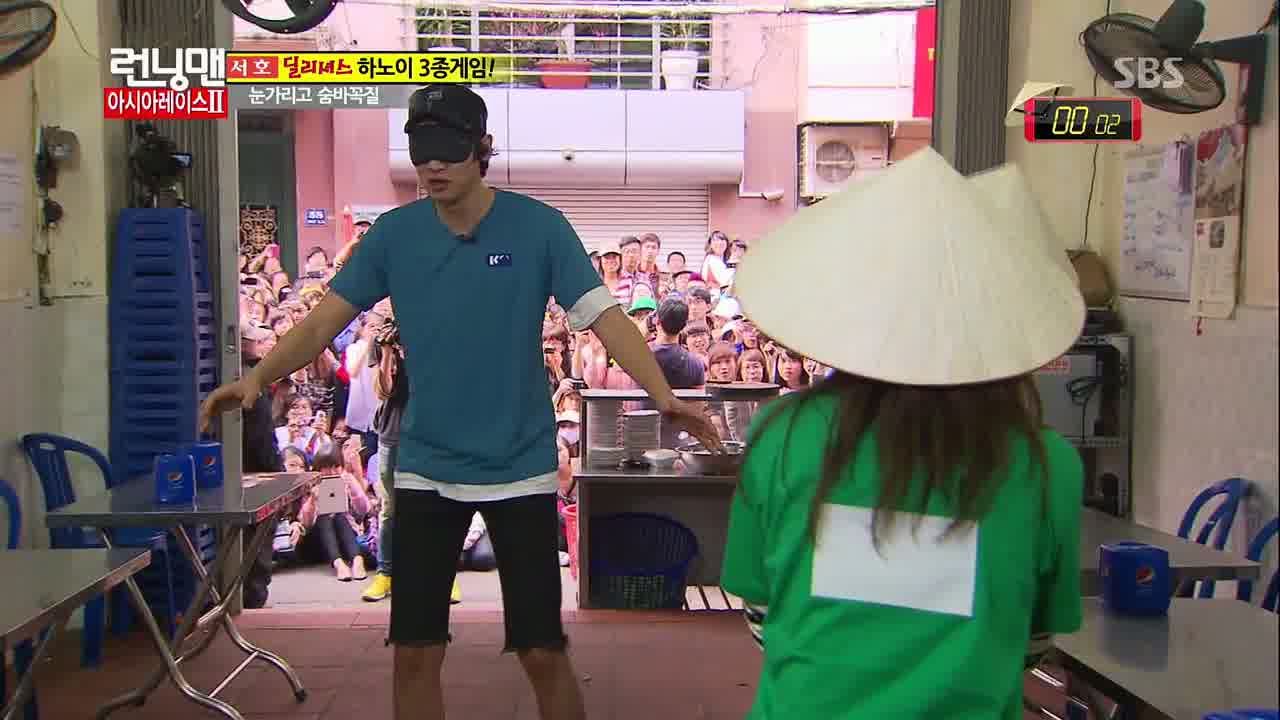 In another part of town, Asia Prince Kwang-soo and the ex-Monday Couple receive their mission. It's basically hide-and-seek and the seeker with the shortest amount of time wins.
Kwang-soo complains when Gary tells him to seek first. He gripes: "Do you think you two can be together if you do this?" All Ji-hyo has to do is show Gary a little aegyo for him to switch the order to her favor. Heh.
It's pretty hilarious to see that the fan chants are actually working against Kwang-soo because he can't hear the other members over the noise. He asks them to shush and immediately, the crowd goes silent. That's pretty remarkable.
He manages to find the ex-Monday Couple within four minutes.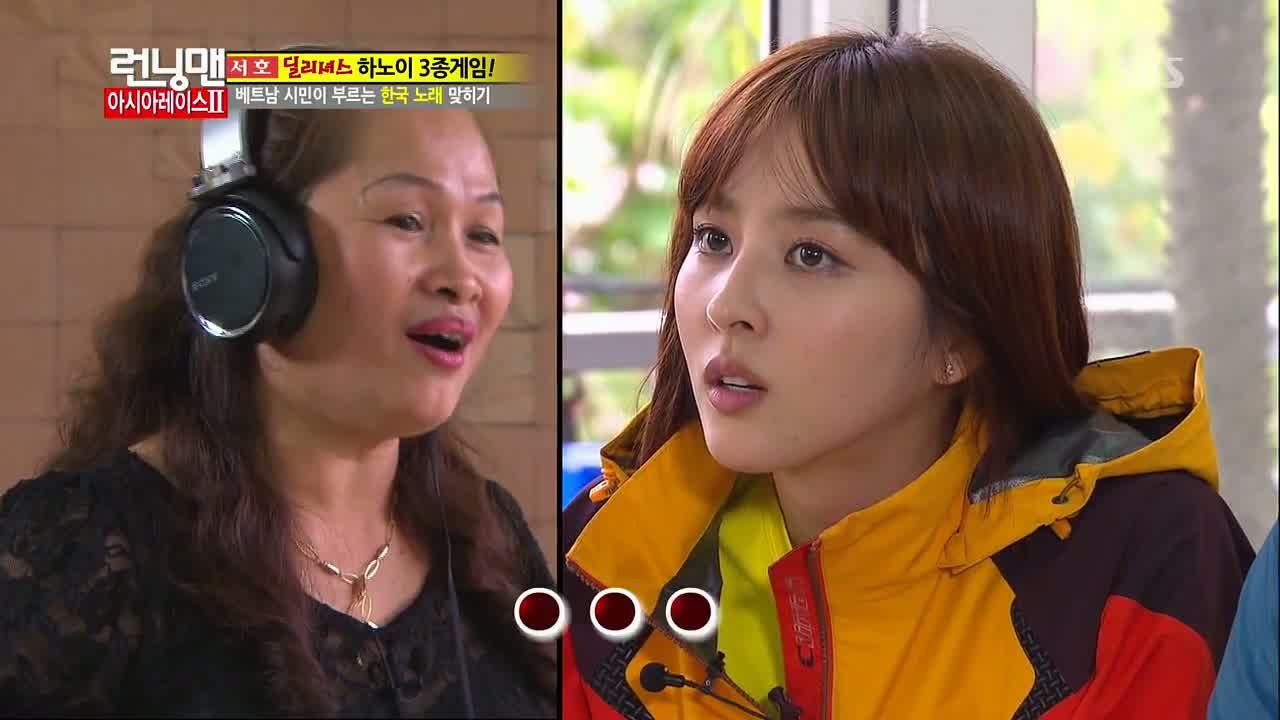 Meanwhile, the staff are in a fit of giggles watching the members try to decipher the melody. They ask for a hint but Mr. PD laughs that the woman is actually singing the song quite well.
Then Hye-jin guesses correctly (Park Hyun-bin's "Shabang Shabang"). Funny how the one who said she didn't know any songs is the one who gets them right. She gets a dagger for her efforts.
Time for dessert at the restaurant and now it's down to Dong-wook and Jae-suk. Though the mission at hand is pretty engaging, it's the chef's nonstop laughter that gets me. Virtually everything makes the man laugh from Jae-suk's Vietnamese to watching the two push the tray back and forth.
With less than ten dishes remaining, suddenly Dong-wook starts stuffing his face. It's like sweetness overload to his system but he keeps on eating. He only needs to eat two more to win it…
He goes for it and nearly keels over in sugar shock. He does earn a dagger for his team, as does Kwang-soo.
With all nine daggers found, the teams head out to the final mission. In the car, Gary does an impromptu interview with Kwang-soo as fans continue to follow them.
Gary jokes that this is the first time he's seen a placard with his own name in over four hours. But as soon as the fan spots Kwang-soo, she immediately changes it to the Giraffe's. HA.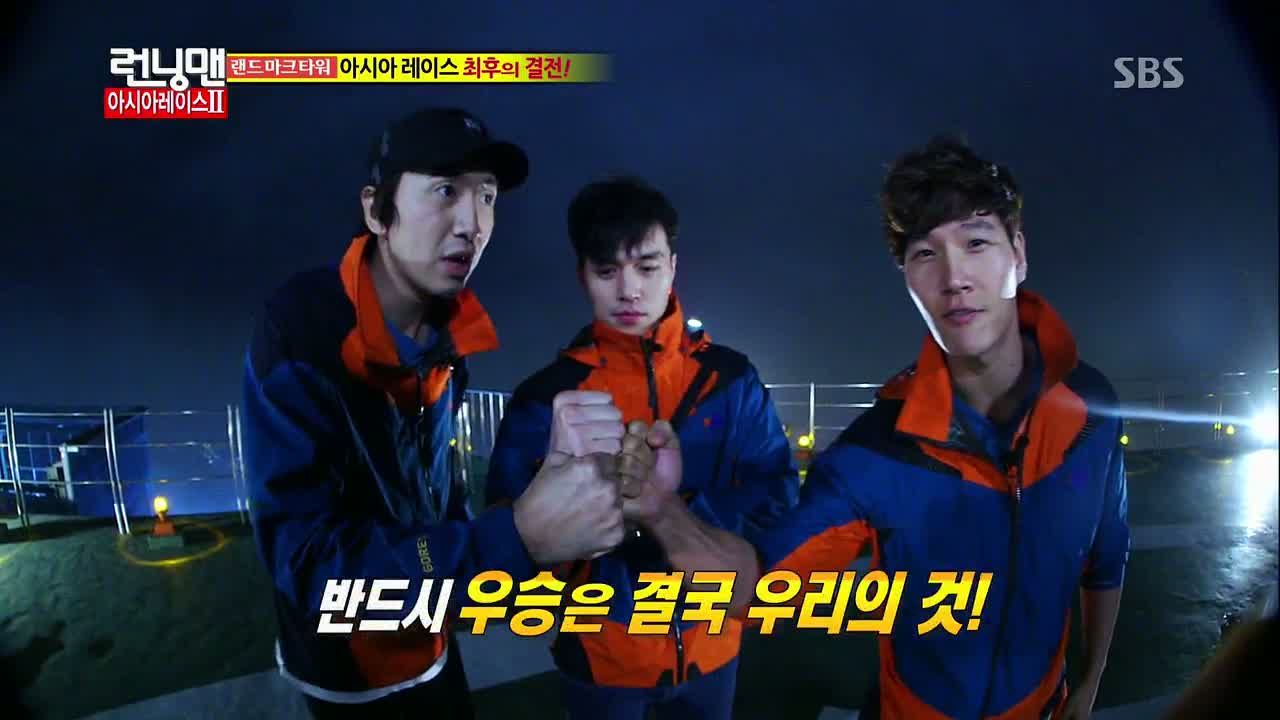 They all gather at Landmark Tower (which had a South Korean investor) and everyone marvels at the height. They all start at three different areas of the 72 story building and the game is nametag rippin'.
However, there's a catch: Only those with daggers can participate in the game. Suk-jin: "What if we only have two [and there are three of us]?" Mr. PD's voice booms, "You'll be escorted off to jail immediately." HA and aw.
Each member can hold up to two daggers but don't worry – there are shields hidden in the building to help them out.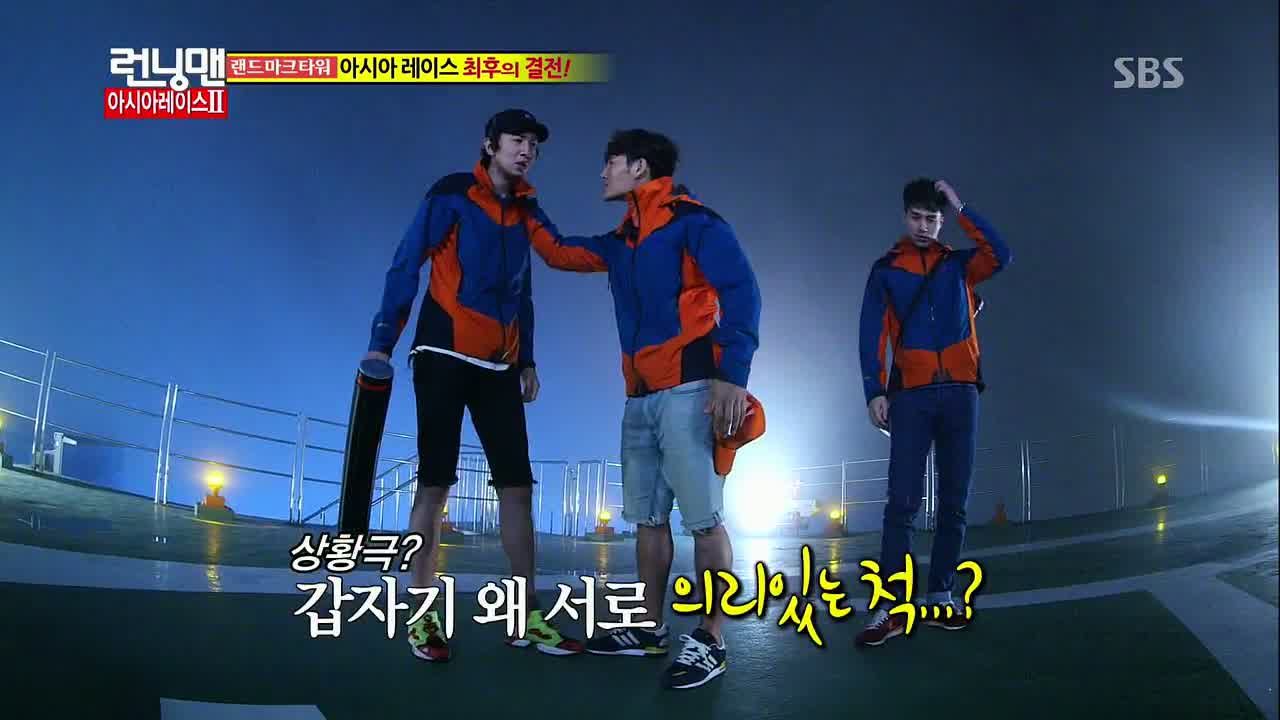 Surprisingly, Jong-kook volunteers himself to go to jail and immediately Kwang-soo responds that he'll go instead. Then a few feet away from this dramatic exchange, Dong-wook shuffles his feet, "This is boring."
At the end, Jong-kook heads off to jail with Suk-jin.
Mr. PD informs the cast of yet another caveat in this game: if they hang around their teammates for too long, then men in black will come after them. These guys, led by Maknae FD, look a lot like reapers.
Hye-jin slinks out of the elevator and spots Dong-wook just around the corner. The two face off and are soon joined by Kwang-soo. Her teammates hear her screams and they rush to her aid.
Not that she really needs it of course, because she reaches across Dong-wook's back with one hand and locks Kwang-soo with her legs. They rip her nametag soon enough anyway.
A little later, Dong-wook runs after Haha, who runs right into Jae-suk's path. Dong-wook catches up and rips off Haroro's nametag in a flash. Now everyone's on the same playing field.
It doesn't stay that level for long because Dong-wook appears around the corner as soon as Haha gets off elevator. They both try to grab each other's backs but it's Dong-wook who tears off the nametag first.
Gary burns with fury upon hearing his teammate's elimination. What a perfect opportunity for revenge then when he sees Kwang-soo slip into a room and he rips off his nametag.
Dong-wook calls for Kwang-soo through his walkie-talkie, unaware that he's been eliminated. Annoyed, he says, "Where are you? I see you more than I see my mom!" when the speakers blare the news. Dong-wook drops his walkie-talkie. Aw.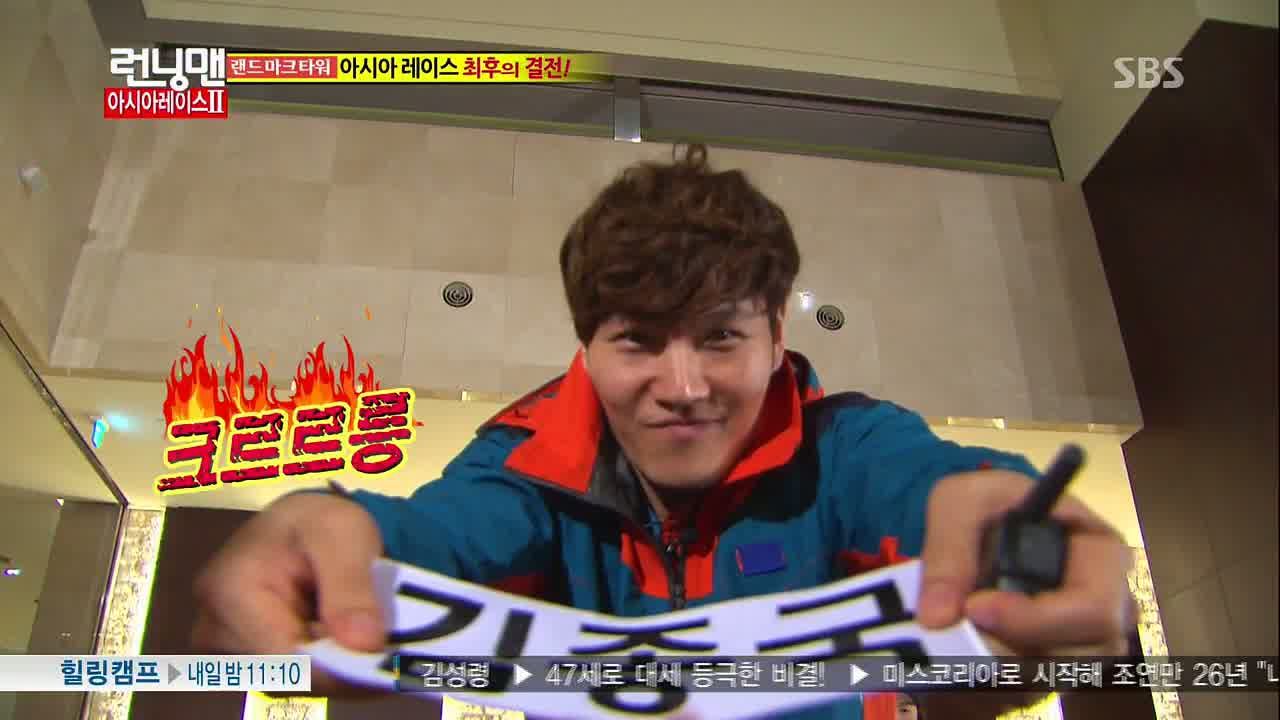 He does, however, find a shield and has a choice to either protect himself (the person who attacks him will be eliminated instead) or free a jailed teammate. The speakers blare his choice: Jong-kook is in the game. Oh yeah.
Everyone immediately tenses at this announcement. Now the game's truly begun.
Both Gary and Hye-jin have their eyes on the Grasshopper who immediately radios for help. Hye-jin gives chase as Gary runs from the other direction. They corner him in another hall and then in the scuffle, Jae-suk tears off Hye-jin's nametag.
Ji-hyo arrives moments later and Gary spins around to remain out of reach. He tears off Jae-suk's nametag. Another one bites the dust.
The ex-Monday Couple decide to work together. They pinky swear on it and at that every moment, Jong-kook sees the exchange.
The speakers announce that another shield has been discovered but unlike last time, it's eerily silent. Then it occurs to Dong-wook that whoever found it (he thinks it's Ji-hyo) must be trying to save themselves. Which is exactly what Jong-kook deduces as well.
The ex-Monday Couple both claim that neither has found the shield. Hmm. When Dong-wook starts closing in, all of the jailed members radio their teammates in panicked voices. LOL.
They target Dong-wook who starts to back away. He yells, "Where is this guy [Jong-kook]! I saved him for nothing!" They pin him to the wall as Gary tears off Dong-wook's nametag just as the Tiger runs up to them.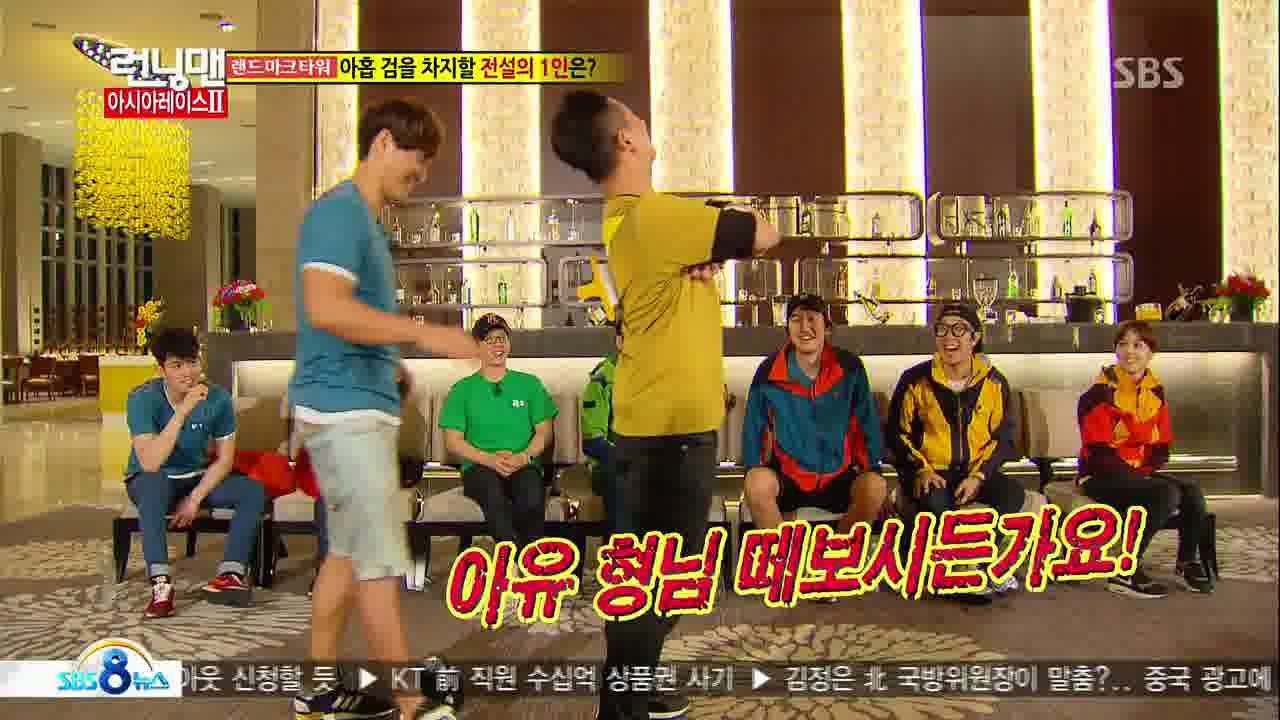 Then as soon as the ex-Monday Couple walks away, Gary rips off Ji-hyo's nametag for good measure. It's clean, which means Gary's the one who found the shield and protected himself.
And that means he's practically invincible at this point – it'll be useless for Jong-kook to try to eliminate him. Smart, smart!
So Gary taunts Jong-kook to try to tear off his nametag with the entire cast for an audience. Jong-kook has no choice but to do so and the Yellow Team win it.
Everyone gathers around as the Yellow Team insert the nine daggers to release the golden dagger. It's actually really cool watching the case open up and the golden dagger rise from the capsule.
But it's not over yet because in two weeks, we'll get the backstory on our mysterious nine daggers…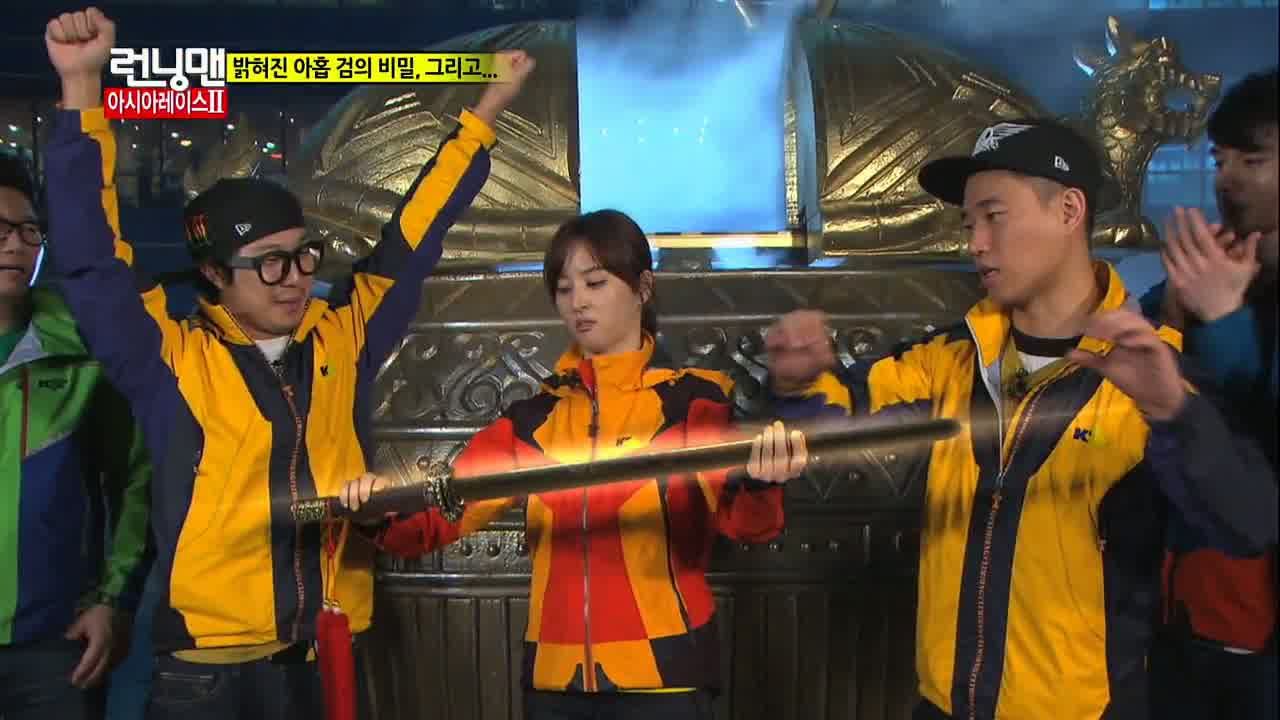 RELATED POSTS
Tags: featured, Haha, Ji Suk-jin, Kang Gary, Kim Jong-kook, Lee Kwang-soo, Running Man, Song Ji-hyo, Yoo Jae-suk