Master's Sun: Episode 3
Despite the fact that I'm a huge scaredy-cat and the ghosts on this show are rather effective at popping up (literally, ack) to maximize my fear response, my wimpy impulse to watch through my fingers is mitigated by how much enjoyment I get out of watching our two leads interact. Arguing, insulting, bantering, sneering, hugging (especially hugging)—all of it is charged with so much chemistry that it's just a pleasure to watch. Honestly, I can't guarantee this show won't tank and I'd advise against betting on it, but the romance has got me hooked and good, enough that I'm thinking Master's Sun could be worth the watch anyway. Fingers crossed.
SONG OF THE DAY
Kang Seung-yoon – "맘도둑" (Heart thief) [ Download ]
Audio clip: Adobe Flash Player (version 9 or above) is required to play this audio clip. Download the latest version here. You also need to have JavaScript enabled in your browser.

EPISODE 3 RECAP
After Gong-shil admits that she can see Joong-won's ghostly first love hanging around him, he gives her a message to pass along to the dead Hee-joo: "You bitch."
He wears the most self-satisfied smirk on his face, but Gong-shil says knowingly that he must have really loved her if he's that angry at her for leaving him, and promises to pass along the sentiment. HA. It's worth it just for the way Gong-shil's reaction turns his shit-eating grin into instant confusion. I enjoy how this totally neutralizes Joong-won's jerkwad tendencies—not that he's being less of one, but she misinterprets his behavior through a positive lens, and he's left feeling unjustly accused of being nice. It's all, Wait! I was being an ass! You misunderstood!
The exchange gets noticed by (potentially) shifty security director Kang Woo, who has been waiting to go home with Gong-shil and watches curiously from the side.
One of Joong-won's shopping mall employees, Jin-ju, leaves work that evening and finds a lone designer high heel lying in the middle of the empty hall. As she takes it to the lost and found center, someone—or thing—follows her and gives her the heebie-jeebies. Only when she looks around, she can't see anybody.
But we can—there's a dead woman right behind her. Ack! Even when I'm expecting it, this show still manages to creep me out with the ghost reveals. The ghost protests, "That's my shoe!" and follows. Gahhhh, stop that Ring flicker, stop it!
Jin-ju gets scared by the resulting paranormal effects (dimming lights, falling signs) and starts running for the stairs. But a ghostly hand wraps itself around her ankle—ack they can touch now?—and she falls down the stairs.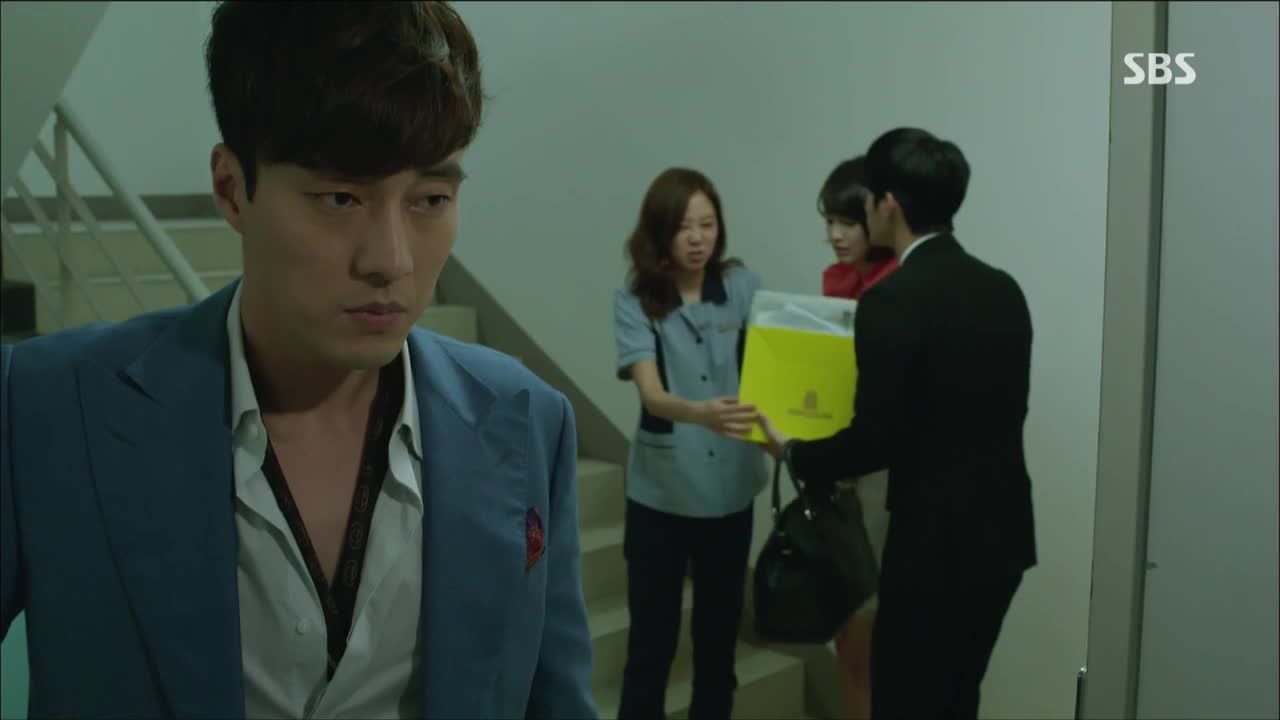 Gong-shil, Joong-won, and Kang Woo hear the scream and find Jin-ju sprawled in the stairwell, thankfully only with minor injuries. Joong-won decides the fall is the result of a bad floor-wax job and orders Gong-shil to clean it up, then heads off—just in time to hear Kang Woo commenting to Gong-shil that they won't be able to go home together after all. He pretends he doesn't care. Suuure.
Kang Woo accompanies Jin-ju to the hospital, and with his secretary needing to deliver her documents, Joong-won is left to drive himself home. He sniffs that of course he's capable, only to press all the wrong buttons, open the trunk instead of the door, and set the lights blinking. Heh.
Gong-shil finds the dropped shoe and tries it on wistfully, and then spots the ghost huddled in the stairwell with her grabby hands out. Gong-shil flees while the ghost follows her down the hall, dragging herself along with her arms—one leg is bloody and wears the other shoe.
Gong-shil makes it into the elevator (noooo, why the elevator?) as the limping ghost gets closer and closer… and then an arm shoves inside to keep the doors open. GAH.
But of course, the doors close because she is a ghost and the laws of physics are still mercifully intact.
In the driver's seat, Joong-won squints at his car dashboard, just barely managing to read the word "home" to get his navigation going. Ha, you don't even know the way home? You helpless little man.
Gong-shil darts into the parking lot and bangs on Joong-won's window, begging for help. He refuses and drives off, but (against his own judgment) thinks twice when he sees her terrified face in his mirror. When he gets out and demands why she's making such a fuss, Gong-shil launches herself at him and grabs tight.
I think we're a bit early for the love ballad and the slo-mo pan-around to kick in, but Joong-won looks rather affected by the clinging so what do I know. A security guard catches a glimpse of the hug onscreen and assumes it's the other thing, ha.
At the hospital, Kang Woo waits outside while Jin-ju is treated and watches suspiciously as a patient darts outside with her face covered, hides behind him, then tries to reach inside a locked car via the open sunroof. Yeah that's not obvious at all, lady.
Turns out it's jilted bride and top star Yi-ryung, trying to grab a change purse from her own car for a snack despite not having the key. Kang Woo takes over the task and does the smooth version of her failed sunroof break-in, but since her wallet's practically empty he ends up buying her snacks.
He notes that soju's part of the order and Yi-ryung cops to faking her hospital stay (to rustle up pity in the aftermath of her jilting). She warns him not to pity her, and he points out that pity was the point of faking her hospital stay. Touché. Yi-ryung asks for his number to pay him back later, which he declines, which makes her sputters indignantly. Oh, princess.
High Heeled Ghost turns up in corporeal form at the site of a car accident—she was driving with only one shoe on, which makes the officers wonder whether she was drunk. She's taken to the hospital, where her husband is informed of her death. He sobs over her body in a display of grief—and then his mouth twists into a smile. Creepy.
Joong-won may insist he doesn't believe Gong-shil and her ghost-seeing powers, but I notice he drives her to the hospital anyway to follow up on the corpse. She walks out with one foot stuck in a tissue box, since she left her own shoe in the stairwell, and assures him that she's not embarrassed to be seen this way. I think his concern was more about his own embarrassment, but yunno.
Gong-shil is immediately on edge as they walk into the ER, since she can see the ghosts of recently dead patients lingering around their bodies. The Shoe Corpse gets wheeled by, and Joong-won notes it with shocked eyes, although he stubbornly sticks to his line about not being scared of things he can't see.
Gong-shil does an impression of the High Heeled Ghost limping after her to insist how scary they really are, and he averts his eyes and backs away reflexively. She gets him to admit grudgingly that she probably was scared, and explains that if she grabs him, they disappear. She's totally working this situation, playing on that tiny bit of sympathy, and it cracks me up.
She insists that it's not because he's rich or attractive, and that she's no gold digger. It's just that the ghosts are so relentless with her, not leaving her alone until she does as they say. This woman, for instance, wants her to give the shoe to her husband with the message that she'll be watching over him.
Joong-won recognizes the husband as his employee, so Gong-shil figures the wife was on her way to meet him when she died. But when she approaches with the shoe, she finds him cackling into his phone that it was a miracle she died and took care of that all on her own.
Joong-won excuses himself from the proceedings, ready to let Gong-shil handle the rest on her own, and she protests—she needs him with her to prevent other ghosts from clinging. He withholds his hand from her grasp, though, to ask if the ghosts ever offer up "useful" info, like say stock market predictions or lotto numbers. At her no, he declares them utterly meaningless to him, and therefore he has no need for her.
Gong-shil argues that he knows she's telling the truth, but he counters that he'll continue to only believe what he sees and consider her a crazy person who doesn't realize that walking around in a tissue box makes her look nuts. Off he goes.
And so Gong-shil takes the walk of shame home, braving snickers from strangers and stumbling along in her broken-down tissue box. Joong-won does discover a pair of slippers in his car and briefly considers them, then figures the tissue box is sturdy and comfortable enough.
On the upside, Kang Woo is also heading home from the hospital, and assures Gong-shil that using a tissue box for a shoe was a sensible move. He hails a cab for them, and Gong-shil swoons… then shakes off an unseen arm and hisses, "Shhh!" Haha, is a ghost going to play cockblocker?
Aw, and then Joong-won drives along the road looking for Gong-shil with a pair of shoes on the seat next to him, only there's no sign of her. (He grumpily talks back to the GPS lady too, which I can totally relate to.)
Once back at the apartment, Kang Woo asks whether Gong-shil meant Joong-won when she referred to having a "special person" at Kingdom, and whether they're in a "special relationship." She says yes, but adds that she's not "that kind of special" to the boss—he thinks of her as just a crazy woman.
That makes Kang Woo smile, and she giggles to herself. Her sister Gong-ri drops by and suggests that this ghost problem could be caused by her lack of energy and stamina. Thus, she encourages her to get closer to Kang Woo and build up her stamina by taking some of his. Ha, there are a couple ways to interpret that sentence.
Gong-shil wonders if strong energy is the reason Joong-won is special to her, but unni advises her to focus on Kang Woo first. Lol, she makes her sound like a vampire.
The next day while at work, Gong-shil comes to the shop owned by the husband to High Heeled Ghost, which is temporarily closed. Joong-won also makes his rounds with his team and tells his team to look into the owner, who seems untrustworthy.
Our chatty security guard gossips with his teammate at the café (where unni Gong-ri works) and notes that the husband was known for being devoted to his wife. And he had good reason, since the wife was wealthy and set up the shop for him, and her mother owns buildings in Kangnam, which means he's about to come into lots and lots of cash.
Gong-shil overhears this and glumly supposes that nobody would believe the one person who called him a bad guy if the rest of the world thought he was a decent one.
Gong-shil checks with employee Jin-ju to retrace where she first found the high heel, and begins the reenactment. She checks with the ghost to make sure she's got the right idea, and it's here that Joong-won finds her, sprawled on the ground.
She reminds him that he knows exactly what she's doing and why, though he replies that she's looking crazy again. Just then a woman walks by wearing the same heels, and she heads off to ask her about them.
The woman heads into the closed shop, followed by the husband, and Gong-shil peers in through the window to watch. Her view is obstructed by a wall of bags on display, so she imagines herself wearing the heels (as the wife) and tiptoes herself into the perfect vantage point to see the two of them getting awfully chummy.
A flashback to the night of the death confirms it, with the wife overhearing her husband sigh that he has to play the part of the doting partner, and that his wife enjoys hiking… "because she'd never guess she's looking for her place of death." Ack, so he was gonna literally kill her?
The husband had seen her looking in the window and run after her, chasing her through the empty mall. She'd driven off in tears, swerving along the road as her husband chased her, and in her attempt to outdrive him, she'd run into a parked truck.
Gong-shil huddles in shock, and the cheating husband goes on to assure his mistress that his mother-in-law will die soon and everything will become his. Do you mean 'cause she's old, or 'cause you're gonna kill her? He doesn't see, of course, the angry ghost standing right next to him, shedding tears of blood.
Joong-won takes his daily look through his golden telescope at the progressing construction of Giant Mall next door, and Secretary Kim advises him to take care with Cheater Man's store, because it's one of their higher-earning ones. He worries that Gong-shil may make a mistake with the high-heeled woman she followed, who turns out to be that store's employee.
High Heels' grieving mother visits the shop with some food for Cheaty, who plays the part of the dutiful son-in-law to the hilt. They've only got each other now, he says gently, and suggests a hiking trip on a trail that High Heels loved. I guess murder's back on the table.
Gong-shil steps into the store to return the shoe and confront Cheaty with his misdeeds, which naturally puts him on his guard as he tells his mother-in-law that she's totally wrong. Unfortunately he remains calm and collected, which contrasts with Gong-shil's mounting hysteria as she tells Mom that he's a bad person, and that just gets her dragged away by security as she yells, "I have to protect her!"
Kang Woo is alerted to the disturbance, which blows up pretty quickly as a crowd gathers outside the store. Yi-ryung recognizes her and is happy to confirm that her old rival ("You mean the one who was prettier and smarter than you?") has been thus reduced.
Gong-shil gets shoved to the ground and registers that everyone's looking at her like she's lost her mind, her eyes tearing up as she's made the sideshow. It's now that Joong-won arrives and orders her to stand up—and then offers her a hand. He asks if she found the shoe owner, then listens as she points out the husband who's lying about it.
Cheating Husband counters that she's crazy, so Joong-won calls him on the bluff: Let's see who's right. He holds up the shoe that was on his wife's foot when she died—the one Cheaty threw out at the hospital. And wouldn't you know, the sizes don't match. And the one Gong-shil holds is a perfect fit.
Joong-won spots the mistress watching around the corner and has her brought out, wearing only one shoe.
That's enough proof for Rich Mother-in-Law, who realizes the truth. And now Gong-shil delivers the wife's message: that she would watch over him for the rest of his life and join him in his final resting place. Shudder. Now there's a way to keep a guy on edge for life.
Gong-shil returns the shoes to the grieving mother, and the ghost gives her a tearful final hug before making her misty exit.
Yi-ryung wonders idly at Joong-won's rather heroic defense of his employee, since he's definitely not the kind of guy who does things like that. Just then, she sees Kang Woo walking by and flags him down—only to get her arm twisted in a swift martial maneuver.
She drops to banmal right away, acting high and mighty and noting his name. He cuts her off to return to work, and she sputters again. Hee. I could really watch that happen over and over.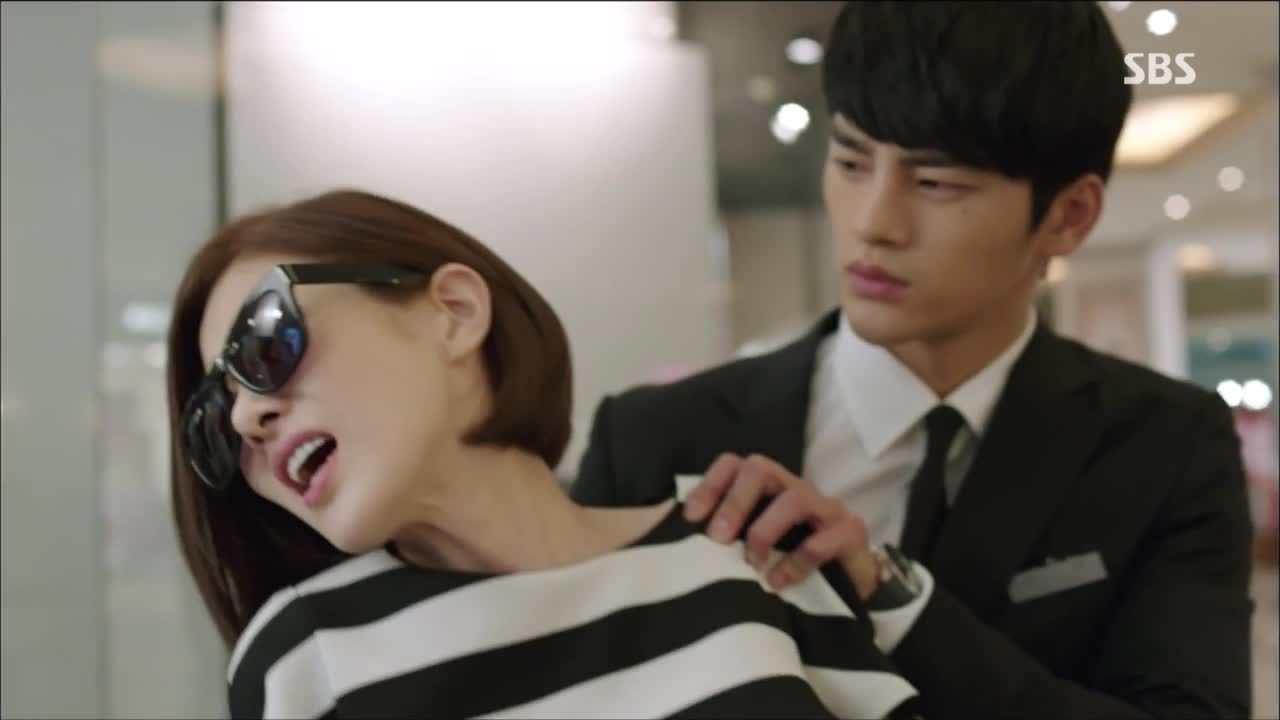 Kang Woo arrives at the shop after the fuss is over—which, by the way, is why you're only the second lead here, always a step behind—and finds that the president settled things personally. He overhears one of his security men worrying that he offended the prez by grabbing Gong-shil too hard, since she's his secret girlfriend and all, which he swears he saw on camera. Kang Woo's jaw tightens, but I'm still not sure if it's out of jealousy or something else. He's entirely too inscrutable.
Gong-shil thanks Joong-won for helping, and he curtly informs her that he did it for himself only. She had nothing to do with it—it's just that the guy betrayed him by signing a contract with Giant, so this was his revenge. She wonders if he kept his eye on him at the hospital because he felt sympathy, and he sticks to his line that he just happened to see things he had no intention of seeing.
A flashback takes us back to the night he was driving himself home from the hospital, only to be led back to the hospital by either an errant GPS or a terrible sense of direction. It was then that Joong-won had seen the husband throwing away the shoe, which he insists now was just coincidence.
Gong-shil smiles and says that people often find things in completely unpredictable places or end up in strange locales, chalking it up to random luck or misfortune. "But it's not coincidence," she says. "It was a right turn."
He starts at that—you can practically see that his blood just ran cold. A right turn was the strange direction his GPS lady had issued, and now we see that High Heels had been sitting next to him when that happened.
Nervously, he tells her to stop with the useless talk, just as Gong-shil recoils at something up toward the ceiling. Joong-won's gaze darts around furiously, and she chuckles and says she's just found her special use to him.
She can see Hee-joo, after all, and would be conveniently on hand to pass along messages. She leaves in high spirits, while he looks a lot less thrilled at the prospect of encountering Hee-joo again.
Joong-won's aunt takes Uncle VP off-guard by wondering whether he saw her for her money first, but reassures him that it's okay with her. After all, pretty women age and perky boobs sag (his eyes flick downward at that, ha), "But my money will never dry up." So all he has to do is remain loyal and steadfast, and she's happy. Uncle VP sits up straight and insists his love has never wavered. She accepts that, with the reminder that it had better stay that way. She draws a line across her neck to remind him what betrayal would mean. Heh.
Gossipy Security Guard invites Gong-shil to a work dinner that night, thinking to suck up to the boss's secret girlfriend. She lights up at the thought of participating in such a common work experience, but glumly declines—she can't get drunk, she reminds unni. But Gong-ri urges her to go and "receive that energy" (heh) from Kang Woo.
So both sisters join the security team at their drinking party, where Kang Woo keeps a particularly close eye on her. Gong-shil sticks to cola but gets an accidental taste of some liquor, and unni hastens to put her next to Kang Woo.
Despite the headache that encroaches, Gong-shil informs him that she's not drunk, because it turns her into another person. He says that's the case for everyone, but she says meaningfully that it really does turn her into someone else. Ha, now I'm picturing the Hulk. She turned into a parrot for Best Love; what does Master's Sun have in store?
Joong-won sits thinking of Hee-joo, which brings us to another flashback:
Teenaged Joong-won asks Hee-joo if she likes him just because he's rich, and she hesitates before answering. He asks if she's doing it to make him feel bad, and she says she's doing it to make him feel better—since it would be worse for her to admit it straightaway.
He starts to walk off in a huff, but she knows him well enough to know that just calling his name three times will be enough for him to get over it, and proceeds to demonstrate: "Joo Joong-won! Joo Joong-two! Joo Joong-three!"
He calls her pun lame, but laughs all the same.
In the present, he stalks through his mall in a dark mood, calling her a bitch, and heads out of the building. Drunk Gong-shil recognizes him standing outside, and then spots the ghost standing behind him. Hee-joo turns around and clocks Gong-shil standing there.
Kang Woo makes another one of his suspicious phone calls to report that Gong-shil does appear to be "specially connected" to Joong-won. However, he hasn't yet ascertained whether she has a link to Hee-joo, and will look into it further. Hm, so are you working in Joong-won's interest, or against it?
Gong-shil walks all the way (presumably having followed Joong-won) to his apartment and rings his buzzer. He comes out in annoyance, wondering at her boldness, offended when she calls him the very familiar "Joong-won-ah." Ohhh.
He fires her and orders her to get lost. Gong-shil asks, "If I call you three times, will you let go of your anger? Joo Joong-won. Joo Joong-two. Joo Joong-three."
He freezes. She smiles.
He tells her this isn't funny, and asks what her deal is. She replies, "It's me. The bitch you hate."

COMMENTS
Ack! Is she possessed now? Is that her alcohol-induced weakness? Okay, I'll give her that—it that happened to be my drinking habit I'd never taste a drop again either. Perhaps it makes her susceptible to body takeovers, or maybe the ghosts are just more able to make her their literal mouthpieces by feeding her words to say. In any case, it's a way to make her already terrible curse even worse.
It's also a way to make literal the romantic conundrum of the whole first-love-makes-way-for-new-love conflict, isn't it? Way to juice up that issue on a whole new meta level by possessing the body of one with the soul of the other. Albeit only temporarily, and for entirely unromantic reasons. Still, it's the kind of symbolic layering I've come to expect of the Hong sisters, and at least in this case it's a positive expectation.
True, Joong-won's baggage with Hee-joo isn't the straight-up scenario of the unforgettable first love (and thank god for that), and it's mixed in with a hell of a lot of resentment and hurt. But it's fair to say he did love her, so I think it's fair to say he's heading into a world of confusion and romantic angst, which I look forward to.
So far Master's Sun isn't rocking my world, but I do find this familiar story to be handled with enough of a fresh twist that invested in how the story will shake out. I don't expect amazing things of second leads or the ghost-of-the-week storylines, which are thus far merely serviceable, reminiscent of the client cases of Dating Agency Cyrano—some will manage to tweak heartstrings anyway thanks to strong character moments and good acting (like the soccer player) and some will be so simplistic as to make it hard to care (the schoolgirls), but they'll mostly be there to advance the main couple's progress.
And that's where I think the show has got me, because I'm really enjoying Gong Hyo-jin and So Ji-sub together. I have to admit I find his performance a little too close to Cha Seung-won's in Best Love to get absorbed in his portrayal fully; it feels a bit mimicked, with his clipped delivery and line readings. And on that score I really do hope So Ji Sub finds a way to make this more his own, because man is he great at being the smoldering ass and I love his rapport with Gong. Storywise I like how she's already rubbing off on him, in the way that he keeps insisting he doesn't care and is only in it for himself, while his actions completely contradict what he says. It's pretty great.
And the skinship! So many excuses to touch, and I am A-OK with every single one. A drama that builds in the need to get touchy-feely to its premise? You win all the brownie points.
RELATED POSTS
Tags: featured, Gong Hyo-jin, Master's Sun, Seo In-gook, So Ji-sub