1N2D loses more members, recasts for Season 3
Speaking of variety shows that have gone on too long, there's a large-scale shake-up in store for KBS's once-flagship Sunday variety show 1 Night 2 Days. On the heels of losing its youngest member, Joo-won, the show is also losing its main MC, Lee Su-geun… and potentially (probably) three others.
My first reaction was that this already flagging show is now bleeding members, and that they should really just cancel the thing rather than dying off one member at a time. Even if Su-geun were the only one leaving, he would be a big loss to the show, as he's really the only one left with that glib MC persona to fill in gaps and smooth along proceedings. Immediately after the initial news broke, there was a flurry of counter-announcements, "it's not final" clarifications, and "We're thinking of replacing the whole cast" additions. It's been quite a day of announcements.
The show reportedly had been considering replacing three of its existing members and bringing in three new faces. While that hasn't been yet finalized, the names up for departure are mat-hyung Yoo Hae-jin, food-obsessed Sung Shi-kyung, and class clown Kim Jong-min. (That leaves "Dog Feet" Uhm Tae-woong and Bad Luck Magnet Cha Tae-hyun as remaining members.) The producers were aiming to bring in the replacements by the end of November, where they'd do the metaphorical baton pass between the exiting cast and the incoming one and kick off Season 3. However, Su-geun's decision to leave seems to have been a rather sudden late addition, which may explain why the news was all over the place these past 12 hours.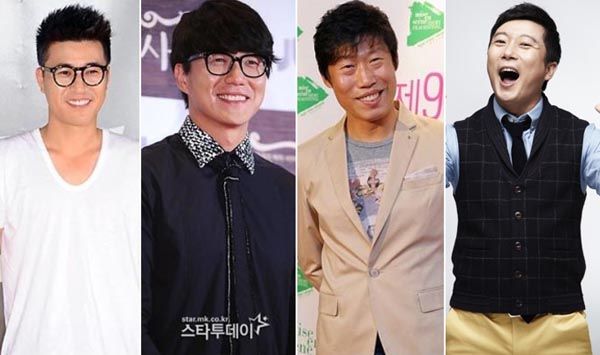 Kim Jong=min, Sung Shi-kyung, Yoo Hae-jin, Lee Su-geun
Furthermore, the turnover extends to the crew as well, with a new PD and CP being brought on to take over for Season 3. (Probably a good thing, as I never warmed to New PD, who managed to tank the show in a remarkably short period of time. He did improve, but he was never a good director for the show, and didn't get anywhere close to the genius of Na PD or the awkward hilarity of Bird PD.)
Up for the new cast? Guitarist-vocalist Yook Joong-wan of the band Rose Motel, idol star Min-ho of SHINee, and singer John Park. Huh, maybe the new PD is a music fan?
I have a lot of affection for 1N2D, though I was never a die-hard fan of the original and therefore less invested in the outcome of this long-running series. Still, there's something to be said for a shelf life of a concept, and over six years in, there are only so many ways you can make the same six or seven guys drink bitter tea or play rock-scissors-paper for dinner. If you're going to basically get rid of your main producers and most of your cast (at this point, I wouldn't be surprised if Tae-woong and Tae-hyun opted for a clean exit too), why not just reconceive the whole thing instead of trucking out a Season 3 that'll be little like its predecessors anyway?
The last trip with the current lineup will be shot on November 8, and then… well, we'll see.

Yook Joong-wan, Min-ho, John Park
Via Sports Chosun, No Cut News, Sports Seoul
RELATED POSTS
Tags: 1N2D, Cha Tae-hyun, Joo-won, Kim Jong-min, Lee Su-geun, Min-ho, Sung Shi-kyung, Uhm Tae-woong, Yoo Hae-jin