Age of Feeling: Episode 15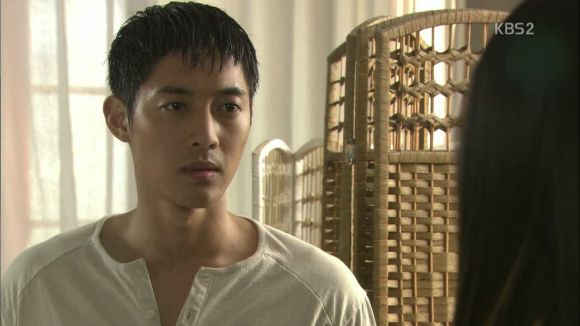 Our hero causes an upset in his world of gangsters and politicking by taking on a new father in order to exact revenge for the old one, while his former flame finds out more about the woman her mother once was and how everything begins and ends in Shanghai. (Seriously. Everything.) At least there's a little levity among all the scheming and violence, along with a blink-and-you'll-miss-it blast from the past that's all but guaranteed to put a mysteriously charming smile on your face.
SONG OF THE DAY
YERY BAND – "Romeo Mannequin (로미오 마네킹)" [ Download ]
Audio clip: Adobe Flash Player (version 9 or above) is required to play this audio clip. Download the latest version here. You also need to have JavaScript enabled in your browser.

EPISODE 15 RECAP
Even after Shinichi receives one of Baek-san's finishing moves, he continues to fight until a group of Kaya's henchmen come to fetch him on her orders. Shinichi refuses at first, wanting to finish the fight, but acquiesces immediately when the henchmen show him a mysterious black bag.
Baek-san acts all friendly to Jung-tae after the fight, though Jung-tae's not too keen on returning the kindness. He promises to repay the debt he owes Baek-san (for saving him from Shinichi), but there's something darker in that promise—he's talking revenge.
But Baek-san, none the wiser, tells him that he owes him nothing: "Hwangbang will always protect you." Oh, you mean when Hwangbang isn't trying to kill him?
Kaya gets another chance to ask Leader Seol who killed her mother, but instead of answering her directly he tells her about her mother; the way she lived and the way she was loved at Club Shanghai, even though she was the highest female on the yakuza food chain.
As we hear him tell his story, Kaya enters the room where she's been staying at Club Shanghai—the very same one her mother once occupied when she was there with Denkai during the war. (Which war? Not sure. The first Sino-Japanese War seems too old, could be the Russo-Japanese War, or even World War I. If someone knows, shout it out!)
Kaya clutches her mother's picture and sheds tears as Leader Seol's story continues in voiceover, as he describes her mother as so sweet and caring that she could melt the hearts of her enemies. She was so venerated that the room she occupied stayed untouched when she left, even by Daddy Shin.
She rushes to wipe away her tears when Shinichi comes calling to tell her that he's sure Jung-tae has figured out that Baek-san was involved in his father's death.
In that sense, Shinichi's fight with Baek-san seemed planned just so that Jung-tae would come to this realization, since Kaya tells him that he did well. But her demeanor turns defensive when Shinichi pries about what Leader Seol may have pretended to know about her mother's death, which causes Kaya to tell him that the rumor mill claimed that her father and mother had two different murderers.
But then she shuts Shinichi down from any further questioning, because to her, he has no business asking about what she does and doesn't know about her mother's death.
Now that Jung-tae's witnessed Baek-san fighting, he tries to piece together how he moves and where his weak points are in his mind by staging a mental battle with Baek-san. Even then, he can't out-maneuver the man, and even in his fake battle with him, Jung-tae ends up losing.
So Jung-tae decides to strengthen himself up through a training montage (everything's better in a montaaaage), replete with an uplifting jam and a Rocky-esque running sequence.
But Old Man Fly, who's been watching Jung-tae train, grills him on why he's trying to become stronger. Is it just for revenge? Jung-tae replies that there's another reason, but refuses to elaborate. When Old Man Fly then asks him who he thinks the owner of Bangsamtong is (as though he's testing him), Jung-tae replies offhandedly, "Jung Jae-hwa?"
This earns him a solid tsk-ing by his elder, who shakes his head about how much work Jung-tae has to do—if fighting begins with the brain, then Jung-tae's got a looong way to go. (His words, not mine.)
So-so comes upon Jung-tae right as he's getting out of the bath, but acts like there's not a beautiful naked man in front of her. When Jung-tae asks for a bit of privacy to dress, she dismisses him with an, "Oh, was there something worth seeing?" Haha.
He catches a glimpse of Ok-ryun all dressed up on her way to a singing audition, with So-so acting as her manager. But when So-so bumps into a mysterious man on the street and almost trips, he catches her.
She stares dreamily into his face while we only see his nose and chin… but it's Il-hwa. IT'S IL-HWA, YOU GUYS! (And aww, KBS, did you get a wittle fan backlash for cutting him? Serves you right.)
Aoki meets with the Chilinbang elders (which includes Leader Seol) as the new intelligence director now in charge of Shanghai's security, and Chilinbang by extension.
He suggests a total overhaul of their security regulations, which Leader Seol is opposed to on the basis that they've been running things the same way for twenty years. I love the passive-aggressiveness between both Aoki and Leader Seol, because as polite as Aoki seems, he's already implemented the changes he wanted with or without their approval.
He was just notifying them out of courtesy, which makes Leader Seol (formerly in charge of law and order in Chilinbang) very, very angry. I'm Team Aoki on this one—that old man deserves to stew for a bit.
Afterward, Aoki gives a lackey ready to commit suicide for his mistakes one more chance to make them up, but we don't hear the request. (Are we supposed to know who this guy is? Because I don't.)
Jae-hwa ends up holding auditions for new acts at Club Rome, but the hands-down best act comes from Old Man Fly, who tries to perform a magic trick where he puts one of his men in a coffin and stabs it with knives… only he ends up stabbing the guy for real, and blood comes squirting out of the coffin like someone turned on the world's most morbid water hose on inside. Hah.
The last one to audition is Ok-ryun, who gives a moving if not horrifyingly lip-synced (she mouths the word "where" when the recording omits the word and moves straight to "…troubles melt like lemon drops"), rendition of "Over the Rainbow" which wins the room.
Kaya and Jung-tae run into each other outside the temple where she's been paying respects to her parents' memorial tablets. Jung-tae approaches her cautiously to ask for some real answers, like how his father died and whether he suffered.
She finally tells Jung-tae the truth they both know, that she killed Daddy Shin only because he asked her to save him from his pain. Jung-tae: "Did you send him away peacefully, without causing him pain?"
Kaya eases his anxiety by reassuring him that she did indeed make sure that his father went painlessly and peacefully. For that, Jung-tae earnestly thanks her.
But Kaya has some advice for him, which she delivers through a pained expression: he should leave Shanghai now if his quest is too difficult, since he has someone he wants to be with and somewhere to go. Unlike her previous threats delivered with force, she seems to be warning Jung-tae when she says that she can't let anyone get away with obstructing her path as Ilgookhwe's representative in Shanghai. And that includes him.
Jung-tae has attracted a crowd around him as he kneels formally in front of Hwangbang's entrance, holding his father's memorial tablet in his arms. When Leader Seol comes out to greet him, Jung-tae gives him two odd, but likely very calculated, requests.
The first request is that his father's memorial tablet find eternal rest in Hwangbang. This is a great honor for Leader Seol, but he can't hide how wary this makes him—though he'd be mad to refuse with all the onlookers. (I wonder if going through such formal and public channels was part of Jung-tae's plan.)
The second request is that Leader Seol accept him as a son, since Jung-tae is now an orphan. Leader Seol is completely taken aback, but still can't refuse with everyone watching. When he does accept with a fake smile plastered on his face, the audience cheers that the son of Shanghai's owner is now Leader Seol's son. Jung-tae's face remains impassive.
News of the new father-son coalition reaches Jae-hwa through Dokku, who wants to become Jae-hwa's minion. The reason this bodes ill for Jae-hwa is because of the strength that Jung-tae will bring to Hwangbang, though he tries not to worry. He's got the rights to Club Shanghai still, and the autopsy documents that can ruin Hwangbang in one fell swoop.
Kaya hears of the same news, but denies that the father-son relationship will be anything but superficial. Even if the new union means that Hwangbang and Bangsamtong will grow closer and become a threat to Ilgookhwe.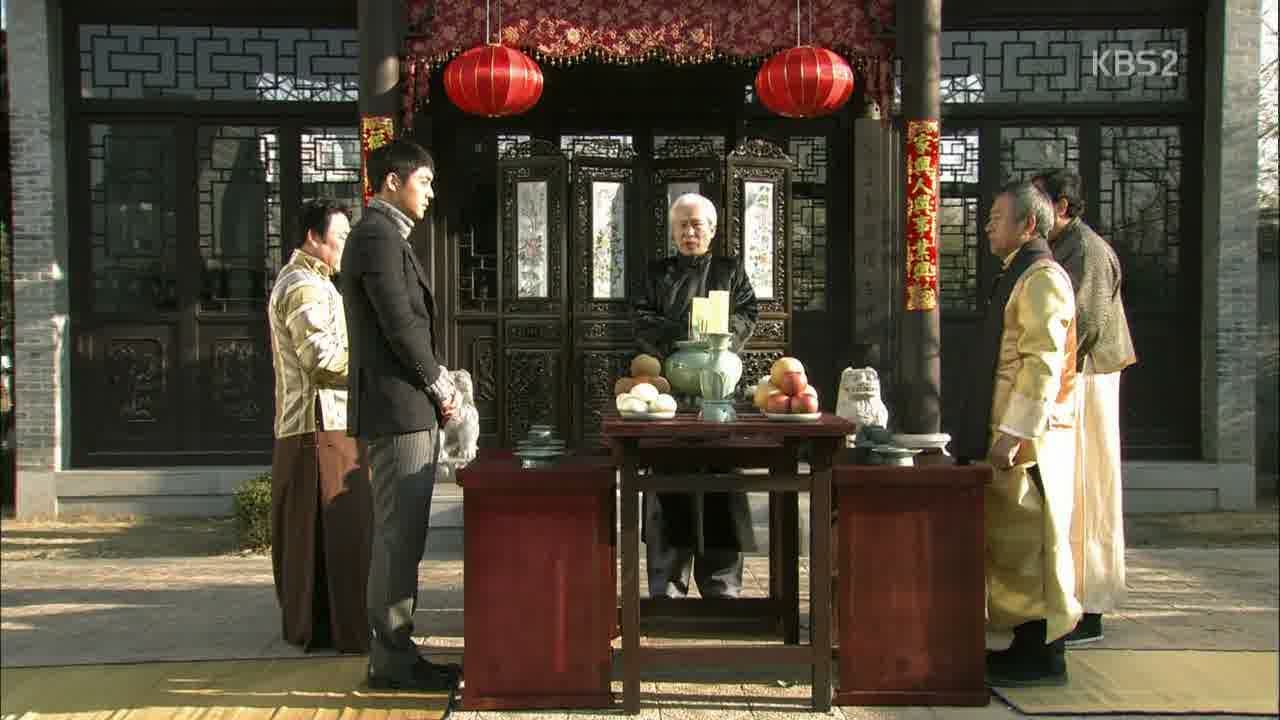 Meanwhile, Jung-tae and Leader Seol go through the elaborate ritual for official adoption, which isn't too unlike a wedding. Jung-tae seems strangely distant as he offers the requisite bows and thanks to Leader Seol, not only for taking him in as a son but for the lifelong debt he now has to repay.
If you were wondering why Daddy Leader Seol seemed uncomfortable through the whole process, it's because he was. Once they're in private, Baek-san reveals how firmly against Jung-tae's adoption he is by reiterating that they can't control Jung-tae, and now they've just given him loads of power.
Jung-tae seems to have thought this out, since Baek-san tells Leader Seol how bad of a predicament he'd be in if he were to kill Jung-tae now that he's been declared his father. If it were up to Baek-san, he'd have Leader Seol end the relationship and kill Jung-tae now.
Leader Seol loses his temper and slams his hands against the armrests, since he already knows everything Baek-san is telling him, and how powerless he was. But he argues that there was nothing he could do when Jung-tae asked to become his son with all those people watching—if he had refused, he'd never be able to recover in their eyes.
Baek-san still insists that he give the order to kill Jung-tae, and that he'll do it in such a way as not to harm Leader Seol's reputation. But the old man adamantly refuses, which turns into a blown-up argument between the two of them.
They're interrupted when Leader Seol's new son arrives, and Jung-tae even dutifully calls him "Father". He wants to return to Bangsamtong to learn how to run Club Shanghai under Jae-hwa, which just so happens to be what Leader Seol wanted him to do.
"I'm now the owner of Bangsamtong," Jung-tae deadpans, like the good son he's pretending to be.
For more commentary, we turn to Kaya and Yamamoto, who've become this show's analytical correspondents. Though the unwritten law is that Jung-tae can't kill Daddy Leader Seol and vice versa, Kaya thinks that Jung-tae's plan has to do with the fact that he can subvert that law since Leader Seol was behind his true father's death.
So in essence, Jung-tae gained protection for himself by fooling Leader Seol into thinking that they're operating under a mutually assured destruction agreement, when really he can kill Leader Seol with impunity for revenge. Orrrr can he?
Aoki and Shinichi have a talk about Kaya's future, with Shinichi finally realizing that killing Jung-tae (which Aoki would prefer) would only make Kaya more hateful toward Ilgookhwe. Not to mention, it would start a war between Kaya and Denkai not unlike what happened with her mother.
Shinichi then asks the arrogant Aoki whether he's acting out of sincerity or because he wants Kaya's affection. Aoki all but shrugs: "Is there a reason why I can't cherish Kaya in my heart?" He then brings up the torch Shinichi held for Kaya's mother, and how that didn't turn out so well. Ha, I do like Aoki's brashness.
After a short physical spat between the two, Aoki swears that he won't make the same mistake Shinichi did with Kaya's mother. "It won't happen this time. I, Aoki, will prevent it from happening."
But Shinichi warns him to hide his affection for Kaya—even though he's Denkai's adopted son, Denkai won't forgive him for loving his granddaughter. Aoki doesn't seem to listen as he proclaims that Ilgookhwe will be remade into a new organization by whoever is able and willing.
Of course, Aoki thinks he's the man for the job, and Shinichi knows as much as he murmurs afterward: "A new war will start because of you, Aoki."
Jung-tae's arrival at Jae-hwa's place comes just in time—Jae-hwa was about to risk everything by going to Hwangbang to reveal the autopsy report. Jae-hwa thinks Jung-tae is there for a fight, only to be completely taken aback when Jung-tae defers to him by calling him hyung-nim.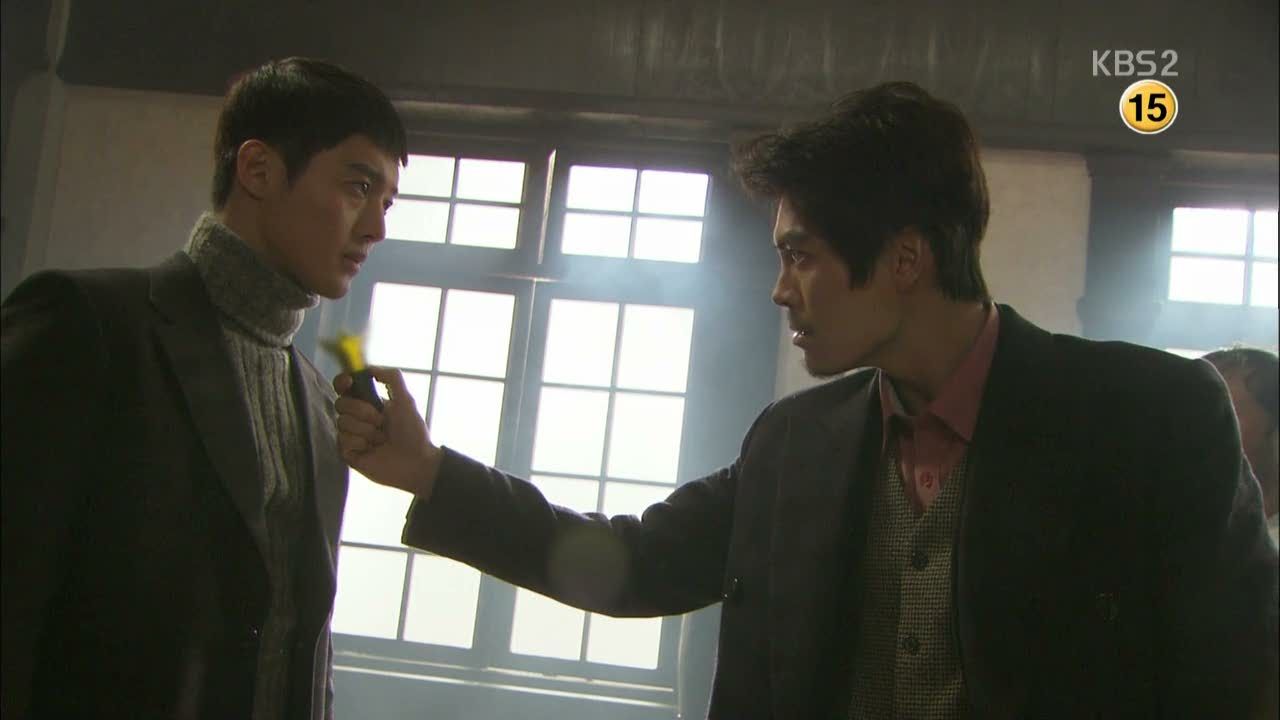 Jae-hwa starts laughing at the incredulity of the situation: "You made paternal ties with Leader Seol, now you want to make brotherly ties with me?"
He doesn't buy Jung-tae for a second, and holds a broken bottle to his neck as he grills Jung-tae over his choice to serve under him. Jung-tae remains stone-faced as he tells Jae-hwa that he found out who killed his father and wants revenge, and figured the best way to do it would be to train under Jae-hwa.
When Jae-hwa asks why Jung-tae chose him above all the other sides (aside from the fact that he chose Hwangbang by getting adopted in), Jung-tae replies: "At least you didn't stab my father in the back."
After ironing out the details—which include Jung-tae promising to obey Jae-hwa's every whim—Jung-tae gets his first lesson in boxing, Jae-hwa's favorite sport. Jae-hwa wants to find out whether he's soojin (hand-trained) or sanjin (wild and untraned).
I love that Jung-tae is legitimately super confused when the rules are explained to him, like how he can't use his feet. Jung-tae: "Why?" Minion: "Why? Just… just because." Hah.
After he uses his lightning-fast learning skills and wins the fight with the use of his feet, Jung-tae acknowledges that he broke the rules. Jae-hwa's all, "Who told you you couldn't use your feet? You were in a kickboxing match." Hah.
It's more serious than it is funny, since the lesson Jae-hwa imparts to Jung-tae is that he must win by any means. There are no rules. "In order to seek revenge, you just have to win," Jae-hwa tells him. "In order to protect what you want to protect, you just have to win. So when you fight, there are no rules. Got it?"
After declaring to his minions that Jung-tae is now second-in-command and therefore above them in status, Jae-hwa tosses Jung-tae some cash so he can buy himself a properly pimped out gangster suit.
While Leader Seol tells Baek-san that he'll give Club Shanghai to Jae-hwa in order to teach Jung-tae a lesson, Ok-ryun and her friends toast to her getting hired to sing at that very same club—even if she'll only be a backup singer for now.
They're surprised when Jung-tae comes home in his new digs, with So-so being the first to tell him that he'll be working at Club Shanghai together with Ok-ryun, since she got hired too. Aw, it's adorable how happy he is to learn of Ok-ryun's success, even if she is just a backup singer. He's still just as supportive as if she were the main event.
Now that Club Shanghai is officially Jae-hwa's, he and the whole gang head to their new home, which means Ilgookhwe has to leave it. Kaya is Not Pleased about this, and stresses to Jae-hwa, "Until I come back for it [Club Shanghai], I leave it in your hands."
She stops to have a private word with Jung-tae in order to ask that he preserve her mother's room. She doesn't even finish her sentence before Jung-tae says, "I'll protect it. While I'm here, I will protect your mother's room as it stands."
Kaya nods appreciatively, before heading outside to inadvertently bump into Ok-ryun. It's the first time they've seen each other in years, but their demeanor toward one another hasn't changed. Kaya makes an elitist jab about how she went on to rule Ilgookhwe as its daughter, while Ok-ryun went on to become a (lowly) singer as the daughter of a (lowly) gisaeng.
"Don't make things harder for Jung-tae," Ok-ryun warns, and adds that she knows Ilgookhwe has its eye on Club Shanghai and Bangsamtong. Kaya all but sneers that if Ok-ryun doesn't like what Jung-tae is doing, she can leave.
Again Kaya brings up the whole parental lineage thing when she mentions that Jung-tae, as the son of Shanghai's owner, chose to live as a fighter because that's his fate. In effect, she's implying that they each have their own fates, but Ok-ryun's just happens to be meaningless (comparatively).
Shinichi finally works up the huevos rancheros to tell Kaya how he feels—but because of her tearing into him about how it's not his place to warn her, he uses the safety of metaphors to say that Kaya needs to put down the heavy, Jung-tae-sized stone she's been carrying around.
Her response puzzles him: "Have you ever thought that the heavy stone I'm carrying may not be about Shin Jung-tae? If I ever seem overwhelmed by that stone, then you must kill me." Obviously, Shinichi's answer is a huge N-O.
While club-wielding thugs break into Club Shanghai, Jae-hwa's unaware minions occupy themselves outside by fighting Dokku in an effort to establish a proper pecking order.
But they weren't expecting Dokku's viciousness, as he even uses a weapon to defend himself after telling the boys that he's third after Jae-hwa and Jung-tae, and that he's implementing Jae-hwa's teaching to win at any cost by using a weapon.
The fight gets ugly, especially when Jae-hwa's lackey uses a hidden blunt object to finally down Dokku. Their next target? Jung-tae.
The club-wielding thugs in the club (har) are there because Leader Seol spread a rumor that Club Shanghai was without an owner. Even though Jung-tae tells them it's Jae-hwa, they don't care—they're there to conquer and take the club for themselves.
With the boys erstwhile occupied, only Jung-tae and Jae-hwa are left to fight off the hoarde.

COMMENTS
It was good to see Jung-tae find a way to outmaneuver Leader Seol, since it finally gives him a more active role to play in the ongoing gang politics—which were, admittedly, way more fun when they weren't in Shanghai.
Even though I like where we arrived with Jung-tae's plan to create a safety net by becoming the adopted son of his enemy, it's how we got there that's so out of place, because we never even saw the idea enter Jung-tae's skull meat (Inception-style), before he was suddenly just doing. We got the payoff without any of the lead-up, and while I wouldn't want to see Jung-tae just thinking out loud for a whole hour, we went from watching him do and say completely unrelated things to him suddenly kneeling outside Leader Seol's door, plan already thought out and firmly in motion.
And while it's a positive step forward for him, it's also veers on being an uncharacteristic one too.. Jung-tae is certainly going through his share of changes as he learns more about the seedy world his father once ruled, but c'mon, he went from an "I must become stronger!" training montage which required what he's best at—physical strength—to suddenly masterminding a complex plan to enact revenge on his father's killer and his organization? He's 100% believable in what he's doing, and this can-do attitude suits him so much better than the time he spent being passed around like a toy, but he's also becoming more and more closed off as he goes deeper into his own plans.
So while I'm all for a bit of unpredictability, the fact that we had no earthly idea what Jung-tae was going to do before he did it just doesn't sit quite right. Lately we've been seeing so little of him outside of fights, and it's that in-between time I miss, since it was our only chance to even try to get a peek into Jung-tae's head. Maybe I'm just being a little overcautious after watching twenty hours of Shark, where the hero was a revenge-seeking and completely unreadable cipher. Please, please don't make Jung-tae into a revenge-seeking and completely unreadable cipher, okay, Age of Feeling? Can't we find some children for him to save, or more baths to take?

RELATED POSTS
Tags: Age of Feeling, featured, Im Soo-hyang, Jin Se-yeon, Kim Hyun-joong, Kim Jae-wook