Song Joong-ki courted for sci-fi fantasy as post-army comeback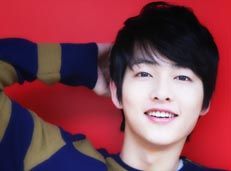 Hm, so looks like the sci-fi action blockbuster Fist Fighting is still looking for a leading man, with Song Joong-ki (Nice Guy) emerging as the latest name in contention, and before he's even been released from army duty. According to a statement made on the 30th by a source with the film's production, Song is looking at headlining the film, although his management quickly countered by saying that Fist Fighting is only one of many offers on the table, and that for now he is focused on completing his service.
The film has had trouble locking down a leading man, beginning with its initial choice, Jo In-sung (It's Okay, It's Love), who dropped out of the project when shooting was postponed. The project was dormant until the decision was made to co-produce the film with Chinese partners with a hefty 20 billion won (20 million dollars) production budget, and producers selected Yeo Jin-gu (I Miss You) to lead… only to then dump him (after contracts were signed, to boot) while trying to nab Kim Soo-hyun (You From Another Star), who was experiencing a huge surge of popularity in China. (To his credit, Kim refused as soon as he heard of the situation, leaving the film with neither star.) Yoo Ah-in (Secret Love Affair) was also at one point in the mix as a potential lead, but did not bite.
It's too bad that the project is struggling since I find the sci-fi fantasy premise of the movie intriguing: Set in a near future suffering an energy shortage, the high school hero happens upon a mysterious village of criminals. The village, which is on the verge of being destroyed by greater powers, also harbors the secret to procuring endless energy. The hero cannot stand by in the face of injustice and joins in with the villagers to help them fight back against their oppressors. It sounds epic and large-scale, and with the director of Welcome to Dongmakgol at the helm, I'd expect a creative, quirky result.
But that's if the project can manage to cast and meet its goal to begin filming this year, and securing a leading man is a pretty crucial step. Here's a hint: When you find him, don't go behind his back looking to upgrade this time!
Via Newsen
RELATED POSTS
Tags: Song Joong-ki