51st Baeksang Arts Awards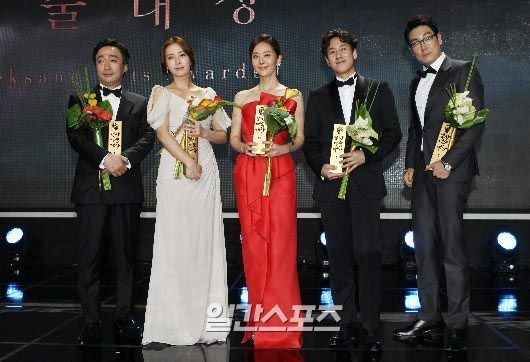 The Baeksang Arts Awards are back with their 51st installment, awarding prizes in both film and television. Most of the entries were fairly predictable, though the night wasn't without a few surprise wins.
One of the big surprises was variety PD Na Young-seok being named the Daesang winner in the TV category; although I wouldn't have been at all surprised had he won the variety program award, it's a rarity (a first, I believe) for a variety PD to take home the grand prize. But with his track record and Midas touch, there's no denying he deserves the honor.
The best part had to be his flustered acceptance speech — the win clearly caught him off-guard — where he rambled a bit about how he might never stand up there again and would thus say what he wanted to say. That included making only-partially-joking comments about how in the variety world, "even more than awards, we like ratings" and how the second season of Three Meals a Day, which airs weekly on Fridays opposite The Producers, is even more fun in its second season, and if you happened to tire of watching Producers, you could switch the channel to tvN and catch Park Shin-hye on the show this week.
Since the television Daesang didn't go to an actor, that did mean there was one less acting honor to go around. And while I'd almost feel it was a travesty to snub Ji Sung (Kill Me, Heal Me), I can't argue that the award went to the wrong guy, because Lee Sung-min was equally tremendous in Misaeng.
On to the winners: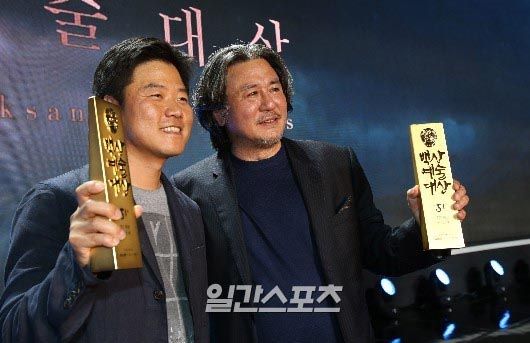 WINNERS LIST
FILM SECTION
Daesang: Choi Min-shik (Roaring Currents)
Best Picture: Revivre
Director: Kim Sung-hoon (A Hard Day)
Top Excellence, Actor: Lee Seon-kyun, Jo Jin-woong (A Hard Day)
Top Excellence, Actress: Yeom Jung-ah (Cart)
Supporting Actor: Yoo Hae-jin (The Pirates)
Supporting Actress: Kim Ho-jung (Revivre)
New Actor: Park Yoochun (Sea Fog)
New Actress: Chun Woo-hee (Han Gong-ju)
New Director: Jung Ju-ri (A Girl at My Door)
Screenplay: Kim Kyung-chan (Cart)
Popularity Award, Actor: Lee Min-ho (Gangnam 1970)
Popularity Award, Actress: Park Shin-hye (Tailor)
TV SECTION
Daesang: Na Young-seok (Grandpas Over Flowers, Three Meals a Day)
Best Drama: Heard It Through the Grapevine
Variety Program: Abnormal Summit
Educational Program: KBS Global Cooking Project
Directing: Kim Won-seok (Misaeng)
Top Excellence, Actor: Lee Sung-min (Misaeng)
Top Excellence, Actress: Song Yoon-ah (Mama)
New Actor: Im Shi-wan (Misaeng)
New Actress: Go Ah-sung (Heard It Through the Grapevine)
Variety, Male Performer: Jeon Hyun-moo (Abnormal Summit)
Variety, Female Performer: Lee Guk-joo (Comedy Big League)
Scriptwriting: Park Kyung-soo (Punch)
Popularity Award, Actor: Lee Jong-seok (Pinocchio)
Popularity Award, Actress: Krystal (She's So Lovable)
InStyle Award: Lee Jung-jae, Shin Mina
iQiyi Star Award: Lee Min-ho, Park Shin-hye
How much do I love that PD Na Young-seok (Grandpas Over Flowers, Three Meals a Day) accepted his Baeksang Award clutching a cell phone? And wearing jeans and a T-shirt? I'm pretty sure this is the fanciest outfit he owns.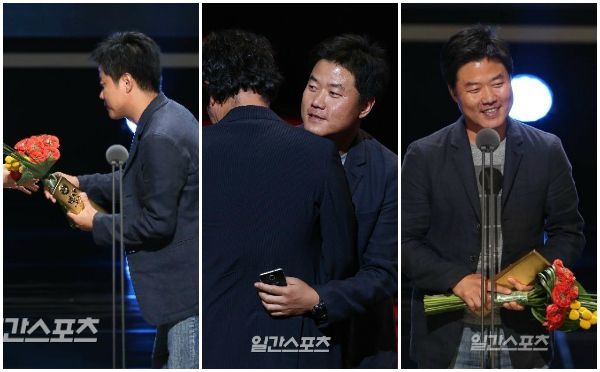 Choi Min-shik takes home a deserved Daesang for headlining the historical blockbuster and box-office record-breaker Roaring Currents.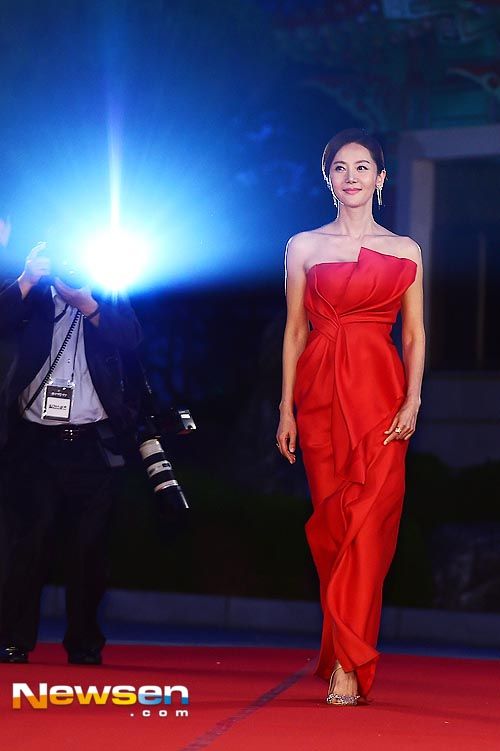 Yeom Jung-ah took home the Top Excellence trophy for her role in the movie Cart, about union grocery workers who lose their jobs and fight for their rights. She's one of several bright red looks for the night, and my personal favorite, with her elegant styling and confidence.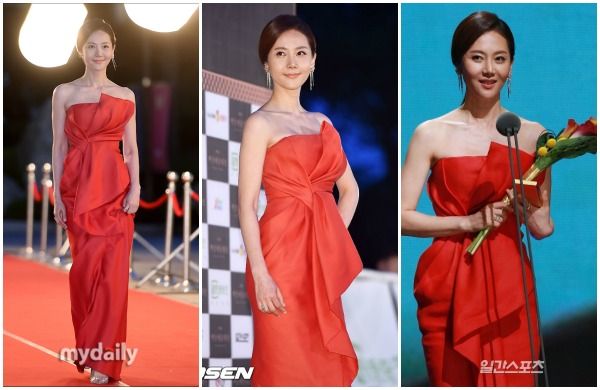 What did you do to your hair, Lee Seon-kyun, and why did you leave the house without fixing it? At least the night was rewarding for him; he took home the Top Excellence for A Hard Day — and so did his co-star/enemy in that film, Jo Jin-woong. I'm surprised that the Baeksangs gave dual awards in the same category, but that is very much a two-top film, with Lee Seon-kyun playing a cop who's driven to some desperate measures to cover up for a hit and run and Jo Jin-woong as the man who knows his secret.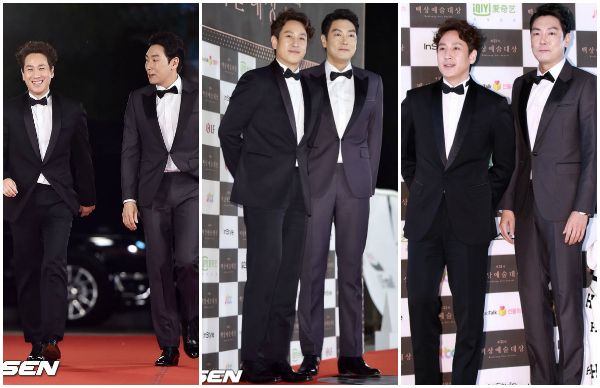 The movie Revivre was named Best Picture, starring Kim Ho-jung and Ahn Sung-ki. I love Kim's look, pairing the soft flowing pink with the bold pixie haircut. As for Ahn, has he ever not been good in anything?
The trio of Shin Dong-yup, Kim Ah-joong, and Joo-won were MCs for the night and walked the red carpet together. You can always count on Kim Ah-joong to look sophisticated and Joo-won to clean up nice in a tux. Shin Dong-yup… should really find some socks.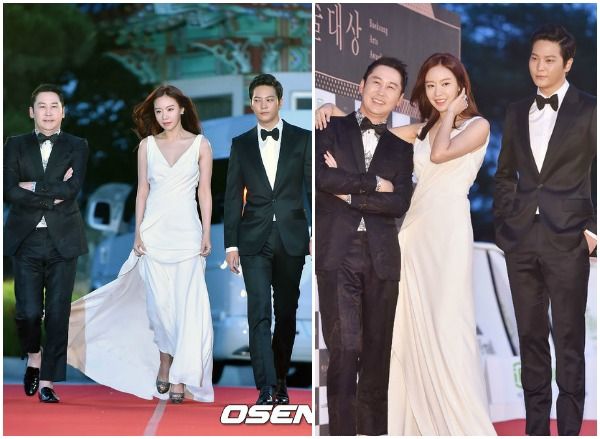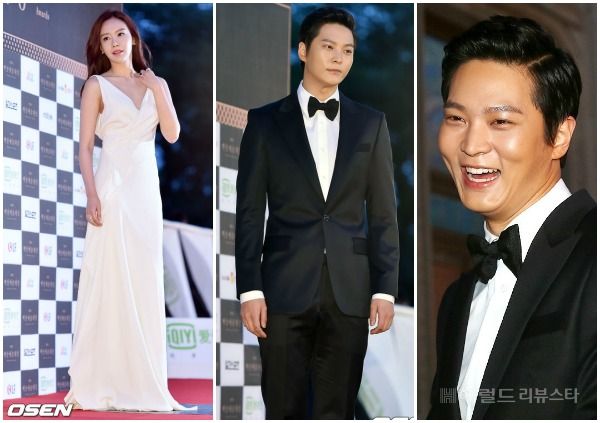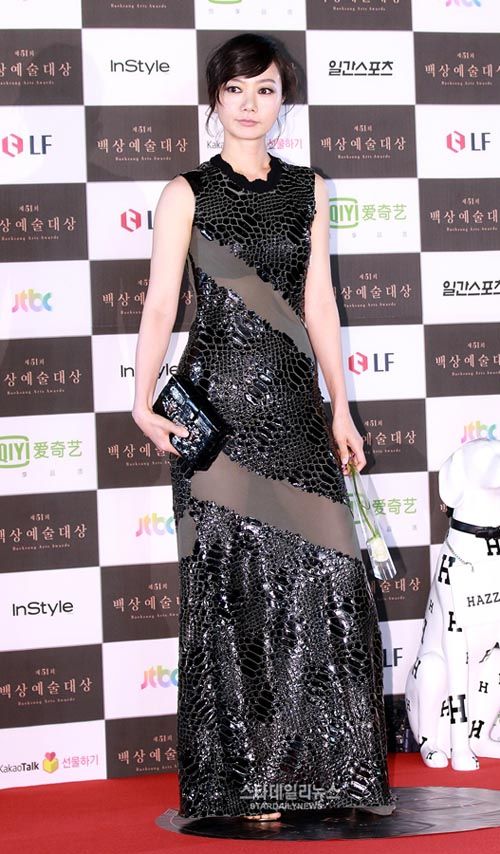 Bae Doo-na was nominated for Top Excellence for A Girl at My Door, though she didn't nab the award. She pretty much killed it in this edgy black number. It's the smoky makeup that really makes the look work — she looks badass and sexy.
Kim Sae-ron (A Girl at My Door) is turning out to be quite a budding fashionista, isn't she? Every awards show since she burst onto the scene with Ajusshi, she's been pulling out looks that are both fashion-conscious and age-appropriate (she turns 15 this summer). She, like Bae Doo-na, was nominated for A Girl at My Door but didn't win.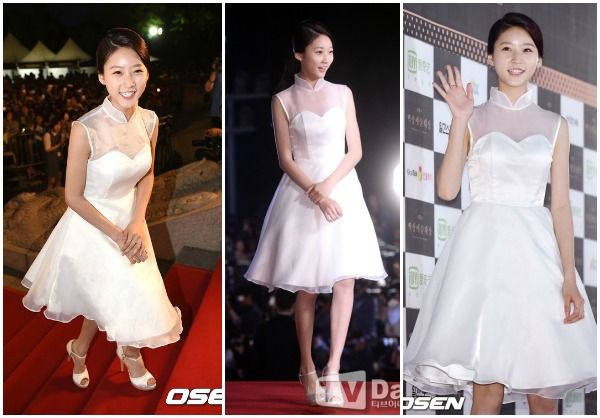 Song Sae-byuk, another A Girl at My Door co-star, was another nominee who didn't win…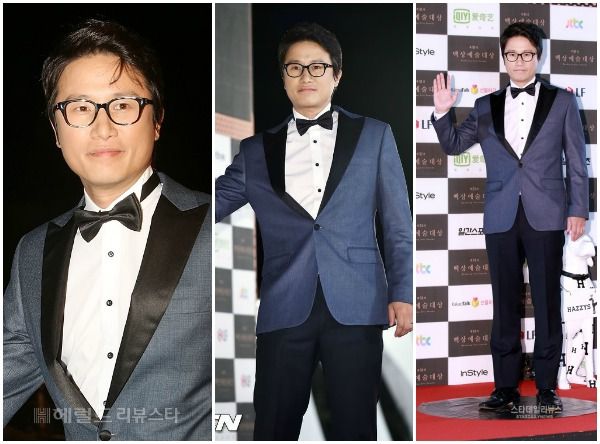 …though I can't be too disappointed when the supporting actor award went to Yoo Hae-jin instead for the period action-comedy The Pirates. (Mostly, though, now I see him as a sad fishing-challenged papa who spent weeks bickering with Chajumma on Three Meals a Day: Fishing Village. It's a good character for him, endearing and wryly funny.)
Yoochun! He won a newcomer award for Sea Fog, though right now the image of his doofy attempts at gag comedy from Girl Who Sees Smells is fresher in my mind. As with many an award-show outing, it took quite a number of tries to find pictures of Yoochun where he wasn't sticking out a tongue or wearing a strange face of some sort, like the awkward kind that reads, Is this what a smile looks like? Am I doing it right? The Chunface, it is everywhere.
His co-star, Han Ye-ri (Sea Fog), was nominated for a supporting actress award, and pulls out another clean, sleek look for the red carpet.
Ah, reliably dapper Lee Min-ho. A lot of the attendees work frequently in both film and television, and some were nominated in both sections, but he was one of the only ones to win in both — a popularity award for his action noir Gangnam 1970 and a Star Award alongside Park Shin-hye (she happens to be the other one to win in both sections).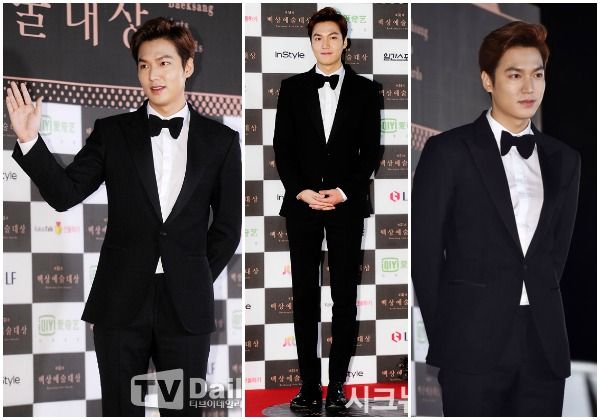 Speaking of Park Shin-hye, she also wins this night on the fashion front, hands-down. She's perfected the art of looking both fresh and safe — not so safe that she's boring, but not so fashion-forward that she risks coming off really random and bizarre. Love the silvery overlay, the cut of the gown, and the way it flows.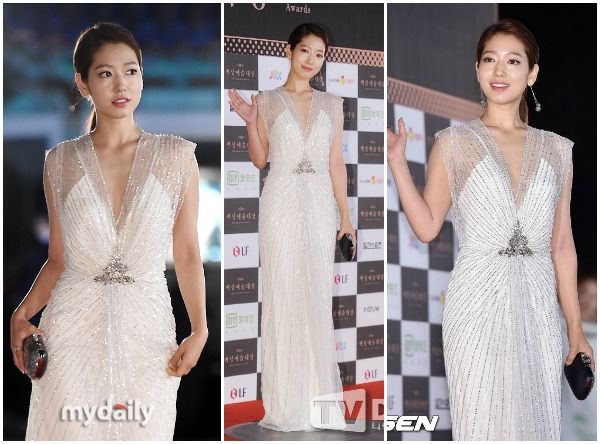 Uh, did newcomer Esom (Scarlet Innocence) forget that the Baeksangs were a formal event? It looks like she was at a lunch meeting at the office that went long and just showed up to the red carpet in her everyday business casual.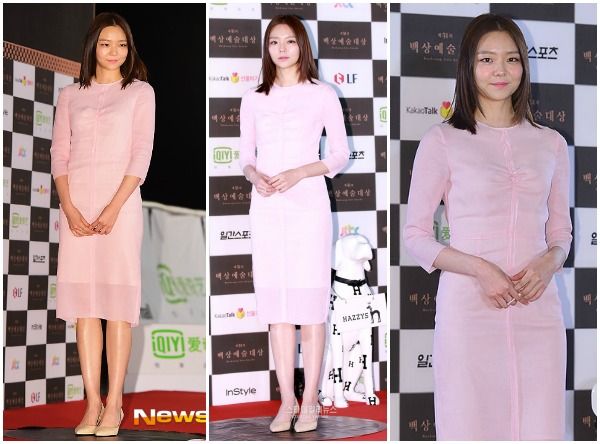 Love the color on Chun Woo-hee, though not necessarily the style of the dress itself. (I prefer Yeom Jung-ah's one-shoulder gown in silhouette.) Still, the makeup is flattering and she looks like a fresh star on the rise, which is what she is after picking up yet another win for her career-making turn in sleeper indie hit Han Gong-joo.
Rookie actress Im Ji-yeon made a splash in the ero-melo romance film Obsessed, for which she was nominated (as was her co-star, Jo Yeo-jung), and has been a new face in the award ceremony circuit. I prefer her in more structured, chic gowns since I know she can carry them, so this peachy draped number feels a bit bland for her, but I suppose it's her year to be the ingénue.
Once again the new actor/actress designation results in a strange winner, because Go Ah-sung has been around for a decade, just mostly in film, but got a newcomer award for Heard It Through the Grapevine (even though she also did the drama God of Study in 2010). She arrived with her co-star Lee Joon, who was also nominated for a newcomer award, though he didn't win his.
I find Song Yoon-ah's win a little perplexing, not because she isn't a good actress, but because the actress category seemed a little scattered this time around. Other nominees included Lee Yuri of Jang Bo-ri Is Here, Park Shin-hye for Pinocchio, Kim Ok-bin of Yoo-na's Street…
…and her Mama co-star Moon Jung-hee, who had a very cute reaction to Song Yoon-ah's win. Moon Jung-hee was also nominated in the film section for Cart, though she didn't get that one either.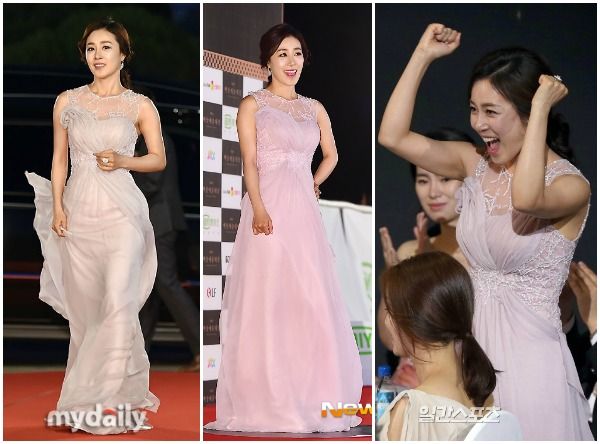 It's the Misaeng crew, back together again! Lee Sung-min and Im Shi-wan both took home well-earned awards for the drama, in the leading and new actor categories, while Kim Dae-myung was nominated for new actor. Below them is another of their co-stars, Oh Min-seok.
Byun Yo-han, another Misaeng alum, was nominated for a new actor award, but in the film category for Socialphobia.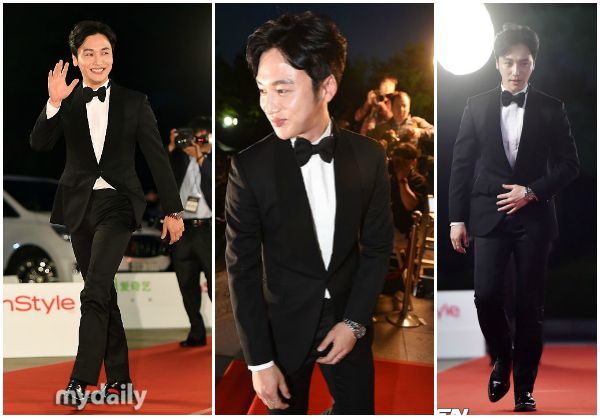 I still can't believe Ji Sung didn't get anything for Kill Me, Heal Me. Well, at least I can be pretty certain he'll be awarded at MBC's acting awards come the end of the year…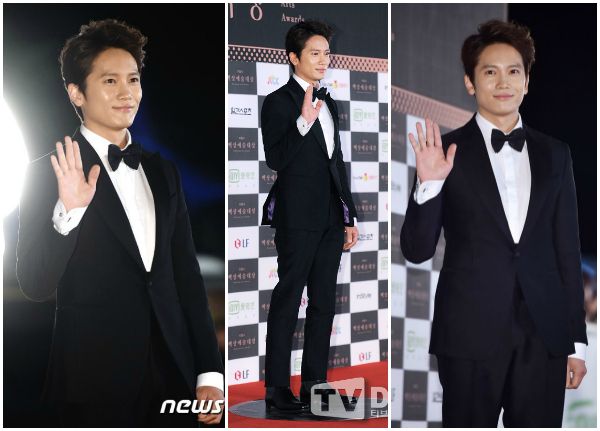 It's also disappointing that Kim Rae-won didn't win anything for Punch, either, though to be fair the category was tough; other nominees include Jo In-sung (It's Okay, It's Love) and Jo Jae-hyun (Punch), who's below.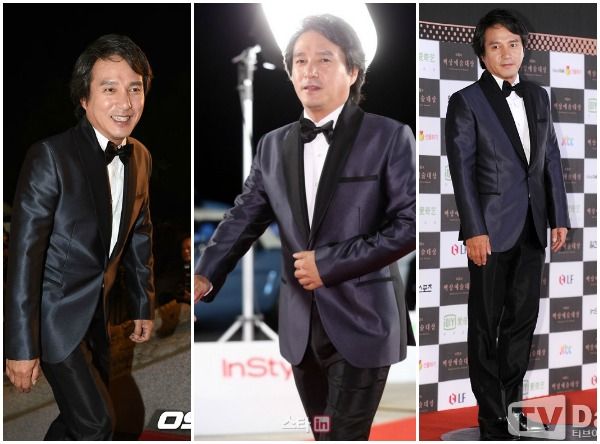 I do love the clean sophistication of Baek Jin-hee's (Pride and Prejudice) red gown; she's graduating into leading lady status quite well.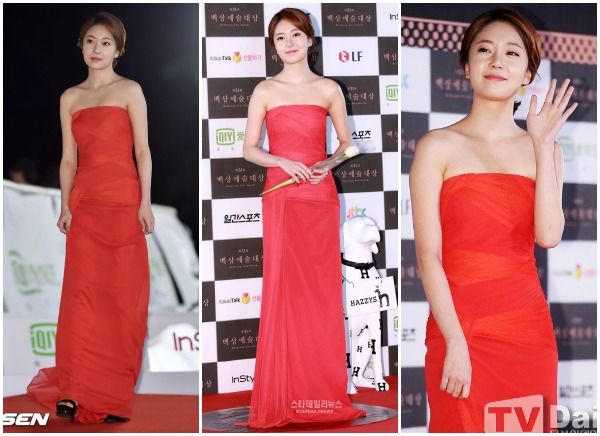 Lee Yuri did take home a Daesang last winter at the MBC Drama Awards for Jang Bori Is Here, which should take the sting off missing out on the Top Excellence here. I can't help feeling that her gown choice was a little childish for this occasion — it's a pretty, safe gown but feels wrong for her.
At first, I wasn't quite sure what to make of Yoo In-young's (Veteran, Mask) gown, but the more I look at it, the more it grows on me. Granted, it kind of looks like it's growing on her, too, like some kind of mutant algae or corroded metal, but the sheer paneling is interesting and the shape sleek and flattering.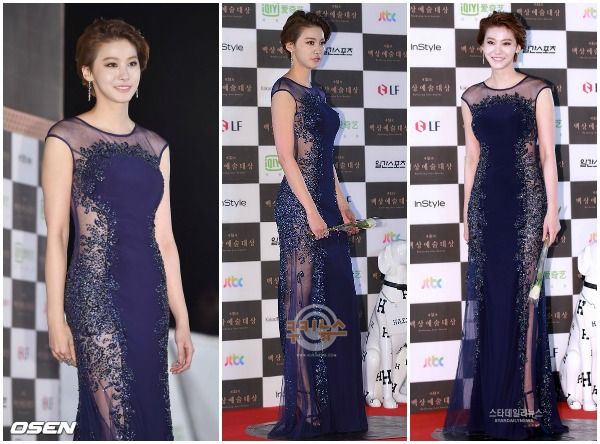 Aw, Oppa-ya! I love how Jung Woo (C'est Si Bon) always just looks happy to be here, all goofy smiles and beaming face.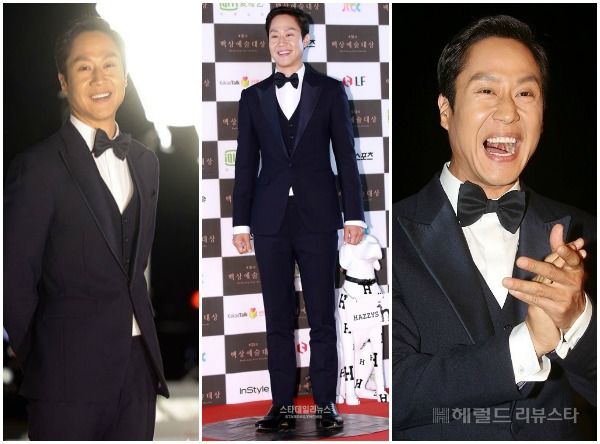 I don't know what happened to Kang Haneul's hair. Won't somebody give it back? And I would pay somebody to get him some pants that fit. He looks like a schoolboy gone astray who's outgrown his last fancy suit!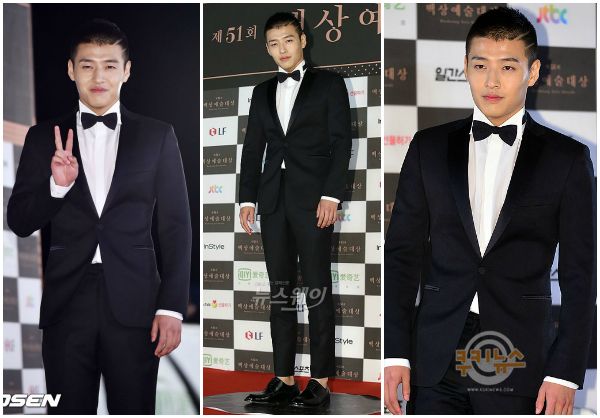 Not a terrible look on Krystal, who inexplicably won a popularity award for the decidedly unpopular She's So Lovable, though I don't think it's all that flattering on her, either. But I suppose idols get used to wearing things that aren't exactly flattering?
This isn't the best look for Han Sun-hwa (Rosy Lovers), either, who looks worryingly wan. Is it the ill-fitting shape of the gown, the color, or the makeup that washes her out?
Park Ye-jin (Mr. Back) goes for a modern, edgy approach to her gown.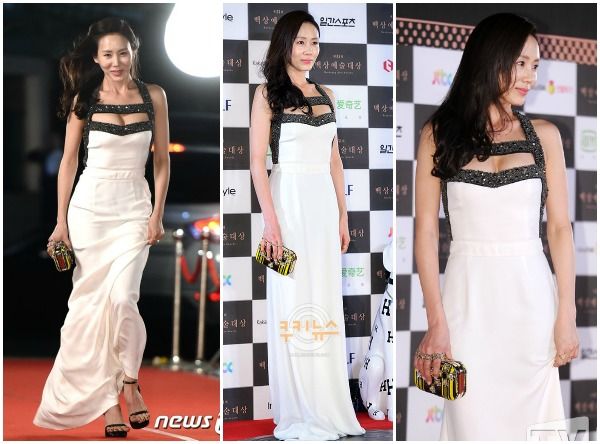 Honey Lee was nominated for Tazza 2, and while I think this pale pink color washes her out, she does have presence on the red carpet that balances it out. Somewhat. A little. (Still don't love that dress.)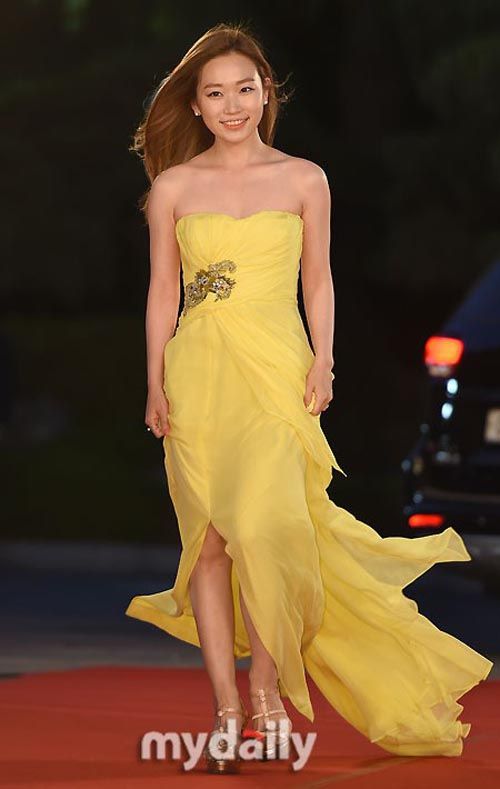 I love that Kim Seul-gi was nominated for Discovery of Romance, and that she came wearing such a sunny pop of color. One of these days she'll get her leading role, won't she?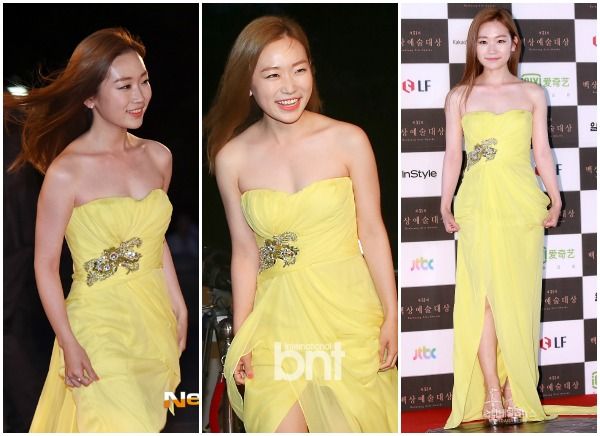 Park Hyung-shik (What's With This Family), why go for the stark all-white look and then forget the shoes? Such a jarring effect when you scroll down and see those feet!
Kim Hyang-gi (Elegant Lie) is a pint-sized thing, but other than the height it's nice to see her transitioning from precocious child actor to… well, still child actor (she's 14), but at least older ones with a bit more screentime.
That's quite a short skirt on former child actress Nam Ji-hyun (What's With This Family, Angel Eyes), who's now 19 years old. I've mostly seen her playing plucky, "common" types of characters, so I almost didn't recognize her looking a lot more like It Girl than Everygirl.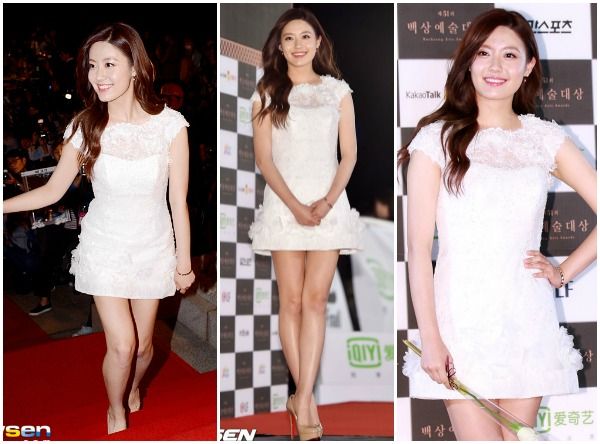 Does anybody else think Jung Kyeo-woon's (Birth of a Beauty) smile looks like it might glow in the dark?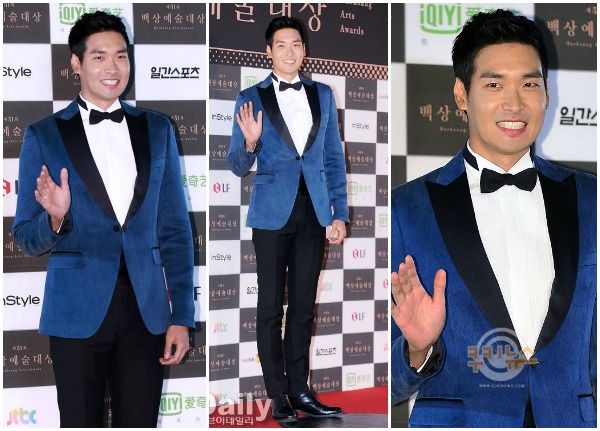 BOOBS! What, like that wasn't what Kim Sa-rang (Beloved Eun-dong) intended us to notice first with that dress?
Another safe, flowy, kinda boring pink dress on Lee Jung-hyun (Roaring Currents). Meh.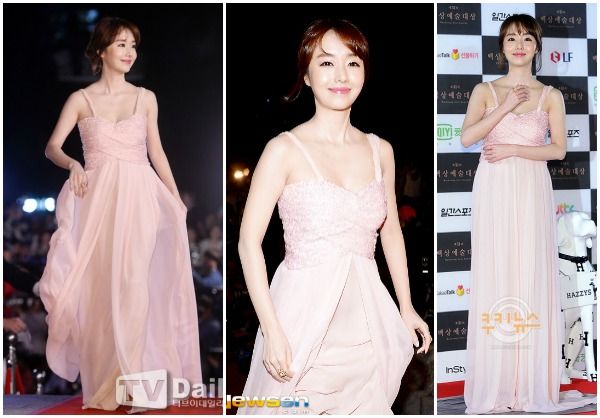 Sexy ajusshi Park Sung-woong! He seems to be constantly working in one film after another (Fatal Encounter, The Shameless, The Deal, Office), but I can't wait for him to return to television next with his cable crime drama Hidden Identity.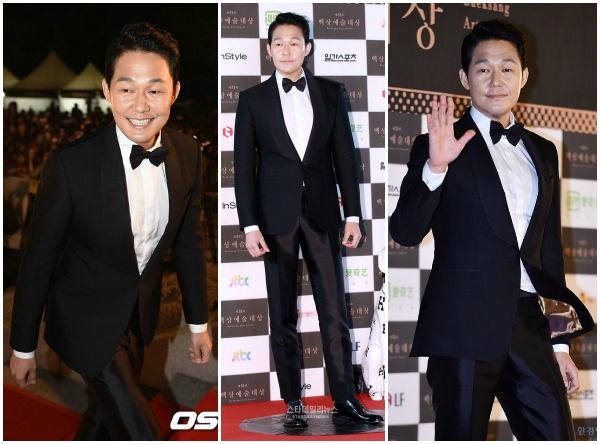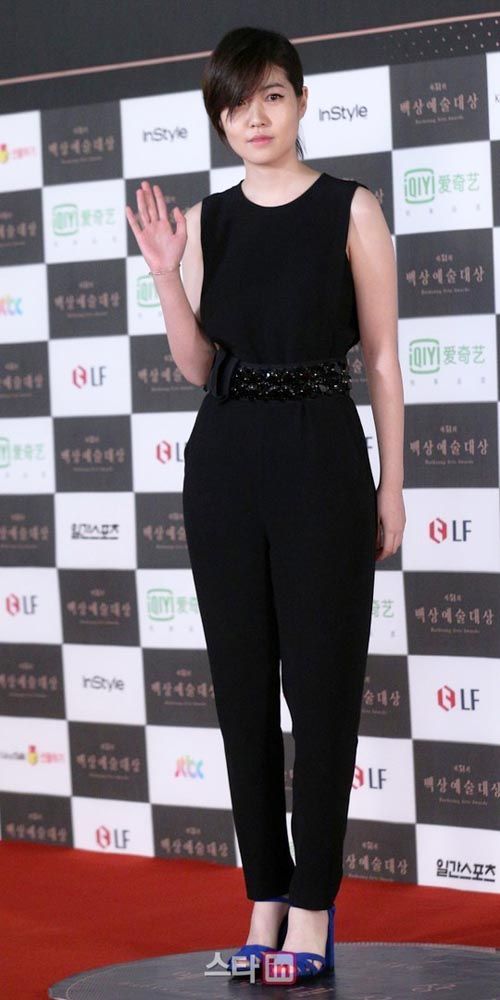 A jumpsuit to an awards ceremony is a strong move, but I love that Shim Eun-kyung (Miss Granny, Cantabile Tomorrow) went in that direction, paired with the blue heels and the chic, slicked hairstyle. The only thing this style really wants frrom her is a touch more swagger. How much better would it look with a strut?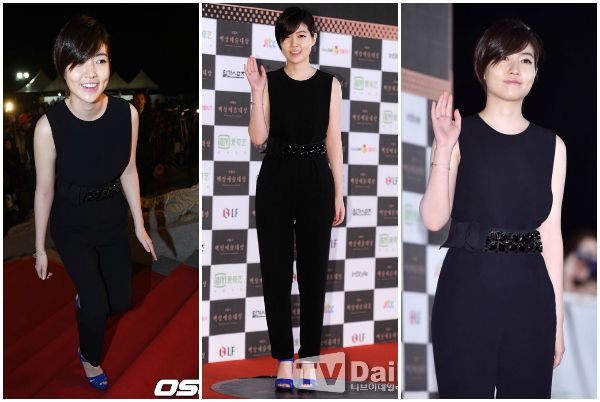 This dress on Park Jumi (King's Dream) has the strange effect where as a whole, the effect is fine, but individually all its parts annoy me. I want to tear off that flappy bib-like draping on the front, when the thing would just look so much cleaner without the fussy bits.
Park Jung-ah had a recent drama with JTBC's Noblewoman, and we'll be seeing her soon again with tvN's occult rom-com Oh My Ghostess.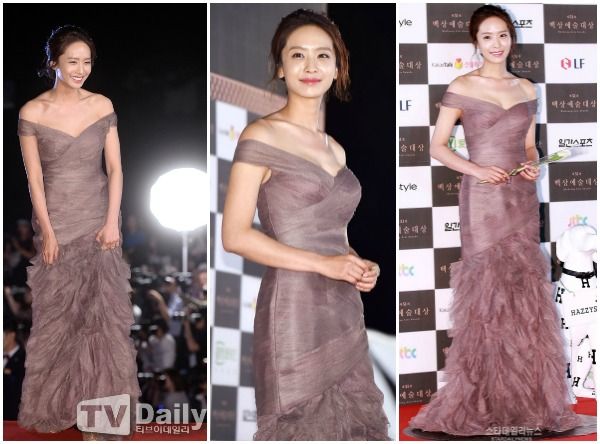 AOA idol member and actress Seolhyun (Orange Marmalade) looks fresh and sweet in her champagne-pink gown. A perfectly safe choice for a young starlet.
No surprise to see the perennially well-dressed Lee Jung-jae (Big Match) being singled out for a style award…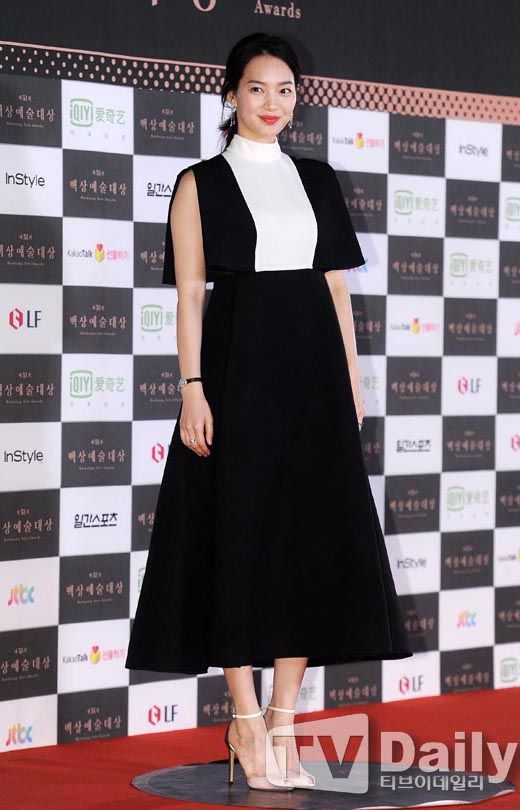 …but I have no answer for why Shin Mina (My Love, My Bride) came to pick up her style award dressed like a pregnant Pilgrim. Maybe a scandalous one, cutting her sleeves open to bare a little elbow up top, with a flash of ankle down below. I don't get it.
Via JTBC
RELATED POSTS
Tags: Ahn Sung-ki, awards, Bae Doo-na, Baek Jin-hee, Byun Yo-han, Choi Min-shik, Chun Woo-hee, Esom, Go Ah-sung, Han Sun-hwa, Han Ye-ri, Honey Lee, Im Ji-yeon, Im Shi-wan, Ji Sung, Jo Jae-hyun, Jo Jin-woong, Joo-won, Jung Kyeo-woon, Jung Woo, Kang Haneul, Kim Ah-joong, Kim Hyang-gi, Kim Rae-won, Kim Sa-rang, Kim Sae-ron, Kim Seul-gi, Krystal, Lee Joon, Lee Jung-jae, Lee Min-ho, Lee Seon-kyun, Lee Sung-min, Lee Yuri, Micky Yoochun, Moon Jung-hee, Na Young-seok, Nam Ji-hyun, Park Hyung-shik, Park Jung-ah, Park Shin-hye, Park Sung-woong, Park Ye-jin, Seolhyun, Shim Eun-kyung, Shin Dong-yup, Shin Mina, Song Sae-byuk, Song Yoon-ah, Yeom Jung-ah, Yoo Hae-jin, Yoo In-young