2015 Blue Dragon Awards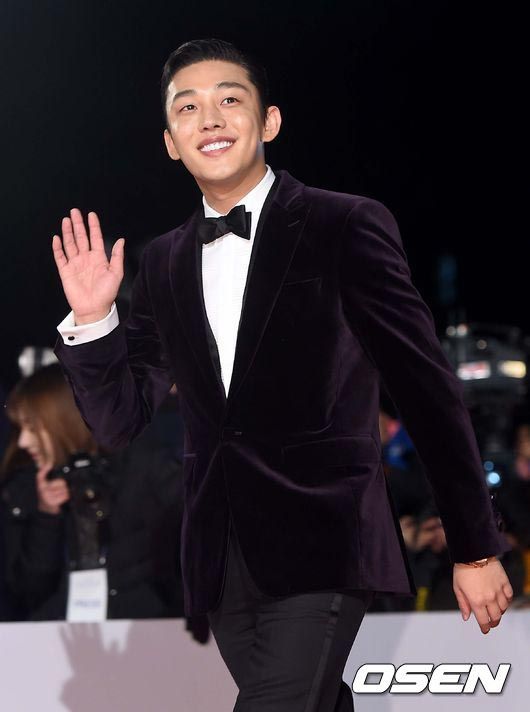 The Blue Dragon Film Awards are one of the biggest awards ceremonies of the year in Korean film, but this time the red carpet seemed more star-studded than usual, perhaps because it's such a direct contrast to the Daejong Film Awards, which were held last week amidst great controversy. Already the day before the Blue Dragons, the headlines were naming all the stars who would be attending, and it wasn't hard to read between the lines: …unlike the Daejongs.
You could easily sum up 2015 as: It's a good year to be Yoo Ah-in. He's in the best position possible before heading off to army duty in the coming year, what with multiple nominations for his two hit films Veteran and Sado, a headlining role in the current Monday-Tuesday leading drama Six Flying Dragons, and now a Best Actor win at the Blue Dragons. It doesn't get much better than this.
Unsurprisingly, Assassination, Sado, and Veteran were the big films of the night, with Ode to My Father and Beauty Inside picking up some trophies as well. I generally like the way the Blue Dragons do it — simple, classic, no muss, no fuss. The only surprise for me was Lee Jung-hyun winning the Best Actress award over bigger names like Jeon Ji-hyun, Kim Hye-soo, Jeon Do-yeon, and Han Hyo-joo, but maybe she'll be this year's Chun Woo-hee. Guess I should go watch Alice in Earnestland now.
WINNERS LIST
Best Picture: Assassination
Best Director: Ryu Seung-wan (Veteran)
Best Actor: Yoo Ah-in (Sado)
Best Actress: Lee Jung-hyun (Alice in Earnestland)
Supporting Actor: Oh Dal-soo (Ode to My Father)
Supporting Actress: Jeon Hye-jin (Sado)
New Actor: Choi Woo-chik (Set Me Free)
New Actress: Lee Yoo-young (The Treacherous)
New Director: Kim Tae-yong (Set Me Free)
Cinematography: Sado, Kim Tae-kyung
Lighting: Sado, Hong Seung-chul
Editing: Beauty Inside, Yang Jin-mo
Music: Sado, Bang Joon-seok
Art Direction: Ode to My Father, Ryu Sung-hee
Technical effects: Assassination, Jo Sang-kyung
Screenplay: Minority Opinion, Kim Sung-je
Short Film Award: The Photographers
Box Office Audience Award: Ode to My Father
Popularity Award: Lee Min-ho, Park Seo-joon, Park Bo-young, Seolhyun
I'm just happy that Yoo Ah-in was able to show up, what with his Six Flying Dragons shooting schedule. But would you really miss a once-in-a-lifetime opportunity to be the star of the night at the Blue Dragons? Not likely. The actor has been getting critical acclaim left and right for his performances as an evil chaebol in Veteran and a heartbreaking turn as Crown Prince Sado opposite Song Kang-ho in Sado, so despite the heavy-hitters on the nominee list (Lee Jung-jae, Hwang Jung-min, Jung Jae-young, Song Kang-ho), the young upstart took home the big win. He looks happy and dapper in a velvet tux.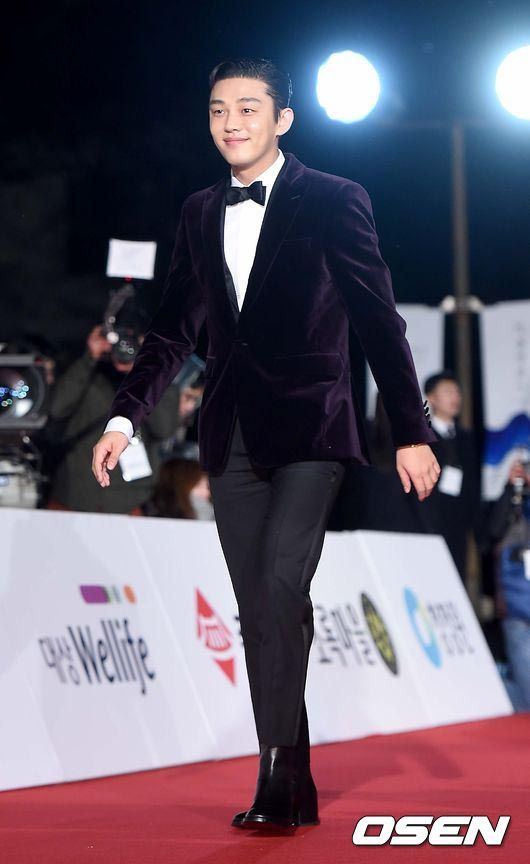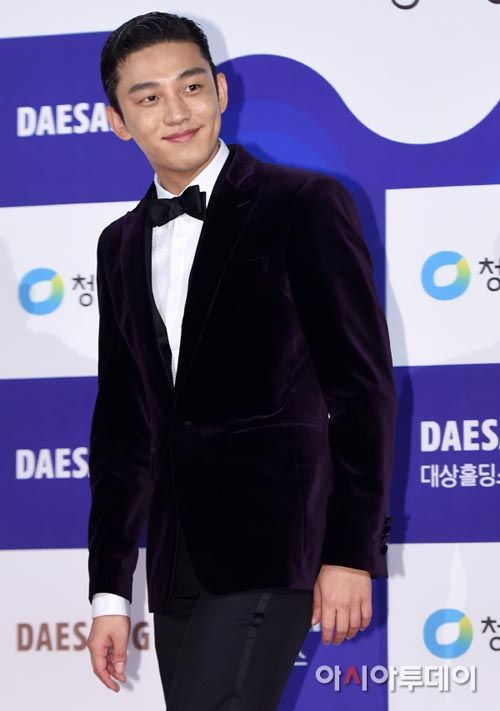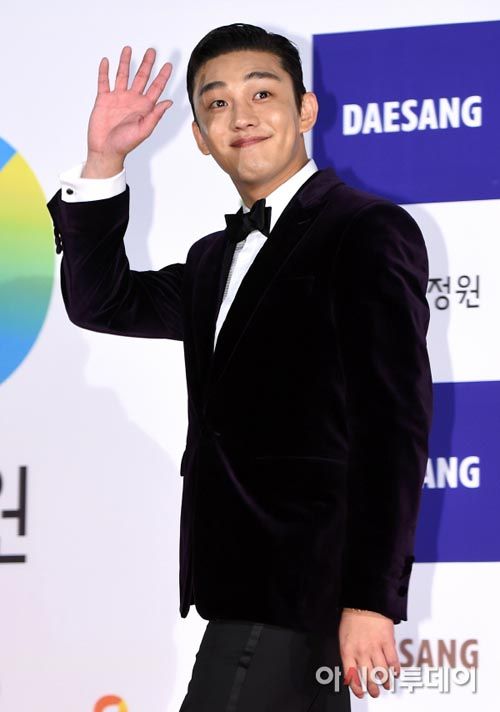 Han Hyo-joo has been having a great year as well, with her lovely, sensitive performance in Beauty Inside. Not the best look for her on the red carpet — I don't like the ruffles, and I wish she'd gotten more dolled up for the event with her makeup. But she's always got that effortlessly beautiful thing going on, which other people would kill for. So, yeah.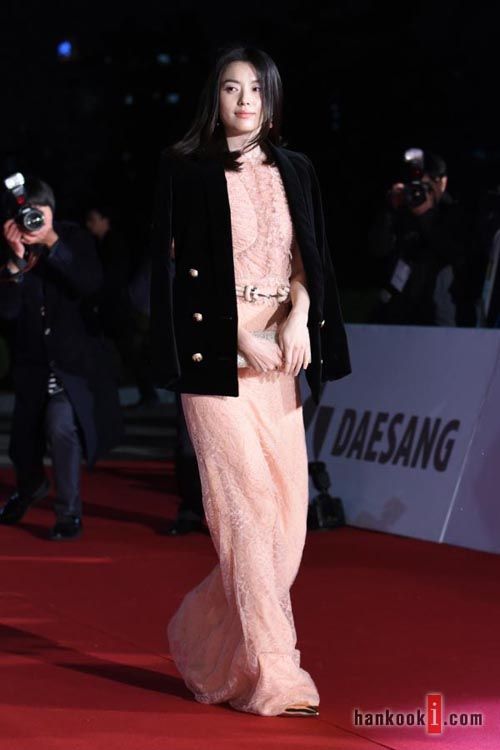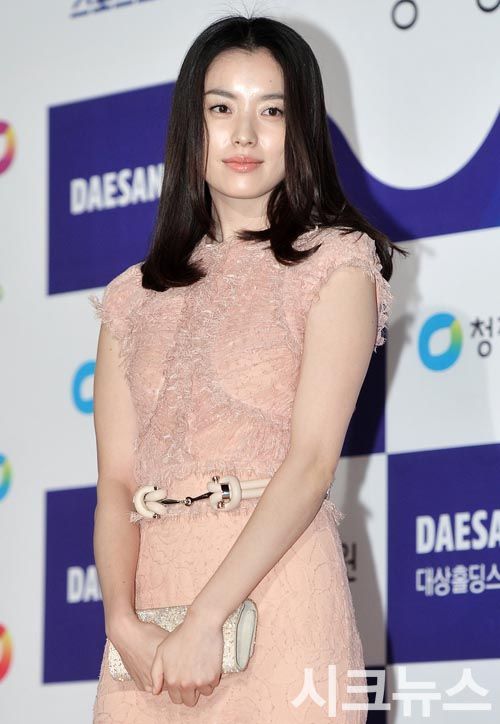 Park Bo-young wears peach too (and I kid you not — this is considered color on this red carpet, just you wait). I absolutely love this look on her, which is more grown-up than her usual tiny pouffy dress look at every other event. She looks sleek, polished, and ready to take over the world. She's here for her creepy movie The Silenced, and picked up a Popularity Award. Because everybody loves Park Bo-young.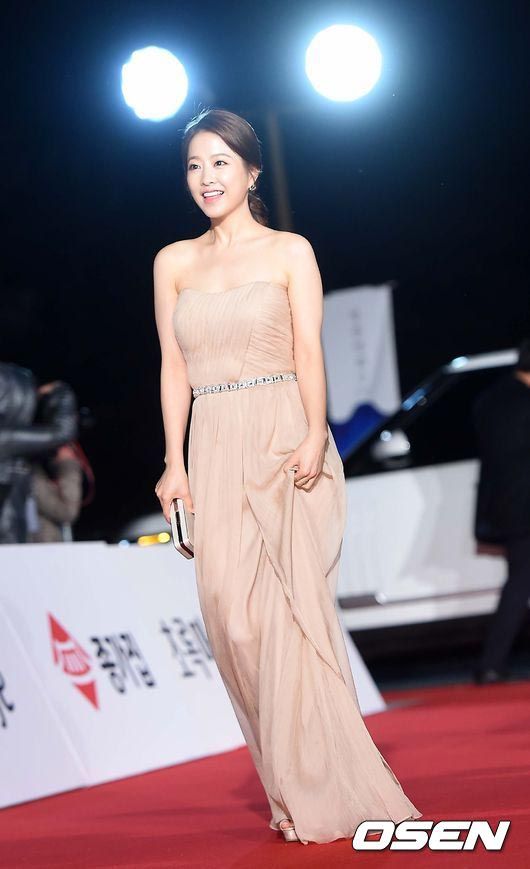 Choi Woo-shik is having a great run with the indie film Set Me Free, for which he won the New Actor Award. He looks so adorable all dressed up. Very un-Hogu, very keep-an-eye-on-me-'cause-I'm-goin'-places.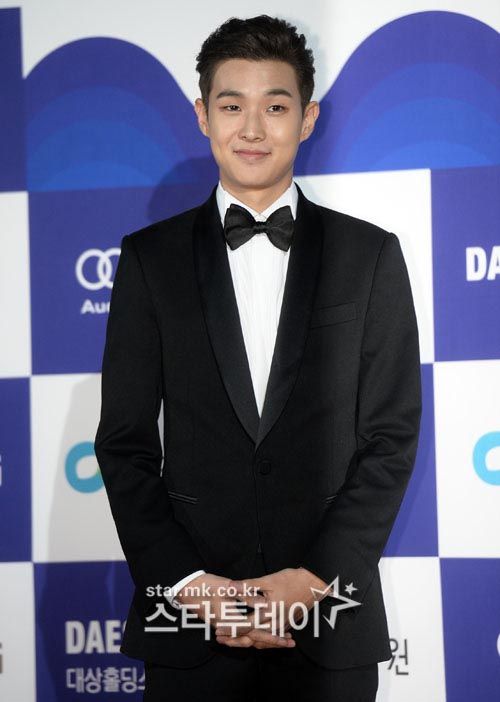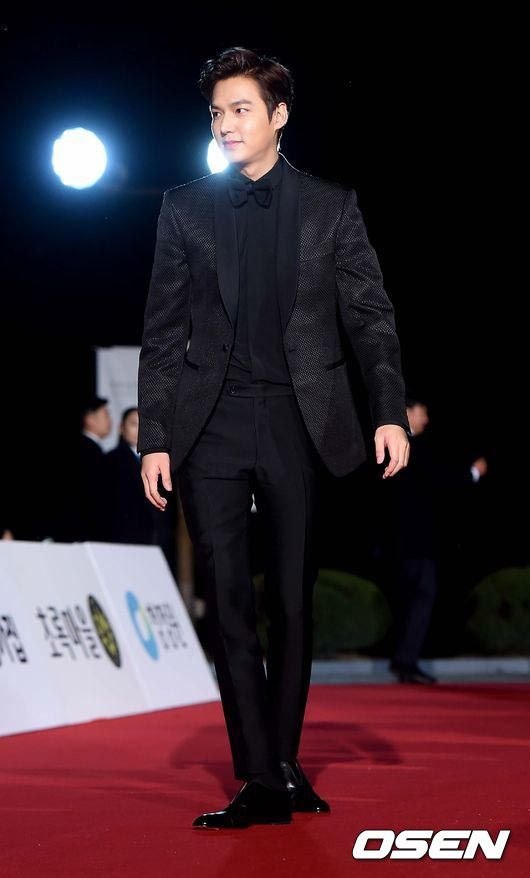 Lee Min-hoooooooo, why you so pretty? He picked up a Popularity Award for Gangnam 1970, and looks just about perfect tonight. It's a shiny jacket, but the all-black look is just so sleek on him.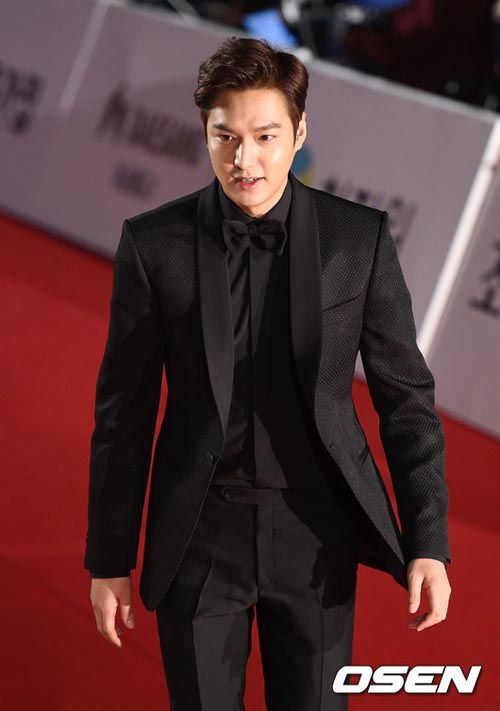 Park So-dam is definitely the actress to watch out for. She's locked down the title of 2015 Ingenue at every film festival and red carpet this year, and we'll likely see lots more of her. She was in ALL of the movies (Sado, The Priests, Veteran, The Royal Tailor), headlined the recent cable drama Because It's the First Time, and scored a New Actress nom for The Silenced. She looks fresh and modern in her no-frills white gown, though it's less exciting than her look at the Busan Film Festival.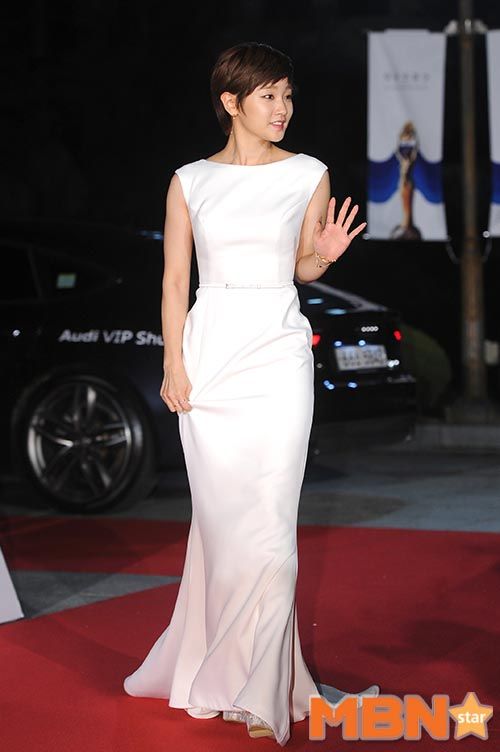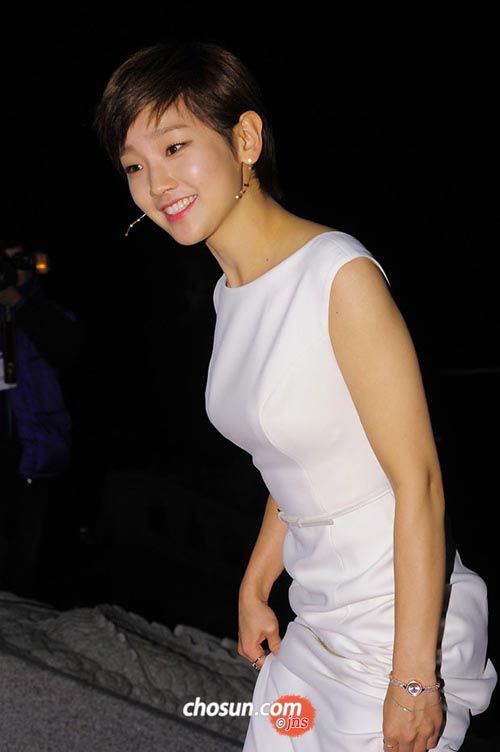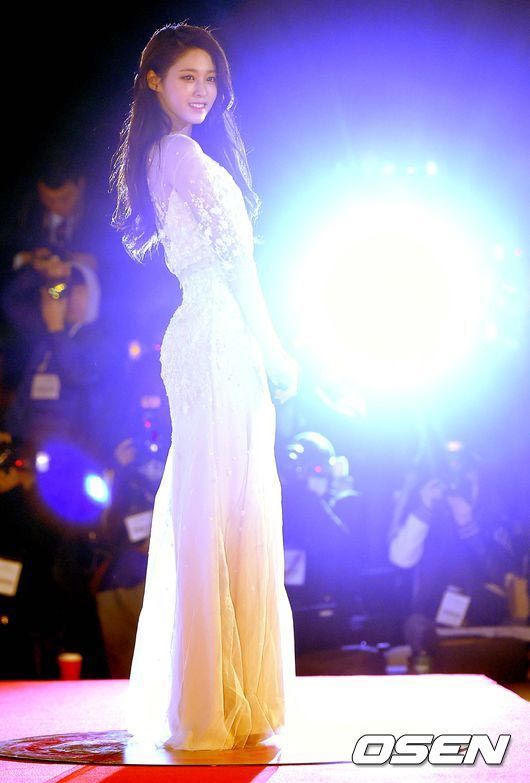 Seolhyun picked up a Popularity Award for Gangnam 1970 and looks stunning. Her dress could be better — it's mostly bridal and only the sleeves are interesting — but I've never seen a new actress NOT wear white on the red carpet, so there's just no avoiding it. I don't know if she's decent as an actress, but she sure is beautiful.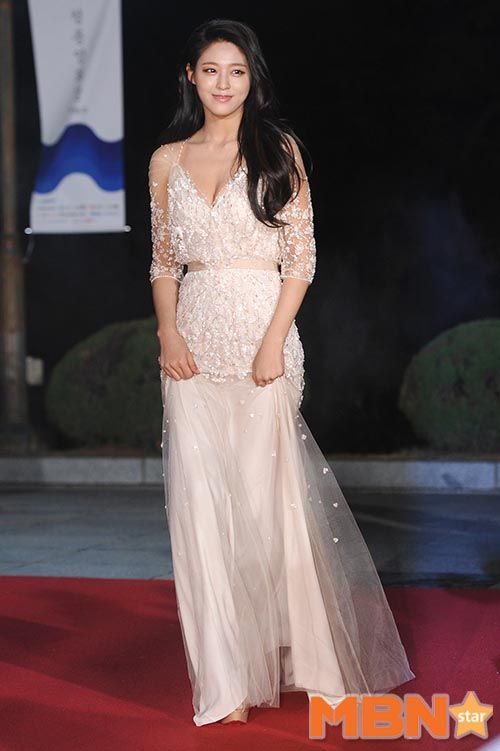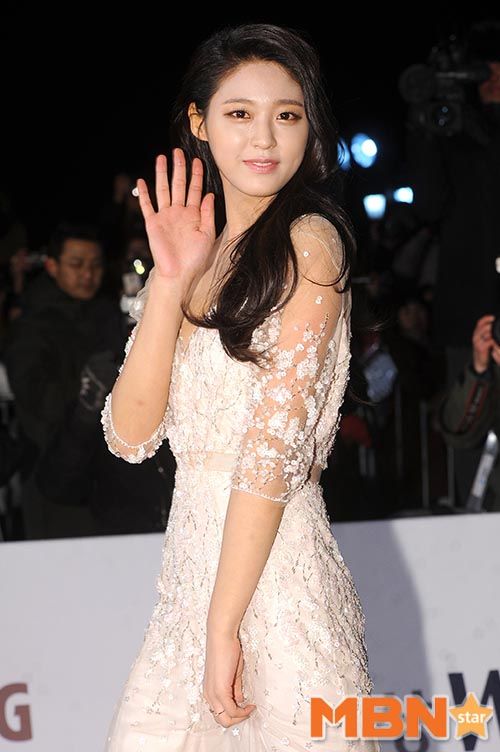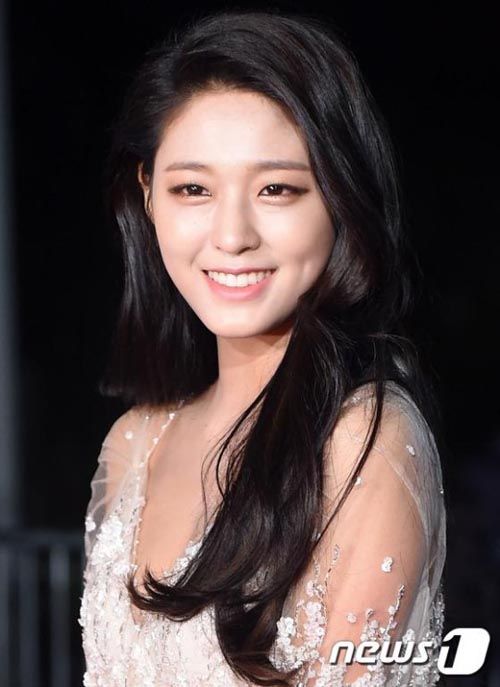 Kang Haneul (Twenty), what is that swirly Bob's Big Boy thing on the top of your head? Can we do something about that, or is that why you look like you're apologizing to the crowd as you walk in? I don't really love your blue-black tux either, but that's okay — you're adorable and you're totally going to have your moment in the sun.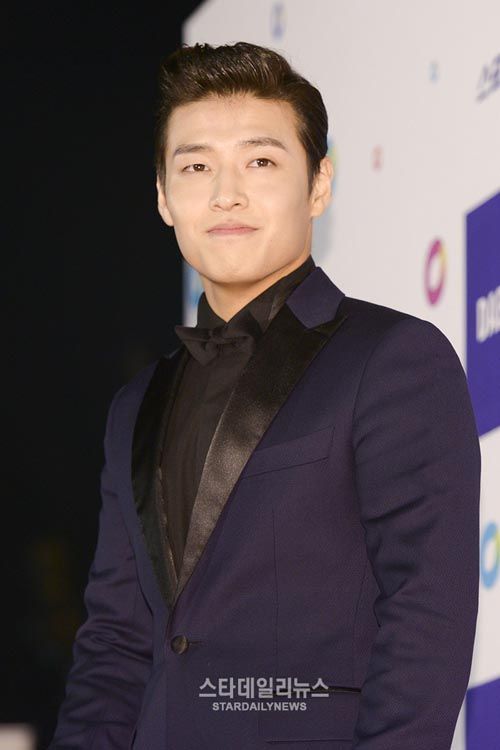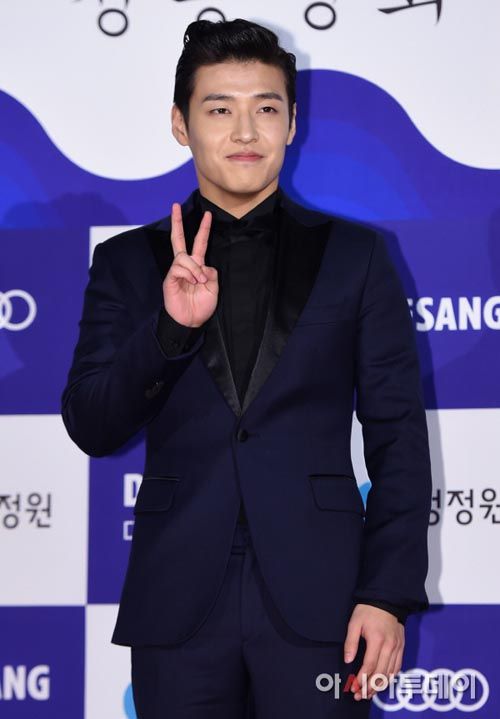 Co-MCs for the night Kim Hye-soo and Yoo Joon-sang arrived together, looking wonderfully chic and polished. His three-piece suit is pinstriped and awesome, and only Kim Hye-soo could pull off those square shoulders that I usually think look weird on anyone else. It's a pretty tame look for her, but she looks fabulous anyway.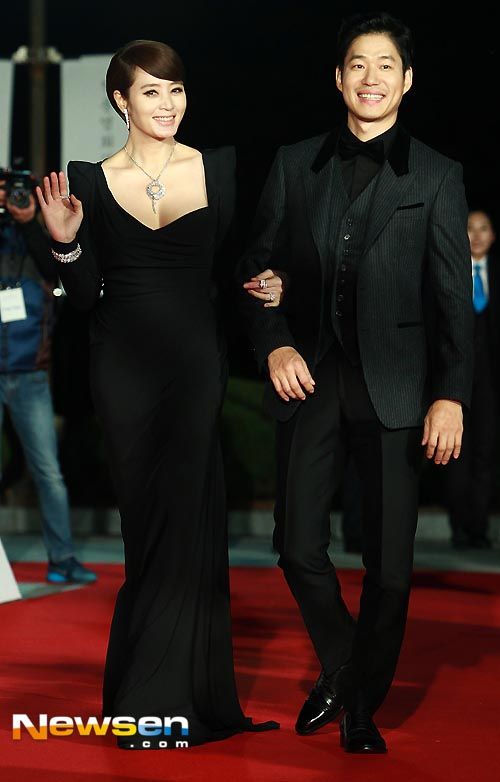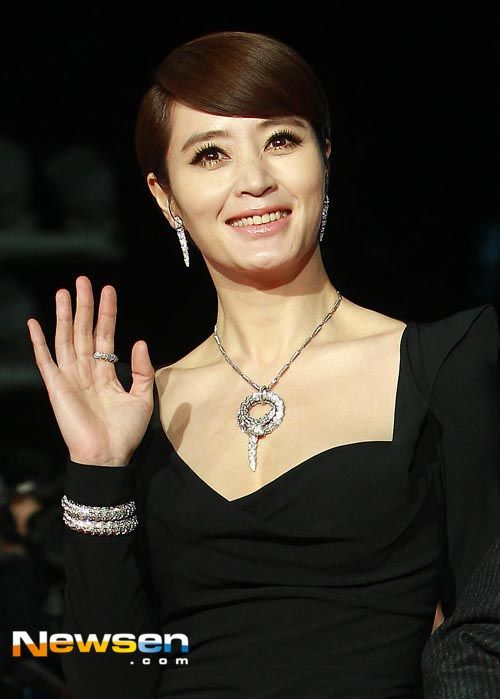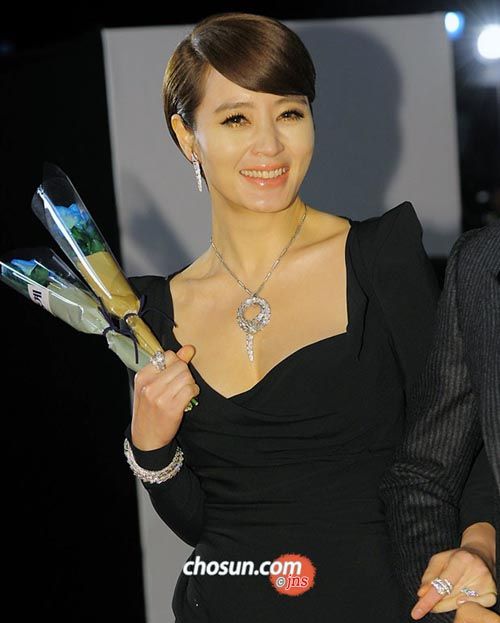 Moon Jung-hee was given a Supporting Actress nom for Cart, even though that's technically from the year before. Anyhoo, she wears the ONLY splash of color on the whole friggin' red carpet, which is crazy and a damn shame. Not for Moon Jung-hee, who looks awesome and actually stands out for wearing a blue (purple?) dress that drapes her frame beautifully.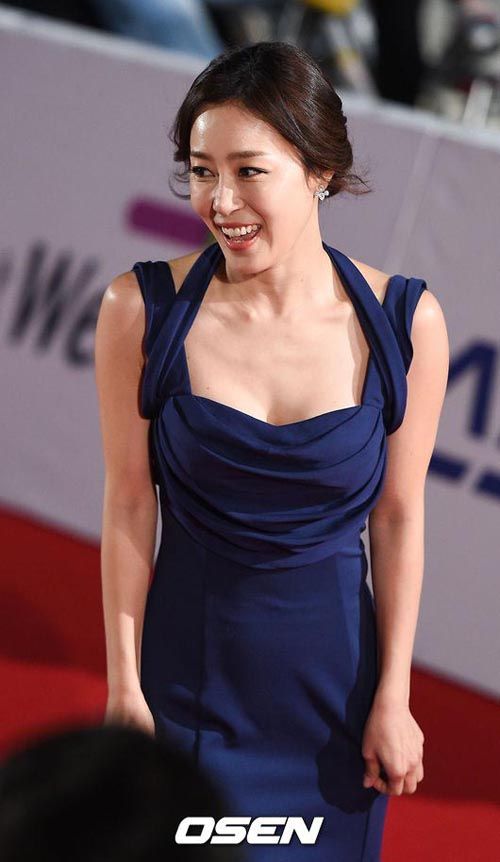 Director Choi Dong-hoon's Assassination won the Best Picture Award, so it was a big night for him as well.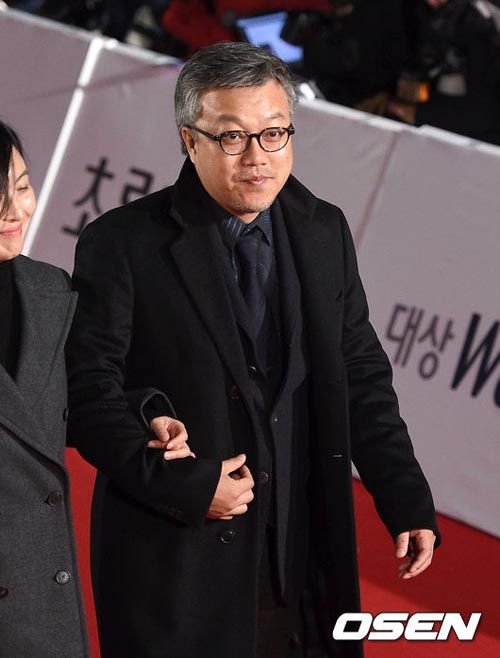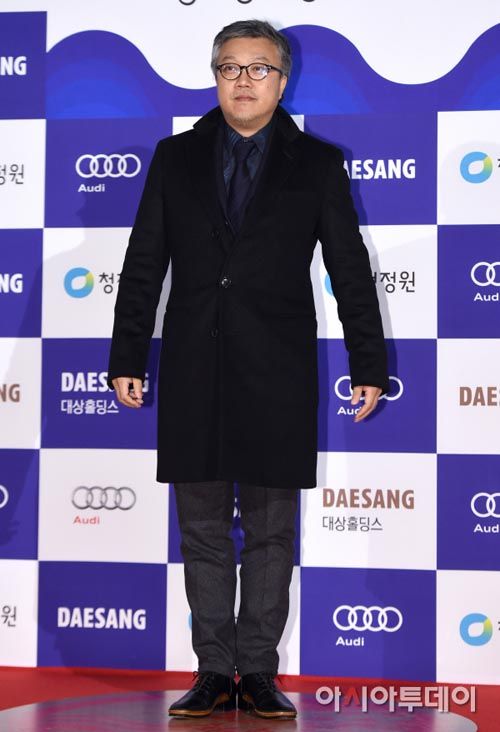 Assassination star Lee Jung-jae was nominated for Best Actor, and rocks the shiniest, swirliest blue coat you ever did see. I don't know what's going on there, but I'd be lying if I said he didn't look hot anyway. Is it ugly? Is it hot? Is it ugly-hot?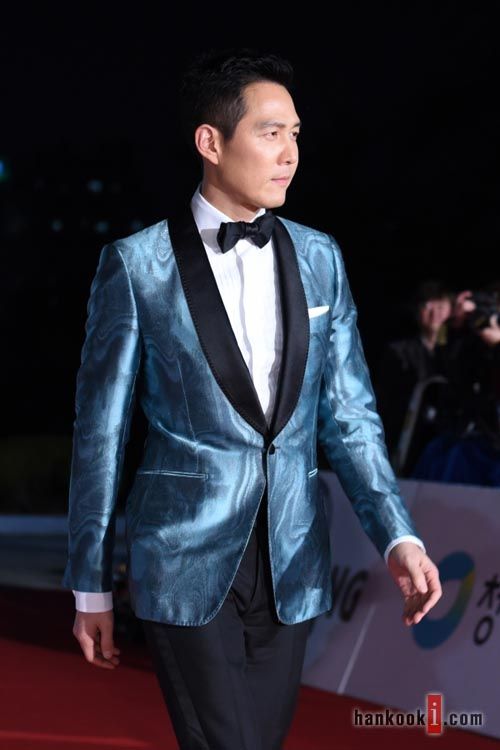 I don't like Jang Young-nam's black dress, because I think it ages her and the mesh sleeves are meh. But I'm happy that she was given a Supporting Actress nom for The Classified File, because she's a great actress.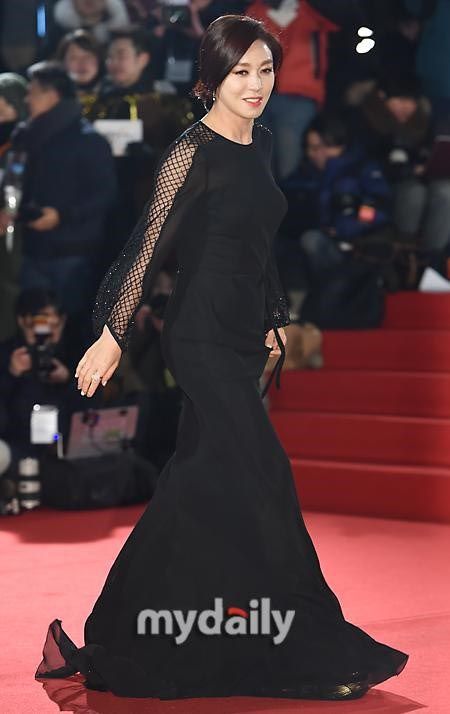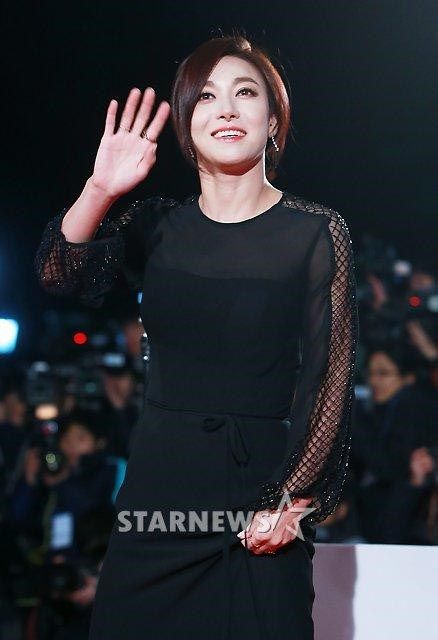 If anyone's had a breakout year (two years?), it's Byun Yo-han, who was nominated for New Actor in Social Phobia. He's had critically acclaimed successes in both film and TV one after the other, and is currently stealing hearts in Six Flying Dragons. This guy's just going to be a fixture on the red carpet from now on, and that makes me happy.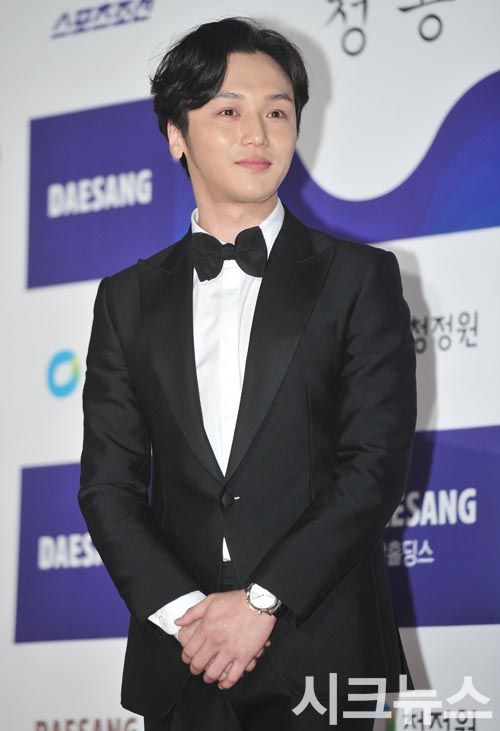 Aw, tiny child actress Seo Shin-ae (Miss Wife) looks so sweet in her cotton candy tutu. She must be excited to be a teen now (crazy!), in her big girl heels and strapless dress.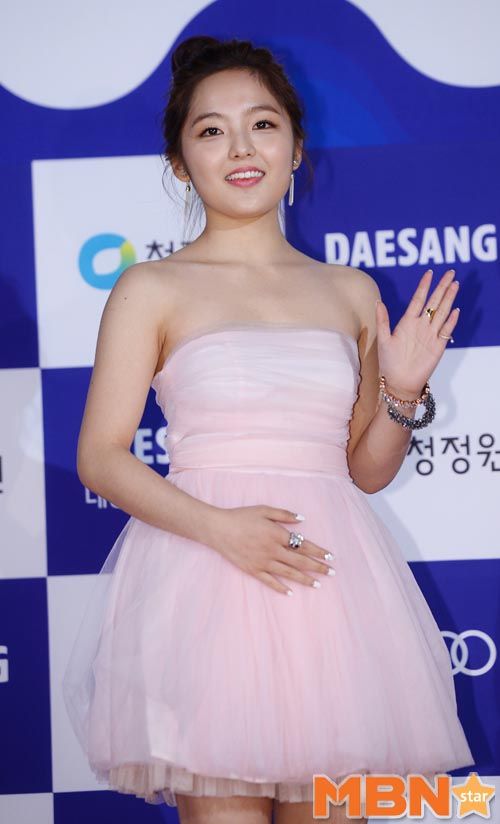 Yay for Jin Kyung's Supporting Actress nomination for Veteran. She's amazing in every movie and drama, and should rack up all the awards. She's not very dressed up tonight, which is a shame, but she does look very polished and lovely.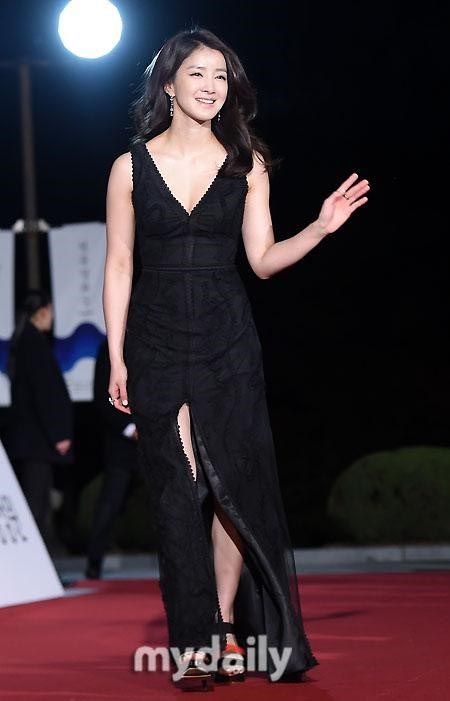 Okay Lee Shi-young (My Beautiful Bride), you win. On a red carpet with almost no color to speak of, it's all about fit and styling tonight, and Lee Shi-young's perfectly fitted black dress is the sexiest look of the evening. She looks breezy and beautiful, and I want that dress for me.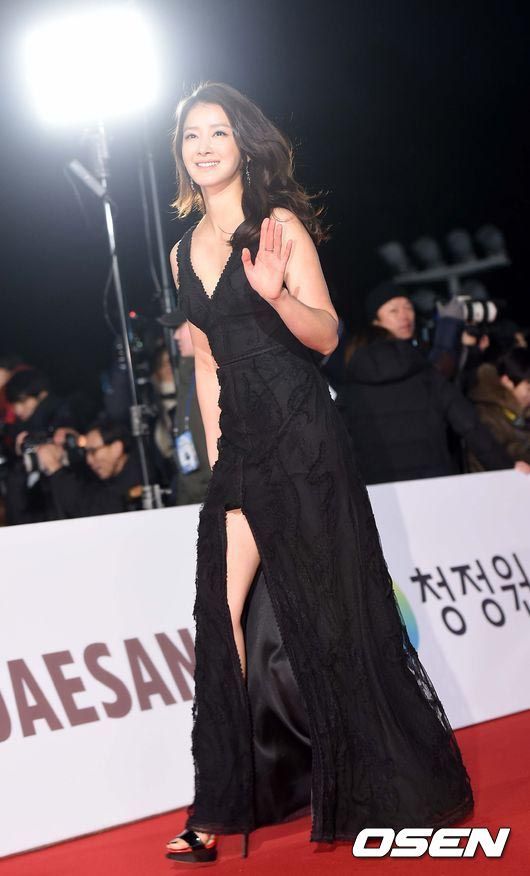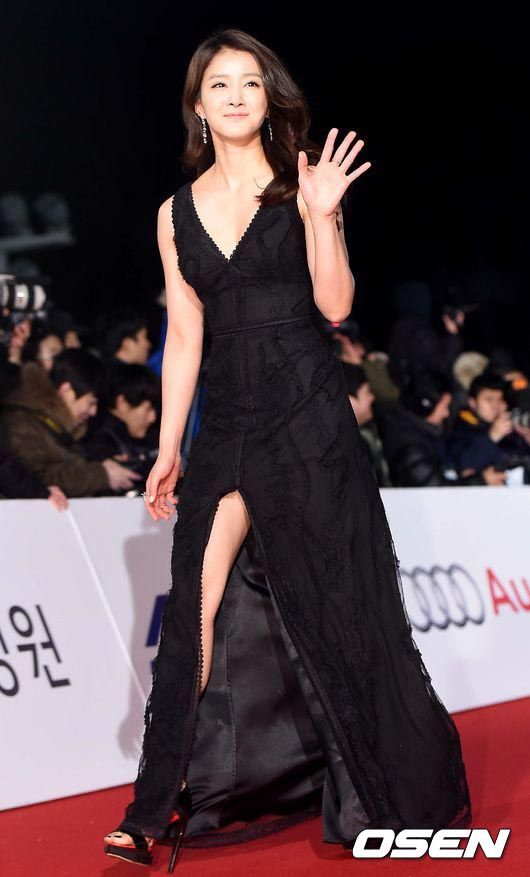 The always-poised actor's actor Jo Jin-woong picked up a Supporting Actor nomination for Assassination.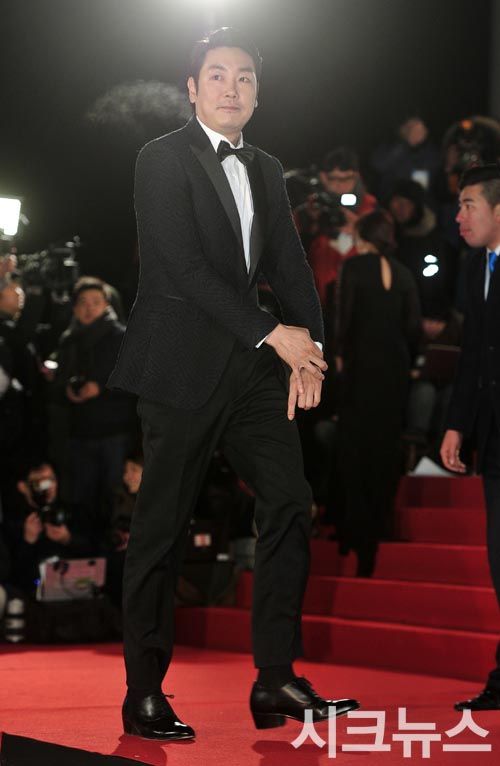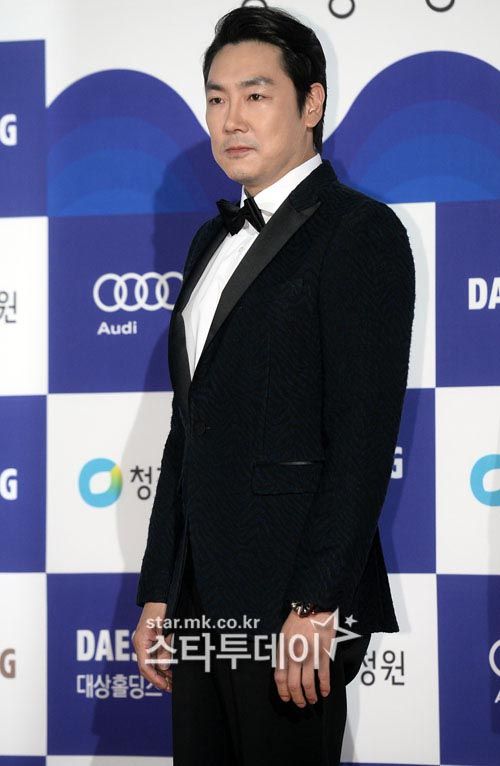 Last year's big winner Chun Woo-hee was in Beauty Inside this year, and wears a white ball gown. I'm a little disappointed in the look — the dress is so familiar and boring, and the red lip is kind of severe. She's just looked better in other things, and I feel like this dress makes her blend in.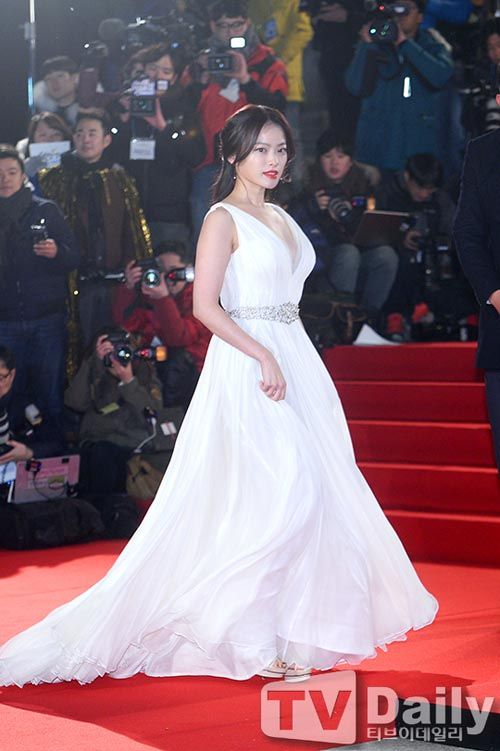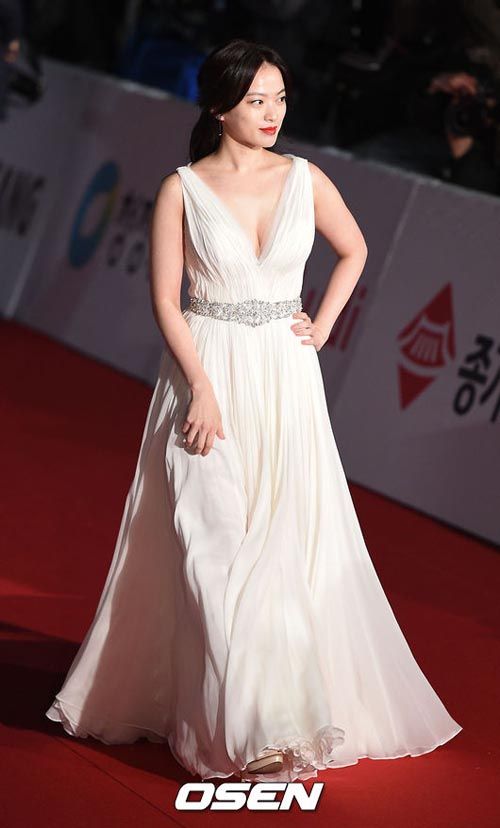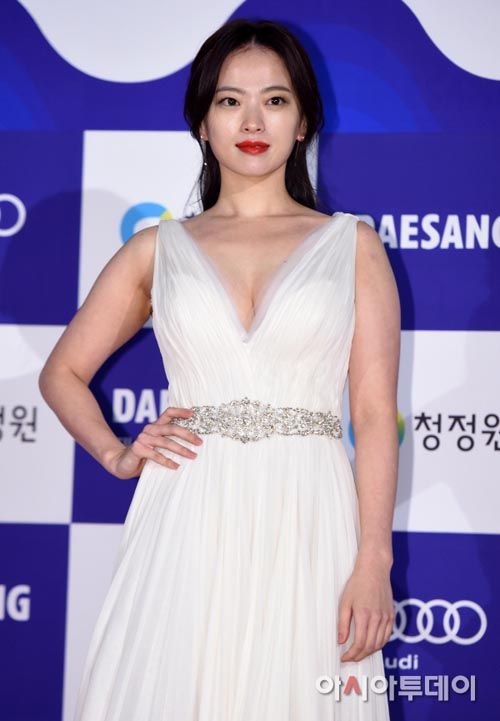 The sea of white is just beginning. Kim Sae-ron (Manhole) often wears the cutest dresses to these events — she gets to skirt that line between little girl and young starlet and has worn some of the cutest looks ever. But tonight she wears neck-to-toe bridal white, and I hate that it's not young and fun. Boo.
At least Jeon Hye-jin's white dress is modern and sleek, though it's not as dressy as I would like. She won in the really competitive Supporting Actress category this year for Sado, and looks so happy.
Lee Yoo-young won the New Actress Award for her turn in The Treacherous. I get the distinct impression that she's freezing to death in that dress. I normally like two-piece looks, but that's usually because they're balanced with longer sleeves or just… more dress. This is kind of like a bralette with a skirt, and that sash-brooch thing on the shoulder confuses me. I think she was going for sexy but it came out kind of underdressed?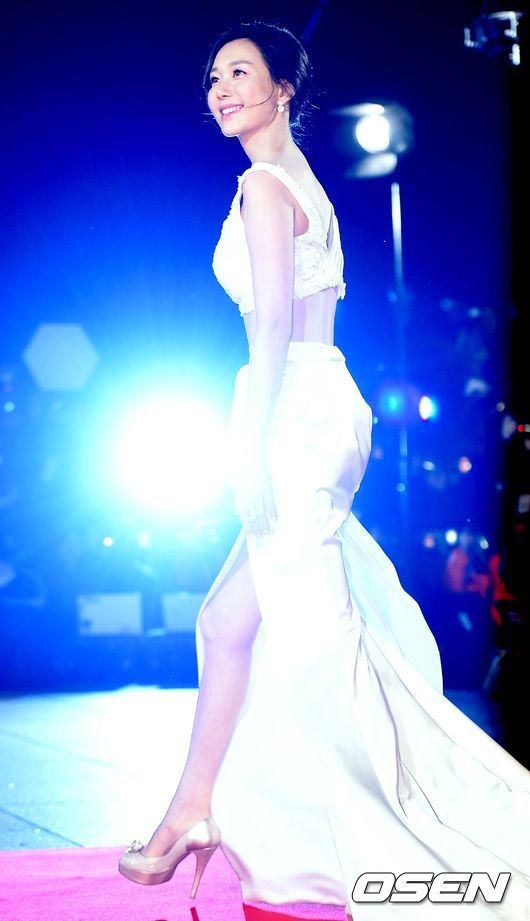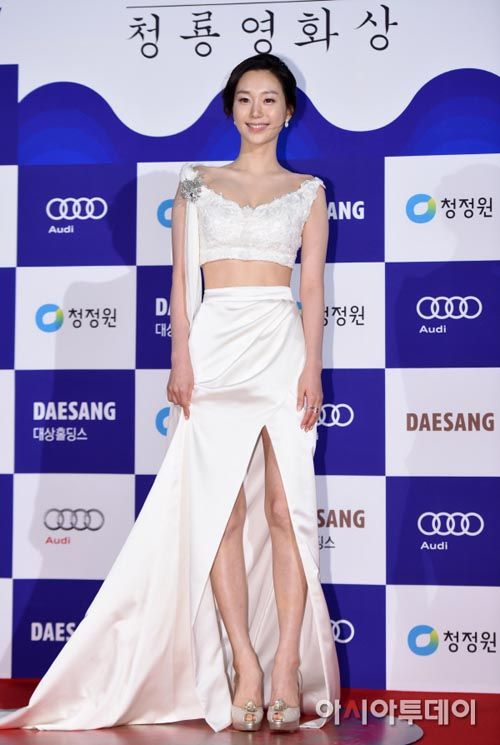 Taecyeon! Your hair! What happened to it, and do we need to send somebody to get your money back? I didn't think it was possible for Taec not to look pretty, but I guess there's always a way if your dye job goes horribly awry. In some shots it looks like he only has the one tuft of hair shooting up in the middle, like a Kewpie doll.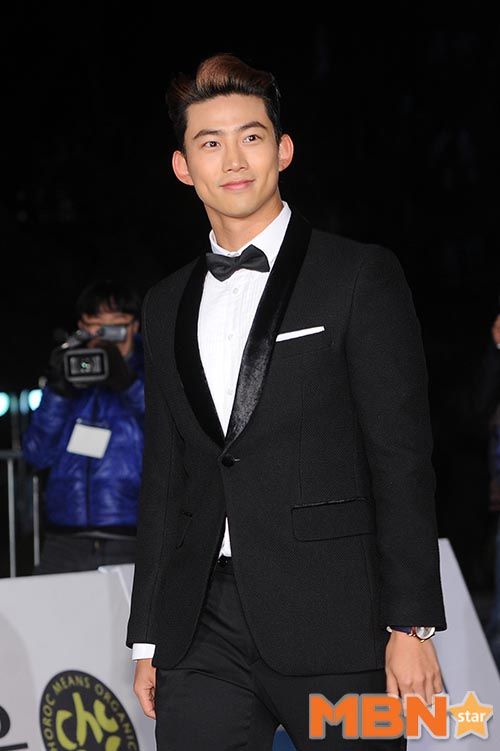 Nam Bora (I'll Loan You My Father) alllllllways wears white. She alllllways looks pretty, and bridal, and cute. The off-the-shoulder sleeves do look nice. But she allllllways looks the same.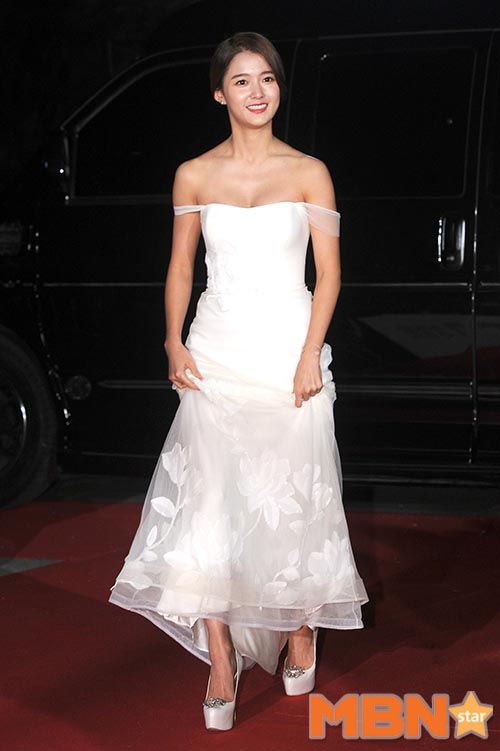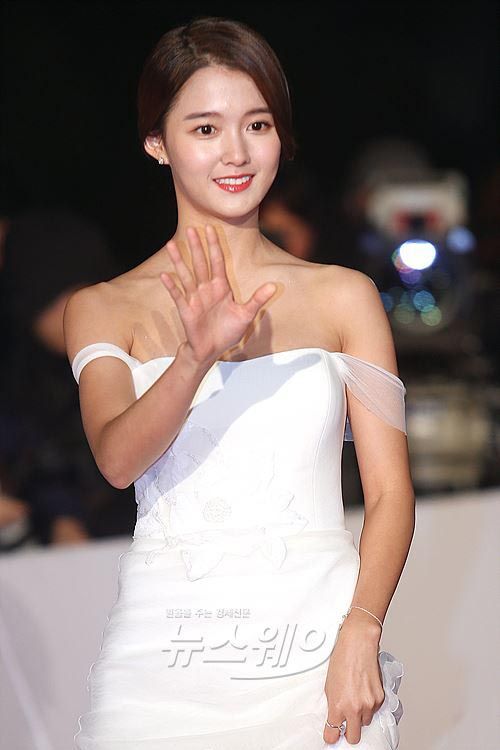 Jin Ji-hee (Sado) looks adorable in a little black dress. It's nothing to write home about (the sleeve thing wraps all the way around like a circle band around the front of her dress, why I don't know), but she looks age-appropriate and light and fun, and like she's having a great time.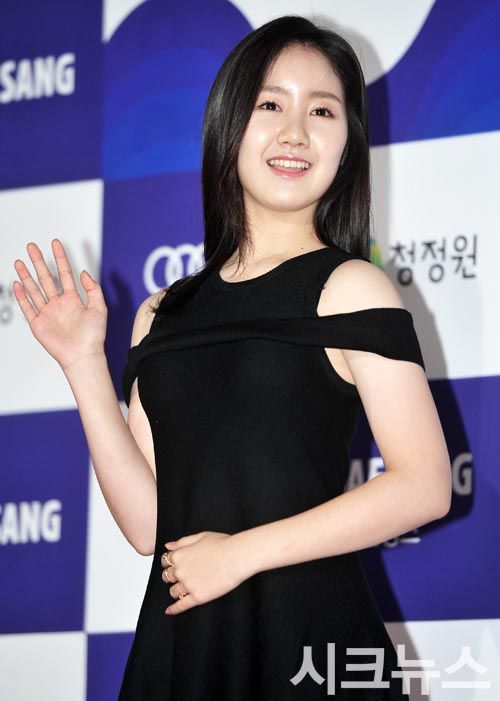 I'm a little disappointed in Song Jae-rim's suit. It's kind of a dowdy color, and not the best fit on him. I dunno, he's so tall and handsome on most days, but right now he looks like a kid going to his first recital.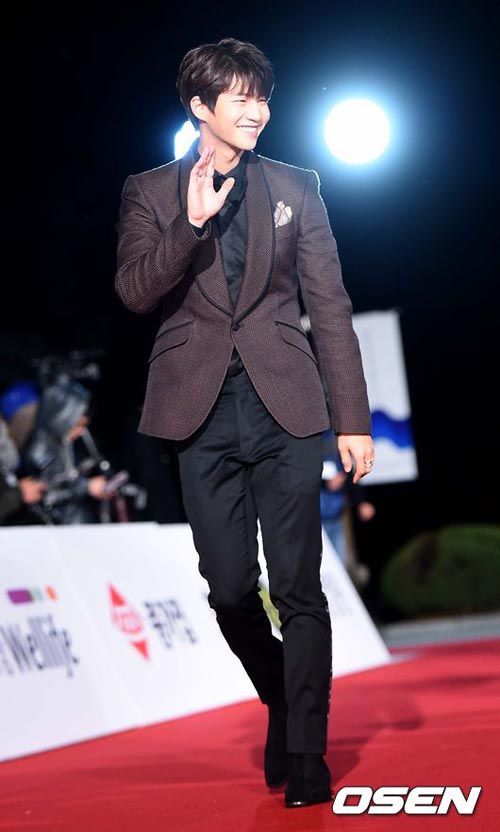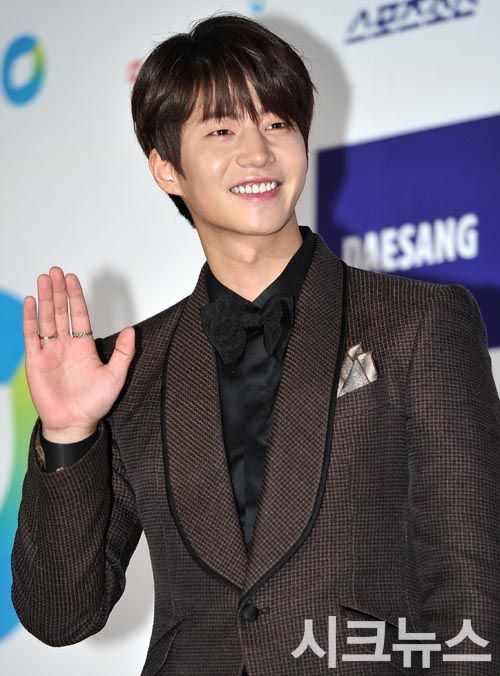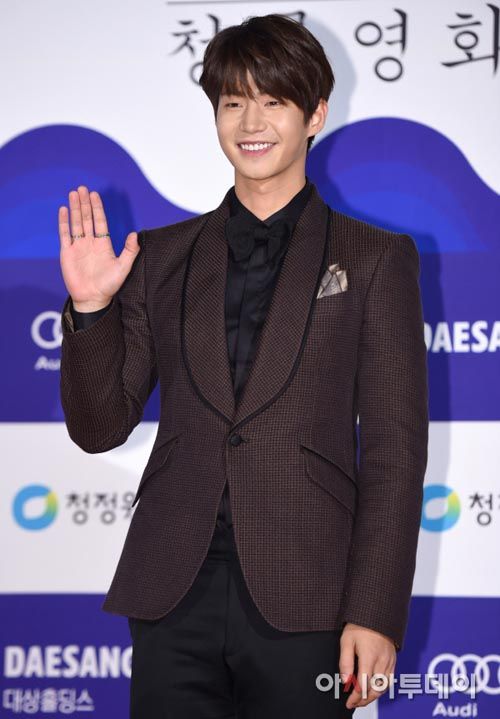 Why would anyone take Grandma's tablecloth and turn it into a wedding dress? Sung Yuri is so gorgeous that I can't understand why she wouldn't wear something more daring. She does get some wow factor for the fit and somewhat interesting neckline, but overall it's just so boring.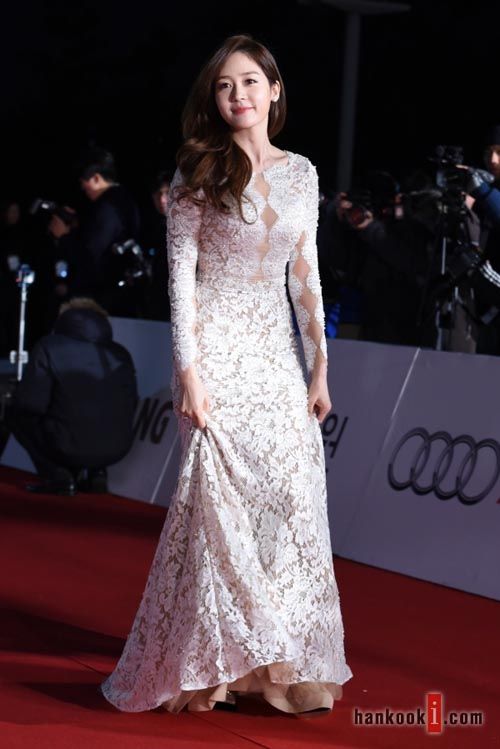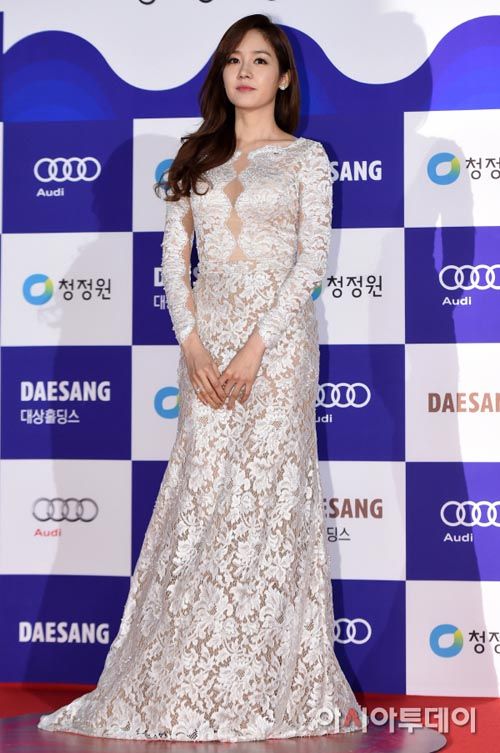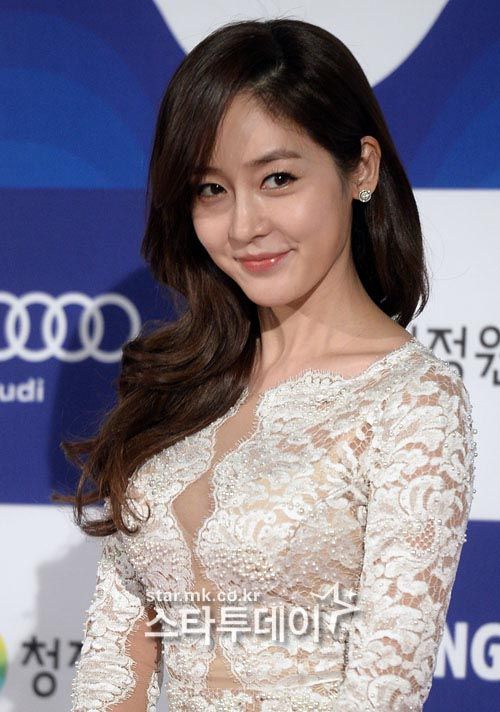 Minho is fresh off the set of his latest drama Because It's the First Time, and looks pretty perfect in a classic tux.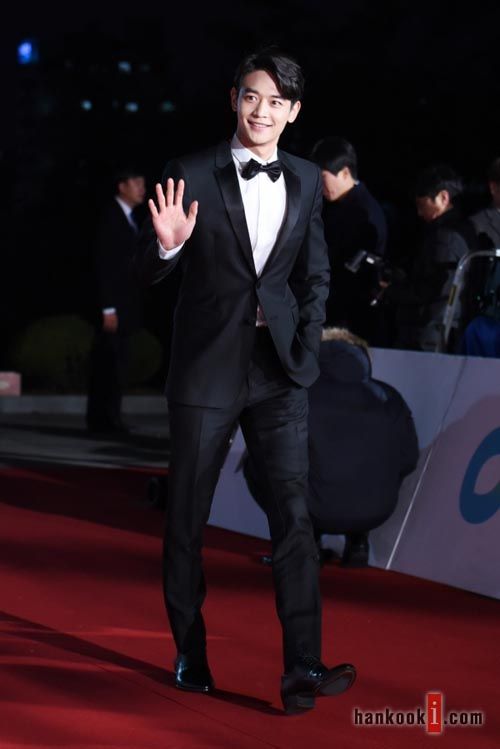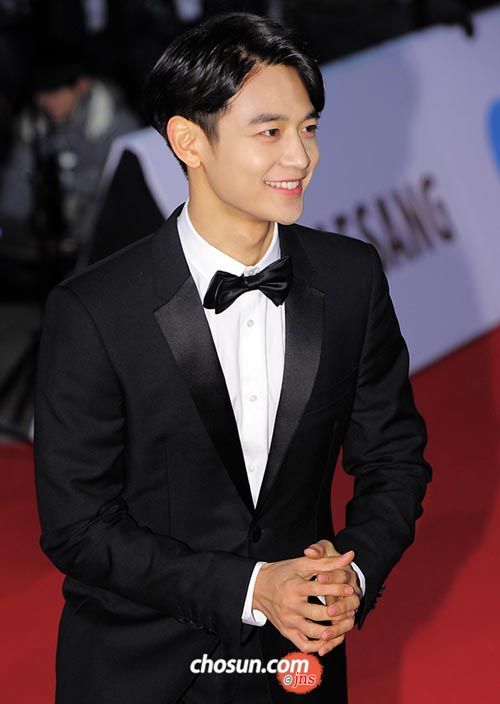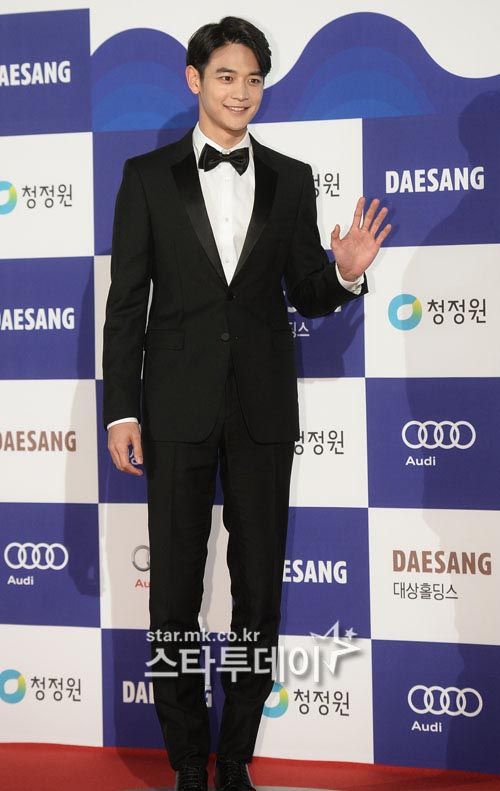 Hong Eun-hee's dress is a cool green-gray color that gives off a nice effect when she's walking down the red carpet.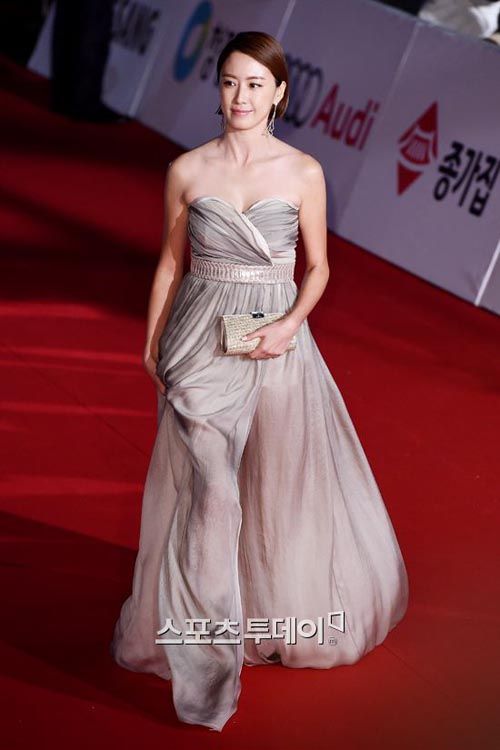 Kwon So-hyun was given a New Actress nomination for Madonna. She's wearing a pretty dress, but it's an unfortunate choice for her small frame. I think it's supposed to show more ankle on a very statuesque woman (say, Han Ye-seul), but looks like it's sized all wrong on her.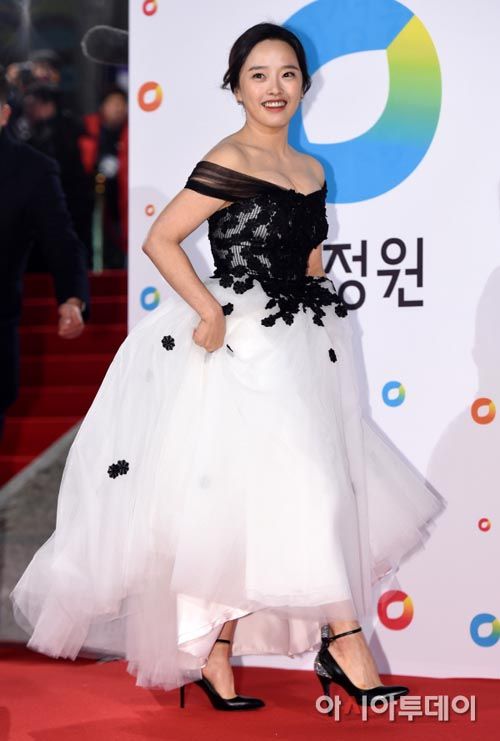 Actress/variety persona Seo Yuri and magician Lee Eun-gyul arrive together. Uh, I think I've seen that dress before.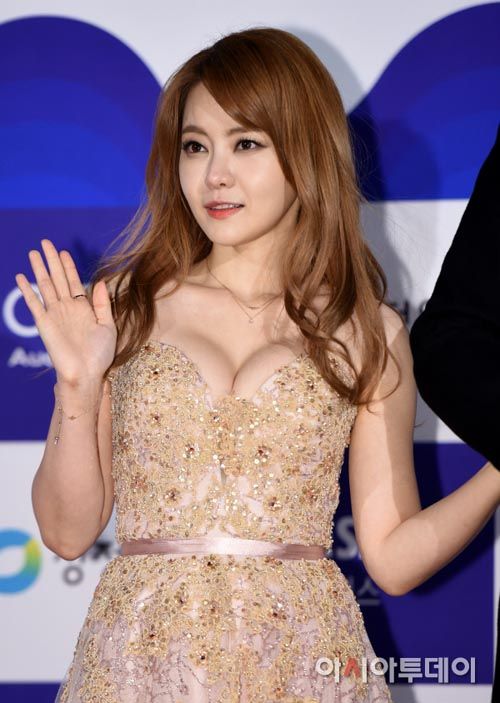 Bae Sung-woo was in every movie this year: Veteran, Beauty Inside, Office, The Royal Tailor, and was nominated for Supporting Actor in Office.
Lee Hee-joon (Robot, Sorry) in a simple black tux.
I know Lee Kyung-young is wonderful, and he was in two hits this year (Assassination, Beauty Inside), but right now I'm still mad at his infuriating character in D-Day. He does look very happy here though, and not at all like a megalomaniac who's got a thing against life, and joy, and tallness.
Funny character actor Oh Dal-soo won the Supporting Actor Award for Ode to My Father. His suit is brown and red and shiny all over, and makes him look like a holiday elf. But it's okay, Oh Dal-soo. Even though your fashion is terrible, you're in all the box office hits from the beginning of time to the end of days.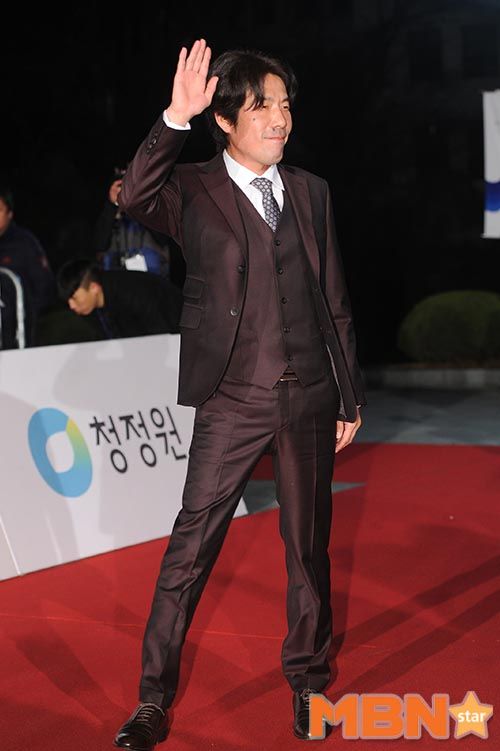 Yoo Hae-jin, another actor who's in all the hits ever, was nominated for Supporting Actor in Veteran this year. I got so used to seeing him schlepp around on Three Meals a Day: Fishing Village, but he cleans up nice.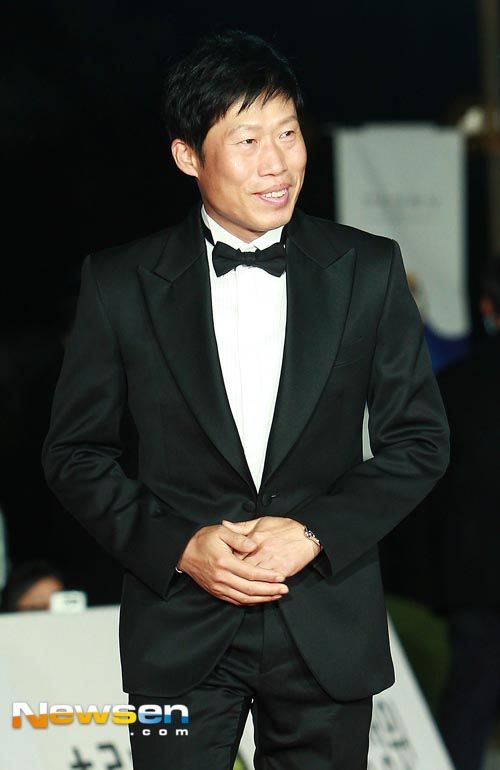 Sistar's Dasom (Strange Daughter-in-Law) wears one of the worst dresses of the night. This one looks like Grandma's curtains got made into a dress, but instead of an alluring neckline, it's a frumpy cut that's see-through but not sexy. It's a frustrating dress that simultaneously makes you want to see more and less skin.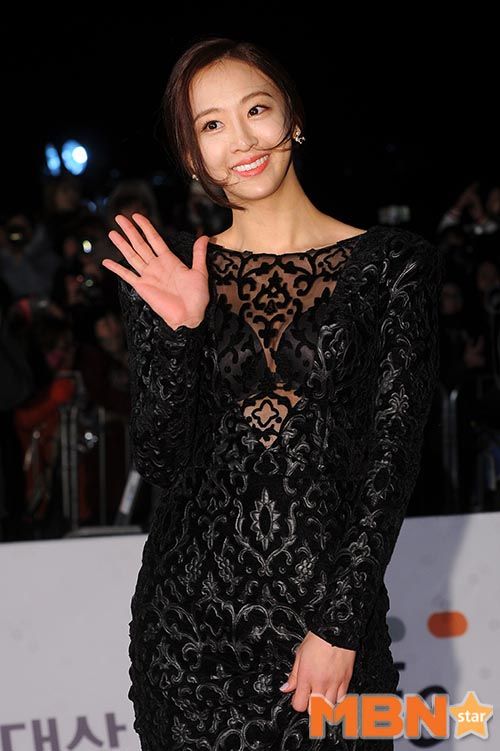 Lee Jung-hyun bested some of the biggest names in the industry and picked up the Best Actress Award for Alice in Earnestland. I just wish she wore a better dress for her big night, because I don't know what's going on with this dress. It's peekaboo all over, and gives off a vague Renaissance peasant dress feeling.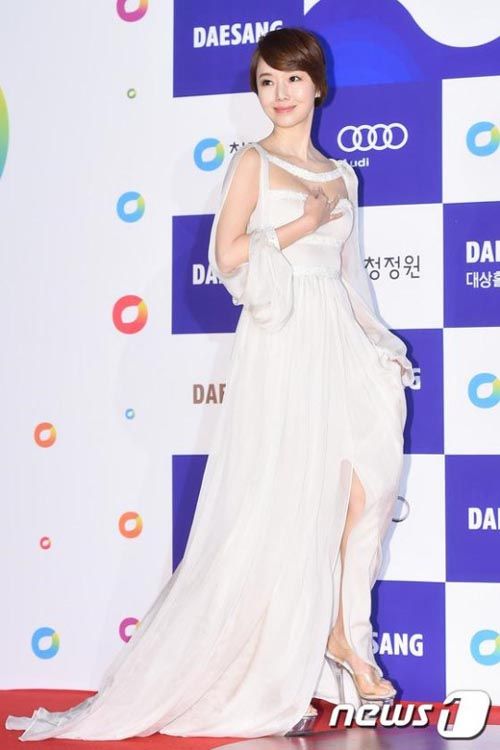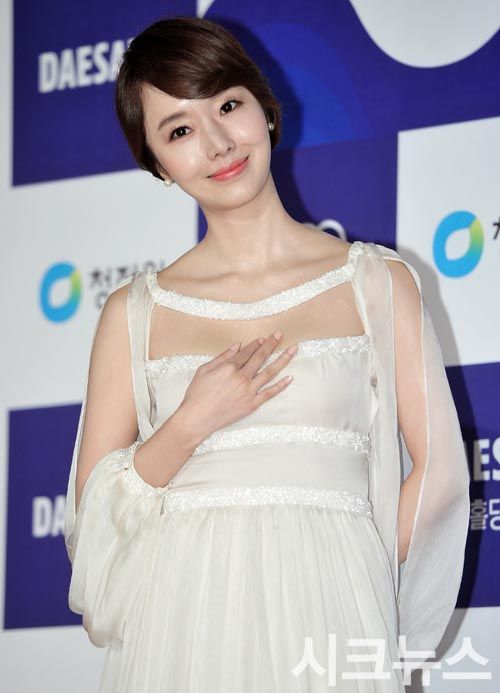 I've almost never seen Lee Yubi in something bad, but I don't like this white sack on her. What happened to the vibrant colors and fitted cuts for the young starlet? She was nominated for New Actress in Twenty, and is as beautiful as ever. But the billowy dress makes her look like she rushed out of bed in a sheet, the end.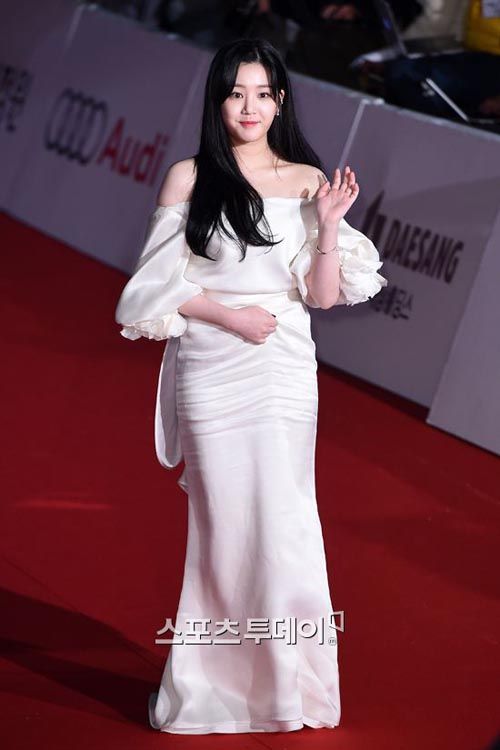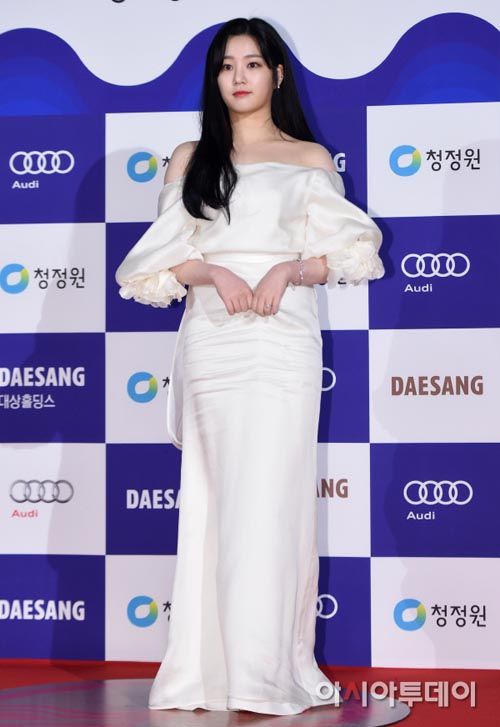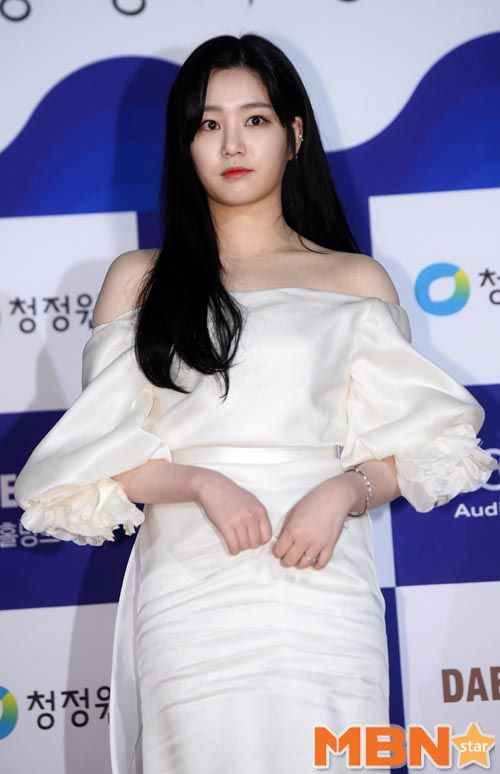 Hong Jong-hyun (Alice in Earnestland), I still find you very wooden as an actor, but you wear the hell out of a tux. I even like the red velvet jacket, which is totally odd for me. Maybe the turkey's going to my head. It could be the wine. You're very pretty.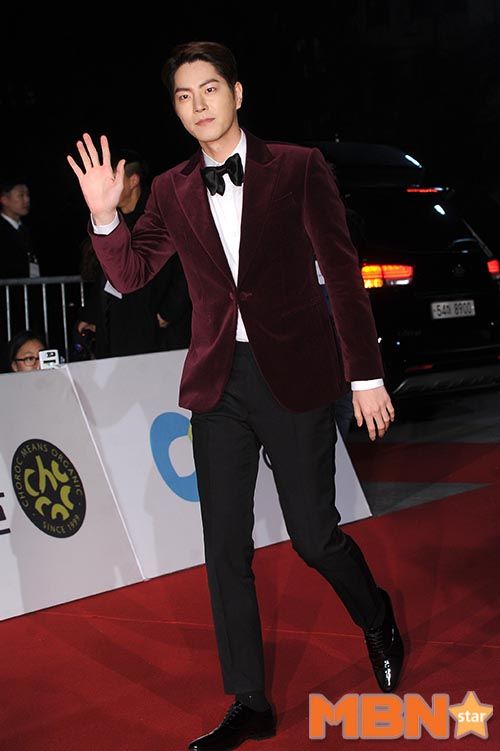 Ugh. A world without Park Seo-joon is a jelly donut without the jelly. I have no idea what that means. I just love this man. Boy. Manboy. Before taking the small screen by storm in She Was Pretty, he played the sweetest part of the romance in Beauty Inside opposite Han Hyo-joo and was as swoony as ever. He picked up a Popularity Award tonight and looks A-mazing. Le sigh.
Via Naver
RELATED POSTS
Tags: awards, Byun Yo-han, Choi Woo-shik, Chun Woo-hee, Dasom, Han Hyo-joo, Hong Jong-hyun, Jang Young-nam, Jeon Hye-jin, Jin Ji-hee, Jo Jin-woong, Kang Haneul, Kim Hye-soo, Kim Sae-ron, Lee Hee-joon, Lee Jung-jae, Lee Min-ho, Lee Shi-young, Lee Yubi, Min-ho, Moon Jung-hee, Nam Bora, Oh Dal-soo, Park Bo-young, Park Seo-joon, Park So-dam, Seo Shin-ae, Seolhyun, Song Jae-rim, Sung Yuri, Taecyeon, Yoo Ah-in, Yoo Hae-jin, Yoo Joon-sang