Girlfriends and love interests added to Entourage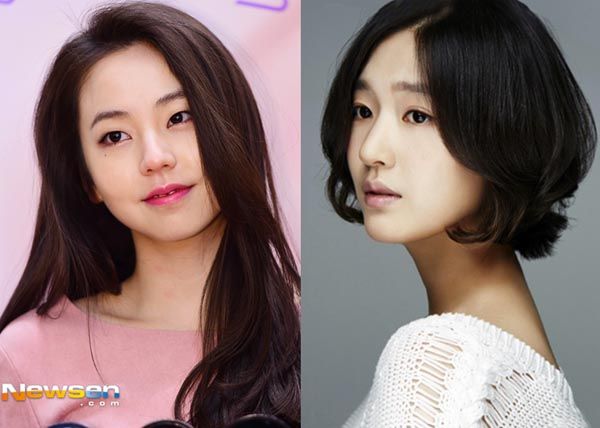 Ahn So-hee, Kim Hye-in
I'd wondered when we'd be getting more ladies in the Entourage cast, with only f(x)'s Amber named thus far; I know the show is heavily male-centric and more about the bromance and exploits among the boys of the entourage and their immediate circle of agents and industry types, but we can't have a show about womanizing dudes and leave out the women, can we? Now we have two potential love interests with the likely addition of former Wonder Girl Ahn So-hee (Heart to Heart) and newcomer Kim Hye-in.
Kim Hye-in was cast earlier this week with headlines declaring her a surprising choice as leading lady, given her rookie status; she was a World Miss University winner in 2012 and is represented by Keyeast, but has literally zero credits. However, now that Ahn So-hee's in the mix (she's considering, but hasn't finalized), it's clear that So-hee will be the bigger lead, playing an actress and the first love to Seo Kang-joon, who plays the movie star main character (Vince in the original series). I recall Vince having zillions of girlfriends over the course of the show and no one true love, but I do expect the remake to hew a little more to the K-drama expectation of one primary loveline per character.
Kim Hye-in, meanwhile, will play the Sloan character, who in the original was the girlfriend to the movie star's manager/best friend, Eric. She's described as an interior designer who studied abroad and has a wealth of connections to the entertainment world via her mother, which gains her the access to become an interior designer to the stars. She's an elegant and successful modern woman who's able to balance both her career and her home life well, which I think is a pretty decent translation of the Sloan role.
In this version, Eric's character has gone to Park Jung-min (You're All Surrounded), with Lee Kwang-soo (It's Okay, It's Love) and Lee Dong-hwi (Answer Me 1988) rounding out the entourage. Jo Jin-woong (Signal) stars as Seo Kang-joon's powerhouse agent.
Entourage will be 100 percent pre-produced and is working on securing a simultaneous broadcast in China; it doesn't currently have a timeslot, but tvN intends to air it later this year.
RELATED POSTS
Tags: Ahn So-hee, Entourage