Sungkyunkwan Scandal: Episode 13
I'm back! I hope you readers enjoyed the little treat that girlfriday presented to us as much as I did! I'm feeling refreshed from my mini recap vacay and ready to get back in the game with this awesome episode. It's official. I'm shipping the Yong-ha+Guh-ro bromance all the way. Not that I don't love the other pairings, because I adore all of them, but the bromance has my yaoi imagination running wild and I love it!
On to the recap!

SONG OF THE DAY: JYJ- Be My Girl
Audio clip: Adobe Flash Player (version 9 or above) is required to play this audio clip. Download the latest version here. You also need to have JavaScript enabled in your browser.
I thoroughly enjoy Sun-joon's Engrrrish.

LESSON 13 RECAP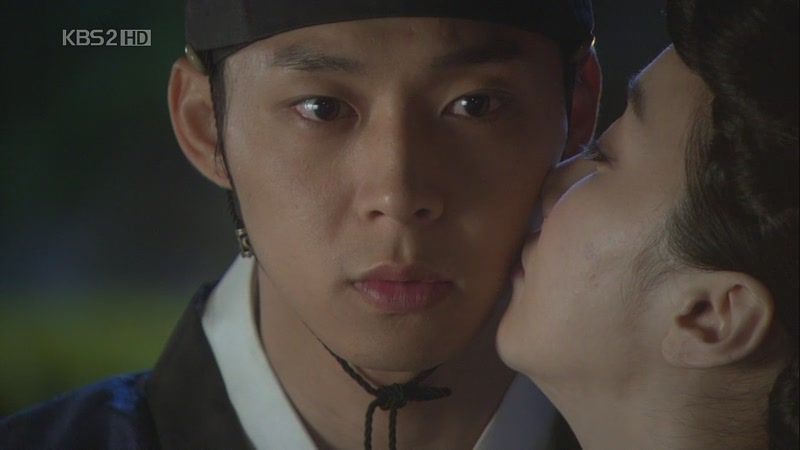 Cho-sun's peck on Sun-joon's cheek shocks everyone at the table—especially Hyo-eun, who momentarily forgets herself and has a jealous fit until Sun-joon's surprise brings her back to her façade, and she feigns a faint. Cho-sun reassures her that a straight arrow like Sun-joon isn't enough to tempt her. She was just being spiteful because her beloved Yoon-shik couldn't take his eyes off Hyo-eun.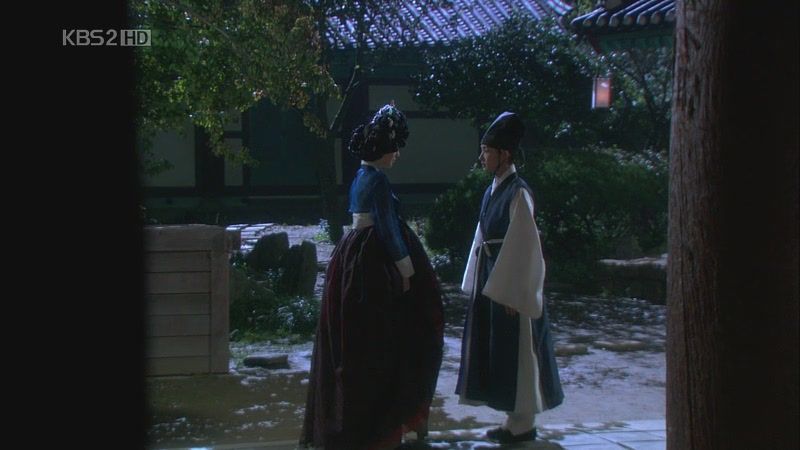 Cho-sun asks the forgiveness of her rudeness and leaves with Yoon-hee following after her. In fact, Cho-sun knows exactly who Yoon-hee actually likes and instead of being angry that her love is unrequited, she's worried for Yoon-hee:
"I'm more worried about you. To want someone who can't be yours…being hurt while also hurting the other. Even so, you can't abandon your feelings and so every day you find yourself lost in hell. That's what first love is."
The idea leaves Yoon-hee pensive and she returns to the table to apologize to Sun-joon and Hyo-eun for the disturbance but Sun-joon dismisses her and the terrible angst begins! Yoon-hee's classmates see that she's feeling blue and accompany her to some drinks, but quickly regret the decision as she drowns her sorrows away with alcohol.
Sun-joon drinks in frustration also while keeping an eye on an increasingly inebriated Yoon-hee as she loses her composure. He wants to go over to her but of course our kdrama hero does the complete opposite of what his heart wants and tells Hyo-eun he'll walk her home.
Yoon-hee's classmates also take the opportunity to ditch. Guh-ro overhears the escapees' conversations about Yoon-shik's heartbreak over Cho-sun and amused at the idea, he goes to pick her sloppy mess up. (Oh, and of course Sun-joon stands as witness.)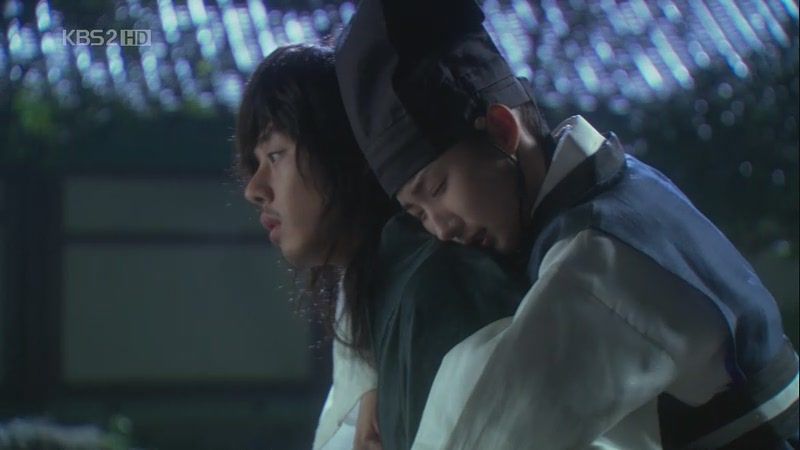 As Guh-ro carries Yoon-hee back to the dorms on his back, the most adorable(and heartbreaking) misunderstanding ensues when Yoon-hee pounds his chest and complains: "You bastard."
Guh-ro: "What?"
Yoon-hee: "Even when others cursed you, to me you were such a thankful person…I've always only received from you. You don't even know how I feel…How could you…"
Guh-ro: "Are you… are you really calling your godly senior a bastard?"
He chuckles, I die.
Guh-ro lays Yoon-hee down to sleep but quickly runs out when her unsuspecting sleeping face gets too much for him to handle. (Squeal). Outside, he meets Sun-joon and demands to know what he's doing: "What were you doing while he drank himself to that state? Weren't you even worried?"
Sun-joon retorts coldly, "Why should I need to worry about that? If you're so worried for him, then you can take care of him." Taken aback by his response, Guh-ro grabs Sun-joon's collar but Sun-joon delivers the final blow, "I never want to hear the name Kim Yoon-shik from your mouth again."
King Jeong-jo receives requests for the Red Messenger to be brought to justice—as of late, he's gone haywire, murdering guards and stealing the riches of the people. He's also pointed his next target to be Un-jong-ga—but Jeong-jo is not fooled, finding the Red Messenger's pattern change to be suspicious. Thank you, k-drama gods, for not making Jeong-jo a fool!
Of course, this is all Minister Ha's ploy and by this time tomorrow, the Red Messenger will be caught and he promises the fake that he will keep his word with whatever deal they made. Oh nooo's—not you…just kidding, I won't give it away.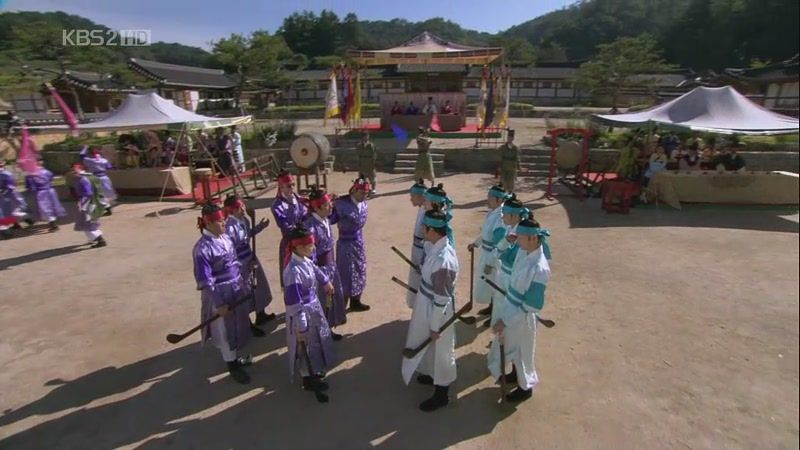 The next day, the games begin and the heat is on between the two teams. The gisaengs are in a fix—the Jalgeum Quartet are broken up—whoever shall they cheer for? At least the Headmaster's happy about the team roster since there'll no longer be any bickering between the Noron and Soron faction—all thanks to In-soo. Speaking of which, In-soo is giving Byung-choon the "This-is-your-last-chance-fo-real-don't-eff-it-up" look.
Sun-joon and Yoon-hee are still as angsty as ever and despite her efforts to make peace, Sun-joon won't have any of it. If only you knew, dear Yoon-hee, the hurricane of feelings your boy is dealing with right now. She swears to Guh-ro that she's going to try her best today—not out of spite, but to show Sun-joon that she can do just fine all by herself. After all, they can't always be on the same team forever.
Guh-ro grasps her arm and ties her sleeve down for her as he tells her she's not alone…please Guh-ro, don't leave me alone either!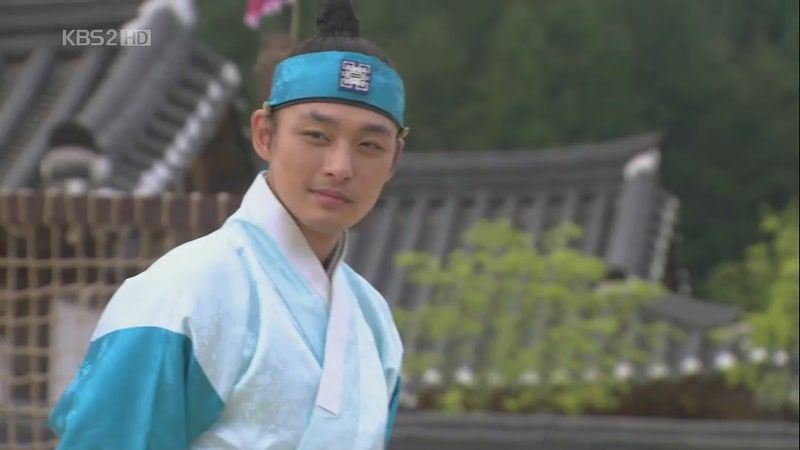 When the actual game begins, In-soo repeatedly (and suspiciously) passes the ball to Yoon-hee with a creepy Buddha smirk on his face—this is all a part of Byung-choon's plan. Go-bong is to cover Guh-ro, who'll probably stick by Yoon-hee's side, and it's Byung-choon's plan to hit Yoon-hee in the head with his stick while acting like he's going for the ball…although…I don't really see how that's going to look natural, with the ball on the ground and Yoon-hee's head nowhere near it… but whatever.
Byung-choon's plans are constantly thwarted by Sun-joon's aggressive playing—yeah, Yoon-hee and Sun-joon have got their own battle to fight. Sun-joon pushes past her and hits a goal in but then looks on at Guh-ro helping Yoon-hee up. What'd you think was going to happen?
Guh-ro's furious at Sun-joon for playing so aggressively against Yoon-hee, and Sun-joon's furious at Guh-ro for getting involved in her business. Uncharacteristically losing his temper, and to the surprise of everyone watching, Sun-joon moves to throw a punch but is stopped by Yoon-hee. (Ooh, I like angry Sun-joon!).
Yoon-hee reprimands him for trying to use violence when it's just a game, "Aren't you ashamed?" Turning to Guh-ro, she spits her venom, "Don't worry about it. He's not even worth our time." Youch.
Of course, through all this, Yong-ha looks on at the action in amusement. Yong-ha's out of the game with an "injury" but Professor Jung points out to him that he's always watching on the sidelines. "Which is it? Are you afraid of fighting? Or afraid of losing?"
Yong-ha, slightly taken aback, "I don't know, probably…both?" Ah, finally, a defining character flaw!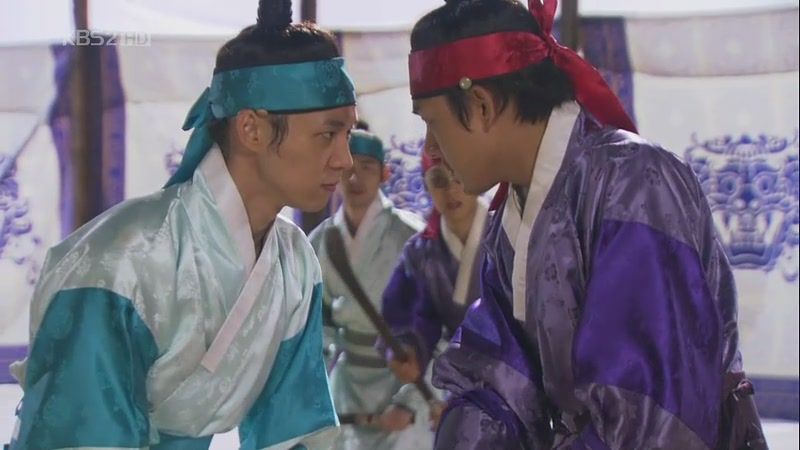 Despite Yoon-hee's words, it's now on like donkey kong between Sun-joon and Guh-ro but unbeknownst to them, Go-bong and Byung-choon take the opportunity to steal the ball and finally take a strike at Yoon-hee. In-soo's waiting for the ball with his creeper face and passes to Yoon-hee when he gets it. Our innocent heroine takes it as a lucky break but Yong-ha finds it suspicious—there's no way that In-soo would make so many mistakes.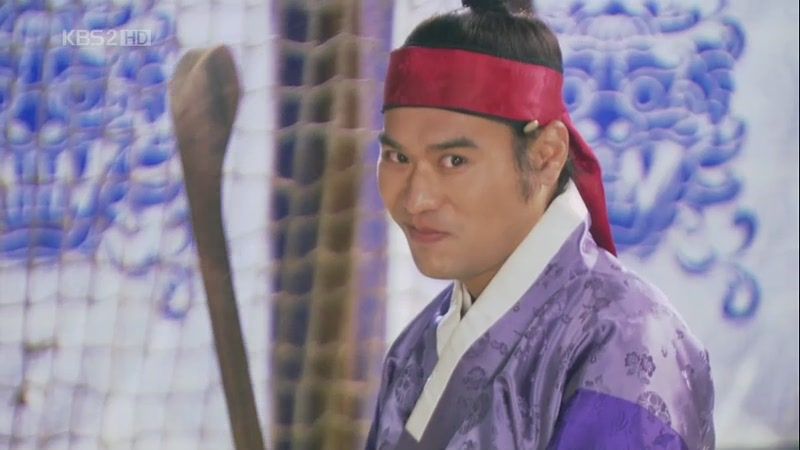 Sure enough, Byung-choon's waiting with his stick up (um, a little too obvious, don't you think?) as Yoon-hee dribbles the ball and needless to say, Guh-ro catches sight of Byung-choon's stink eye and runs over to hold him down. Go-bong joins in on the wrestle and Yoon-hee tries her best to side step the three as In-soo watches the struggle.
Catching sight of Cho-sun's smiling face, In-soo decides to get involved and strike Yoon-hee himself…slow motion, he winds up, he strikes, Sun-joon takes the blow and he and Yoon-hee fall to the ground. (Just…no words for this action sequence.)
Everyone's horrified, especially Minister Ha who can't find the words to properly apologize to Minister Lee. (Oh, and Headmaster Choi and his hilarious screech!) Minister Lee dismisses it as nothing more than a game but of course, that's just Minister Lee's way of saying he's really pissed off. The engagement's probably out of the question now. A snarky grin from me!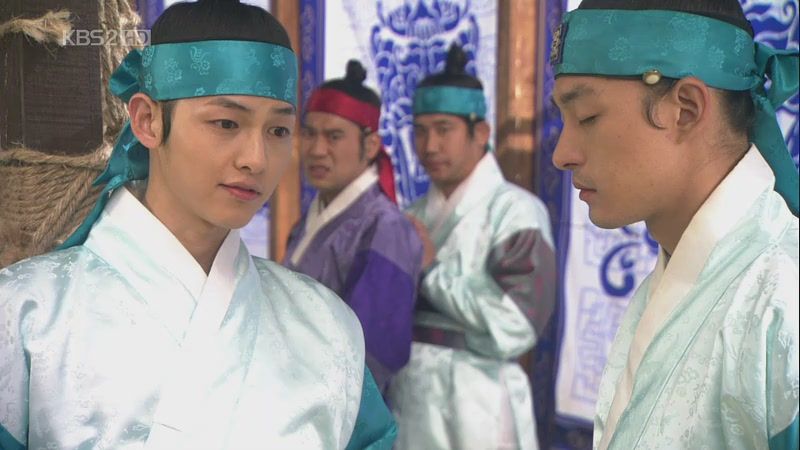 With that, the first half of the game is over and it's pretty much a sh** out of luck situation for In-soo.
Yong-ha adds his two-cents: "I know that you were out to get Kim Yoon-shik from the beginning. That was really unlike you…to get your own hands dirty like this. Makes no sense."
In-soo: "What makes no sense are those guys. How can something like this happen? Who the hell is Kim Yoon-shik, that the Left Minister's son would throw himself for him?"
Headmaster Choi is busy trying to make amends with Minister Lee but he's more interested to know about Kim Yoon-shik, "What kind of kid is he?"
Yoon-hee's sitting in a daze when Guh-ro hands her a water canteen but instead of taking it, she begins blaming herself for Sun-joon's injuries. She can't take it anymore and runs off to go see him…and the second lead heartbreak begins.
Sun-joon's in the infirmary and although his eye are open, he's still a little delirious from the blow as he sees/thinks back to all his memories with Yoon-hee and imagines her at his bedside. When he finally comes to, it's not Yoon-hee by his side but a concerned Hyo-eun. He sits up and she tells him that now that she's seen him awake, she'll take her leave, adding, "About our engagement…our family will no longer pressure you into this marriage. So please take care of yourself."
But with Yoon-hee's entrance into the infirmary, Sun-joon gets up and asks Hyo-eun, "Will you…marry me? Please… marry me. Up until now, I've never failed to accomplish what I willed. I've also never failed at what I've tried. I've also never broken a promise. And I'm going to keep it that way. I'll always try my best—"
A heartbroken Yoon-hee can't stand to hear anymore and leaves the room as an equally heartbroken Sun-joon continues, "If you're okay with someone like me…will you please hold me back?"
Yoon-hee runs off in tears and Guh-ro peeks into the room to see what the big commotions about…and realization strikes! Drunk Yoon-hee wasn't calling him a bastard…it was Sun-joon all along. Three heartbroken souls and one enraged viewer…yeah, I'm writhing in rage.
Guh-ro finds Yoon-hee crying alone and tells her, "There are some things…that no matter what anyone says, you don't feel any better. But even if you can't feel better, you can make yourself forget. You just have to bug the hell out of your body…it's pretty useful and I think I might try it out myself for the first time in awhile…you should try it too."
Gosh, how do you always know the right thing to say, Guh-ro.
The second half of the game begins and Yoon-hee takes Guh-ro's advice—she's playing harder than the first half and so is Guh-ro. The two make quite the combo—Guh-ro blocks, Yoon-hee shoots, and they win the game.
Sun-joon looks on at their victory celebration while his manservant gushes at the changes he sees in his young master—Sun-joon throwing himself to save another? Who would've ever thunk it! Sun-joon claims that's all in the past now, but Minister Lee's not so convinced—he's concerned for his changed son.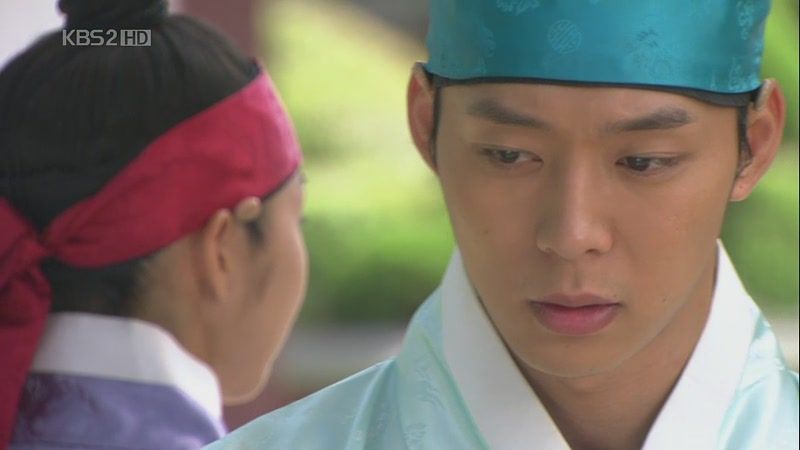 When Yoon-hee runs into Sun-joon, she tries to thank him but he tells her that he would've done the same for anyone, "So there's nothing to be thankful or feel sorry about." As he begins to leave, Yoon-hee adds:
"The two of you… look really good together. I wanted to tell you congratulations," and Sun-joon wordlessly walks off.
Everyone's washing up and Yong-ha's feeling a little playful again when he sees Yoon-hee walking by. He owes her a bucket of water and he intends to throw it to her because surely she's not going to not wash up after all that sweaty exercise. Guh-ro comes to her rescue again as he makes up some bogus errand Yoon-hee needs to run, leaving Yong-ha getting adorably up close and personal with Guh-ro. Yong-ha+Guh-ro pairing for the win!
Back in the infirmary, King Jeong-jo is having a few words with Professor Jung about the trap being set up for the Red Messenger tonight. The Red Messenger, who he believes to be a Sungkyunkwan scholar, needs to be protected at all costs—and that job falls on Professor Jung. Only the Messenger knows where the Geum-deung-ji-sa is, and if he's caught, not even he the King will be able to protect him.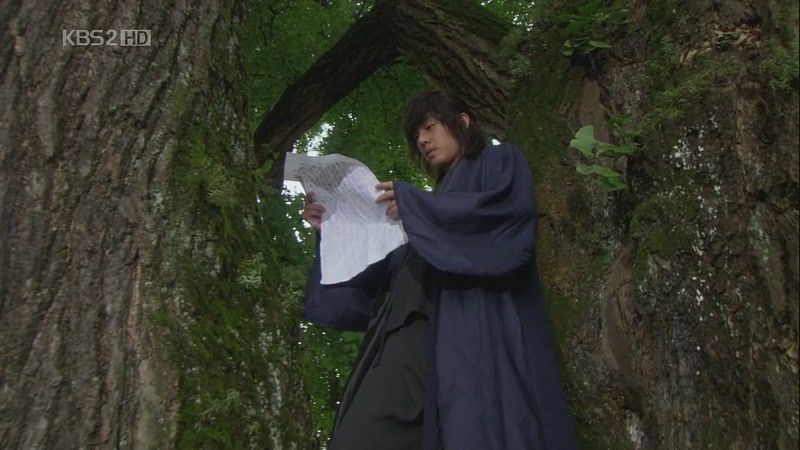 Guh-ro looks over the Fake Red Messenger's message and knows it's actually an invitation for him to show himself. The rest of the school is also buzzing about the Red Messenger over dinner, the unanimous opinion appearing to be that the Red Messenger deserves to be caught—after all, he's just a thief and a murderer.
Guh-ro asks Yoon-hee if she's of the same opinion and when she tell him she's sure he's Sungkyunkwan scholar, he momentarily freezes. Yoon-hee goes on to explain:
"All of the Red Messenger's notes were beautifully written," Guh-ro smirks smugly but she continues, "Tsk tsk tsk…that guy sure is pathetic," Guh-ro freezes, "I mean, he writes all those beautiful words in Chinese characters… does he expect the uneducated people or women who only know Hangeul to be able to read it or not? He's senseless, I say, senseless. I mean, who is he trying to reveal the truth for? With that kind of mindset, how is he going to change the world?"
Guh-ro stares at Yoon-hee, she stops chewing, and he bursts into laughter. "You're right. Red Messenger… that pathetic fool," and he laughs some more—whilst both my nostrils burst with bloody streams… too graphic?
Guh-ro's euphoric and so am I, but grumpy Sun-joon can't take anymore and leaves and Yong-ha notices that something's up. So he catches up with Sun-joon in the library and points out that hiding out in the library instead of eating is something that not a betrothed man, but a heartbroken man would do. Is it because he's jealous?
Before Sun-joon can even reply, Yong-ha waves him off telling him that he gets it—surely someone as stiff necked and proper as Lee Sun-joon wouldn't indulge in an emotion like jealousy… right? He continues, "If the person you like has someone else in their heart, then I'm sure that even Confucius himself would feel envy, indignation, wrath, and jealousy. Because that's what it means to be human. Is it Lee Sun-joon-like to trick your own feelings? I'm just… curious."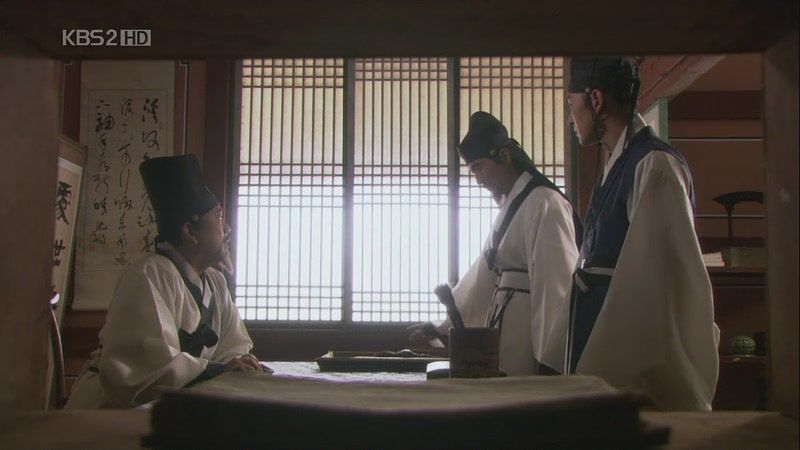 Meanwhile, In-soo's plans to catch the Red Messenger but he gets called to the Headmaster's office where his title and privileges as President are revoked. According to Professor Jung, his true sin lies in the fact that he shamed Sungkyunkwan's name for all the people to see, thus he should be punished for them to see also. You reap what you sow.
Palace guards make preparations for the Red Messenger's capture, as does Professor Jung's preparation to prevent it. No one is to leave the school tonight but of course Guh-ro's wall climbing skills are no match for the school staff.
Yong-ha, on the other hand, is THE Gu Yong-ha—he catches Guh-ro as he's making his escape.
Yong-ha: "Going somewhere, Guh-ro? If it's for a game of cards, I'll play with you…and if it's for a drink, there's a lot in my room."
Guh-ro: "You can't win against me."
Yong-ha: "The Red Messenger is just the bait. The one they really want is you! Don't you get it?"
Guh-ro: (Taken aback at his knowledge) "You…"
Yong-ha: "Did you think I wouldn't know? Did you think I was a fool who wouldn't even know what his only friend of 10 years was up to?"
Guh-ro smirks and tries to leave, but Yong-ha grabs him (and I'm already dead on the floor): "Don't go. Aren't you afraid? You could die!"
Guh-ro: "Afraid? Why would I be afraid? It's not like living is that much better than dying."
Yong-ha hits him in anger: "If living isn't better than dying… then what am I? Go. Just go and live the way you want…and disappear."
Guh-ro: "Then am I supposed to just watch as my brother's life work is being tainted by some petty thievery and murders? When it's because of me? Living like that… is that really living?"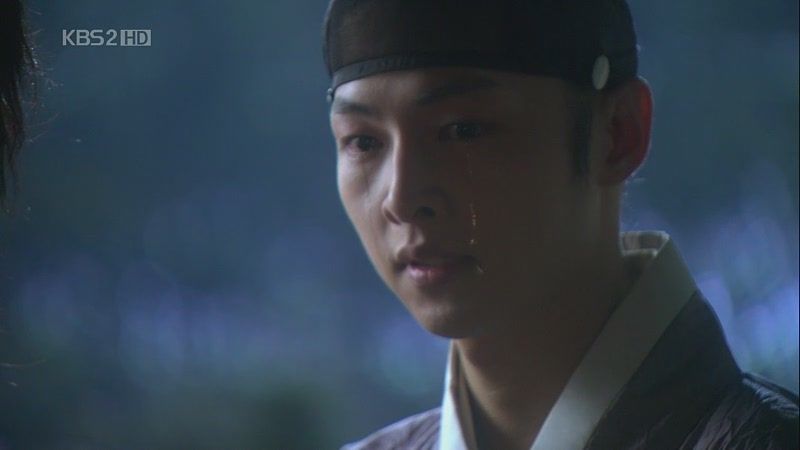 Tearful Yong-ha can't reply and Guh-ro runs off into the dark after reassuring him that he'll return unscathed. (From this point on, it's my soul-less body writing, because my soul decided to go bye-bye from the overload of awesomeness.)
The Fake Red Messenger is up to his/her rogue antics when the real Red Messenger appears and manages to injure the imposter before he/she escapes. The injured fake finds sanctuary in a storage room and unmasks herself—(fake gasp) Cho-sun!
The palace guards surround the real Messenger and things are looking dismal for him when he receives a devastating gash to his gut—but when two mysterious men come to his rescue, Guh-ro manages to make his escape. The mysterious men are the king's men and he's glad to hear the Red Messenger managed to make his escape.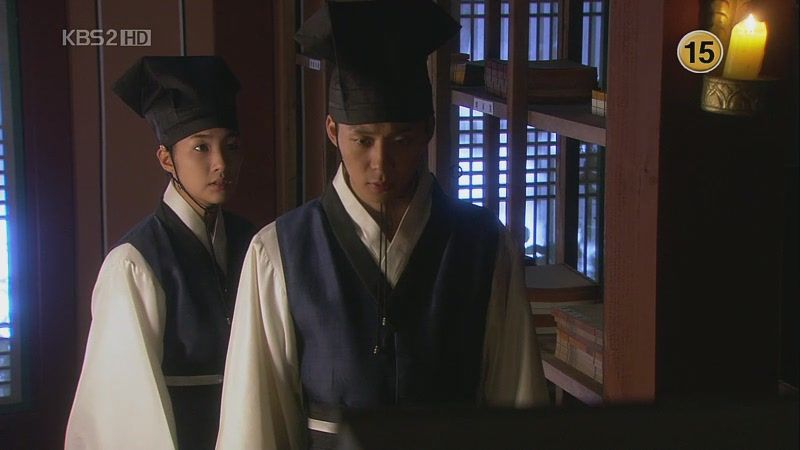 Back at school, Yoon-hee feigns coincidence when she runs into Sun-joon at the library. He tries to leave but she asks him if he's avoiding her. He coldly replies, "What a surprising delusion. Is Kim Yoon-shik important enough for me to avoid?"
"Are you still mad about the Open House night?" When he begins to walk away, she continues, "Was it all worth nothing to you? All the times we shared in the past… were they so trivial that it'd all break down from a small misunderstanding? Or is it because your feelings for that girl are so great?"
Sun-joon tries to avoid the questions, but Yoon-hee presses on, "I told you. Once we leave Sungkyunkwan, we'll never see each other again. Until then, can't we just get along as mere roommates? Is that really something that I can't even hope for? Answer me."
Trying to press down his feelings, Sun-joon replies, "Listen well Kim Yoon-shik. I have no intention of going back to the way things were."
Hurt, Yoon-hee runs out in tears. A few silent moments pass before Sun-joon runs after her.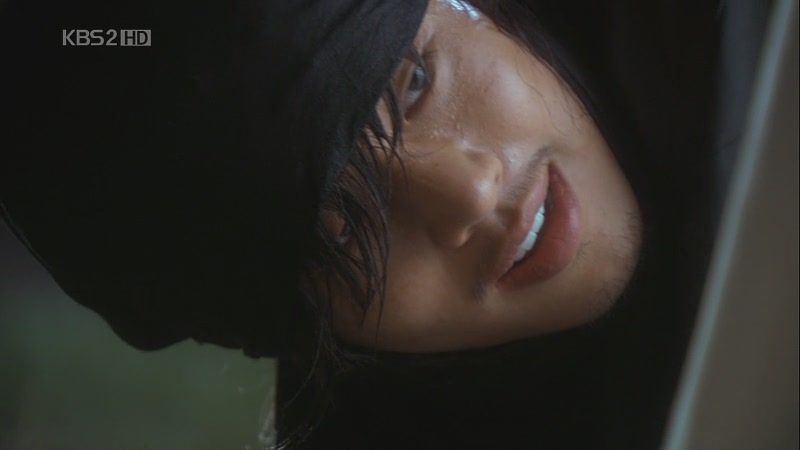 Yoon-hee's running her feelings away when a bloody masked man falls in pain before her. She carefully approaches, realizing that it's the Red Messenger, when he suddenly pulls her into an embrace.
He manages to tell her, "It's a good thing I managed to stay alive." And with that, Guh-ro unmasks himself.
COMMENTS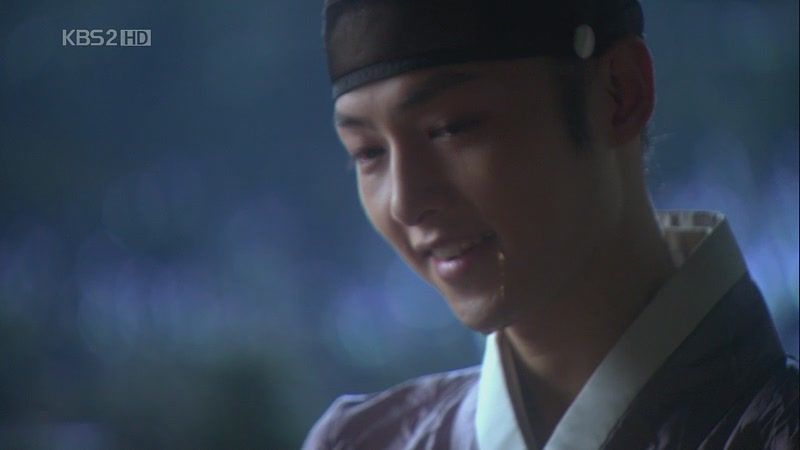 I was punching and kicking the air throughout this episode—unlike the previous episodes where it was out of pent up euphoria, this episode it was out of rage. Don't get me wrong, it doesn't mean I didn't like the episode, because I loved it. And it's also not because I thought the angst was unnecessary, because I know it's necessary for the dramatic process, but it was simply because k-drama angst always kills me (I enjoy it, but it kills me… yeah yeah I'm a masochist). A giant step backward for Sun-joon, who was well on his way to shedding the rules and principles that bound him—however, I understand that the internal struggle is necessary so that the leap he makes later on is that much greater. It's just frustrating to watch him digress, that's all I'm saying.
Lots of heartbreak this episode. Heartbreaking for Yoon-hee who doesn't understand the real reason for Sun-joon's coldness—the fact that she finds the need to deny her womanhood (again)and assure him that she only has eyes for Cho-sun just so that he'll talk to her—utter sadness. Heartbreaking for Sun-joon, who's heart is feeling things that his whole life philosophy reprimands—the fact that his proposal to Hyo-eun is more like a desperate plea for salvation. Heartbreaking for Guh-ro who mistakenly thought Yoon-hee was angsty over him only to find out it wasn't—and yet he is still the dark knight in shining armor. And lastly, heartbreaking for Yong-ha, who for the first time showed raw emotion for Guh-ro.
I'm shipping Yong-ha and Guh-ro simply because I think I have too much testosterone in me and brotherly love trumps romantic love. Okay, not always, but that's how much I love the Yong-ha+Guh-ro brotherhood. Don't get me wrong, I love all the other pairings—but maybe it's because Guh-ro's the only person that Yong-ha seems to truly love/care-for. I'm not going to suggest that it's romantic… although, I honestly think his feelings could go both ways.
Another thing about Yong-ha I appreciate is the fact that he's kind of the glue for the Jalgeum Quartet. If it weren't for him, the relationships would simply be a love triangle—but because he exists, they become a brotherhood (er… I know Yoon-hee's a girl, but you know what I mean.) He's always got the right thing to say to Sun-joon, Yoon-hee, and Guh-ro to get their minds thinking—i.e. his little talk with Sun-joon this episode about what it means to be human. We've also finally got a definite character flaw—he's kind of a coward. The first thing Yong-ha asks Guh-ro when he's about to set off is, "Aren't you afraid?" That's also probably why he doesn't belong to a particular faction, and has such an ambiguous relationship with In-soo—he's afraid to be on the losing team.
In-soo is such a complex character, I can't seem to figure him out. I kind of feel like he's a Gu Jun-pyo on crack—his ego is way out of wack which skews his perception on reality. Feel sorta sorry for him, especially because he seems to never win against Yoon-hee. Throw the guy a bone~
RELATED POSTS
Tags: featured, Micky Yoochun, Park Min-young, Song Joong-ki, Sungkyunkwan Scandal, Yoo Ah-in