ATHENA: Episode 10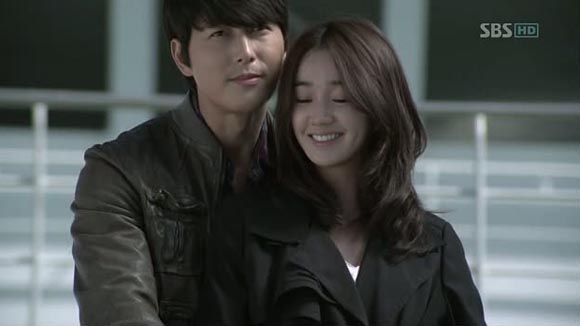 Son Hyuk is angry and psycho! Hye In is ambiguously using everybody for her own benefits! Jung Woo believes whatever crap he's told! Jae Hee keeps on being an amoeba! Just another day in Athena-world…
Welcome!
Episode 10 recap
While Jung Woo is being taken, still handcuffed, Hye In passes by in the opposite direction and headed to her freedom. They exchange meaningful glares as the elevator closes. Both Hye In and Ki Soo are free people now; they only have to keep the operation's details under utmost secrecy.
After one batch of really crappy days, Hye In is in no mood for Son Hyuk's call, but her interest is raised when he mentions that he's going to Hawaii. "You've been summoned too", he adds much to her surprise.
And so, Ki Soo is back to his old life too, at the Mahjong room. His boys were talking about taking over the business if he never came back, so his arrival puts an end to their speculation. That's when his call with Chul Young happens – they only agree to meet in order to talk about something still unknown.
While being given a report by Jae Hee, Kwon is informed of Jung Woo's situation. He storms off to pick him up, but he finds an unbreakable opposition in Director Han. As his last resource, he places his gun over the Director's desk, mentioning that it's regarding a commission by the President himself and that Jung Woo is his kid, so he should handle this mess. His request is finally granted.
Kwon and Jung Woo are left alone. The former is visibly upset, a sight that makes Jung Woo worry and say that he's sorry. It's not an apology what Kwon requires; he's disappointed and hurt beyond what our little ditz thinks. As per Kwon's words, he was Jung Woo's partner when he died, a tragic event that he's regretted ever since. In order to feel less guilty, he paid special attention to his son and gave him opportunities to shine, but he didn't expect him to act this way.
Jung Woo is released with an indefinite leave from the NTS. Nevertheless, Kwon reassures his trust in him. After leaving his detention, he's worried about only two things: Hye In and taking some drinks. The former is supposedly on vacation, and for the latter? To Ki Soo's we go!
The guys talk about chicks and work over some soju (in Jung Woo's case, using a king-sized glass). Ki Soo is especially outraged after knowing Hye In's shameless attitude after our teddy-bear-NTS-agent put his career on the line for her.
While Jung Woo is emo-calling Hye In (who doesn't pick up), in Hawaii she's all confused and angsty too. Son Hyuk's call will keep her from continuing with her sudden emotional weakening.
It's actually really hilarious when she mentions a French poem to Randy, who's come to pick her up. She's rambling about how teary she used to be when she was young, and he's like "What the fuck are you talking about? We're kickass highly trained assassins, please be on topic with your nature, biatch". In the end, he asks about her relationship with the Director, to which she answers with their first meeting – her parents had just died in a fire, and he saved her life. After that, she devoted her soul to him.
Bah, Randy was expecting more exciting details, but he only got this.
We've got to thank an anonymous benefactor for Jung Woo's awakening from his lethargy – he receives a box full of photos for him to analyze.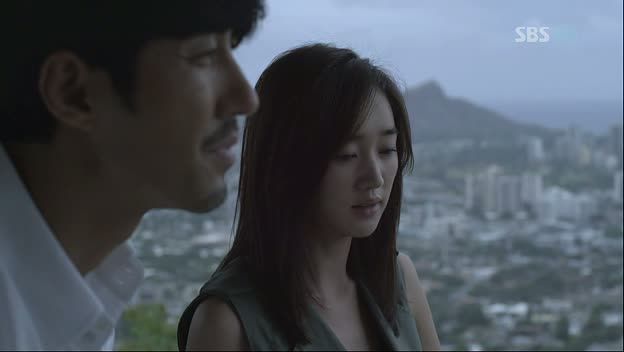 Meanwhile, Son Hyuk's meeting with Hye In is nothing particularly meaty until he urges her to take care of anything that could be between them and success – her first assignment: Lee Jung Woo. Owww, jealousy, how I love thee.
Jung Woo's cerebral light-bulb turns on while analyzing the photos, leading him to remember the paper Dr. Kim gave him. After some research, he finds out that it's from an ethylene glycol label, a compound used as antifreeze and solvent but also as shielding material in the nuclear field. Hm, interesting.
As a second step, a meeting with Joon Ho takes place. After seeing one of the photos, he reveals that it's from a wall from where Dr. Kim was kept. They think that it was a code, as it made no sense otherwise, one that was impossible to crack. Feeling that his piece of paper could be the key to decipher Dr. Kim's message, Jung Woo goes on a rogue mission to Japan.
In China, Ki Soo informs Chul Young of Dr. Kim's death. He also affirms that, even though they took the equipment after his murder, South Korea wasn't behind this but an unknown third group. Chul Young doesn't care – the first and rightful owner of Dr. Kim's technology was North Korea, so it's time for them to appear and ask for it.
Jung Woo's departure reaches Jae Hee's ears. Indignant, he storms off to his house in order to stop him, to no avail. She admits her defeat and leaves almost as soon as she arrives, heading to a bar. Her mood is on the floor when Son Hyuk appears magically by her side, pretending to care. He can't stop her from flooding her circulatory system with alcohol (not that he tried that hard).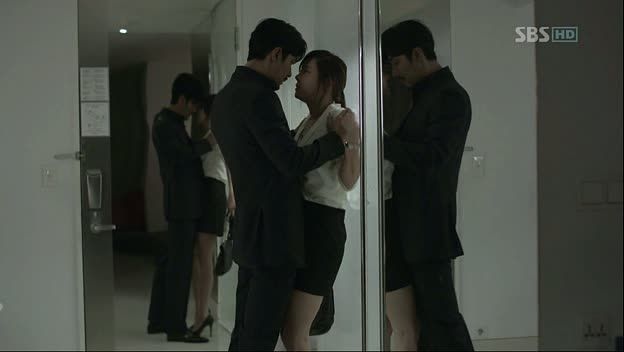 By the time they arrive to a hotel where she'll stay, the tension is already there. Son Hyuk tries to leave, but Jae Hee stops him grabbing his hand tightly as an unspoken request to stay for the night, staring fiercely at him. They both need to be in control, taking advantage of their weaknesses; and in an attempt to use each other, they fall into a passionate mix of hatred and desire that leads to a steamy night together.
Hye In returns, eager to find Jung Woo but much to her dismal, she's informed that he's in Japan.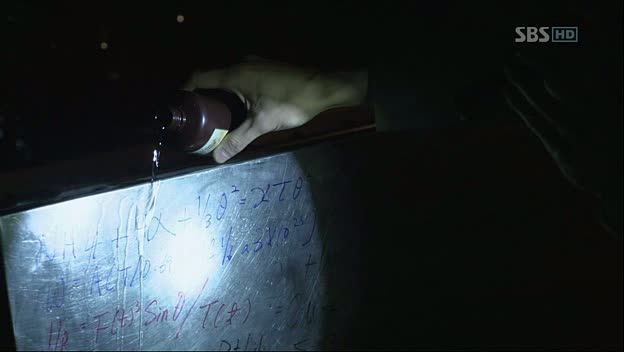 We're in Japan now, where Jung Woo checks various bottles in that old warehouse. After seeing a suspicious metal table, he pours ethylene glycol and voilá! A new set of letters appears. He takes photos for future reference; this might be the real code.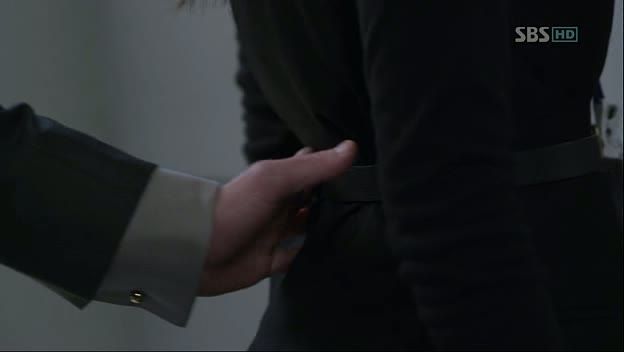 Lab Tech talks to Jae Hee about Jung Woo's question on ethylene glycol – it was too odd to be just a random question. While they're talking, Son Hyuk passes by and touches Jae Hee's waist gently enough for Lab Tech not to notice, but for Jae Hee to feel a chill up on her spine. Ow, we know who's in charge now.
Son Hyuk nags Kwon for not telling him about South Korea's newly formed commission to negotiate nuclear tech export. Kwon is unmoved, but disagrees to pass him the information he requires – the White and Blue Houses will handle that themselves. He doesn't trust in Son Hyuk – not that he had ever, but now he has solid and contemporary motivation –, so he just wants him as far as possible.
Just as Son Hyuk before, it's now Hye In's turn to appear magically by her asset's side IN JAPAN. She plays the same game, juggling with his feelings (?) but going through a smoother path of a vacation full of spring and gorgeous scenery. He urges her to tell him everything about her, promising not to be horrified if her true nature is indeed frightening. Momentarily touched, he thinks this is the exact timing for a kiss, but she doesn't share that thought and leaves.
Seriously, if the girl is trying to tell you that she's a monster in disguise, you should take her more as a treat than a done deal, boy.
She must have thought about this a little more – after all, this is a win-win scenario for her: controlling Jung Woo as commanded (CHECK), spending the night with this hot (albeit dense) airhead (CHECK). Therefore, she waits for him by is appartment's door and they share the night together, albeit in a significantly different way, as in "sweeter", than Son Hyuk and Jae Hee (okay, it could be argued that there's nothing sweet in using this big boy's crush to give him his last happy memory before destroying his life as previously ordered by her boss. Let's just roll with the drama's intention of showing them as something more idyllic.)
At the DIS, Son Hyuk is being investigated due to Washington's suspicions. But, alas! The girl who used to work for him and now is trying to crack into his secret files, can't even utter the word Athena before he discovers her and cracks her neck into tiny pieces.
(You gotta love the sound effects while he was choking her. Yeah, it brought out the morbid in me sorry.)
As proved by Hye In and Jung Woo's lovey dovey shenanigans, NATIONAL SECURITY CAN WAIT. Because being the only owner of some really secret, urgent information handed by a dying man is no priority compared to being taken in by Hye In's sweet-talk. Oh, boy.
Please, Jung Woo, don't tell her about your little secret code (or let her be near your full-of-photos cell phone). Please, please.
Our dear prayers reach Jung Woo's ears apparently. Hye In, pushed by her boss, tries to extract some useful intel from him, but his mouth is zipped and he only answers with a smile as he was saying "Please, darling, you know, I know, why keep on pretending that you're nice?" It was damn time, we say!
Son Hyuk is starting to lose his cool – not only he's disoriented by Washington's distrust, he's received some photos with Hye In and Jung Woo all mushy mushy and he's. Not. Pleased.
Regarding the nuclear technology, South and North Korea are about to meet in order to discuss about the latest developments.
After arriving from Japan, Hye In enters her apartment only to find a surprise there – our immensely out of control Son Hyuk is there. LOL, thank God Jung Woo didn't accept the cup of tea you offered, or his neck would've been reduced to smithereens too. Truth be told, Jung Woo's resilience, aided by Hye In's lack of willpower to kill him is something that Son Hyuk finds highly displeasing.
Speaking of the devil, Jung Woo shares his photos with Jung Ho (who we expect not to be a double agent, because he's receiving one enormous bit of top secret intel). Over the possibility of the code being North Korean, Jung Woo thinks about the one person who can crack it.
We start to wonder if he'll get to go anywhere with this, since Son Hyuk commands Hye In to fix a date and place to meet. That should be their last meeting, or his last meeting with any living creature at all.
The sniper is ready, the prey is where he should be, but an unexpected third person appears to save the day and possibly ruin her reputation within the baddies – Hye In.
Personal Comments
What a twist if he died in episode 10! It would be Hye In's desperate killing spree from that moment on, with an Inglorious Basterds approach, trying to get rid of Athena by herself.
Okay, I know it won't happen, but at this point I'm looking for something that actually seasons what seems to be the blandest drama ever. When you reach such a grinding point in a viewing experience, any device that ups a dragging plot would be welcome. Any.
This episode showed zero development in any area, and that's something that makes us take the train from Groan to Yawn Zone. Whether a drama is hideous or ridiculous or survives as a dear memory thanks to The Cute, you still find things to spazz about or to make fun of or even rant furiously. This one is that weird case in which you feel like the plot and characters are suspended in some sort of nothingness stasis. At that point, it's not even funny to rip it to pieces because you stopped caring 5 episodes ago.
The much anticipated (at least by many fans) love scene between Jae Hee and Son Hyuk was one so devoid of any kind of passion that was like seeing a cardboard cut of two robots trying to kiss. The same happened with almost every scene that required something more than delivering standard tech-ish dialogue, a problem that has been the biggest con throughout these ten episodes.
When the acting is insufferable, the line delivery so stiff and unnatural and the scenarios/assets so unnecessarily over produced that they act as a charisma sucker, the only way out would've been a good plot. But we can't even have a well structured, spy drama because NOTHING HAPPENS. They throw a possibly arc opener (in this case, the code), work with it just a little and fill the episode with irrelevant scenes that suck the rhythm out of it.
Sigh. We have a long way to go, so who knows? It still could go from the "meh" to the "yay". Always keep the faith, right?
RELATED POSTS
Tags: Athena: Goddess of War, Cha Seung-won, Choi Siwon, featured, Jung Woo-sung, Kim Min-jong, Lee Jia, Su Ae