Prosecutor Princess: Episode 12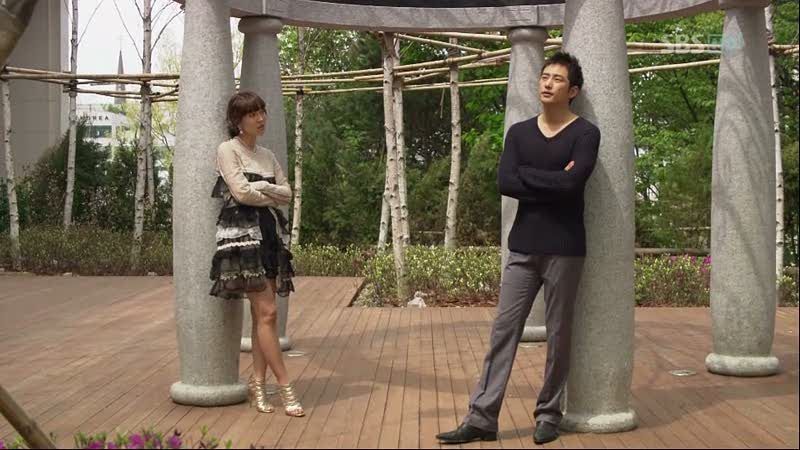 I loved this scene – it says so much about where In Woo and Hye Ri are in their relationship. He refuses to face her, as though he's trying to avoid a confrontation with her, while she faces him fully – open and trusting. The distance between the two of them is far enough, but manageable. It only takes two steps to get to the other, but someone has to take the first step to the other side. Hye Ri even tries to go over to his side but he stops her with his words – so the person that's creating the obstacle right now is In Woo. Hye Ri can join In Woo or In Woo can abandon his revenge and join her. But there's also the third option: continuing on the path that they are on, and that would mean the gap between them will remain intact.
We are not going to see Superman for a looooooong time aberdeen_angus. Well, for this hour at least. 🙁
Song of the Day
Gummy – Loveless – "Who Are You" feat. Bigtone [download]
Audio clip: Adobe Flash Player (version 9 or above) is required to play this audio clip. Download the latest version here. You also need to have JavaScript enabled in your browser.
Episode 12
Hye Ri falls into a daze – she goes to work incredibly late in a somber mood that catches Se Joon's attention. He calls her out for a private chat in the lounge (which is witnessed by Jung Sun) and asks if there is anything she needs to talk about. Hye Ri stumbles over her words but won't tell him what her problem is right now.
She relives her interview with Ha Jung Nan, and she can't seem to wrap her mind around the case – how are all the bits of information connected?! The land, Go Man Chul, Ha Jung Nan, her father, and a murder. Hye Ri can barely concentrate at work and leaves early, opting to work from home instead. She flashes back to happier memories with In Woo – mostly during the time when he bought her lunch and told her he'd be her friend and a comfortable person. (The smile! I miss his smile!) She tries to convince herself that she shouldn't care as much since she and In Woo don't have any particular relationship, but she can't help but think that In Woo wouldn't be so heartless as to leave suddenly. Unhappy, she can't bring herself to go back to her apartment.
At the end of the work day, Jung Sun reminds Se Joon not to get Bin the same present he got her the past two years: a doll set. They end up taking a walk (not in a cherry blossom tree-lined path, but close enough!) and Jung Sun asks about Hye Ri. Se Joon acknowledges that he isn't the comfortable person for Hye Ri whom she can speak to about her problems, and notes that Jung Sun is exactly like that now.
Here we get a little insight to their relationship: when Jung Sun first started out she was very talkative with Se Joon, and was best friends with his wife. His wife had set her up on a blind date, and after the third date, Jung Sun had gone to their home drunkenly and declared that the wife had already gotten her ideal man first! Jung Sun blushes with embarrassment that he would remember such a thing, and Se Joon notes that she only became more adult-like when his wife passed and she started taking care of Bin as her own.
It's particularly refreshing to see that Jung Sun is taking care of Bin not just because she harbors a crush on Se Joon, but also because she is doing it for her best friend, the wife. It also makes it clear that Jung Sun must have been uncomfortable with Hye Ri around – not because of Hye Ri's "ditziness" but because of the resemblance to her best friend. Had "JoonRi" actually worked out, Jung Sun would have been losing Se Joon twice to the "same" person so to speak.
Hye Ri returns to her family home, much to the delight and surprise of her parents. Her mother is particularly happy since Mr. Ma also reaffirmed his love for her by not signing the divorce papers. Hye Ri explores the house, almost like she did with In Woo's apartment before, as though reliving her memories and reaffirming to herself of her father's goodness. She even asks her mother about their marriage. The mom says that he was a good man and she fell in love with him after seeing him so many times frequenting at her restaurant. But she barely interacts with Mr. Ma since he gives her a living allowance and a credit card, and so she knows nothing about his business. The mom also notes that her father used to be romantic. Keywords: used to be.
Nevertheless – Mr. Ma is quite attentive to his daughter. He notes that her face isn't looking as nice as before – she should call up a facialist soon! (Wow – if my father gave me that kind of advice I would smack him. Unless he also gave me his credit card…)
Mr. Ma asks if something happened at work, but she counters it by asking whether he has anything going on at work (Implication: any shady deals going on). She goes on to wistfully say that life was better without problems, and her mother is mystified that she's maturing right before their eyes. Her mom even notes, "For our Hye Ri to be maturing, how difficult it must have been for her to grow up." You have no idea mom! No. Idea.
That night, Hye Ri snuggles up with her mom in bed. Her mom tells her that Hye Ri can go on full speed ahead with marrying In Woo, and afterwards they can move into their mansion. It's big enough for the two families (but is it big enough to hold all the Bitterness, Sea of Tears, Bad Blood and Tension?!). The mention of In Woo's name brings tears to Hye Ri's eyes. She admits to her mother that she truly likes In Woo – and not in the way of a friend, but actually loves him. Her mother comforts her and asks if they fought, but Hye Ri only cries, "I miss him."
In the middle of the night, she enters her walk in closet, like a ghost reentering her past, and looks fondly at the dress shirt that In Woo gave her after the tomato incident. She's been growing up and increasing her self-awareness, but now she's understanding love and how painful it can be to like someone from afar – much like what she accused In Woo of feeling before.
At the Jin residence, the grandmother and Jung Sun celebrate Bin's birthday. Jung Sun hands over a gift and says that she won't be able to celebrate with her that day. The grandmother and Bin become suspicious – just who exactly is she going out with so often!? Did she get over Se Joon already? Who did she go with to see the cherry blossoms? Jung Sun smiles and escapes to the bathroom.
Hye Ri continues her investigation on her father – there are way too many mysteries in this one to let go of it easily. Not to mention, In Woo and Se Joon have both (in)directly helped her become the kind of prosecutor who won't let go of a case until it is completely solved. She visits the flower shop of Mr. Shin Jung Nam, who was named the sole witness of the murder 15 years ago, to see if he can corroborate her father's alibi.
Just with the mention of the murder case 15 years ago, Mr. Shin's face grows dark. But what perfect timing! Son Shin Dong Ha appears and recognizes her as his prosecutor. Hye Ri remembers his connection to Seo In Woo as well, and she asks how Mr. Shin knew him.
Mr. Shin says that he didn't know In Woo was a lawyer for a while. All he knew was that every week for over a year, In Woo would come and buy flowers. But he never found out who they were for. After his son got entangled in that case, Mr. Shin found out (not-so) accidentally that In Woo was a lawyer and pleaded that he take the case. Shin Dong Ha then asks what Hye Ri is doing here, and Mr. Shin hurries him off with the lie that she's here to look at plants.
Hye Ri and Mr. Shin sit down for a chat and he retells his testimony:
Late that night he was making rounds as a security guard around the construction site. He saw a light on in a distant shack and looked inside the window to see a dead man with blood oozing from the head and a man who touched the blood with his own hands. The presumed murderer was wearing glasses as well – which could be Ma Sang Tae or not (in the flashbacks of Ma Sang Tae giving his testimony, he doesn't wear glasses…). Mr. Shin immediately reported it, thinking he had seen the aftermath of the murder.
Hye Ri walks away satisfied – she needs to just find the murderer now. What she doesn't understand though is why her father had to give land to people who supported his alibi for that night. At that moment, she receives a call from Jung Sun about Bin's birthday.
Jung Sun tells her that Se Joon might have wanted to invite her but never got around to it – Bin is having a birthday party at a pizza restaurant with her father, and Jung Sun is inviting her. She says it very matter-of-factly and then wishes her good luck. It seems that despite the revelation that Hye Ri might "have" In Woo on the side, Jung Sun is still ready to believe that Hye Ri truly likes Se Joon. (Sigh* Jung Sun is totally suffering from the Second Male Lead Syndrome of being too generous.)
Hye Ri makes her way to the restaurant dejectedly because she can't stop thinking about Jung Sun's words from the other day. Little does she know, Jung Sun is watching the front of the restaurant from a little distance in her car, and she sees Hye Ri making her way to the restaurant. However, Hye Ri chooses to sit outside on the terrace for a little bit, sorting out her feelings.
At that moment, Bin comes out. Bin thinks that her mother has just arrived, and asks if Hye Ri knows her name. Hye Ri asks if she should have known it, and it's the proof Bin needs to know that the woman is not her mother.
Bin: Then, why did you come?
Hye Ri: To apologize. And to congratulate.
Bin: How can you congratulate and apologize at the same time?
Hye Ri: Right? To be honest, I came here to congratulate someone, but I think I need to apologize first.
Bin: To whom?
Hye Ri: To the person that I like. To like someone and beginning to like someone – I learned that the two are different.
And Jung Sun is just dying to know what they're talking about. Especially since Bin doesn't look shocked that she's talking to her mother's doppelganger. Just then, Hye Ri calls her and says (with her back turned to Bin), that she doesn't think she can go in to the party. She mentions Se Joon's name, which Bin picks up on. Jung Sun tells her to shut her mouth – first, it can give Bin quite the shock and second, Se Joon is approaching the restaurant! She directs Hye Ri, "Turn right and go straight. Don't look back and come naturally." It's so funny that Hye Ri just obeys because it's so awkward; if someone weren't around, and yet gave such specific instructions on where to go, wouldn't you wonder where the hell said-person was!?
Hye Ri misses Se Joon by seconds and Jung Sun confronts her by getting out of her car. Hye Ri apologizes, knowing that what she's doing is kind of ridiculous after confessing that she liked Se Joon. She leaves the gift with Jung Sun, and Se Joon calls Jung Sun to ask if her supposed "appointment" is more important than Bin. She's guilted into coming, especially since Bin is now crying.
Jung Sun comforts Bin, wiping away her tears, and hands Hye Ri's gift to her, but doesn't mention the name. Se Joon is suspicious – but the gift is…*drumroll* an e-book! Wah – that's pretty pricey for a 7-year-old-going-on-8. Se Joon does a little product plug in ("Wow there's so many in here! There are more than 1000 books!") and Bin happily goes off to read. But first she says: "Are you sure this isn't the present my mom sent me? A while ago, I saw the exact same person as my mom." Uh. Oh.
With Bin off to the side, Jung Sun apologizes to Se Joon for intruding. He demands to know why she would tell Hye Ri it was Bin's birthday, and Jung Sun relates that she felt somewhat guilty since Hye Ri told her about the date she had with Se Joon. She also wanted Bin to start getting used to Hye Ri, especially if Se Joon is going to marry her.
Se Joon apologizes to her as well for being inconsiderate towards Jung Sun. He thought he was the only one who would be affected by Hye Ri's likeness to his wife, but never thought that Jung Sun or Bin would feel overwhelmed too.
That evening, he goes to Hye Ri's place for a late night talk, and he comes up the stairs coolly – slo-mo used to full effect. She tells him that he walks really coolly, and now Se Joon is comfortable enough to banter back and ask if that's all she had to say to him. But theeeeeeen comes the hard part: Hye Ri stumbles over her words as she tries to tell Se Joon that she knows what she likes and doesn't like, and though she liked Se Joon first, she doesn't anymore. Hye Ri struggles to find kinder words to use in this "break up" and Se Joon cuts her off with a, "Just stop. You don't have to explain it. I know what it is."
He asks if she's hungry, and adds that Bin liked the present.
Hye Ri: I thought if she reads a lot of books, she won't be like me.
Se Joon: What's wrong with you?
Hye Ri: I'm a bit… My fundamentals are a bit lacking in consistency.
It's sad to see someone so self aware, and yet it makes me so proud!
Once again alone, Hye Ri mopes on the bench outside, wearing In Woo's clothing. Cue reminiscing scene of when he helped her after the incident and handed her a cup of hot chocolate, of when he noticed her crying outside her home, of when he gave her the phone as a gift, of when he moved in next to her, of when he wrapped her with a sweater… ok basically every single freaking memory where he smiled at her and helped her – INCLUDING THE KISS! WHEE. It just makes me more depressed though to see him looking so happy and kind towards her, and clearly, it makes her pretty depressed too. And with that, it's day two of him being gone…
She becomes a working zombie, and it's only at the end of day 3 that she finally sees him walking home – with a new haircut. Hye Ri rushes out to meet him at the entrance – and the soundtrack is so misleadingly hopeful! – and she starts bombarding him with questions and concerns: "Where did you go? What's going on? Did something happen? How could a person do that? You should tell someone where you're going before you go!"
In Woo's response: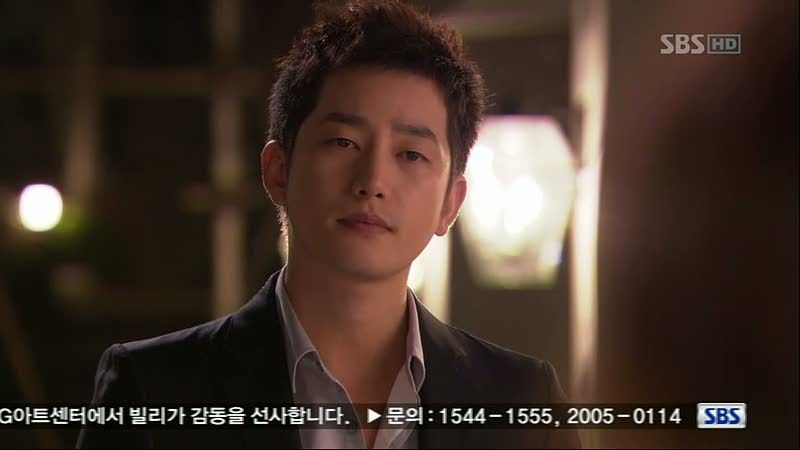 "Why do I have to tell you that stuff?"
Ouch.
Hye Ri practically admits her love for him when she says that she waited for him and was so scared to have no one to talk to, and In Woo impatiently tells her that they have no relationship that would allow this sort of intimacy. He brushes her off, making her feel more despondent when she returns to her apartment. In Woo on the other hand stares woodenly into the distance, as though convincing himself that what he did was right.
The next morning, Hye Ri won't let go of him – she demands to speak to him, and gone is her whiny self. This is the assertive Hye Ri, and when he tries to close the door on her, she stops it with her heel (!) and says that he either meets her outside or she will come in. Outside it is then! Confrontation time!
In Woo refuses to look at Hye Ri or answer her questions, which irritates her. Hye Ri wants to know what she is to him – why is he trying to block her out of his life all of a sudden?
In Woo: I had work to do so I went somewhere to take care of it and I sorted out the insignificant things in my vicinity.
Hye Ri: Are you saying that I'm one of the insignificant things? That's really funny. Can a person's attachment be sorted as if you were sweeping it with a broom?
In Woo: I can.
Kaedejun: LIES!
Hye Ri scoffs at his response and says that it is so unlike him. Ooh – so she understands him now, eh? She tells him that he would never have disappeared unless it was his attempt to completely forget about her, especially with such strong competition coming in the form of Yoon Se Joon.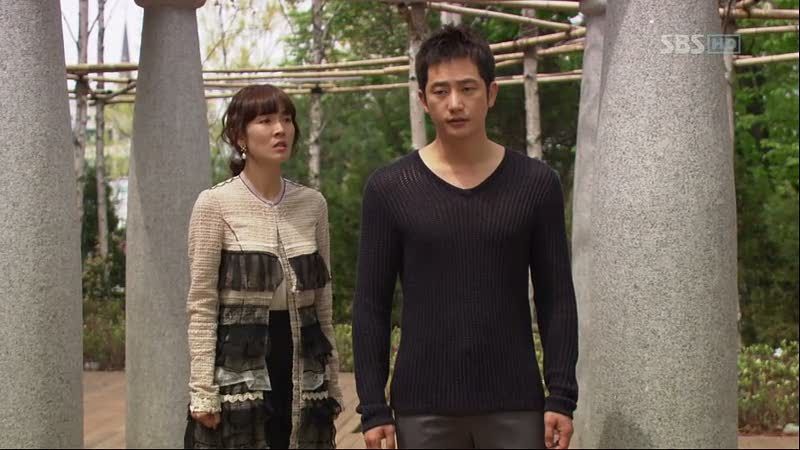 In Woo: Things like that, did you ever think that might be your delusion?
Hye Ri: I don't! Because there is no other reason!
In Woo: The world is not as simple as you believe. It is not only filled with events that can be imagined in your head.
Hye Ri: The thing that doesn't change despite your efforts – Lawyer Seo doesn't hate me!
She threatens him with death (and raises a fist awkwardly) if he ever tries to leave without telling her again and stomps off. Though it wasn't a very satisfying conversation, she does feel better knowing that he's around. In Woo just can't believe the gall of her – but she's now proving to be a force to be reckoned with, and he won't be able to toss her aside easily.
It's a good thing they didn't have their talk inside his apartment either… because Jenny was in there. When he returns, she says he should have moved out but he replies that it's too bothersome to move. (Oh, now it's too bothersome to move?!) We find out that In Woo actually went back to America to visit his and Jenny's adopted parents. Then Jenny continues reporting about Hye Ri; she sort of sides with Hye Ri in that she tells him Hye Ri had no one to talk to (and if In Woo were around it would have been better for her). But progress on the case has been generally slow, and so Jenny's afraid she may just stop investigating. But In Woo believes in her – he knows that Hye Ri would be thinking about whether to conceal the case or not now that she knows everything – not ask whether she should continue investigating or not. He believes that she's like him now – which is no surprise since he practically "trained" her.
Back at the Ma household, Ma Sang Tae asks if Hye Ri's arranged marriage talks went well. This comes as a shock to Hye Ri's mom, who thought they agreed on Hye Ri choosing her own match. Shows how much the husband listens to the wife. He goes against what he said earlier and demands for the divorce papers. The mom grows a spine and shouts back, "FINE! Let's stamp it! A man who wants to throw away the useless wife and sell off the useful daughter – I don't want to live with him either!" This comes off as a surprise to Ma Sang Tae, but he's especially troubled that what he's doing is considered "selling off his daughter" for selfish reasons.
Hye Ri can't get the message that In Woo doesn't want to be bothered by her, because the next day she waits outside the stairwell until In Woo comes down. She ducks below the railing and rounds the corner, hoping to surprise him by pretending that she didn't know he was there. Little does she know that he saw her head peek over the railings the whole time…
She greets him with a whole barrage of questions that range from, "Are you mad at me?" to "Does Jenny not like you being friends with me?" It makes him snap at her in annoyance (and I would be annoyed too…), but she stumbles backwards and he catches her wrist. (Again? I'm getting sick of the catch-by-the-wrist-so-she-doesn't-fall move)
She wants to know why he's treating her coldly, and his excuse perpetuates her "delusion": "I told you, I sorted out my feelings for you." He walks off, and Hye Ri mumbles that he shouldn't have sorted out his feelings for her all by himself (because he didn't have to!).
But back to the case: Hye Ri visits a neighbor of Seo Dong Gun in a police station to ask about the 15-year old case. She asks him a few questions about Seo, who was accused of murder but maintained his innocence. The neighbor says that despite the overwhelming evidence, Seo wasn't the type of person to do it. Hye Ri notes that Seo would be released soon anyways, and the neighbor informs her for the first time that Seo is actually dead.
Hye Ri starts having a conversation on the phone at home with In Woo about the case, but all of a sudden her phone rings – the conversation was imagined. Poor girl. But anyways – it's her father calling! He comes to visit her about the arranged marriage.
Ma Sang Tae tries to convince her to go on the date, but wants to make sure that she doesn't think he's trying to sell her off. While it maybe be beneficial for him, there's nothing bad for Hye Ri either. He carefully chose a man who would provide everything for her. "Even if you dislike it," he says, "even if it's my method, I love you." He tells her that he loves her unconditionally – just because she is his child.
Ma Sang Tae says it so sincerely that it breaks my heart – and Hye Ri wants to reaffirm that this man who's so lost in regards to matters of his daughter's love life, didn't do anything bad. But this time Dad changes his tune – he says he did do bad things, but what's considered "bad" depends on the context of the situation. He gets up to leave before she could ask anymore questions.
Outside the apartment, she grabs him a taxi, and In Woo passes by. Dun Dun Dun! Hye Ri is about to greet him but she sees the dark, icy stare from In Woo and decides to not say anything. Nevertheless, he's watching her from above as Ma Sang Tae hands her some allowance money and is driven away. He turns away and Hye Ri sees him leave his balcony.
That spurs her to be more courageous and go ask him out to eat. He doesn't want to indulge her, but she says, "My heart is so pained, and being hungry as well makes it more exhausting for my body." In Woo really can't let her go hurting herself, so he goes with her to eat some spicy tofu. It's so spicy that she starts getting hot, and In Woo automatically reaches for the hankie in his back pocket. But he thinks better of it and stops.
Hye Ri sees a bunch of other ladies drinking soju, and she orders a couple of bottles for herself. The soju is affecting her more quickly than usual, and In Woo tries to get her to go home. But Hye Ri just wants him to stay with her – even if she's done eating – like he used to before. To just stay and be there for her – that's all she wants. She's mad that he would do so many things for her like recording his voice on the alarm clock or cooking for her only to choose to leave her in the end… but she ends up blacking out in the bar. Her passionate pleas are not lost on In Woo though, who brings her home and watches her sleep. He prays that she would just let him go, knowing that only harm can come to her.
He even brushes her hair. *sob* At this point, I'm just REALLY pissed that In Woo has not smiled in the entire episode. And on top of that – no one has truly smiled or been happy in this episode.
Emotional side story now done, we get back to the characters involved in the case. Go Man Chul's wife picks up the phone and finds Ha Jung Nan (who's the mistress) on the other line trying to contact Man Chul. The wife is pissed that her husband has gone back to her after 15 years. But luckily, Hye Ri arrives just then. The wife assumes that Hye Ri's the new mistress, but a flash of the prosecutorial ID and the wife happily invites her in.
The wife wants Hye Ri to find Ha Jung Nan and file an adultery lawsuit against her husband. Hye Ri can't do that for her because the wife needs hard evidence, and the wife grumbles that if it hadn't been for the money she would have hauled them off to jail already… wait, what money?!
Man Chul spies Hye Ri leaving their house and immediately ducks behind a car. And it looks like Hye Ri and the wife are on pretty good terms too… When Man Chul reenters his house though, he makes contact with a pillow flying at his face. The wife tells him that all they spoke about was her divorcing him, and Man Chul is somewhat relieved that that was all there was to it. Nevertheless he reports to Ma Sang Tae and Mr. Ma finds out that Hye Ri is still investigating the case from 15 years ago. Man Chul has a pretty fun time taunting Mr. Ma's conscience – he has a crime and a prosecutor for a daughter – what does he expect to get out of it?
Later on, Go Man Chul's wife calls her up to give her evidence. It's photos of Man Chul with Jung Nan from 15 years ago. Though they're not good evidence for the adultery case because they don't prove actual adultery, they prove something for her other investigation: the date and time on the photos are the same as that of the murder. Man Chul and Jung Nan had gone into a hotel at 9:55pm, and left it at 10:32pm. Her father's alibi of being with them from 9pm to midnight has just fallen apart.
Hye Ri drives off to see Ha Jung Nan's bar, and just as she arrives she sees In Woo – in his writer get-up – leaving. Ha Jung Nan is drinking with her ajumma friend, whom Hye Ri recognizes when she enters the store. It's the same ajumma who helped her on the gambling case! Jung Nan is getting uneasy that everyone knows each other, and it gets more complicated when she calls In Woo a writer. The 'gambling' ajumma tells her that In Woo only pretended to be a lawyer so that he could meet Hye Ri, but he's really a writer working on a novel. Hye Ri asks how long they've known each other, and Jung Nan says he was a regular customer for over two years.
This rings an alarm within Hye Ri – Mr. Shin and Jung Nan met In Woo about two years ago, and they both didn't know he was a lawyer. As she drives home, she reviews the case: Go Man Chul and Ha Jung Nan are dad's alibi (which turns out to be false). Mr. Shin is the witness. Seo Dong Gun was accused of the crime and died in prison. He had a son who went to America… and she just so happens to know a lawyer who came from America… In Woo has no parents…
Hye Ri receives a file from a private investigator (?) and it states that Seo In Woo is Seo Dong Gun's son.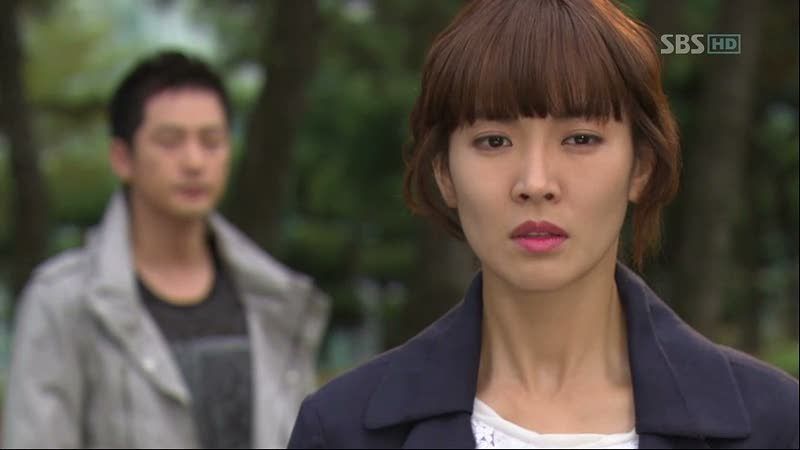 And right behind her stands In Woo – expecting her revelation, bracing for her reaction. And Hye Ri can only stare back, shocked, betrayed, and finally swallowing the bitter pill called Truth.
aberdeen_angus – WHAT IS HYE RI GOING TO DO WITH IN WOO!?
Comments:
Ok first off, I really want to point out the significance of her shoes in this episode. I couldn't help but notice it a lot in this episode. When In Woo wasn't around, Hye Ri was wearing flats most of the time. My theory is that her flats represent the true Hye Ri – the little girl who is lost and wants to love and be loved. Hye Ri wears the flats when she's also the most insecure (in this case, insecure about In Woo's feelings for her and what place he holds in her life). She switches back to heels when In Woo returns and becomes the more confident version of herself. On heels, she manages to stand up against In Woo and demand that he talk to her and demand that they try to clear the issues between them. The heels don't necessarily represent the true side of Hye Ri – but just what she portrays herself to be and what she wants to be, especially after her whole self-esteem came crashing down because of her weight. I love the way that this series is playing with shoes – and her overall costuming – because this series is about a woman in love with shoes. It's only right that they reflect her growth and change through shoes.
It's small details that the director uses like the shoes, and like when he places them always with a barrier or space between them, that I love. He masterfully uses the space available to him to metaphorically show the two lovebirds separated by the river. And similarly, with the research scene that aberdeen_angus made a lovely gif of, they are so close and yet separated by the years. This continual play with time and space in these past few episodes shows that this director takes great care in each scene. It's not like he gets lazy with the camera set up as the series goes on. Or limits himself to just a few set ups used in rotation. One drama that used the same framing of shots a lot was Pasta, and that bothered me. I'm always appreciative of depth and careful framing in a series that's just meant for TV and not trying to be an award winning film.
Secondly, with this episode I am sorry to say but it seems that the JoonRi ship has sunk. Aside from being completely happy about it, I'm glad that it's getting settled now. I wouldn't have wanted this triangle/square being settled in episode 14 – that would have drawn it out too long. Though Jung Sun and Se Joon may not get together until the last five minutes of episode 16, the path has been drawn and made clear. Thank goodness!
As for the case: I really hope that Ma Sang Tae is not the murderer. There are too many missing blanks though in this case and stray details, but I think the gist is that Ma Sang Tae looks like a murderer. And he blamed In Woo's father for it. I would love to see a twist in the case – where In Woo's judgment was completely wrong, because then, it snatches control away from his hands and he would be on the same uncertain boat with Hye Ri. But what do you all think? What are your theories about this case?
I seriously hope we can have more smiling moments soon – I generally hate flashbacks, which this episode used a lot of, but I found them necessary to my survival because I needed comedy from this drama like I need oxygen!
RELATED POSTS
Tags: Choi Song-hyun, Han Jung-soo, Kim So-yeon, Park Shi-hoo, Prosecutor Princess