Sungkyunkwan Scandal: Episode 12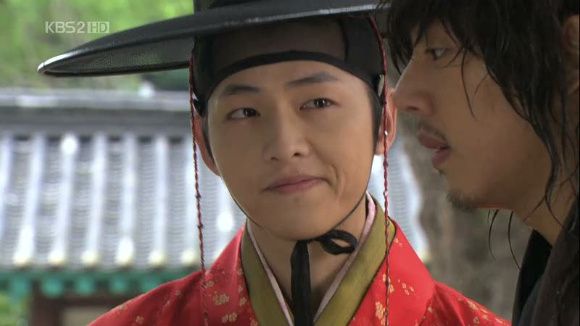 Hey, girlfriday here, pinch-hitter in the Joseon Crack lineup. Now that I've seen the episode, in retrospect it seems like I swooped in and picked up the best episode to recap, but I swear, I'm not greedy like that.
Oh, who're we kidding. I AM greedy like that!

LESSON 12 RECAP
It's fisticuffs everywhere, as Yoon-hee knocks Sun-joon down in the water, and Jae-shin clocks Yong-ha a good one, drawing some blood. Is it weird that I find that hot?
Yong-ha doesn't think his offense is really that bad, but Jae-shin tears him a new one for messing with people, as if everything is a game. Nail on the head—that's pretty much his M.O., but as his best friend you have a right to call him on it. Jae-shin, of course, is worried that "something" might happen, knowing that Yoon-hee is a girl.
I love how in dramas people always freak out about a man and a woman being locked in a place overnight, because "something" might happen. It's the funniest euphemism to me, because they always make it sound like sex is a "thing" that happens to people, like catching a cold or something. It's hilarious. Can't two people just choose to have sexy fun times? It's a rhetorical question to k-dramaland, not a gripe at Joseon Crack. Personally, I find Guh-ro's concern overwhelmingly adorable.
And so does Yong-ha, who calls him out in turn, for showing his true concern for Yoon-hee. This was his goal, in fact, in orchestrating this crazy can't-catch-a-boat scenario: to confirm his suspicions that 1) Yoon-hee is a girl, 2) Guh-ro knows that Yoon-hee is a girl, and 3) Guh-ro lurves her like a puppy.
On the Island of Pent-Up Feelings, it starts to rain, and Sun-joon catches a cold. They rush to put the tent back up, and end up inside together, feeling awkward. This would've had more impact if you weren't already roommates, but it's still delightfully tense.
Back on the peninsula, Hyo-eun cries that it's all her fault, wanting to be trapped on the island in Sun-joon's stead. Yong-ha is surprised at her earnest concern for the stiff and boring Sun-joon, wondering what on earth she sees in him. He sweetly puts a spoon in her hand, telling her to eat something warm to stop from shaking. Aw.
It eventually stops raining, but when Yoon-hee looks back at Sun-joon, he's fallen asleep. She tries to shake him awake, but he falls onto her shoulder. She realizes that he's running a fever, complete with purple lips and freezing hands. She warms his hands with hers and takes off her outer layer of clothing, to use as a blanket. What about his lips? Aren't you going to warm those too?
She thinks to gather twigs and build a fire (smart girl), so she starts the night-long project, not realizing how difficult it is to make fire when everything just got drenched in rain water. But she keeps at it, starting the fire and watching over Sun-joon.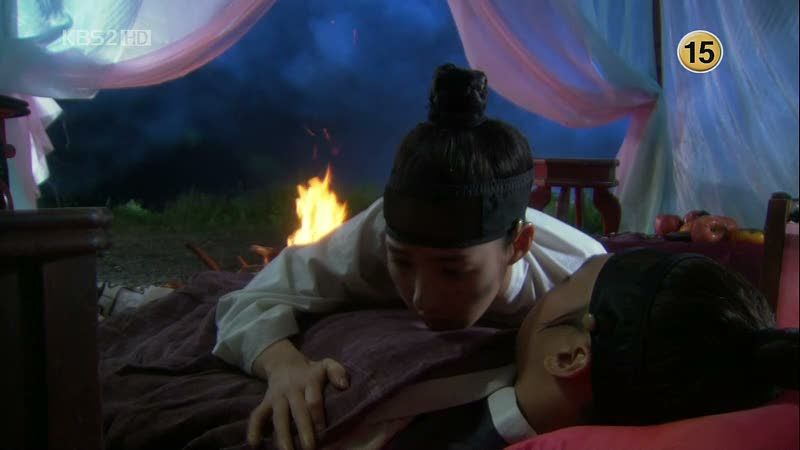 She warms his hands, and lies on top of him to keep him warm. Rawr!
Meanwhile, Jae-shin scours the town for boats, offering up his weight in nyang for someone to take him across to the island. But no one will go this late, and in this weather. It's not fated to be, for you to rescue her from this, but I love that you try so hard.
Yong-ha catches up to him, asking how he could possibly be so worried about two strapping young men trapped together on an island. Or is the fact that they're both men the part that worries him? Haha. No, but that's certainly what Sun-joon's got swirling around in his head. Yong-ha pats his cheek and leans into his ear, "I'm always on your side."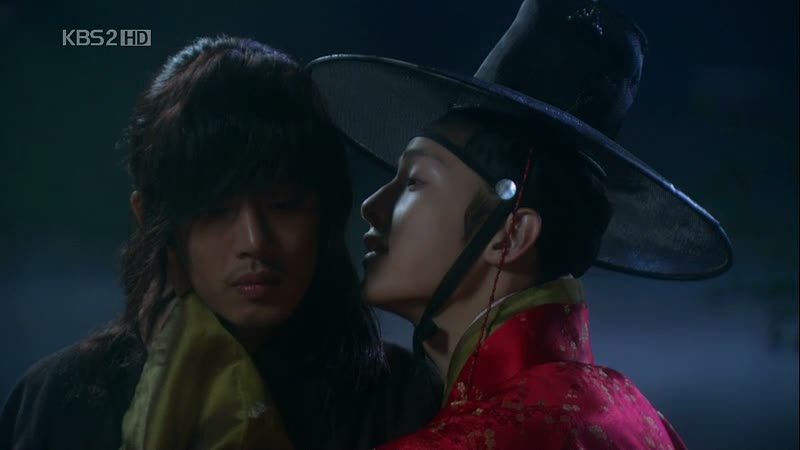 I think it's equal parts wanting him to win the girl, and wanting Guh-ro for yourself, and I love that about you.
Sun-joon wakes up to find Yoon-hee curled up next to him, face covered in dirt and hands covered with cuts. He sees the massive pile of firewood she gathered, and reaches out his hand to her face, just as she stirs awake.
Sun-joon: "I didn't do anything." HAhahaha. He yells at her for being so stubborn, showing his concern and gratitude in his ass-backwards way. She doesn't even hear his nagging, as she feels his forehead and beams that his fever has broken.
Guh-ro returns to his empty dorm room, left with nothing to do but be alone with his feelings. Yeah, he deals with that as well as you'd think.
Yoon-hee and Sun-joon sit by the fire, and she puts up a brave front, saying that Hyo-eun seems like a good girl with a pretty face, and a pretty heart. She acknowledges the match, and Sun-joon stupidly agrees with her. Gah, I love this—she's saying it to distance herself because it's what she thinks he wants, and he's doing it to distance himself because he thinks he can't love her.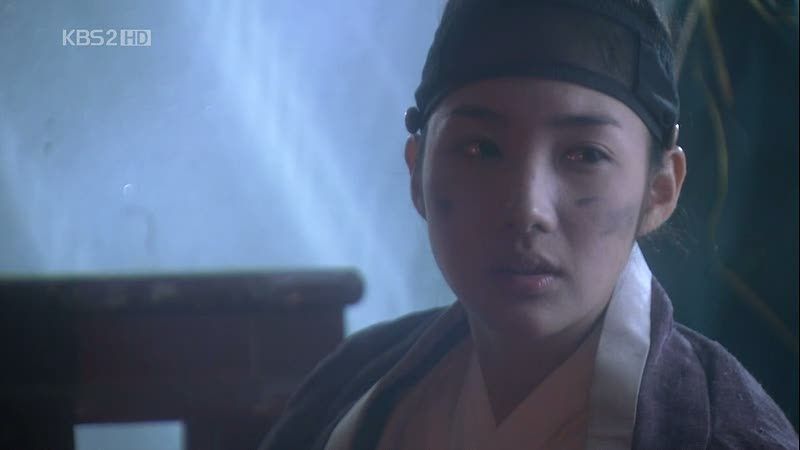 She asks what he likes about Hyo-eun, which he can't answer, since he's never thought about that stuff. She tells him it's simple—someone who makes your heart race, makes you think of them, makes your day bright or cloudy. Sun-joon jumps to the conclusion that Yoon-hee must have someone like that in her life, to hear her talk that way. She asks if he intends to get engaged, and he tells her that it's his father's idea, and that he has no interest in the matter.
That makes her break into a smile, and she rewards him with an apple…with a cricket on top. She freaks out in a girlish scream, throwing the apple onto his lap and hiding her face, making Sun-joon smile from ear to ear. He teases her with it, and they have a good laugh.
Before the break of dawn, Yong-ha shows up to offer Hyo-eun a ride to the dock. He gallantly swoops her up onto his horse, and tells her to hold on tight (oh, you), as he takes her to her beloved.
Yoon-hee starts to doze off, and Sun-joon gives her a little apology, for bringing her here, because of his feelings…
Without understanding his actual meaning, she tells him that it's okay, because it felt good to be able do something for him. She dozes off, and he watches her sleep, looking at those lips…
He starts to lean in… (Omo!)
…nose thisclose to her cheek…
And then he catches himself, his hand balling up into a fist, as he pulls away, realizing what he's about to do.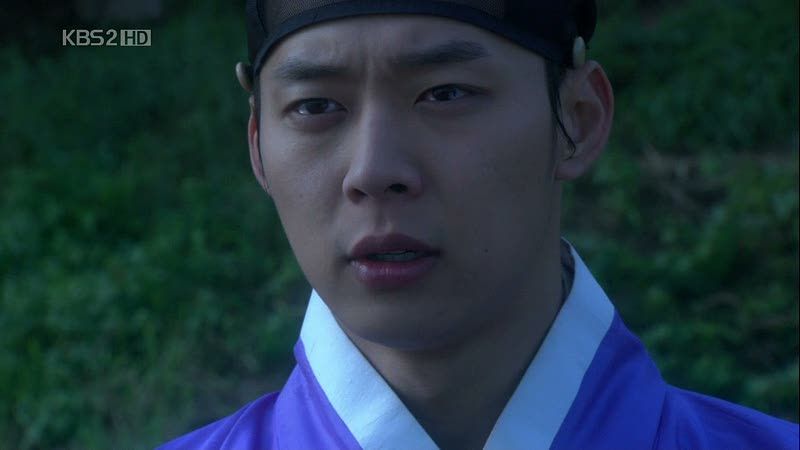 Gah! The angst, the push and pull of his desire against what he thinks is right…it's SO PERFECT. It's great dramatically regardless of who the players are, but it's another level up, when the makeup of his character is so rooted in Right vs. Wrong.
He heads to the shore to beat his heart into submission, which is when Hyo-eun comes running to him. She locks onto him in a heartfelt embrace, tears flowing in relief. She takes his face in her hands, so happy to see that he's okay, which is of course exactly when Yoon-hee arrives on the scene.
Yong-ha clocks her reaction, and wonders aloud, "Did something happen, or didn't it?" Wouldn't you like to know?
Back at Sungkyunkwan, it's time for open house and another big sports match, this time a game resembling hockey. The teachers worry about the class war that usually breaks out on the field (in the form of actual fighting).
All the students start to back the Soron dorm, assuming that the Jalgeum Quartet will win, as they are in the King's favor. This makes In-soo more glowery than usual, as the wheels start turning in his head.
Sun-joon walks Hyo-eun home, and when she asks in a roundabout way if she can come to the open house, he answers in his Sun-joon-esque way that it wouldn't be against the law. Haha. She interprets that to be a heartfelt invitation, which just makes me nostalgic for those teenage crushes where we've all taken such blank words and imbued them with so much meaning. Sigh.
Yong-ha and Yoon-hee arrive back at school, and Yong-ha explains that open house is the reason why he's still here at Sungkyunkwan—it's the day when women can enter campus freely. He notes that Sun-joon will surely invite Hyo-eun.
He notes her reaction, tsk-tsking the love triangle that only he knows about. He tells her that it's a shame, since there's someone whose blood ran dry, waiting for her…
Jae-shin, in true manly fashion, takes out his sexual frustration on a poor defenseless ball and stick. I sort of love that the man of action has been rendered useless in this scenario, making him feel doubly pent-up.
Yong-ha shows up to call attention to the fact that he waited up all night for Yoon-hee, taking the opportunity to manhandle him again. God, the skinship between these two is enough to fuel a spinoff series.
He tells him that something happened to her on the island, sending him running like the wind…
…only to be stopped by Yoon-hee, asking where he's running off to so fast. He looks back at Yong-ha, who blows him a kiss. Cheeky boy.
She apologizes for making him worry, and he says in his usual gruff way that he didn't worry and for her to go rest. She walks away and he does too, but then something dawns on him (Feelings? Is it…feelings?) and he turns back around.
He marches up to her purposefully, swinging her around to face him. Omo…are you going to kiss her? You look like you're going to kiss her!
Jae-shin: You…you little…from now on, you stay in my sights at all times. Wherever you go, whatever you do, stay in my sights. Because I thought I was losing my mind.
SPLAT.
…
If you keep making me faint like this, I'll never get through this episode.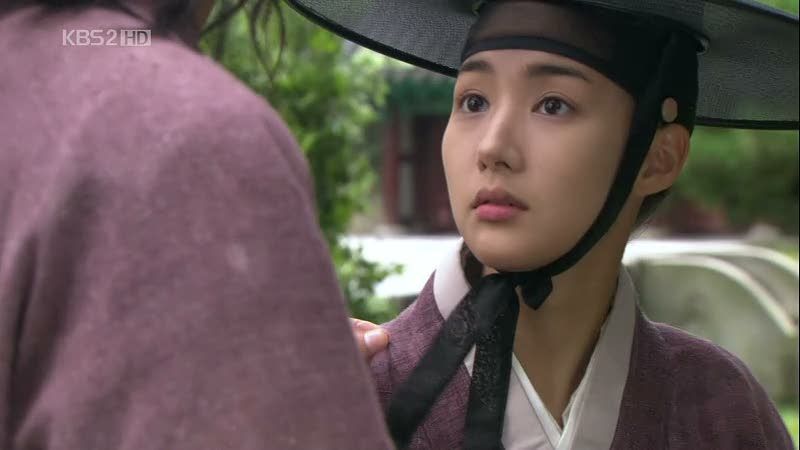 Yong-ha returns to his room to find Sun-joon waiting for him, desperate for some advice. Yong-ha tells him to spill his beans, as he's better at keeping secrets than he appears. Sun-joon asks if it's the law (not legally, but law of the universe) for all men to like women. Without hesitation, Yong-ha answers, "No. Where is there a law like that in the world? It's instinct."
Sun-joon asks if it's natural that rather than a girl he hardly knows, he feels more comfortable around his friends. Yong-ha doesn't let him skirt the issue, asking directly if he's saying that he likes guys. He starts to stammer, trying to ask but not ask…
Yong-ha: You want to be close to him? Touch him? Ah, I've experienced that before…Guh-ro.
Okay, you're really not making this easy. Peel…self…off…floor.
Yong-ha says that he's felt that way about Guh-ro, enough to question whether or not he likes boys. Well, that's definitely what I always suspected about your overcompensation, lady-killer-wise. If the two of you end up as the second pairing, I may die of happiness right then and there.
He hands Sun-joon the book that's always saved him, and warns him to only read it when he's alone. He ends with these parting words, "It's a sin to hate, but how can it be a sin to love? No matter who it is." Aw, I love you more than words right now.
Sun-joon sneaks a peek in the red book of hetero-normative instincts, and his eyeballs nearly pop out. Heh.
Meanwhile, In-soo comes up with a plan for keeping the Noron-Soron war at bay during the match. He comes up with a "random" method of team division. This is, of course, just a way to split up the Jalgeum Quartet, and it works—Jae-shin / Yoon-hee on one team, and Yong-ha / Sun-joon on the other.
Yong-ha sees right through this, noting that In-soo is simply pitting Noron (Sun-joon) against Soron (Jae-shin) anyway. He asks why he's also on team Noron, and In-soo replies that he's one of them, calling him "my person," like a possession. Yong-ha retorts with fire in his eyes, "Who says? I'm Gu Yong-ha. I have no plans to be anyone's 'person.'" Ooh, learned a thing or two about being a badass from Guh-ro, eh?
He softens to his usual self, as he adds that if In-soo wants to keep him around, he should make it more fun, because right now he's being really boring. Ha. I do enjoy the consistency of his bored playboy character.
Jae-shin takes Yoon-hee out to practice, and he starts out yelling because he can't really express anything else, but then he softens up and finally shows her how to properly hold the stick, holding her hands in his. She looks up at him with her giant doe eyes, smiling, and he gets so uncomfortable that he breaks away.
Sun-joon watches them from afar, his heart heavy from the jealousy, compounded with his feelings that aren't…supposed to be. He practices nearby, hearing Yoon-hee say all the things to Guh-ro that he wants to hear. I do so enjoy the dynamic of Yoon-hee looking up to Jae-shin, and Sun-joon's jealousy of that, not romantically, but even if they were three boys.
He walks away suddenly, trying to tamp down his feelings. Yoon-hee follows, and he hides, putting his hand over his thumping heart. Aw.
Later that night, the King gets news of a disturbing turn of evens—the Red Messenger kills three royal guards, and steals money to give back to the people. Even the King notes that this is uncharacteristic of the Red Messenger, but these actions can no longer be ignored.
Aw, crap. A fake Red Messenger? What will Guh-ro do?
The King regrets having to do this, but murder can't go unpunished. He orders the Red Messenger captured at once.
Minister Ha is the one behind Fake Red Messenger, and brags to Minister Lee that they won't have to worry, since eventually, the imposter's actions will lead to the real Red Messenger's capture.
Minister Lee thinks the plan is riskier than he'd like, and threatens to take back their kids' marriage plans. Basically, he dangles up Hyo-eun's entry into his family as a prize—if Minister Ha can catch the Red Messenger, they'll discuss marriage. Damn. You're cold AND powerful. And it's bizarre to think that Guh-ro's capture will lead to Sun-joon's engagement if this all goes according to plan.
Guh-ro reads the news the next morning, scoffing. You shouldn't be scoffing. This is going to get you sent to the head-chopping place! Hire a lawyer! And a CSI team.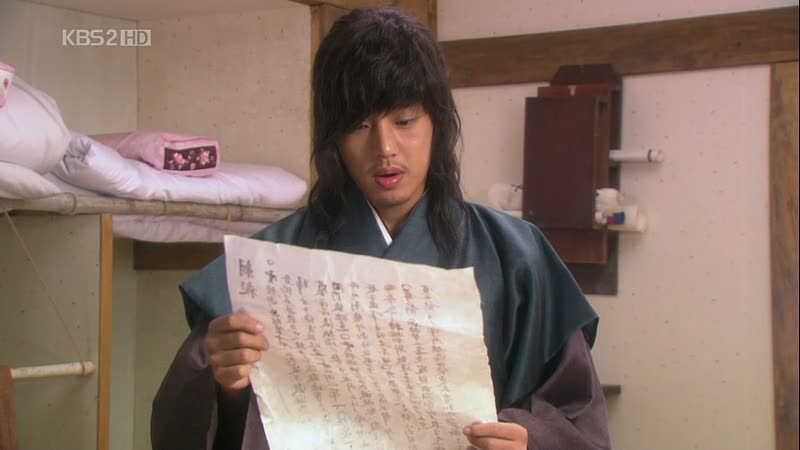 Open House begins at Sungkyunkwan, and the ladies arrive in their best dresses. Yong-ha reigns as the big man on campus, with a row of girls a mile long trailing behind him. Now we know why it's his favorite day.
Yoon-hee's mother arrives as well, and Professor Jung finds her first. She's shocked to see him, as she knows him from her husband's days as a professor. He tells her that he knows about Yoon-hee being a girl, and she says that she'll take all the blame and take Yoon-hee away at once. But Professor Jung knows Yoon-hee well enough by now, and tells her that there's no stopping this girl.
He confesses that Yoon-hee sparks a desire in him to teach her, and that SHE is teaching HIM that men and women…can be equal. He starts to say that perhaps someday in Joseon…
But her mother wonders why Yoon-hee must be the one to pave the way. As Mom, of course she wants to protect her daughter from the pain and struggle. I hate to break it to you, Mom—your love for her breaks my heart, but there's really no way she's going to live quietly the way you want her to.
Professor Jung tells her that it's because of Yoon-hee…because of his smart, talented daughter, that her husband wanted a governorship. He wanted to create a new world where his daughter could use her gifts. Oh my god, I might be crying. I've never met this man, but he sounds epic.
Over lunch, Yoon-hee asks her mother why she was never told about her father, and Mom just pleads with her to safely finish her studies and return home quietly, so they can look back on this time and laugh about it. You're in for some rough waters, Mom. If that's all that education was, the world would never change.
Cho-sun arrives on campus as well, searching high and low for Yoon-hee. In-soo sends for her first, and she sits down for tea. After giving due diligence, she gets up, saying quite clearly that he isn't the person she came here to see. He grabs her wrist, holding her back.
She keeps her calm, saying coolly that she feels sorry for him—how is it that he thinks that everything in this world exists for him to possess? She asks for him to let her be, and walks away. She's nine kinds of awesome. I really wish we saw more of this character.
In-soo just gets lost in reverie, remembering that she wore something similar the day he first met her, when she came to his house at the age of ten. Ah, so first love, eh? That doesn't make you less creepy for wanting to possess her, but I see why you're so fixated.
Yoon-hee thinks about her mother's words as she hides in the library, and Guh-ro finds her there, asking why she's hiding on a day like this. After all, she's got the name Daemul to live up to. Heh.
She marvels at seeing him in the library, of all places—she's never seen him in here before, and he nonchalantly says it's because he's read everything in here. She scoffs, and then pauses…no, it couldn't be…she checks the books, and sure enough, his name is there on all the cards. She looks up at him, impressed. You TOTALLY did that just to impress her, you lovesick fool! Hahaha.
They sit down to eat together, and Yoon-hee teases him for not having a single girl here to visit him, let alone anyone in his heart. Jae-shin: "So? That's why I'm eating with you." Swoon.
Just then, Yoon-hee sees Sun-joon across the way, and Jae-shin catches her looking at him. Gah, the looks! The silent looks in this love triangle are enough to wring my heart dry.
When two girls realize who Jae-shin is, they rush over to either side of him, sending him hiccupping and running away in fear.
Hyo-eun calls Yoon-hee over to their table, insisting that they eat together, and she almost manages to slip away, until Cho-sun arrives. Commence dinner of most awkward proportions.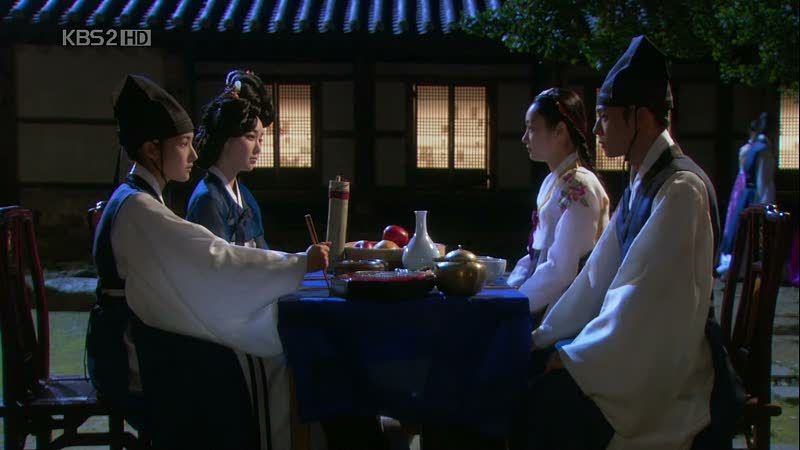 Within about two milliseconds of awkward tension, Cho-sun gets the score. She watches Sun-joon carefully, making Hyo-eun think that she's eyeing him in the other way. She plays up her flirting, feeding him, which just raises Yoon-hee's ire, making her tend to Cho-sun, which irks Sun-joon, who turns to Hyo-eun as a distraction. Hahaha. It's a merry-go-round of passive-aggressive flirting.
Sun-joon assumes that Yoon-hee's heart belongs to Cho-sun, and Yoon-hee assumes the same of Sun-joon and Hyo-eun. But Cho-sun gets up abruptly, saying that she shouldn't have come here tonight, declaring that Yoon-hee's heart doesn't belong to her.
Whoa. She calls her out on it right there on the spot, declaring that she'll guess to whom her heart really belongs…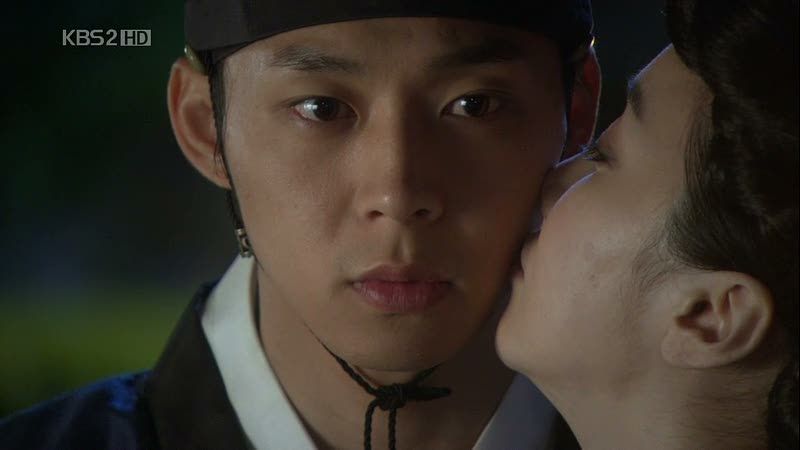 She walks over to Sun-joon's side, gives Yoon-hee a look, then kisses Sun-joon on the cheek.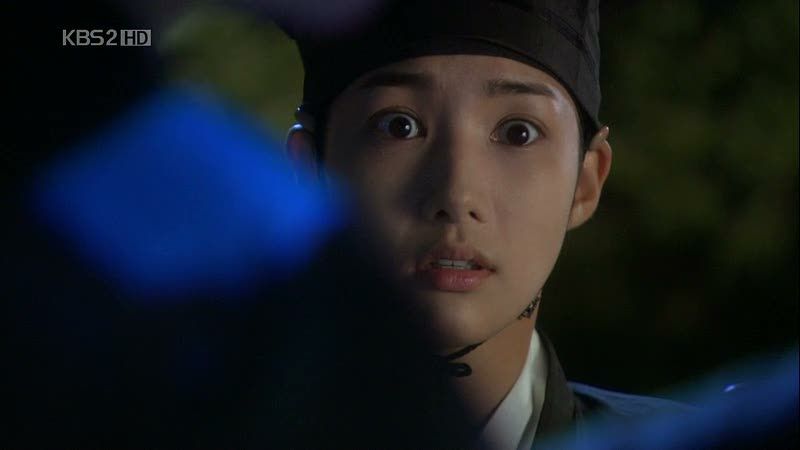 COMMENTS
What a fan-friggin-tastic episode. This is really the most compelling love triangle I've seen in a while, because most lead pairings are so overtly ahead of the pack. Despite knowing that Sun-joon and Yoon-hee are meant for each other, I enjoy the dynamic of the various hurdles, most of all because of the situations and feelings that they stir for all involved. Jae-shin's growing relationship with Yoon-hee, from hyung and protector to oppa and love interest is so cute it kills me. It's not even like I want him to get the girl, (Okay, I want at least one hot kiss before Sun-joon gets the girl—let's be real.) but I adore his changes as a character because of his growing love for her.
As for Sun-joon, I love how far he's come…to question his sexuality, to question the law. For his character, it's an epic shift, and one that I think will take the story to new heights.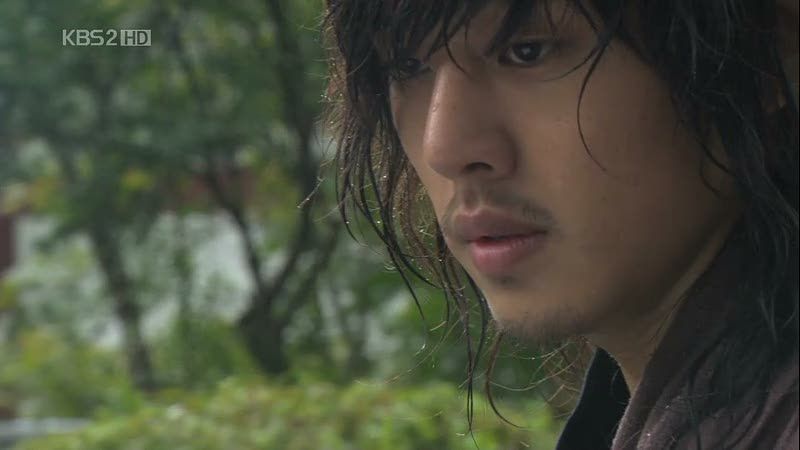 RELATED POSTS
Tags: featured, Micky Yoochun, Park Min-young, Song Joong-ki, Sungkyunkwan Scandal, Yoo Ah-in