Interview with 49 Days' Scheduler Jung Il-woo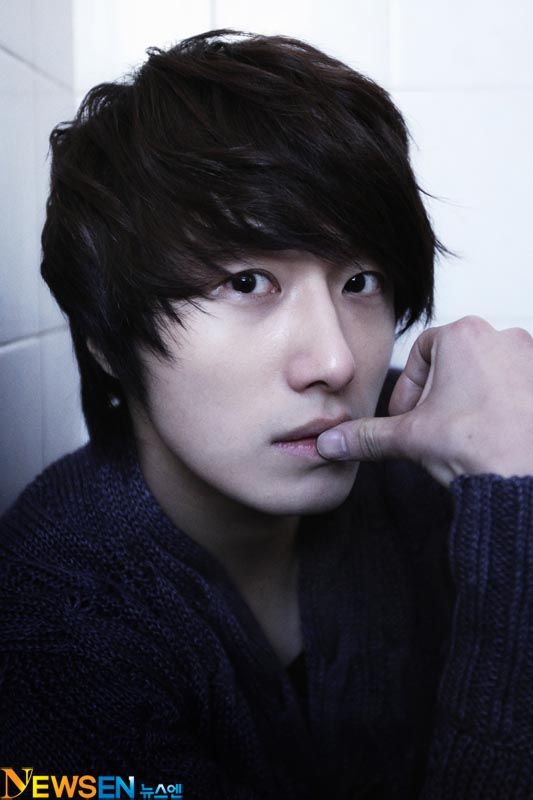 Sigh, Jung Il-woo. Why you so pretty?
Truth be told, though, it's not his looks that draw me to him — goodness knows that K-dramaland is chock-full to the brim with hotties. It's in his personality and thoughtfulness that I first found him attractive, as well as his commitment to his work. Plus, having Return of Iljimae on his resumé surely doesn't hurt. (Still a fave!)
I've said this before, but Jung doesn't strike me as the most naturally gifted actor, in that he doesn't seem like the type who can step in front of a camera and just turn it on right away. Some people can do that, but he's got to work hard at it — and work he does. (Sometimes too much.) I know that modesty is often an affectation in the industry so I don't assume that everyone who speaks modest words is a modest person, but based on the various interviews I've read over the past few years, he's really serious about improving himself and aware of his weaknesses. That I can respect.
Now that he's in a new drama — SBS's 49 Days — he's back in the interview/press circuit, which gives us the following. Woot woot.
SONG OF THE DAY
Jung Il-woo – "허수아비" from the 49 Days soundtrack. [ Download ]
Audio clip: Adobe Flash Player (version 9 or above) is required to play this audio clip. Download the latest version here. You also need to have JavaScript enabled in your browser.
One thing I've also noticed about Jung is his frankness about caring about drama ratings. Some actors profess to not caring, or not even noticing (pfft), but c'mon — we know they care. A lot. He also is open about his goal for the year: To win an award at the year-end broadcast award ceremony. Not because he wants a particular trophy, but as a sort of personal milestone — "I'm not concerned about the category of the award. My goal is just to get one at the end-of-the-year ceremony."
If he accomplishes that, it'll be his first since 2009, when he won a Daesang in the TV portion of the Korea Junior Star Awards, for Return of Iljimae. He added, "I'm going to become an actor who works consistently."
He's also frank about his expectations, and describes watching 49 Days on TV: "I watched the broadcast while shaking. I don't know if I conveyed my appeal well, but viewers and fans said, 'It seems different and refreshing.' Immediately after the premiere episode, I got a call from [Kim] Bum, saying he enjoyed it. [Lee] Min-ho called, too."
I'm taking a minute to picture the three pretty boys together. Preferably all calling me noona. We know that Jung is BFFs with Lee Min-ho dating back to high school, while he co-starred with Kim Bum in the sitcom Unstoppable High Kick, which cracks me up now because his character was so disdainful of Bum.
As you know by now, the plot of 49 Days revolves around Ji-hyun (Nam Gyu-ri) needing to collect three "pure" tears of love in order to return her brain-dead physical body to the land of the living. One interviewer asked Jung about who'd qualify in his life. He answered, "With this drama, I've been giving that a lot of thought, and I don't think I have as many people as I'd thought, outside of family. In the drama, Shin Ji-hyun says, 'Why wouldn't I be able to get just three?' but really, I think the actual answer is, 'I have to get that many?'"
The interviewer notes, "Jung Il-woo is quiet, lost in thought, wondering, Who would genuinely cry for me? Perhaps five minutes pass, when he slowly names them, one by one."
Jung's first choice: Kim Bum. "Bum is like a real younger brother to me. When I was having rough times, Bum was there for me, and when he had troubles, I was there for him. Actually, I talk more with Bum than I do with Min-ho. We've known each other for five years now. We sometimes go to each other's houses and hang out, and we go to saunas together too. He's a really dear, brotherly friend to me."
But, of course, you can't leave out Lee Min-ho: "Min-ho and I are really close friends who've known each other since we were kids. We don't need to talk a lot [to be friends]. We were in a life-and-death situation* together, so we're friends who've hovered close to the afterlife together."
[*In high school, the two were part of a group of friends who were known for being the hotties of the neighborhood. In 2006, they were in a severe car accident together, which sent both to the hospital and which still, I believe, gives Lee Min-ho residual leg issues.]

Kim Bum, Lee Min-ho, Na Mun-hee
As for Tear No. 3? Na Mun-hee, the veteran actress who played his grandmother in Unstoppable High Kick: "She looks after me like I'm her grandson, and she gives me plenty of advice and encouragement. She even marks the days my drama broadcasts on her calendar. She always calls me after the premiere and the finale. With My Fair Lady, she advised me, 'Don't try to look pretty, just act.' And when it was over, she said, 'You worked hard.' I'm always grateful to her."
Back to 49 Days: Jung said, "In Return of Iljimae and My Fair Lady, I didn't play bright characters, but for a change I ended up with a comfortable character here. You say it's similar to Yun-ho in Unstoppable High Kick? That's not bad. Even still, I don't act him like I acted Yun-ho. I'm just thankful that you still remember me from previous roles."
Apparently his Scheduler character wasn't clearly defined in the initial synopsis, so Jung put in some effort trying to conceptualize his image. After consultation with the PD and writer, the three came up with the idea of the pretty-boy Scheduler: "He's similar to me in his frankness. We don't dress up our words and just speak plainly. We say what we mean. I don't feel any significant difference between the Scheduler and myself."
With the drama's life-and-death themes, Jung has thought a bit about death: "I'm not afraid of dying. I think what's important is to be able to live well, so you don't have regrets. But I do feel afraid when I think of people leaving me behind."
Jung is enrolled as a third-year student in the theater department of Hanyang University. In the year and a half since his last drama (My Fair Lady), he's been focusing on theater performances and school life. "Through theater, I found calm. I'd felt vanity, but I emptied my mind. As I looked back on myself, I found myself returning to my roots."
He also feels that it improved his acting skills considerably, and admitted, "I want to hear that I've improved. It hasn't been that long since the drama began airing so I feel some pressure [from hearing praise], but that makes me want to work harder."
Now that he's 23 (per Western counting), he's starting to grow into older roles, though I'd say he's not quite there yet. He said, "I want to be an actor who's like a blank piece of paper," and added, "Every year is different. I didn't really know it when I was 20 through 24, but people tell me that I've left behind the childish image. I can really sense it when I look at Kim Bum and Lee Min-ho, because their faces constantly change."
Told that he seems full of ambition, he said, "But you can't force things the way you want them to go. I want to take my time and be careful. I want to show distinct 'colors' [characteristics] that make people think of the name Jung Il-woo. It's time for me to find my own colors. [Laughs]"
Via Newsen, Sports Chosun
RELATED POSTS
Tags: interviews, Jung Il-woo, Kim Bum, Lee Min-ho