Running Man: Episode 65
Your heart's going to race for the entire duration of this week's episode, that is, when you're not already dying of laughter. The Mission Team is outnumbered, the clues are tough and the chasers continue to fall one step short. Kwang-soo and Suk-jin's pairing now has a new nickname: Dumb and Dumber. You don't get it…Oh you'll see.
EPISODE 65. Broadcast on October 23, 2011.
The entire cast is back together in front of Yongsan Station, even Ji-hyo who's all rested up and ready for another Running Man adventure. Her fiery and sassy attitude is back too, sharply putting Jong-kook in his place when he makes a comment about her wardrobe.
They're excited to hear about their guests and first up is – returning guest Kim Joo-hyuk and the lukewarm welcome doesn't quite match with his fantasy 'epic' return and says, "This seems forced…" It's just bad timing to visit right after a popular idol group and Ji-hyo: "[The atmosphere] is exactly what you're feeling." Hahaha.
But Joo-hyuk isn't alone. Welcome Kim Sun-ah (Scent of a Woman) who receives a slightly more excited greeting, until Haroro yells: "Auntie Generation!" Oh no no.
She's quick to notice the disappointment on the boys' faces and Ji-hyo fires back again, "It's exactly what you're thinking…" So they do the introductions again and Sun-ah is welcomed with great fervor with lone Joo-hyuk lurking in the shadows.
Time to hear today's mission – an elimination game where rolling the dice determines whether you continue or be eliminated at each station. Ruffled by the Auntie statement earlier, Haha tries to fall into Sun-ah's good graces by snapping a selca with her. Soon, everyone joins in for a group selca! Cute cute.
Jae-suk asks where their destination is and Sun-ah slips, asking Joo-hyuk if he remembered what the staff told them earlier. Wait, earlier?!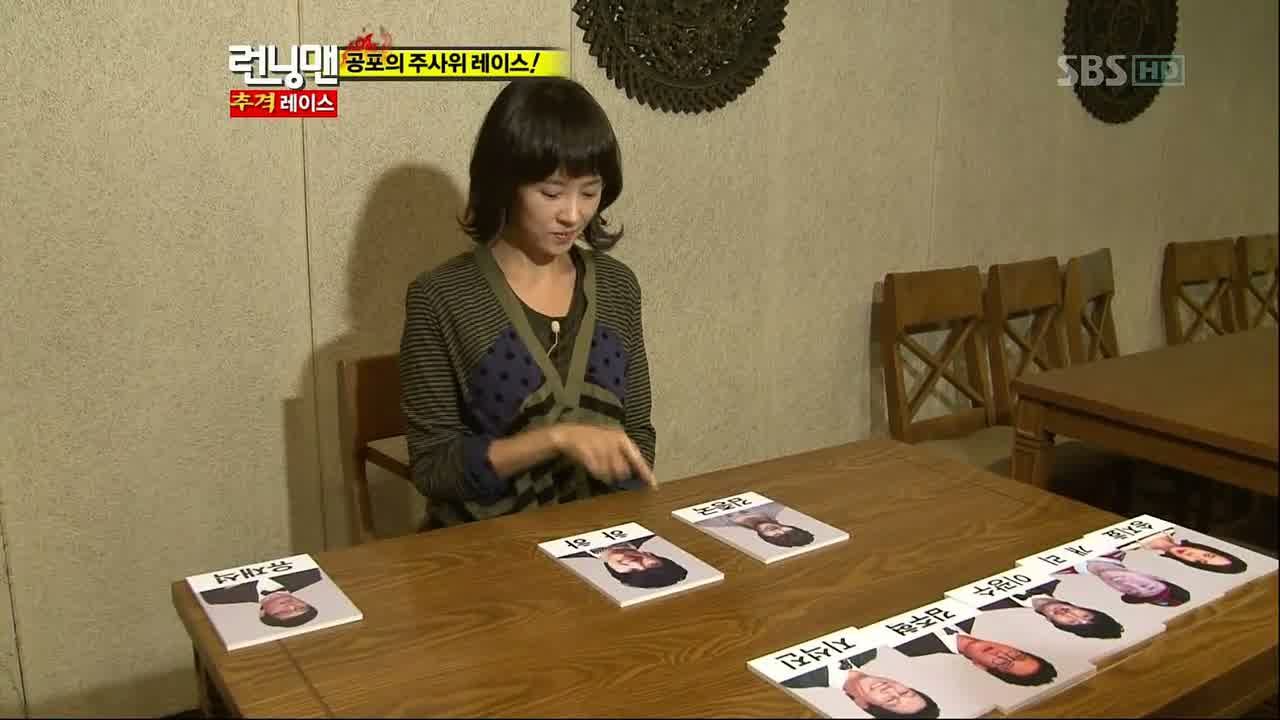 Time-machine back to Sun-ah's secretive meeting with Mr. PD about her own mission and is asked to choose 2 team members. She presses the staff for more details, citing it's been a while since she's been on variety, even attempting to bribe them. She chooses Jae-suk and then leaves the other to fate, eeny-meeny-miney-moeing between Jong-kook and Haha. LOL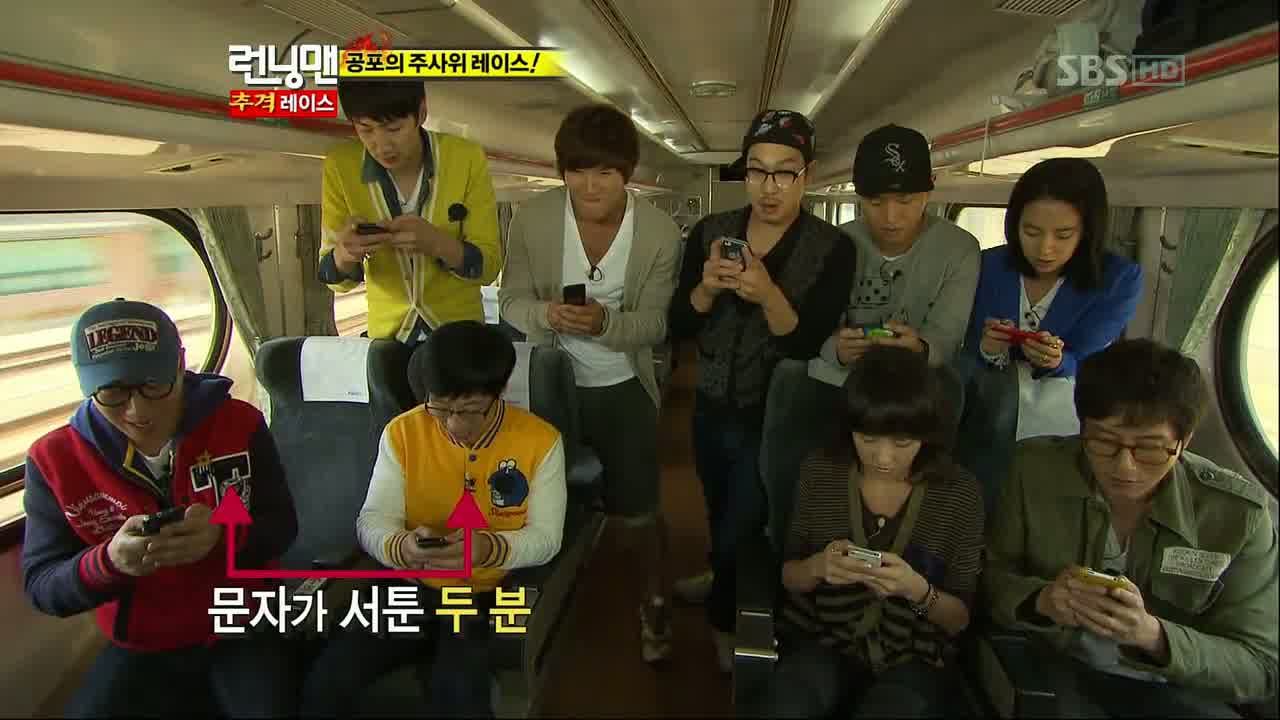 Whoever places first gets to choose the order they roll the die, and everyone has their game face on. The first game is a text-messaging race and everyone starts to furiously tap their fingers on their phones, accompanied by a rare quiet moment for RM.
The mat-hyungs have a difficult time, fumbling through the characters and tracking the emoticons. It's the youngest Kwang-soo who sends in his first with Sun-ah trailing in fourth. But Mr. PD notes that he never received Kwang-soo's text.
It's Haha who comes in first and the others start to sing his praises, Gary giving him a thumbs-up and Sun-ah snapping another selca for good measure. Haha determines Kwang-soo and Gary to roll first, then looks to the women, who bat their eyes at him and Ji-hyo points at Big Nose Hyung. The wily tactic works and the women are placed towards the end.
With just a minute and a half at each stop, everyone rush out and Kwang-soo throws up the die in the air…and the die reads his fate: Eliminated. Gary doesn't fare any better (his dice sweater an ironic twist to the situation) and the others run back to the train, not so much as glancing back at the lonely two.
The next game is a staring contest and veteran actress Sun-ah is allowed to keep her eyes open with a slit explains that her busy schedule has made her eyes tired, so they let her keep them open with a slit. She easily defeats Jae-suk and Joo-hyuk within a minute. The back row also have quick battles: Ji-hyo blows into Suk-jin's eyes and Haha loses to Jong-kook. It's down to Spartakooks and Sun-ah with an intense but short eye-staring contest.
I love Sun-ah and she isn't afraid to knock Jong-kook down a peg or two, picking him and Suk-jin in the beginning before they can even stumble out the words to compliment her. And when they do, she switches it up pointing, "[Suk-jin] One, [Jong-kook] two." HA!
They get to the next stop and the order gets a little mixed up which is the least of Agent Sun-ah's worries. One-by-one everyone passes, and her turn is quickly creeping towards her. To make it worse, Haha is eliminated and they all rush into the train, a bewildered Sun-ah proclaiming that something is wrong. Both Jong-kook and Haha are left to wait for their ride from the previously eliminated.
Ji-hyo and Suk-jin are eliminated at the next station and Mr. PD runs to catch Joo-hyuk. Ace Ji-hyo keenly mentions that something is up. Inside, Jae-suk now knows the truth –between himself, Haha, and Sun-ah, they form the Mission Team. Their objective is to find a package without being caught by the others – a feat harder now without Haha.
Ha, I love how guilty Jae-suk is after the fact: "You were our guardian angel?" and Sun-ah flaps her "wings" in response.
The eliminated all group together (Haha mentions the handsomest of Running Men are all together and Jong-kook: "Then are we R4?" hehe) and Haha gets a call from Jae-suk who tries to strike up a casual convo. But when he asks if he's on speakerphone, the Capable One's ears perk up and he mouths that there's a mission involved.
A quick text is enough for Haha to realize where his true loyalties should lie. Yay for another Spy Haroro episode!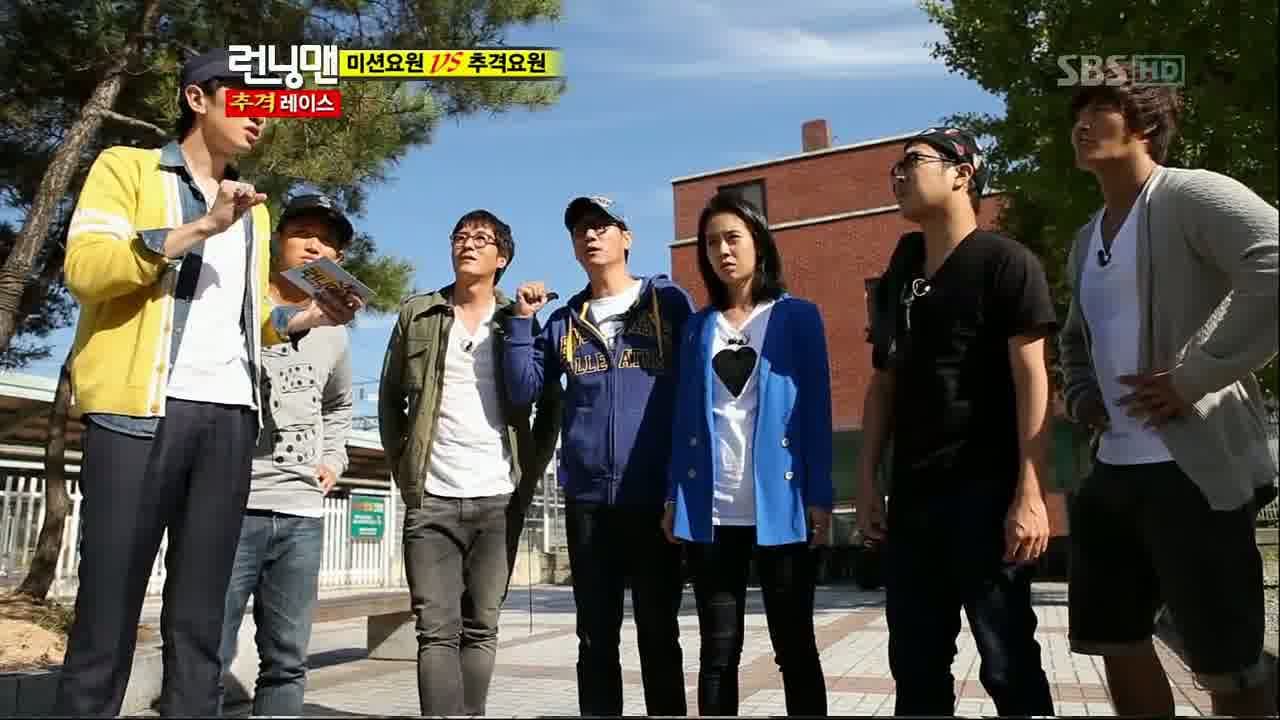 The rest of the cast are filled in, groaning that it's too easy to catch just two members between the seven of them. Mr. PD informs them that they've got to get their name tags back, and right now, the Mission Team's got them. Gary: "Then what do we call each other in the meantime?" Suk-jin: "Man Number 1?" Hehe.
Meanwhile, Jae-suk and Sun-ah head out to track down their first hint, and Jae-suk asks if she can read a map (no) and comments that she looks like a secret agent straight from a movie. Sun-ah: "Yea, that's what it looks like…but I don't know anything." Hahaha.
Haha tells Joo-hyuk that since he had a 'cute' image last time, he should act cool today. Joo-hyuk responds that the memories from China are still fresh in his memory: being pushed aside so the fans could see Haha, the crowds following them. He resolves that he should move his promotions to China to gain a handful of fans.
The Monday Couple realize that it's their 1 year anniversary. They bicker like every other couple, Ji-hyo noting that he sure seemed happy that SNSD was here last week to Gary's defiant claims that it's untrue (But, it's actually true). He's a sweetheart and lets her rest, even slowing down so she can get a few winks in.
The Mission Team head into the dollar store to find a navigation system for 1,000 won (equivalent to about a dollar so methinks a compass?) and Sun-ah frantically rifles through the aisles, knowing the others are on their way.
And they are because the closest are…Kwang-soo and Suk-jin, pumped that they're near. Jae-suk finds the item not a moment too soon, with some customers mentioning Kwang-soo's name in the distance. Will they be able to slip out in time?
Ever the Capable One, Jong-kook again deduces that they'll be able to find the Mission Team in a place where it's suddenly noisy and crowded – the crowds will form wherever Running Man films. It falls flat when Joo-hyuk delivers the same line, his reasoning being, "Because they're popular…" Hahaha. You so want to be a part of the Running Man family!
Alas, they're one step too late and Spy Haha sends a text that he'll meet them at the next location.
Eureka for Kwang-soo as he comes up with a plan – Sun-ah doesn't know his number so he'll call her and pretend to be a PD. But when she picks up, she gets a nagging feeling it might be Kwang-soo. So Jae-suk takes the phone, Kwang-soo stammers and promptly hangs up. Aww, it was a good idea!
The Mission Team reviews their receipt to reveal a cryptic password of "pickled pork." They ask around the food marketplace and eat to reveal another hint. They dash out of the market…only to be discovered by Jong-kook and his crew. Yikes! Jae-suk is caught, his mouth still stuffed with food. Spy Haroro sends telepathic waves his way.
It works and they distract the others long enough to climb into a car, Haha pretending he's being kidnapped. But they know better and sniff out a traitor in their midst, leaving Jong-kook boiling in anger.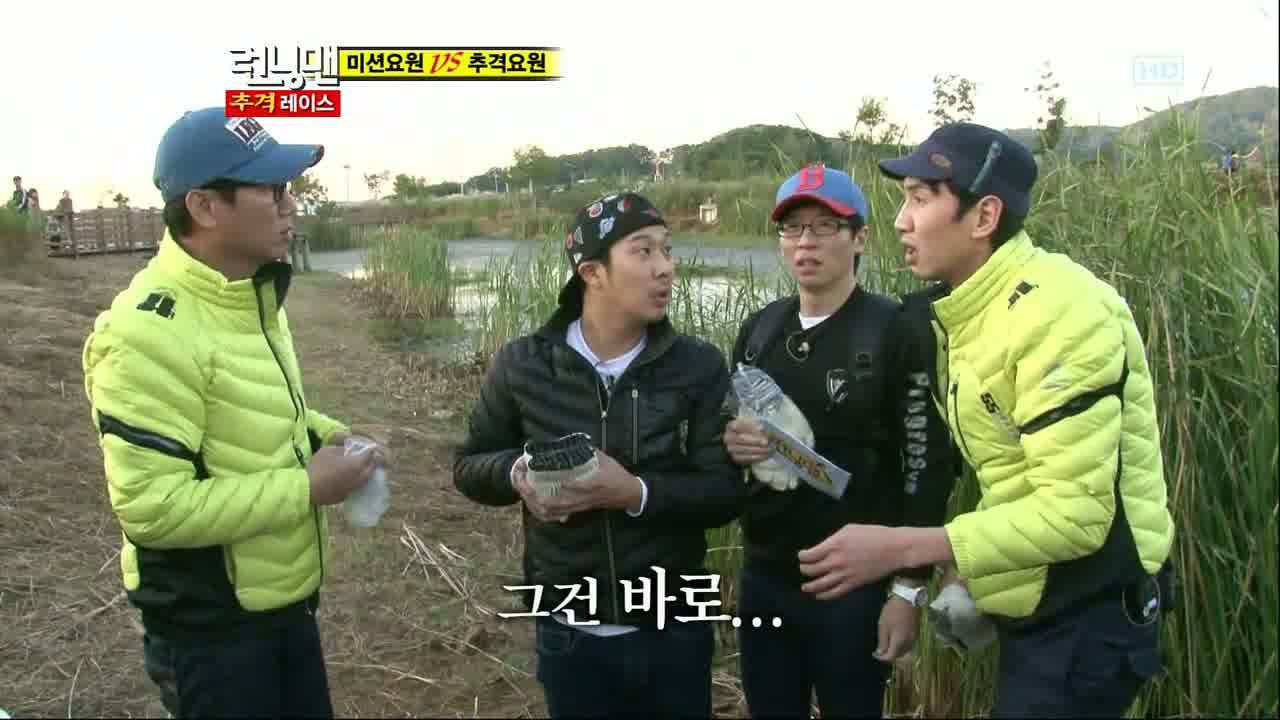 The Mission Trio makes it to the last location, scouting out a Running Man flag for clues. Jae-suk tracks it down, but they're trailed by Kwang-soo and Suk-jin, determined to make a name for themselves today. When they're spotted, they're buried by the mountain of lies by the Mission Trio and soon enough, they're digging the earth, helping them. HAHAHA.
They manage to unearth the heavy box, contemplating over the clue. Problem is, it's somewhere on Kwang-soo's person. Jae-suk reaches out to undress him and Kwang-soo makes a run for it. He discovers the clue on his jacket a bit later and offers to exchange his jacket for his name tag. Oho… But he tells them the actual clue, thinking he's struck pure genius.
The Mission Team lie in wait, using their VJs as decoys. At the opportune moment, they pounce to ambush Kwang-soo, ripping off his jacket. Sun-ah runs into the building once she confirms they're at the right place. Haha blocks Kwang-soo from getting near her and it's enough time for her to unlock the box, securing the Mission Team's victory!
Needless to say, Spartakooks is displeased at the Dumb and Dumber team trying to be the ultimate heroes today.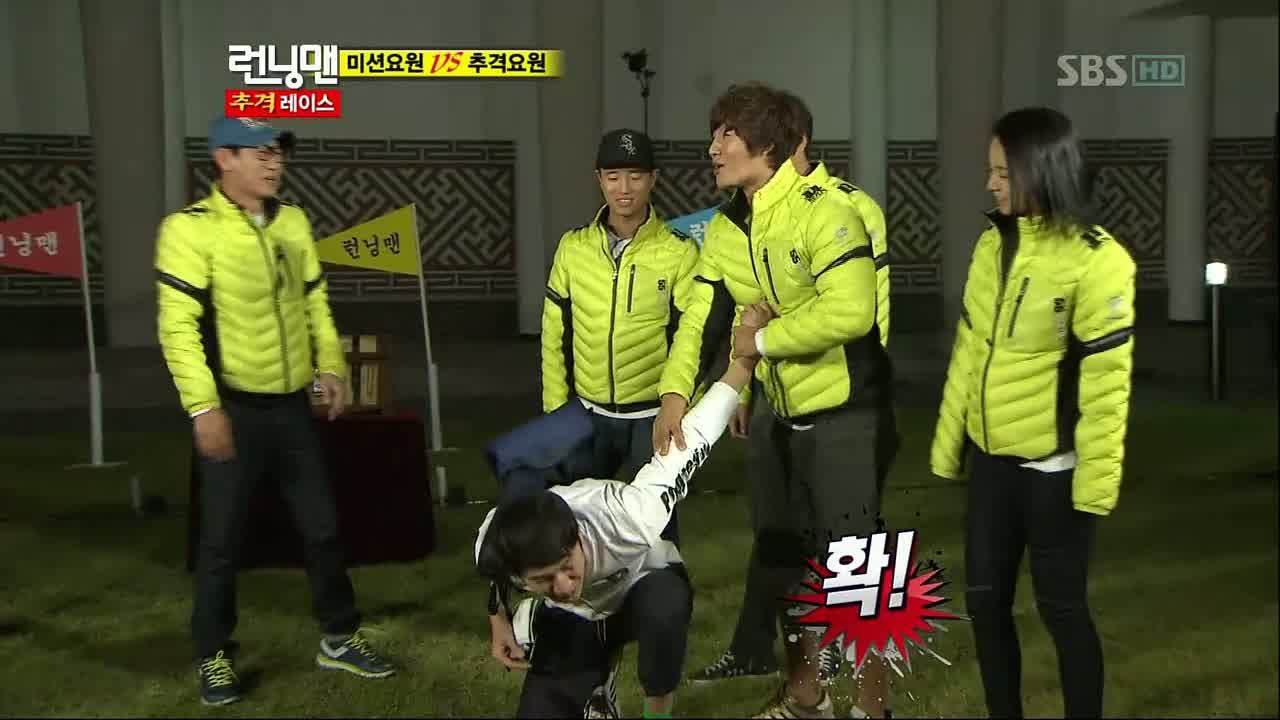 RELATED POSTS
Tags: featured, Haha, Ji Suk-jin, Kang Gary, Kim Jong-kook, Kim Joo-hyuk, Kim Sun-ah, Lee Kwang-soo, Running Man, Song Ji-hyo, Yoo Jae-suk