King of Dramas: Episode 4
This drama is really shaping up nicely, and this is another strong episode, filled with equal parts humor and suspense. This show accomplishes the uncommon feat of taking its relatively small stakes and making us care about them, even rooting for our characters' successes with pounding hearts and bated breath.
In the scheme of dramaland as a whole, television airdates and budgets can't really hold up to the grand drama of revenges, generations-old strife, and murder plots, and yet everything is delivered as though it really is life or death for our people. We believe Anthony is all-in, but it's not depicted in a condescending way. He cares, we care.
And most of all, it's just plain fun to watch.
SONG OF THE DAY
10cm – "마음" (Heart) [ Download ]
Audio clip: Adobe Flash Player (version 9 or above) is required to play this audio clip. Download the latest version here. You also need to have JavaScript enabled in your browser.

EPISODE 4: "The Art of War"
The room of SBC execs gape as supa-star Hyun-min strolls in as part of Team Anthony, contrary to their (and our) expectations. Rival CEO Oh Jin-wan finds he's one step too late, hearing that Anthony got to the star first. Fume.
Over a celebratory drink, Anthony asks about Hyun-min's change of heart. That flashes him back to the scene we saw last episode, where Go-eun promised to show the world Hyun-min's sincerity as an actor through her writing. He had walked off scoffing at her naivety… but then turned back.
Ah, it was a fakeout. This show is getting better at subverting our expectations, and I'm digging it. Rather than leaving the scene as we saw it, Hyun-min had reapproached, asking if she meant it. She'd said of course, and he'd warned her to keep that promise.
To Anthony, however, Hyun-min says smugly that he never once wavered in his decision: "How can a man renege on his word?" Heh, no way he's going to admit he was moved by Go-eun's words—not when he can posture about being all manly and loyal. However, he does ask, just to make sure: "About that writer… she keeps her promises, right?"
She does indeed, and gets to work, her cubicle now plastered in Hyun-min photos to keep him in mind as she writes. Either that or she's a secret fangirl.
CEO Oh is not ready to throw in the towel yet, and gives the instruction to continue with their plans. He's gotta be up to something nefarious, judging from his air of frustrated villainy as he vows to hand Anthony his defeat.
Hyun-min's unilateral decision to go with Kyungsung Morning has his agency president in fits, especially since Hyun-min never used to be swayed by anything other than his own bottom line. But Hyun-min's holding all the cards and points out that Prez needs him more than he needs the agency, and that's enough to get him to back down.
Hyun-min pays a visit to his pop-star girlfriend, Bit-na, who's a member of the girl group Angel Six. He goes gaga over her looks, while his manager hyung mutters that she's got the pretty face, but insinuates she's missing other qualities.
Sure enough, she strolls over looking glamorous, only to open her mouth and whine—and the voice that comes out is a godawful falsetto screech. HA! She's Lina Lamont! It's awesome.
Bit-na complains that she's been told to keep her mouth shut at her next concert, because her voice will send her fans running. She's a singer who's been ordered not to speak? That's even better. Hyun-min assures her that her manager's the crazy one, since her voice is unique and sexy. I'll give him one of those two. Either he's a really sweet boyfriend, or he's tone-deaf; honestly, odds are pretty even at this point.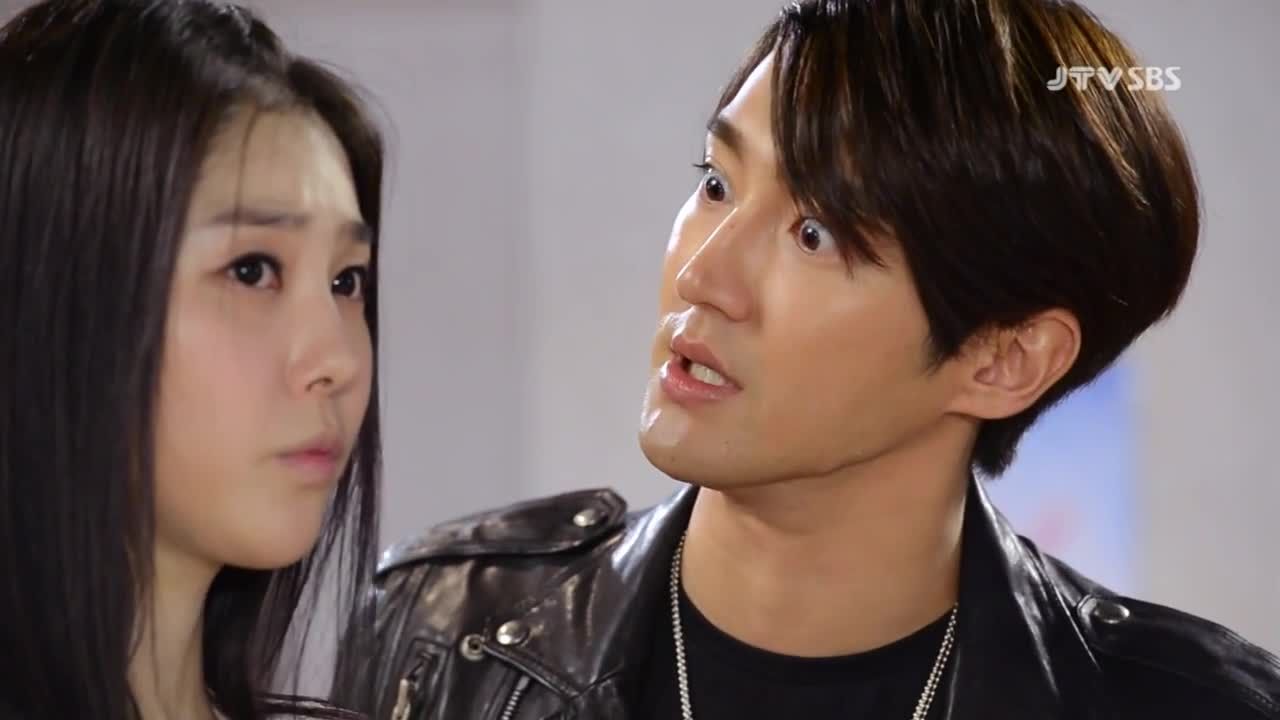 To cheer her up, Hyun-min offers to buy her the new car she's been wanting, since he's expecting a big fat payday. She coos, "I luh-luh-lub you!" He doesn't even cringe. Aw, this is a cute couple. Totally wackadoo, but they're sort of perfect for each other.
At SBC, Anthony meets with the head of drama programming, Director Moon, who's pleased to hear of the progress on the scripts and yet orders Anthony to replace the writer. They need somebody more experienced who can handle the live-shoot. Uh-oh. Director Moon makes it clear that there is no room for negotiation on this.
Anthony doesn't look happy, but we hardly expect him to stand up for Go-eun—not with his production on the line. Still, it's gratifying to see him squirm a little when he returns to the World Productions office to find Go-eun's mother there, happily feeding the crew. They're so cute, especially my favorite of the PD-minions, Dong-seok (Anthony's right-hand man).
Anthony takes Go-eun aside as soon as Mom's out the door and gets straight to the point, offering a generous payoff for her to step aside. The words don't compute, so he gets even more blunt: "I have to fire you. Leave."
She asks for the reason, and interestingly, he doesn't tell her the straight answer. Instead he paints himself as the bad guy: "I used you to get the investment and now that I don't need you anymore I'm ditching you."
She spits back his words about not letting her dream turn into a mere memory, and he says that was a lie. Furthermore, he's already found her replacement. She calls him trash, and it's only when she threatens to storm into the broadcaster's office that he tells her she'd better not, since they're the ones wanting the writer replacement.
Go-eun beelines for SBC and storms Director Moon's office, interrupting his meeting with another CP. She asks if it's true that they demanded the writer switch, and Director Moon confirms readily. He's unmoved by her plea, saying he can't leave such a big deal in the hands of a newbie with no experience: "The answer is simple. In this war, all we need is you to leave for us to win."
We've seen that the other exec, CP Nam, has much more of a moral compass than the other producers and he looks uncomfortable at the scene. But it's not his battle, and you know, you can't really argue with Director Moon's reasoning. Although neither can you argue with Go-eun's rejoinder: "If I left, would you be able to promise you'd win the war? You can't. Nobody knows that. People need chances to show their skills. Even if I have to quit the drama, I wanted to say this."
She leaves, and CP Nam points out that she makes sense. Heh. I like him.
That night, minion-PD Dong-seok retires in the tiny bedroom of the office he shares with Anthony, and that fact alone is enough to crack me up. But even better is the ridiculous sleeping area, fashioned just like the outer space: Anthony's fancy bed and an ornate painting lie two feet away from Dong-seok's folding cot and a stack of boxes. Freaking hilarious.
Dong-seok asks Anthony whether Go-eun will be okay, too worried to sleep. Anthony reminds him of his mantra: To make a drama a success, you have to be willing to abandon even your father. But even Anthony lies awake in bed, ill at ease.
Go-eun returns to her mother's restaurant that night, but doesn't have the heart to tell her the truth. She ducks out of sight and sobs to herself around the corner.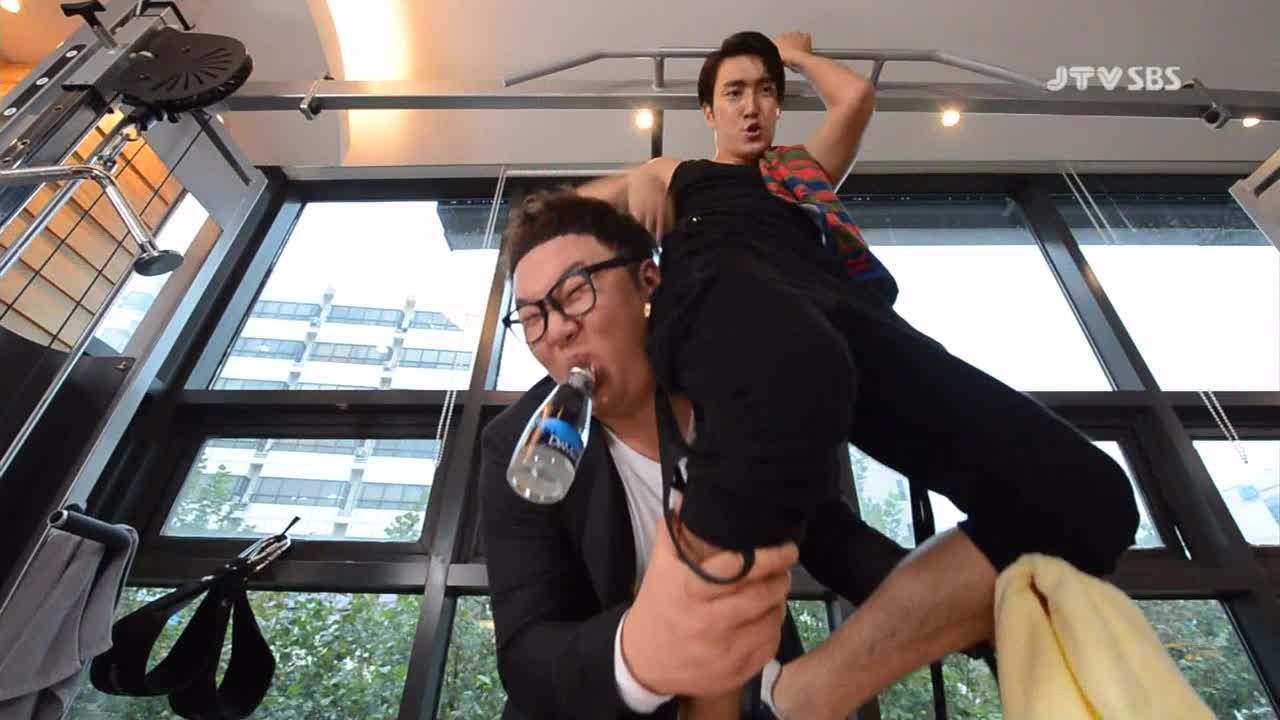 Anthony heads over with contract paperwork for Hyun-min, finding him at the gym where he's busily showing off his physique to the gawking ladies. Hilariously, his one-armed pull-ups are all the work of his long-suffering manager, HA. That's my favorite shot ever.
Hyun-min is promised his big payday (2 billion won) within two weeks, and signs his name to the contract in super-childish block letters. This guy is a hoot.
But after all that, all is not yet smooth sailing: Director Moon won't give Anthony the guarantee that Kyungsung Morning will get the timeslot. Not without proof that they've got the production budget, so there's no embarrassing drama-runs-out-of-money-and-can't-pay-anybody scenario. He says, "Bring me the money."
Yet, how is he going to get the budget from his scary yakuza investor without a guarantee of airing? It's a chicken-egg conundrum. And without the money they can't pay Hyun-min, who will be sure to bolt. Anthony mulls this over, and realizes that the money Director Moon wants isn't exactly the production budget.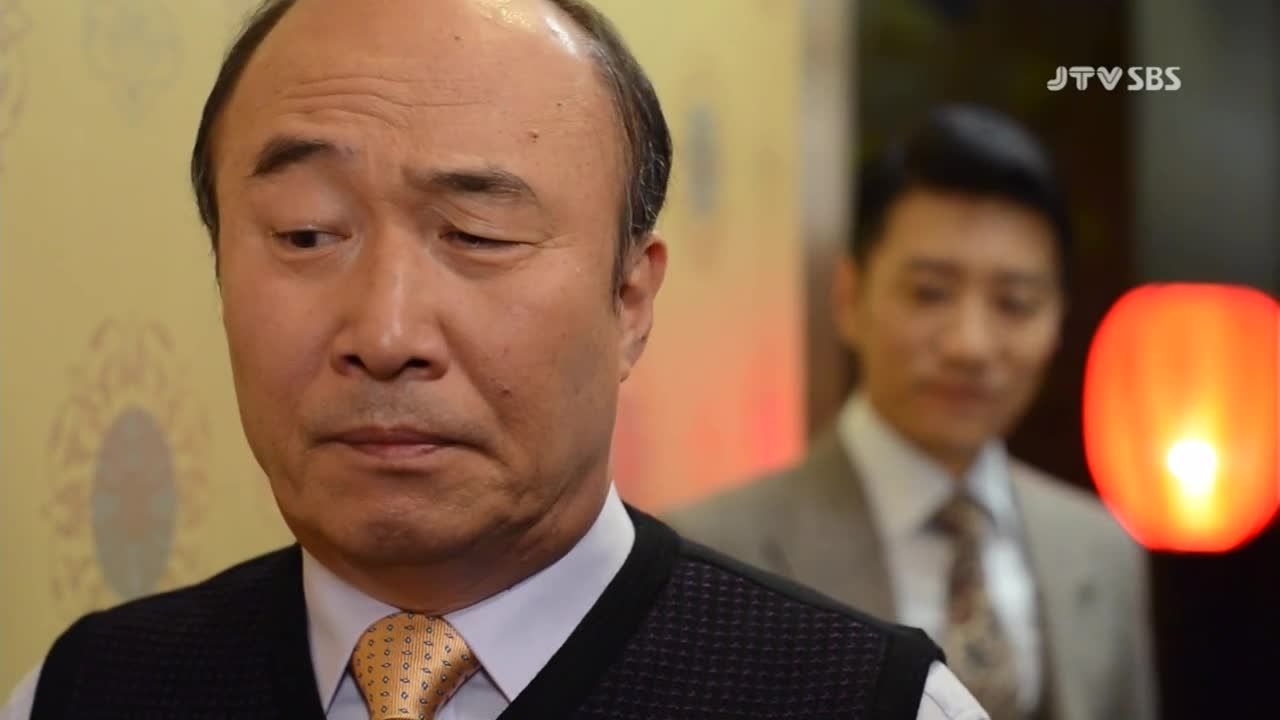 Anthony drops in unannounced to a dinner of SBC executives, and takes Director Moon aside. He makes a veiled, almost coded message: I hear you play golf these days at this club. Could I have your locker code? He says meaningfully that he'll prepare that money for him after all. Clearly we are no longer talking about budgets.
Director Moon first acts outraged, but Anthony lists all the recent examples of Director Moon's bribe-taking. Suddenly he's nervous and fidgety, and more willing to play ball.
So Director Moon replies in vague code as well, not outright acknowledging the bribe but giving Anthony the passcode to his locker.
The less-corruptible CP Nam approaches afterward, knowing exactly what's going on and noting that Anthony's still up to his old tricks. He says bluntly, "I don't like you. Especially your dirty and crude tactics." He calls Anthony a low-life and insists on paying for his own drinks. I really, really like him.
The next day, Anthony sends Dong-seok to deposit the cash in the locker, then heads out to get the broadcast guarantee from Director Moon. Just as Dong-seok is nervously packing the cash into a duffel bag, Go-eun arrives. With shame, he admits it's to ensure the drama gets on air.
Anthony gets his guarantee and tells Director Moon that his employee just happened to drop by that golf course recently. Wink-wink, nod-nod.
As he leaves, CP Nam congratulates him for getting what he wanted after all, using his dirty methods. He asks whether Anthony's aware of how people in this business deplore his methods, and Anthony replies that yes he is aware, as he also happens to be a person in this business. Ha. I love CP Nam for sticking to his guns, and I love Anthony for being so imperturbable. You'd think they could make a fabulous team, if only they weren't polar opposites who hate the way the other operates.
As Anthony drives off, he gets an angry call from Director Moon, who accuses him of playing games. He's highly insulted: There was no money delivery.
Anthony calls the office, and is told miserably by Dong-seok that Go-eun hid the bag of money and stopped him from going to the locker in the first place.
Anthony storms into the office and demands the money from Go-eun. She fires back that her exit was supposed to smooth the drama's progress, and yet he has to resort to bribery? She demands an explanation and refuses to tell him where the money is until he makes her understand.
He tells her that the drama won't make it to air without that money. She replies that if that's the only way to make it work, it's not worth it.
They have a glare-off for a charged moment, then Anthony starts tearing apart the office for the money, which can't have gone far. But time is ticking; he has just thirty minutes left to get the money to the golf range.
Anthony clocks something strange about Go-eun standing guard in front of the fuse box, and shoves her aside. Inside is the bag. He grabs it and heads out immediately, unfazed by Go-eun's threat to sue. Go right ahead, he says.
He arrives at the club, makes the money drop, and puts in the confirmation call to Director Moon. Phew. Sigh of relief.
Go-eun, on the other hand, drowns her sorrows in soju. A few bottles in, she drunk-calls Anthony to tell him just how terrible a person he is, how he's a devil without blood or tears. Interestingly—and I don't think I'm reading too much into the acting here—I'd say there's a measure of self-loathing in Anthony for being That Guy, despite all efforts to look like he could care less. He says that he knows all that, "Better than anybody."
She asks, "Living like that, are you happy?" He turns the question around on her—is she happy, living her way and getting trampled?
Go-eun says, "I'm not unhappy, because at least I didn't live making the world dirty." Anthony clues her in: "The world was filthy from a long time ago." He'll play according to the world's dirty rules and win.
Go-eun warns, "You're going to fall down to hell."
Anthony returns, "It seems there's something you don't know: The place where we live right now is hell."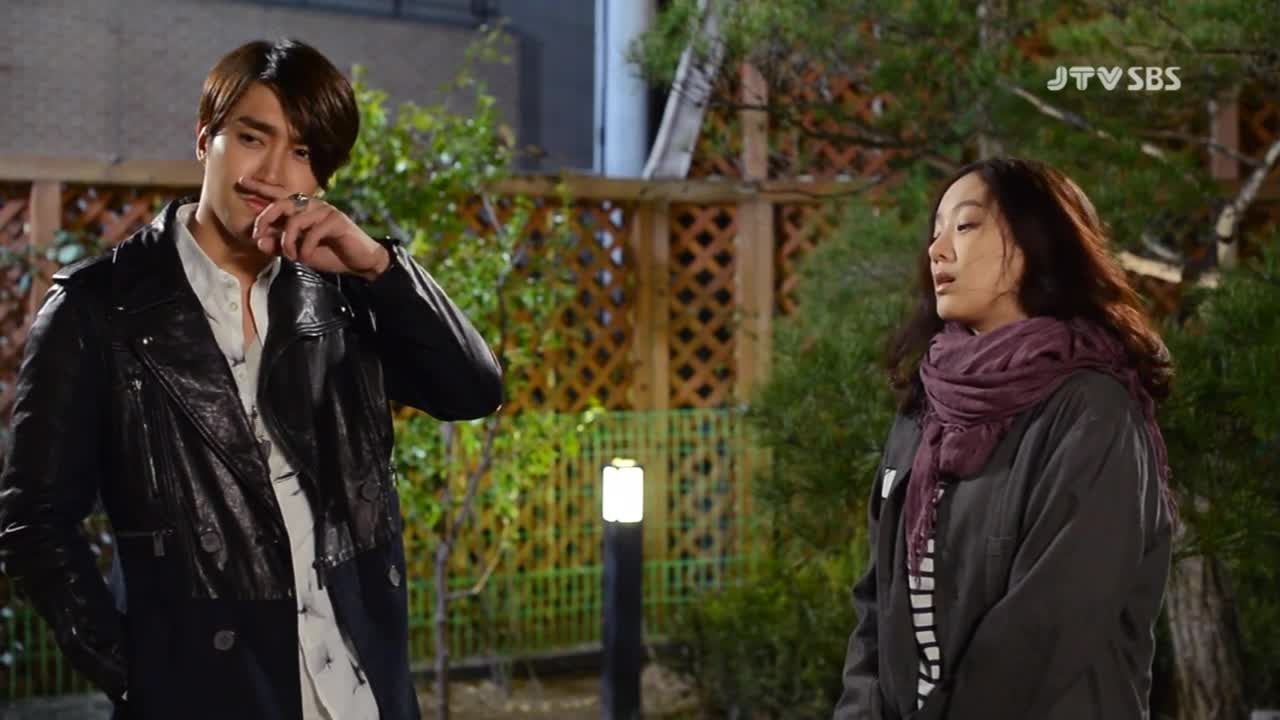 Hyun-min dresses for a night out, giving himself a hilariously serious once-over to assess his appearance. I don't think I'll ever get sick of Siwon mocking himself and the entire class of vain hotshot stars out in dramaland.
He has a guest: Go-eun, who politely but drunkenly apologizes for imposing on him. She says she won't be able to keep her promise to him and thanks him for liking her work, but she's been fired. She entreats him to continue caring for her work despite her absence.
Hyun-min eyes her skeptically, assuming she's here to beg him to help get her job back. Clearly she's flattering him and acting sweet to butter him up, isn't she?
His assumption sparks her temper, and she insists that he's got it all wrong. She scream-slurs at him that she poured everything into Kyungsung Morning, and is asking that the others value the project too: "Why can't you understand that?! You idiots!"
Meanwhile, Anthony stands on his rooftop, mulling over her words: "Living like that, are you happy?"
Hyun-min heads out, driving through his neighborhood just in time to see Go-eun get accosted by a group of rough-looking high schoolers. They demand that she hand over her cash, and with exasperation over witnessing the hapless damsel in distress, Hyun-min calls in a tip to the police station. Aw, that's cute. (He calls in anonymously, identifying himself as a mere citizen, albeit "one who pays a huge amount of taxes.")
Go-eun says calmly that she's in a rotten mood today, asking to walk away without a scene. The teenage hoodlums aren't having it, and the ringleader grabs her by the coat lapels threateningly.
Go-eun shoves him back, though, and flies into action; she's drunk and not quite coordinated, but clearly is more than capable of defending herself. Soon the kids are strewn on the ground. Heh, not so damsel-y after all.
Go-eun slurs at the kids to study. Hyun-min recoils in shock and drives on wondering if she's writer or gangster.
Anthony gets a call from the police to collect Go-eun, whom he finds passed out at the station. The three high schoolers give their report, and the cop asks curiously what their relationship is, given that Anthony was logged in Go-eun's phone as "crazy dog," ha.
Anthony regards the scene with a mix of disgust and annoyance, though he does pay up to settle the matter with the kids' parents. That means she's free to go, but instead he asks the cop, "Can I leave her here for the night?" and saunters off.
He catches the news on the way home, and a breaking report sends him into panic mode: A certain drama department director was arrested for corruption tonight. Pictured onscreen is Director Moon.
Anthony thinks to that bag of money in the locker and immediately heads there to intercept it before the police can. If he's tied to that money, he's going down too.
Go-eun wakes up at the police station in time to catch the news, and is told she's free to go thanks to Crazy Dog paying off the settlement fee.
Also watching the report is a smug CEO Oh, who gets a call from his sunbae working this bust. Ah, you tipped him off. He's surprised to find one name not on the list, but points his sunbae to the golf range, the scene of somebody's favorite bribery method.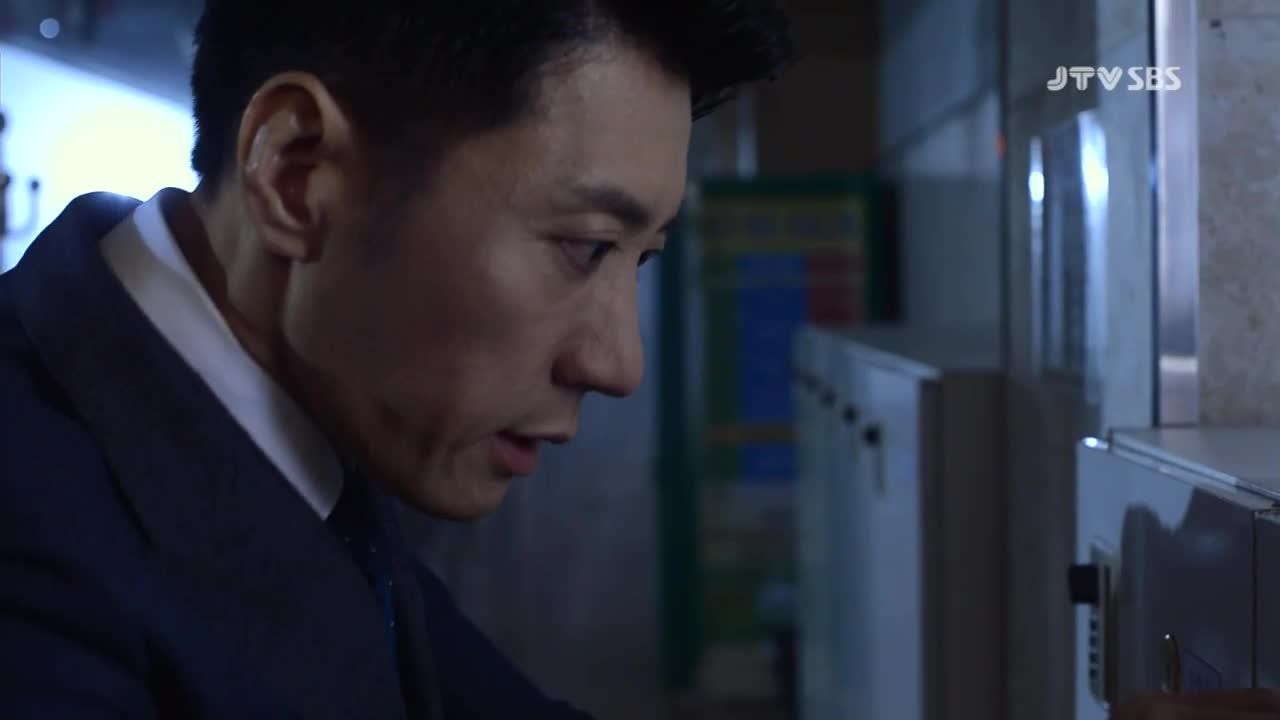 By the time Anthony arrives at the club, the doors are locked for the night. The back door is chained shut, so he resorts to climbing to a second-floor terrace and finds a door that is thankfully open.
The police are close behind, and screech up with sirens blaring just as he grabs the bag of money. That means his exit is blocked, and he jumps painfully from the terrace to the ground. He's spotted by a cop who radios his teammate on the ground, but Anthony manages to escape without getting recognized or his license plates read. I know he deserves to be caught for his crime, but I can't help but cheer along.
In the morning, the news is abuzz with the bribery scandal. Go-eun calls the office to ask Dong-seok about it, and he assures her that they barely escaped thanks to Anthony's quick moving. That means the immediate threat to Kyungsung Morning has been neutralized—but as with everything, they're not out of the woods yet.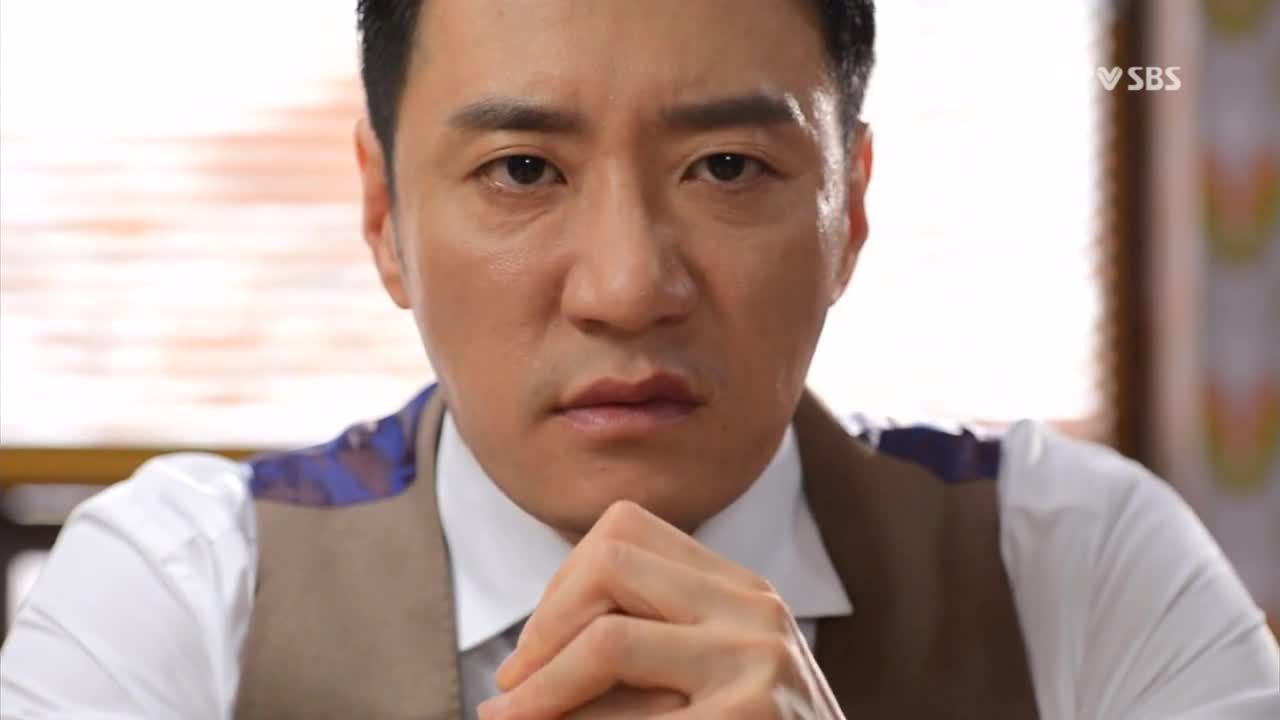 Anthony gathers his team for a meeting. SBC has yet to make their final broadcast announcement, which means that Empire Productions is sure to try to interfere. Notably, Elegant Revenge 2 submitted a 10-page synopsis yesterday; it's still in the game.
Empire is banking on the shakeup to work in their favor, and they hold their own strategy meeting. The biggest question is who will be appointed the new director, because he'll have the most say in the scheduling decisions.
Both teams discuss which senior executives might be promoted to the new director slot. There are a few contenders, but the weaselly Deputy Director Kim seems the likeliest candidate.
That's enough to tip Anthony off to the fact that CEO Oh must have been the one to take down Director Moon, because Empire has been working with Kim on pushing Elegant Revenge 2. That also means: "He intended to get me arrested too."
The next morning the executives file in to SBC, while our CEOs await the confirmation call. We get a particular shot of Deputy Director Kim arriving at the building and being bowed to by a subordinate.
The notice is posted, and the new director's arrival is announced. The employees hurriedly line up to greet his triumphant entry.
It's CP Nam. Awesome.
I love this. Now everybody's plans are foiled! And by somebody with integrity!
CP Nam—er, Director Nam—conducts the morning meeting and addresses the recent unfortunate events that led to this change. He outlines his priorities: Good dramas, actors who will be well-received by the public… "And fostering a production environment of transparency." Guess who that leaves out?
Therefore, he announces that the drama lineup cultivated under the previous director will now be wiped clean. Every project is to be reassessed.
Anthony storms into the drama department, arriving just as CEO Oh leaves Director Nam's office. He calms himself, and says he knows that Director Nam hates him and his corrupt tactics. However, he pleads for one more opportunity.
Director Nam replies that he cannot allow one more opportunity for someone like him to shake up dramaland. His decision is final, and he dismisses Anthony.
Anthony clenches his fist… and gets down on his knees.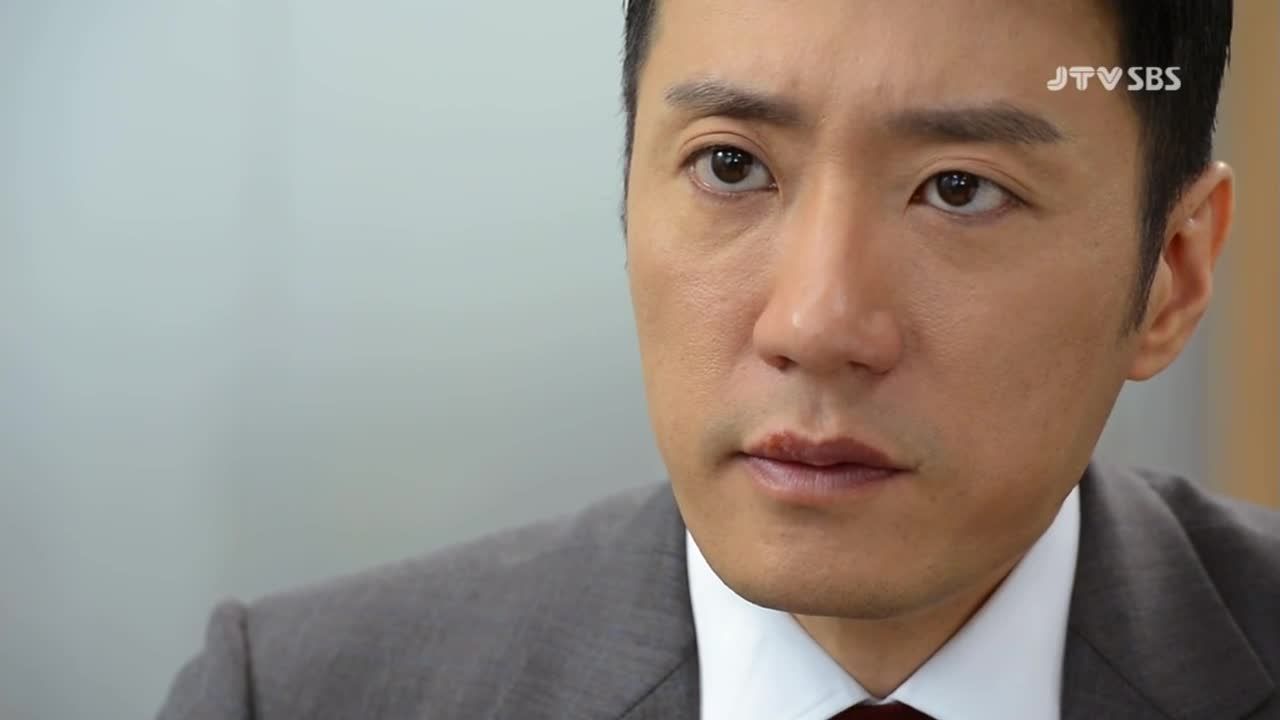 COMMENTS
I had a feeling CP-now-Director Nam was going to play a huge spoiler in the plans, so I was particularly excited when he became the replacement. Not only is he the exact opposite of what everyone was expecting—therefore throwing everybody off-kilter—he's also the guy who is least receptive to their tactics. Anthony's going to have to do some major brainstorming and transforming to appeal to Director Nam, and it's going to be a mighty uphill road for him because Nam is completely aware of who, and what, he is.
This is also a great game-changer for Go-eun, in that till now she's been a bit of a pawn. She's a great character and I love that she's so rock-solid about her integrity, even to the detriment of her career and future, but that very steadfastness also makes her a bit predictable. I am not advocating that we make her personality inconsistent just for some narrative excitement, but by shaking up the position of the major players we arrive at the same conclusion just the same. Smart of the show.
Because now, Go-eun goes from being the project's dead weight to being their asset. Just when she's been chucked aside, too. Everybody seems to be in agreement that Kyungsung Morning is a good script so it's not a question of her talent, but her inexperience and her firm moral stance makes her a weakness at best, and a liability at worst.
Except now, we have in Director Nam an executive who's rather in the same mold as she is. He doesn't show a partiality for her, necessarily, but at least she's one way for this project to speak to the head honcho. It's similar to how she was the key in bringing Hyun-min around, except now it's on a greater scale.
And yet, what makes things complicated (in an interesting way) is that Go-eun is aligned with Anthony, and thus Director Nam is going to be wary of her. I like this complex view of the playing field, which not only has multiple players running around trying to score at the same time, you practically have multiple games going on on the same field. It's not a simple antagonist-versus-antagonist setup, because we've got lots of people and therefore lots of personal agendas.
You'd think that the adage of the-enemy-of-my-enemy-is-my-friend would apply, but instead everyone's an enemy to everyone else. Except, this is dramaland and you all need each other to succeed. How's that for irony? It keeps things interesting. It's also clever of the show, always keeping the pieces moving so that there's never one clear winner, or favorite, or shoo-in. For instance, there's this element of one-upsmanship to CEO Oh that makes the rivalry work; he's in the position of greater power, but you get the sense that he suffers an inferiority complex next to Anthony. And it's true that he's not as good—he knows just how to throw a wrench into the works because he knows Anthony's patterns of behavior, but he isn't actually inventive enough to trump him on his own merit.
It's why Anthony's really quite good at what he does (lack of ethics aside), because he's not only commanding and powerful, but shrewd. You throw him in uncharted territories and he'll find a way out. It's why I have no doubt he'll emerge on top and crush CEO Oh in the long run. That's not the big mystery; what IS the question is whether he'll do it as Old Ruthless Anthony or Reformed Anthony.
My favorite thing about this show, which just edges out the hilariously self-referential (and self-mocking) sense of humor, are the characterizations. Some are sincere and others are farcical, but they're all played with investment and aplomb. I've always liked Siwon though I don't think he's really stretched himself much in prior roles, so it's such a treat to see him launching into this ridiculous top-star caricature with gusto. The thing is, he's utterly ridiculous at this point, but I suspect we'll get to see more of his own sincerity emerge over the course of the show, and I'm eagerly awaiting that gradual shift. Although, for now I'm content to laugh along at his wide range of facial expressions (it's so Zoolander, and that's never a bad thing) and his willingness to just put himself out there for mockery.
And Anthony continues to compel, especially with these growing hints of… is it conscience? A heart? A sense of knowing better?
What's fascinating about him is how he does appear to possess a conscience and he clearly feels bad about some of the dickish things he does. That doesn't get him off the hook for his underhandedness since doing a thing still counts even if you don't want to do it. So that flash of humanity doesn't stop him, but I almost wonder if he hides behind that (hard, stern) facade to make himself feel better—if you tell yourself you're awful, you can avoid the turmoil of grappling with your inner decency.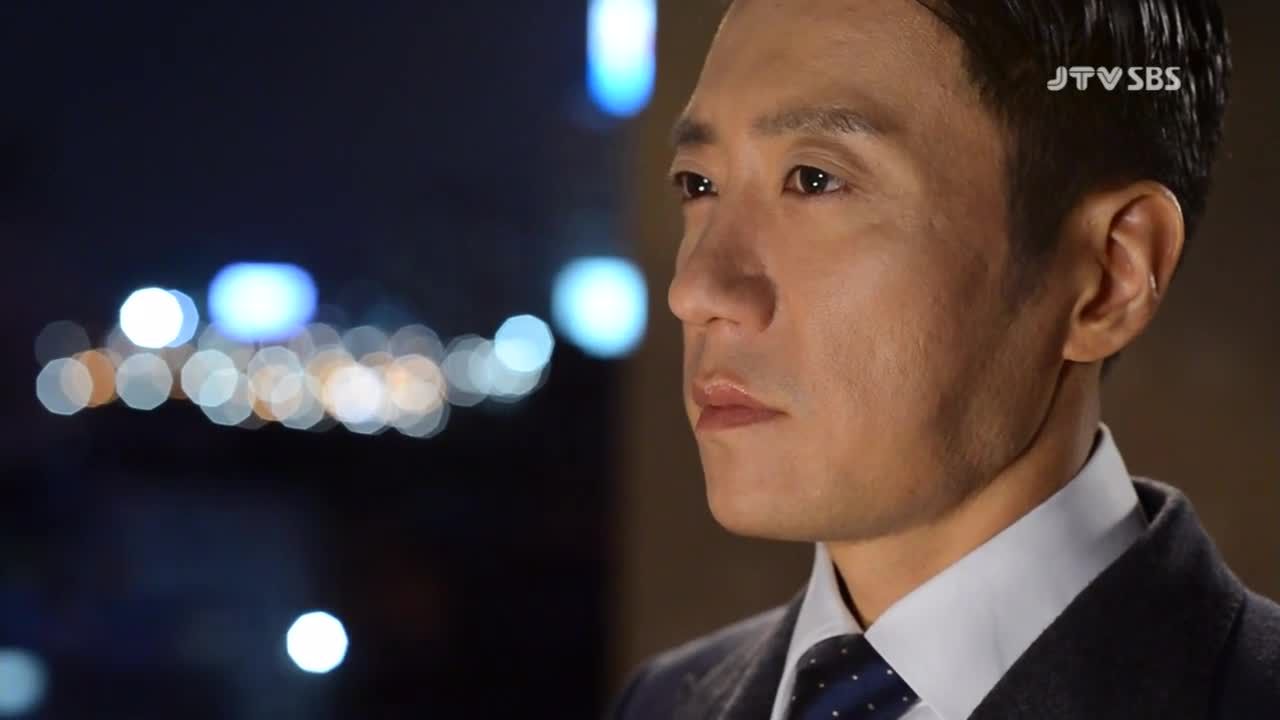 RELATED POSTS
Tags: Choi Siwon, featured, Jung Ryeo-won, Kim Myung-min, King of Dramas