King of Dramas: Episode 12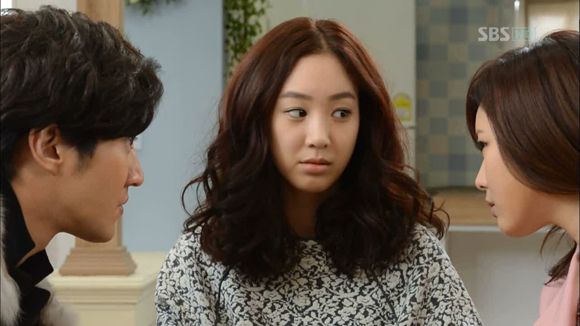 This show takes the Funny Cake, and then covers it in frosting made of pranks, giggles, guffaws, knee-slappers, [insert your laughter of choice], etc.
In one word, this episode was hilarious. Hyun-min and Min-ah's petty competitive spirit soars to new heights, and we can at least say that now we've learned how to get back at a co-star if we ever find ourselves fighting with one. This is basically like an hour of Punk'd for drama lovers, except it's funny. Really, really funny.
In fact, I'm not sure if I can think of garlic without laughing for a long time.

EPISODE 12: "No Enemy Is Permanent"
Go-eun is flustered beyond belief at Anthony's question: "How do you think of me as a man?" Her mouth opens and closes as she tries to formulate a reply, and just as she's about to speak, the look in Anthony's eyes changes.
"This is called 'melodrama.'" he proclaims. Waitaminute… Anthony's back to being a troll.
Turns out he was just playing her feelings so she'd know what being in the moment felt like, and he only did it so that she could use that knowledge to revise the script.
Go-eun is just about as shocked as you'd expect, but she can't formulate a retort before Anthony starts snoring. Haha. This show has a gift for undercutting would-be serious moments with the most perfectly dry humor.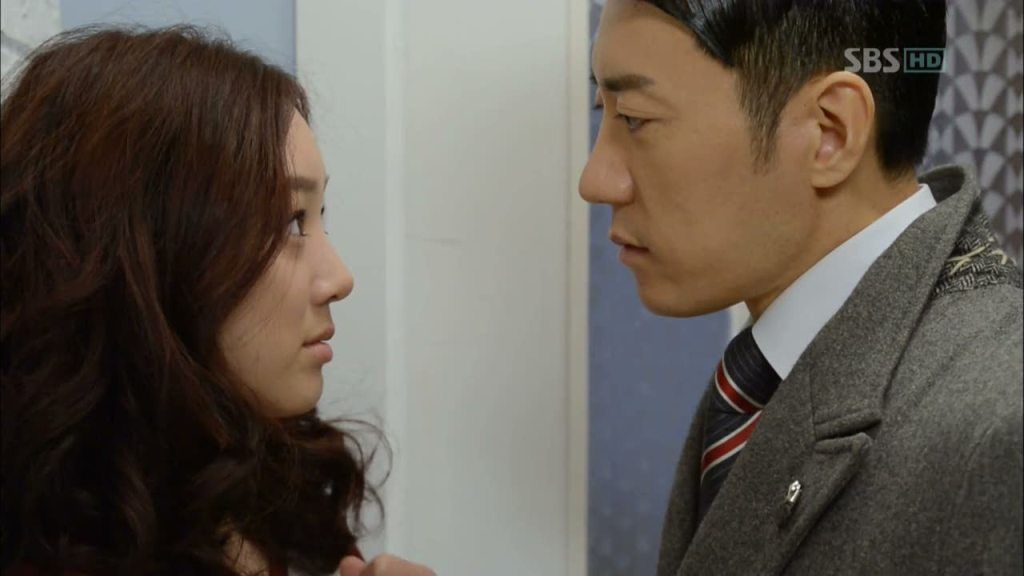 She goes home, still in a state of shock and disbelief at how she was so easily fooled. Anthony watches her studio from his rooftop, looking completely sober. Did he fake the whole drunk act?
Of course, she's surprised when she suddenly finds Anthony back at her door. He reminds her that she didn't answer his question as he backs her up against the wall.
Slowly, he comes to hold her as he says: "I'm thinking of you in this way." As he leans in… and kisses her. Whoa what when how who?
I can't really tell if Go-eun's enjoying the kiss, even though Anthony's got her wrapped in a firm embrace. She mostly keeps her eyes open with her arms sticking straight out like a mummy in a horror flick…
Only, she wakes up making smoochy faces to thin air. It was all a dream. Ha.
And then, to her sheer mortification, Anthony is standing in her studio. Heck, even I'm embarrassed for her. It's bad enough that someone witnessed her sexy dream, but to have it be the very object of her fantasies is just cruel. (But so, so funny.)
While Anthony tells Go-eun to revise the kiss scene, Hyun-min and Min-ah squee separately about their ratings success. Even the netizens have given their approval, which makes Go-eun so happy that she cries. Her dreams have really come true, haven't they?
She gets called for her very first interview, which has her jumping up and down in delight. Mom looks on proudly as Go-eun holds the interview at her restaurant, citing it as the place where Kyungsung began for her.
When asked who she has to thank for her achievements, she obviously cites her mom first before adding a heartless person with a bad personality that made her go through hell. His name? Kim Bong-dal. (His secret's safe – no one but Go-eun knows his name.)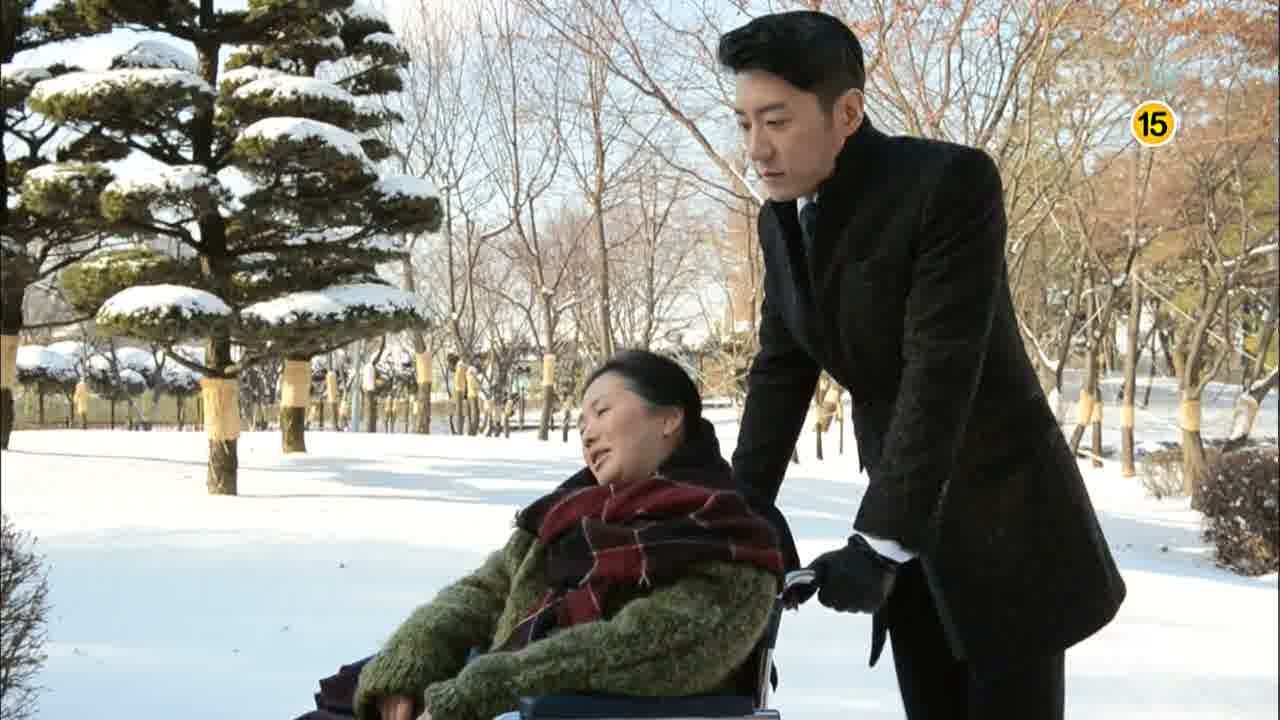 Anthony visits his near-clairvoyant mother at the care center, and the two share a heartwarming moment over his drama. (This drama is starting to freak me out with all its healthy portrayals of parent/child relationships. Is King trying to tell me that parents can actually love and support their children without controlling every aspect of their lives? Horrors.)
She never doubted for a second that it wouldn't be a success, to which Anthony replies: "Whatever your son makes will be the best, so don't worry at all."
She lovingly warns him against working too hard, and tells him to bring that special someone, if he has one. "Even if I can't see her, if I hear her voice, I will be able to know how good a woman she is," Mom says. He has to struggle to hold back tears at her bedside.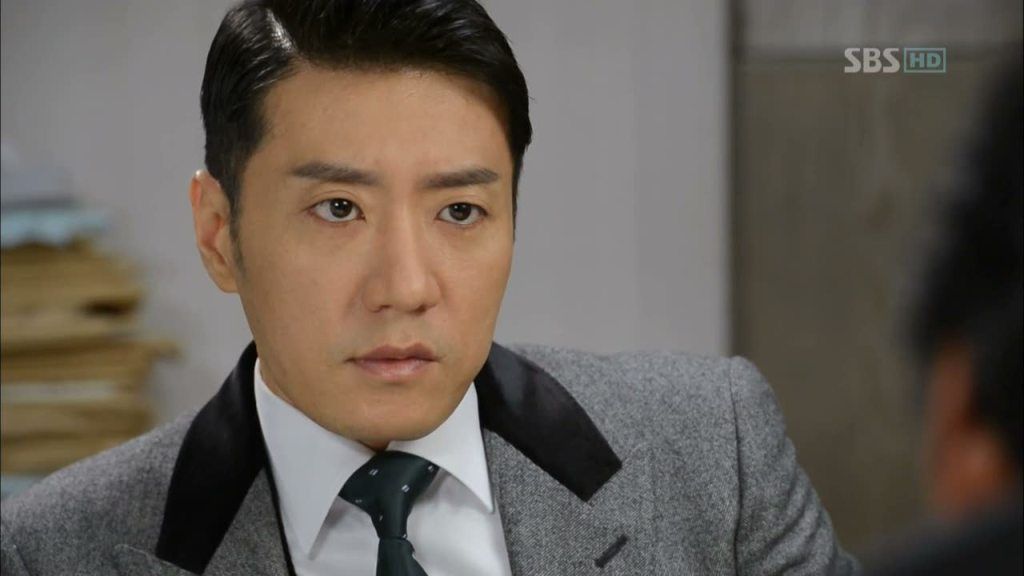 Meanwhile, the Chairman finally shows his hand when Anthony is summoned to the prosecutor's office to answer for the number discrepancies in the Empire Production books. He knows it's Empire's doing, and calls for a chance to cross-examine CEO Oh, his accuser.
Go-eun receives a congratulatory plant from CP Lee over at SBC, and the fact that he's now a Go-eun fanboy is pretty funny. Next on the roster of gifts are blue roses from Hyun-min, who claims he's come to congratulate her when really he just wants to talk at her about how he single-handedly made the ratings spike.
I love that she knows him too well by now, and asks him to just get to the point – he never comes knocking without a favor to ask. Hyun-min drops the facade and mentions the awkward kiss scene, claiming (like Anthony) that the scene is just like putting two stick figures together.
You can see her gritting her teeth as she tells him she's working on it. Hee. It must chafe her that everyone hates the kiss scene she wrote.
Hyun-min's so happy the scene is being revised that he offers to take Go-eun shopping to buy her a new winter wardrobe, since hers is lacking. "As much as I want?" she tests the waters. "As much as you want!" Hyun-min exclaims, maybe not yet seeing the trouble he's getting into.
Cut to: An outerwear store, where Go-eun has brought all the World Boys to shop under Hyun-min's tab. Ahahah. He has to just grin and bear with it, even though his sponsorship will only cover two coats. The rest is coming out of (gasp!) his personal finances. Quick, someone get him a fainting couch!
For Episode 2's broadcast, Anthony watches from the broadcasting room while Go-eun types away in her studio. Hyun-min and Min-ah are busy filming, and any forced skinship is quickly broken whenever the camera's not rolling.
It's dead cold outside, and Hyun-min keeps messing up the takes whenever Min-ah has to kneel in the snow. Ha, is he still just messing with her? How do they get anything done?
But Min-ah gets him back by actually slapping him during a scene when she's supposed to just be faking it. And it's an NG. In fact, she makes it so every take is a no-go, just so she can slap Hyun-min repeatedly. Ha. Revenge is a cruel mistress.
He's strangely affected when she strokes his cheek, though. Is someone's antagonism turning into true wuv? I hope they keep hating each other a little longer, because it makes for comedic gold.
Love must be in the air, since even Dong-seok has his puppy eyes on one of the new FDs.
Anthony reads Go-eun's interview in the car and smiles to see she's thanked "Kim Bong-dal." Maknae Goo hears the name and starts laughing at its antiquity, and poor Anthony can't defend himself lest he reveal his name.
Go-eun takes this time to revise the kiss scene, but she can't get Anthony out of her mind. She keeps flashing back to the bed scene, only to swallow a gasp when Anthony comes strolling through the door.
It's with a smile that he reports their second episode ratings, a nice 16.2%, but it's his smile that has Go-eun completely mesmerized. It's all romantic music as he reads the revised kiss scene, only to ask in passing as he leaves: "What have you been doing all this time to have never been in a relationship? Well, I'm sure there weren't any guys who were willing to put up with your terrible personality." The music cuts off abruptly, and Go-eun's left slack-jawed. You can just see her wondering what she ever saw in him.
Hyun-min gets the revised script for Episode 7 while whining to Bit-na about his cheek. To his horror, the kiss scene wasn't removed, but amplified. Uh oh. At least Min-ah is equally miffed/disgusted.
Anthony and CEO Oh go before the prosecutor, and it should come as no surprise that CEO Oh denies any involvement in the stolen funds.
Once they're alone, Anthony threatens that two can play this game, when in reality they can't – CEO Oh has erased all traces of the bribery funds that could lead back to Empire. The only hard evidence they have is that the money moved in and out of Anthony's account.
Anthony: "Why on earth do you hate me so much?" THANK YOU. Can we get this man a prize?
CEO Oh drops to banmal in order to tell him that it wasn't even the constant humiliation he endured under Anthony, but that he missed his father's passing because of Anthony's belief that one should be ready to abandon their own father for a drama.
So, he's mad because he followed terrible advice no one except Anthony would give or follow? And does that make him wishy-washy in his determination, since only episodes ago he'd been questioning the Chairman's dogged need to see Anthony eat humble pie? O-kay. "As long as that moment, that memory, remains in my brain… I'm going to kill you," CEO Oh grates out.
He gets to leave. Anthony has no choice but to stay – he's been officially arrested, cuffs and all. Eek.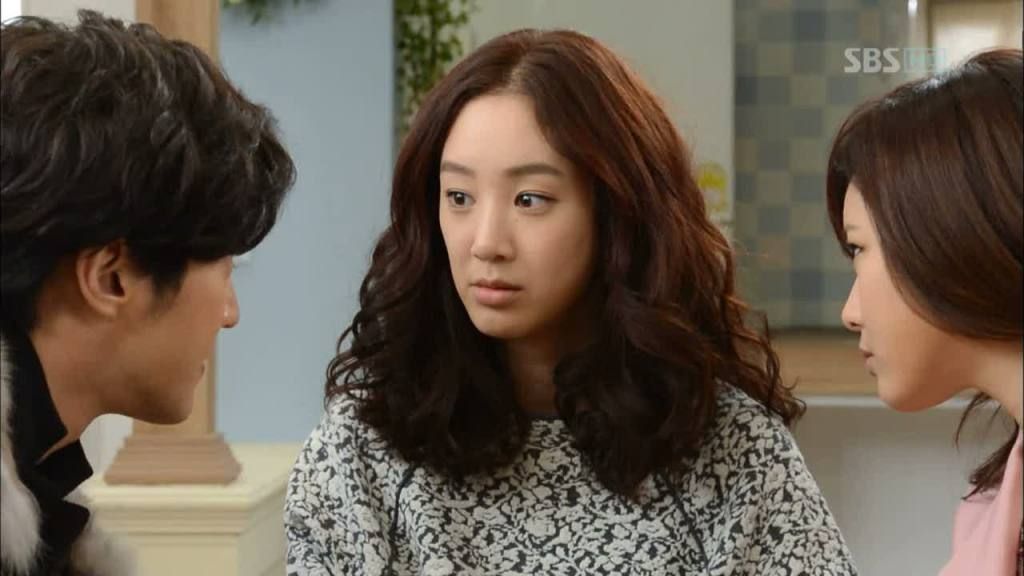 While Director Nam gets wind of Anthony's arrest, Hyun-min heads straight to Go-eun's place to give her a piece of his mind on the kissing scene, only to find Min-ah already there. Now who's the punctual one?
The situation with the two demanding stars is like a couple's therapy session from hell, with Go-eun caught helplessly between them. Despite her adamance that the kiss marks a turning point in the story, Min-ah and Hyun-min claim that they can act so well that they won't need a kiss.
Go-eun's not so sure, considering all the effort she spent revising what was a previously bland kiss scene. She cottons on to the fact that they're resisting because they don't like each other, which causes Hyun-min to drop to banmal… and call Min-ah "unni." As in, "Unni, do we not get along?" Is he bringing "unni" back for male usage? (Back in ye old Joseon days, it really was a term used among men.)
Priceless. For once, the two of them are in agreement. They're at a standstill with Go-eun for the moment and both head home in their separate celebmobiles, with Hyun-min saying he'd rather swim in the ocean than do that scene.
Min-ah, likewise, says she'd rather her character be shot dead. I sense a weird, weird, weird budding relationship between these two. Emphasis on the 'weird,' because they still hate each other. (Orrrr do they?)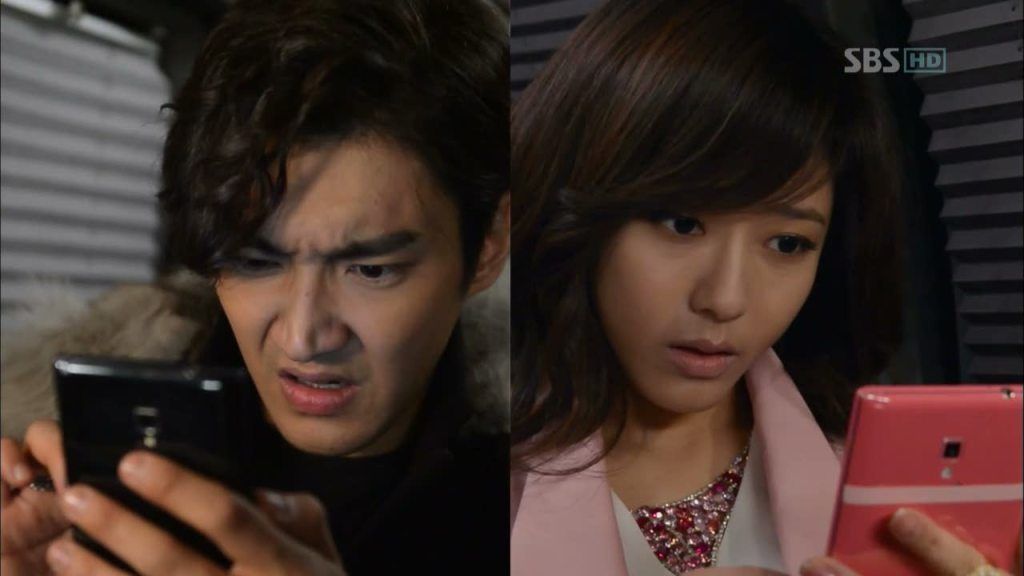 However, Hyun-min remembers how Go-eun wouldn't budge on the ocean scene and tells Min-ah that the best defense is a good offense – they should change the script themselves. On their nifty new phones, no less. How do you like them product placement apples?
No one over at World knows that Anthony is currently under arrest, while Anthony refuses to cooperate with the prosecutor. The prosecutor has been bought off, but he can only stretch the law so much – legally, he can keep Anthony without a warrant for forty-eight hours only. Anthony just has to hold on till then without confessing.
So Go-eun goes to a higher power – Director Goo. He sits Hyun-min and Min-ah down to challenge them on their demands, and suddenly they're listening because it's Dad talking now. (Hyun-min doesn't miss the opportunity to call Mommy Go-eun a snitch, though.)
Both of them confirm that they will NOT be doing the kiss scene, which causes Director Goo to pull out the big guns in the form of alcohol. He reminds them that he was once an alcoholic, and that if they don't agree to the scene and stop him, there's no telling what'll happen.
One glass goes down the hatch. Director Goo pours himself another: "The taste of wine… is dragging me back into alcoholism…" Ahaha. Alcoholism is not funny, but Director Goo's tactics are when they're hovering between self-awareness and emotional blackmail.
Hyun-min breaks first, with Min-ah following. The kiss scene is a go.
Director Goo downs another glass to Go-eun's horror, only to pour her a drink and reveal that it's only tea. "This is what it means to be seasoned," he tells her. I love these two.
Meanwhile, Hyun-min and Min-ah discuss their personal terms for the kiss scene, and both of them demand pristine, clean teeth.
While Go-eun and Dong-seok try to figure out where Anthony is, his mother's care facility calls (asking for Kim Bong-dal) with news that Mom is in critical condition. Go-eun's in shock, considering that Anthony told her his parents were dead.
Director Nam pays a visit to the Chairman to ask him to stop sabotaging Kyungsung. The argument gets heated and Director Nam calls him… Father? Ohhhh. That explains a lot.
Apparently Director Nam hasn't acknowledged him as his father for twenty years, and gives him an ultimatum now: Either he leaves Anthony alone, or he'll lose his only son forever. "Please stop, I beg you," Director Nam says. Finally, someone is speaking sense to the Chairman.
The tactic works, since Anthony is released scot-free as per the Chairman's order. When his father asks why he's protecting Anthony, Director Nam replies that he's only protecting his drama.
Dad decides that today is as good a day as any to drop a bomb, and stresses to his goody two-shoes son that he's enjoying his current position as Director because of his power. Aka, Director Nam got where he is with daddy's connections.
This completely crushes Director Nam, the epitome of the stalwart, self-made man. What kind of dad not only knocks the wind out of his sons' sails, but sinks the boat altogether? This guy.
Anthony calls the Chairman to thank him for the release, only to be redirected to his true savior, Director Nam. He genuinely thanks Director Nam and doesn't press further when details aren't divulged as to how his release was secured.
Anthony rushes over to the care center as soon as he gets a call about his mom, and at least she's stabilized. Go-eun is already there when Anthony arrives, and asks him why he lied about his parents.
After a long silence, he responds, "I… really hated them. I hated our extreme poverty, my father who abandoned me as soon as I was born, whose face I've never seen, and even my blind mother. I hated them and was ashamed of them. When I got to the United States, I made a resolution that I will forget everything that happened in Korea. 'From now on, I'm Anthony. I don't know anything about poverty, and I grew up in the states. I'm Anthony.'"
He collects himself before continuing, "And that's what I told everybody too – that my parents passed away, leaving me a fortune as inheritance. That I grew up with a happy childhood." He chokes back something – a sob? "I'm… a big coward."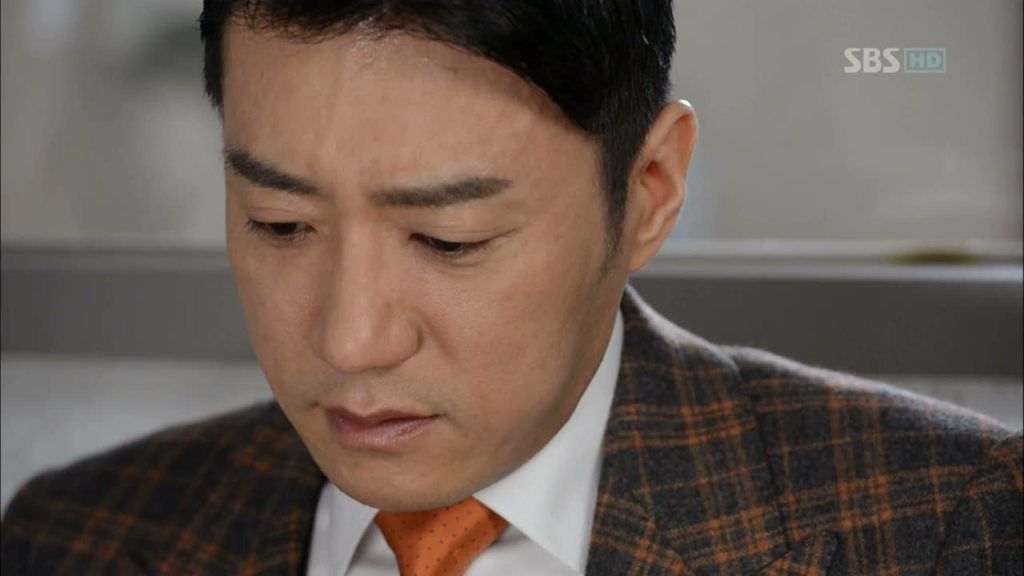 Go-eun responds in the best way possible by saying nothing, and merely goes to sit by him for support. Not that he'd take it, but it's the thought that counts.
It's time to film the kiss scene, and we find Min-ah preparing by resignedly brushing her teeth. Hyun-min, meanwhile, has a wicked smile on his face like a cat who just ate the canary. (And then refused to swallow it.)
What's he chewing on so attentively? Garlic. Cloves and cloves of garlic. HAHAHA. I can't even… I just can't. Words do not exist to describe the awesomeness of this moment, it just has to be seen. (*Still laughing*)
We see the scene play out as Go-eun originally intended, with Min-ah('s character) finding Hyun-min romantically playing the piano. The scene goes normally, even though it doesn't seem all that different from Go-eun's supposedly bland version.
They play their parts perfectly until their lips meet… and realization comes crashing down on Min-ah's tastebuds. She reels away while Hyun-min gives a look like, "I didn't do anything!" So everyone blames her for the NG, as he intended. Ha.
She all but hisses that he'd better brush his teeth, and Hyun-min acts all cowed now that he's overwhelmingly won this round: "Yes, Noona."
While sharing some quality time with her mom, Go-eun asks about a friend of hers who has a friend who maybe lied that his parents were dead when they weren't. Does that make him a bad person?
Mom says yes. Ha. Go-eun wonders why "someone" wouldn't see it that way, and Mom replies that that "someone" must like that person to see past that fault. And then she realizes Go-eun is talking about herself, despite all lies to the contrary.
Later that night, Go-eun watches Anthony on his rooftop from her rooftop. Min-ah shows up to reminisce about that time they broke up five years ago, after he'd successfully turned her from a rookie into the queen of melodramas.
He replies with the same old, that he's erased all memories of her. She claims his words are lies, and that he'd ran away because he'd come to love her.
"Yes, I admit that I did like you," Anthony stoically replies. When she asks why he left her then, he says it was because she's an actress who should be loved by everybody.
"If that's the only reason, don't ever leave me again," Min-ah says, before she kisses him.
Which, of course, Go-eun sees.

COMMENTS
After this cliffhanger(?), I feel more confident in pinning down why exactly I tend to just roll my eyes and check out when Min-ah goes into Ex-Girlfriend Mode – I think it's because I've really come to like her when she's in every other mode but that one. It's not just a matter of taking the good with the bad in an organic, character-development sort of way either, because something about her pseudo-romantic scenes with Anthony just rings completely false, every time. And it's just not as fun to know her as this prankster on set with a love for her craft and professionalism, only to see that side of her disappear whenever she's within restraining-order-distance of Anthony. It's just odd; both sides to her are so dissonant that they feel like they're written for two different characters.
However, now that we've gotten to see more of Min-ah in her natural habitat, I feel much more assured that Oh Ji-eun is perfectly capable of carrying an otherwise unlikeable character into endearing territory. But there's no helping these sorts of scenes, where the dialogue is so on-the-nose ("I'll make you love me", "Don't ever leave me again") that there's no wiggle room for her to play with. Sigh. I guess you can't win 'em all.
Aside from the villains who have so far been fairly (okay, very) one-dimensional, this ensemble cast just steals my heart every episode without fail. I find myself wanting to spend more and more time with them, because their interactions are so sweet – whether it's the World Boys walking Go-eun home, or Director Goo treating her like his confidante and equal. It makes for a lot of fun behind-the-scenes of Kyungsung Morning, enough to make Anthony's prosecution storyline seem like the most trivial of conflicts in the scope of things, despite that not being the case.
However, Anthony was afforded even more heartwarming moments as a reward for his suffering, and the hospital hallway scene was no exception. I like that he's becoming more and more transparent to Go-eun, affording her a peek into what makes him tick that seemingly no one else has been afforded, not even Min-ah. And Go-eun is more than up to the challenge, proving herself to be an all-around good friend to him when he needs one. It's easy to see why Anthony and her would find such common ground in hindsight, even if that wasn't so easy at the outset. More than the usual Opposites Attract Pairings, it's like they both have the same sense of humor, and probably endless conversation topics in common. Most of all, I like that no matter what happens from this point on, they were friends and partners first before anything.
And I feel like I've said this before or something to the same effect but it's worth repeating: Siwon is a complete riot in this role. Hyun-min would not be who he is without such dynamic facial expressions or body language, and it's rarely ever Hyun-min's lines that have me laughing, so much as his actions and the faces he makes while doing them. (He really is what I'd imagine Dokko Jin: The Teenage Years to be like.)
The best part is that it's broad humor based in Hyun-min's reality – he just wants to prank his co-star – but it never feels like it's overly jokey or slapstick, or that brain cells must be stowed away in order to enjoy the funny. The humor in this show just hits all the right notes for me, so even if I'm unsure of where exactly this train is taking us, at least there'll be plenty of laughs for the journey.

RELATED POSTS
Tags: Choi Siwon, featured, Jung Ryeo-won, Kim Myung-min, King of Dramas