Level 7 Civil Servant: Episode 19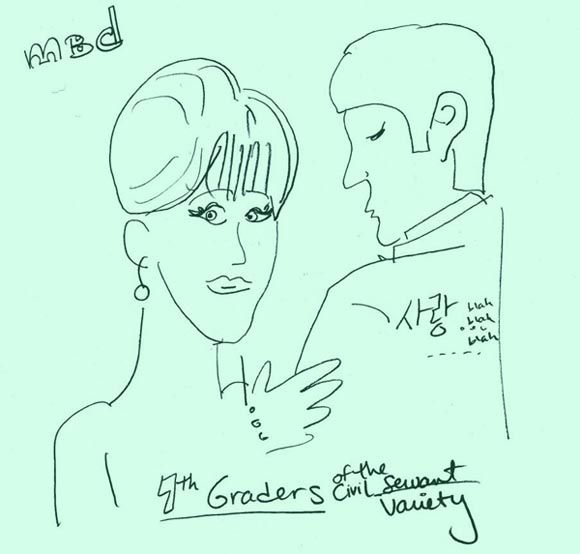 Illustration by pumpkinattack
So close to the finish! We're in finale week, and our spies come up against some ethical and moral questions that test their commitments to the cause — wouldn't that have been interesting introduced earlier? Ah, well there's only so much wishful thinking we can indulge in at this late stage. Let's just say that our hero and heroine take a stand, and find that stand challenged, setting us up for what I presume will be the final showdown: not so much a good-guy-versus-bad-guy fight, but a warring of ideals. Then again, this is Level 7 Civil Servant so the ending could just as well be about potatoes. *Shrugs*
SONG OF THE DAY
Toxic – "No More" [ Download ]
Audio clip: Adobe Flash Player (version 9 or above) is required to play this audio clip. Download the latest version here. You also need to have JavaScript enabled in your browser.

EPISODE 19 RECAP
Gil-ro and Seo-won burst into a hotel room with guns drawn, on high alert. There's something really funny about opening the door with a proper key-card and then storming in with pistols up, all, We're going to barge in and arrest you, but we're going to be polite about it. Our spy school wasn't raised in a barn!
They stop short to see Mi-rae standing at the window, and our spies shoot each other quizzical looks. Why? Did you somehow not figure you'd catch your bad guy on this bad-guy-catching mission? Okay okay, given your track record maybe expecting failure is the reasonable response.
Gil-ro holds her at gunpoint while Seo-won does the pat-down, all the while Mi-rae looks so hilariously bored by it all that it's just a little bit awesome. They demand to know where Woo-jin is, and she replies that it's likely he's not too far away. She wonders why they aren't arresting her, and they assure her that they will.
Seo-won asks if it's true that Mi-rae's family was killed, wanting to confirm her hunch on our baddies' motivations. Mi-rae tells her to wait and ask the question directly — she's expecting company any minute.
Woo-jin walks down a familiar hotel hallway and stands poised outside the room. When the doorbell rings, our spies force Mi-rae to answer while hiding just out of sight… and then they gape to see Director Oh strolling in. B…oss?
So it's a different hotel room that Woo-jin walks into, where he sits back and waits.
Gil-ro and Seo-won are stunned to see Director Oh here, who covers up his own surprise pretty well. He orders them to lower their weapons, treating their suspicions like they're absurd, which is pretty ballsy since he's the one who's been caught fraternizing with the enemy. But Director Oh says that Mi-rae has agreed to cooperate with them, and that gets them to back off warily.
Director Oh snaps at his spies to leave, and Mi-rae purposely hints at his shady past, knowing he can't have them knowing of their deal. Gil-ro and Seo-won reluctantly heed his orders and exit.
Gil-ro suggests that until the truth shakes out, they ought to consider everyone an enemy, even their director. After all, both he and Won-seok know the name Choi Heung-soo, and things don't quite add up.
Alone now, Director Oh and Mi-rae face off, neither of them willing to budge. Mi-rae wants the location of Won-seok's hospital, and Director Oh wants to maintain control. She dangles his checkered past as bait, offering to expose his secrets to his agency, but he warns that threatening him could backfire on her.
Mi-rae gives him two days to comply, and they agree to meet then.
Director Oh puts in a call to Do-ha, unaware of his mole's shifting loyalties (I presume they've shifted, at least) as he warns him to back off Gil-ro: "I'll handle it myself."
Sun-mi picks up a new signal that tracks their baddies to their hotel and reports to her team. But Mi-rae hurriedly calls Woo-jin to alert him, aware of having picked up a trace. Uh, and how did she know that? Do all NIS bugs come with little announcement bells?
Thus by the time the team convenes, Woo-jin has already checked out of his hotel, and the team suspect a leak somewhere. Gil-ro suspects the director, but Do-ha speaks up in his defense. You would.
But Gil-ro argues that Mi-rae would never work with them to betray Woo-jin, declining to explain why he holds that belief. Do-ha's all, Care to share your intel, buddy? and Gil-ro's all, Nope. This team, I swear.
Young-soon orders him to spill what he knows — they have no time to lose now that the director is aware of their dealings. Gil-ro says it has to do with Won-seok's past, that he's not sure of the details, and again refuses to share the reason behind his stance. Jeez Louise — you'd think that a job so dependent on comradeship and loyalty might teach him a little something about the necessity of actual teamwork.
Young-soon asks Seo-won next, and she likewise refuses to explain what they know of Won-seok's past. *Throws up hands* You know what, you guys don't deserve to catch the bad guys. Go sit in the corner waving your spy badge around for all the good it does you.
Sun-mi loses her temper, demanding to know what they hell they're supposed to do, then. How are they supposed to capture Won-seok's assassin without any information? I'm not sure if I'm more annoyed at Gil-ro and Seo-won for being pigheaded, or at the show for making me agree with Sun-mi.
Sun-mi guesses, "So you're telling us to get lost. Fine. Do a good job." Do-ha follows her out the door. Young-soon comes to the conclusion that they have no need for her either, and goes too.
Gil-ro and Seo-won convince themselves they did the right thing because it would be unseemly to say that Won-seok was involved in the deaths of their enemies' parents, at least without checking with him first. Which might be more reasonable if he weren't in a coma, you know. (No, he's not actually in a coma since he's faking, but that's another eye-roller entirely.)
He sighs that going home will have Mom in a fuss and going to work will have Director Oh up in arms, so if it's too much for her, she should hold his hand to remind herself that he's always with her. She says she already feels that way, and he thanks her, adding, "Kyung-ja-sshi." Lol. Had to get that in, didn't ya?
Won-seok wakes up in his secret hospital location and finds his wife asleep at his bedside. I do wish he'd let her know he was awake and kicking, even though I'm sure he's motivated by wishes to keep his family safe. When wifey finds out he was faking sick, I hope she gives you a good whack.
Gil-ro and his Mom sit down for some sponsor-supplied smoothies, where she calls Seo-won's family uneducated and low-class and wants him to cut all ties. Gil-ro screws up his face like a little boy and replies, "Don't wanna." Lol.
Then Mom narrows her eyes at him and asks if he's done anything he should be "responsible for" (euphemism for the sexing) and he lies baldly, "I did." Mom freaks out, though if she knew anything about Seo-won's anti-touchy policies I'm sure she'd feel a lot better.
There's similar nagging going on with the other Mom, who argues that she can't be with a guy whose family buys thousand-dollar bottles of wine like it's nothing. Thus the son has grown up throwing money around and learning no manners. I do enjoy Mom's recurring swipe at Gil-ro (which means, as we've said, "on the road") by calling him "Road or Street or whatever-his-name-is."
The next time they meet for a date, they lie that their mothers totally have no problem with them dating, and how they actually really like them. They don't notice, however, that they've picked up a tail: Woo-jin. (Aren't you spies? Shouldn't you notice the creepy baddie staring into your soul? I'm beginning to find Intelligence a very ironic inclusion in the name NIS.)
Gil-ro and Seo-won know their meeting with the director will be a challenge, and when he asks how they found out about the hotel or came upon their weapons, they answer merely that they can't divulge the information. They had been told that in a case like this they should name Young-soon as their leader, because she would take responsibility for the fallout, but Team Rogue ain't rogue without some roguery, and Gil-ro says they acted of their own accord, on Won-seok's behalf.
Director Oh says they work for the organization, not for themselves, and that's why they're fired. You know there's something wrong with the story when your response to your heroes losing their jobs is, "Well, duh."
He gives them a chance for redemption if they reveal whose direction they're acting under. They keep mum.
Young-soon joins the meeting, though, and names herself as their leader. Director Oh dismisses the underlings, but this puts him in a tough spot — he doesn't want to fire her, but things have gotten too big to cover up.
He asks to know where Won-seok is, saying they need to talk this through, but she refuses to give up the location. She tells her team to continue as they were, not letting on that her career is now on the line.
Director Oh pays a visit to an old contact in the construction industry and gets his hands on some incriminating evidence regarding stolen technology. Let's make a deal, he proposes.
Our baddies meet up, and Woo-jin reports that he's close to finding out the hospital location — he'll keep following our spies, who'll lead him there. Mi-rae warns him not to get overconfident, but he assures her of their last card — if they capture Seo-won, then Gil-ro will play right into their hands.
Speaking of whom, Seo-won and Gil-ro pay another visit to sleeping Won-seok to report the latest findings. They speak to him as though he's awake and alert, but when he actually replies, they totally freak out. Wait, I'm confused. I thought they knew he was awake — from that time he woke up and told them not to tell anybody he woke up? Remember that? …No? Okay then.
Family safety is his reason for keeping up the coma guise, because if he woke up he'd have to leave the hospital, and then they'd be in danger: "There's an enemy from within." They guess he means the director, and tell him they've learned most of the story, save one key point: Was there a reason they sacrificed Choi Heung-soo? An extenuating circumstance? An excuse to absolve him of guilt?
Won-seok sighs that there wasn't, other than the overarching one: "For the country. I couldn't allow harm to come to my country because of my personal feelings." But he adds that even baddies are part of that country, and to wipe them out would be wiping out part of your own. He supposes there's no magical explanation that'll make him feel good about those actions, but Gil-ro says he still wants to be an agent like him: "At least your conscience is still alive."
He gives them his permission to share the facts of his case with the team. "I'll take responsibility for the past, so you guys take on the future." Or maybe he means Mi-rae, since that's the word for future. Aw, now I want a better pun.
Mole meeting. Director Oh asks Do-ha if he's ever killed, and gives him a sniper mission. Do-ha asks for a reason, and gets only, "It's for the country." The director remains tight-lipped about the details (like, say, his target) and only warns him to be ready tomorrow night.
Do-ha finds Sun-mi (sketching another picture of his face) and asks for a favor — a personal one, and breaking the rules to boot. He'll send her a photo tomorrow night and needs her to ID the target for him. She's still huffy and refuses, but he sighs heavily, "I can't shoot that person not even knowing who they are."
He asks her to keep the secret for him, saying she's the only one he can lean on right now.
Gil-ro and Seo-won sit in meditative silence over a cup of tea. She pours herself some, then him some, then herself some more, then himself some more, then he sips, and she sips, and he sips, and omagahhhh why is this taking so long.
Finally they give up too, since the attempt to clear their minds is doing no good and they reach for the likker instead. Well I coulda pointed you there in the first place. So then they take some beer with their existential crises, trying to reconcile What They Have To Do with What They Want To Do.
She wonders what would happen if they found themselves in a similar dilemma (to Won-seok having to abandon those children for the sake of the mission): Would Gil-ro leave her behind?
He sighs, "I… guess I'd have to leave you behind. That's how we were trained." Yes, and apparently lobotomies come with the job description, since he's spent all series acting just the opposite.
She mulls it over, then answers that she'd do the same, "Because that's what kind of people we are." Never mind that the drama has been hammering in the opposite theme this whole time. Let me just say, this out-of-the-blue turnaround has me awfully suspicious for the future…
Young-soon undergoes interrogation for her rogue mission, which is pretty funny since she's not in the least cowed by the lowly guy tasked with the preliminary questioning round. She barks at him to call in the actual interrogation agent, then asks wearily if he knows any men he can set her up with. HA.
That night, Gil-ro hovers at Seo-won's bedside, disappointed when she sleeps on. He admits that he couldn't actually abandon her, and kisses her on the cheek.
She opens her eyes after he walks away, having been awake after all. She gets out of bed and crawls right into bed (er, on the floor) with Gil-ro, FINALLY. He stutters nervously, but she tells him to just stay there and cuddles up to his side. Pshhh, and then he pushes his luck with roving hands, and she warns him to stop or she'll leave. They fall asleep cuddling.
At Gil-ro's Dad's office building, aka Cover Ops for Team Rogue, the sniveling toupee-wearing director sneaks in early to leave breakfast for Young-soon the "intern." She's mildly repelled by him and rejects his date request flat (which means I'm going to be really annoyed if she ends up with him in the end, since that suggests she's supposed to just be happy with any male attention, even the kind she doesn't want, 'cause she's old).
Sun-mi mulls over the Do-ha situation, wondering whom he's been assigned to kill. He's wondering the same thing, heavy-hearted as he awaits his orders. He gets the text message from Director Oh giving the time and location of the hit.
Gil-ro and Seo-won now confide the full story to Young-soon, telling her about the backstory about the betrayed informants and their children's revenge mission. Seo-won states that she's going to apologize to those children, ignoring Young-soon's warnings that they can't and shouldn't. Gil-ro pipes up that he'll apologize too, and that he won't capture them otherwise.
Do-ha arrives at his designated spot on a rooftop of a building and sets up his weapon. He awaits instructions from Director Oh, who calls in with Mi-rae to say he's on his way.
It's Mi-rae who appears in Do-ha's sights — the rendezvous point is the rooftop of a neighboring building. Do-ha recognizes her and calls Sun-mi immediately, not needing her help identifying Mi-rae.
Sun-mi calls Seo-won next to divulge Do-ha's mission (so much for the secret), and Seo-won flips out. Can't kill the enemy before you apologize!
Gil-ro and Seo-won pull up to the building — um, one wonders how they knew which building, but piffle! Details, shmetails! — not seeing Woo-jin on their tail.
Do-ha stands by with his rifle at the ready as Director Oh joins Mi-rae on the roof, and gets the go-ahead. The two baddies beat around the bush a bit, and it becomes clear nobody is budging. Mi-rae decides she'll have to do away with the director after all, but he tells her he's come to the same conclusion — he'll get rid of her and claim the credit.
Director Oh holds up his hard drive — the one involved in his construction contact's deal — to show Mi-rae how well he's planned out her death. She'll go down as having been caught in a deal over those stolen secrets, and this will be evidence.
Mi-rae actually tears up, looking hurt as she says, "My parents weren't enough, you're going to use me too?" Honey, did you think he was here 'cause he liked you?
Enraged, she decides she'll need his apology after all and takes out her gun. Director Oh awaits the sniping and walks away confidently. Mi-rae aims at his back, and Do-ha wrestles with his conscience — is this really for the good of country?
Gil-ro races up the stairs to the rooftop and pulls Do-ha away from his gun. The boys trade punches until Seo-won joins them, but her eyes widen to hear that it's either Mi-rae or the director who will die. She grabs the rifle as Mi-rae shouts that she never wanted his apology, but now she does: "Apologize! And then die!"
Do-ha yells at Seo-won to shoot; Gil-ro yells at her not to. Seo-won reaches for the trigger, her scope trained on Mi-rae… and shoots.
Director Oh smirks as Mi-rae falls, shot in the arm, and leaves without a backward glance. Mi-rae staggers to her feet, and Seo-won shoots her in the leg. The boys race for the next building while Mi-rae crawls toward her gun, and Seo-won pleads with her to stop, not wanting to kill her.
Mi-rae thinks of her oppa dying before her eyes, and raises the gun to her temple.
Seo-won watches in tears, and shoots. Mi-rae falls again.

COMMENTS
Okay. *takes deep breath* Here we go.
The thing is, I could use this comments section to launch into yet another puzzled, wondering, aggravated discussion on everything that just happened that made no sense — and as there was so much of it, that would take forever — and how I don't understand these characters, and how it's just so presumptuous of Seo-won to think she can apologize for somebody else's wrongdoing as though the victim would be grateful to have it, and how I no longer wonder whether our dear writer knows any women in real life but in fact any living people.
But we're finally here! In Episode 19! So close to the end! I almost don't dare do anything to upset the balance, lest the end move farther out of our reach. And we wouldn't want that. Whoa, whoa, don't you be going anywhere now, finale.
I suppose you may wonder why I've bothered finishing up this drama if it irritates me so, and it's a valid question, although I generally don't think it's necessary to justify a reason for watching the shows I do, or to even understand them myself. But I suppose this is one you can chalk up to my completist nature, like wanting to polish off that plate of greasy leftovers even when you're no longer hungry because there's a certain perverse satisfaction in wiping that slate clean, even if it's accompanied by discomfort and maybe some gas. It's why I've watched countless bad shows in the past, why I'll probably finish up That Winter too, and watch many, many more dissatisfying shows in the future. At some point you just figure you're pot-committed and stick around for the rest.
It's also often worth watching a crap show as a reminder that the better ones have accomplished something worth applauding, and that even when a drama is flawed up the wazoo if it has that special magic, that's an achievement. Granted I wouldn't actually advocate tackling a bad show just for that life lesson, but it's perhaps a way to feel as though twenty hours of life haven't just been flushed down the toilet. So, y…ay?

Illustration by rollingirl
RELATED POSTS
Tags: Chansung, Choi Kang-hee, featured, Joo-won, Kim Min-seo, Level 7 Civil Servant