Odds & Ends: Pop culture freeze
javabeans: Well, I must have had a boring week since I keep thinking of things to say for this Odds & Ends post and rejecting them because they're incredibly boring. You didn't come here to hear me ramble about my grocery shopping trips or laundry episodes.
girlfriday: Only if you turned all your socks pink. I know I've lived on my own (as in, away from parents, in semi-adulthood) for a long time now, but I still can't seem to stop hating basic errands like laundry and grocery shopping.
javabeans: Especially with recapping-heavy schedules, when you get into a groove (or more likely, are coming up on your deadline) and just can't spare the trip away from your desk. Which probably explains all the ramyun dinners at 11 pm.
girlfriday: It's a glamorous life we lead, folks.
javabeans: It used to be that watching people eat in dramas made me crave ramyun all the time, and it was my favorite junk food guilty pleasure. You know it's bad when you watch dramas with characters eating instant ramyun now and your reaction is actually "Ugh, that stuff again. I just want real food. [cries into noodles]" On a related note, Chun Song-yi's upside-down leg shake? Kinda works actually.
girlfriday: Don't tell me that! It's basically like a green light to eat ramyun at three in the morning.
javabeans: But 3 am to you is like 9 pm to normal people. This is what happens when you're halfway across the world from your subject material and you live your life on Seoul time. THE RECAPS WAIT FOR NO ONE.
girlfriday: Wait, shouldn't that be the other way around? Clearly we have some issues prioritizing things.
javabeans: Isn't this like trying on too-small clothing and automatically assuming this means your body is too big, rather than the clothes are too small? We've become dysfunctional slaves to our recaps. The things we do for you.
girlfriday: Though it probably needs to be said that we were dysfunctional long before that.
javabeans: Maybe the truth is more that we found the one job that worked with our dysfunctions. Or maybe enhanced our dysfunctions is what I mean. Like, for instance, being so mired in Korean pop culture news that you lose all touch of the pop culture around you. It's bad when you hear about major Hollywood news from the Korean media, like Philip Seymour Hoffman dying or ScarJo being pregnant.
girlfriday: This is totally how I get all my news now. It's ass-backwards.
javabeans: I may have had to ask somebody what this "Frozen" was that everyone kept talking about. That person may have looked at me like I was a crazy person. Them: "You know, that animated movie?" Me: *blank face* Them: "That Disney sensation?" Me: *blank face* Them: "It's incredibly huge right now and has been for months?" Me: "Has it? Then why don't I know what it is?"
girlfriday: Sadly this is not a foreign concept to me.
javabeans: Hey, I knew it by its KOREAN title! It's Winter Kingdom! I've seen it in all the Korean headlines! I just… maybe didn't realize it was a really big Hollywood production until the Oscars rolled around. I must have heard that damn song on the radio a zillion times before I realized what it was actually from.
girlfriday: It's a little bit like we went on a Hollywood-news detox, even though it was unintentional.
javabeans: But we could rattle off the Top 10 Korean Box Office Hits and cite their relative ticket sales off the top of our heads.
girlfriday: Or the last five hairstyles that Jang Geun-seok went through? I guess it's just the nature of being laser-focused on one industry.
javabeans: My forest is a tree, basically.
girlfriday: God, have we become those adults who see the entire world through their jobs?
javabeans: Until you give me a cubicle-mate who looks like Lee Min-ho, I'm gonna say no. I can't actually tell if that would be a good or a bad thing.
girlfriday: I'm sorry, I don't understand the question.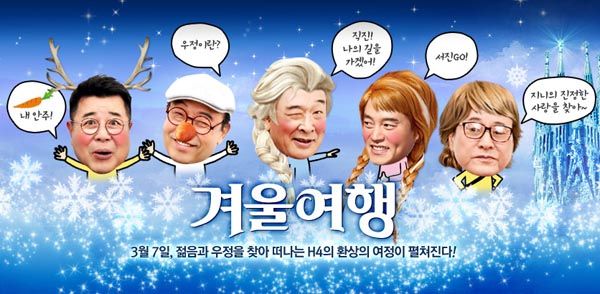 RELATED POSTS
Tags: conversation post, Odds and Ends