On the Way to the Airport: Episode 5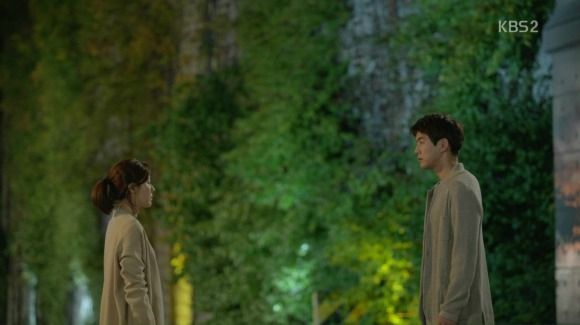 Major decisions are made, and our main couple finally lets their emotions take them where they want to go. When On the Way to the Airport said it wasn't a show about adultery, what it really meant was that it wasn't a show only about adultery—it's also about love, friendship, hardship, and how to deal with those horrible, unrelenting things called emotions. The only thing that can hold Do-woo and Su-ah back now is themselves. Oh, and maybe their spouses.

EPISODE 5 RECAP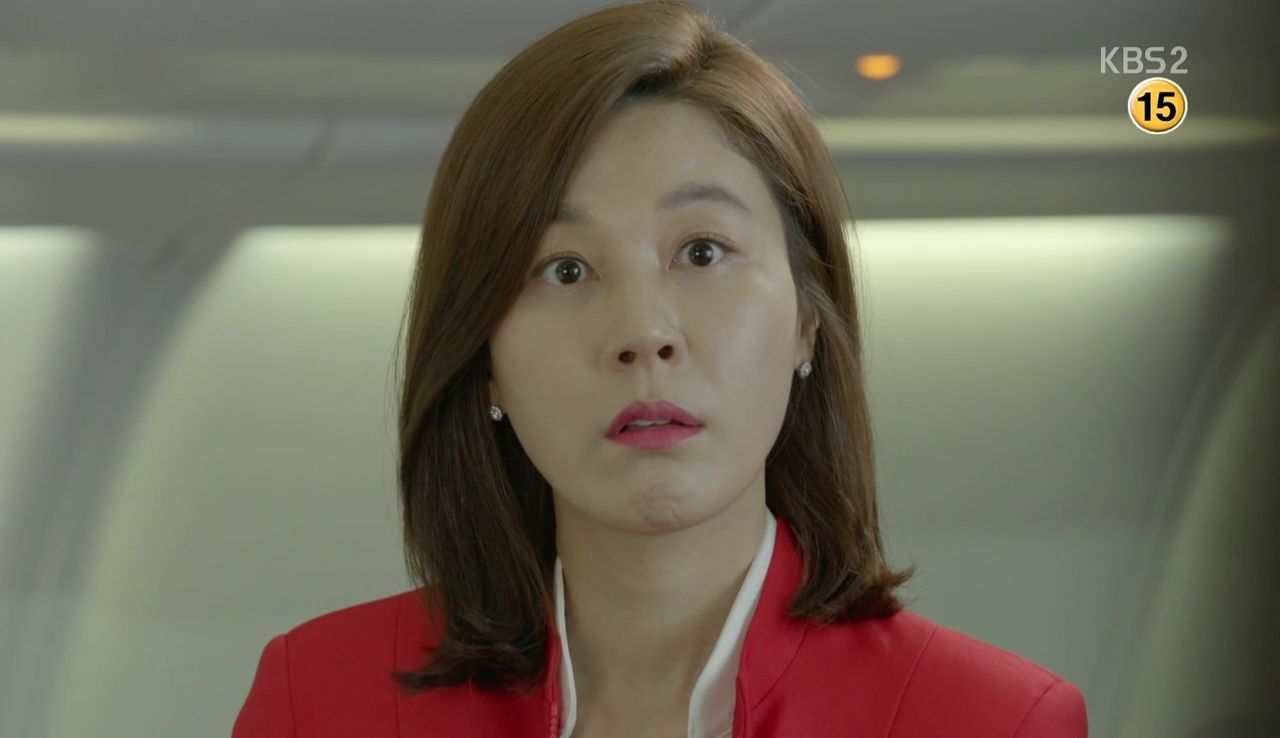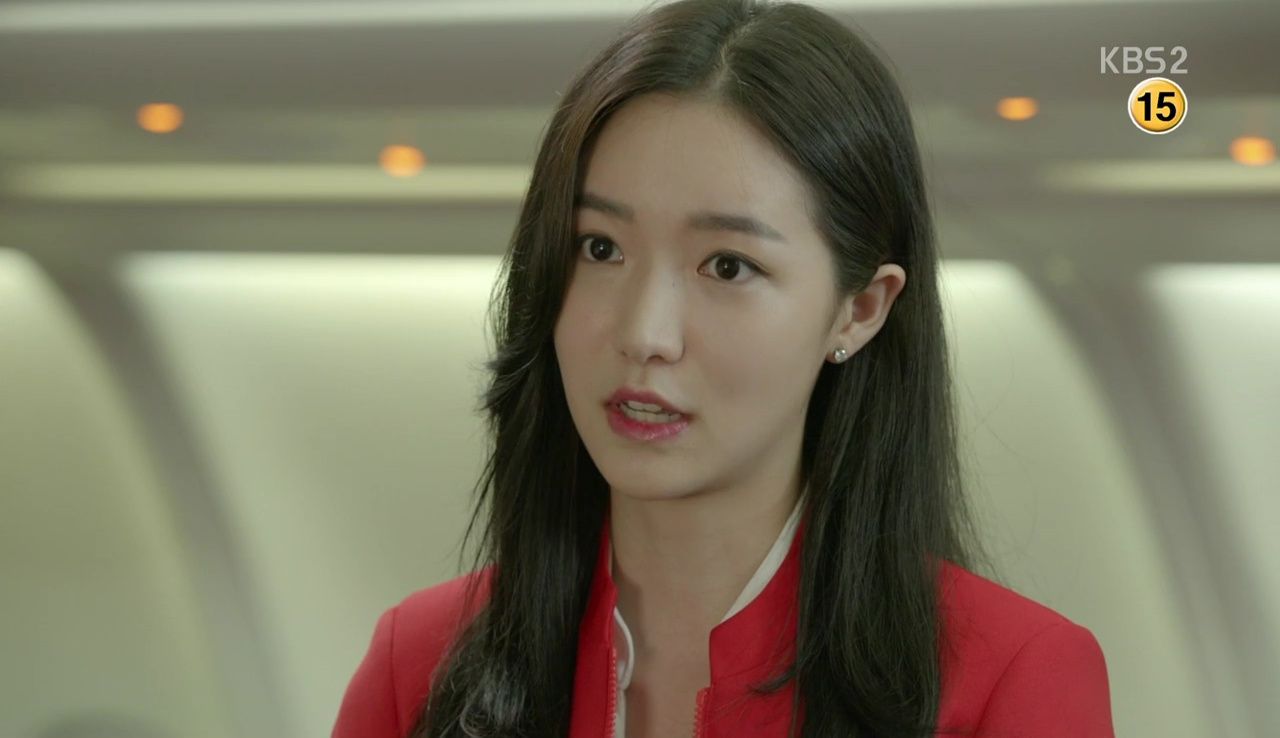 Su-ah inspects the plane the next day when the flirty flight attendant, Joo-yeon, asks if she remembers her—Joo-yeon had gossiped about "Pilot Park's wife" the last time they'd worked together, and she wants to apologize now. Su-ah, however, coolly brushes it off.
When she's alone, the professional façade crumbles as she checks the messages from Do-woo: Can we meet? I want to see you. She hesitates before powering off the phone. Do-woo, meanwhile, is sitting in the airport with his eyes shut, imagining Annie in the field. He recalls Su-ah's assurance that Annie was sitting in the same spot, waiting patiently for someone to come.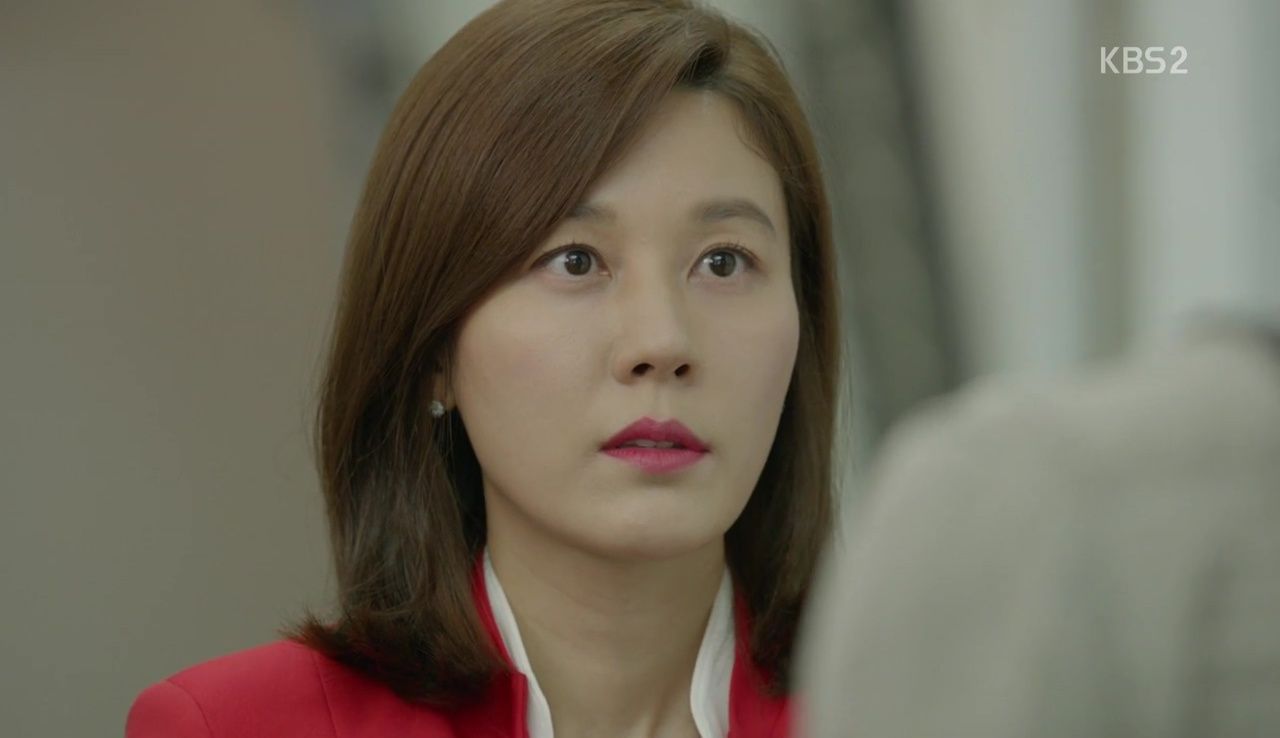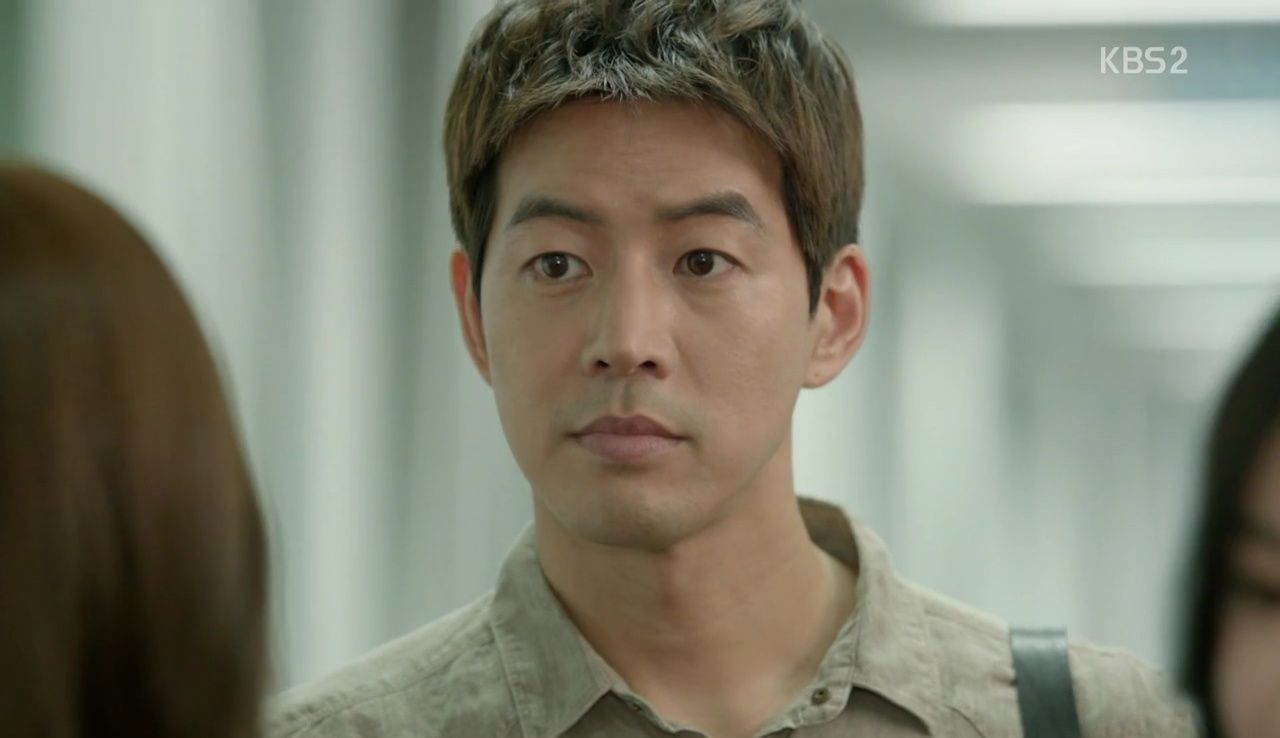 Su-ah checks the passenger list for Do-woo's name, and she and Joo-yeon help the passengers board the flight, waiting anxiously for him to arrive. When Do-woo finally appears late, he walks calmly toward her, their gazes locked, until Joo-yeon guides him to his seat.
Hye-won finishes up a meeting at home with her business friend, but they haven't discussed anything—her friend wants to wait for Do-woo, but he's not picking up Hye-won's calls. Outside, an older lady waits. It turns out that this is Ji-eun's mother, who is old friends with Grandma. They reminisce about the old days and laugh together, but Ji-eun's mom isn't here to talk about old times.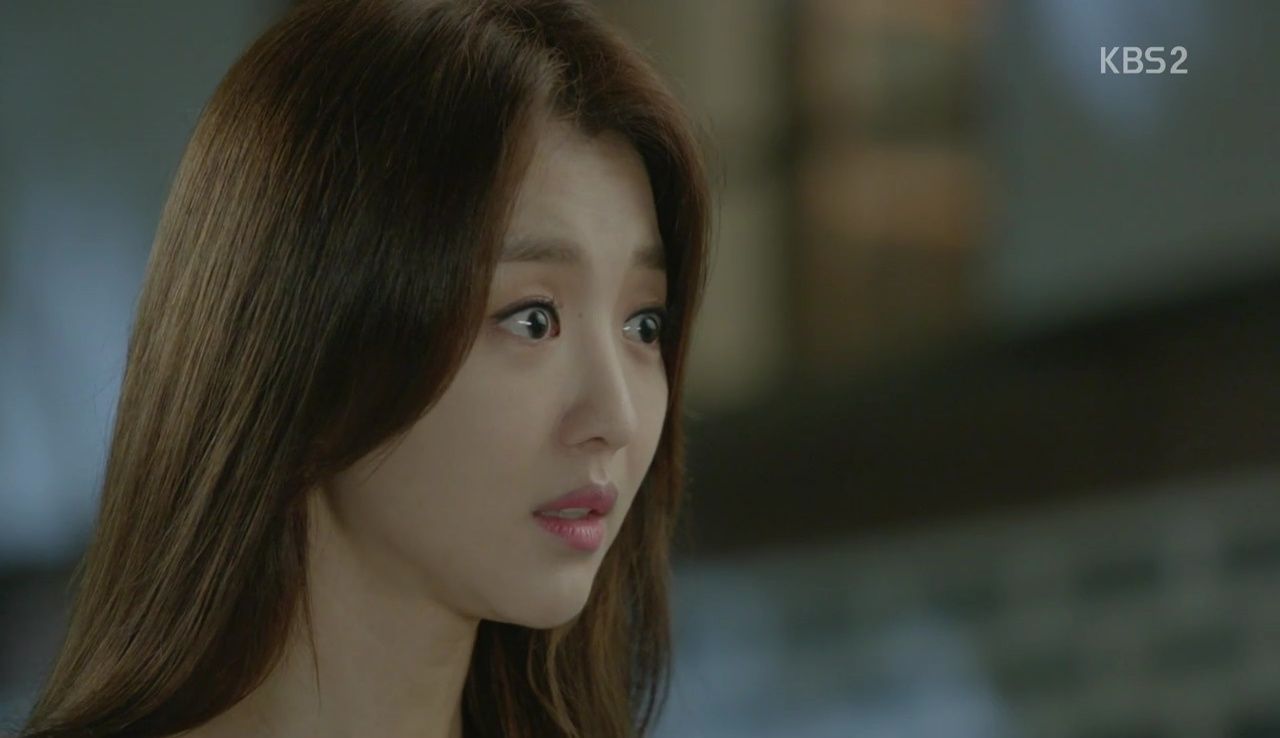 Hye-won's business friend explains that Ji-eun's mom's grandson is approaching his first birthday and is planning to make his identity seal. Hye-won scoffs that it's not important enough a matter to require Do-woo's presence, but her business friend insists that Hye-won's house has been an important part of the business for years.
More importantly, as Ji-eun's mom explains to Grandma, she wants to put an end to Do-woo and Ji-eun's small business and expand the idea of mixing culture with practicality into a franchise, making Do-woo director. She plans to send Ji-eun to Sydney for an exhibition, though Ji-eun thinks that she's being sent away for being unsuccessful. According to Hye-won's friend, Ji-eun's mom wants to make Grandma's work and name famous. That's all she knows for now though, and future information will be decided when Do-woo returns.
Su-ah struggles to stay professional on her flight with Do-woo staring at her. However, when he waves her over for a glass of red wine, she has to accommodate him. As she pours his wine, he lifts his hand until they are nearly touching, and later, when Su-ah helps another passenger, he purposely squeezes past her through the aisle, placing his hands on her back as he sidesteps her.
She freezes at his touch, and when he calls her to the back for "assistance," she follows. Joo-yeon catches sight of her following him and of Do-woo drawing the curtains closed after them.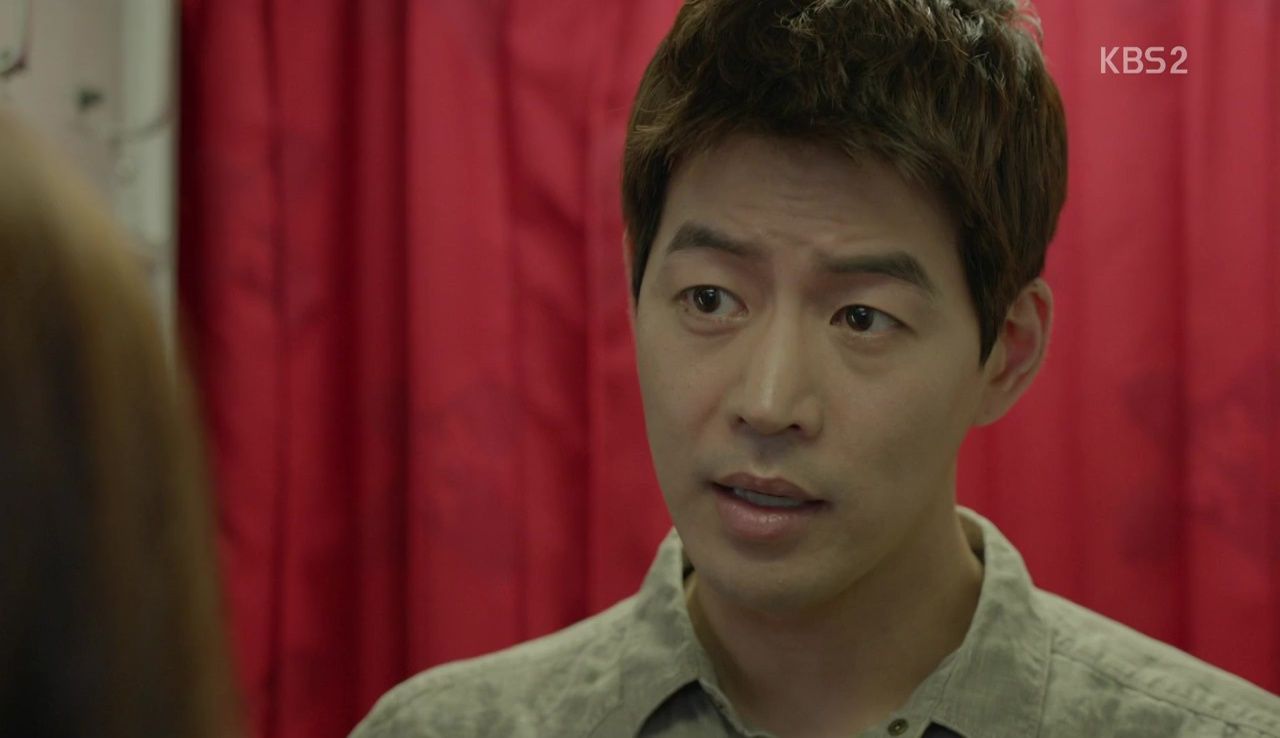 Finally alone, Do-woo turns to face her. She tries to eke out a warning, but he only reaches out, his hand hovering closer and closer to her face, until at last he drops it back to his side. Su-ah looks up at him, both relieved and disappointed, and he laughs at himself for running here just to see her. He asks how long she'll be in Cebu, and she stammers that she's returning on the next flight. In response, he says, "We're on shaky territory—you know that, right?"
He tells her that they should return on the same flight when Joo-yeon suddenly tears away the curtain, startling them both. Joo-yeon watches suspiciously as Do-woo and Su-ah give awkwardly polite goodbyes and part.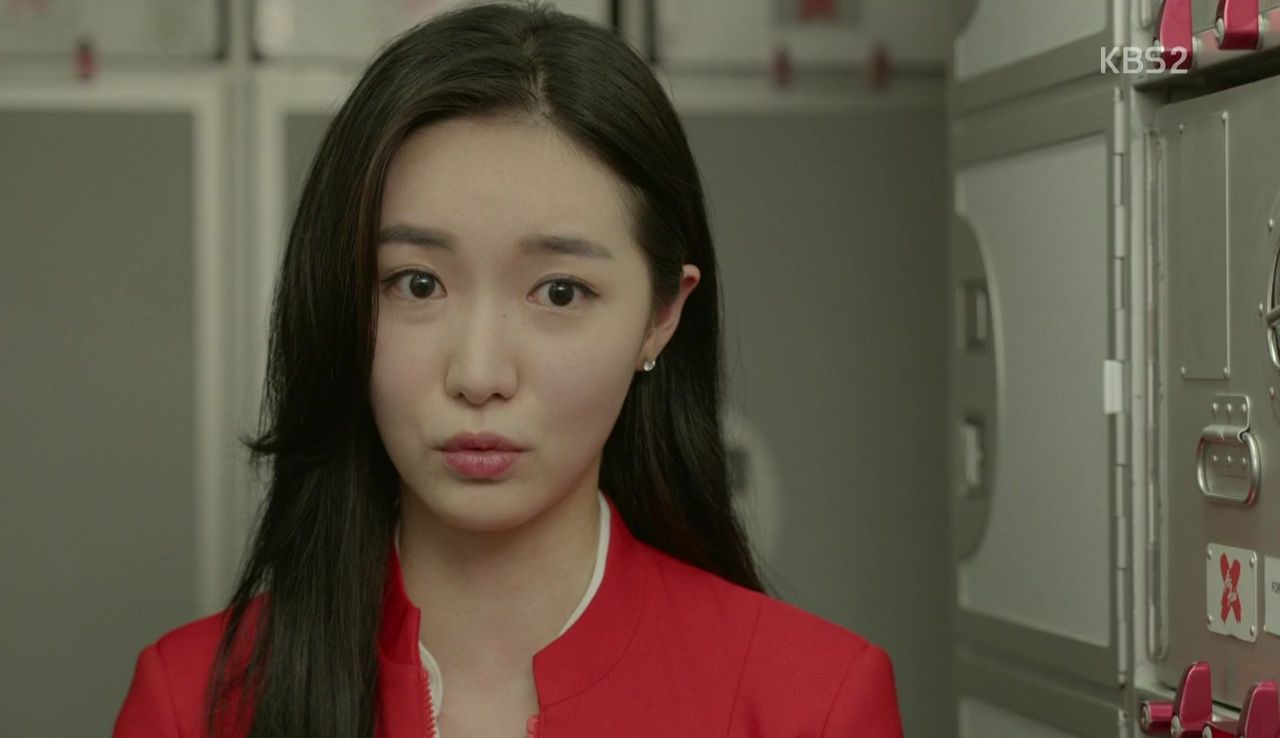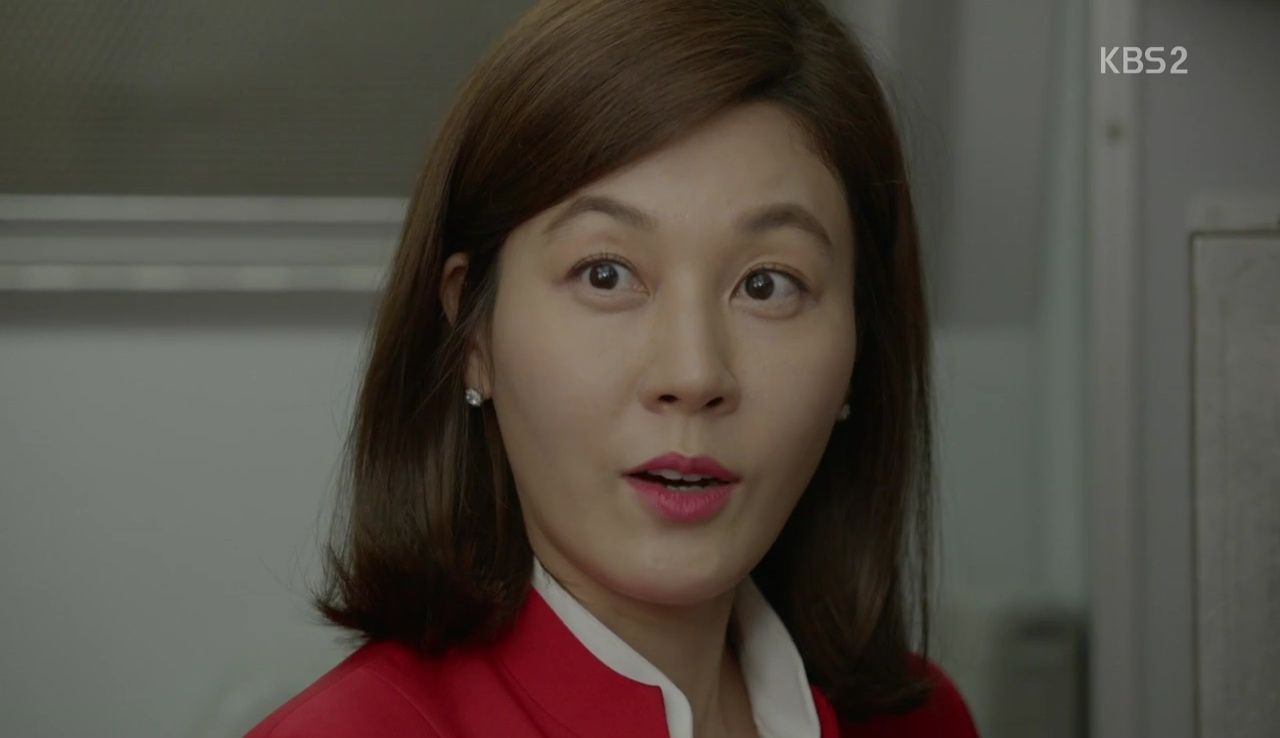 Joo-yeon finds Su-ah in the back and asks if she knew Do-woo before. Su-ah answers: "He's my daughter's… friend's… dad." LOL. Joo-yeon comments that the atmosphere sure seemed heavy, but Su-ah quickly changes the subject.
In Cebu, Do-woo isn't able to buy a returning ticket in time. Su-ah looks at Do-woo's empty seat and returns to Korea alone, but as she returns home, she thinks, "The feeling of being alone… is becoming unbearable."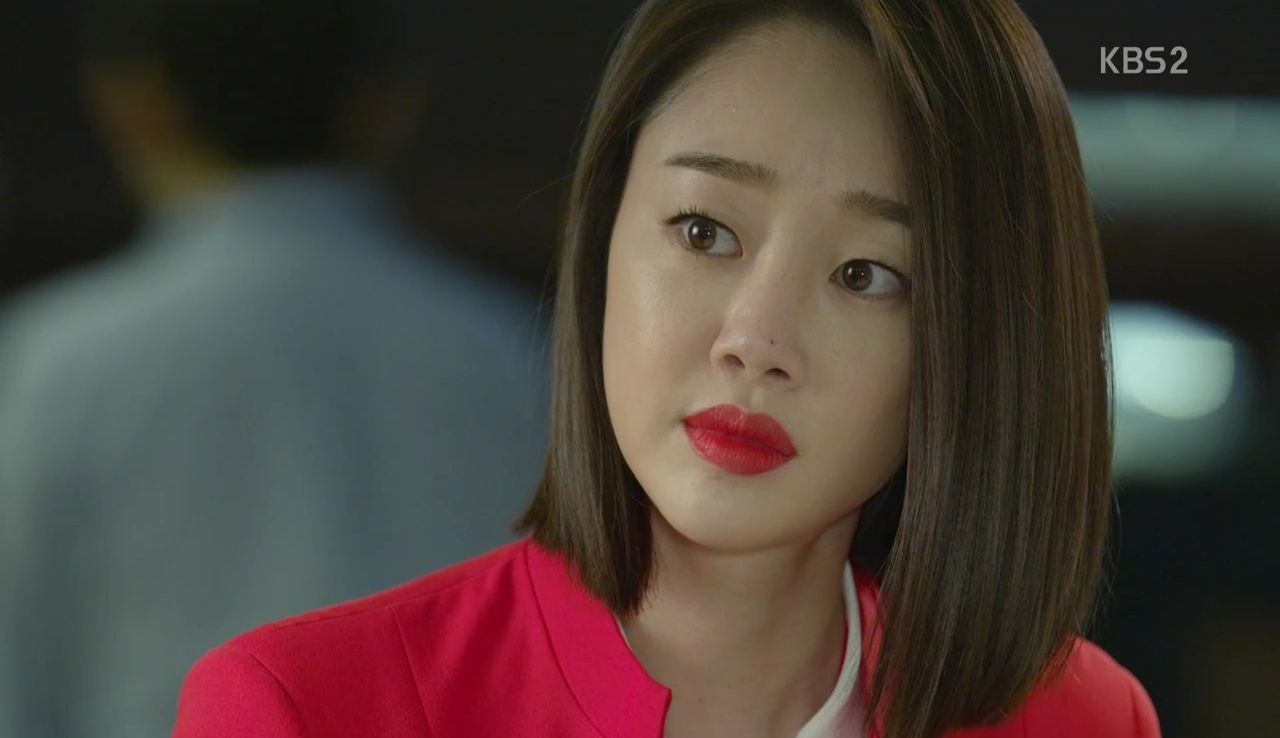 In Incheon Airport, Mi-jin runs into Ji-eun, who is waiting for her flight to Sydney. Mi-jin asks about Do-woo, and Ji-eun sighs that he and Annie were so close even though they weren't related. Mi-jin immediately texts Su-ah the newsflash. When Su-ah calls Do-woo, he doesn't pick up—but just as she gets up to leave, she gets a call from "Airport."
Still on the phone, she turns around to see him just a few feet away, still unaware of her presence. He tells her that he'll come find her, but Su-ah wants to confess something instead: "I returned without you, and it felt like I was breaking a promise. But these emotions… they're not right."
When he finally looks up to see her, he starts to walk toward her—but Su-ah orders him to stop. Su-ah finally explains that she saw Annie's death firsthand and knew she was Seo Eun-woo. She knew that if she'd stopped the girl, she could have saved Do-woo's precious daughter, and it makes her miserable.
Su-ah: "But worse… after hearing that she's not your biological daughter, I thought to myself that maybe I could feel less guilty—that it would be okay to tell you that I saw Annie. I tried to justify Annie's death to myself, and to make sense of it. But none of this makes sense. Ever since our first meeting, everything about you doesn't make sense."
Lowering the phone, she gets on the airport bus and takes off. Do-woo drives home alone and stops on the bridge to take a photo of the sunrise for Annie. "Annie, can you see the sunrise?" he asks.
When Su-ah returns home, Grandma Young-sook flatly orders her to sit down and shows her Hyo-eun's abysmal test scores. Su-ah gasps, starting to make an excuse for her negligence, but when she recalls her last flight flirting with Do-woo, she insists that work is fine. Young-sook agrees and laments how nice it would be if she could get a steady paycheck.
Su-ah has an idea and offers Young-sook that monthly paycheck that she wanted. Young-sook suddenly brightens, promising get Hyo-eun's grades up in no time. Afterward, Su-ah sits on the edge of Hyo-eun's bed while she sleeps, looking upon her face in a mixture of emotions.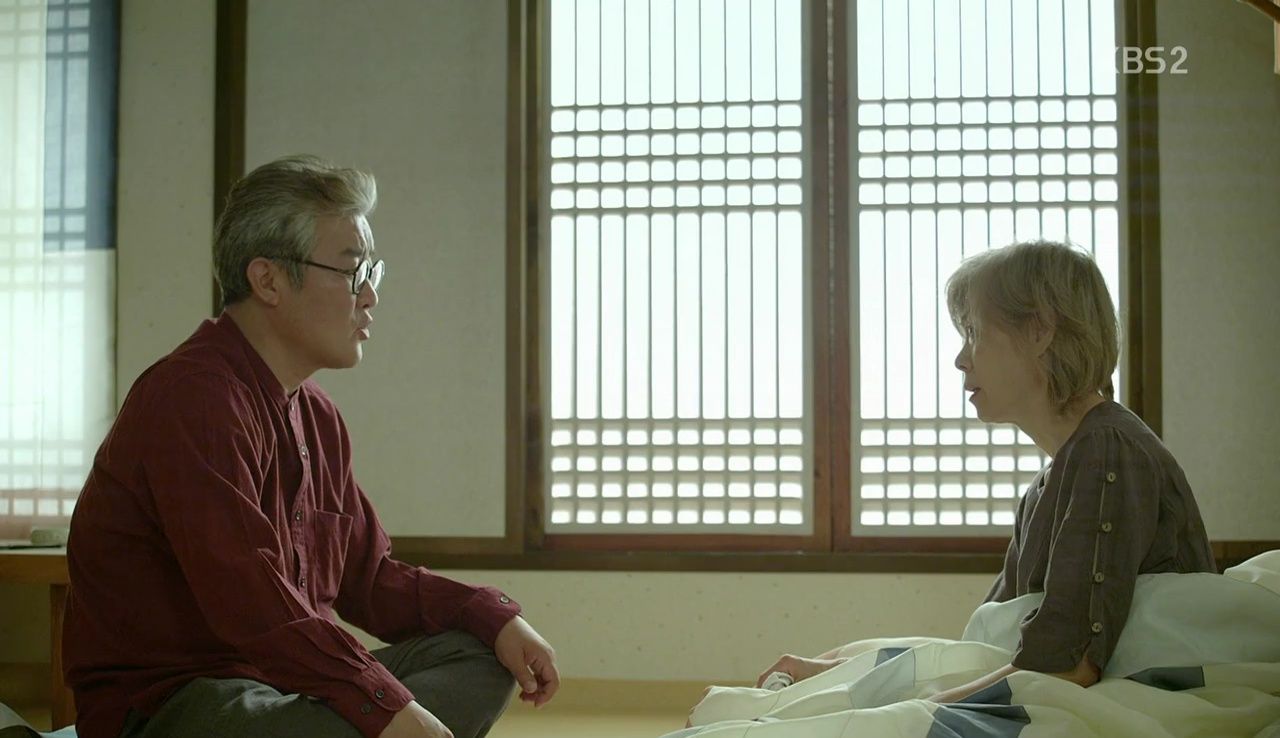 Uncle Suk asks Grandma if Annie ever asked about her biological father. Grandma tells him that she'd tell her that he was good with his hands. Uncle Suk explains that Do-woo recently went to go visit him, but that Annie's father wasn't there.
Grandma scoffs, sure that Do-woo must have simply went to the wrong house when she's hit by a sudden, confusing flashback about Annie. Noting her pain, Suk quickly agrees. Grandma tells him to move into the house with Do-woo.
Do-woo sits by a basketball court, thinking about Su-ah's confession. When the ball rolls to his side, he picks it up and shoots a perfect three-pointer to the sound of cheers. Do-woo starts to smile, but it quickly fades away. Back at home, Su-ah puts a tired Hyo-eun to bed before she gets another phone call from "Airport." She ignores it.
Do-woo heads to his office, where Hye-won is waiting for him. He comments that it's unusual for her to come all the way here to talk, and she points out that it proves she's making an effort. Deciding that she's going to sleep at his office tonight, she takes his hand and tells him that her dream is to protect the things they've lost and to preserve those ties. He notes her serious tone, but she cuts him off with a sudden kiss. Do-woo is still for a moment, but relents, kissing her back.
At home, Su-ah looks out the window while sipping a beer when she receives a call from Jin-suk in Sydney. He tells her to keep Hyo-eun's grades away from Young-sook before finishing off with a, "Oh, and… I've arrived safely in Sydney." The sweet couple talk surprises her, and he quickly hangs up to end the awkwardness.
Jin-suk calls Mi-jin next, who stares at her phone in distaste and ignores his call. Ji-eun is hanging out and complaining about her business in Mi-jin's room with her until someone knocks loudly at the door. Thinking it's Jin-suk, she tells Ji-eun not to open it, but it's just a couple of younger coworkers who want to know about the Sydney bar. Mi-jin snaps at them to not go to places like that.
Ji-eun teases Mi-jin about talking from experience—Mi-jin had drunkenly told her she met her ex-boyfriend at a bar in Sydney. Ji-eun rattles off everything she knows: Mi-jin's boyfriend lived with her for a while, then abroad, and then with other women—until he finally ended up marrying her friend. Oh. Ohhh.
Meanwhile, Hye-won lies with her eyes closed at Do-woo's office while Do-woo stares out the window. After a moment, he says, "Hye-won… I went to visit Annie's father a few days ago… but they said there was no one like that there."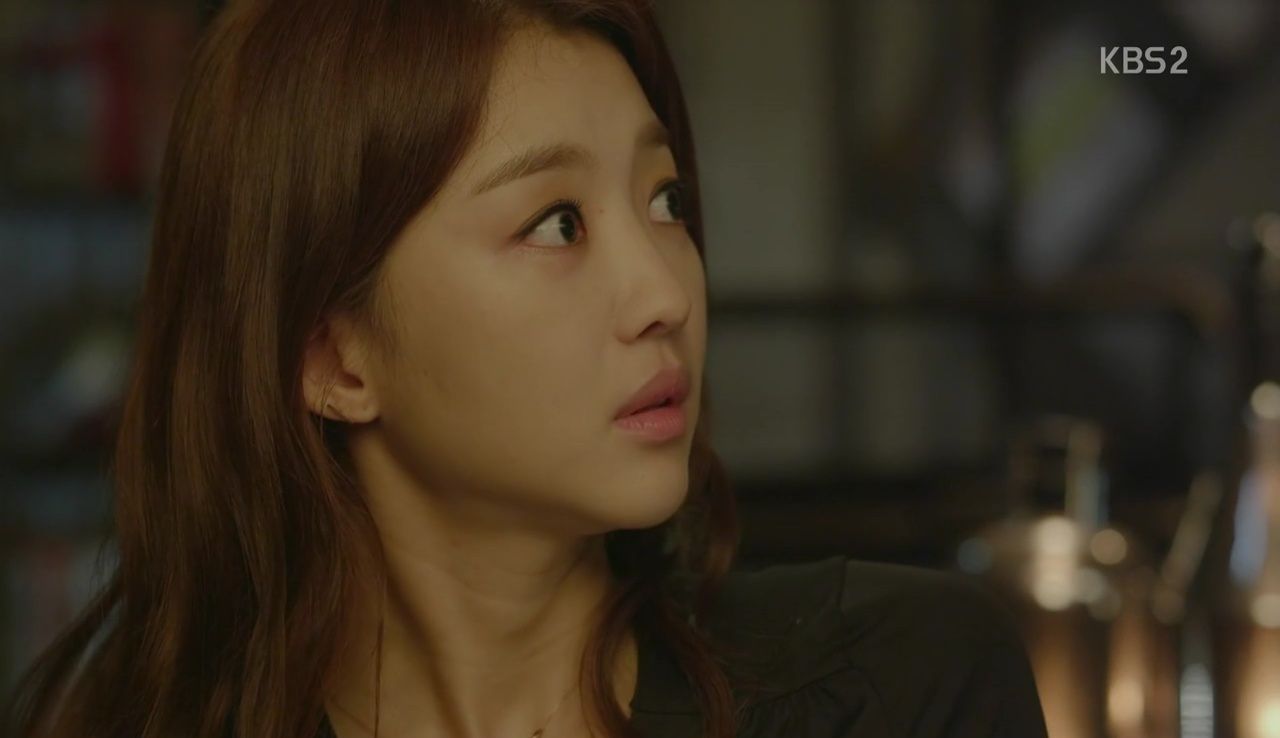 Hye-won immediately snaps to attention and demands to know how Do-woo knew about Annie's father. Do-woo tells her that he had driven Annie there a few times, and Hye-won goes livid, demanding to know what else they were hiding from her. She accuses him of giving Annie false hope, finally explaining that Annie's father is dead. Hye-won didn't want Annie to know that her father died so she tried to keep up the act.
Do-woo is confused—if Annie never even knew her father, then why would she continue to try to go to that house? Hye-won answers that she must have been imagining him. He asks why she never told him, and she answers that she didn't want it to seem like she still had feelings for a dead man. But when Do-woo asks when he died, Hye-won has had enough: "Are you interrogating me? Annie is my biological daughter. Why does it matter to you?" She tells him that she forbade Annie to talk about her father because she loved Do-woo and wanted him to be Annie's only father.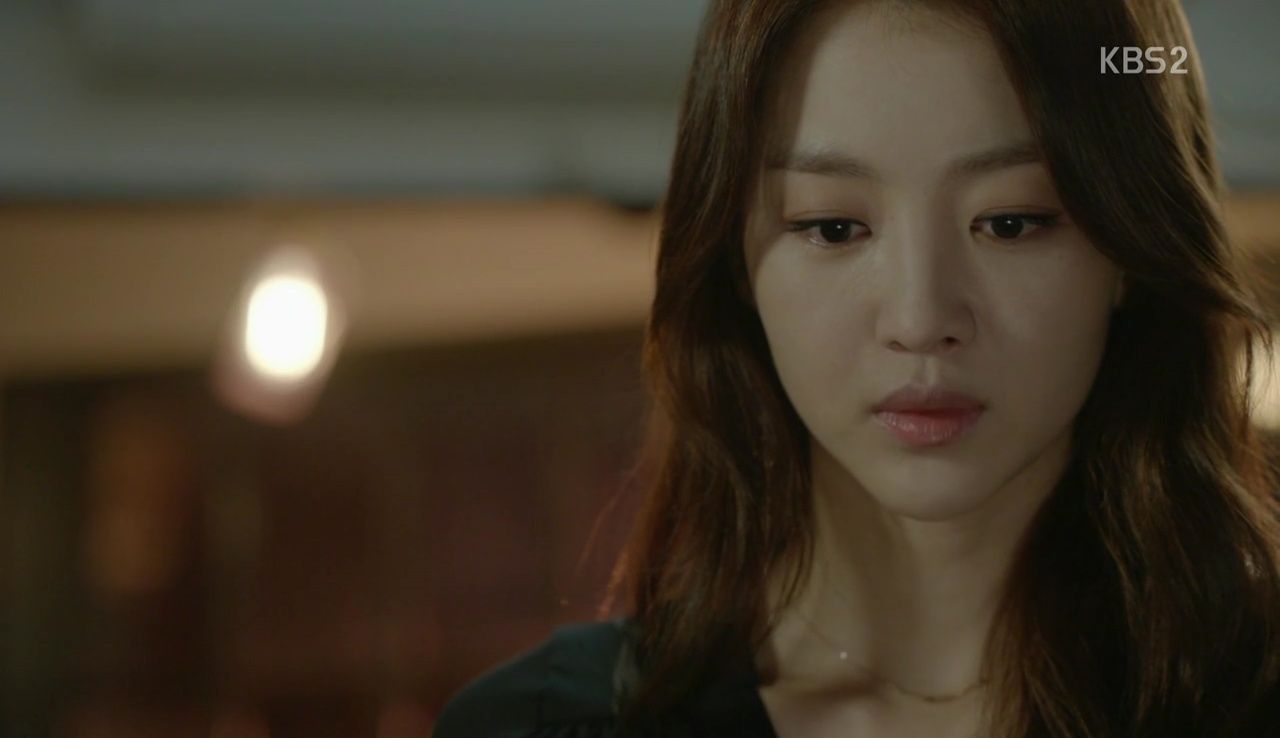 Do-woo steps toward her, but Hye-won holds up a hand. "Please… let's never talk about this again." She tells him that the woman that existed before he met her is gone now. He goes to her, but she stops him and goes to sit at the bar alone.
Do-woo thinks about the first time he met Annie—she was wearing the same sweater as the one in Grandma's flashback, and Hye-won hadn't responded when he'd first asked who she was. Later, he was driving her somewhere in his car when he'd asked whether she looked more like her mom or her dad, and she'd had a very detailed response—she claimed to have her mother's eyes when she smiled, but her father's eyes when she was unhappy, and the exact same nose as her father. He sits alone in his office, unable to believe that all of that was a lie.
Hye-won comes back while Do-woo is in the shower and grabs his keys from the table. She sneaks out to check his recent GPS entries but fails to find anything, and hesitates before picking up his phone for information. However, she doesn't know the password and gives up.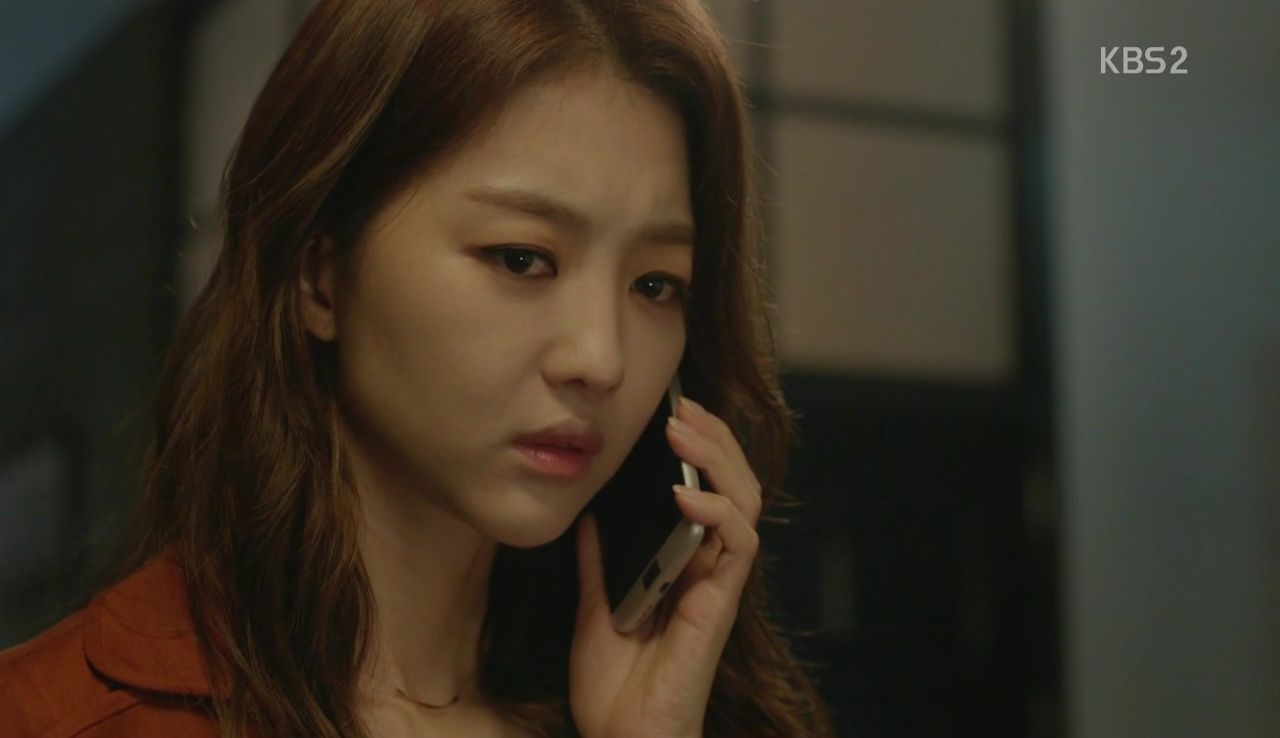 Su-ah is taking a walk outside when she decides to call Do-woo. Hye-won sees the caller ID as "Hyo-eun's Mom" and picks up the phone, but just as Su-ah starts to speak, Hye-won hears Do-woo shut off the shower and hurriedly hangs up.
Do-woo goes downstairs, surprised that Hye-won's still there. She mentions that he got a call from "someone's mom" while he was showering, and how strange it is for someone to call this late. Do-woo tells her that he's been in touch with a few of the parents from Malaysia, and that they call occasionally after hearing about Annie.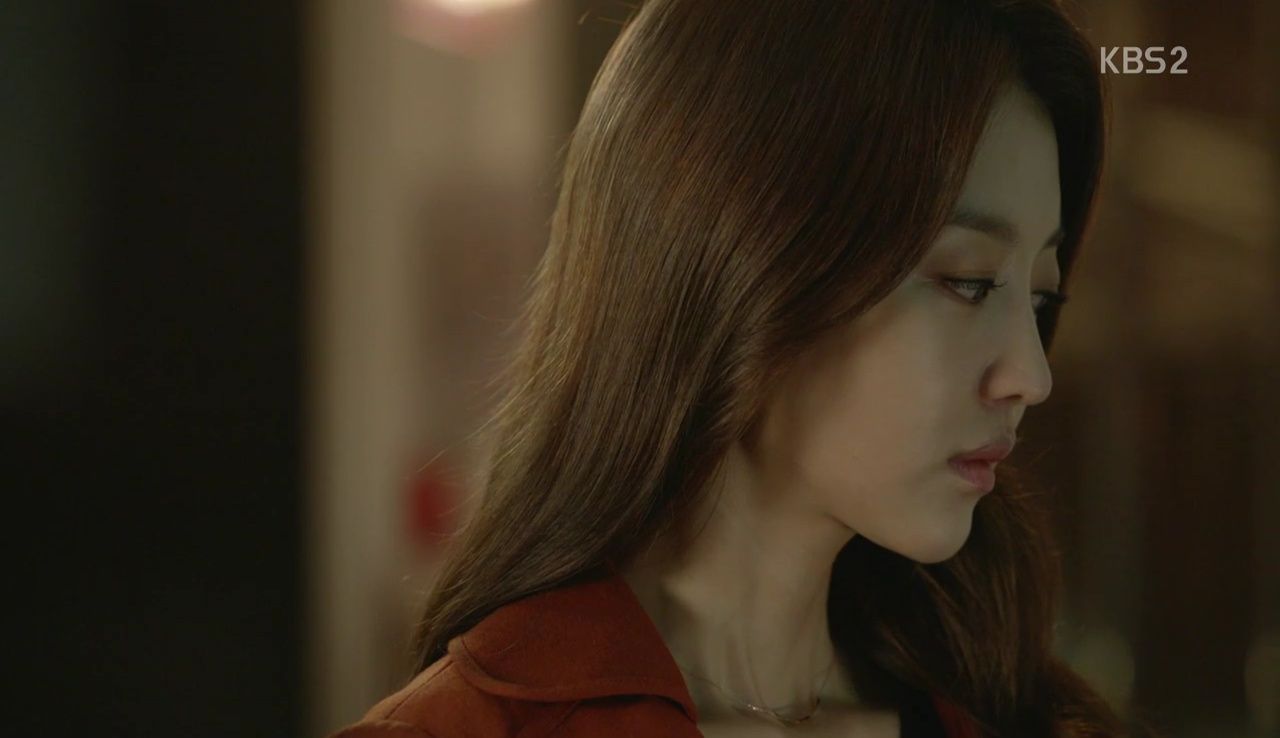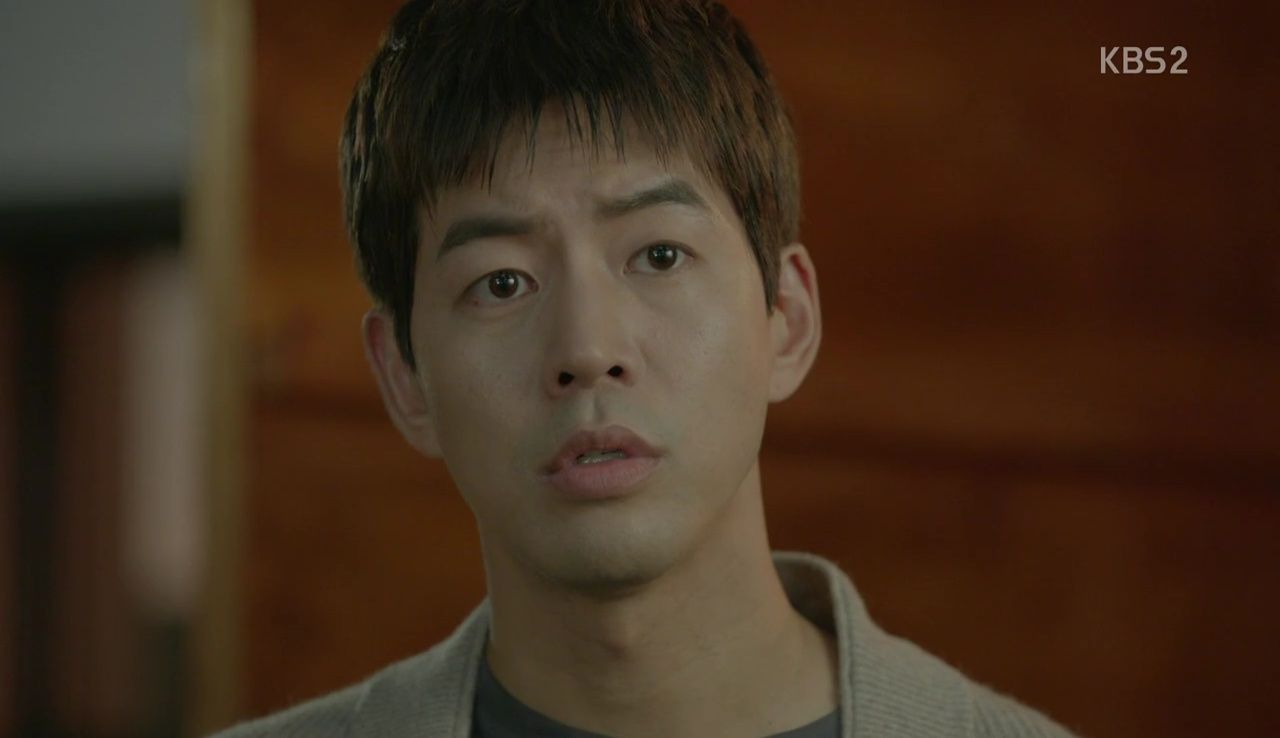 Hye-won only sighs that he's talking about Annie again. She notes that he never even noticed her when she was working as an intern, and he only took interest in her after meeting Annie. Do-woo takes that harshly and asks, "Are you saying that I only married you because of Annie? Is that how you see me?" He tells her that he'd always been interested in her, and that Annie was a plus. "I wouldn't marry someone out of sympathy. Don't question my love."
Hye-won starts to leave, but Do-woo has one more thing to say: Annie was always grateful to Hye-won for giving up her youth and life for her. She kept her meeting her father a secret because she cared about her. Suddenly, however, Hye-won tells him that Ji-eun is thinking about leaving their business.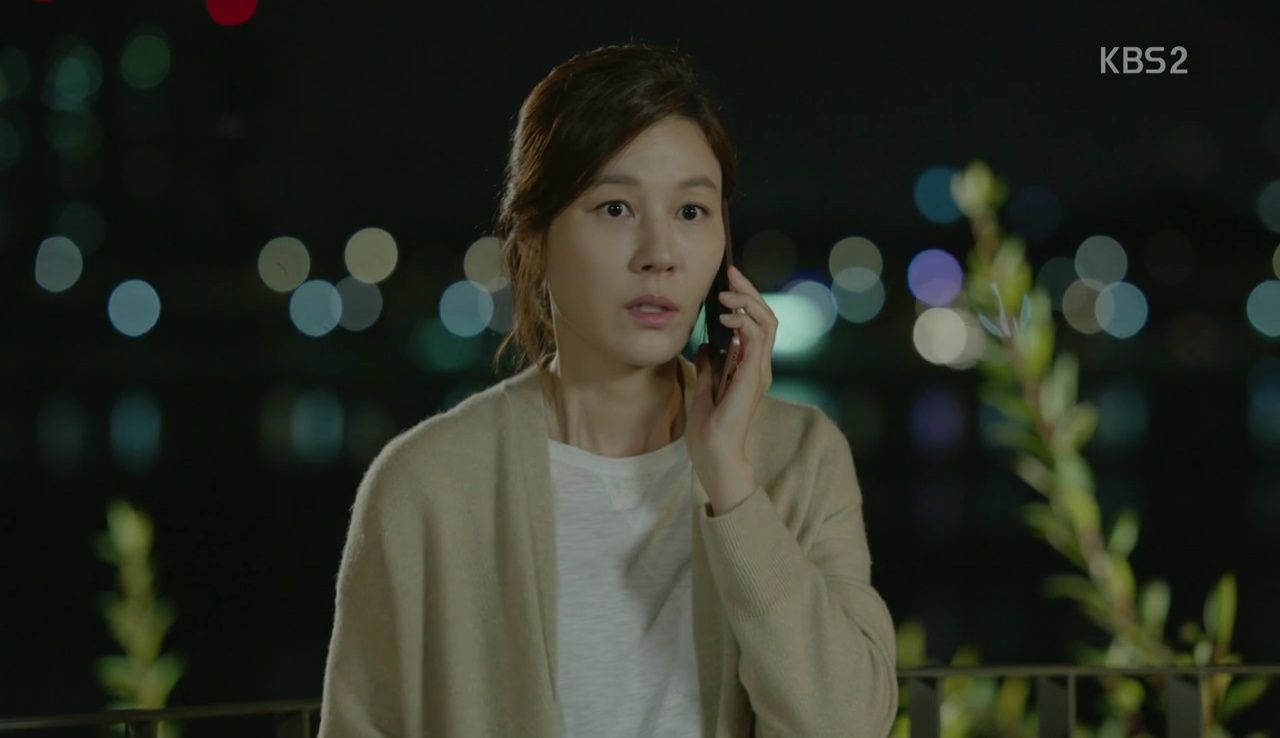 Do-woo calls Su-ah back once Hye-won's gone, joking that it's a big faux pas to call a married man in the late hours, and that he and his wife usually do "it" around then. Flustered, Su-ah starts to hang up, but Do-woo laughs. He tells her that he scored a perfect three-pointer yesterday on the basketball court, and he called to tell her.
When he asks where she is, she lies and tells him that she's on her veranda, where she can see the Han River. He offers to come meet her, but she can't leave because of Hyo-eun. So instead, he turns around on his own balcony to face the Han River, so they can at least pretend they're looking at each other. He turns the conversation to her confession, comforting her for having kept it bottled up for so long.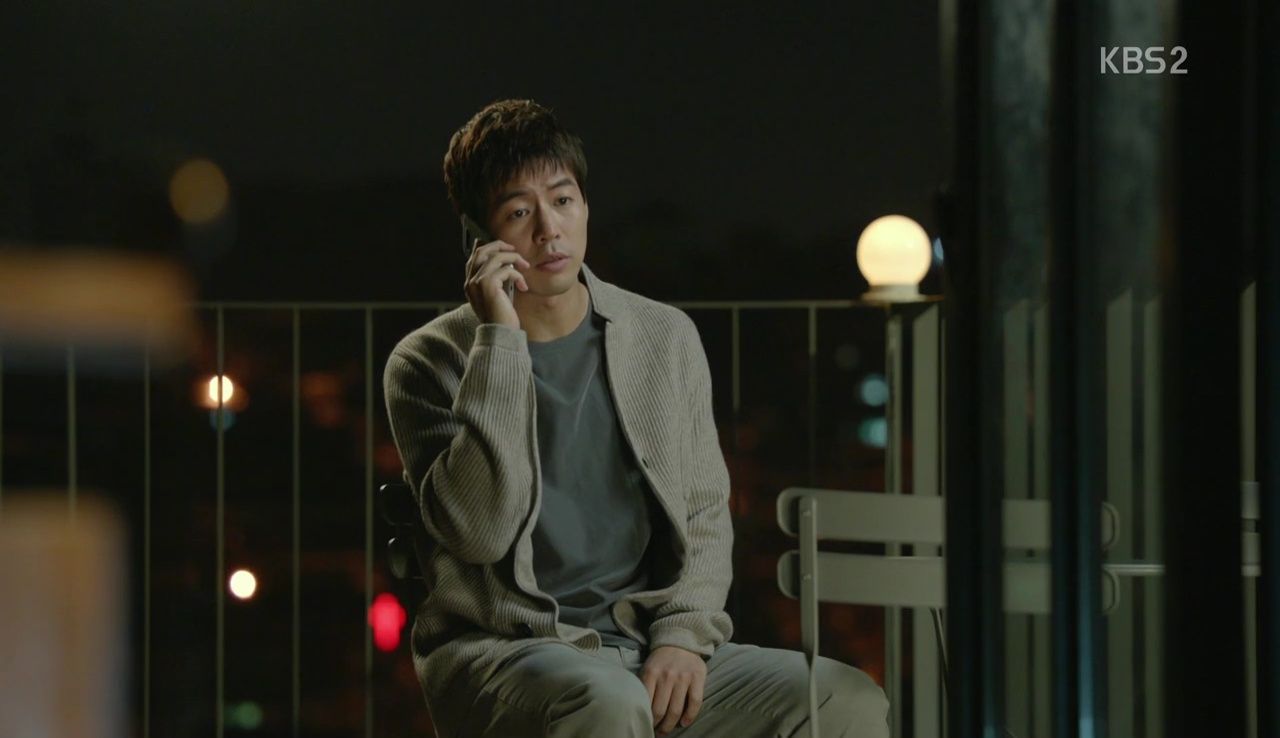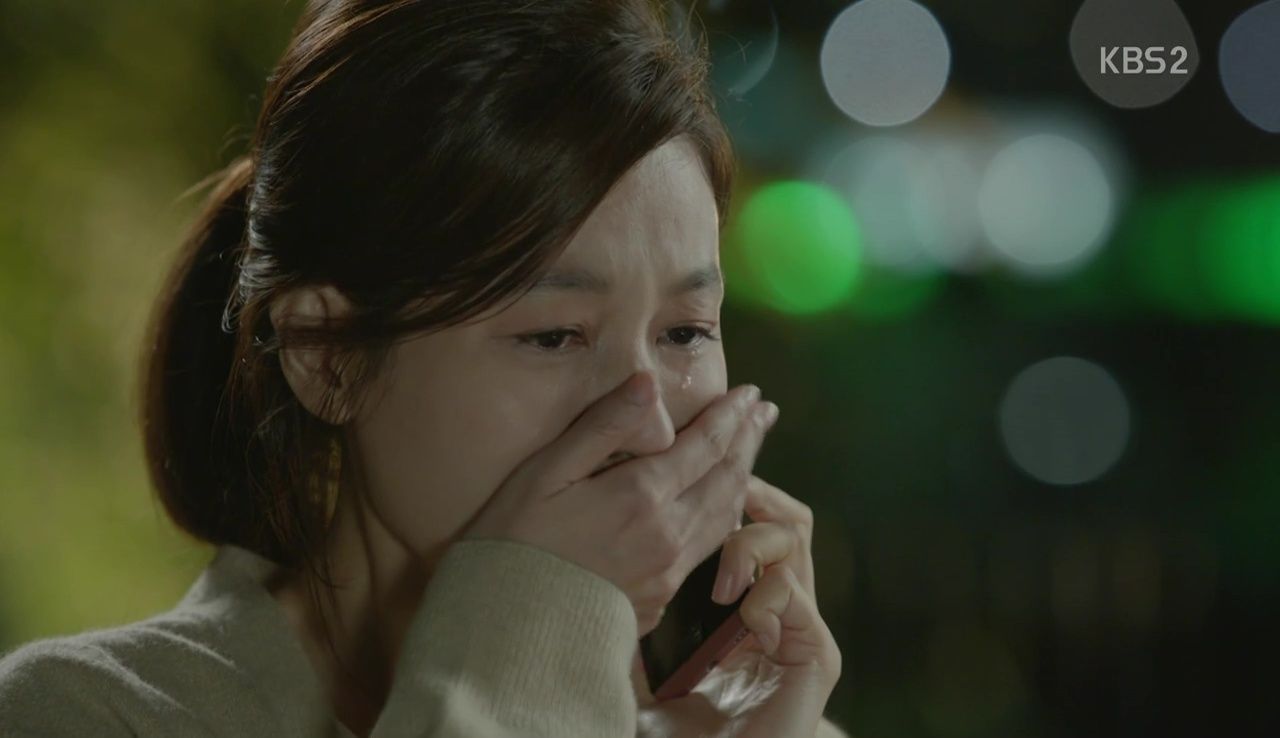 "We talk every so often and see each other once in a while—is it that hard for you?" he asks. "For me… your existence alone is a comfort." He tells her that he thought he could simply comfort himself until he'd met her, but he'd been arrogant.
Do-woo:"My mother told me that before people die, they always find a way to leave behind something they know their loved ones will need, through some kind of mysterious sense. Before Annie died… she brought you to me with her mysterious powers. If she hadn't, how could we have met like this? The emotions that you say are too much for you… I'm sorry, but I can't live without them. They're a gift from my daughter."
Su-ah can't hold back her tears any longer and excuses herself, saying the wind at the Han River is too strong before hanging up.
At her last words, Do-woo realizes that Su-ah isn't on her veranda after all, and immediately heads out toward the river. He calls her again, and Su-ah tells asks now: "Do you think it's possible to have this kind of relationship? Between a married man and a married woman?" Do-woo: "I think it's possible. It's not like we set out to do this. It happened naturally, and we started to need it… all we need to do now is make it possible." He laughs that such a thing is easy to say in words, but those pesky things called emotions are always in the way.
Su-ah tells him that she always feels guilty: for looking at him, for touching him, for yearning for him and waiting for him. But in return for having this relationship, she suggests having three "No's" to force this relationship make a little more sense: no wanting, touching, or separating. And then one more thing: She doesn't want to define what this relationship is. "Let's leave it as an uncertain relationship," she says. When he asks why, she says, "If we do that, it'll last longer."
Do-woo agrees to think about it. After hanging up, Su-ah can't believe the things she just said.
It's not long before she gets another call from Do-woo—and this time, he's right behind her. They walk toward each other, and he agrees to the three conditions. "I want to know what kind of relationship that is, and what kind of person you are."
The next day, Su-ah struggles to hang up Do-woo's framed gift somewhere around the house. Thinking back to the final moments of their conversation, they'd agreed to meet unexpectedly, by crossing paths if it so happened that way. "I want to know too," she says to herself, "who you are to make me want to meet you, even like this."
Over dinner, Su-ah, Jin-suk, Hyo-eun, and Young-sook sit in silence until Hyo-eun says bluntly, "This is so awkward." LOL. Su-ah and Hyo-eun see Jin-suk off to work, and when Su-ah offers to prepare some comfortable clothes for him to rest next time, he immediately tells her not to, because he can't rest at home.
Su-ah spends the day with Hyun-joo Unni and Young-sook at a café trying to figure out Hyo-eun's study schedule, but Su-ah is too dazed to concentrate. Thankfully, Hyun-joo Unni is a total pro, and even knows how to pander to Young-sook, complimenting her figure and skin. Su-ah notes a brochure on the table for Grandma's ornament shop and asks Young-sook about it, flipping through the pages as she does so.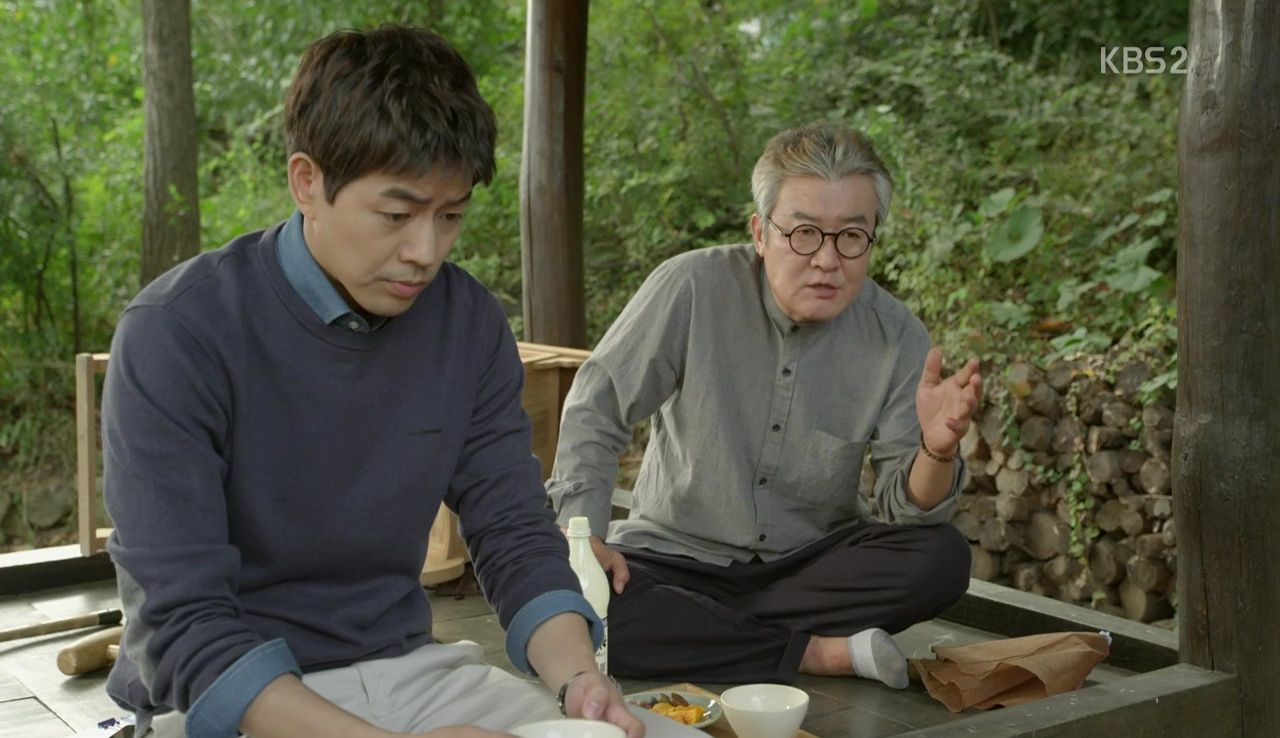 Do-woo and Suk sit outside with a bottle of makgulli, trying to summarize the Annie family situation. According to Hye-won, she raised Annie alone, and Annie's dad died a few years ago. But according to Annie, she received a gift from her dad in elementary school, exchanged a few letters with him, and even found out where he worked. Then, Do-woo decides, either Annie lied about him being alive, or Hye-won lied about him being dead—but he's not sure whether it's more important to find out who lied, or if he should at all.
Later, Suk emails a former intern to ask about Hye-won, the intern he recommended, and asks for her application materials.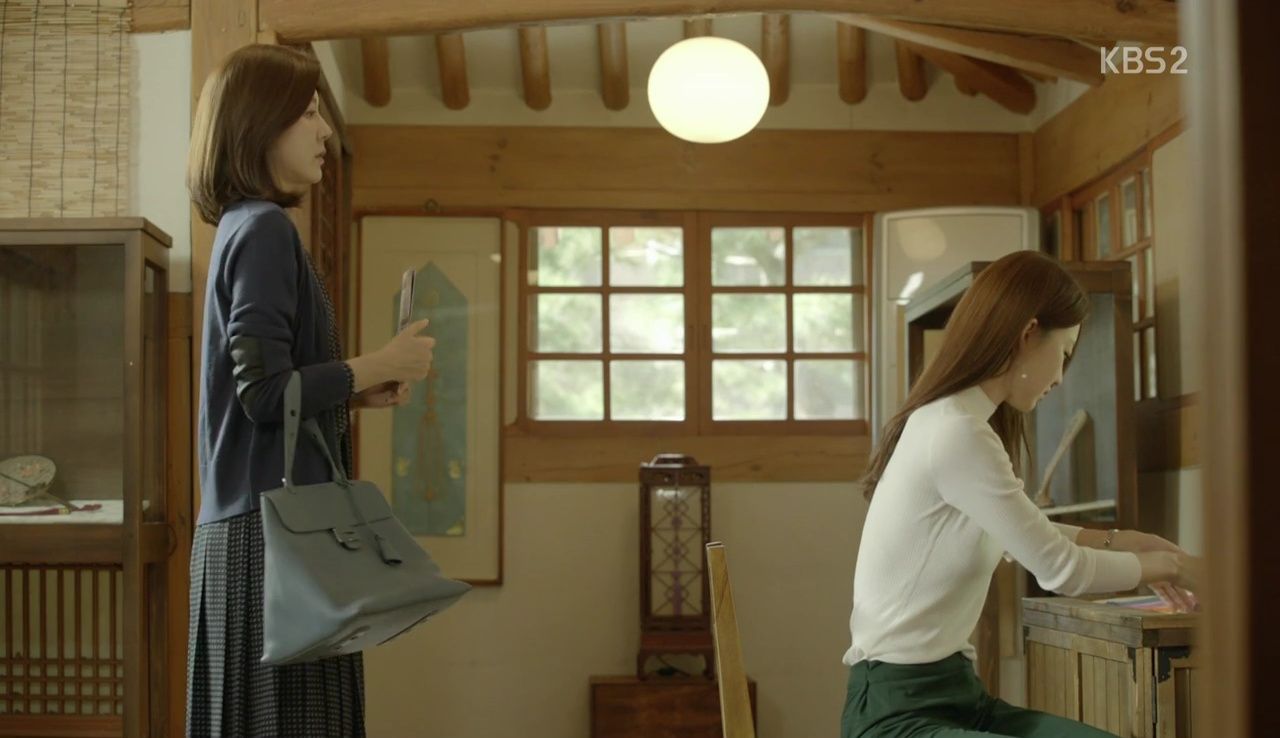 Su-ah, meanwhile, heads to Grandma's ornament store. When she arrives, however, she finds Hye-won working on a project. Hye-won turns to ask if she has any questions. At that moment, however, Hye-won receives a phone call, and asks Su-ah to come back later.
When Hye-won picks up, it's Mary, the homestay mom from Malaysia. Hye-won asks if she got rid of Annie's things like she asked, and Mary stammers that of course she did. When the camera pans out, however, we see that Annie's things are still safely in their boxes.
Suk receives a phone call from the ex-intern he'd emailed. To his surprise, the intern doesn't know anything about Hye-won since she left Grandma's shop, and her application is sitting in a pile of disorganized files that will take forever to go through.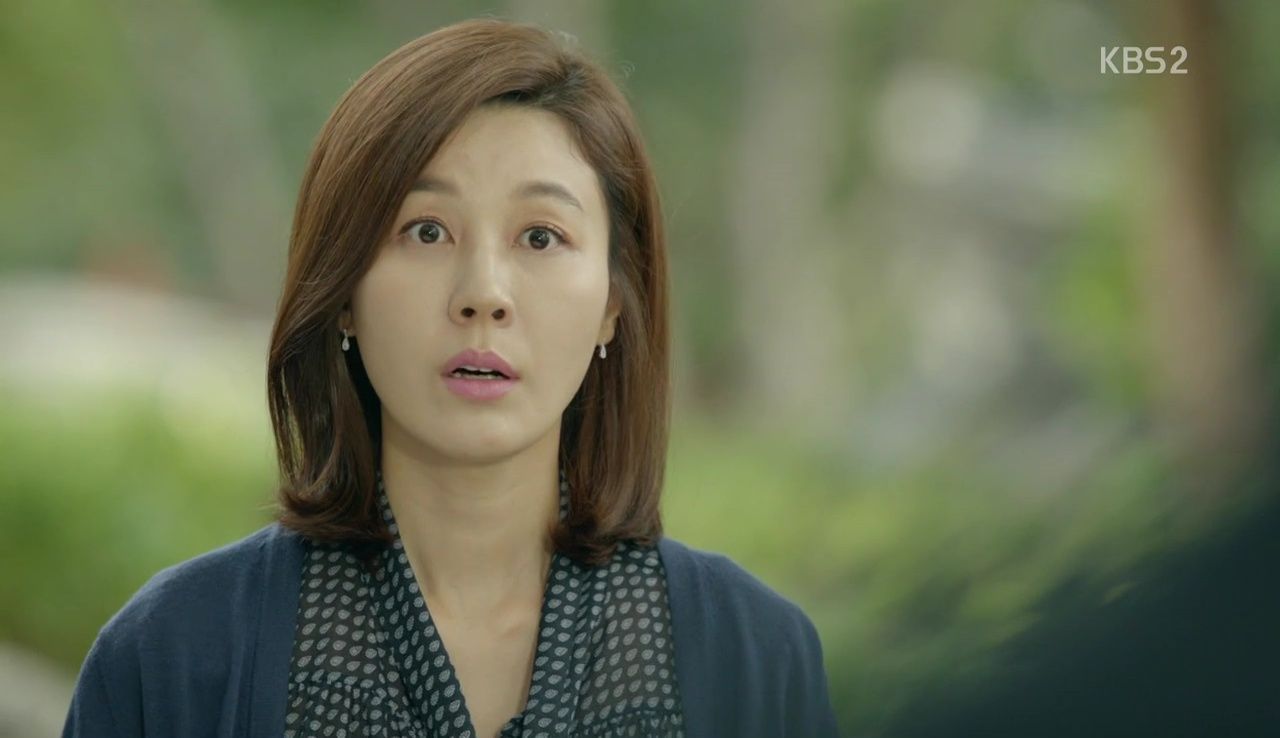 Su-ah walks around the periphery of the shop when suddenly she sees Do-woo, still sitting outside with his makgulli. He glances at her and sits up straight, unable to believe his eyes: "Is this really a coincidence?"
She asks what he's doing here, and he explains that he works here sometimes, or just chills with makgulli. He steps toward her, a boyish smile on his face, but she steps back at the same time—until Suk calls for him. Startled, Su-ah grabs his wrist: "We have to run!"
She obviously doesn't know where she's going, and so he takes her hand instead and leads her away until they find themselves in one of the traditional-style rooms, sitting close to one another.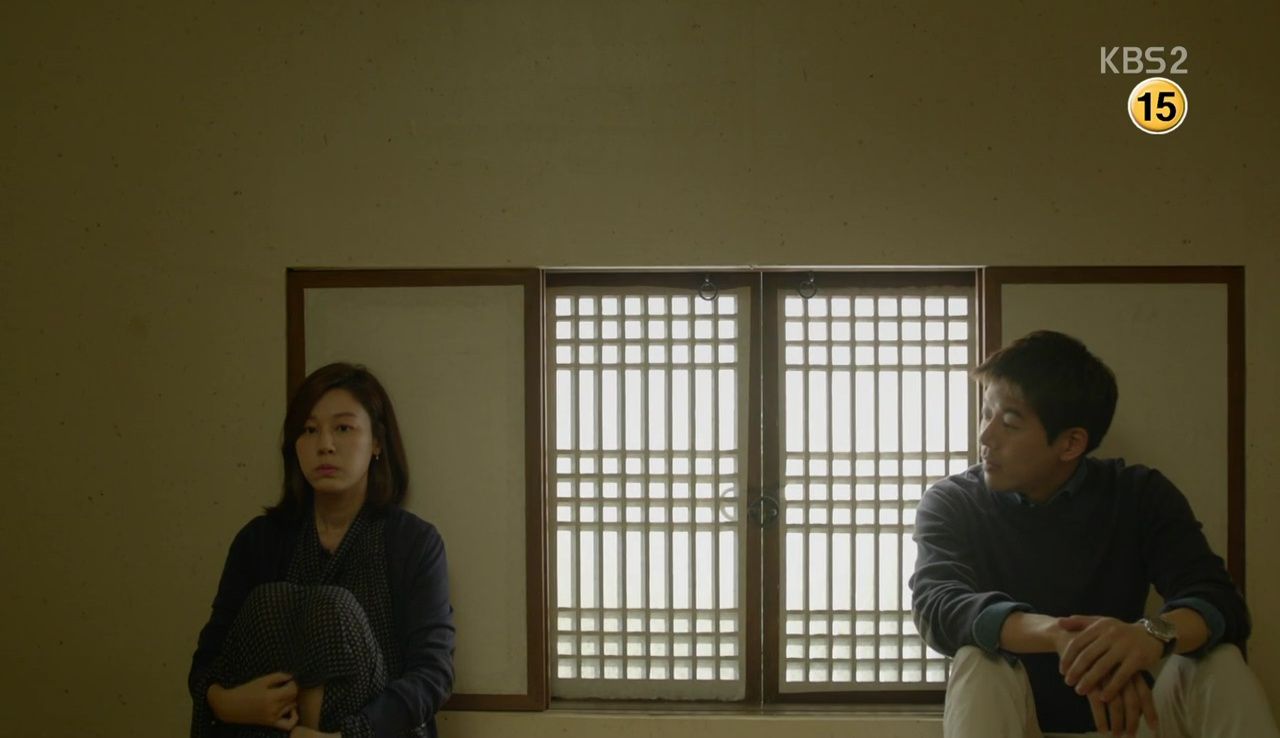 COMMENTS
Okay, it took five episodes, but I am officially sold. This is the episode that had me actually grinning and trembling—I mean, I know am not the only one who screamed at the airplane scene. I don't know what it is about their relationship—whether it's the actors or the characters—but they make the infatuation with each other so deeply believable, from the obvious physical attraction to the emotional connection, the forbidden nature of their every gaze, to their own emotions and inability to stop thinking about each other. All of that adds up to a really startling effect, where the smallest and most restrained touches ignite fireworks through the screen. Kim Haneul and Lee Sang-yoon's chemistry practically oozes through the screen, the kind of chemistry that makes glass tubes blow up and halogen lights explode. As I said before, I'm not the biggest fan of Do-woo's character or Su-ah's character individually, but when they're together, it just feels so right. But so wrong! But so right! Argh!
I'm seriously impressed at this show for making me feel this way. My heart literally began pounding harder on the plane when Do-woo took her aside and drew the curtains, creating a tiny little break in space and time and rules and restrictions just so he could touch her once… and he didn't. I want to know what he's thinking, and at the same time, I know exactly what he's thinking. We've all had feelings about that person we shouldn't. We know the agony, and the thrill of it. And Do-woo and Su-ah are living it.
Of course, there's a fine line to tread here as a show, and while I'm thrilled that the drama seems to know that line very well, I'm still scared of where the tipping point is. Believe me when I say I'm the ultimate sucker for forbidden love, be it the lady and her bodyguard from Sandglass or Romeo and Juliet or Sechskies fans vs. H.O.T. fans—it's my biggest drama trope weakness. But my problem here is that Do-woo seems to have zero qualms in igniting this affair with Su-ah—not even a shred of guilt. Is it that he truly has no emotions toward Hye-won? From the start, we've never seen any intimate scenes between them except for today's kiss scene; until now, their relationship had seemed almost more friendly and platonic than romantic, as if they were "business partners" based on cool professionalism, the same kind of professionalism that Su-ah exercises at her job. Do-woo and Hye-won, then, don't necessarily have a relationship as an agreement, but he does seem to care deeply for her. Is this understood between them both? Does Hye-won know that he doesn't love her romantically, and that his love is somewhat different from what we'd expect from a married couple?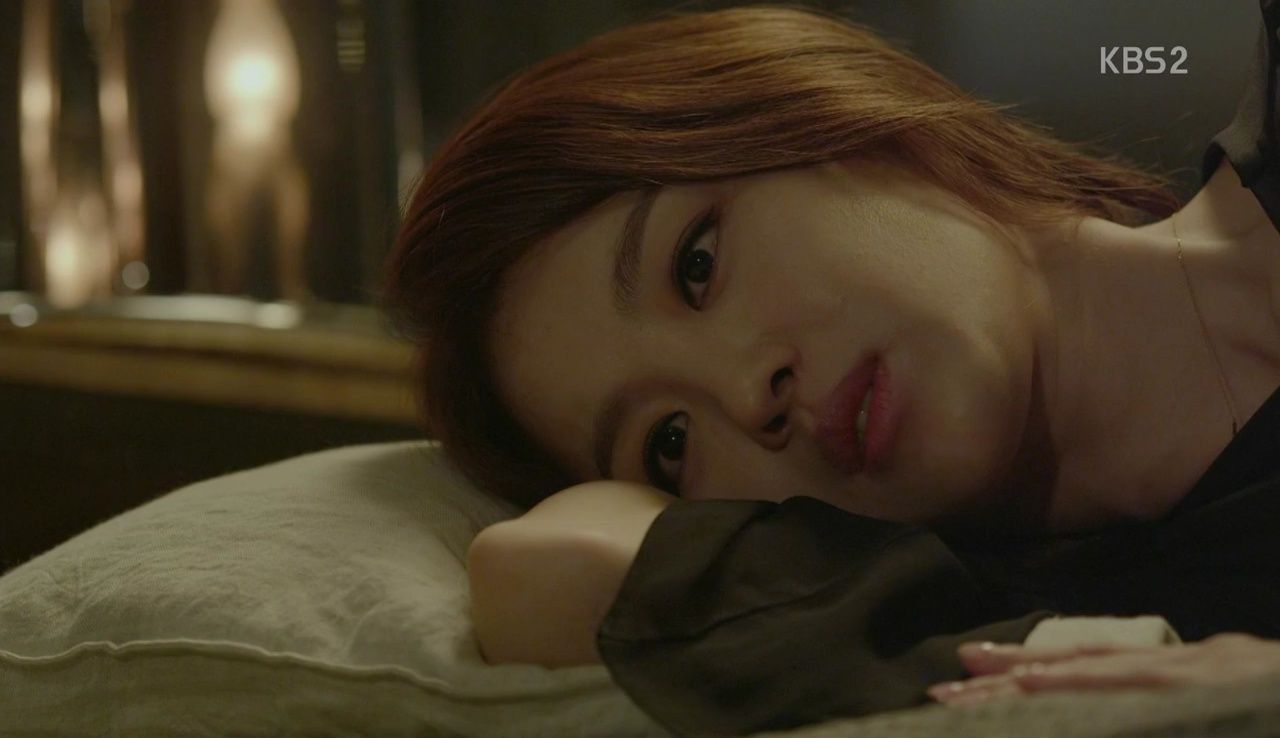 Speaking of Hye-won, I think we're all starting to agree that Hye-won is a liar. Impressively, the show hasn't made this so obvious that you want to smack Do-woo upside the head; she's a really good liar, if she is one, because her story makes perfect sense. If she's not manipulating Do-woo, and this really is the truth, then that will be a plot twist in and of itself, but she's either skipping some key parts or she's been practicing this story for a long time. There are some really cool theories floating through the comment threads, and I'm psyched to see where the show will really go, now that I'm more invested (and assured) in its artistic direction.
That assurance is so impressive to me because it builds more and more with every episode. It started with the stellar cinematography, and then the interesting shots and music. But it also has these constant threads that continue to consider themes and motifs. For example, I really like the prevalence of phones in this drama. It's annoying to recap because there's a phone call every five minutes, but it's very symbolic of the idea of communication and disconnect. When Do-woo doesn't answer a call but dials back a few seconds later, what does it mean? Are they on the same page? Are they still struggling to find each other?
These are questions characteristic of their relationship. As was explicitly mentioned in this episode, nothing about their relationship has been, or apparently will be explicit, to the point that I don't know what they want from each other—and yet at the same time, they seem to completely understand each other and what they want. It's so strange that they are on this same page at all times, and I think it's that skilled writing that makes it so easy to believe Do-woo and Su-ah's relationship. What they're doing, this affair, isn't idyllic by any means; there are many, many flaws that we could realistically fault them for. But when it's the only thing that makes them feel human, how can we tell them that they are wrong?
RELATED POSTS
Tags: Choi Yeo-jin, Episode 5, featured, Jang Hee-jin, Kim Haneul, Lee Sang-yoon, On the Way to the Airport, Shin Sung-rok