Dr. Champ: Episode 8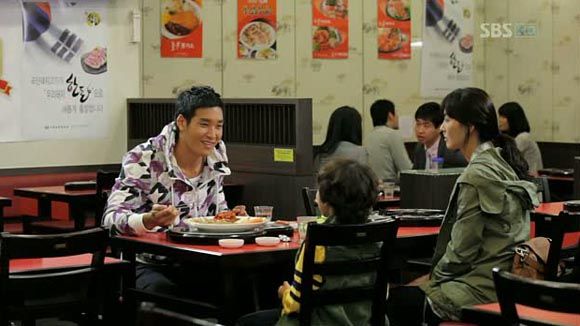 This drama's one word definition is: adorable.
I can't really say what happens in each episode, but I can sure say that I'm left with indescribable warmth and a silly smile. I guess that's love, the utopian, the juvenile, the immature love that you know won't be the definitive. However, many years in the future, when you look back, you'll say "Oh, I was so young and foolishly loveholic. So wonderful times."
SONG OF THE DAY
No Reply – 노래할께 [ Download ]
Audio clip: Adobe Flash Player (version 9 or above) is required to play this audio clip. Download the latest version here. You also need to have JavaScript enabled in your browser.
Episode 8 recap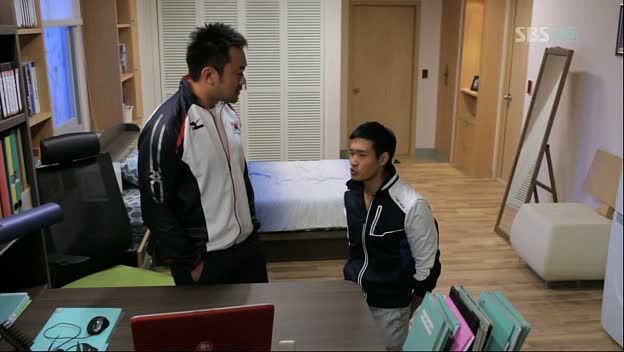 Ji Heon knows for sure that this is his last chance to win the medal, even when his coach rejects his claims – he's worthless if he's hurt. When words are proven useless, Ji Heon decides for the last tactic and begs on his knees, reassuring that he can do it. The coach won't go back; it doesn't matter if our judoka has to leave the national village for good, there are many athletes that could replace him.
If they don't want ya, you can come to me, baby.
*clears throat*
When he's about to leave, Yeon Woo suddenly enters into his visual range, so he goes to her to ask what the heck did she do. She gives her fair stock of reasons: he was injured, his injury was complicated enough to keep him from training for some time. The problem is, he won't just rest, he was kicked out. Pretty big difference, huh?
She wasn't aware of that fact, though, she thought he would've a license or something of the sorts. Anyway, he's obsessed with an immature desire of "enduring pain" (and I'm on her side right now: his tendon is injured, period), accusing her of destroying both his dream and his career. She… won't be forgiven.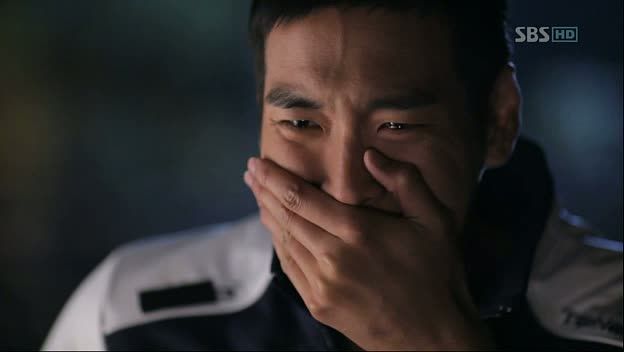 Deflated, that night Ji Heon talks to his always supporting nephew on the phone. He can't help crying after Yi Reum tells him how he wishes every night for him to win the gold medal. The harmonica's background music in just reducing my mood into a messy bunch of tears and goo.
Yeon Woo is feeling a tad conflicted, so in order to punish herself, she pays a visit to her mother. She isn't very specific; she just drinks some tea and lets the time pass. She can't shake Ji Heon's words off – how is it that all this mess is her fault?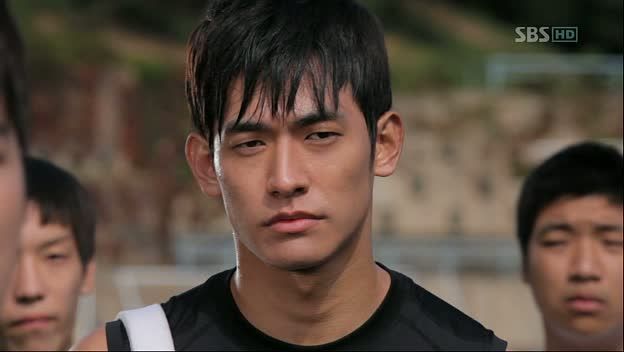 The judo team receives the news of Ji Heon's dismissal and I'd say they're not so excited about that, especially Sang Bong. After training, the coach gives further information on this matter – the doctor was the one who reported his condition, the coach just informed the association. Sang Bong complains over the unfair treatment he received and for being kicked out from one day to the other, and goes away quite furiously.
Having arrived home, Ji Heon tells Yi Reum that he got special vacations for being the best athlete in the national village. Seriously, dude? How will you fix his broken heart once you tell him the truth? Pffft, I know, he'll probably find a way out of this (what's the point of the drama, otherwise) but I kinda despised how you went lying-happy on your nephew.
Do Wook quite surprisingly attends the reunion in which the Taereung's heads are discussing how they'll proceed in regards to Eun Suk's doping, just in time to hear Manager Bom expressing his discomfort at the doctor's work.
Sang Bong is so disappointed at Ji Heon's sudden departure, that he calls him looking for an explanation. He thought they were friends, but Ji Heon didn't even tell him he was dismissed.
Sang Bong: I… thought we both became friends again.

Ji Heon: Athletes training together can never be friends.
OH-MY-GOD. I died a little inside when they broke up like that.
Back to Eun Suk's reunion, Do Wook has some interesting information: the prescription given by the hospital where the swimmer was treated, didn't contain the drug that showed up in the screen result. Guy's a junkie? He might be, and that means that his case has no way out – he'll be declared guilty.
However, Do Wook isn't planning on giving up the athlete, so he goes and offers a truce: if the guy tells him what he used, he'll help him. Interestingly enough, Eun Suk keeps on affirming he's innocent with a confident (almost intimidating) smile.
At Yeon Woo's office, Woo Ram's ankle problem was just solved. He takes this chance to ask for his recently dismissed friend, but he can't continue due to an urgent call from Do Wook, who urges Yeon Woo to assist him immediately. He's planned a top secret operation to discover what's up with Eun Suk once and for all: Yeon Woo must break into his room and take everything that might be suspicious with her. She's about to leave when she gets the last item: an unidentified little bottle.
Yeon Woo's character was growing on me until this precise moment. She meets with Do Wook to give him all the stuff she recollected, and wonders why he's involved in Eun Suk's case. Maybe because Hee Young asked him to?
Eh, whatever, girl.
Do Wook obviously takes this as something a jealous woman would do, so he bluntly asks if she likes him. Heh, gotcha.
Cutie pie Sang Bong won't give up on his friend so easily, so he runs into Yeon Woo wondering if she told Ji Heon that she'd go to the coach with her medical opinion. She's ignorant of the fact that the coach is known for dismissing anyone who's injured, therefore her signed papers are what caused Ji Heon's downfall – without the papers, coach's hands would've been tied up. He leaves advising her to take a look at the athlete's charts.
With plenty of free time, Ji Heon goes to his sis-in-law's workplace to inform her about the new clients he's gathered. But something else is in her mind, like what is really happening with him, the holiday's excuse is not logical for a national athlete. He tries to convince her that once he's healed, he'll return. She doesn't buy it, he's been kicked out for sure. Furthermore, she accuses him of never finishing things and being a pathetic brother.
Raise your hand if you want to see what the hell happened in the past between them!
At the training center, two bands have been formed: the ones who miss Ji Heon and pity his unfortunate dismissal (Sang Bong + Woo Ram) and Taek Woo + lackey, who can't hide their happiness.
Hear the clock ticking? It's the bomb that Yeon Woo is about to discover. It seems like there's an injured athlete training after all, under judo's coach knowledge. Then, why is Ji Heon out when that one's not? The answer is simple: there are many judokas in his category; he had to cut the team somehow. That means that the coach lied to her, saying that he needed her written opinion to allow Ji Heon to rest, while all he wanted was an excuse to kick him out. Ooohhh, good ol' cynicism!
Needless to say, she's so devastated that she goes to ask for Do Wook's help to solve this gigantic mess. Well, there's not so much she can do according to him, the coach is responsible for the team and decides who's in and who's out. What's more, that athlete is easily replaceable and his chances of winning the gold metal are uncertain. She's so upset at this statement, how can he be so sure of this? Do Wook agrees, she's made a worthy athlete leave, she has to use her medical knowledge to treat him. Okay, Do Wook, your roundabout reasoning and reverse psychology are just agh!
It's payback time! Yeon Woo is now waiting for Ji Heon + nephew; it seems like Yi Reum told her how to arrive there (so frakking cute!) and he's immensely proud of himself, heh. Now it's her turn to stalk him, inviting herself to dine out with them. Her heart softens even more when she learns that Ji Heon hasn't told Yi Reum that he's been expelled to protect the child's expectations.
Hee Young still wants to hear from someone that Eun Suk hasn't broken the rules, and she finds a tiny light of hope. And it's been lighted by Do Wook! Since some of the products found had never been analyzed, they may be the reason for the positive doping.
After dinner's over, Yi Reum goes home still unaware of the tension between his uncle and balloon noona (he even tells him "not to play hard to get". Aw). Yeon Woo apologizes to our judoka, and offers to treat his leg. She didn't know that things would turn out like this; she wants to take responsibility for her actions. He turns his back on her, and leaves slightly touched.
At the doping's hearing, Do Wook saves the day (again) by showing up at the last moment. He's discovered the cause of the positive results in Eun Suk's sample: the little white bottle was a spray for nasal irritation. It contains ephedrine (which is forbidden), but there's a twist: it was prescribed for Eun Suk's mom, who's been suffering rhinitis for over 10 years and recommended it to her son. Hah, now he has the snotty boy in his pocket.
In an attempt to get some useful advice, Yeon Woo asks the head nurse to make a training schedule for Ji Heon. The nurse is actually very surprised by this sudden change of Yeon Woo's attitude towards her job, maybe underneath her snobby-cranky attitude, a compassionate doctor is hidden.
This sweet moment won't last for long, it's Yoo Ri's turn to break into the doctor's office accusing her of Ji Heon's fate, considering that he sent all those athletes to her. It's sort of amusing how every single of the characters are giving a wider approach to the matter; that plot development places them near a dangerous "plot device" territory, but as of now I'm not that bothered – Yeon Woo needs insight into all he's done for her, and if this is the way, I say so be it.
That same night, Yeon Woo gives the training schedule inside an envelope to Ji Heon, but he rejects her help. She's outraged at his stubbornness; after all, she didn't want his help either but he gave it anyway sending patients to her, so she leaves the envelope over a fence and goes away. The way she delivers her lines are a bit harsh (I was cursing at my monitor, to be honest), but how she looks back after he enters his house leaving the schedule outside, made me think that maybe she was trying the "bad girl" approach after the "your nephew loves me" failed. Knowing that private treatment is too expensive, Ji Heon finally takes the envelope after she left.
The following morning, Do Wook wants to check out her progress over Ji Heon's case. Now Yeon Woo is aware of his little tricks (he affirms he's bet that she wouldn't make it, hahaha), so she just tells him she'll find a way to make him come. Satisfied, he smiles – she's becoming a person!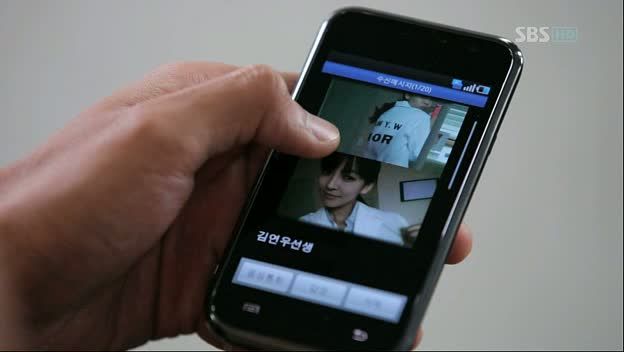 If this isn't the sweetest thing our doctor (notice how I'm calling her "our"? She's growing on me, people!) has done, I don't what is. The "bad girl" didn't work either, so what about the "I'm accepting the medical gown you gave me"? It'll sure work. Yeon Woo puts it on, and sends some photos via phone posing like an expert. She's the cutest thing since the invention of baby polar bears.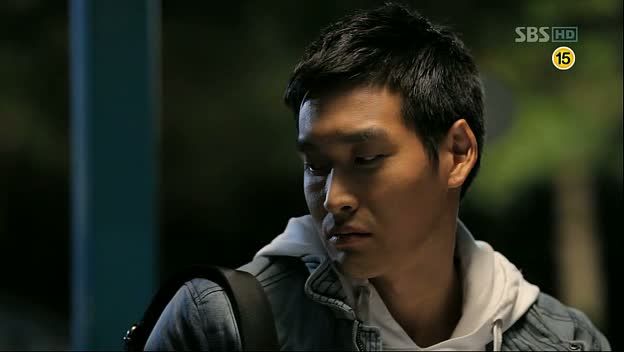 Ji Heon faces the chance of forgetting about everything and getting a "normal" job, but he won't do it. He goes to the same bus stop where he went after the jail issue with Yeon Woo (imagining that she's by his side), with her words still ringing – she did what she did because she was worried about him. Maybe it's time to accept her apologies and her help.
Meanwhile, the medical team plus Eun Suk and the heads of Taereung are celebrating the hearing's success. Yeon Woo notices that something's wrong with Do Wook, so she follows him when he excuses to go to the restroom. In the corridor, she finds him visibly suffering. He asks her to take him home and apply some pain killers.
While Do Wook is asleep, Hee Young passes by and is received by Yeon Woo. At first, the latter just takes her message for the doctor and lets Hee Young leave, but she catches her self-respect from the floor at the last moment and calls the coach back. She explains that, even when she likes the doctor, the person he needs is Hee Young.
When Yeon Woo arrives home, she finds – surprise, surprise – Ji Heon. She points out how this day, the one in which she wore the coat he gave her, nothing good happened. He corrects her – from now on, her luck will change. He's leaving his treatment to her; she has to make it possible for him to compete in the qualifying competition. Deeply moved, Yeon Woo is surprised at his sudden decision, since he'd said that he would never forgive her.
Ji Heon: I don't want to forgive you. I also hate being like this. But I like you. Crazily.
Okay, excuse me for a moment while I go out to squee.
Personal comments
And that's how Ji Heon expressed exactly how I feel regarding Yeon Woo now! I also don't want to like her, but this episode made me see her in a different light. She's on her path to evolve from that cranky, unbearable person to a compassionate doctor. I love this part on dramas, seriously, when the messy character starts waking up to life thanks to the help of her context. I'm so glad it's finally happening here.
I guess that's how we should feel after this episode ended. I mean, every single character went to her and made her realize how wrong she was. Especially Do Wook, who's been by her side from day one, just believing in her potential, throughout all the mistakes she's made. His slight smile when she affirms he will lose the 10 bucks he bet "believing" she would give up on Ji Heon, was really meaningful in itself; and the head nurse's warmth once she saw how committed Yeon Woo was with her work too. Then, we have the different athletes who opened her eyes to Ji Heon's kindness and unfair treatment from the coach. Lastly, Ji Heon's attitude was the best: he realized that he can't do it alone, and that her offer of help was sincere and heartfelt. Refusing her apologies from the get go, he unconsciously brought the best out of her, forcing her to try hard to regain his good opinion.
Apart from Yeon Woo's character, I wouldn't say this was an eventful episode (not that the goal of this drama is to give us a packed storyline), but I think it closed tightly the first half in order to restart with a different dynamic from next week on. I can't wait for the training and Yeon Woo's growing respect for Ji Heon, now that they'll have to work together.
Also, Jung Kyeo-woon was born to portray this character. I don't know how this talks about his acting or future possibilities, but he's completely awesome as Ji Heon. Funny, dorky, and the most important, he's found the perfect balance between a lovely subtlety (trying to suppress his tears at the park was heartbreaking) and an adorable over-the-top-ness. His raw fragility, his uprightness, his naïve way of seeing life really get me.
I was unsure, I even thought Dr. Champ would dissapoint me like many dramas have (this time slot has given me only head aches this year, always midway through – coincidence?). At this point it keeps on giving me the exact kind of entertainment I'm looking for (especially after episodes 7 and 8 – I was getting a tad anxious before), and when a drama leaves me clapping my hands like a child, craving for more, it can't be a bad signal, right?
RELATED POSTS
Tags: Cha Ye-ryun, Dr. Champ, featured, Jung Kyeo-woon, Kim So-yeon, Uhm Tae-woong