School 2013: Episode 15
Waaaaah. I almost never feel this way, but I don't want this show to end. There's so much warmth and goodness packed into each hour, and I just want to be with these characters till they're old and gray. What, bromance is FOREVER, okay? Don't you dare tell me otherwise. If I refuse to watch next Monday's finale, will I be able to pretend it didn't end?

EPISODE 15 RECAP
After the cell phone theft, Heung-soo gets hauled away by the cops as their prime suspect. Se-chan asks In-jae all the right questions, and we find out that Heung-soo has a prior record, and combined with his skipping gym class at the time the phone disappeared, it makes him look mighty guilty.
In-jae panics, not knowing what to do, and just says that Heung-soo didn't do it. Se-chan says matter-of-factly, "Of course he didn't," like it's a foregone conclusion. Aw.
He says a kid who just barely started patching things up with his best friend wouldn't have time to let his life go sideways. "We'll just go get him back." Look at you, having faith in people and everything.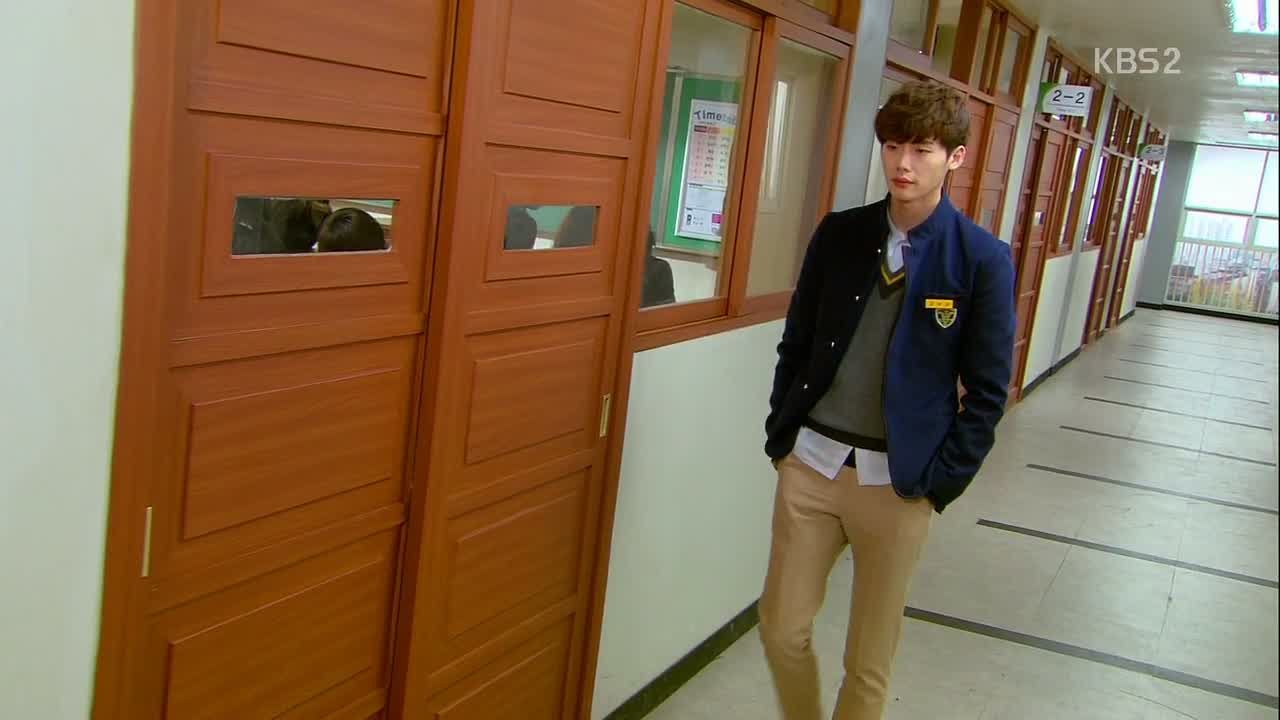 He adds that they should keep Heung-soo's record a secret from the other teachers, and this time In-jae outright gapes at him, "You've… changed." Ha. He adds defensively that people have been known to evolve. Clearly you don't remember what an ass you used to be.
Nam-soon paces the hall, thinking of nothing else but Heung-soo, and asks In-jae where they've taken him. He looks so lost.
She promises to go get Heung-soo back and tells him to go back to class. He begs her to come with, but she reassures him that if Heung-soo didn't do it, she'll have him back at school in no time.
The police don't have any evidence to charge Heung-soo with the crime, so they let him go. Whew. In-jae takes him to a coffee shop to drink something warm (I love this recurring motif with her—just warmth.) and she asks if he's okay.
He says the moment he saw the police car this morning he figured he might be taken away. He doesn't say it bitterly, but just like it's the obvious conclusion to anyone, even to him.
She asks carefully about the incident on his record, and he says that it was a fight with the jjangs at a neighboring school, and he put the other kid in the hospital. In-jae wonders how it got blown up into a criminal charge, but Heung-soo says it was probably for the best: "I got my head on straight after that."
In-jae smiles and says he's grown up, and tells him he did a good job getting through a really hard day. She asks hopefully, "Will you be at school tomorrow?" He nods. Aww.
Yi-kyung sidles up to Jung-ho to try asking one more time where he got the money. He swears he's not suspecting him, but is still worried he went off and did some other reckless thing. You and me both.
Jung-ho finally admits that he sold stuff he had at home, and Yi-kyung scoffs that he has nothing of value to sell. Then suddenly something dawns on him: "You sold… IT?"
Yi-kyung: "Are you crazy?! How could you?!" OMG WHAT IS IT? Nothing could be worse than the things I'm imagining right now. Jung-ho refuses to let him recover whatever it is he sold.
Se-chan announces to the class that Heung-soo was released and isn't guilty, and gives the class one more day for the culprit to hand over the phone, because now that the police are involved, it won't end here.
Nam-soon is still in soulless zombie mode in Heung-soo's absence, and Se-chan has to call him to attention to get up lead the bow at the end of class. He still seems worried, especially in light of the ongoing investigation. In-jae texts him after class to say that Heung-soo is okay and that he went home, but Nam-soon doesn't look any happier.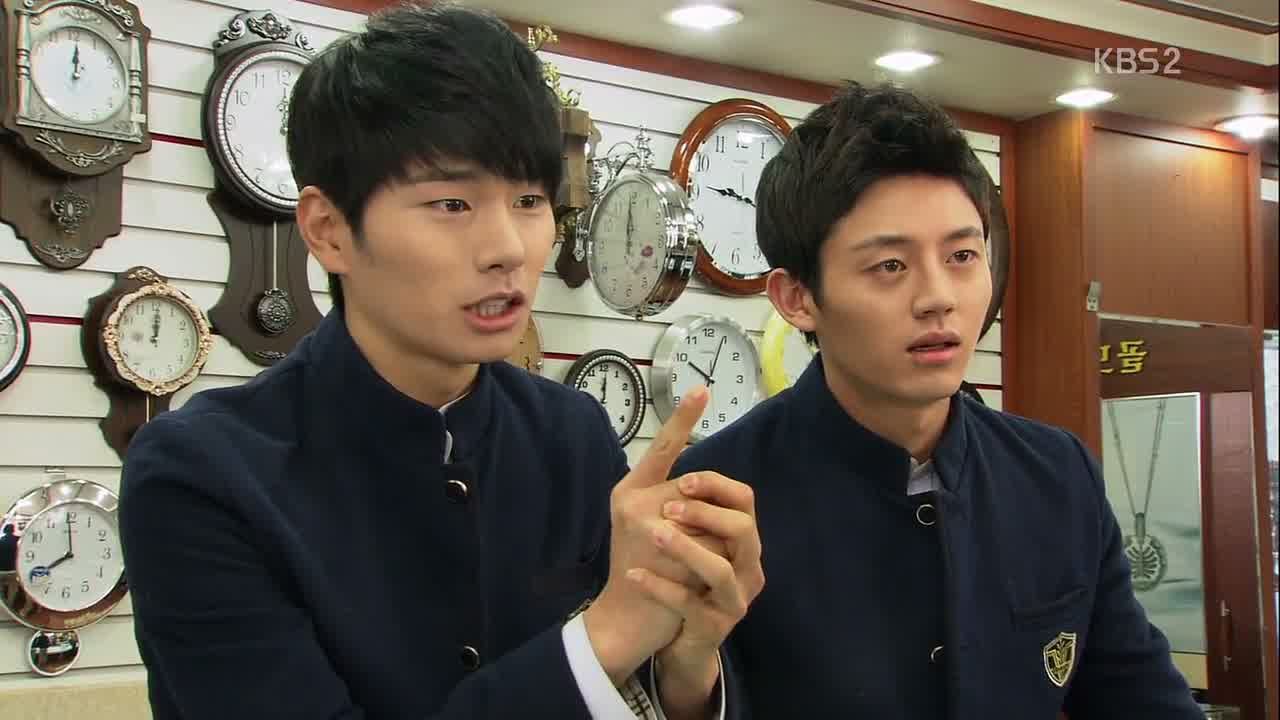 Yi-kyung drags Ji-hoon out of class to tell him that Jung-ho's in trouble again—he sold IT. Ji-hoon's eyes bug out. Yi-kyung begs him to help, wanting to keep this between them.
They head out and hit jewelry store after jewelry store, asking for the thing that Jung-ho sold. Okay, it must not be that bad, if it's jewelry. Uh… unless it's not his. Hm. Now I'm back to being worried.
They finally find whatever it is at a store and beg the owner to give them a week to buy it back from him. They promise that it wasn't stolen, just that it's something very important.
Meanwhile, Se-chan stops short when he sees Nari sitting alone in the empty classroom when school's already out. He realizes belatedly that she wasn't even at school that day, and sees that she's crying… and holding two cell phones.
He takes her to the office and asks for the story, and when he promises to keep it a secret, she finally tells him about her best friend Hye-sun ignoring her when she was so upset over her grades and the fact that Se-chan told her she couldn't go to college.
It's kind of adorably childish that she blamed Hye-sun's new phone for the fact that Hye-sun was snubbing her. She swears she was just going to hide it for a while, but then the thing just snowballed and it was understandably difficult to undo it.
Se-chan takes a page from the In-jae playbook and thanks her for doing the right thing and promises to keep her secret. He tells her that she will have to be punished for what she did, and lets her come up with her own punishment by tomorrow. Se-chan just texts In-jae that the phone was returned, without naming names. She sighs to realize that the culprit was someone in their class after all.
Nam-soon waits and waits for Heung-soo to come home that night. He tries to give Nam-soon the brush-off, but basically gets ordered to follow. All Nam-soon says after that is that he wants ramyun.
He leads the way… all the way back to his house. Heung-soo hovers in the doorway, wary of going inside. Nam-soon, vampires have to be invited in! Oh right, wrong drama.
He says the magic words, and Heung-soo takes a slow, careful step inside, squirming in his socks for some reason. I know it's not actually a vampire barrier, but it does feel like a best-friend barrier that he just crossed.
Nam-soon makes a pot of ramyun, and Heung-soo just sits there, watching Nam-soon eat and wanting him to get to the point already.
Finally Nam-soon asks shakily, "How recklessly did you live?" No answer. "Why did you live recklessly?" Oh god, I can feel the tears starting to form.
Heung-soo: "Because, would there ever be another bastard like you?" Well, there go my tears.
Nam-soon wonders what he'd do with another bastard like him: "So you could beat him up?" Oh, silly. Heung-soo makes it clear: "That I could grow attached to, you bastard." [He says literally, "stick my heart to."]
The tears come spilling out as Nam-soon hides his face grumbling, "Idiot. After everything I've done to you?" Heung-soo cries too, and counters that Nam-soon has endured his own share of pain.
Heung-soo: "Have you ever once told someone that you were hurting, you pitiful bastard?" He adds, "You, me…" like there's no difference anymore. "So Nam-soon-ah… stop being sorry."
Waaaaaaaaah.
Then they wipe their manly tears and get back to eating their make-up ramyun without a word, as if they didn't just spill their guts all over the table.
Heung-soo sleeps over that night, finally comfortable enough to take off his socks (or one) and Nam-soon smiles to himself before falling asleep.
In the morning they run around like headless chickens, bickering that the other didn't wake him up and they'll be late for school. Gah, can this be every day?
Heung-soo steals Nam-soon's socks to wear, and then reels when he takes a whiff of his shoes, remembering that he stepped in a wet puddle of snow last night. Naturally, he blames Nam-soon.
So Nam-soon heads back into his room and takes out a shoebox hidden under his bed. He brings out a brand new pair of shoes and shoves them at Heung-soo, who complains that Nam-soon's shoes won't fit him.
"They're not mine; they're yours." He reminds Heung-soo that he wanted this exact pair and had made Nam-soon promise to buy them for him when he got scouted to play soccer, so he wouldn't be teased by the big city kids. Seriously, could you two be any cuter today?
Heung-soo complains that shoes from three years ago won't fit him now, and Nam-soon nags him like a mom that they'll stretch eventually, hurrying him out the door with reminders of Se-chan's wrath.
In-jae returns the cell phone and asks Hye-sun about why she thought Jung-ho was the one who took it, and Hye-sun spills the beans about Nam-soon and the tardy pig. Damnit.
At the same time, the mean girls are busy gossiping about the mysterious phone's reappearance, and Kyung-min the Instigator spreads yet ANOTHER nasty rumor—that she saw Ji-hoon in class before anyone else today. They all whisper that he must be the thief.
The real thief Nari is busy writing her apology to Se-chan with particular gratitude about keeping her secret. The bell rings and she runs to class and discards the early drafts in the library trashcan. Um, not a good idea…
Class starts and Nam-soon and Heung-soo come barreling in together. Se-chan docks points for being late, though he adds with a smile that twin tardiness must mean they're really friends now.
In-jae calls Nam-soon out of class to ask about the tardy pig, and gives him a rather lenient two-page apology as punishment, likely because he knows it was wrong. He apologizes, and she muses that the kids must really trust him, if they covered up for him.
He says it was really because they didn't want to cause her any grief when she had just decided to return. She asks why he saved Jung-ho of all people, and Nam-soon just says, "Because he would've gotten kicked out of school."
She wonders what benefit there is in coming to school, and Nam-soon says you get meals: "If you come to school you get fed, the same exact thing as all the other kids." She realizes that's true, and then stops to make sure that's not why HE comes to school. Nam-soon smiles and says no, it's also for naps. Pfft.
Nari brings Se-chan her written apology, and decides to do extra homework every day as her punishment. Hye-sun is back to being friendly with her, though Nari clearly feels guilty about letting it blow over like that.
Jung-ho is still on trash duty, and gets nagged by the security guard that he has to unfold the recyclables to do it properly. Oh no. Sure enough, he discovers one of Nari's written confessions.
At lunch, Jung-ho sits down at Heung-soo and Nam-soon's table, and this time Heung-soo tells him to go sit with his own friends. But he doesn't budge, so then Ji-hoon and Yi-kyung come sidling up to join them.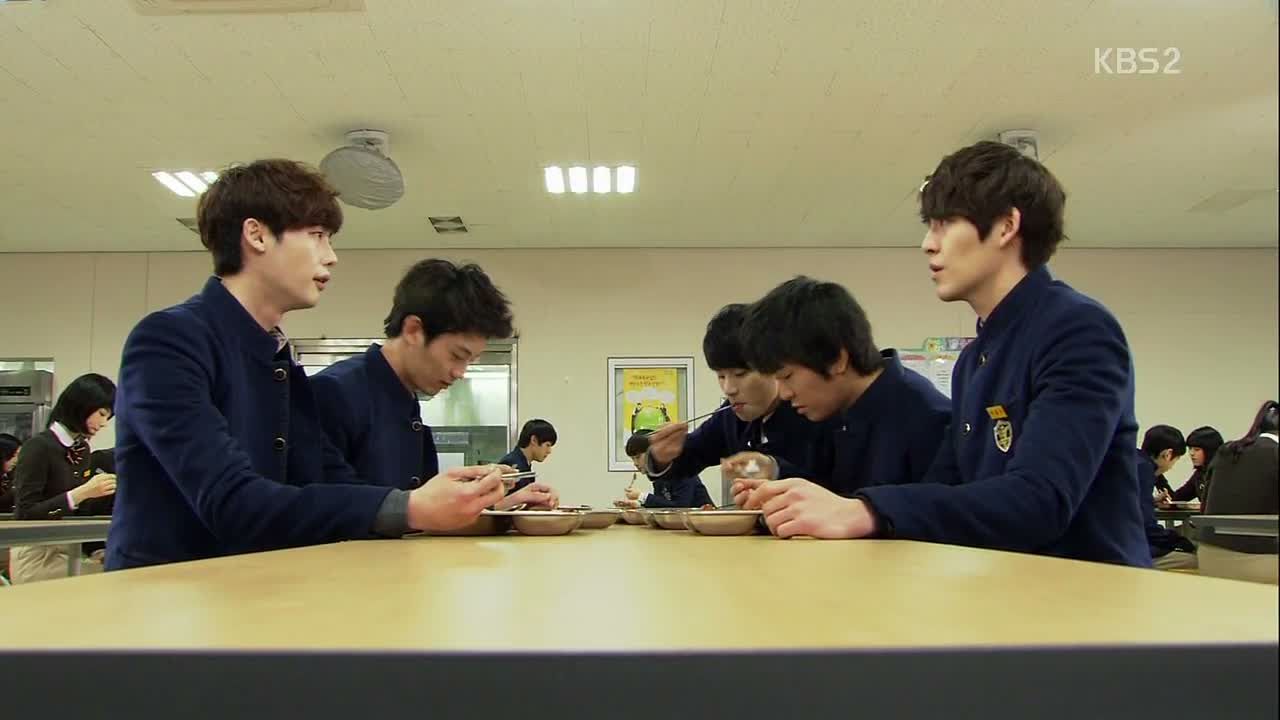 Ha, the looks on Nam-soon and Heung-soo's faces are priceless. They're like, What're we, the Babysitter's Club? They both dart up.
Ji-hoon: "What, are you ashamed of us?" Without a word, they split up and sit with their backs turned to the other boys.
Hahahahahaha. I so enjoy the lunch time politics.
The other girls tell Hye-sun that Ji-hoon stole her phone, and Nari squirms in her seat. Please do the right thing. I'm pretty sure Jung-ho will out you either way.
Ji-hoon asks In-jae to be excused from evening classes because of a new part-time job, and promises instead to come in early every day to study. He says super-proudly that he was the first in class today, and she pats him on the back like he just climbed Everest, which is just so cute. He beams, and she promises to come early to help him from now on.
Yi-kyung comes by while he's working, and the two boys pool their money from their extra jobs, all to buy back whatever it is that Jung-ho sold.
They both ask each other why they do all this for Jung-ho, and their answers are the same—to keep him from becoming a gangster. Ji-hoon muses that it'd be awesome if the three of them could run a little store like this someday.
Ha-kyung finds out that Kang-joo won the essay competition, and she didn't even place. In-jae asks if she's okay, and she admits that she's mad. She feels terrible about being so petty, but she hates that Kang-joo won and then she feels sorry about thinking that way.
In-jae figures that if she feels more sorry than anything, then it's okay, and tries to encourage her to focus on her own performance rather than comparing herself to others. Ha-kyung knows it's what she should do, but says it's not that easy.
Yi-kyung and Ji-hoon present Jung-ho with IT—his mother's ring. Aw, you guys are such good friends. But Jung-ho lashes out at them, saying that this is exactly what he didn't want to happen—he doesn't want to keep being indebted to them. Or you could just say thank you?
They argue that there's no such thing between friends, but Jung-ho says he's the only one ever incurring debt, so how are they supposed to be friends? He stalks off angrily.
It's an ass-backwards way of saying it, but basically the boys realize that Jung-ho sold the ring in the first place so that he could be friends with them. And people say girls are complicated. Yeesh.
Ji-hoon asks Min-ki to borrow some more notes to help him study, and Min-ki sweetly tells him to borrow them any time. But then one of the mean girls sees him with the notebook and snarks that he must've stolen that too.
He gets defensive and confronts her in front of the whole class, and Min-ki backs up his story. But she just says it was a natural assumption, since everyone knows he stole the cell phone.
He starts getting angry, and then Jung-ho gets involved to defend him. Ha-kyung, ever the badass, pushes Jung-ho back before he does anything stupid.
The mean girl doesn't let up with her biting accusations, and Jung-ho roars and kicks a desk in frustration, and Heung-soo jumps up to hold him back.
The desk happens to fall right on top of Ha-kyung. Crap. Heung-soo runs to her side to take her to the nurse.
Hye-sun and Nari walk in, and the air is thick with tension. The mean girl demands to know who stole the phone, if Jung-ho and his buddies are so innocent. Jung-ho hesitates, and then names Nari as the culprit.
Her best friend laughs, only to realize that it's true, from Nari's guilty look. She just grabs her bag and scurries out, scared of the social wrath.
Nam-soon and Kang-joo were elsewhere this whole time, and he fist-bumps her for the essay competition win. Suddenly their conversation comes to a screeching halt.
Errrrrrrrrr! Ruh-roh.
Well that's awkward. Ha, it looks worse when they unlatch their hands awkwardly, like they just got caught doing something bad.
The girls head to the nurse, while Heung-soo tells Nam-soon about Jung-ho flying off the handle again. Oy.
The kids don't say anything, but the teachers can sense that something's going on. The next day they find out it's worse than they thought: Ha-kyung's mother is there to complain that Ha-kyung was hurt (she didn't even know until that mean girl's mother called her). And of course it's Jung-ho who did the deed.
Uhmforce questions Jung-ho, who rails that they were being accused of stealing. He does seem a little bit sorry that Ha-kyung got hurt in all this, but mostly he's defensive, as usual. At least this time it was actually an accident.
In-jae asks the mean girl what happened, and asks her to help Jung-ho out and give a statement about the facts, if it was an accident. But she just tells In-jae that she doesn't much care.
In-jae remembers that her dream is to be a news announcer, and reminds her that she should care about other people. The girl breezes that she just wants to be an announcer because they marry well, and she wants to snag a chaebol. Excuse me while I vomit.
Se-chan sees that Nari isn't in class again, and sends her a text. He chuckles at himself for being that kind of teacher now.
In-jae follows it up with a very cute request for him to go talk to Jung-ho, pointing to the counseling office where he's waiting. Se-chan sighs that he's really not good at this counseling stuff, but gets right up and goes, leaving In-jae smiling to herself.
On his way, he runs into Nari, who came when she got his text. She asks if he has a minute to talk, but because he's on his way to see Jung-ho, he asks her to wait in the teachers' office.
She hesitates, and then says nevermind, and heads in that direction. Something makes him stop in his tracks, and he looks back down the hall. He has a flashback to a different girl walking down the hall alone, and then sees Nari doing the same.
It gives him pause, but then he turns around to go talk to Jung-ho, since Nari promised to come right back. Jung-ho is refusing to fight expulsion because the alternative is to bring his dad to school, and he'd pretty much rather die than do that.
Se-chan knows it, and asks him to bring Dad once, and when he refuses, he just shrugs: "Okay." Jung-ho looks surprised. Se-chan says it's that easy for anyone else to stop caring, and if Jung-ho isn't going to care enough to hold onto his own life, no one else will.
Se-chan returns to find that Nari never came back, and he stops by the classroom to ask Hye-sun if something happened. And that's when he finds out that the whole class knows about Nari taking the cell phone.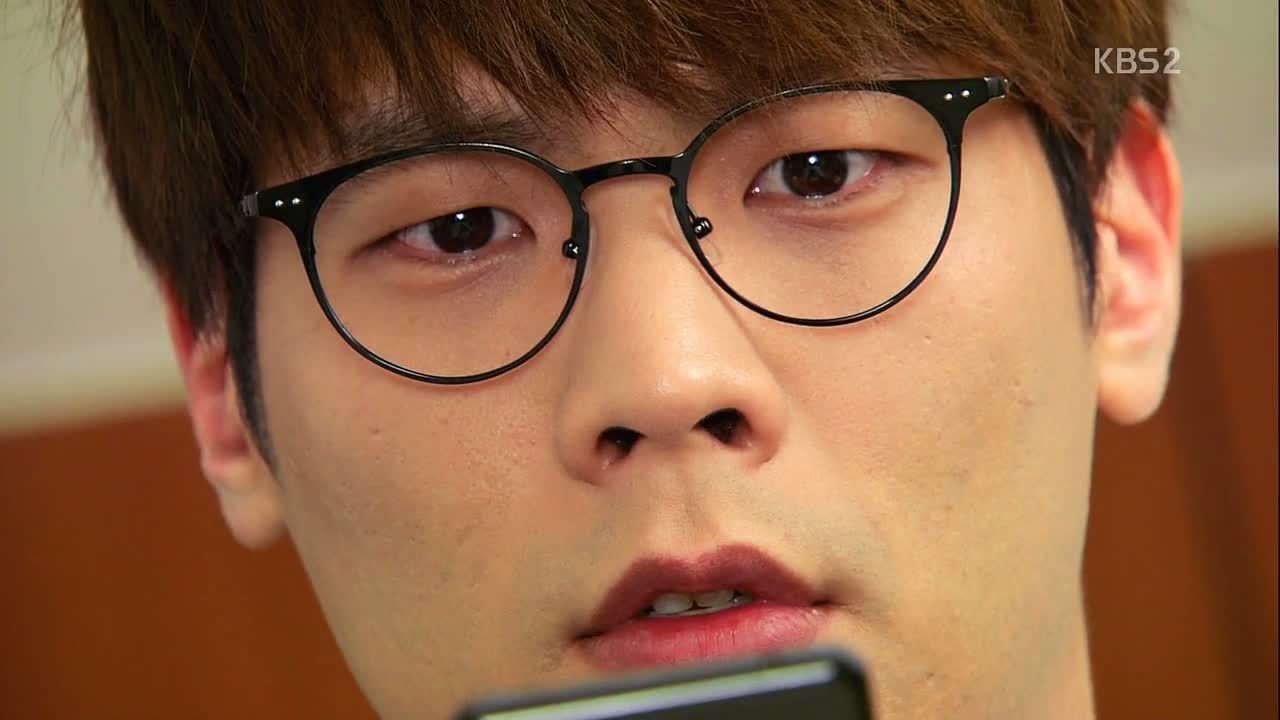 He panics and starts calling her right away, and tells In-jae about the cell phone and the class finding out. She tries to reassure him, but then a text from Nari freaks him out even more: "I'm sorry, Teacher."
Flashback to the same exact situation at his first school—a girl asks him for a moment to talk, and he tells her he'll talk to her later. The thing she says in return: "I'm sorry, Teacher."
He runs like crazy and stops just outside the girls' restroom. Back to the flashback, where he'd found that girl on the ground in the bathroom, with a jumprope on the floor.
He's about to run inside when In-jae reminds him he can't go in there, and he stands outside while she checks. No one's in there.
That just makes him search every single bathroom and every single stall. As he does, we get another flashback to just moments before the last one—when he'd opened a stall door and found the girl hanging there. Whoa.
He runs through the school with this crazed look in his eyes, checking every single room he can think of and growing more panicked by the second. We catch up to that first flashback that we've seen before—Se-chan carrying the girl out and her dying on his back.
In-jae comes running up with news…
Nari's mother called, and she's at home. Oh whew. The relief washes over Se-chan like a tidal wave. That sigh of overwhelming relief and gratitude just says it all. In-jae looks up at him, shocked at his reaction.
He sits down, heaving and sweating bullets. He starts to cry as he tells her: "Her name was Yoo-jin. The one who went cold on my back. She was my first student, and I killed her, that child."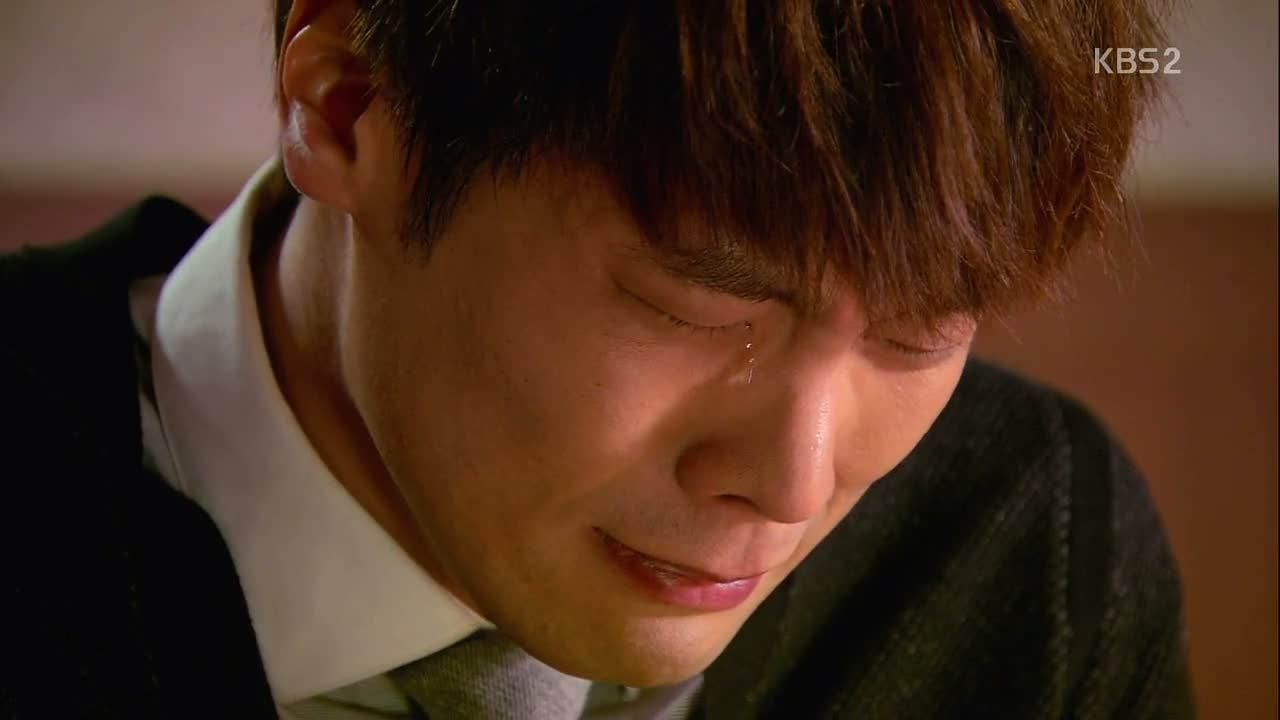 COMMENTS
Poor Teach. I'm just glad he finally got to tell someone. There were things about In-jae's arc as a teacher that left a lot to be desired (in the resolution, mostly, since the development was handled well). But Se-chan's evolution has been consistently good throughout the series—his subtle changes, his moments of begrudging care for the misfits, and his dramatic confrontation with the trauma that started it all. Inasmuch as In-jae was the catalyst for his changes every step of the way, perhaps her finest achievement is getting Se-chan to be a teacher again.
In some ways it was a heavy episode leading up to the finale—all about people's inability to forgive themselves for the things that weigh on them. Nam-soon and Se-chan are the poster boys for this, of course, all self-flagellating tough guy guilt and savior complexes gone awry, but go figure, it's Nam-soon's journey that actually gives a glimmer of hope this time—he gets a second chance with Heung-soo.
It makes sense now why Se-chan was always so insistent on them mending their fences, and why he once expressed how lucky those boys were, to have a chance at righting their wrongs. It's the one thing he doesn't have. I hope he'll come out of this with a sense of purpose, and maybe he'll discover that even though he can't save Yoo-jin, he can help Nari, and Jung-ho, and start to slowly patch that gaping hole in his heart.
I'm just glad we got some levity to balance out all the pain, because this show really does a number on my insides. When Heung-soo got hauled away I thought they might actually get separated, but thank ye drama gods it was only for an afternoon. You'd think it was ten years, from the way Nam-soon was acting. Gah, their story just gets me *right here.* I finally feel like they got their full resolution in this episode, complete with forgiveness, tears, and sleepover hijinks. And now that we got to see them truly happy together without unresolved issues, I want a whole new drama where they just get to be besties without the angst. Spinoff, anyone?
I do appreciate that romance never took center stage in this drama, and I wouldn't want that to change, but now that the friendships are mended, more accidental run-ins with handholding and awkward looks would be a welcome breath of fresh air. Don't be stingy, Show. You've only got one episode left. Bring me The Cute!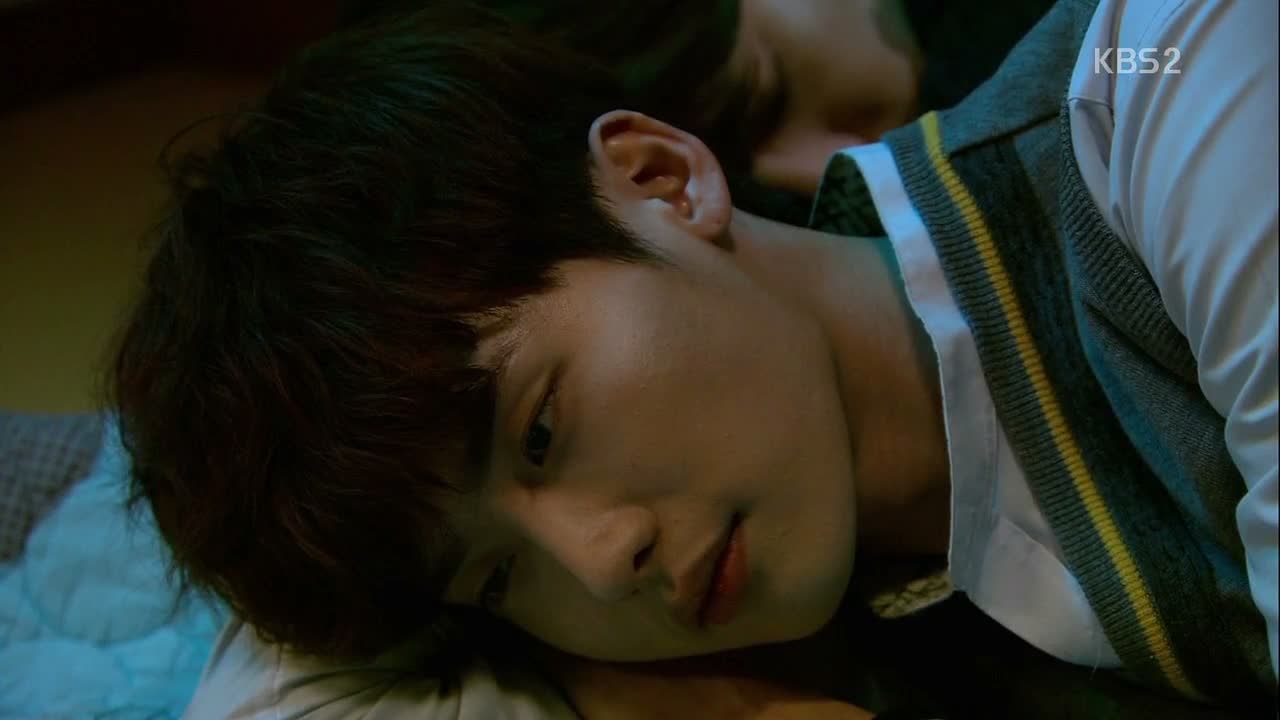 RELATED POSTS
Tags: Daniel Choi, featured, Jang Nara, Kim Woo-bin, Lee Jong-seok, Park Se-young, School 2013