Best Love: Episode 12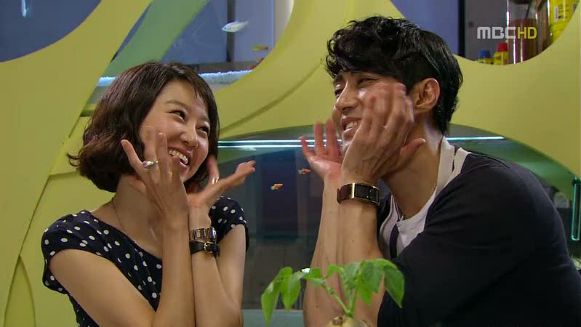 This time it's Beauty and the Beast, starring Dokko Jin as both Beauty AND Beast. Sigh. You really are the most beastly princess who ever doth grace this land. It's a wonder how you keep from swooning at your own reflection. Oh wait. You don't.
The 30 Days begin, potatoes grow, and everyone gets a bit handsy, though it's not who you think. A little bromance on the side never hurt anyone, right?

EPISODE 12 RECAP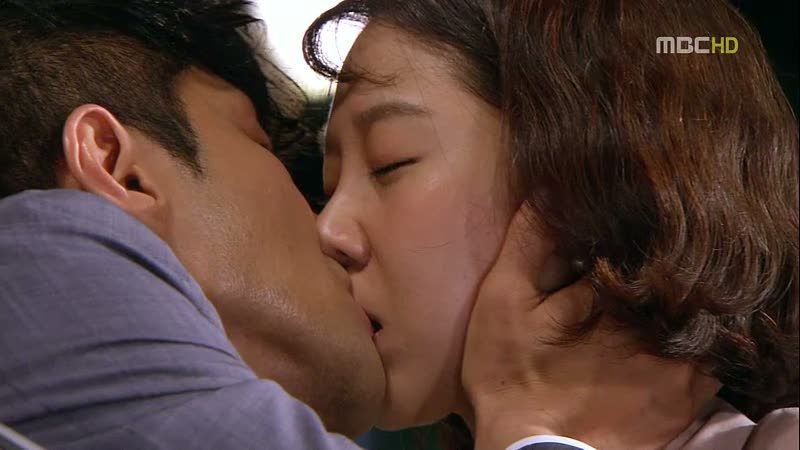 KISS.
*rewind*
Meanwhile Pil-joo walks away, having done the right thing, but losing the girl in the process. Poor Perfect Man Pil-joo. That's the saddest back I've seen in a long time.
Jin and Ae-jung drive around and realize that there aren't very many things open this late (technically untrue in Seoul). Jin starts to hint that people aren't out at the movies—they're at home. And people aren't out at restaurants—they're eating at home.
"We could… go to my house." Time, he's not a-wastin'.
She looks over at him suspiciously, and he's quick to say that they could watch a movie and eat there, and also, "I have something to show you." Um… I'm trying really hard to suppress my inner twelve-year old.
Ae-jung's thinking the same thing I am, because she shrinks back a little. Jin: "My POTATO." Pfffft! Is that what we're calling it now?
He sees what she was thinking, and adds, "What, did you think I meant I was going to show you… me? Okay, I can show you if you want…" and playfully starts taking off his jacket. Heh.
She decides they should just go for a drive, and he pouts, declaring that this is the most boring picnic ever. She feels bad, so she slides her hand along his. (Purrrrrr.) The way his face instantly lights up is so cute.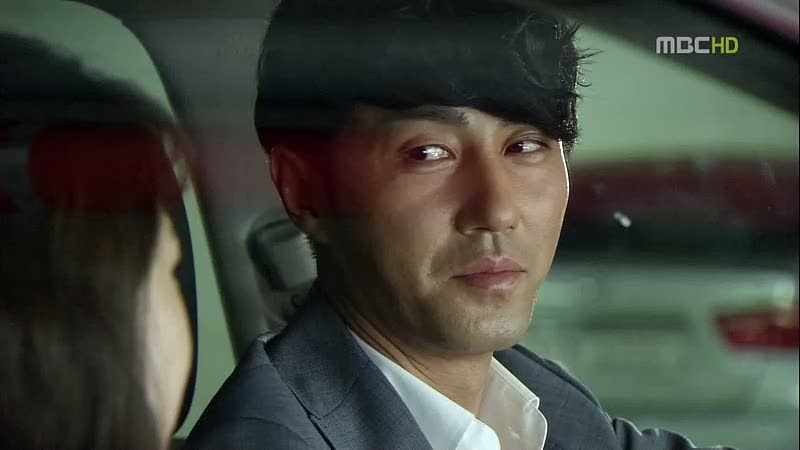 He starts the car and notices that the gas tank is near empty, and like a dog with a bone potato, he declares that they'll just have to go home then. She matter-of-factly tells him to stop at the gas station just down the block, being a total killjoy.
She covers herself with a blanket to keep from getting recognized, only to be peered at more conspicuously once the gas station attendants notice Dokko Jin. They speculate out loud that it's a woman and that it must be Se-ri, which makes them both uncomfortable, on top of the fact that she already feels like she has to hide herself to keep his image intact.
He does the only thing he can think of, and silently clasps her hand under the blanket. Once they leave, she jabbers on nervously that the blanket saved them, and he tells her, like he's done before, to just stop trying to deny the awkward—it's only more painful for him to watch.
She tells him to pull over and he gets scared that she's going to leave. She decides that they should just pick up some food at the convenience store and have a picnic at his place after all. Return of devilish grin. Jin: "Okaaaaaaaaay."
At home he shows her Pet Potato, boasting that it's extra special because it's hand-grown by the illustrious Dokko Jin. She asks why he only grew one; what happened to the other potatoes? He hangs his head in memoriam: "They were executed." HA.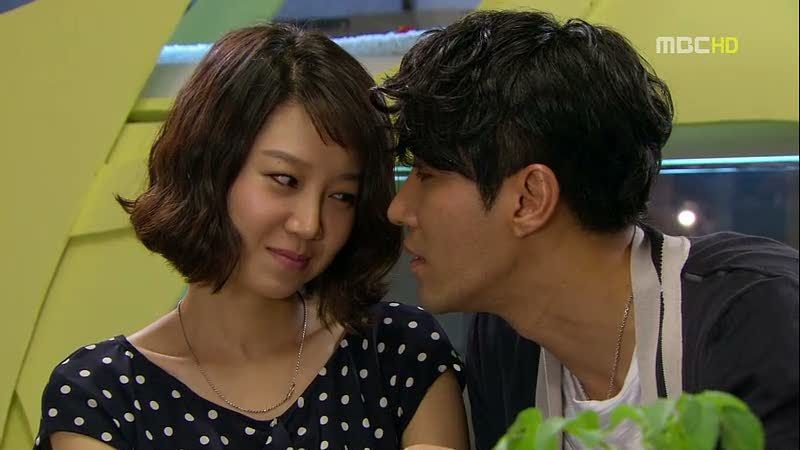 She wonders if it'll really flower, and he promises to take her potato-flower viewing. I love that the flower and potato metaphors have gotten married. They're having metaphor babies.
He does that really cute and lame I'm just reaching for that thing just past you, oops did I just graze your hand. He takes her hand and then leans in for a kiss, and she shyly looks over at him. Gah, why are you so hot when you're gettin' your moves on?
They're inches away from smoochy heaven when the doorbell rings, ding dong. Jin growls, "What ding dong is this?!" Hee.
It's Jae-seok, who stumbles in red-faced and about thirty sheets to the wind. He wails that he was so upset thinking about hyung that he drank a little. And then he globs onto Jin, manhandling his chest, saying, "These feelings that I can't tell anyone about…"
Oh. My. GOD.
Pwahahahahaha! Ae-jung watches them, eyes growing wide, as she mouths, "feelings…?"
This is the best thing ever. What's a better cockblock than a gay lover interrupting to confess his feelings? Jin tries to pry him off, but Jae-seok just comes back full force, backhugging him and fondling him with what can only be described as sexy man-touching. Jin even seems to like it, though he quickly realizes that Ae-jung is jumping to the wrong conclusion. Or the right one, from where those hands are going.
He tells her that this isn't what it looks like, which is just never the thing to say in that situation. Jae-seok starts peeling back his shirt and Ae-jung gasps, averting her eyes. Jin realizes that this is starting to look really bad, and starts to jump around with Jae-seok still clinging to him, like he's got ants in his pants. That does NOT look any better. Pffft.
He slaps Jae-seok's hands to try and get him to cut loose, and Ae-jung stops them, making her presence known to Jae-seok. He just lowers his head in embarrassment, "I'm not supposed to let Ae-jung noonim see this." This just gets better and better.
Ae-jung so sweetly tells him that it's okay, "If your heart leads you there, you could like him." Jin insists that that's not what this is, trying to shove him away. He just comes back and grabs his leg pitifully, just like a shunned lover.
She tells him not to be so mean, when Jae-seok's clearly come all this way to confess his feelings. Aw. I love that she empathizes with him. It's so cute.
Jin finally hauls him upstairs to put him to bed (rawr) and throws him on a recliner. In a drunk-sleepy stupor, he mutters:
Jae-seok: Don't die. You can't die. Don't die hyung-nim. You can't die. I'll do better.
Gah, now I'm all choked up. It's that classic way the Hong Sisters turn an uproariously funny moment on its head with a heartfelt confession that gets me every time.
Jin looks at him with a sigh, tears welling up. He looks down to see Ae-jung smiling at the potato, and then the tears really start to brim. She tells him to take care of Jae-seok and that she'll go now since she's seen the potato.
Jin: "I'm sorry." Oooof. She doesn't know what he means by it of course, and he recovers by telling her that he's sorry she only got to see the potato and not what she really wanted to see. Oh, you cheeky.
He fights back the tears as he jokes that he can't just strip down anywhere, due to his CF contracts' non-compete clauses. Ha. She tosses back, "It's too bad. I thought I'd get to appreciate that head-to-toe pretty body that earns millions in CFs." He offers her a sneak peek, but for some ungodly reason, she turns him down. WHY?
Once she's gone, he says aloud, "I'm the world's worst, most selfish bastard." Aw.
And at home, Pil-joo sits staring at the world's saddest pot of ramen. Double aw.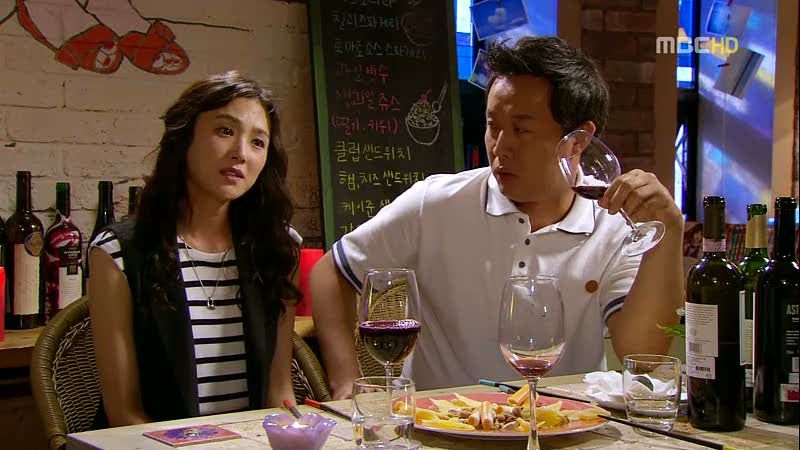 Jenny and Ae-hwan wonder where Jae-seok ran off to, sensing that something's weighing on him. She decides that it must be his crush on her turning to angst, and wonders if she should start seeing him as a man. Ae-hwan's quick to put the kibosh on that, declaring himself as Jenny's man, ever since "That Night."
Apparently there was rain, wine, and kissing, though they've clearly come to different conclusions about what it means. At her rejection, Ae-hwan runs out, whining, "Don't drink wine with Jae-seok!" Heh.
Jin decides that it's time to tell President Moon about his heart surgery. She takes the news like the trooper that she is, even refusing to cry in front of him because it doesn't suit their style. She tells him that she'll take care of everything, and just to believe that he's going to live. She asks what his plans are, in starting up things with Ae-jung, knowing that if news of their relationship breaks, it'll be bad for both of them.
Jin: Yes, it'll be the worst [che-ack] scandal. But if this is the end for me, it might not be the worst, but the best [che-go]. If I die, it'll render everything beautiful in retrospect. If I say I like Gu Ae-jung and live, I plummet. If I say I like her and die, it's beautiful. That's why I'm going to protect the best image, and if something goes wrong, I'm going to give it all to Gu Ae-jung when I go.
So sad, and quietly heroic, in his own way. It's the best of what he has—that pristine public image—and that's what he'll leave to her if he can't be by her side. I love the use of che-ack/che-go as the reversal of perception in his world—life and death mean opposite things to their personas in the ass-backwards celebrity-verse.
Ae-jung goes to see Pil-joo at home after finding out that he's been out sick from work. He's nearly completed the puzzle that they started together, and down to his final piece, which he can't seem to locate. She comes in bearing a basket of fruit, worried that he's only eating ramen, which is clearly the case.
But as she sets her basket down, he spots the final puzzle piece, and accidentally sends the fruit flying, which she misconstrues as him venting his anger at her. She makes a move to get up and go, and in an effort to stop her, he accidentally steps on a banana and trips her, further making him seem angry (though in a really, really petty way, even for the man-children in this drama).
Thankfully, he manages to stop her and explain before she gets to the door, and in his Perfect Pil-joo way, tells her that he's okay, and that they'll figure out the show one step at a time.
She apologizes and thanks him, and he puts up a brave face in front of her, insisting that he's just playing hooky from work is all, and sees her out with a smile. But once she's gone, his face betrays his crushed little heart, which kills me.
He finally cleans up the remnants of his broken-heart-ramen bender, and says aloud as if trying to convince himself, that just like the puzzle, he's put back his feelings, one piece at a time.
Ae-jung gets a gig as a Section TV reporter, and Jin wonders if she'll be okay having to chase down other celebrities amidst their scandals. She figures she'll have to adjust, since she won't be doing Couple Making much longer.
Jin can't hide his glee at that news, taking jabs at Pil-joo, and when she defends him, he muses, "You must really like me," if she still chose him over Mr. Perfect. Without flinching, she answers sincerely, "Yes, I do."
That catches him off guard and he answers that she's not supposed to like him too much. She's quick to reply that she has no intention of asking him to prolong their time together or insist that he give sincere confessions. "I'm just going to enjoy it as I please."
He wonders why she brought Ding Dong along then, if she really plans to enjoy herself. She reminds him that they're besties, so they're free to play. He tries to get Ding Dong to stop watching Pororo and go play outside, but he declares that there are 30 episodes in total.
After an unsuccessful attempt to hide the remote, Jin tells him to just watch what he likes. "At seven years old, it's okay to be self-indulgent." Careful what you say to a room full of drama addicts, mister. Ding Dong thinks better of it and decides that he can just watch one episode a day, for 30 days. That's what we all say at the beginning.
Jin tells him to just watch them all at once. "Ding Dong, no one is guaranteed the time it takes to watch 30 episodes, one a day. So watch them while you can. I'm being self-indulgent too." And he looks over at Ae-jung. Awwwwww. Melt.
Jin and Se-ri decide to go public with their breakup, handled of course like a cold hard business deal between agencies. They each promise not to cross the line, to try and garner too much sympathy in either stars' direction. Makes you wonder about every celebrity breakup ever, right?
Se-ri tells him that her image benefited greatly from being his girlfriend, and wonders how far his image will crash if linked to Ae-jung. I do like that she stays classy about this breakup. That's a huge relief.
She asks for a goodbye hug and he refuses, "I have an exclusive charger. If you touch me, I'll short circuit." So cute. He tells her that she ought to grow a potato. "It'll help." Heh.
Pil-joo tells the Couple Making PD that he wants to pull out of the show, citing his family's opposition to his appearance on tv. Aw, protecting her from getting flak till the end.
Ae-jung begins work on her new show, Star Date, and gets a call from Jin, now saved as "Charge." She tells him about her new show, and he gets a bright idea. "That sounds like fun. Let's go on a date."
He hangs up and the next thing she knows, his office has called to offer an exclusive interview, for Star Date, right now. Ae-jung gets rushed off with her crew, and there, in the guise of a star interview, they go on an adorable date.
They feed each other rice cakes and play arcade basketball, and he stops to buy her a necklace (in the shape of a heart—though I was hoping for potato). At the last stop they do the closing, and she asks him to give a farewell to the audience.
He surprises her by announcing that he has something to say, and tells Ae-jung to ask him about his relationship with Se-ri. She does, and he gives the official position, that they've long since broken up and decided to remain friends.
Se-ri does her part to confirm the story, and appear appropriately distraught in front of the cameras. Ae-jung's first day on the job is thus a hit. Jae-seok asks why Jin made the announcement in an interview with Ae-jung. He wistfully says that he wants to leave behind proof that she was by his side. Heart. Breaaaaaaaak.
Manager Jang is headed overseas with his girl group, and happens to be flying out just as Mina's husband is flying in. He runs into them by chance, and Mina panics, clearly not wanting her past to collide with her happily married present.
He smoothly exchanges business cards with her husband and tells her with veiled pleasantries that she should really call him, unless she'd prefer he contact her husband.
Pil-joo looks at his completed puzzle and tells himself that everything's in its rightful place now, and he can't shake things up. Poor puppy. He gets a call from Se-ri, who asks him to join her Newly Single Party (of which she is the only attendee, which I guess really makes it a party of one).
He tries to blow her off, but she tells him that she'll just get wasted alone, and he can choose whether or not to come and leave her to get totally wrecked on her own. Oh, you wily passive-aggressive flirtatha.
She realizes that it's no use getting trashed if no one's going to show up to take care of her, so she packs it up in defeat. She gets up to go, but sees Pil-joo come in and ask after her, so she races back to her table to appear sufficiently wrecked.
Too bad he saw her running in, and blatantly tells her so. HA. Now with her cards on the table, she confesses to having a hard time of it, wondering if he doesn't feel the same. He tells her that he's over it now and she scoffs. "You said you were the same as me. That your insides were flipped over. Then you can't be over it. You just wish you were."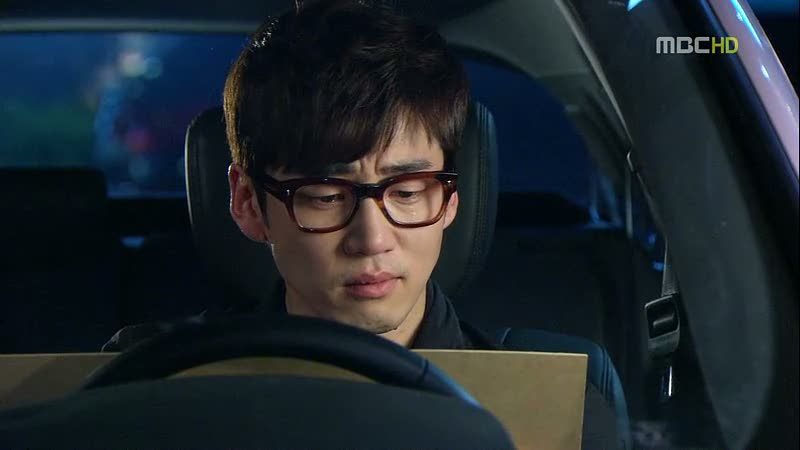 Oh, the truth hurts. She cries and he walks out in a daze, looking at the puzzle again in his car. He runs his hand over it, as he says, "I put it all away. I thought I did…" A tear falls, and he starts to cry. No, I can't take Pained Pil-joo. It's too much.
He thinks of all his encounters with Ae-jung, confessing aloud, "I didn't put any of it away at all." Oh, it's killing me that he actually thought he was over her, only to have to start all over again.
Ae-jung calls to see if Jin's still locked in at home to avoid the paparazzi. He tells her he feels like a princess in a tower, and wants to be rescued. So cute. Ae-jung: "Isn't your body a little too beastly to be a princess? You can be the beast in the tower. The potato-growing beast."
Jin: "Princess or beast, just rescue me." Aw. He concedes to a recharge then, and asks her to sing him her song. She tells him to just download it (heh) and reminds him that his heart is no longer under its spell. He challenges her that if she regrets it, to use magic—the kind that makes miracles happen. Oh, pain.
She casts a spell: "Potato-growing mean bastard Dokko Beast, change into a good princess!"
They hang up and he talks to his potato, clutching his heart, "Please…"
He takes his heart surgeon out to dinner, and hilariously asks if he's still the top surgeon around (like he's gonna say no). The doc insists that he's still the best, and that he'll save him. Jin sincerely tells him that he desperately wants to live, and then takes away his wine, declaring him on mandatory sobriety until the surgery, just in case. Ha.
Pil-joo goes out to dinner with Mom and Uncle, who actually do oppose his tv gig, and he tells them that he'll be wrapping up the reality show, to their delight. Uncle, who happens to be a doctor himself, runs into Jin's heart surgeon and they greet each other warmly as colleagues.
Uncle comes back to the table and when Mom wonders why he didn't introduce the rest of them, he says that the heart surgeon had a prior engagement, with Hallyu star Dokko Jin. Errr? Pil-joo looks up curiously.
He goes to see Jenny, who asks him to hold onto Ae-jung instead of letting her go. She tells him that she's only going to be with Dokko Jin for a month, while he's "broken," and then he'll pass her by.
She declares Jin a bad person (because from her point of view, he's being completely clear that he only intends to love her, then leave her, free and clear). But Hyung-kyu jumps in to defend his friend, saying that Jin isn't a bad person. "He's Iron Man!"
When Pil-joo asks what he means, Hyung-kyu explains, "He has an artificial heart, just like Iron Man."
Ruh-roh. Pil-joo puts two and two together, and goes to see Jin's heart surgeon to ask hypothetically what the survival rate of that kind of operation is. The doc says there's no rate to speak of. "It's just life or death."
He heads over to ask Jin himself about his heart. Pil-joo: "Ae-jung doesn't know, does she? Tell me for sure. Is it possible you'll die?
Jin: "I'll tell you for sure. I can also live. Should I tell you something I'm more sure of? If you tell this to Gu Ae-jung, Any Oriental Doctor… You die."
FACE-OFF.

COMMENTS
Yay, Pil-joo knows! I don't care so much about the coincidences involved in his finding out (though clunky they are), because SOMEONE has to know and spill the beans, otherwise Ae-jung stays in the dark and Jin keeps being a noble idiot in secret. I sort of love that despite being a rival for Ae-jung's affections, Pil-joo repeatedly helps their relationship along, in spite of himself. It's so fitting for his good puppy character. Sad, but perfect.
I love that without being precious or self-important, this drama draws back the curtain on the celebrity machine that drives the entertainment industry, especially in such a star-conscious society as Korea. Despite the hijinks, the world is drawn in the most realistic way that I've seen in dramas in a long time—not over-simplified, and not over-dramatized. It's a business, through and through, and the drama makes it clear that the people who live inside that fishbowl sacrifice a great deal in return for public sentiment.
That sentiment becomes a commodity for stars—something they get to trade on, like cigarettes in jail or the latest Pororo toy in grade school. It's what puts meaning behind Jin's gesture to protect his image and then give it to Ae-jung, as he goes. It's the best of what he has, and the best that he can give her.
I'm happy that it looks like Ae-jung is poised to find out soon, not that it stops the angst-a-whirl for her to know, but because it gives her a chance to comfort him, and actually recharge his hope for survival.
RELATED POSTS
Tags: Best Love, Cha Seung-won, featured, Gong Hyo-jin, Yoo Inna, Yoon Kye-sang