Lie To Me: Episode 14 Open Thread
EPISODE 14 WEECAP
Ah-jung cops to the lie, is ushered away, drops her phone. Ergo, Ki-joon can't contact her.
Aunt tells Ki-joon what happened, and he flips out.
Broody flashback montage time!
Why does Ah-jung's phone still call Ki-joon "Mr. Hyun"?
Ah-jung gets called a gold-digger by the press. Also: Press conference by day, newspaper headline by evening? And here I thought the internet was supposed to be the speedy medium.
Ki-joon finds her near "their" spot.
Does Ah-jung cry in every episode?
Dad comforts her by saying Ki-joon seems like a decent guy…because he drinks better than him. Coming from Dad, that's quite the concession.
When did Ah-jung's petty boss become an awesomely supportive boss?
The assemblyman who'd treated her well in the past calls her for an explanation, threatening her with disciplinary action.
World Hotel stocks fall.
Now Aunt likes Ah-jung. She still wants Ki-joon to have nothing to do with her, of course. But she approves of her, in a generic, not-my-future-niece-in-law way.
So-ran is super-sympathetic, telling Ah-jung that her man is hiding behind her skirts. And takes credit for getting the couple together, since it was because of her that Ah-jung lied. That's quite a knack for making lemons of lemonade that So-ran has.
Manager Park gets all hardass on Ki-joon, telling him he's responsible for thousands of jobs. Basically, he'd better keep hiding behind that woman: "I learned it from you — to live that way in order to survive." Or, quit this job, because otherwise he doesn't have a right to it.
Ki-joon throws things.
Sang-hee is back to his funny, goofy self. Gah, why couldn't you be like this the whole time, instead of falling into that mopey I-fell-for-Ah-jung bit?
Ki-joon holds Ah-jung's hand in public and screams, "I love this woman!"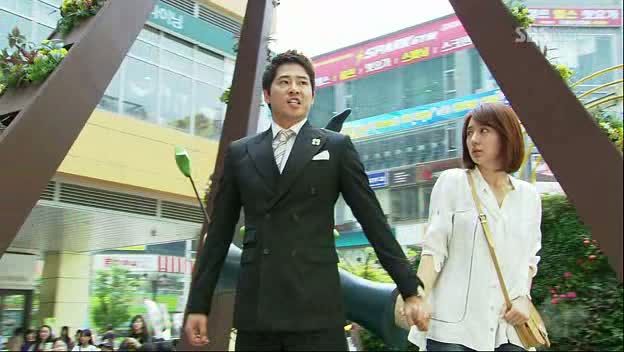 The video gets uploaded to the internet. Yoon-ju, as well as everyone and their mother, sees it.
Now Manager Park feels sorry for what she said and respects Ki-joon for his love. O…kay.
Ki-joon calls Manager Park out for drinks, as friend to friend. He says he likes Ah-jung for living with her feelings instead of her brain, which I think is supposed to sound romantic-er than that, and Manager Park tells him to try that out this time.
Ah-jung doesn't like dating where they'll be recognized, so he zips them up in hoodies and takes her for a hike…where they're recognized by ajummas anyway.
Stockholders meet to oust Ki-joon. Thankfully, Ki-joon is saved by a last-minute decision by Chen to accept his revised proposal.
On the other hand, Ah-jung's job is on the line. She's taken before a disciplinary panel, who will tell her their decision soon.
Ki-joon apologizes to her father. Dad is proud of them both for showing people that their love is great enough to get them to throw everything else away.
Drinky time again!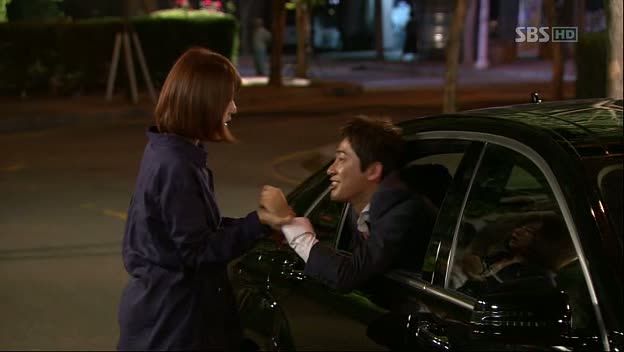 …leads to drunk sorta-not-really proposal. "Be mine."
Chairman Chen likes Ki-joon again, after seeing the latest news about his romance with Ah-jung.
Ki-joon takes her to a party, per Chen's wife's wishes, who hugs her in a maternal gesture. And lo and behold, suddenly Ah-jung understands Chinese?
Auntie is pi-issssed to see Ah-jung here.
Nosy reporter asks Ah-jung how it feels to become Cinderella. Ki-joon asks, "Shouldn't you ask me that? Since she's the one who made me into a prince."
Ah-jung gets the call: She's fired.
She hurries out, trips, drags down a tablecloth, sends an ice sculpture crashing to the ground, and bursts into tears in front of the entire party. Girl's having a REAL bad day.
She runs out barefoot, and Ki-joon chases her out.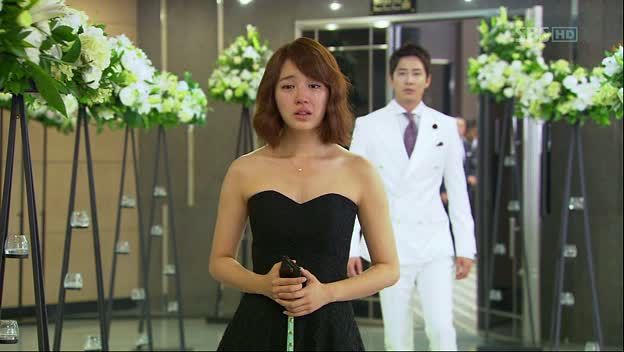 SONG OF THE DAY
Big Mama Soul – "Angel" [ Download ]
Audio clip: Adobe Flash Player (version 9 or above) is required to play this audio clip. Download the latest version here. You also need to have JavaScript enabled in your browser.
RELATED POSTS
Tags: featured, Kang Ji-hwan, Lie To Me, Yoon Eun-hye