Lie To Me: Episode 13 Open Thread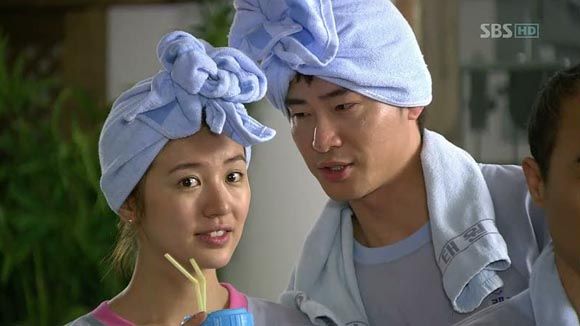 EPISODE 13 WEECAP
Ki-joon ditches his big dinner meeting to take Ah-jung out to "relieve some stress." Aww, yeah. Oh wait, he means games and street food. I guess that's fun too.
(Now, there's the Kang Ji-hwan I miss seeing onscreen! All boyish energy and charm. It's like he's flattened out his natural liveliness for this role, when really he's at his best being totally off-the-wall. See: Coffee House, Hong Gil Dong, Level 7 Civil Servant.)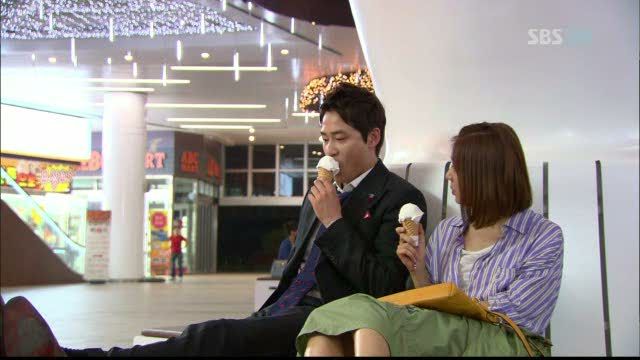 He buys them ice cream, and shoves hers in her face. Aw man, who totally thought there was gonna be an ice cream kiss here?
Alas, some criminally bad timing is working against them (as is wont to happen in K-dramas), because So-ran sees Yoon-ju's dour-looking dinner party with Aunt CEO and calls Ah-jung. She's relieved (for once acting like a friend and not frenemy) when Ah-jung confirms she's on a date with Ki-joon — just as Yoon-ju's mother overhears her phone call, and takes the family away, offended.
There are a lot of business dealings in this episode, and the nutshell version is this: Ki-joon tells Aunt he'll get them back on track with their entry in the Chinese market, but that they'll do it without Yoon-ju's stepdad. He'll appeal to Chen directly and change his mind, and he does, kind of. He drops in on a mahjong game — are we in some mobster movie now? Weird, weird tone all of a sudden — and gets Chen to reconsider his proposal.
There's a big Korea-China event being planned by Ah-jung's office, and it's decided that the attendees will stay at World Hotel. Her co-worker hears her talking to Ki-joon on the phone and assumes that Ki-joon lobbied Ah-jung with some backroom deal to secure this outcome, because to him that makes more sense than that these two are dating. Maybe he's not the sharpest tool in the shed.
The Lovelorn Trio — Sang-hee, Yoon-ju, and ajusshi Seok-bong — go on a painting outing by the lake. Sang-hee dramatically sighs that his love always turns into a "crime."
Yoon-ju says her breakup isn't his fault, though she used to blame him for it. Now she calls it a test that she and Ki-joon failed, and she says everyone has changed but her. Ergo, now she will change too. Those would be reassuring words…except why does she have evil scary bitchface when she says that? Uh-oh…
Ah-jung totally uses the Korea-China event to call Ki-joon to her office (citing the mistakes in the planning info sent by his side), and takes a hard line against him. Her co-workers are impressed at how assertively she handles him, totally missing the fact that the couple is blatantly flirting right under their noses. Like I said, not exactly a brain trust, these guys.
Both Ah-jung and Ki-joon are working late nights, and he shows up to whisk her away for the night…to a jjimjilbang. She calls Dad to say she'll be working all night, and he says the same. Naturally, they run into Dad and Ae-kyung, also on their own covert date.
The jjimjilbang holds a soda-drinking contest, which makes Ki-joon comment knowingly to Ah-jung, "Like…cola?" Rawr.
Dad challenges Ki-joon to another drinking contest, 'cause it's the Korean way. Or maybe it's just the manly way. Put those things away, boys, you might hurt someone with 'em. (Dad wins this time.)
Ki-joon sends Chen a revised contract to consider, then goes to China — just as the scandal hits the newspapers about him losing out on his entree into the Chinese market due to his lie. Looks like some of Aunt's board members are taking advantage of Ki-joon's shaky status to shake him up even more.
Ah-jung feels guilty because the lie was hers, and Yoon-ju lays it on even thicker, telling her that Ki-joon carries lots of baggage, that he's lost a lot in his life, and that Ah-jung should think of what's best for him. Aunt CEO calls her in to hammer that nail in deeper, asking her to let go of him.
Ah-jung cries, calls Jae-bum for legal advice, and submits her resignation. She shows up to the hotel where reporters are gathered, identifies herself, and reveals that it was her lie, not Ki-joon's.
SONG OF THE DAY
Jisun – "Thanks To" [ Download ]
Audio clip: Adobe Flash Player (version 9 or above) is required to play this audio clip. Download the latest version here. You also need to have JavaScript enabled in your browser.
RELATED POSTS
Tags: featured, Kang Ji-hwan, Lie To Me, Yoon Eun-hye