Queen In-hyun's Man: Episode 16 (Final)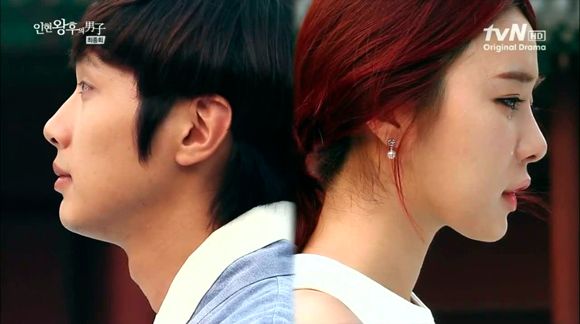 This is a show unafraid to explore the darkest parts of itself, taking us down to the depths of separation and emotionally gutting us in the best and most frightening of ways, so that the payoff has never felt more earned or deserved. In short, this episode is like running through an emotional obstacle course backward and blind, and it's AWESOME. But also terrifying. Yet poignant. But mostly terrifying. Queen In-hyun's Man, what have you done to me?

FINAL EPISODE RECAP
One year has passed. Soo-kyung and Hee-jin are in the midst of a move, though Soo-kyung's doing most of the heavy lifting while Hee-jin pesters her from the salon, getting dolled up for a poster shoot.
She gets a call from her director asking her to do some narration work for a documentary program entitled Untold Stories of History, and more specifically for a special segment called Queen In-hyun's Man. Hee-jin is clueless as to the meaning, and is curious that the show will be exploring a rumor she's never heard of – that Queen In-hyun had a secret lover.
The segment is being pushed forward because of new evidence discovered a month prior, which seems to wash over Hee-jin as unimportant even as she accepts. It seems safe to say that Hee-jin has lost her memories of Boong-do, and this evidence raises some red flags – could it be Boong-do's letter?
Hee-jin gives the documentary notes a cursory read on the ride home, curious that none of this was mentioned in her drama script. It delves into the rumors surrounding the Queen and Boong-do, a name that prompts her to say aloud: "Kim Boong-do?" She doesn't recognize it.
Soo-kyung comes home to find Hee-jin engrossed in the notes, eager to share the juicy story she's reading. She tells what we all know – that Boong-do was thought to have an illicit affair with the Queen, was interrogated, and died – though not long after, he was cleared of his charges. In the Annals, his passing is noted as a wrongful death due to unfounded slander.
However, the documentary tackles what supposedly happened after, with a prime minister's recently-discovered memorandum revealing a Boong-do sighting one year after he was considered deceased.
Flash back to 1695 and the minister in question, Nam Gu-man. An accidental brush with Boong-do sends our scholar running Minister Nam's men chase him to the inn where he's been staying, always packed and ready to flee. He evades capture but leaves behind a book, which they deliver to the minister.
The minister finds Boong-do's letter to Hee-jin inside, recognizing it for certain as Boong-do's handwriting, and puzzles over the mystery. Boong-do rides away to a fork in the road, and since the destination doesn't matter to him, he lets his horse decide which way to go.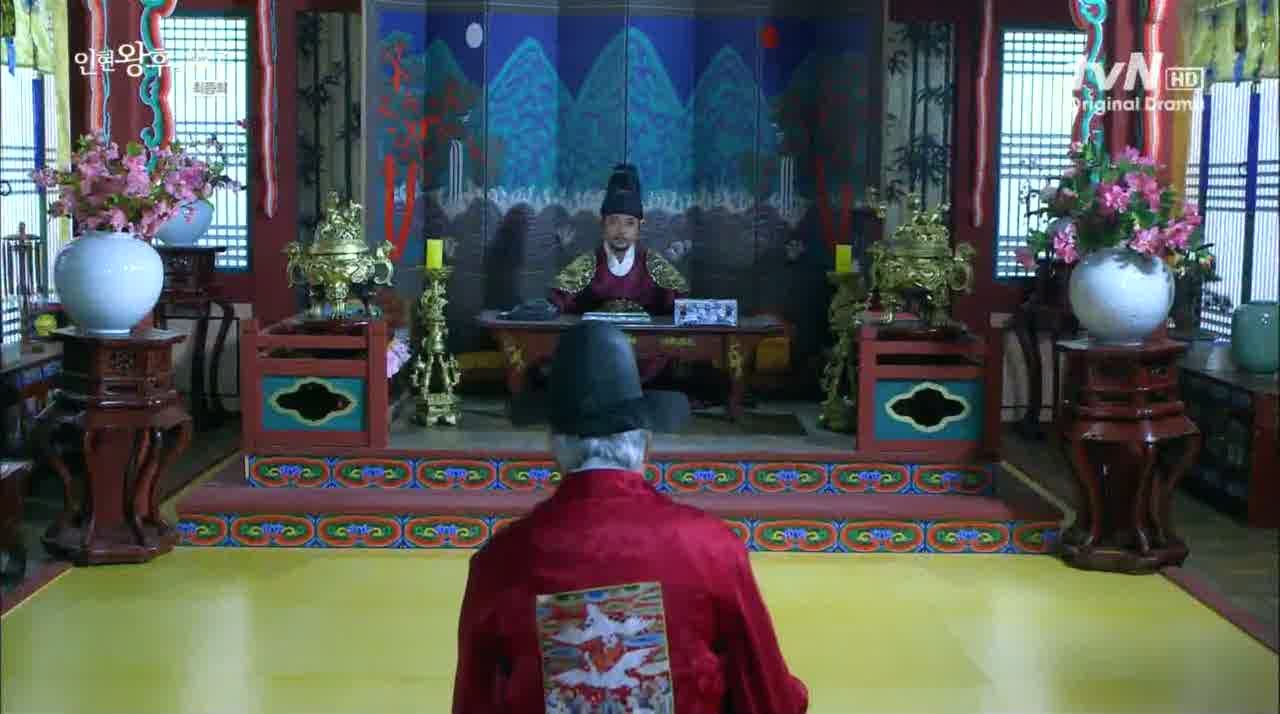 Minister Nam goes to tell Sukjong about his strange encounter, further stumped when Sukjong asks if Boong-do looked as though he'd been suffering, claiming, "I owe Boong-do a debt." He reminds the befuddled minister not to tell anyone about what he saw – Boong-do is already a dead man.
And so Minister Nam took to his private journal, where he wrote what Hee-jin reads today – though he may not have been sure of what happened between the King and Boong-do, he was sure Boong-do lived on the run near the border regions, and was sympathetic to his plight because his existence would forever remain a secret. (Until now.)
Soo-kyung finds Hee-jin still poring over the notes hours later – are they that interesting? Hee-jin sighs that she feels sorry for Kim Boong-do, whose life was totally ruined because of a woman. Aww.
Back in Joseon, Boong-do just can't seem to catch a break, since he's even recognized by a man drawing water from a well. Uh oh.
A monk comes upon him in the forest and recognizes him as the one who came searching for the head monk one year ago. Boong-do sighs that he used to think the eight provinces of Joseon were large, but his travels have now changed that view.
The monk asks, "How long will you keep running away? Aren't you tired?" Boong-do replies, "I am tired. But although it is laughable, this has become my reason for living." The goal of running away has become his only goal at this point, he explains, and if he were to lose that, he'd lose a reason to keep going.
Not knowing the reason, the monk advises him to pay the price if he's committed a crime, rather than running away. Boong-do: "I want to do that too. But to be caught and to pay the price would be an even greater crime." The monk doesn't understand, and Boong-do doesn't have time to explain – the man who saw him earlier has brought guards with him, and they give chase.
Boong-do finds himself surrounded by armed men who call for his arrest on charges of murder. (For the gibang massacre that left Yoon-wol and Ja-soo dead.) He's able to fight off as many as he can, but the numbers just aren't on his side. He looks from the crowd of people gathered to the men, sizes up his odds, and drops his weapon to surrender. Nooo!
Back in the present, Hee-jin records her lines for the segment. She mentions the letter Boong-do wrote and adds that "In it, his deep affection toward a nameless person and the sadness of their parting is evident. Considering the circumstances at the time, scholars speculate that the letter was intended for Queen In-hyun."
I'll be honest, I teared up just hearing her recording partner read Boong-do's letter. Hee-jin listens intently to the letter written to her, and it's infinitely sad that what Boong-do prayed for – that even if she read the letter in the future, she wouldn't know it was for her – has come true.
She narrates, "A man who wanted his love to forget him. It was probably because she was beyond his reach." As for Boong-do, mentions of the woman in later documents reveal that he was able to keep his memories.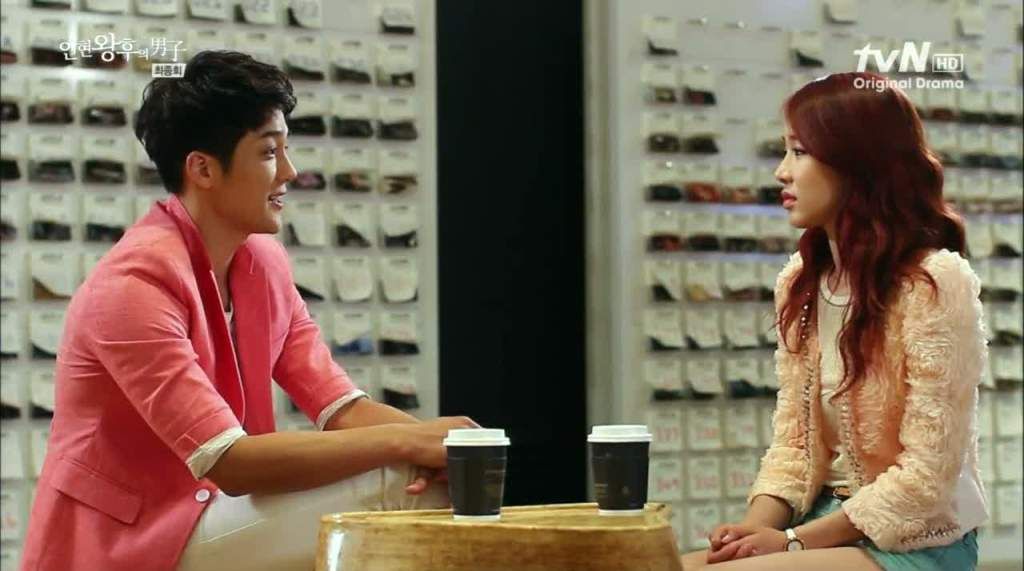 Break time. Hee-jin watches a bit of the dramatic reenactment before Dong-min sweeps her away for a chat. Eek, is she with Dong-min again in this reality?
Thankfully that doesn't seem to be the case, though Dong-min would like it to be. He's all excited that she's up to date on his overseas activities while she deadpans, "I don't want to say this because you'll just act superior, but news about you is all over the internet. It's impossible not to see it." Dong-min: "It's not acting superior. I am superior. Only you call it acting." Ha.
He whines about how lonely he is and how they should start dating again, even when Hee-jin points out that he's supposedly dating a girl group member ten years his junior. Dong-min fires back that she's too immature: "No matter how much I think about it, there is no other woman like Choi Hee-jin."
Well, he's got one thing right. Hee-jin isn't having it, and points out Na-jung walking nearby, saying that they'd be a perfect fit. Dong-min, being the child that he is, calls Na-jung over to ask if she wants him to do her the favor of dating her, "Because I'm so lonely now, I can't afford to be picky." Haha.
Na-jung gives him the universal symbol for "No", and Hee-jin asks exasperatingly, "When will you grow up?" Dong-min: "I don't want to grow up." How I love thee, Character Consistency.
Dong-min's manager comes to collect him, but not before sliding into the chair next to Hee-jin's in order to ask if Soo-kyung's seeing anyone. I can't tell if Hee-jin genuinely doesn't know what he's getting at or doesn't want to, but it's adorable how she finally sizes him up and claims that though Soo-kyung hasn't said anything, it seems like she might have someone. Ha.
I love that Soo-kyung acts all put-out upon hearing it from Hee-jin in the car, even going so far to call Dong-min's manager an ajusshi, although she's clearly preening from the attention. Of course, she can't act like Hee-jin did wrong by telling him she had someone (or she'd blow her aloof cover), and so she can only bark at Hee-jin that the documentary was a bad idea the second Hee-jin points out they're late.
The documentary filming has gone on location to the palace, and Hee-jin grows nostalgic over the place she used to see every day for filming, now that it's been a year. The camera pans around her and smoothly transitions us to the Joseon period, where Boong-do was brought in after being arrested.
Like Hee-jin, the sight of the palace brings nostalgia with it. However, Minister Nam and a bunch of other ministers round the nearby corner, and Boong-do turns his face so as not to be recognized…
…Which segues us back to Hee-jin. She begins to describe the famous tale of the political strife and struggle to reinstate Queen In-hyun, which has formed the basis of many dramatizations. From within that upheaval, there are records of one man who died an innocent man – the subject of today's documentary, Kim Boong-do, Queen In-hyun's man.
As she talks we see Boong-do standing in her path, three hundred years ago. She passes through his image as though he's a specter, both of them standing on the same ground in two totally different times. She's separated visually only by color while Boong-do and his surroundings remain in black and white… only the colors start to fade in and out, blurring the separation of their realties, however briefly. And Hee-jin seems to sense it.
She continues on, sometimes standing alone, sometimes standing with her back to Boong-do. She tells his story as it's written, only tears begin to fall and she doesn't know why. This. Is. Heartbreaking.
In his time, Boong-do is finally taken away, just when it seems like Hee-jin would be able to see him if she'd only turn around… but the director calls for her attention and the moment is gone. Something in her tells her to turn around, but by the time she does, she's just standing alone.
Boong-do is put in prison until his scheduled morning interrogation. He's only concerned that he'll be recognized since he made a promise to Sukjong that he would never appear in this world again, but for now, he's out of options.
Soo-kyung calls Hee-jin on her drive home to ask about the crying incident, and Hee-jin replies honestly that even she doesn't know why she cried, only that she suddenly felt sad without reason. The feeling still remains.
In prison, Boong-do opens his bag where he's been keeping his modern suit and phone all this time. Aww. He focuses on the necktie specifically, and flashes back to Hee-jin showing him how to use it, replete with a kiss. And then… oh no.
He fashions it into a noose and prepares to hang himself. A storm begins as Hee-jin waits at a stop light and turns the radio volume up, playing a song that's become their theme.
Tears form in Boong-do's eyes as he slips the noose over his neck. Hee-jin begins to cry. (I can't stop crying long enough to write.) So does he, and we flash back and forth between both their faces… until Boong-do kicks the stool out from under him and hangs himself.
Hee-jin feels it in the present and sobs. Boong-do's feet hang inches off the ground. As she cries desperately without knowing why, a memory flashes of when she programmed Boong-do's name in his phone as "Player," only she doesn't know who that is. A phone search reveals nothing, though she remembers his number and punches it in.
And in the room where Boong-do hangs, his phone rings. NO. Hee-jin begins crying so hard she hyperventilates and leaves her car, while all her memories of Boong-do come flooding back. The horror hits her even worse, if that's at all possible, and she crumples to the ground.
She goes to the documentary director still drenched from the rain, demanding to see the footage from their segment. She's left alone to watch, finally coming upon the letter Boong-do wrote. We hear his voice reading it as she sees his face on the screen, and the realization that this letter was for her comes crashing down.
"Will we forget each other?" The letter reads, as her phone begins to ring in her car… "Or will we live unable to forget, forever tormented?" Memories of Boong-do play on the projection screen like a movie as Hee-jin watches, grief-stricken. "In an aimless life, to not even have those memories would be hell. And you… and you… if you should happen to read this letter far into the future, I pray you will not realize for whom this letter is meant."
Only now does Hee-jin realize what Boong-do did so that she would forget him, knowing that he lived with his memories. Dear god, this poor girl. What more can she go through? What more can we go through?
The door opens behind her. Boong-do's voice calls out, "Why didn't you answer the phone after calling me?" She turns around, and there he is, standing in the suit he carried with him all this time. How…?
Boong-do: "I had to search for you for so long. Didn't you call me? One hour ago." He holds up the phone, Hee-jin just stares in shock, and he smiles.
Flash back to Boong-do hanging from the ceiling. The sound of the phone ringing brings him back from the brink, and through blurry vision he can see the screen lit up on the floor in disbelief. Filled with new resolve he grasps the noose around his neck and pulls, slowly choking as he tries to free himself.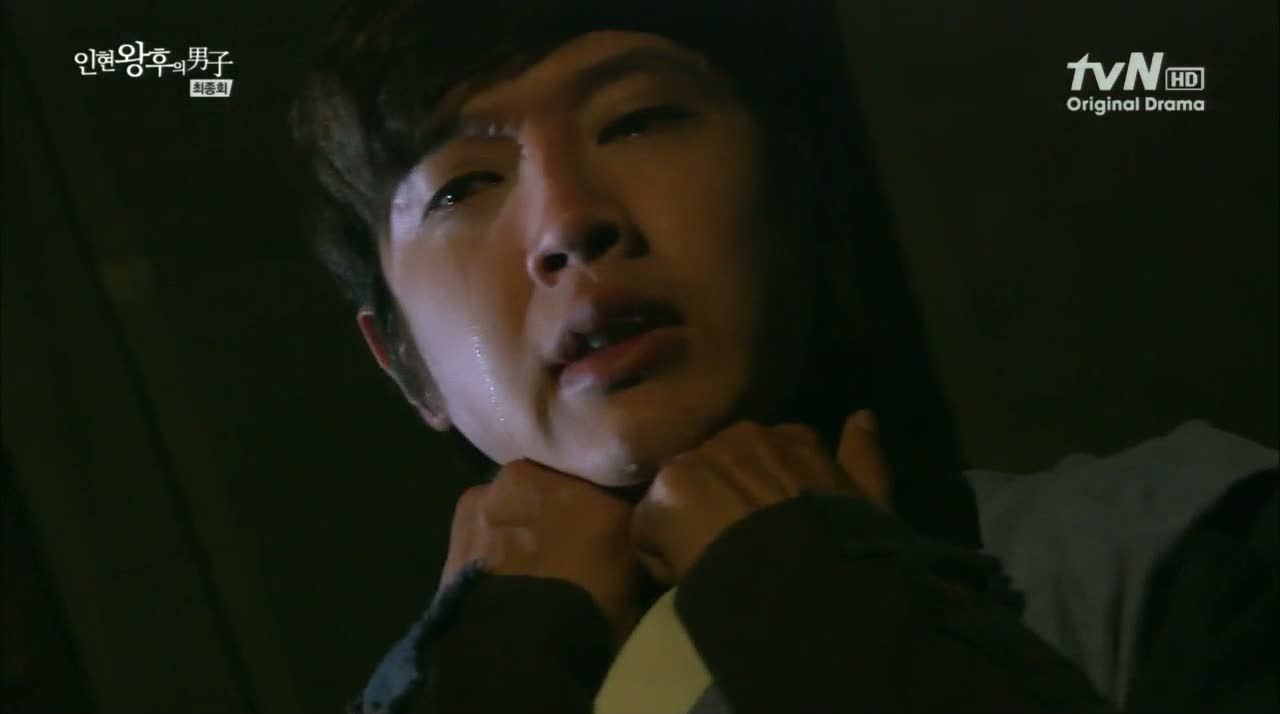 The knot from the rafter eventually gives way, sending Boong-do sprawling to the floor, coughing. He's barely able to grab the phone, and the moment he answers it he disappears…
…And reappears in modern day Seoul. He'd answered the phone only moments too late, since Hee-jin left it inside her car when she scrambled out of it for breathing room.
He takes one look at his surroundings, and though his vision is still blurry he can recognize the lights and sounds, and laughs with joy once he realizes where he is. He's still got the phone to his ear and says, barely able to contain his happiness and relief, "Hello? Hello? Are you listening? Hello? Answer me please, 'Most Beautiful Woman Ever'."
He laughs again. Oh Boong-do, I'd laugh with you if I weren't still emotionally traumatized.
"Are you just going to stare dumbly like that?" he asks Hee-jin, back in the present. "If you summoned somebody who was living just fine, shouldn't you take responsibility for it?" Hee-jin can barely stammer out: "Close the door."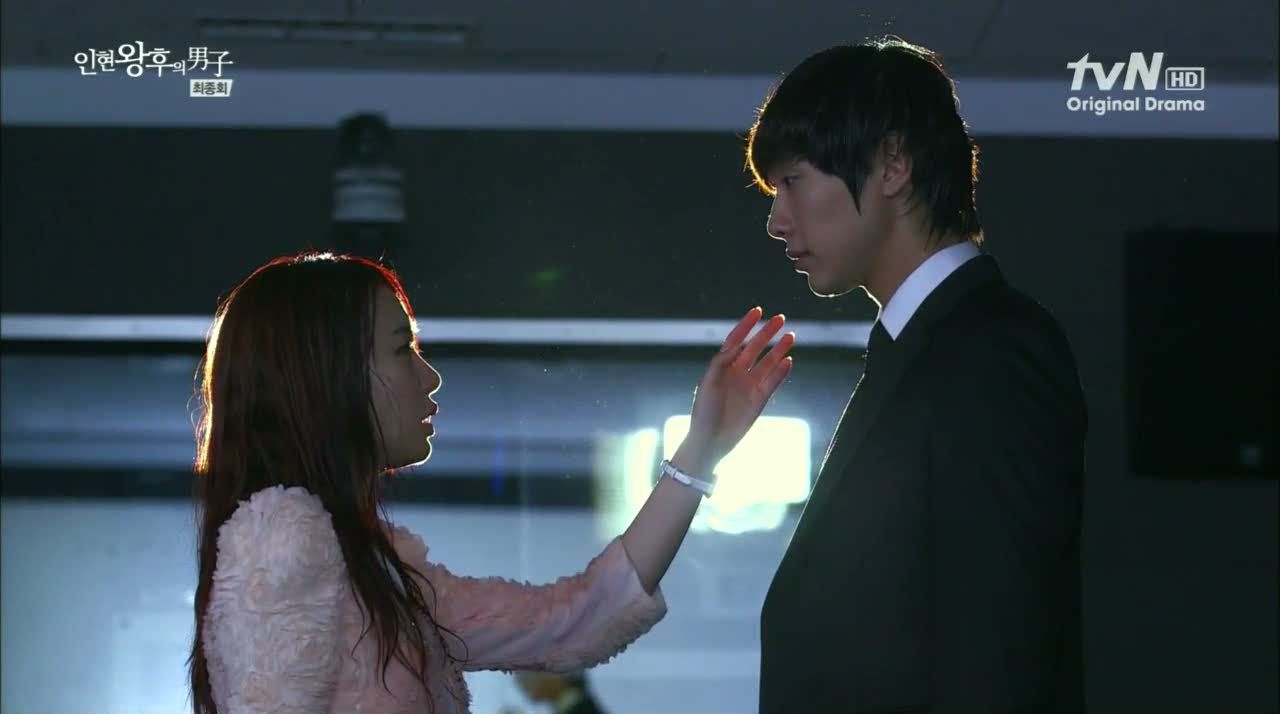 He does. Hee-jin asks him to come closer, and reaches out to touch his cheek as though she still can't believe it. "You're real…" she murmurs. "You're alive."
Boong-do is even in the mood for jokes, since he tells her in his usual deadpan delivery that the year passed speedily for him – he travelled around and left a lover in every province. She playfully calls him out on lying, saying that the evidence is right there, and points to his letter projected on the screen.
Hee-jin asks him how this all happened – what about the talisman?
Boong-do: "I burned it."

Hee-jin: "Then how did you come here?"

Boong-do: "I came back because you called me."

Hee-jin: "Me?"

Boong-do: "You."
He cups her face in his hands and wipes away her tears, and they convey more with looks than words can do alone. He brings up the tie (Too. Soon.), claiming that he missed the use that she'd taught him, "So much so that I wanted to die."
She tugs on the tie just slightly, the way she did when she first introduced it to him, only this time it's Boong-do that swoops in for the kiss.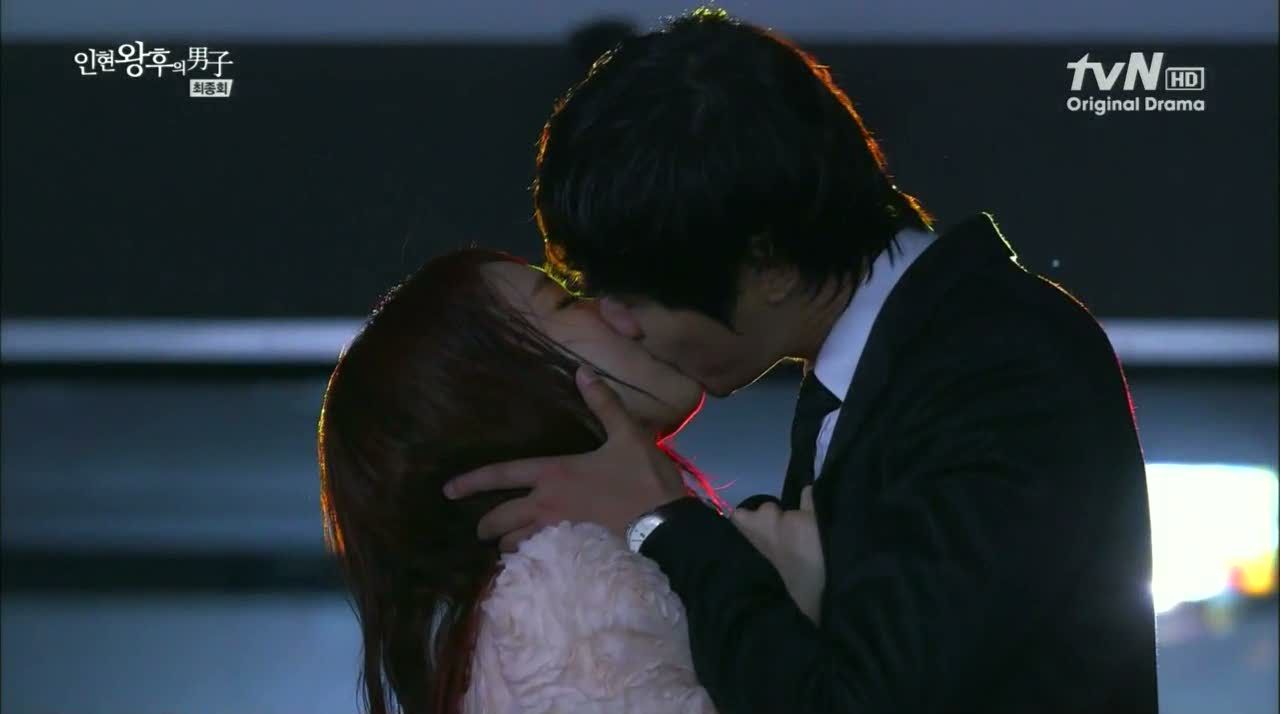 Hee-jin: [in voiceover] "A chance encounter that started with a gap in time… that meeting already ended a year ago. Our reunion now is not because of a mysterious talisman written by a monk, but because of a string of memories that belongs only to us both. Now begins our second encounter. Now, I am his lifesaver. The price to pay? All he has to do is stay forever by my side."
And Boong-do interrupts his own makeout session to look at the screen curiously – how does his letter still exist? Ha, I love that he's all upset that his private letter isn't so private anymore. He's all, I must destroy it! which gets a chuckle out of Hee-jin, because it's going to stay in the museum, forever out of his reach.
More kisses. Lots more.
The projection screen plays an epilogue, as Soo-kyung sits Boong-do down to get the skinny on this boyfriend Hee-jin never mentioned before. She starts rattling off questions about what university he attended, where he lives, his parents… and Boong-do chuckles, because this will be the third time they've had this conversation.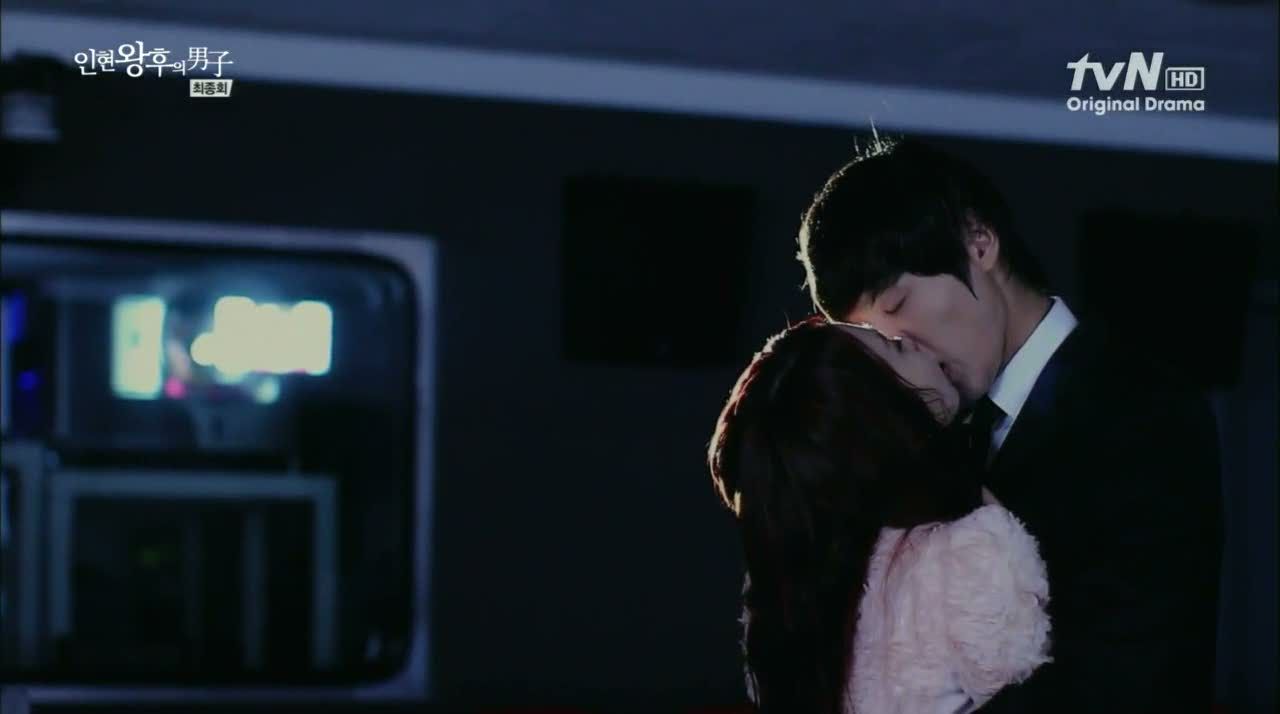 HEADSNO2'S COMMENTS
Now that I'm left to stare at the pile of tissues amassed from this finale, I can only shake my head at how oblivious I was at the end of episode fourteen, thinking, "Well, what could possibly go wrong from here?" Answer: EVERYTHING.
I don't mean that in a negative sense at all, because I remain completely floored by this writer's ability to wring maximum emotional impact from her scenes by going above and beyond, without me feeling manipulated in the process. It's something I've noticed throughout the series, but where it really started to kick in was Boong-do's talisman fade-outs – him disappearing on Hee-jin once was bad enough, but to let him reappear just long enough for them to see each other before ripping them apart? That is tragic.
And again, with Boong-do's hanging sequence – it's something that would have been horrible any way it was presented, but using the necktie, with all its previous warm and fuzzy connotations, was just plain traumatizing. And yet, it was such a testament to how thought-out everything was in this series – nothing was wasted, and every moment had its purpose. A necktie gift with smooches can later turn into a noose to hang our hero, and an innocuous joke about an illicit royal affair can turn into the means in which our lovers reunite. I never felt like this show was unsure of where it was going, and yet that surety didn't equal predictability. It's one of the (many, numerous, countless) things I loved about this show.
This is one of those dramas that got me at a gut level all the way through, and on that same level, I'm satisfied with the talisman/conflict resolution. I kept second-guessing that feeling when it was all said and done, worried that I was all too eager for a fanservice offering. And maybe I was, because even though the critic in me would have acknowledged the completely logical and realistic end – with Boong-do hanging in prison and Hee-jin living forever with her memories and no way to reach him – my satisfaction would only ever remain on a mercenary-like cerebral level. I would have to grudgingly accept the cold logistics and move on.
And yet, while having fantasy elements in a story does not automatically preclude wholly realistic ends, the use of fantasy in the resolution stayed fairly organic to the world in which it was made. The talisman had its own logic, sure, but in the end it was still just a magical piece of paper written by a bald guy. It had a set of rules and stuck by them – something I feel is always a necessity with mystical elements – and rather than feeling like the hand of fate swept in to fix everything, it suited the way the magic has worked so far for Boong-do to finally pay his debt for cheating death, with death. Without any hope of being saved Boong-do was ready to give up everything, and only at that last crucial moment did the tide turn so that the phone, a recurring motif throughout this drama, could ring with what was literally a life-saving call. Or did it? It was hard to see through a veil of tears.
Queen In-hyun's Man was a show unto itself, seamlessly blending time travel, mystical elements, comedy, action, intrigue, and romance all into one perfect sixteen-episode package. It managed to be all things while sacrificing nothing, creating the most wholly-engaging romance I've experienced since The Princess' Man, while still sustaining a lively ensemble cast that didn't just seem to exist in our lead couple's love vacuum. That's a feat that's becoming rarer and rarer, and serves as a testament to the love and care put into creating the world of this drama, which is a care I could actually see from moment one, and one I could feel when the week between episodes seemed to span years. There are a million tangible things you can attribute to this drama's sheer magnetism (stellar directing, writing, acting, ensemble, soundtrack, Ji Hyun-woo), but in the end, it's just another kind of magic.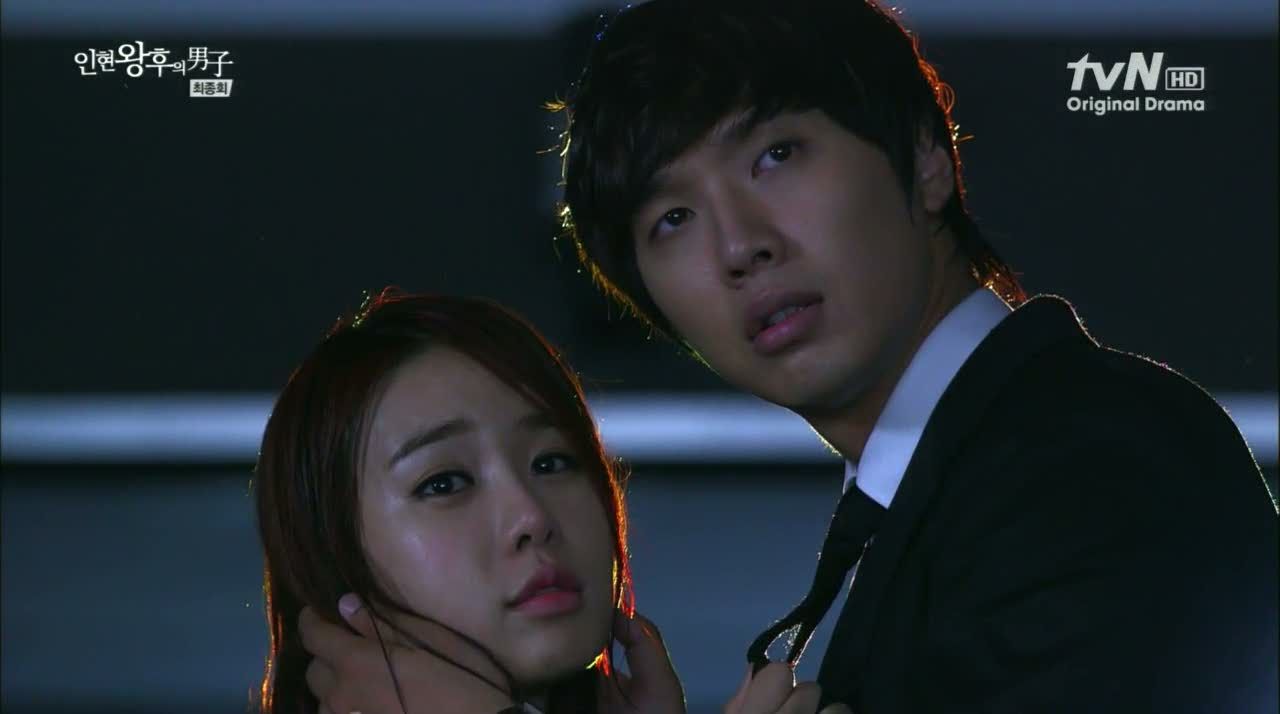 JAVABEANS' COMMENTS
And you were almost perfect.
This drama ranks pretty high on my all-time list, and managed to meld together an impressive blend of intrigue, romance, and emotion with tons of style and a captivating ambiance to boot. I loved the leads, and even when the supporting characters got upsetting, I always understood where they were coming from. The tone was pitch-perfect and moody and dramatic, and the writing worked with the fantasy time-travel device in a sharp, smart way that never assumed we were dumb, and always aimed to be thoughtful and clever. It stayed a step ahead of us and delivered in multiple ways—the romantic crescendo, the political machinations, the mystical time element. Everything was so well-placed that I was convinced it would be perfect through and through.
It's just… one little thing. Which isn't such a little thing, in fact. Oh, the deus ex machina, the higher power that swoops onto the stage in the last act and cleans up the messes created by the humans.
I was all set to put on my best debater's hat and reason out why the ending worked for me, and why the phone-transportation trick was a smart way to resolve the conflict and not, in fact, a letdown. But here's the thing: If I have to work to convince myself that it made sense, then it didn't quite make sense.
To be sure, there are a number of ways I could probably explain the ending. Some people may call it searching for meaning in an ambiguous moment. Others have coined the term fanwank.
I get the purpose of the ending: It was Hee-jin who "called" him back, in both senses of that word. Now that the talisman's power has been broken, all that remains is love to tie them together. It's a wonderful message, and one I'd been looking forward to. It addresses Hee-jin's earlier question about what cause-and-effect would be if they began a relationship, and Boong-do's response that while their initial meeting may have been coincidence, every subsequent encounter was driven by their decisions. What an awesome line for a romance drama to take, when so many times the two leads are painted as victims—of family, of interlopers, of Fate, of circumstance.
So I love that this drama gave our couple agency over their feelings. The writer seemed determined to avoid the cliche where Fate jerks people around purely because something was "meant" to be or not be. No, this couple got to decide. Imagine that! Kudos all around. Furthermore, the drama has shown all series long that the power of their love transcended the talisman's pull—it was so strong that Boong-do and Hee-jin could recover their lost memories even when their talisman-connection was severed. So… love opens wormholes?
But the actual mechanism of the resolution? The cure-all phone call? I'm not on that train, sorry. To borrow the drama's own terminology: The effect was awesome, but the cause… not so much.
I have no problem accepting the existence of magic in this world; the entire time-travel premise requires it, after all. But you need to establish it, explain it, make it a part of your world. The magic of the talisman was well-established; the mojo surrounding that phone call felt pulled out of Drama's ass. If you don't set up the resolution adequately, then it becomes a last-minute cheap trick. The reason it leaves people dissatisfied is because Drama presents one problem, makes you worry about it, then announces, "Ha, just kidding! It's really something else." It's a cheat.
This is the difference between leading someone naturally to a conclusion, and pushing them there by force. So the cell phone summons becomes an act of force(d logic), and lovely intentions aside, the effect leaves me drooping a bit. I try not to let it get me down, but I can't pretend it doesn't just because I don't want it to.
For a drama that brilliantly avoided falling back on the same old set of well-worn cliches running rampant through dramaland, it's a bit disappointing that this show pulled one out in the eleventh hour, when it really mattered. It KILLS me that the one time it misstepped is the one really crucial moment, the big climactic revelation. I dearly wish I could brush it under the rug and say it doesn't matter, but it does.
Oh well. Perfection was probably too lofty a goal. Queen In-hyun's Man still trumps most dramas this year, and perhaps the past several. If only it didn't feel like it left me hanging in the end. I'll forgive you, drama, if you give me a Boong-do to compensate.

RELATED POSTS
Tags: featured, Ji Hyun-woo, Queen In-hyun's Man, Yoo Inna