1 Night 2 Days cast and PD changes on the horizon?
KBS sure is going to town on reworking their variety lineup these days. Kinda makes you wonder what was going on in those meetings that Jong-min walked in on. On the heels of canceling Happy Sunday show Qualifications of Men and Kang Ho-dong's brand new show Moonlight Prince (both due to low ratings), they're reportedly making some changes to their flagship Sunday variety show 1 Night 2 Days as well. There are no final decisions yet, but the things on the docket: cast member changes and head PD change. So… everything, yeah?
First up: PD Choi Jae-hyung (better known as Bird PD) reportedly requested to leave the show, citing the rough outdoor shooting conditions and his suffering health. I suppose you can't exactly be the PD of Pain if you can't take what you dish out, and when your show is based on suffering there's really no escaping that. He took over the show when it went into its second season with a brand new cast a year ago, and there's a rumor that his replacement will be PD Lee Sae-hee, of Hello and Yoo Hee-yeol's Sketchbook. But KBS denied that any decision has been made on that front.
Kang Ho-dong, Moonlight Prince
But that's not where the upheaval ends, because member changes keep being hinted at in the press, but without any details. There are rumors of an ongoing search for new additions to the cast, and this is purely speculation — but I wonder if they mean entirely new or returning, as in Kang Ho-dong. Or perhaps a few of the actors might be leaving due to their schedules? If you asked me to be cold and harsh, I'd say without a doubt that the second season, Bird PD included, isn't up to original 1N2D snuff. Mostly, I think they're all too nice. (You also can't help but love them all for that same reason…) It's just that when you have seven cast members and a PD who all abide by the rules, there's very little surprise in your episodes. I do miss that completely insane unpredictable "it" factor.
That aside, they do a great job, but clearly KBS is having a bit of a freakout ever since SBS's Sunday variety lineup started winning the ratings game. The four-year old Qualifications of Men was axed for falling behind MBC's Dad Where Are You Going? and SBS's K-Pop Star. And Ho-dong's new talk show Moonlight Prince frankly had it coming — it aired to dismal single-digit numbers and was a celebrity talk show about books. Whose bright idea was that? And don't even get me started on that peter pan outfit they put him in.
We'll have to wait and see how the 1N2D cast changes shake out, because they could be for the better… but it's hard to think so when you get attached to seven guys and their seven-way bromance. Cross your fingers and start chanting for your favorite member to survive…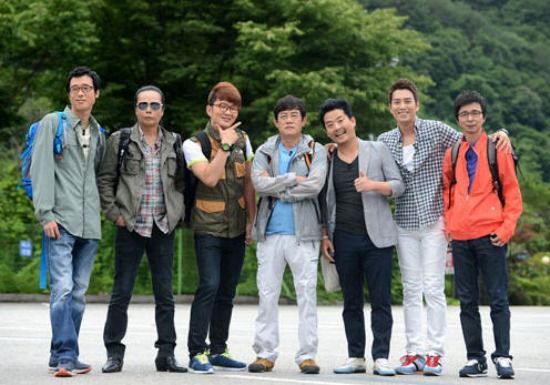 Qualifications of Men
Via Osen, My Daily, Hankook Ilbo
RELATED POSTS
Tags: 1N2D