When A Man Loves: Episode 1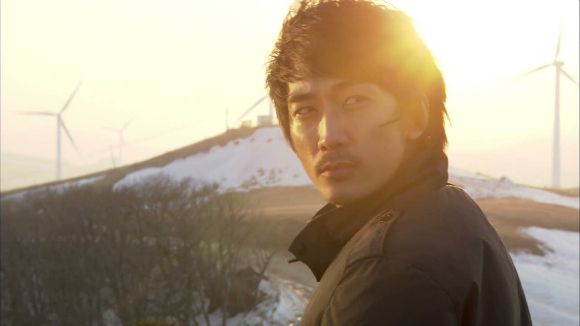 It's time for a whole new crop of premieres, with When A Man Loves headlining MBC's foray into the competitive Wednesday-Thursday timeslot. We've got a gangster with a heart of gold, a Candy with a heart of ice, and at least three shirtless scenes for our hunky hero. Does it all come together in a compelling narrative filled with unexpected twists or meaningful turns? Not really. Is it at a Dr. Jin level of unintentional humor? Not quite. Or is it not yet?
This isn't something I'll be recapping long-term, but to put the first episode ratings in perspective: ManLove generated a not-so-hefty 6.6%. To be fair, Episode 2 jumped to 10.1%, so at least there's room to grow.

EPISODE 1 RECAP
We begin seven years in the past. A group of black-suited thugs emerge from a black car (no, we're not watching IRIS 2) to stop outside a small bookstore.
Among them is the protagonist of our story, HAN TAE-SANG (Song Seung-heon) as he denies his fellow gangster the right to break through the door. Ah, so the bookshop ajusshi must owe some money.
Instead, Tae-sang wants to break in himself, and uses his own tie to wrap around his knuckles as a safeguard. It seems like he's done this before, though the modern gauntlet proves useless as Tae-sang punches his way through the window instead of using a perfectly functional door, causing his hand to bleed. What was the point of using that tie, again?
Tae-sang decides to menacingly read a book while his lackeys threaten the ajusshi to pay up on his debt. Among them is LEE CHANG-HEE (Kim Sung-oh), who refers to Tae-sang as his boss. As in, Look what you made my boss do! He's having to read!
The ajusshi's pleas for more time don't help him, and Tae-sang gives him the time it'll take for him to finish the book to find the money. Man should've picked up a travel guide instead of a hardback novel, because he'll be there a while.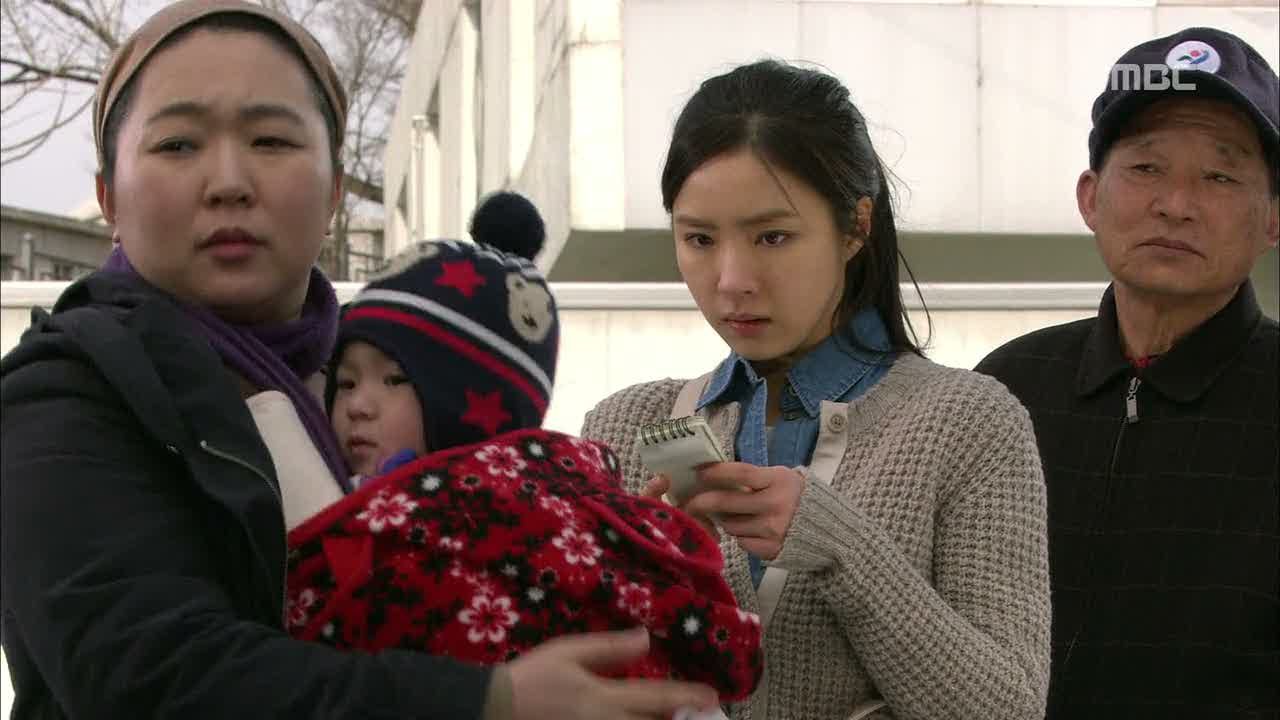 In terms of poor, hard-working heroines, SEO MI-DO (Shin Se-kyung) might take the cake right out of the starting gate – we find her in line to receive free rice in her father's place.
A local news agency tries to interview her due to her age and circumstance, but she ends up throwing the bag of rice at the reporter as she yells, "You want to know how it feels to need charity?!"
She stomps off, riceless. Lucky for her, one of the good-hearted spectators from the welfare line offers to help her by carrying the two rice bags she left behind. This is LEE JAE-HEE (Yeon Woo-jin), who's not in the least bit perturbed that Mi-do has too much pride to show any gratitude as he soldiers on with a smile to deliver the rice to her house.
Meanwhile, Tae-sang continues to smudge blood on the book pages as the rest of his lackeys camp out in the bookstore, with the ajusshi just sitting nervously. Tae-sang asks if he's managed to get the money yet, because the ajusshi was expected to will the money into existence. Of course, the answer is no.
Jae-hee drops Mi-do's rice off in front of the bookstore where her father is being harassed, neither of them aware of what's going on inside. She does say thanks at least, and Jae-hee gives her a friendly thumbs up: "You were super cool."
Inside, Tae-sang gives the order for Chang-hee to burn the place down, but Mi-do's arrival proves to be a saving grace for her father. Tae-sang agrees to give him another day to come up with the twenty-six grand he owes, showing that he has a heart of gold(?) when he claims he'll pay for the book he bloodied tomorrow. That's nice and all, but what about the glass?
Dad plays the denial game with Mi-do and sends her off to check her grades, though it's not long before she gets a call from Mom that dad left a will and disappeared. Tae-sang finds out at the same time and orders his men to find him, managing to nab Dad before he could commit suicide in the Han River.
Chang-hee & Co. are still dripping wet when they toss Dad back at his shop, knowing full well that he doesn't have the guts to actually die.
Mi-do arrives to protect her father, and throws her bag at one of the gangsters. (Man, everyone in this drama is full of great ideas.) He pushes her to the ground in retaliation, causing Mom to spit on him.
So he pushes Mom to the ground next, which pushes Mi-do to attack him with her bag. The group easily fights her off and throws her down, but she gets back up and keeps trying, no matter how many times she gets thrown.
Tae-sang arrives in the meantime and watches emotionlessly, but seeing her get tossed around like a toy reminds him of a time in his childhood where he too was beaten.
He finally decides to step in after reading her high scores on her discarded report card, and stops Chang-hee before he damages her moneymaker. Mi-do fights back tears and puts on a brave front as she promises to get him his money by Saturday.
Tae-sang considers her for a moment before agreeing, but when Saturday rolls around, Mi-do is nowhere to be seen. Chang-hee worries about what Big Boss will think since Tae-sang isn't jumping into action, causing our hero to self-reflect as he asks, "Do you enjoy roughing people up to collect loans?"
Chang-hee's demeanor changes as he reveals his true, bleeding-heart nature: "Does anyone? It's just a necessary means of survival." Oh, the tragedy. They may be bad guys, but if they don't enjoy it, then they're not really bad! That's how it works, right?
Big Boss comes in to check on their progress, and Tae-sang's request to cut Bookstore Ajusshi some slack goes unheeded. Big Boss insinuates that Tae-sang's been with them a while now, but he's yet to learn to just follow the system – and just in case Tae-sang were to go soft, he calls someone in to keep an eye on him.
Mi-do finally arrives a little over two hours late, shocked to find that the grand total is now over twenty-seven grand. Since there's no way she could pay that kind of money, she steels herself before offering something else (wait for it): "How about me instead? Me, in exchange for the debt." Pfffft.
Tae-sang agrees to the deal.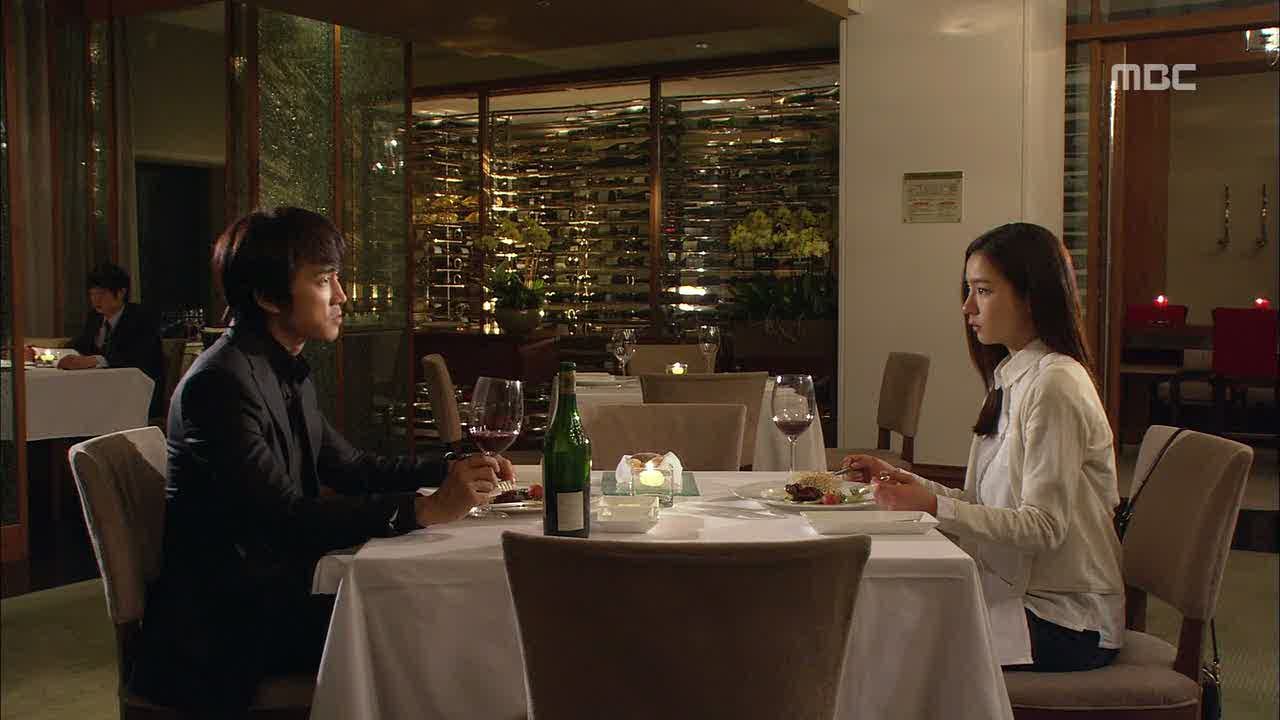 So he takes his new slave out for a fancy steak dinner, where she asks him if he enjoys the kind of life he lives, apparently trying to elicit some sense of humanity from him. He responds by telling her to prepare herself for what she's signed up for, which eventually leads to her assuring him that she's not a minor.
He passes over a key to one of the hotel rooms and tells her to either wait for him there or run away. Hey, at least he bought her dinner first.
Mi-do waits nervously in the hotel, every now and then glancing over to the bed, since she knows what's expected of her. Tae-sang seems surprised to find her there, expecting that she'd run away. "You've got guts," he admits.
She hands over paper for him to draw up a contract clearing her family of debt, "Then, do as you will with me."
But Tae-sang seems to want to talk her out of it, asking, "Can you still be a top student after giving yourself to me?" Bow chicka wow wow.
She admits that she's ready to consider her life over at this point, but is willing to sacrifice for her family. Again, she pushes the paper toward him and urges him to just get on with it.
Tae-sang doesn't take her to the bed, and hands her a bag of food instead. He's made an exception for her, and promises to deduct her father's interest and allow him to make payments over time. Dude, you're a terrible gangster.
Mi-do is completely blindsided, since this wasn't part of her plan. When she asks him why he'd make an exception, he returns, "What, would you rather sleep with me?"
But our gangster/hero has a heart o' gold, as he explains that he wanted to teach her that life's not all bad, and that she shouldn't give up so easily. Oh, so he's a Life Lessons Gangster.
He does seem a bit angry when he asks if she prostitutes herself for debt often, as though he's got to teach this young'un how to respect herself. When she responds that this was her first time, he fires back, "Don't ever do it again. To anybody. No matter what."
On his way back, Tae-sang gets a call that his long-lost mother might have been found in a mental hospital, since the woman fits the right description and age. He rushes over, but despite his wishful thinking made into a vision that it's his mother lying there, it isn't.
As he walks away, we hear his mother's words in voiceover: "I'm sorry. Forgive me. Someday, you'll understand how I feel."
Back in his spartan living quarters, Tae-sang thinks back to the question Mi-do posed: "Do you enjoy this life?" His ruefully belated reply: "No, not at all."
Mi-do returns home to her mother and happy-go-lucky brother, SEO MI-JOON (JB), both of them shocked at the gift of food she brought with her. Things take an even better turn when they get a call from Tae-sang's gangster team to inform them that their interest has been deducted (as Tae-sang promised).
This gives Mi-do and her family renewed vigor as they fix up the bookstore, all while Tae-sang watches from a distance.
Big Boss is less than happy about Tae-sang making an exceptions, and there is a literal line where Chang-hee tells him that Tae-sang is at the gym.
Cut to: Tae-sang working out at the gym, shirtless. It's totally not random fanservice if it was mentioned in the scene before, that's what we call writing.
He gets called away by a woman claiming to be in an emergency, but realizes it was all a trick when he arrives to find BAEK SUNG-JOO (Chae Jung-ahn) having a crisis over which dress to wear to Big Boss' birthday. Tae-sang not happy. Tae-sang mad.
It's a regular gangster hootenanny at the aforementioned birthday party, and we find Sung-joo attending as Big Boss' girlfriend. Ah, no wonder why Tae-sang got nervous. At least she proves she can handle herself in a conversation with panache.
Chang-hee and his fellow gangsters put on a karaoke performance, but Big Boss is nonplussed, especially because he keeps catching Sung-joo staring at Tae-sang. Ruh roh.
It's funny when we get beaten over the head with the crossed love lines going on through a silent stare-a-thon: Boss Man stares at Sung-joo, who stares at Tae-sang, who stares adorkably at the performance. Meanwhile, the man Sung-joo minced words with, GU YONG-GAP (Lee Chang-hoon), stares at her while she stares at Tae-sang, before he stares jealously at her object of affection.
Tae-sang gets all the heat for being pretty, and the party takes a dark turn when Big Boss yells at him. Tae-sang tries to smooth the situation over, but Big Boss is looking for a confrontation as he mentions the fifteen years they've known each other, along with the idea that Tae-sang should marry.
That's not offensive in and of itself, but then he brings up Tae-sang's mother, urging Tae-sang to forgive her through thinly-veiled sarcasm. After all, had she not been sleeping around (nothing like a Your Mom jab), he wouldn't have met Tae-sang.
Tae-sang endures this all silently, even though Big Boss continues that he should try to find his long-lost brother, since he probably grew up messed up by staying with Tae-sang's whore of a mom. This guy is itchin' for a fight.
Sung-joo intervenes to try and change the subject, but Big Boss goes on and on about how Tae-sang was at the tender age of seventeen, and how he changed from a dean's list student to an angst monster after an unexplained "incident" with his mom. Big Boss starts to tell the story, but it once again hinges on another Yo Mamma…
Tae-sang's finally had enough. I love that he's all, You can talk about my mother, but do it when I'm not around! But this doesn't soothe Big Boss' ire, since he's mad that Tae-sang would submit a business plan to him (so he could presumably make more of himself) AND mad about him reducing interest rates all willy-nilly.
The argument escalates, eventually causing Boss Man to throw a glass at Tae-sang's back. He accuses him of pocketing the extra interest money while sexing up the loaner's daughter, cueing Tae-sang onto the fact that he's been spied on. And incorrectly at that, since he didn't sleep with Mi-do. I just met her in a hotel to teach her an important life lesson!" is what they all say.
But what Boss Man fails to realize is that Tae-sang is trying to teach him a Life Lesson, and Tae-sang realizes that there's no getting through to him: "You don't have the capacity to rise above." Burn.
Boss Man throws another glass, but this time Tae-sang catches it… and crushes it in his hand. Blood drips from his fingertips. Tip: Hurting yourself twice using the same method doesn't make you look tough. It makes you look like an idiot.
"This isn't the life I wanted, but I've always tried my best," Tae-sang explains. "Good bye. I'm leaving you for good."
Mi-do tries to get her brother to help her around the store that night, but he's got his eyes set on stardom: "I don't have time to study, I need to save our family." How? "I'm auditioning to become a singer." Why, that idea is foolproof! They'll never have to worry about debt again.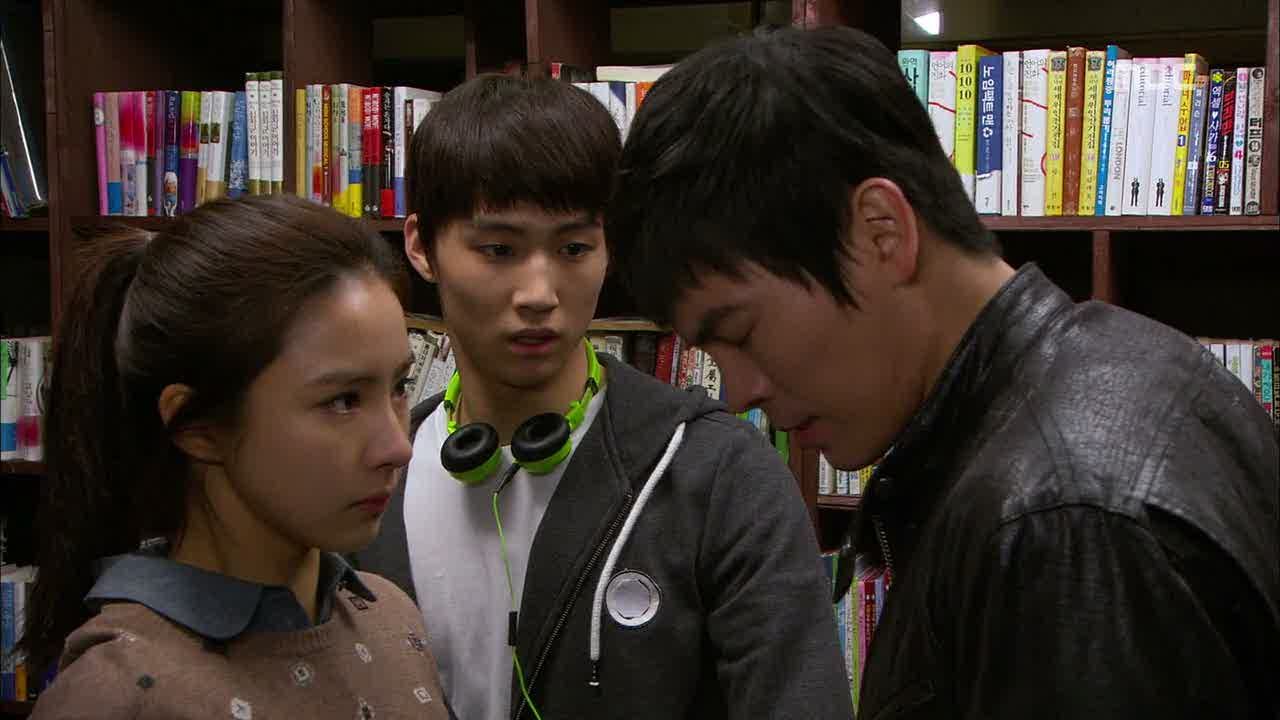 Chang-hee comes barging in on Tae-sang's behalf, accusing Mi-do and her family of ruining everything. He's not happy to hand over a bank book from Tae-sang for her to pay for her college tuition and books, especially with no interest. Aka, it's a gift.
In our second shirtless scene, Tae-sang broods over Mi-do's "I'll give myself to you" exchange while in a hot tub. No, I'm not making this up, nor would I. Here's proof:
This is where Mi-do confronts him over the bank book, and Tae-sang suddenly turns all modest. ("I do declare!" he all but says.) Lucky for him, she gets kicked out, since that area is for Nude People Only. And even though he invites her to get nude with him, she huffs and puffs before she decides to wait.
He sends a tiny glance down to his equipment in case she stole a peek, but it's not like the water's cold, 's all I'm sayin'. I doubt the moment was intentional, but it was kinda funny.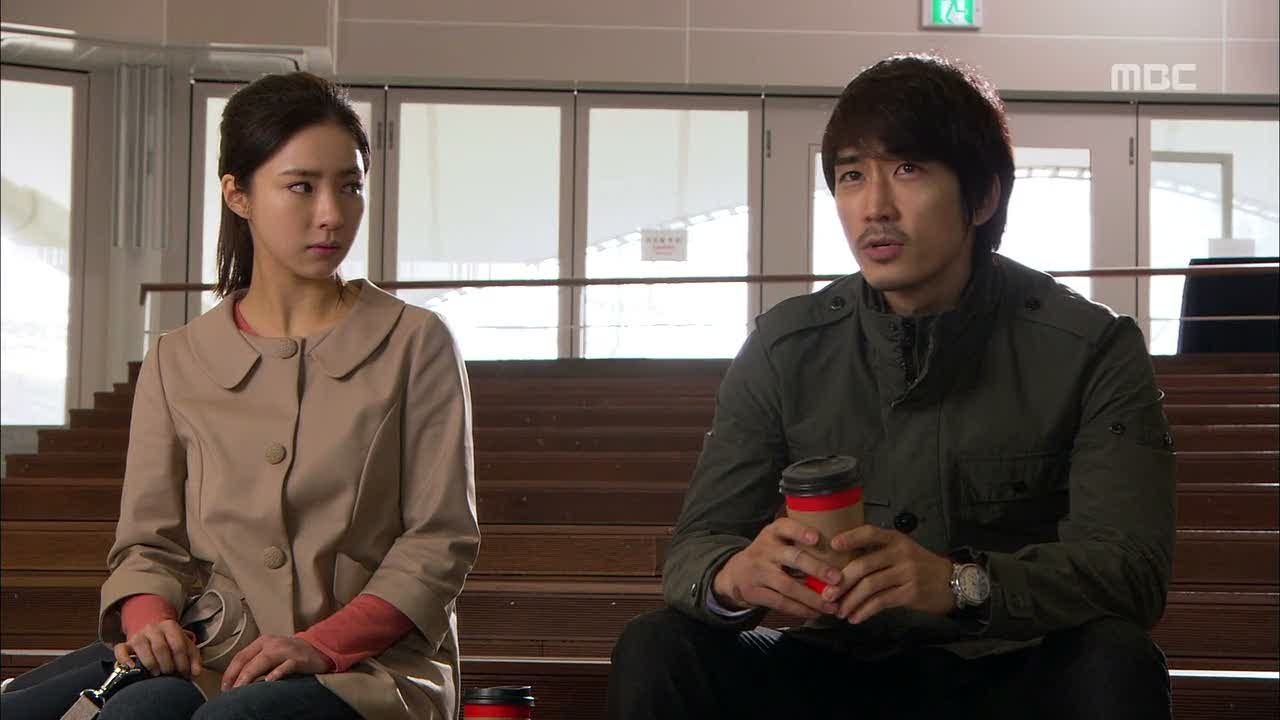 When asked to explain about the blood money, Tae-sang does so very literally: "You asked me if I enjoy this life. If someone had helped me, my life would've turned out differently. That's why I sent the bank book – helping you feels like I'm helping the younger version of myself."
Mi-do isn't comfortable with the whole ordeal, but Tae-sang won't rescind the gift because he doesn't want her to fall into the same pit of despair he was once in.
She tries again to stop him, but he warns her of his terrible temper (good thing he's got a paper cup this time), and cutely hushes her when she interrupts a band rehearsal. Because that's what's going on in the background and I have no idea why, or where they even are.
Chang-hee tracks down our Good Samaritan Jae-hee at a construction site and drags him… home? Ah, they're brothers, and Chang-hee wants to make sure his dongsaeng studies abroad without letting their money troubles stop him.
"This guy I respect once told me that true courage is not giving up hope even when you're in the gutter," Chang-hee advises him. Aww, he even serves Jae-hee meat. What a good brother.
But Jae-hee doesn't know what Chang-hee does for a living, though he doesn't seem to buy his hyung's lie that he works for a security firm.
"Hyung, I'll die if anything happens to you," Jae-hee's tone turns serious. "You're my friend, my father, and my only family." I like these two.
Meanwhile, Big Boss pays some shady dudes to do some shady work. My money is on killing Tae-sang.
Every drama needs a sponsored camping scene, since Tae-sang just feels like enjoying the great outdoors. Chang-hee literally drops in and out, leaving our hero to his reading.
Later that night, a shadow passes Tae-sang's tent. Okay, where IS he first and foremost (also, why) and how did they know to find him there? Either way, Tae-sang gets a warning call from Sung-joo that Big Boss sent thugs after him and starts fighting off his attackers in the middle of a forest.
It's an all out brawl where Tae-sang wins, because nobody thought to bring a knife. What were they sent there to do, pillow fight him into submission?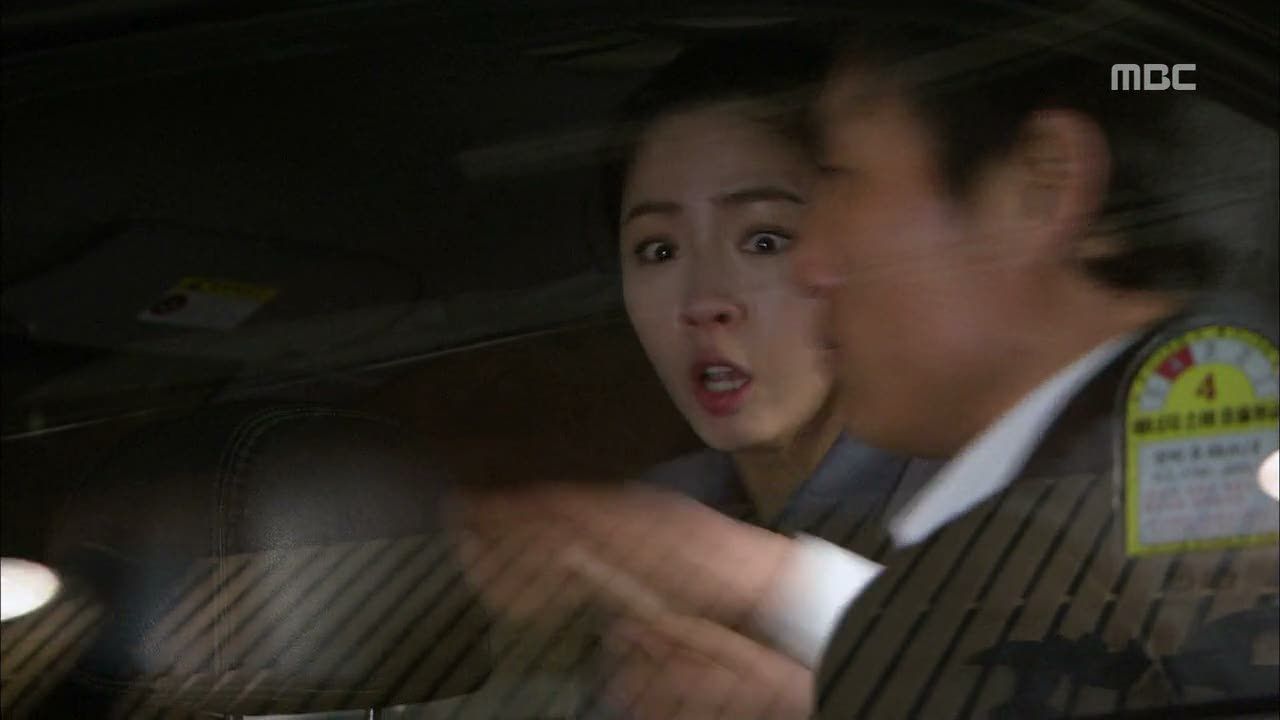 Big Boss gives a $3 million dollar loan to the slimy Yong-gap (with bleached hair that tells me he dreams of idol stardom), but the call he gets from his hired thugs doesn't bear good news.
At the same time, Mi-do gets kidnapped by thugs, because there was definitely no reason to suspect two shady dudes buying books in the dead of night. And then there's DEFINITELY no reason for her to have suspected these able-bodied men when they asked her to carry the books to their car ("Here, get inside my windowless white van"), because it's not like that puts you in a prime position to get pushed inside or anything.
Tae-sang crashes Big Boss' drinking party, and the older man slurs that he should never have taken the son of an adulteress in. This earns him a beating from his protege, who warns him that if they ever see each other again, only one will survive.
The tables are turned when Mi-do is dragged inside and Big Boss laughs that this is the girl Tae-sang betrayed him for. He has Mi-do held hostage… so that Tae-sang will write a contract? That's what he calls revenge?
Tae-sang takes on the thugs in order to secure Mi-do's escape, but the door is blocked from the outside. Tae-sang wins, again, and gets the bright idea that he should leave his back turned to Big Boss in order to help Mi-do.
Naturally this doesn't pan out, since Big Boss stabs him in the back. Mi-do runs away with nary a look back.
A flashback to Tae-sang's childhood reveals that his mother abandoned him with only a note, while people barged in asking how she could have done that to his father.
Another flashback reveals Tae-sang finding his father dead (from alcohol poisoning?), because his mother left them with her debt. And that's how he got tangled up with thugs.
Chang-hee comes to the rescue and beats down Big Boss while Tae-sang remains in a delirious state, flashing back to when he'd fought against his gangster oppressors as a child. And that's when Big Boss took him in.
In the present of the past, Tae-sang faints in a pool of blood.
Seven years later (aka present day). Cut to Shirtless Scene #3, as Tae-sang exercises in a lavish penthouse while the news report tells us that Tae-sang had something going with his Japanese business model powerpoint presentation earlier – he's now the CEO of Golden Tree, the nation's largest loan company.
Dun dun dun.

COMMENTS
On the bright side, there wasn't a boring minute to be found because lots of things kept happening on screen. On the dark side, most of those things were silly and inconsequential, wholly based on characters making silly decisions in silly surroundings that had little to do with setting an adequate stage pm which plot should have happened. (He's brooding at a wind farm! He's brooding at a sauna! Wait, a classical string recital hall! Scratch that, a forest!)
Admittedly, scene locations were the least of this drama's problems, though I've never found myself quite so distracted by so many scene changes before. Turns out it doesn't hurt to establish a sense of place, because I couldn't understand where the characters were and why it mattered – not including the more obvious sets like the bookstore, or the cave where Big Boss' birthday was held. But that sentiment echoes a recurring question I had through most of this premiere: Why? Seriously, why?
Every drama has its cliches and tropes, but the ones that stick with us are usually the ones that either subvert those well-worn cliches or make use of them in a meaningful way. This premiere redefined deja vu for me, in that every scene felt eerily familiar, as though a distant relative you last saw in the 90's (or more recently, in Fashion King) came to visit, without having changed a bit. There was just a little too much old hat for an entire hour, and while I wasn't expecting the newest of new hats, somehow I still came out feeling underwhelmed. And I went in with a pretty low bar as it was.
Unfortunately, rather than characters, what we got were character types, with no one even remotely close to breaking the mold. I did find it amusing that each character started at the extreme end of their respective spectrums, because the show did manage a new way to introduce our Candy: At a literal freakin' rice line. Show was going to make SURE that if it had a poor heroine, she was going to be the poorest one we've ever seen, how-DO-you-like-them-apples. (In the writer's next drama, our Candy will be introduced in a homeless shelter. And in the next, she'll start out dead.)
Granted, Mi-do's not a cheerful sort of girl in that she's cold, brash, somewhat brave, and more than a little dim, despite all the show's efforts into showing us that No, really, she does well in school! But her character is based off that ol' reliable source of conflict, a Daddy With Debt, though I have to applaud the show for not even trying to explain how Dad even ended up with it, because it takes cojones to just put a plot device out there like that. No excuses, just presentation. *Golf clap*
She's rounded out by our misunderstood hero with a heart of gold, having fallen into some bad circumstances because of [Stock Dark Past #367], one who'll be damned if he lets that define who he is, and if he's got to show it by hurting himself, then so be it. There was a big, unintentionally funny disconnect between intent and execution when it came to Tae-sang's Tough Guy moments, because all of them seemed counterintuitive to the point he was trying to make. "Oh, you'll hurt me? Well, I'LL hurt me first!" Bad guys: "Cool, thanks."
The Big Bad in this episode made even less sense with thinly-presented motivations ("You betrayed me, prepare to sign this menacingly blank contract!"), and I'm not really getting why his arc had to be fleshed out(?) to add to Tae-sang's backstory when it was so shoddily done that it could have had the same effect if it were shown in a ten-second flashback later down the line. What did we learn about Tae-sang that required the whole hour? Everything about him was revealed fairly quickly, and there weren't any major shakeups with his character to warrant the time spent. Was it because he betrayed his boss, who was presented as an irredeemable, one-dimensional dirtbag? Why are we expected to care about a severed connection we never even connected with, one that Tae-sang didn't seem to care all that much about?
I guess the answer is simple, in that it'll shape who Tae-sang becomes, or who he already became since we already popped back to the present. That's not a real impetus for me to keep tuning in, though I can't say it was all bad – I did like the brotherly bond between Chang-hee and Jae-hee. And that's about it, I think. Huh. How to end this on a positive note…

RELATED POSTS
Tags: Chae Jung-ahn, featured, first episodes, Shin Se-kyung, Song Seung-heon, Yeon Woo-jin