Prime Minister and I: Episode 11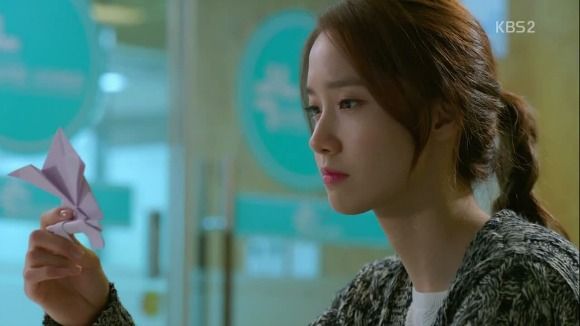 Married life isn't always rosy, but I love that our main couple's feelings for one another goes beyond a piece of paper that started off this marriage. It's never easy when the answers that lie in the past and the warnings in the present put another strain on their relationship, making it that much more difficult to see eye to eye on things.
Thankfully there are those around them who aren't afraid to call bullshit on their feelings, even when it's less painful (and safer) to ignore them. But whoever said that falling in love would be easy?
SONG OF THE DAY
Royal Pirates – "See What I See" [ Download ]
Audio clip: Adobe Flash Player (version 9 or above) is required to play this audio clip. Download the latest version here. You also need to have JavaScript enabled in your browser.
EPISODE 11 RECAP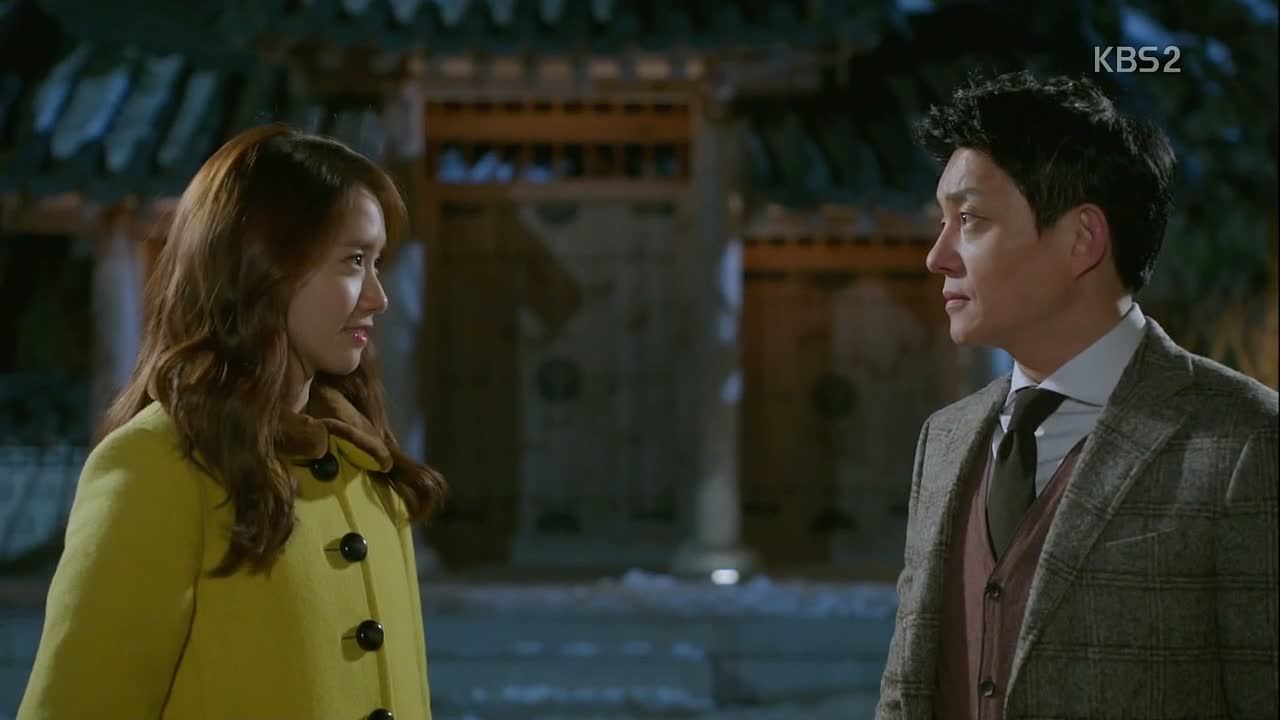 After Yul serenades Da-jung at the restaurant, they return home for a walk in the courtyard. She compliments him on his superb singing voice and thanks him for an enjoyable dinner and performance.
He's feeling generous tonight and his offer to grant her another wish catches her by surprise. When she asks to be free from the daily journals, he agrees readily and asks what else, which makes her wonder where this genie Yul has suddenly come from.
But she plays along and requests that he keep this current hairstyle and allow Woo-ri to pursue music. Yul agrees to consider the idea, to her delight.
He asks if that's all, and then it's his turn to say: "What I wanted to say to you is… you'll have to leave the estate." Oof. Da-jung can hardly believe it, and she asks where this is coming from.
His eyes start waver at that, recalling Joon-ki's threat to go after Da-jung, but then keeps a straight face as he tells her that he doesn't like the idea of his children becoming attached to her. He merely wanted to thank her for her efforts by taking her out tonight, he adds.
Yul suggests she stay with Dad at the hospital and leaves her crying.
Back at the hospital, In-ho finds his brother with Joon-ki and drops the bomb that it was Yul who turned his brother into a vegetable. That's news to Joon-ki, who asks why Yul would do such a thing. He's told that the answer would surprise him.
We learn more about the past as In-ho recalls how his brother Soo had told him that Na-young's husband found out about the affair. Soo ignored little bro's warnings to stop meeting her and wanted to run away with her… and we know what happened next.
After the car accident, In-ho had learned that it was the husband who reported the incident, since it was his car that followed behind them. As Soo is wheeled into surgery, we learn that Yul had given his blessing for their relationship, but that had only made Soo even more afraid.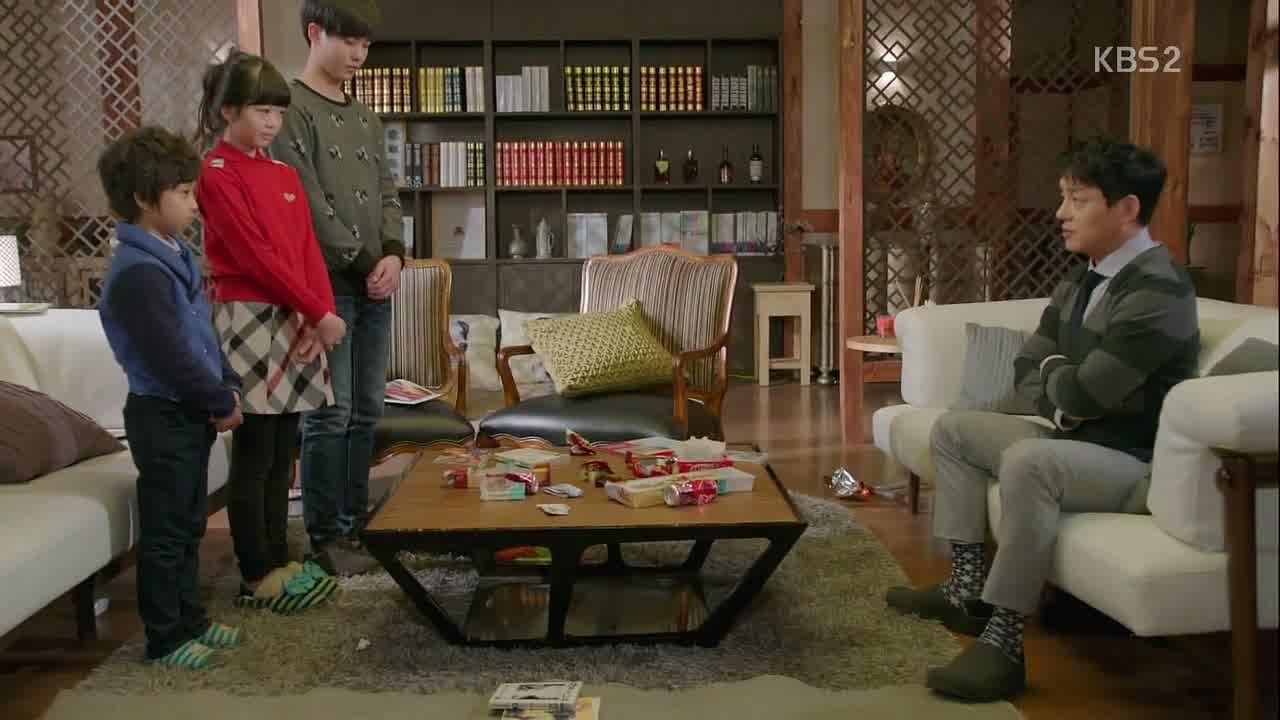 Da-jung arrives at the hospital with her things, wondering how she'll explain this situation to Dad. She runs into In-ho, who picks up that something's wrong when he sees her bags.
Yul sighs at the now empty bedroom before he checks on his children, who immediately straighten up at the sight of him. He announces that they'll have to fend for themselves today and orders them to clean their mess, to which the younger ones whine that ajumma had said it was okay to clean up once at the end of the day.
Turns out that Da-jung had predicted that Yul would fall back to his stern habits once she's gone, so she had told the kids to stand their ground and not study. They're children, Da-jung had told them, and they should enjoy their childhood.
Yul tells his children that he doesn't always make them study (and the three exchange disbelieving looks at each other, heh) and decides to spend the rest of the day having fun with them.
So he reads a story to little Man-se, who complains about Dad's sobering voice and wonders when ajumma is coming back because he can't sleep at night without her. Aw, kid.
It's cute how Yul keeps trying though, despite giving his daughter uneven pigtails or ironing all of the children's clothes with earnest. The kids go-to counter argument? "Ajumma did it all for us!"
At the hospital Dad is suspicious about his daughter's intentions to take care of him. He wonders if the newlyweds were fighting, and Da-jung defends that that isn't the case.
That satisfies him and declares that they go eat lunch, refusing to believe that they've just eaten. But Da-jung humors her father and asks what he wants to eat.
At the same time, Yul listens to his children's suggestions for dinner and knocks down all of those ideas on the basis that they're unhealthy. Ironically enough, he agrees to make ramyun (is that because it's the easiest? Hee), which is when Hye-joo arrives with groceries in hand.
The children watch in awe as Hye-joo whips up a full spread for dinner. Man-se narrows his eyes when Hye-joo sits down next to him, since that's usually Da-jung's seat. He sinks into his seat, saying that he wanted ramyun.
That makes Hye-joo wonder if Da-jung didn't feed the kids properly and tells them that a taste of junk food will only want them to eat more, thus they're better off not having any. But Man-se continues to complain in his seat, until he's told to stay put by Yul, who thanks Hye-joo for her efforts.
Da-jung and In-ho go out to buy food as she reminds him that dementia patients like Dad often forget things right away. In-ho suggests they pick up soondae too because Dad likes it, which has Da-jung recall how Yul couldn't eat any because he's allergic.
The vendor mistakes them for a newlywed couple, and In-ho plays along to avoid suspicion that the prime minister's wife is out and about. Little do they know that hyung Soo starts to convulse in the hospital room, his eyes wide.
But In-ho is alerted soon enough and is shocked to see his brother in so much pain. Da-jung places a comforting hand on his shoulder.
Yul thanks Hye-joo for helping out tonight as they sit outside. She says he made the right decision to send Da-jung away and promises to take care of the children from now on. But Yul says that she needn't do so, and he'll take care of everything himself.
Those words hurt her and Hye-joo asks why he would accept the help of someone he's known far less over her own. "What kind of person am I to you?"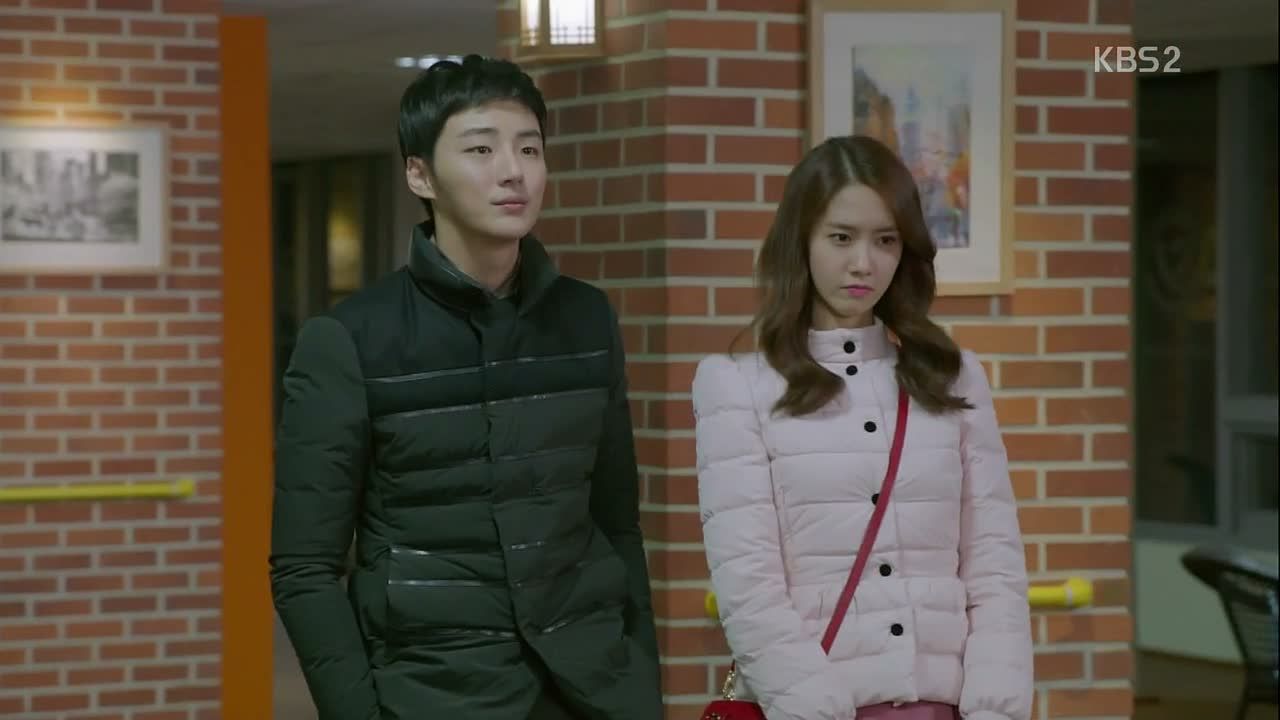 It seems that hyung's epileptic seizures occur from time to time, and Da-jung encourages In-ho to keep his head up. He says he has to, since there's something he must do. That stirs her curiosity, but he says it's a secret.
Da-jung asks how it's going, and he admits that it isn't going well. He shouldn't keep going because of one person, but he shouldn't waver because of that someone, so he doesn't know what to do. Da-jung gets the feeling that whatever it is, it isn't good, and he humors her with a smile.
In-ho gets in the elevator, but before he leaves, he tells her to simply focus on taking care of her father so that she doesn't regret it later.
Yul looks over at the empty bed as he works from his desk. He smiles at the thought of Da-jung and takes his sleeping pills while Da-jung scribbles in her journal and holds the paper frog in her hand.
Yul and his staff go for a hike and his bodyguards gloat over their new winter coats. He enjoys some downtime with some fellow hikers, who voice their approval in their prime minister.
Meanwhile Da-jung's excuse that she's at the hospital to take care of Dad is wearing thin as he points out that it's been over two weeks already. She refutes his outlandish assumption that there's another woman, but he can't erase the niggling feeling that there's something wrong.
Da-jung steps outside and overhears a conversation about how Yul might lose his job if he keeps rubbing against the rich and powerful. She calls him up in concern before thinking better of it, but then returns to the hospital room to find Dad missing. Oh no!
Yul ponders in his study with the hair clip in his hand and stands by the window when Da-jung suddenly rushes in a panic. He's shocked to learn that Dad is missing and immediately deploys a search party to find him.
Da-jung can barely hold back tears of worry as she cries that it's so cold outside. Yul tells her not to worry because they'll find him. He decides to call up Dad himself, and that's when he sees the numerous missed calls.
When Yul calls back, we see Dad sitting at a bus stop and smugly reject Yul's call to give him a taste of his own medicine. Ha, so petty, Dad.
In-ho receives a call about Dad's whereabouts, and as it turns out, he's currently fighting with the security guards at the National Assembly, who tell him that this isn't the Blue House. Dad thinks this is where he can find the prime minister (which in fact, the prime minister works and resides in different locations altogether) and In-ho escorts him back to the estate.
Da-jung yells at her father in a worried voice, but Dad is determined to have a word with his son-in-law. Then Da-jung thanks In-ho for helping them find her father.
Once Hye-joo hears the news, she wonders if this will bring about Da-jung's return. But there are more pressing matters at hand as Madam Na has taken upon herself to accuse Hye-joo of being a homewrecker on the internet.
Meanwhile Joon-ki's secretary wonders why they haven't acted upon In-ho yet, but the fact that their conversations is on record now complicates things. Then Hye-joo barges into his office to show him the accusatory story.
Madam Na and her galpals drink to celebrate their internet defamation, convinced that working at a PC bang would cover their tracks. Then Madam Na asks if her gossipy friends have heard about how Da-jung isn't living at the estate.
Dad tears into Yul for that very reason, and demands to know what the deal is. Da-jung clings onto Yul's arm, saying that they're doing splendid, and asks if he missed her. Yul awkwardly answers that of course he did, and they slap on happy smiles.
Having eavesdropped on their conversation, the little ones chirp in from the doorway that they even saw the adults kiss before. Ha. That effectively diffuses Dad's temper until he learns that the married couple sleep separately.
So Dad takes it upon himself to send them off to bed, and they have no choice but to head inside the bedroom together. I love how both sides of this family act as matchmaker for this couple.
Da-jung apologizes for Dad's reaction, but Yul says he's the one at fault since it didn't occur to him that being separated would stir concern. Da-jung says that she isn't sure whether seeing her again makes him uncomfortable, but she's glad to be able to see Yul and the kids again.
Da-jung has trouble sleeping that night in bed while Yul stays up working at his desk.
Joon-ki storms back home and slams down the documents on the table in a rage. Madam Na insists that his name wasn't mentioned (though, her own name is written as the author) but Joon-ki tells her that he doesn't need another headache to deal with at present.
Through tears, Madam Na says she was only trying to protect her husband, but she stops short when he calls her by name. Joon-ki warns her not to pull something like this again, and poor Madam Na clings onto the tiny term of endearment. D'aw, she really is pitiful.
Joon-ki barges into Yul's office after hearing that Chairman Na aka Madam Na's father, is under investigation for his connection with the international harbor project. Yul says it isn't personal, but his job to deal with corruption, an idealistic explanation Joon-ki doesn't buy.
He warns that his father-in-law won't take this situation lying down. Then Joon-ki suggests to Yul that he do some in-house investigations of his own because Joon-ki isn't the only one targeting him and casts a dark look towards In-ho.
Yul says they needn't worry about those words, but Hye-joo wonders who it could be. In-ho answers seriously: "It's me," before breaking into a smile seconds later.
As Yul contemplates over Joon-ki's warnings, he gets a text from Da-jung saying that she's taken Dad and the kids to church. He sends In-ho in his stead to take them home later, and Na-ra goes moony-eyed over her piano oppa.
Na-ra catches his attention when she nearly burns herself from the candles. She's adorably coy around her crush as she explains that she wants to learn music, then gets all worked up to be told that she's too young to join.
Piano Oppa finds her outburst cute though, and greets her happily as Woo-ri's little sister. He introduces himself as Han Tae-woong, and his baptismal name is Michael, but can I just call you Suho?
Da-jung tells In-ho that she plans to move out the estate after Dad returns to the hospital. In-ho disagrees, saying that it's better for everyone that she stay put while the marriage still holds.
At the same time, we see Yul leave the estate, and a mysterious man takes out a knife from his pocket. Accccck.
When Da-jung decides to tell Yul about the idea that evening, she overhears voices from inside the study. It seems Yul has already decided to keep Da-jung here, and Hye-joo bitterly remarks that he may as well make it official and register the marriage.
She points out that the reason why he sent Da-jung away in the first place was to protect her from Joon-ki. And why would Yul go that far? "It's because you like Da-jung, am I wrong?"
Da-jung's eyes widen in surprise from the other side of the door. Yul takes a long pause before answering no—he doesn't have any feelings for Da-jung; he's simply carrying out his duty to protect her.
Hye-joo doesn't believe that he's purely acting out of pity, but Yul doesn't care what she thinks. As for a real marriage: "I've never thought about it, and it won't do…"
Crushed, Da-jung steps away from the door, so she doesn't hear him finish: "… even if I were to like Da-jung." Hye-joo leaves the office in tears, muttering that he practically confirmed his feelings for Da-jung.
Yul finds Da-jung in the courtyard to ask her to stay at the estate. She asks if it's because he finds her pitiful. Before Yul can explain himself, she agrees to stay since there are watchful eyes and she doesn't have anywhere else to go.
She simply asks that he doesn't pity her and she's satisfied with her own reasons for staying here. Yul defends that he doesn't find her pitiful, "but I… I…"
But Da-jung says there's no reason for him to be sorry towards her and heads inside.
How cute: Dad plays Go-Stop with the kids, and the shocked look on Yul's face to see his children gambling is priceless. But Yul laughs it off, saying that he used to play with his own grandfather too and apologizes that he won't be able to see Dad off today.
Dad is satisfied to see his daughter doing well and knows that Yul's a busy man. Before Yul leaves, Dad takes him by the hand to express his gratitude. He knows married life isn't always rosy, but he believes that it's important to cherish one another.
He points out that Yul tightly held onto Da-jung's hand on their wedding day. "Don't let go of that hand, okay?"
The kids line up to say their goodbyes to Dad, who whispers that they'll play Go-Stop again in the future. He fawns over them and gives them pocket money like any adoring grandfather would, and I'm not crying, I'm not… I… *wahh*
A protest brews outside of Yul's office as the group calls for his resignation. The mystery knife man hides among the crowd. Yul takes the matter seriously, but doesn't appear too worried about it at present.
Da-jung takes her father back to the hospital, and he tells her to hurry home since Yul and the kids will be worried. She gets up to tidy a few things, but then a glass drops and shatters to the ground. Eep, foreshadowing!
Then a news report on TV gives an exclusive on the raging protest for Yul's resignation. Concerned, Dad tells her to hurry back.
The protest is still in full swing when Yul tries to leave the office. He tells his guards to make sure no one gets hurt, and then takes the front entrance to face the crowd.
Da-jung arrives just as Yul steps up to the crowd to speak to them. He understands their concerns are for the country at large, and no matter what the decision may be, it will be a precedent towards the security of the nation's future.
Yul admits that he's also afraid in the face of this situation, but he promises that he will be transparent and fair to the public. He'll see an end to corruption, "So help me. Believe in me. Please wait."
That earns a few scattered claps from the group, and Yul smiles to see Da-jung smiling back at him at a distance. Knifey slinks through the crowd and quickly stabs Yul before running off.
The sneak attack surprises everyone and Yul collapses onto the ground, wounded. Da-jung rushes over to his side and gapes at the sight of blood. She cries out to him as Yul slips into unconsciousness.
COMMENTS
Ack, nothing like an assassination attempt to crank the drama-o'-meter up to an eleven. Although I know that the show won't necessarily kill off our hero, I still can't help the panicked reaction of praying that Yul will remain alive. 'Cause he better, ya hear me, Drama?!
We don't know who was behind the stabbing, but I'm more inclined to believe that either Knifey acted alone or on orders from someone other than Joon-ki. I say that because although Joon-ki is our main villain, I can't imagine him to be the murderous type to actually take Yul's life. That being said, it still makes me nervous that he holds so many cards in his hand, and that he'll be even more dangerous once he learns just how In-ho's brother fits into all of this. Because villains have a knack for figuring out the backstory before anyone else in the dramaverse does. In that sense, I wish that we had more than just one person other than Joon-ki driving that conflict forward, though I suppose we still have In-ho who could tip the scales in the latter part of the series.
Speaking of the past, I'm relieved that we finally learned that the extramarital affair involved mutual feelings. Not that we couldn't assume that before with the previous hints, but getting a confirmation does set things in stone. It was sad to hear that not only was Yul aware of the relationship, he actually gave the two his blessing. That makes me that much more sympathetic for his character, though interestingly, I'm not angry at his first wife either. You won't see me rooting for extramarital affairs anytime (or ever), but we've been given hints that Yul and Na-young's marriage deteriorated somewhere down the line. Those sad turn of events ultimately led to The Car Accident, and now I want to know why Yul's car was following them. We'll have to wait and see on that one.
As for our main couple, I'm glad that their physical separation didn't last too long. Not only that, I'm thankful that Hye-joo pointed out Yul's noble idiotic act of keeping Da-jung at a distance when he in fact has feelings for her. It's a sad realization for Hye-joo too, since that means she's actually out of the running now. It was both funny and sad to see how apparent that Hye-joo doesn't have a place in this family, like how Man-se firmly defended Da-jung at the dinner table. Because you could make a great meal that feeds their stomachs, but what this family needs is someone who completes the hole in their hearts.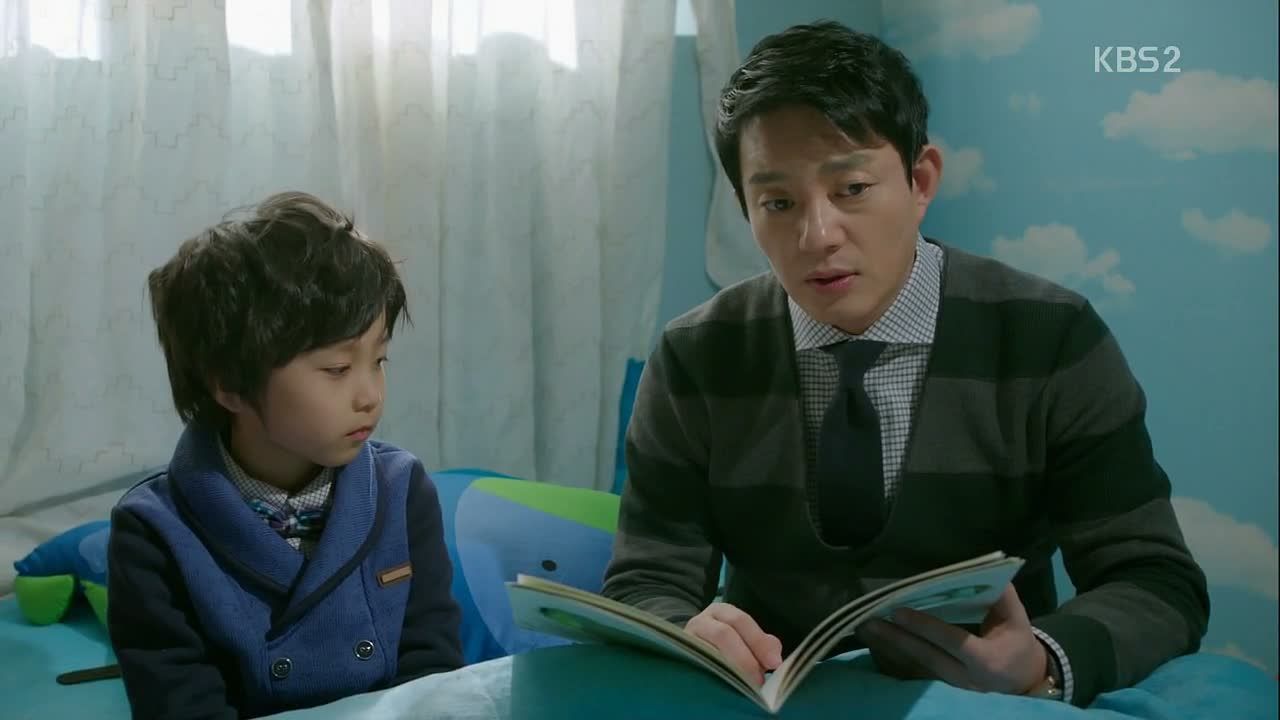 RELATED POSTS
Tags: Chae Jung-ahn, featured, Lee Beom-soo, Prime Minister and I, Yoon Shi-yoon, Yoon-ah