Myung-wol the Spy: Episode 13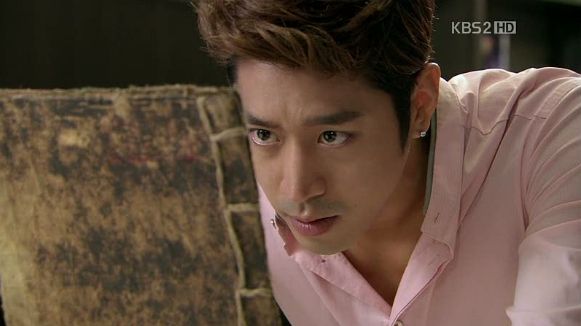 This show makes my blood boil. It's not necessarily always a bad thing, since it means I'm that invested in the characters. But when they do stupid, assy things, it makes me tear my hair out. Once in love, Kang-woo is the bleeding heart kind of hero, which means that the brokenhearted version of him is a dark and twisted black hole of pain. It's bad. Like Spike without a soul kind of bad. There's gonna be some swearing in this recap… Er, more swearing than usual.

EPISODE 13 RECAP
Kang-woo sees Myung-wol sneak in and take the goddamn book of mystical secrets, breaking his heart into little bits all over that diamond ring in his hand. Worst timing ever for a B&E.
He does the scariest thing – okay maybe only for me because my dad used to do this when I tried to sneak in and out of the house – he sits on the couch in the dark and flips on the lights just as she's about to walk out.
She quickly puts the book behind her back and makes up an excuse about having to run off and see her parents, as his heart sinks further to catch her knee-deep in lies. She manages to get out, and stops to look at the book regretfully.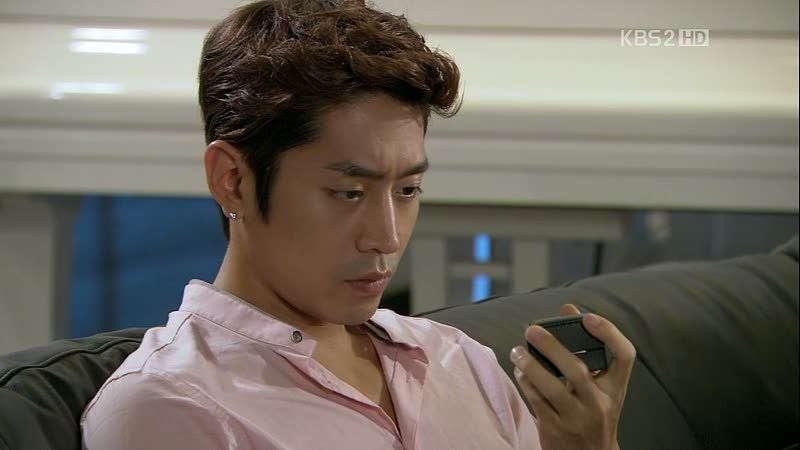 At the same time, Kang-woo sits and stares at the ring, twisting the knife in his own heart. Then he gets up and suddenly reaches under the piano… where he's stashed the REAL book! Ooooh, smartypants. No wait, that means she's got the wrong book! How will she rescue Ryu now? Aaaargh, I'm so torn.
He talks to it as if wanting it to answer back, "She must have a reason. There must be a reason…" Aw, he wants to trust her. His desperation, his desire to cling to his trust – it totally makes up for the assy denial earlier.
Myung-wol brings the book to Chairman Joo, asking why he's so interested in these books, and if he has anything to do with Kang-woo's father's death. He turns the same question on her, wondering why she and Ryu are after the same books, and who they really are.
He snidely congratulates her friendship with Ryu, saying that it must be something special if she's willing to betray the man she loves. Ouch. That stabs her right where it hurts. He digs a little further, adding that poor Kang-woo knows nothing and trusts her completely.
She gives up the book after asking for his word to hand over Ryu, and he thankfully doesn't have an expert on hand to tell him that it's a fake. Only once outside, he tells his minions to kill Ryu anyway since they confiscated the two books he had, and no longer need him.
Myung-wol waits and follows them to Ryu. Wait, so then why did she do the exchange in the first place? What did she gain from that? Sigh. I suppose I should just be thankful she only gave up the dummy book in the useless exchange in which she gained nothing. Bah.
The minions move Ryu outside (because killing him in the basement isn't public enough) and In-ah happens upon the scene. He manages to hulk out of his ropes and grab her as a hostage.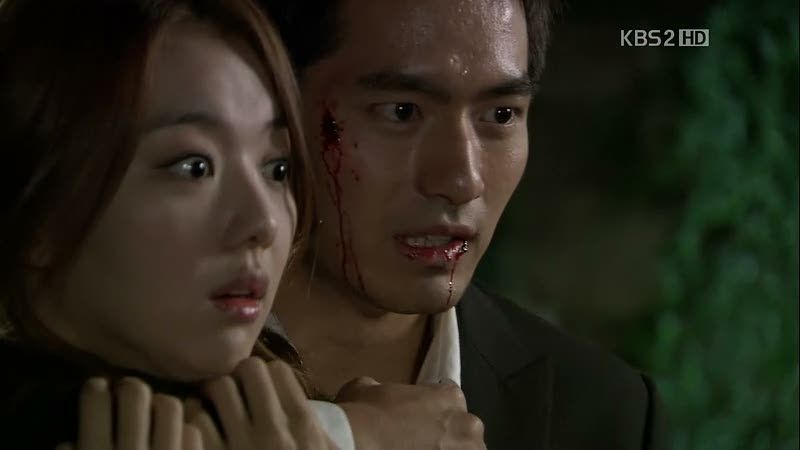 He whispers, "I'm sorry. And thank you," before flinging her at the baddies and running off. They give chase, but Myung-wol arrives on her bike to speed him away to safety.
Chairman Joo declares that having the books is not enough. Ryu knows too much, and needs to be found and killed. Again.
Meanwhile In-ah is all spun around from her hostage moment, only she's mostly attracted, not scared. Ha. She admits that Ryu was pretty badass, and then catches herself and tries to snap out of it.
Myung-wol brings Ryu to her apartment and he tries to leave, not wanting to put her in more danger. But she tells him that he's in no condition to move, and the other agents know nothing of this mission, which means it's safest to stay with her.
She puts his arm around her and they walk in, which is the scene that Kang-woo watches from his car across the street. Oh dear, oh dear. That looks bad from far away. His eyes narrow, "For that guy? Lying to me… for him?"
Upstairs, Myung-wol treats Ryu's wounds and frets over his condition. He tries to push her hand away because it clearly breaks his heart to even be near her, and he apologizes for bringing her into this mess.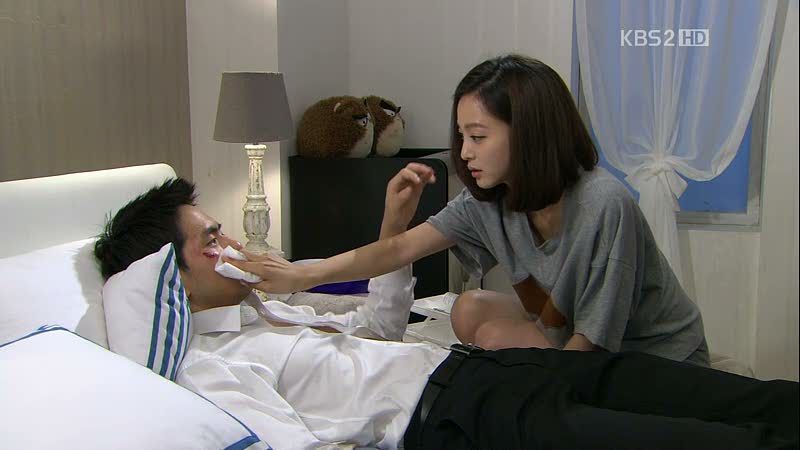 She tells him that he's being ridiculous, since to her he's not only a comrade, but family. She says that after her father died, he became just like a father to her. He sighs as he repeats her words: "Like family… A father… That's what I am to you."
AW. It's so heartbreaking when he says it, the same words, but from him, meaning: so I will never be the man you love.
She tries to pretend not to understand his meaning, rambling on about how much she respects him, and he raises his hand slowly up to her face. She dodges away from it before it gets too awkward, and leaves him hanging.
Just then, Kang-woo calls, wanting to know where she went, and she tells him that it was getting too late so she just came home. He tells her that's great, since he's just outside her door. Uh-oh.
Panic sets in as Kang-woo starts pounding on the door and shouting for her to open up. She comes to the door and he storms past her, looking for signs of Ryu. He's hiding in the closet, which Kang-woo can probably guess, but he doesn't search the place or anything.
He notes some bloody bandages sticking out of a drawer though, which lines up with Ryu's limping walk up to the apartment. I'm really curious how all of this adds up in Kang-woo's head.
Myung-wol tries to convince him to go out for something to eat, but he grabs her in a sudden hug. He tells her that he wants to stay here. Oh. Oh no. Are you doing this for Ryu's benefit?
He pushes her up against the wall and tells her that he's not leaving tonight, making his intentions clear. She tries to squirm free but he slams her up against the wall, pinning her hands up above her. Aaaaaugh, no Kang-woo, no!
He gets increasingly leery and threatening, and she finally has to push him off violently to get him to stop. And then he gets totally hurt at her rejection, as if he wasn't just being completely egregiously WRONG just now.
What's crazy about this whole ugly thing is that he's doing it calculatingly to get a reaction out of her and Ryu, only he takes her rejection seriously. He's acting a part, and yet he's taking her rejection to heart because he can't separate the two.
It's as twisted as it sounds. It's intentional, which both makes his actions better AND worse, because he's setting himself up for a confirmation that she doesn't love him, and never did. Because attacking a girl is really the best way to test that?
She chases him downstairs and asks him not to misunderstand. He asks if she has anything she wants to tell him. Caught off guard, she shakes her head and he sneers, almost at himself for trusting her, and at her for confirming his suspicions. Go catch him! Tell him the truth! Graaaaaaar.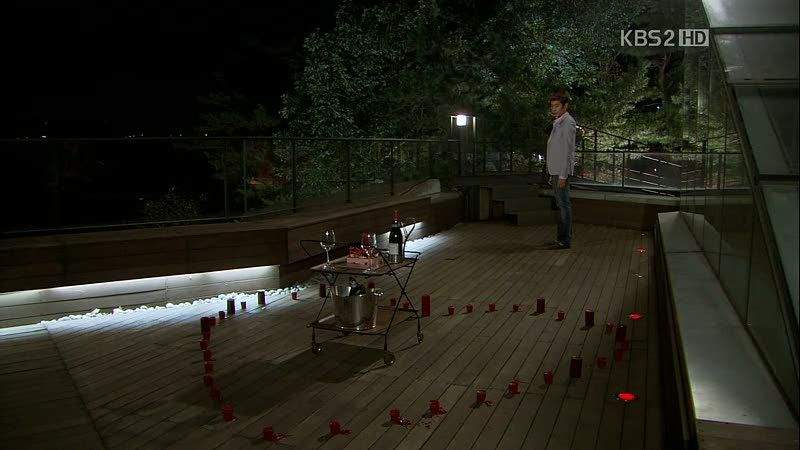 He comes home to his big romantic proposal setting, now just a cruel reminder of his broken heart. He throws the ring, screaming, "What is he? What is he to you?!" Ugh, I do feel bad for him that he's so twisted around that he can't see straight. But what happened to that trust you were clinging to? Couldn't it have lasted a little longer, to keep you from going straight back to assyville?
Hee-bok and Ok-soon hear of Dae-kang's night spent begrudgingly setting the stage for Kang-woo's proposal, and they get all excited at the thought of finally returning to their homeland, preparing speeches and souvenirs.
But Dae-kang kills their short-lived joy with news that he just spent the morning cleaning up the whole thing since the proposal's been scrapped. They stare dumbfounded. Yeah, a lot can happen in a night.
Kang-woo picks Myung-wol up in the morning, pretending that everything is fine. See, this is why you're all bitter and angry and inappropriately violent. Just confront her already. Repression leads to heart attacks and jackass behavior. She notes his coldness and asks if he's still mad, which he denies. Guh.
He asks if she had someone over last night, and she says no. He asks if she noticed anyone coming or going in his house, since that book he told her about has gone missing. She says no. What's with the constantly trying to trap her in lies but secretly hoping she doesn't lie?
His agent tells him that he's got a good shot at reviving his career even without Chairman Joo's backing, and is surprised at his nonchalant attitude, half-listening and telling her to pick his next project for him.
He tells Myung-wol he wants to be alone and leaves without her, and she in turn ends up as distracted as he is, knowing that something is clearly amiss. For a spy you really lack some basic reasoning skills. Those questions in the car aren't a dead giveaway?
Kang-woo calls In-ah out for coffee, and she feigns being so put out by it, then hilariously follows it up with a request for a date. He asks her about Ryu, and she asks if he died.
For some crazy reason, he doesn't press her on her reason for asking if he DIED, and wonders how he came to work for Chairman Joo. She doesn't know either, but does remember that the first time she met Ryu wasn't when he came to work for Grandpa; it was in Singapore.
The dots, they are a-connectin'!
He asks if it seemed like Ryu and Myung-wol knew each other back then, and she doesn't think so. But she does know that Ryu is interested in that musty old book that Kang-woo bought at auction.
She wonders again if that's why he's having trouble with Grandpa, but brushes it off as an afterthought. She lights up thinking that something's finally causing a rift between Kang-woo and Myung-wol, happy that he's at last beginning to suspect her.
Kang-woo rushes home to go through the other versions of the Singapore showcase footage. He finally comes across one camera angle that catches both Ryu and Myung-wol together in the audience.
He freezes it in shock. "Then the two of you… for the book… was it like that?"
Aw, you can't argue that it's not true, but it's not the whole truth.
Ryu wakes up in Myung-wol's apartment, where she's watching over him. He can tell something's weighing on her, and asks if it's because of the book, if she really feels that badly about betraying Kang-woo.
Myung-wol: He's the person who accepted all of me. So much has happened, and yet he trusted me and accepted me in the end. When I think about that person being disappointed in me, and hurting because of me…
Ryu: I think he must be happy. Because he has someone who worries for him like that.
Kang-woo calls her over and she gets up to go, and Ryu grabs her arm. "Do you have to go?" AW.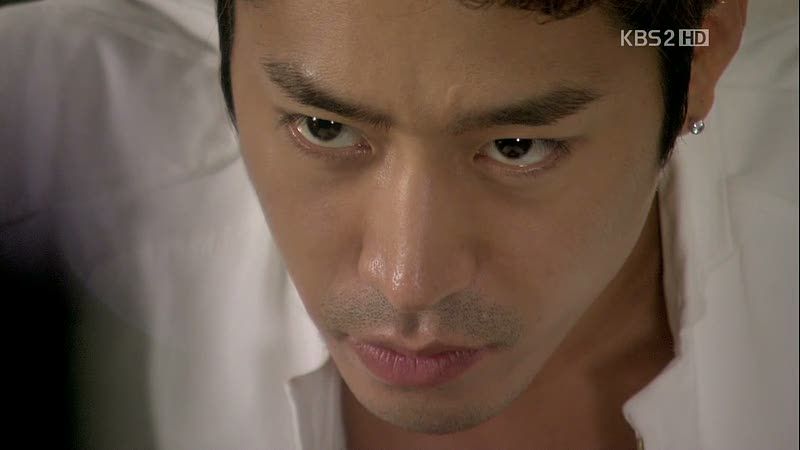 Kang-woo waits on edge, and receives a text that she can't come now and she'll be by in the morning. Oh, I didn't expect her to actually stay. Damn. Kang-woo stews, declaring that he was going to give her one last chance to explain, but she's chosen to close that door.
Well, no, stupid. YOU are the one who's arbitrarily deciding when to open and close that door, while she has no idea what you're thinking. He tortures himself some more, staring at the freezeframe of the two of them in Singapore.
Ok-soon worries at her spy daughter's condition and asks her if anything's changed with Kang-woo. She can't divulge anything about the books, so she just says that maybe she's projecting the weirdness. Ok-soon tells her about the almost-proposal, and suggests that she change up her look today.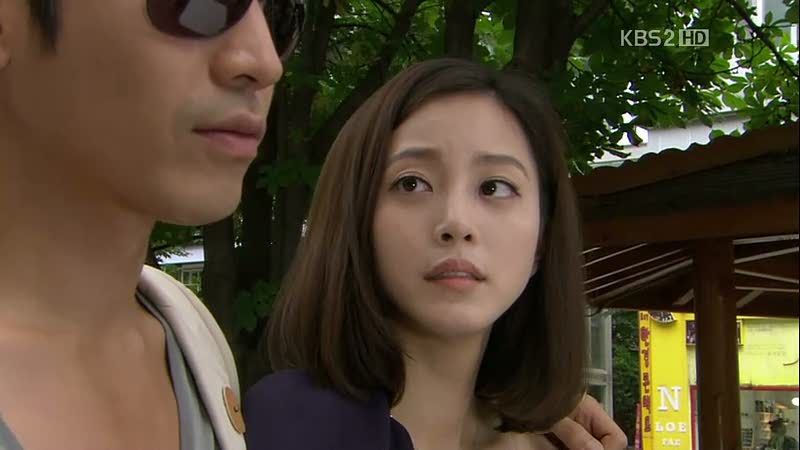 Meanwhile Kang-woo tasks Dae-kang with something new – spying on Myung-wol's parents and reporting back with what they talk about. I guess it's a good thing that Dae-kang is less than perceptive?
Myung-wol arrives in a new dress, and Kang-woo tellingly puts his sunglasses on as soon as she walks in. And on with the sunglasses, he puts on the happy boyfriend act, walking hand-in-hand and buying her a separate cell phone just for his calls.
He pours on the gifts and puts on a big show for the public, which gets her feeling guilty of course. She tells him that she's sorry, just in general, and he tells her to enjoy it all, since there's no telling how long it'll last. Yikes. That's not ominous or anything.
In-ah continues to obsess over the headlines about the happy couple, and attempts to convince her assistant to come back to the fold. She gets soundly rejected, which is neither here nor there, but satisfying to watch.
Dae-kang begins his spy mission, and when he overhears Hee-bok talk about orders from above, he wonders what "above" could mean… and decides on Heaven. Pfffft.
He wonders if Hee-bok is talking about death, and then comes across a suitcase. He finds pictures of North Korea (for a trip, he assumes), a radio, and even a GUN, and he laughs at Hee-bok for keeping toy guns like a big kid. Sigh. Oh, simple obtuse Dae-kang.
Ryu is well enough to get out of bed, and angsts over a photo of Myung-wol by her bed. He hears someone breaking in and hides, and avoids being caught by Chairman Joo's thugs, by hiding behind a door, but whatever.
He listens until they leave and opens the door to step out, running right into Kang-woo. Whoops.
He asks Myung-wol to pick up some dinner on her way over, and she arrives at Kang-woo's house with dinner in hand, and finds him sitting on the couch… with Ryu. Uh…
Kang-woo plays dumb and says he invited Ryu to dinner since he's been looking out for her, and says he thought she'd be happy about it since they're friends. Well, you totally win Passive Aggressive Boyfriend of the Year.
They sit down to the most awkward dinner possible, and Kang-woo makes sure to hold her hand and act sweet, all the while asking pointed questions like when they first met.
He basically sounds like a crazy jealous boyfriend, which isn't really untrue either, because as much as he's feeling betrayed and duped, he's still rabidly jealous that whatever the truth is, it has to do with this other guy.
Ryu asks if he's jealous or worried, and challenges Kang-woo's trust in Myung-wol. Kang-woo gets defensive and puts his arm around her to stake his claim in this increasingly ridiculous pissing contest, until she finally stands up to try and leave.
Kang-woo stops her and yells at her to stay, barking a command at her like a dog. Ryu gets fired up and tells him to stop, and the two are basically inches away from fists flying. Myung-wol tells them to stop and Ryu makes his exit.
She asks Kang-woo why he's doing this, and he blows up at her words, "Reason? You're asking me the reason I'm doing this?"
He storms upstairs, muttering to himself, "Do you really not know the reason?" At the same time, Ryu walks out and screams in frustration.
Chairman Joo finds that the book is a fake, and decides that they needn't look for Ryu any longer, since they have a card to play.
Dae-kang reports on his big spy mission, and Kang-woo asks if there isn't anything he found out about Myung-wol. Dae-kang complains that there's nothing TO find, since it's not like there are any pictures, any albums, any remnants of her childhood.
It dawns on Kang-woo that he never did get a straight story out of them about their family background, and decides to stop in for a visit. He asks the parents for a baby picture of Myung-wol, and Mom has to lie quickly that her birth father ran a bar and did nothing but drink and wreak havoc, and one day he lit the place on fire and everything burned.
While the story is plausible, there's one major hitch: Myung-wol once told Kang-woo that her father was a soldier. He asks about it, and Mom sticks with her story that he was no soldier, just a drunk.
Kang-woo leaves more confused than ever. "The more I dig, there's nothing that isn't weird…" He decides to hire someone to run a background check.
He spends the afternoon feeding his angst with scotch, and In-ah shows up hoping to have him confirm that he finally suspects Myung-wol. She guesses correctly that he's upset because things are going well between Myung-wol and Ryu.
Being In-ah, of course, means that this is all about her and if that's going well, it means Kang-woo should come back to her. He tells her to buzz off, and she pouts that all she wishes is that he'd understand her heart a little.
Kang-woo: "I would like to know another person's feelings. I want to live as that person's heart, just for one day." Aw, he heard you, but yours isn't the heart he wants to understand.
Myung-wol waits outside Kang-woo's place, calling him over and over. Someone walks up and surprises her…
Ryu begins a one-man plan to infiltrate Chairman Joo's fortress and reclaim the books, only he gets interrupted by a message that Joo is holding Myung-wol captive. Ryu comes guns a-blazin', but Myung-wol isn't there, and Chairman Joo offers him a deal – the real version of the book in exchange for their freedom from him for good.
He tells Ryu that he knows about their true identities and will go public with his knowledge if he doesn't bring him the real book.
But it turns out that he doesn't have Myung-wol after all, because it was Kang-woo who arrived at the house first. She brings him inside, stumbling around like a drunk mess, and he calls out her name over and over.
"Do you love me?" She tells him that he knows she does. But he asks over and over, saying that he doesn't know. Tears swirl around in his eyes as he hits rock bottom. He takes off his jacket.
"You love me?" He pulls her down onto the bed and hovers above her. "Then show me how much you love me."
OH FUCK NO.
Myung-wol: Why are you doing this? You're drunk.
Kang-woo: Why? You said you loved me. You said you loved me, so then why not? Why not?!
Myung-wol: Can't you trust me?
Kang-woo: That's right. I can't. I can't trust you. You said you loved me, so then why…? You say you love me, but why…? Why are you making it so difficult for me?
Myung-wol: What do I have to do to make you trust me? If I do this, will you trust me?
She starts to unbutton her blouse. Okay, here's your moment, Kang-woo. You can turn this around. Get off of her. Get the fuck off, RIGHT NOW.
Kang-woo: "Show me your heart." And he leans in for a kiss. Oh, HELL NO.
Oh gross. I don't know who to be madder at right now. What the fuck is she doing? Aaaaaaaaargh. What, is she gonna sleep with him to convince him of her love? And don't even get me started on Kang-woo. What're you, gonna screw the doubt out of your brain? Aaaaaaaaaaack.
What the hell is wrong with you people?! Why are you turning sexy fun times into a sick and twisted abyss of emotional vengeance? Gah.
After they sleep together, Kang-woo holds her, whispering to himself: "I don't know what I'm doing right now. I don't know why I'm doing this to you. I'm really sorry. I'm sorry." He closes his eyes.
Myung-wol opens her eyes, having heard his words. She thinks to herself: "I'm sorry. I'm really sorry."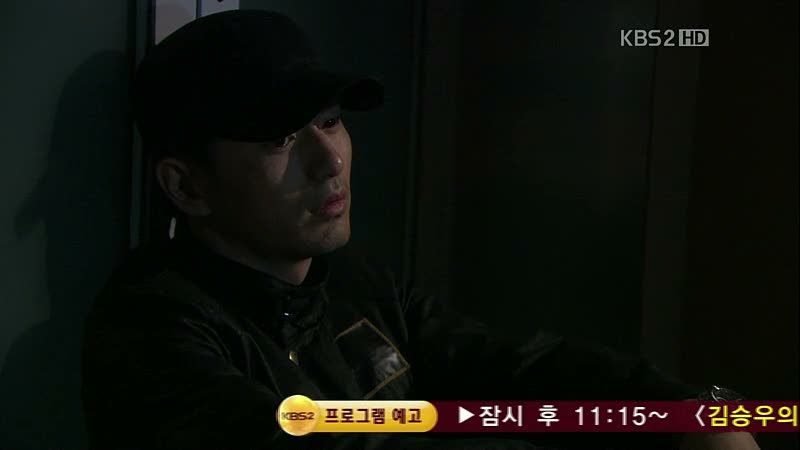 And this is the moment that Ryu chooses to break into Kang-woo's place, looking for the book. He opens the door and comes upon what looks like a happy vignette and crumples to the ground in agony.
In the morning, Kang-woo watches Myung-wol sleep, and when she wakes up he teases her about snoring, drooling, and grinding her teeth. Wait, what's with the happy? Did you people bump your heads together and lose your memories?
He tells her to stay in bed while he gets the mail and coffee, but as soon as he walks out, Ryu enters, having waited all night for Kang-woo to leave. She sits up in shock.
Kang-woo gets a phone call from the guy who did the background check on Myung-wol, and says that he sent the results by mail. He looks down and sees it in his hand with the morning mail.
He ponders it, and then decides all that matters is her heart, and throws it in the trash without opening it.
He heads toward the bedroom, but then stops short when he sees her standing upstairs, talking to Ryu. He hears Ryu say that the book she brought was a fake, and she tells him to leave before Kang-woo gets back.
He runs out to his car, stunned to realize that she's still lying, and been lying this whole time. He drives away and she runs out after him.
Ryu finds the real book and takes it with him. She hesitates, and he cuts her off, telling her that he has no time for her feelings anymore, and storms out.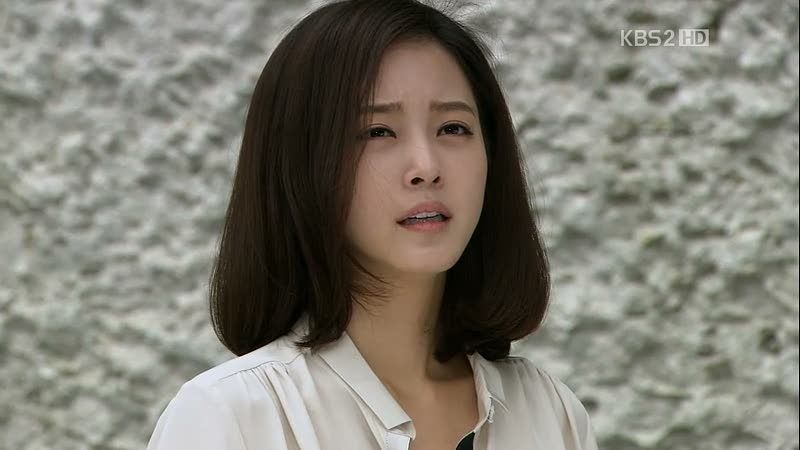 Myung-wol heads home in a daze, and then gets a call from Ok-soon, asking if something's going wrong with Kang-woo. She says that Dae-kang confessed to being tasked with spying on her, and that Kang-woo recently hired a professional to run a background check on her.
Her lightbulb finally goes off, realizing that Kang-woo's suspicious questions lately weren't all random. For an undercover agent, you really are strangely trusting. She realizes that the last thing Kang-woo did before driving off was get the mail.
She rushes back to his house and rifles through the mail. She opens up the trash can where he had thrown away the file… but it's empty.
His voice calls out behind her: "You must be looking for this." He holds up the papers in his trembling hand, that show her records as being falsified.
Kang-woo: "You certainly fooled me well, all this time. Everything, all of it… was a lie. What's the truth? You! Who are you? Tell me. Please, tell me. TELL ME!"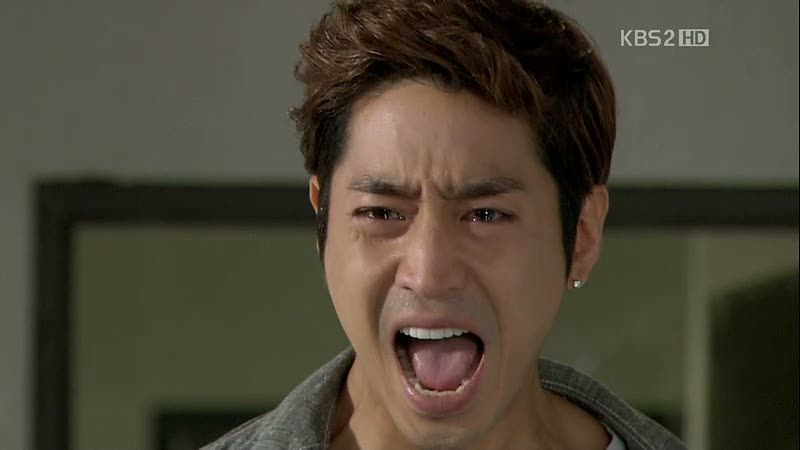 COMMENTS
I really didn't expect this show to go so dark. The thing is, I want to hope that the show is not stupid enough to treat their sleeping together like that as any kind of good situation – Kang-woo is clearly drunk, and totally fucked up, and making stupid choices – he acknowledges it's something to be sorry for right away. When the scene at night was followed up with apologies, albeit to themselves, I felt like the treatment of it stayed firmly in Mistake Territory (as in: I was wrong for doing this).
BUT… the morning after? Why are they all happy and shit? Like they forgot how totally twisted their night was? Please don't tell me I'm supposed to read that as: it doesn't matter why, but now that we've slept together it's all roses?
And don't even get me started on Myung-wol actually agreeing to sleep with him to "prove her love." *VOMIT* What the fuck is that about? Sex proves a lot of things, like which organs are in working order, but it does not prove love. Certainly not in the way Kang-woo wants, for her to sex the doubt out of him. IT DOESN'T WORK THAT WAY.
My only consolation is that he discovers right away that it doesn't work that way. And in the end it backfires on him completely – now it's worse, and his black hole of despair is actually deeper than it was before. Now it's turned into: "she slept with me to convince me that she loved me…to keep her cover" which is just a self-fulfilling prophecy of badness.
It's pretty much the trajectory of Kang-woo's entire spiral of doom in this episode. Everything ends up being the darker version of what it could have been because he twists it to prove that his worst fears are true. I'll at least give Show props for showing a clear trajectory for Kang-woo into a hell of his own making, and for Eric's portrayal of it. Sigh. I really hope this is rock bottom. Because if there's another bottom under THIS bottom, I don't know if I can take it, Show. I'd normally follow that up with advice on how to fix it, but I'm way too pissed at you right now. Go stand in the corner until Monday.

RELATED POSTS
Tags: Eric, featured, Han Ye-seul, Jang Hee-jin, Lee Jin-wook, Myung-wol the Spy