Incarnation of Money: Episode 23
Fighting in war isn't always easy, especially if your morals and emotions are in constant conflict with each other. What if doing something right requires you to betray how you feel? On the other hand, what if your emotions force your hand to do something morally wrong? It's questions like these that continue to plague our characters as the truth slowly unravels at their feet.
Maybe that pristine white vase isn't as beautiful as you once thought when you realize that you're holding a dirty rag in your hand.
EPISODE 23 RECAP
After their teary reunion, Jae-in apologizes in the car that her efforts in the war of revenge barely made a dent in Se-kwang's armor. Cha-don tells her not to worry; he's got a better idea: He'll become a prosecutor again.
The hidden card he picked up in prison isn't enough on its own; he needs the credentials to punish Se-kwang in a court of law. He thinks to himself, "We'll fight with real swords in this last battle."
Cha-don seeks Prosecutor General Jo's help to push for his reinstatement as prosecutor. Their attention momentarily shifts to Se-kwang giving an interview on TV, rallying support from his fellow citizens to vote for him in the upcoming mayoral election.
Prosecutor General Jo spits up his drink after he learns the truth, and asks why they didn't press the matter in the trial. Cha-don explains that it would have been pointless since Director Yoo was at the mercy of Se-kwang's bidding, and probably couldn't afford to lose the money he was promised.
Therefore, Cha-don needs to be reinstated as prosecutor in order to wring a proper confession out of Director Yoo.
Se-kwang is not happy to hear that Cha-don is now free thanks to Director Yoo's revised testimony. He asks Director Yoo if he divulged anything else in court, and tells him to wait just a little longer – the world will be his once he becomes mayor. Then he makes the order to burn the paper trail of the embezzled bank accounts.
He returns to the car and Prosecutor Kwon fumes when he's told that they have to wait until after the election, practically itching to do away with Cha-don or put him back behind bars. All they can do now is to prevent Cha-don from making a scene.
Meanwhile, Team Shudal has been keeping a close watch on their enemies nearby. Though the Traitagon is currently unaware that Cha-don has applied for reinstatement, Chief Yang worries that the interviewers will hold Cha-don's corrupt past against him.
But Cha-don thinks it's still worth a shot. He vows, "I'm going to genuinely try my best."
He beats the interviewers to the punch and reveals himself to be the infamous Shudal. When asked why he seeks reinstatement, he honestly answers that he wishes to take responsibility for his former misdeeds.
It isn't about the money either, he adds, since his lawyer salary was higher than when he was a prosecutor. I'll say. Then Prosecutor General Jo pulls his weight around with the other interviewers (his compliments are a little overkill, to be honest) but it seems to work as they murmur their agreement.
Elsewhere, Se-kwang's techie minion stuffs the Swiss bank account receipts in a bag just before Ji-hoo arrives, unaware that he's dropped one in his hurry. Ji-hoo mistakes it for another ordinary financial document and places it in Se-kwang's drawer.
We get an adorable moment as Dad smiles to see his wife nod off after he serenades her with his saxophone. That doesn't last long because Boss Bok suddenly snaps awake, her memory returned.
She isn't happy to see Dad and grabs a fistful of his shirt. He tries to plead for mercy through her cursing as she screams that he has no right to refer to himself as Jae-in's father. He bolts when Jae-in steps in to break up the fight.
As for Jae-in, she's relieved to see her mother back to her old self again and embraces her. She tells her mother that Dad has been her caretaker and dotes upon her "better that a husband would."
When Jae-in teases that they look good together, her mother loudly protests never to let Dad back in again.
Their new humble abode caused by their financial ruin throws Boss Bok for a loop and she nearly blows a gasket once she's filled in.
Assistant Kim asks after the receipts of the money she lent to her fellow literary members and she answers that it's in her secret vault. Does every rich person have their own secret vault?
Unfortunately, they've already checked there and Boss Bok's audio diary entries divulge nothing. So Boss Bok racks her brains for a minute before she declares that she hid it "there."
Jae-in: "Where do you mean 'there'?" Am getting eerie flashbacks of my own mother referring to "that friend" from "that time." Her jaw drops when her mother tells her that they'll be heading back to the Bok estate and will have to do some digging.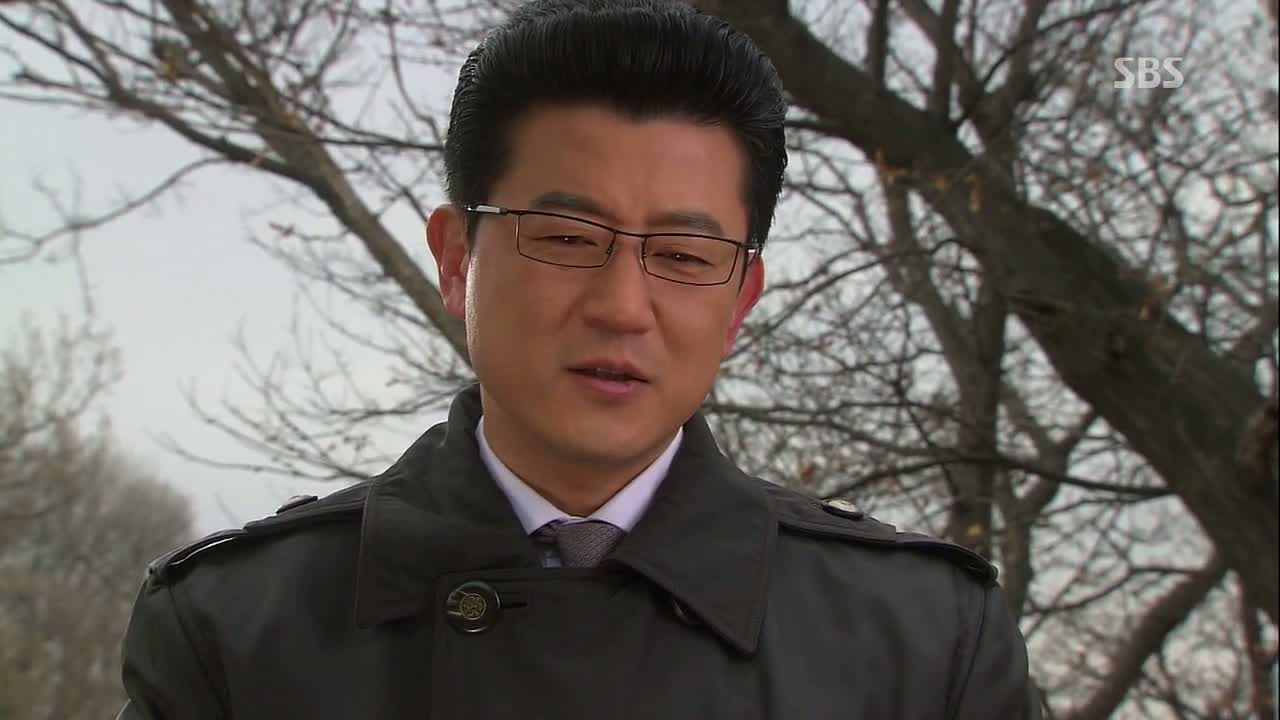 Meanwhile, Se-kwang visits his father's grave (with his favorite walnuts) and boasts that despite his meager beginnings, he will soon become mayor. He vows to rise through the ranks and become president.
He swings by to see Bi-ryung per her request. She tells him that she's given it some thought and now realizes that she's been had by Cha-don's tricks. She apologizes to Se-kwang for not trusting him sooner. Wait, this has to be an act, right?
Se-kwang pulls her into a hug and consoles her that it wasn't her fault for being deceived. He's surprised when she asks to be sent back to prison – surely the asylum is more comfortable?
Bi-ryung replies that it matters little to her now, and invites the chance to meet Cha-don face-to-face. When she urges that she be transferred immediately, he replies that it will take some time. So she pulls out the big guns and pleads with him with sad, puppy eyes. He agrees.
He notices her staring out the window and asks what she's thinking. Bi-ryung denies it and places her head on his shoulder. But if her semi-blank expression is any indication, the cogs in her head are turning.
Sure enough, when the stop at a rest stop, Bi-ryung uses the opportunity to slip away via an opening through the ladies' bathroom. Changed into different clothes (and in possession of Se-kwang's wallet), she catches a ride with a truck driver, who just so happens to be a Se-kwang fanboy. Ha.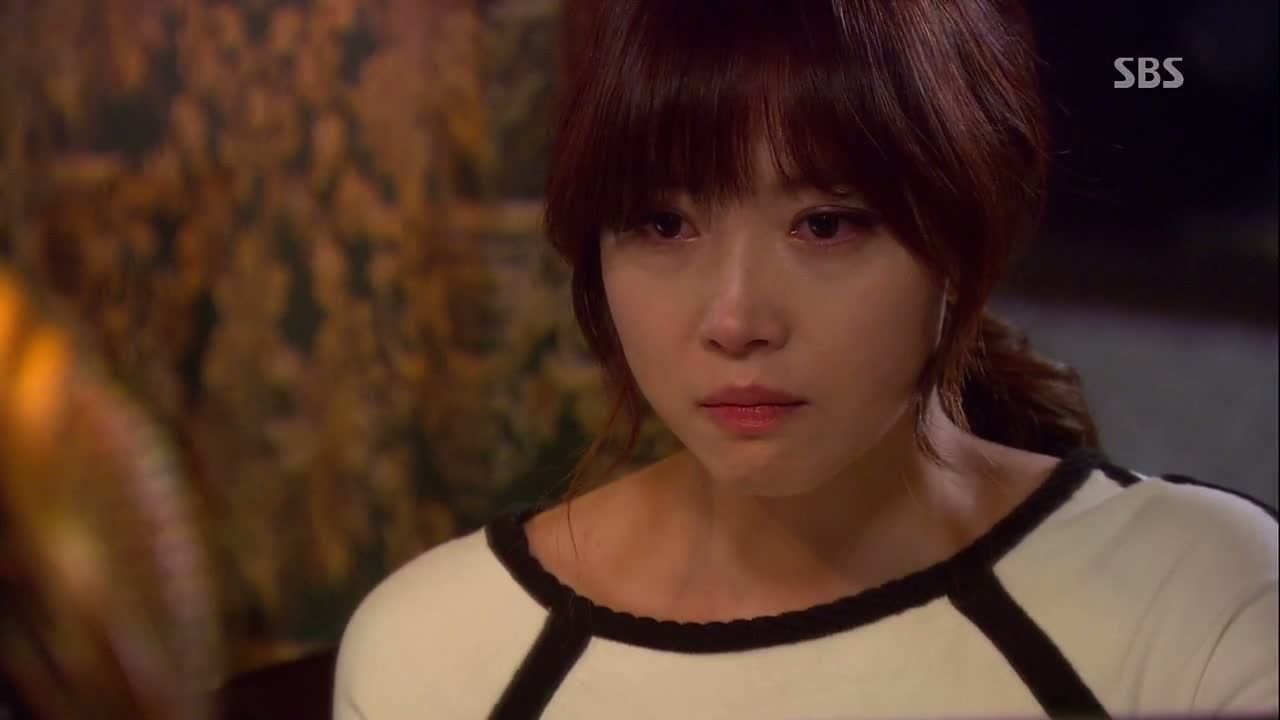 Se-kwang's day has just gone from bad to worse when he hears that Cha-don has been reinstated as prosecutor (yay!). Bi-ryung wastes no time in accessing her security deposit box, where she's stored away her jewelry collection.
Then we see her in a lavish hotel room, calling her son in the States. She jumps when there's a knock at her door – a package that contains a pill.
Grasping it firmly in her hand, she seethes, "I'll kill you by my own hands, Se-kwang."
Prosecutor General Jo worries that they may have picked the wrong time to face their enemies, afraid of the possibility of public criticism. But Cha-don, who's sporting a new 'do, thinks differently – now is their chance to show the world how corrupt Se-kwang is.
Just then, Prosecutor Kwon storms into the office, enraged to see that Cha-don is in fact a prosecutor again. Grabbing Cha-don by the collar, Prosecutor Kwon shouts that he'll have him fired soon enough.
Cha-don explains to him in a calm voice that his son left a trail of important clues with his dying breath: "Killer. Ji Se-kwang. Swiss bank account." He adds that Hyuk's efforts to investigate the embezzlement cost him his life.
Naturally, Prosecutor Kwon doesn't believe him and he raises his first in response, ready to strike. Cha-don answers that it doesn't matter whether the senior prosecutor believes him or not, since he'll discover the truth.
Prosecutor Kwon is dragged out of the office, and Cha-don immediately asks for a warrant to arrest Se-kwang.
Prosecutor General Jo replies that it may be difficult since there are rumors floating around that Prosecutor Kwon will soon be elected as the next Chungrok Literary Society president, but Cha-don tells him that they needn't worry.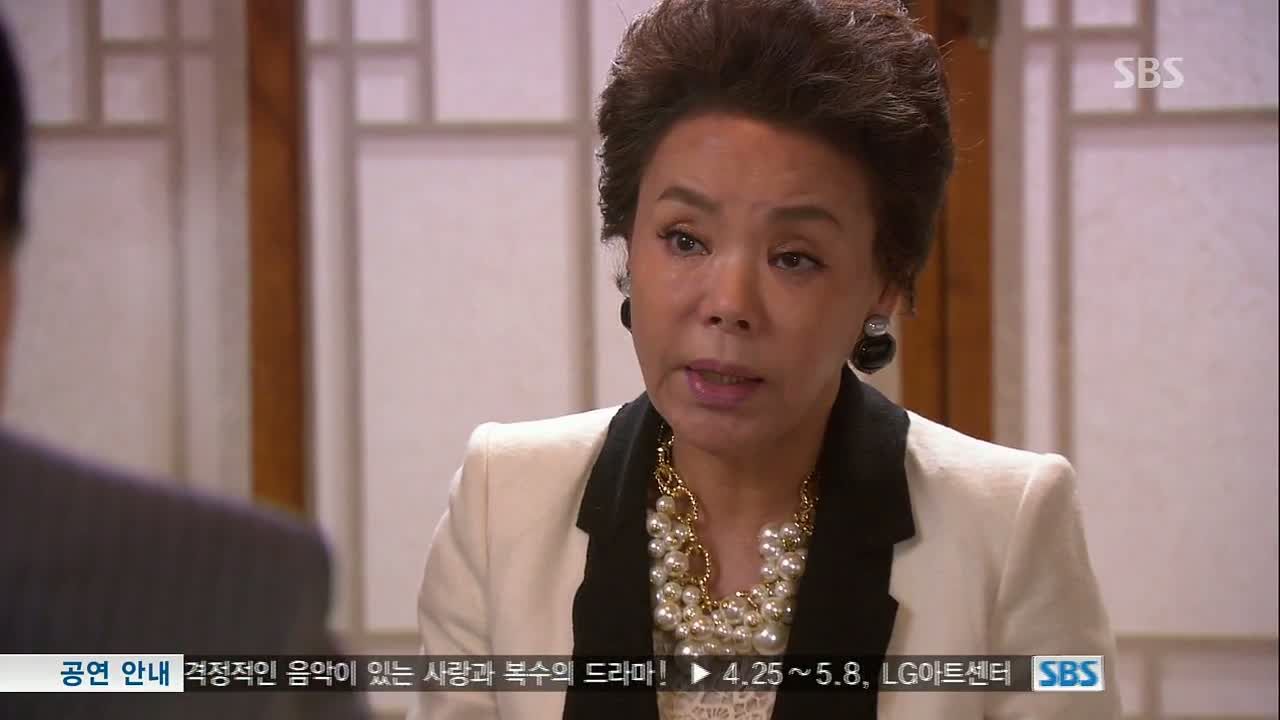 That's because Boss Bok is currently laying a smackdown on the Chungrok Literary Society members as she pulls out her accounting books and reminds them how much they've borrowed from her over the years. I love that she rounds off to the nearest ten million won like it's pocket change.
She's so upset with the men for betraying her that she has to consciously refrain from cursing out loud. So she turns the job over to Jae-in before she rises to leave.
And if Boss Bok weren't badass enough as it is, she declines help from Assistant Kim in case someone sees.
Jae-in is not to be trifled with either, as she pointedly notes that no one from the literary society came to her aid when the savings bank went under. They jump to apologize for their lack of involvement.
So Jae-in agrees to accept their apologies in exchange for a favor. She turns to Congressman Oh and instructs him to grant Cha-don the arrest warrant.
As for the other two, they can collect signatures to object to Prosecutor Kwon's nomination as the incoming president and prepare for a show that will reveal the truth behind the late Chairman Lee's murder case sixteen years ago. Like mother, like daughter.
The Traitagon meets at a restaurant and watches Prosecutor Kwon drown his rage in drink. Se-kwang warns his sunbae not to be swayed by Cha-don's words and isn't pleased to hear that Bi-ryung is still missing.
It's election day and at the prosecutor's office, Cha-don and Prosecutor General Jo keep a close eye on the news coverage. They receive a call giving them the all-clear to arrest Se-kwang and immediately head out.
Ji-hoo is on her way out when another senior prosecutor tells her the news that Se-kwang is charged with murder and embezzlement. She's further surprised that Cha-don is behind the order.
Se-kwang awaits the election results with his campaign team and the press that evening. It comes as no surprise that he wins the election by a landslide.
His moment of glory is cut short, however, when Cha-don walks in with a prosecution team, an arrest warrant in hand. Se-kwang is immediately handcuffed and he reminds Cha-don that the entire city is watching this unfold.
Cha-don is well aware of that and he retorts that it's Se-kwang who has bit off more than he chew. Se-kwang shows off his handcuffs and declares to the media that the truth will be revealed and the citizens of Seoul will act as judges.
Once everyone files out of the room, Prosecutor Kwon calls for an emergency meeting of the literary society to free Se-kwang.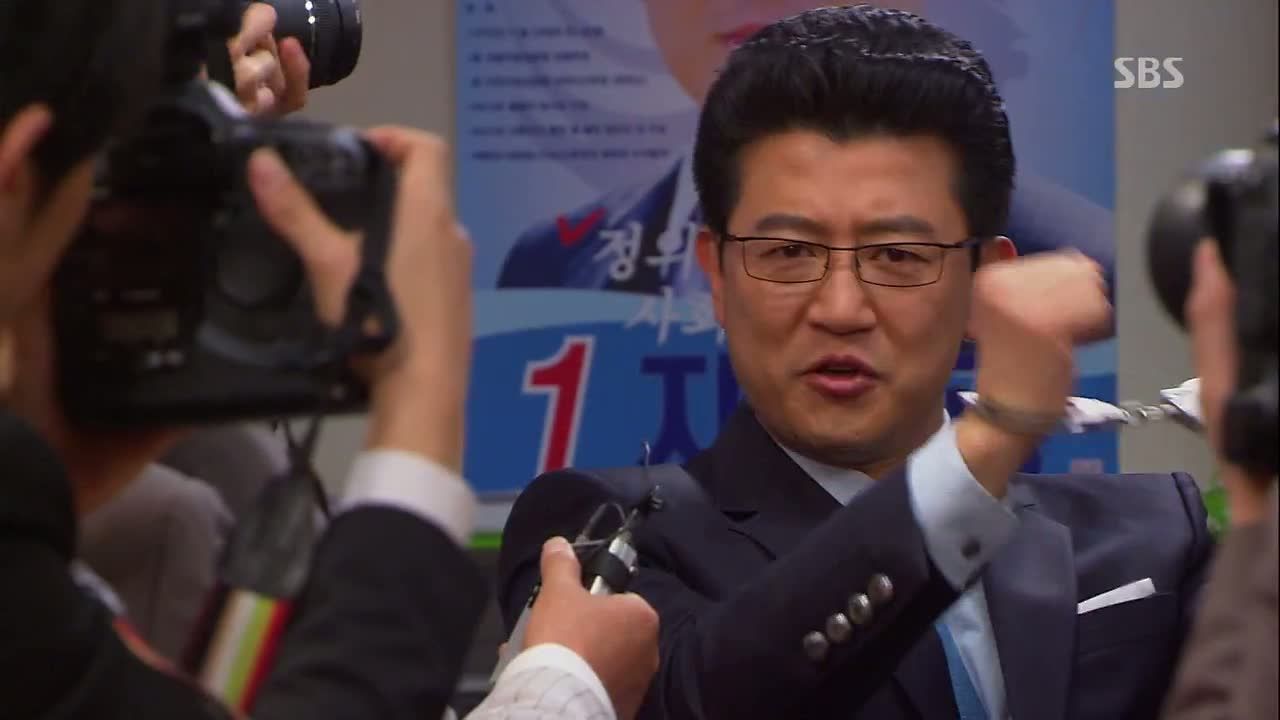 The Bok family watches the news coverages with feelings of unease, worried that this rash act will backfire on Cha-don. Assistant Kim argues that Se-kwang has won the election with over 60 percent of the votes, but Jae-in tells him to trust Cha-don.
Thanks to Boss Bok's precautionary measures, no one shows up at the Chungrok meeting. The grave charges against Se-kwang make Professor Jeon uneasy and Prosecutor Kwon firmly assures him that the claims are false.
Just then, Jae-in shows up to announce that no one else will be present for the meeting and hands over the signatures which deny Prosecutor Kwon to become the Chungrok Literary Society president.
She then directs her words at Prosecutor Kwon, telling him that Hyuk's death was a shock to her as well. "But do you know what's even more ridiculous? That his father would help his murderer."
Prosecutor Kwon shoots her a puzzled look, so she spells it out for him: Se-kwang is the one who killed Hyuk.
He can hardly believe her words and repeats out loud to himself that it can't possibly be true.
Cha-don hilariously helps himself to Se-kwang's one meal in the interrogation room as Se-kwang eyes him curiously – why isn't he being interrogated for his charges? Cha-don leans back into his chair and tells him it's obvious – Se-kwang will flatly deny the allegations.
He reminds Se-kwang of his words that the next time they meet, Se-kwang would be the criminal and he would be the judge. Se-kwang scoffs in response, slightly impressed.
But Se-kwang hasn't been called an expert for naught – he's interrogated countless criminals and those years of experience have turned his heart stone-cold. With a forced smile, he says, "You're no match for me. I have a strong heart."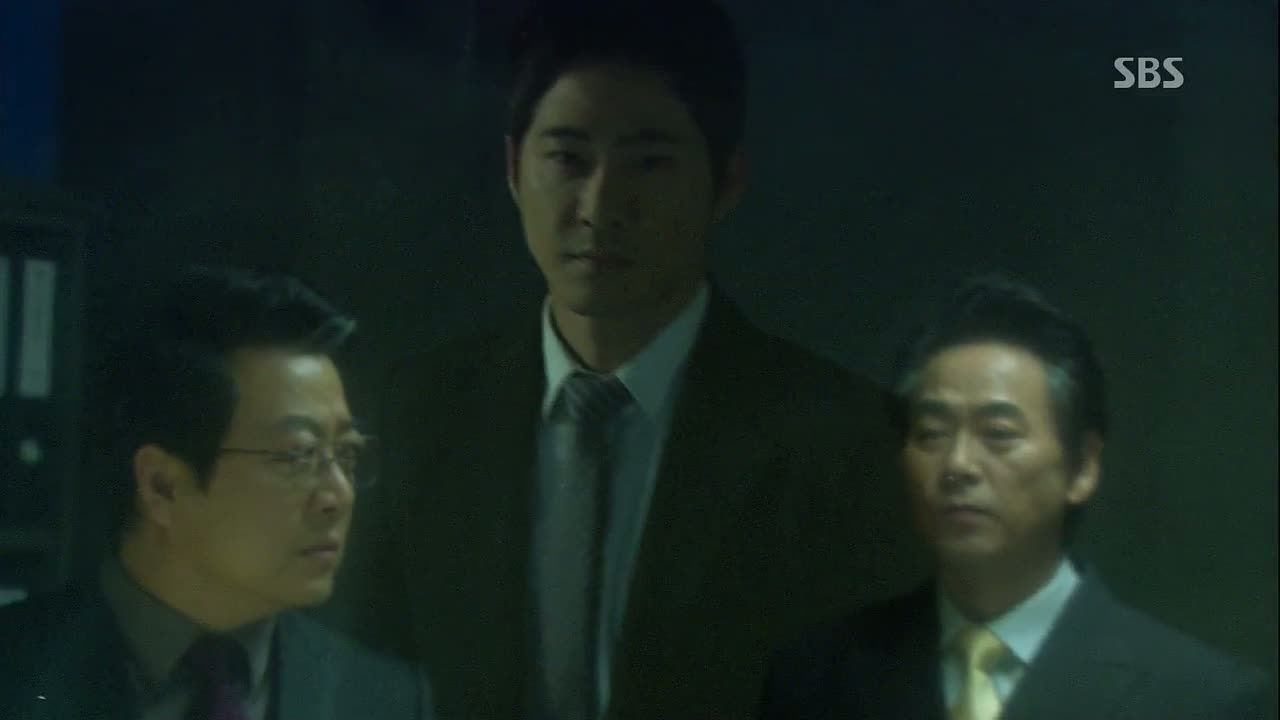 It isn't a confession that Cha-don is after and he predicts that Se-kwang's supporters will tear their own idol apart. "Strong heart?" he laughs, "You better keep an eye on that demonic heart of evil."
Standing behind the one-way mirror, we see Prosecutor General Jo and Prosecutor Kwon observe the interrogation session.
Director Yoo and Se-kwang cross paths on their way in and out of the interrogation room. On the other side of the mirror now, Cha-don tells Se-kwang that it ought to be interesting to see what Director Yoo might say in the hotseat.
Cha-don takes the stage and asks Director Yoo to name the charges Se-kwang is faced with. He tells Director Yoo that it's useless to act strong, since the man already told him the entire story when they were in prison together. Director Yoo insists that he'll never admit to it, to which Cha-don slyly replies, "That means you did confess to something."
Since there is no such thing as a perfect crime, Cha-don informs Director Yoo of his mistake: he was the first eyewitness who also called the cops. Not only that, he dared to frame the act on a Korean prosecutor.
Director Yoo starts to sweat bullets as Cha-don now drills pointed questions to name Hyuk's killer. "I told you last time!" Cha-don: "Say it again." When Director Yoo tries to evade the question again, Cha-don slams a fist on the table.
That finally breaks Director Yoo's resolve and he admits in a shaking voice that not only were Se-kwang's hands bloody that night, he seemed agitated and threatened him.
Prosecutor Kwon's eyes bug out in disbelief, and Cha-don slowly rises from his chair to face his senior officers. "You heard that, right? Hyuk's murderer… is Ji Se-kwang."
The truth finally settles in Prosecutor Kwon's mind despite Se-kwang's repeated attempts for the man not to be swayed. Prosecutor Kwon launches himself at Se-kwang and is promptly dragged outside by Team Shudal.
Wait a minute – now you've got a suspect on the other side of a one-way mirror on his own.
Se-kwang takes this prime opportunity to speak into the mic. He informs Director Yoo that this confession doesn't count since he was coerced to give it; it can easily be overturned in court.
Cha-don yells into the glass, asking if anyone is there as Se-kwang roars at Director Yoo to get his act together or he won't receive a single penny. He bellows, "Resist! Hold your ground!" as he's dragged out.
Fear washes over Cha-don's face as he slowly turns his head towards Director Yoo. Oh crap, I don't like that look on Director Yoo's face.
Jae-in meets with the reporters in charge to shed light on the late chairman's murder case. They inquire after the well-known news anchor and explain that disclosing real names could set themselves up for defamation charges.
Team Shudal is running out of time – the public believes Se-kwang is being persecuted and now Director Yoo remains tight-lipped. All they can hope for now is to discover evidence of the hidden embezzled funds so that Director Yoo will give up.
To make matters worse, they don't have a search warrant to infiltrate Se-kwang's house yet.
As soon as Cha-don steps outside, he runs into Ji-hoo, who confronts him about Se-kwang's arrest. It doesn't make any sense in her eyes since Se-kwang adored Hyuk and headed the embezzlement case himself. Well, that's because you're blinded by love.
Cha-don cuts her off and retorts that Se-kwang has stowed away the embezzled 41.7 million won in a Swiss bank account. And at that moment, she recalls the receipt she stuffed in Se-kwang's desk drawer.
She tries to convince herself that it's not true and declares that she would have been the first one to discover the existence of a secret bank account. The lady dost protest too much, and this time Cha-don notes her insistence as strange – how would she know of such a thing?
She answers: "Because he's the man I'm going to marry." Ji-hoo tells Cha-don to back off or she won't stand for it.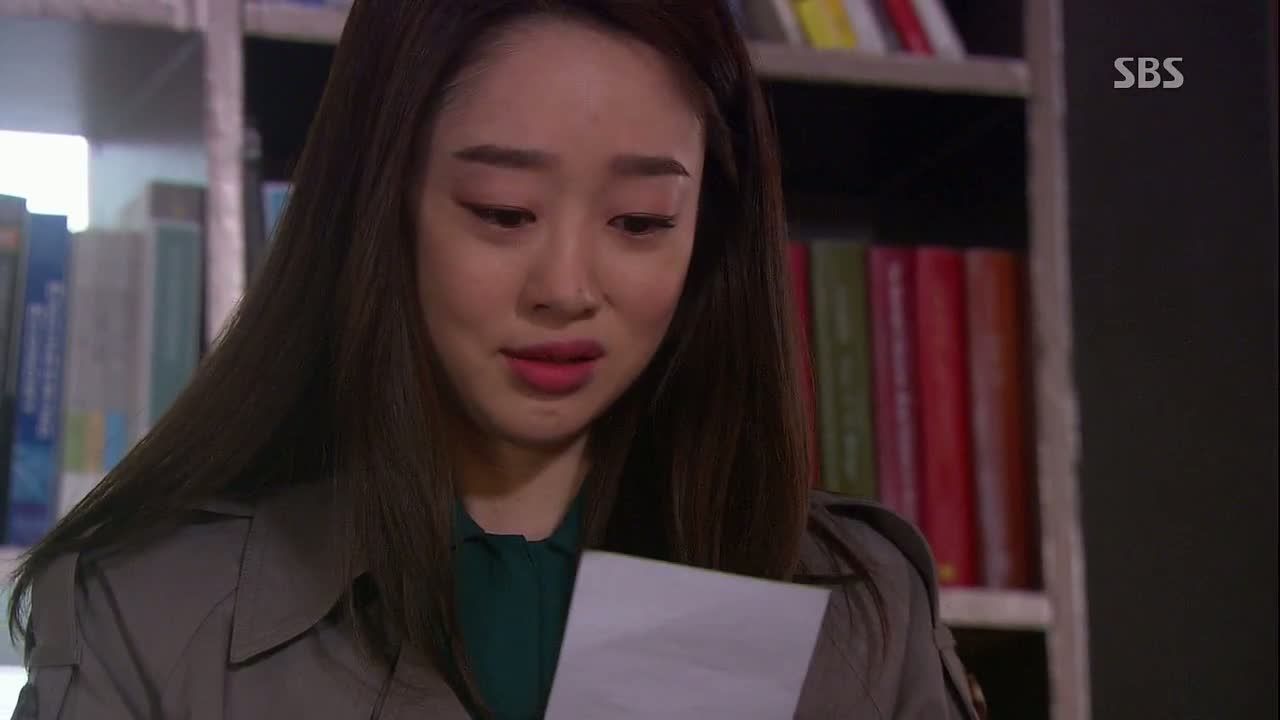 Ji-hoo runs back to Se-kwang's apartment and rifles through his desk drawer. Sure enough, the receipt is still there.
Tears well up in her eyes as she continues to tell herself that it can't be true even with the receipt in her hands. Don't you dare rip that up for love!
A little while later, Se-kwang walks into the room and sees Ji-hoo waiting for him. Her back turned away, she asks him, "As your girlfriend, what can I help you with?"
She turns around and says that there must be something he must want her to do. When Se-kwang says there isn't, she shows him the receipt. In her head, she pleads with him to deny that the secret account actually belongs to him.
To her surprise, Se-kwang asks if Cha-don knows of the account yet. He repeats himself when Ji-hoo doesn't initially answer, and then she finally ekes out, "Not yet."
Se-kwang tells her that if this piece of evidence falls into Cha-don's hands, he'll be done for. "I'm sorry. I didn't want to ask you for this kind of favor."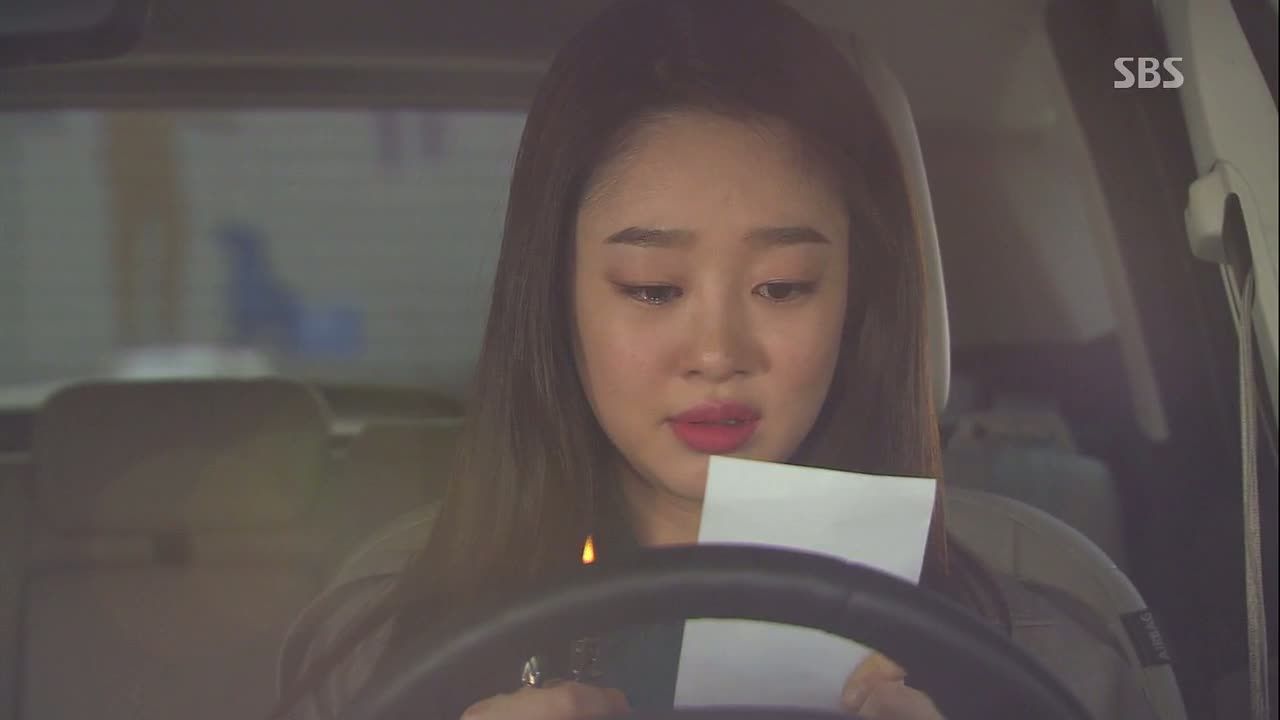 Next thing we know, we see Ji-hoo sitting in her car with the receipt in one hand and a lighter in the other. Oh no, don't you do what I think you're going to do!
She brings the flame closer and closer to the corner… and then flips the lighter shut. Good girl. She cries into the steering wheel.
Meanwhile, Cha-don and his team march into Se-kwang's apartment with a search warrant and pile his things into boxes.
Ji-hoo finds Cha-don waiting outside her place later that night and they relocate to a nearby park. Cha-don is the first to speak, acknowledging that this must be a tough time for her "because I know you're tough on the outside, but weak on the inside."
Cha-don tells her that their search turned up nothing, but the surveillance tapes revealed that someone else swung by just before his team arrived: Ji-hoo. Oho!
Ji-hoo's eyes widen in surprise. Then Cha-don asks her to hand the Swiss bank account number over.

COMMENTS
Who would have thought that Ji-hoo would ever look upon her hoobae prosecutor with such contempt in her eyes? We were introduced to a no nonsense, smart, and driven prosecutor who wouldn't settle for anything less than the truth, only to disappear for a short time and return to pine over her unrequited love. Her love for Se-kwang has clouded her clarity in the orb of justice and now, the two sides of her identity (as a legal representative and a woman in love) are at war with each other. The battle within herself is much more than just a small piece of paper she found in Se-kwang's desk; her entire definition of justice hinges on Se-kwang's representation of that idea. The betrayal speaks more than just her own heart, but affects the public at large.
I do dearly hope that Ji-hoo will come 'round, not because it's just the eleventh hour, but because she has so much more to bring to the table. Now she's no ordinary prosecutor, but a judge who acts a fulcrum between the seesaw of righteousness and corruption. We already know that she and Cha-don make a winning team and combining their efforts make them unstoppable. And though our main couple didn't swing in this direction, I found their interactions far more electrifying since they saw eye to eye on changing the world through the eradication of corruption.
To my great relief, all of the women in this series have finally upped their game and give the men a run for their money. This makes me wish that we saw more of their badassery in earlier episodes rather than in the final act, but all the ladies are doing their part in this revenge plan, even spiteful Angelina/Bi-ryung. Thankfully, Boss Bok has made a temporary return in this episode, which seemed awfully convenient since Team Shudal were pulling at straws trying to figure out a way to get out of this situation. But because Alzheimer's is ultimately a degenerative disease, we know that there must a Fate timer ticking down until her memory and identity slips further away from her.
So as we approach the final hour of this series, we're left with more questions than answers in this war of revenge. Will justice prevail in a sea of swimming sharks ready to chomp or will the small fry dissipate and float away like bubbles?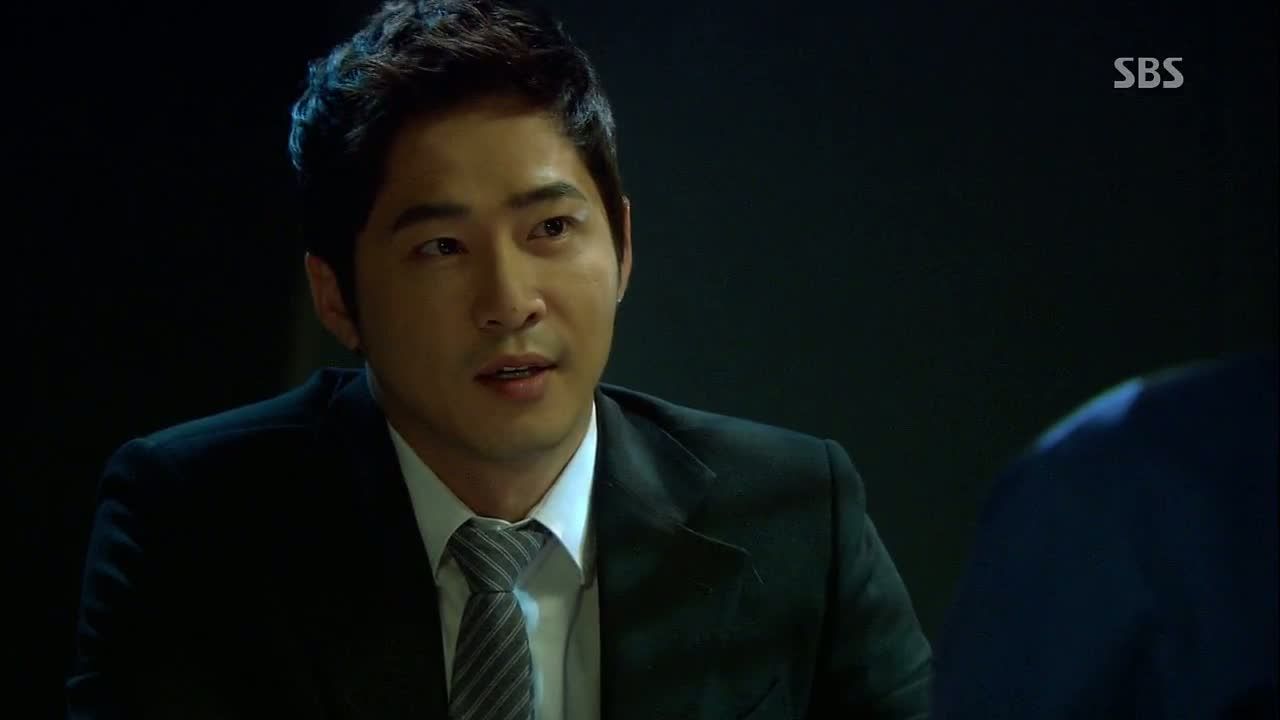 RELATED POSTS
Tags: featured, Hwang Jung-eum, Incarnation of Money, Kang Ji-hwan