52nd Baeksang Arts Awards: Film Section
And now for the film section of the 52nd Baeksang Arts Awards. The Baeksangs award the best of both film and television in one event, but we're breaking up the posts for length and readability. Here's the other half of the red carpet, which includes a few of the film nominees with their dramaland co-stars: 52nd Baeksang Arts Awards: TV Section.
In film the big winner was director Lee Jun-ik, who had two projects: the historical film The Throne starring Song Kang-ho and Yoo Ah-in, and Dongju: The Portrait of a Poet, based on the story of a real-life occupation-era poet, starring Kang Haneul. Dongju garnered a New Actor award for Park Jung-min, who should've broken out after Bleak Night but is starting to get more attention now (he'll have a big role in tvN's Entourage later this year).
Action films Assassination and Veteran were the huge box office hits and each took home big awards — director Choi Dong-hoon's Assassination won Best Picture and Ryu Seung-wan won Best Director for Veteran, to spread the love around. The top acting awards went to Lee Byung-heon for the thriller Inside Men and Jeon Do-yeon for her melodrama The Shameless.
It would've been more entertaining if people had been double-nominated in one category (like Yoo Ah-in in The Throne and Veteran, since he was stellar in both), or won in both TV and film (like Jo Jin-woong, Kim Hye-soo, or Ra Mi-ran, who had nominations in both sections), but the Baeksangs remained pretty evenly dispersed. And the red carpet is a continuation of the black-and-white parade, no surprise there.

WINNERS LIST: FILM SECTION
Daesang: Lee Jun-ik (The Throne, Dongju: The Portrait of a Poet)
Best Picture: Assassination
Director: Ryu Seung-wan (Veteran)
Top Excellence, Actor: Lee Byung-heon (Inside Men)
Top Excellence, Actress: Jeon Do-yeon (The Shameless)
Supporting Actor: Lee Kyung-young (Minority Opinion)
Supporting Actress: Ra Mi-ran (The Himalayas)
New Actor: Park Jung-min (Dongju: The Portrait of a Poet)
New Actress: Park So-dam (The Priests)
New Director: Han Joon-hee (Chinatown)
Screenplay: Ahn Gook-jin (Alice in Earnestland)
Popularity Award, Actor: D.O. (Do Kyung-soo) (Unforgettable)
Popularity Award, Actress: Bae Suzy (The Sound of a Flower)
Yay, the big winner of the night in the film category, director Lee Jun-ik, who had TWO critically-acclaimed movies in the mix with Dongju: The Portrait of a Poet and The Throne (though he's still probably most famous for King and the Clown). I can't wait to see Dongju, which will surely make me cry.
MCs for the event, Suzy and Shin Dong-yup, arriving together. Suzy picked up a popularity award, and had two looks for the night, both of which are stunning on her. She almost never fails at red carpet fashion; how is this statistically possible? The first dress is actually very simple, but it's so sleek and sexy and fitted perfectly. The second dress seems like a nice match for her sageuk Sound of a Flower, and the gray floral pattern is so pretty.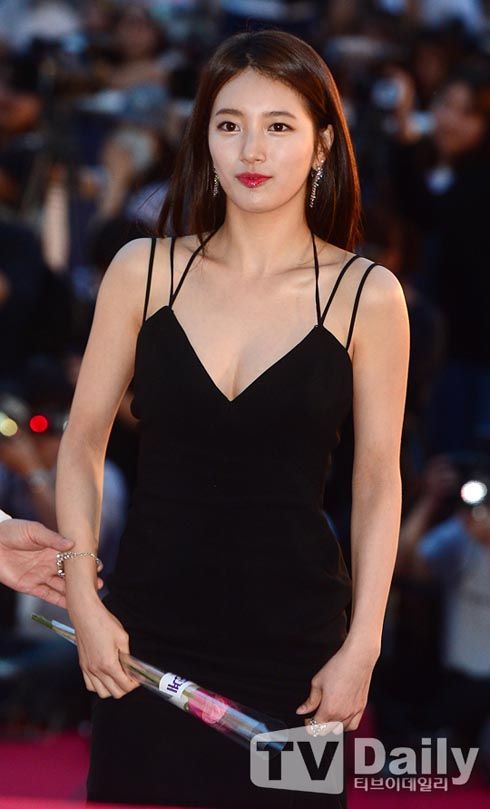 Jeon Do-yeon took home the Top Excellence award for her performance in The Shameless, opposite Kim Nam-gil. I wish I liked her dress more, which is okay in close-ups (it has reflective bits that shine nicely in photos), but it's a little much in the full shot. Maybe if it were more fitted, it could be sexy AND reflective. As it is, it just kind of reminds me of a papier-maché mermaid, I don't know why.
Oops, Im Shi-wan and Shin Dong-yup showed up in the same tux. Im Shi-wan looks better; sorry, Shin Dong-yup.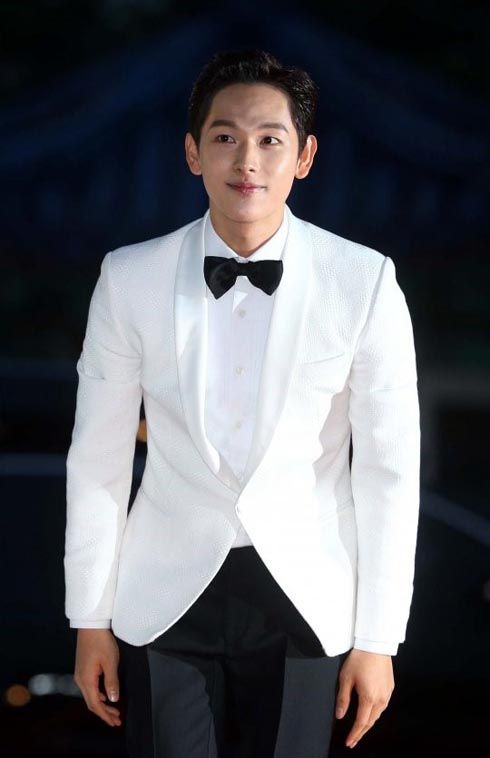 He presented an award with his A Melody to Remember co-star Go Ah-sung , whose dress is disappointing and confusing. It looks like someone put her in her mother's gown and halfway there in the limo, she was like, Screw this! and tore the hem off with her bare hands. If that's what actually happened, yay for her. If it's not and this dress was cut like this on purpose, I don't know what they were thinking.
Han Hyo-joo was nominated for her lovely performance in The Beauty Inside, and was also in Haeohwa: Love, Lies this past year. I think this color actually washes out her face, though the dress is fitted perfectly. I just wish it were more — more bling, or more color, or something.
It was Park Seo-joon who really sold that loveline for me in The Beauty Inside, though his nomination (for New Actor) was for his thriller The Chronicles of Evil. Lookin' good.
Woohoo, Park Jung-min! He's such a great actor with range, from dark and hateful in Bleak Night to hilarious and dorky in You're All Surrounded. I'm happy for his win, and I hope it leads to many more projects.
Fellow newbie Park So-dam took home a trophy for New Actress, for her turn in The Priests (I love everybody in that cast, but I'm way too much of a fraidy cat to watch this movie). She's really the super-rookie of the year, with supporting roles in Veteran, The Throne, The Silenced, and leading roles in upcoming dramas Cinderella and the Four Knights and Beautiful Mind, all in the span of two years. Her dress isn't anything great, but she looks young and fresh and bridal, which is kind of the standard young actress uniform.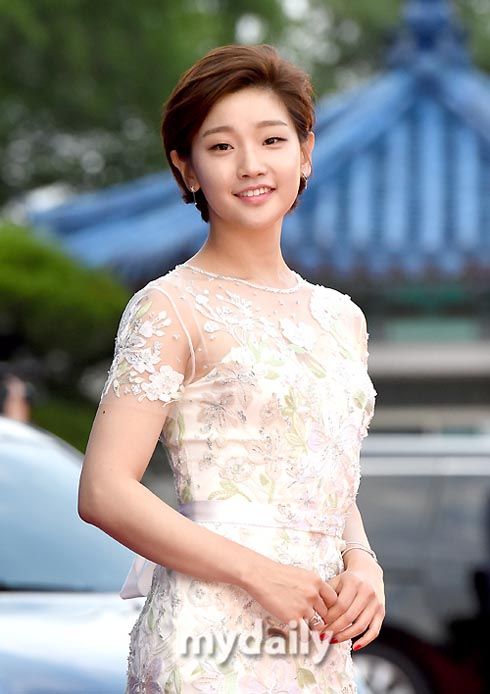 It would've been a travesty if Ra Mi-ran had walked away without a single trophy. She was nominated for both Answer Me 1988 and The Himalayas, and took home a supporting actress award in the film section. I like the all-white look on her with the jacket and the silver shoes, though I kind of wish the dress were floor-length and super fitted.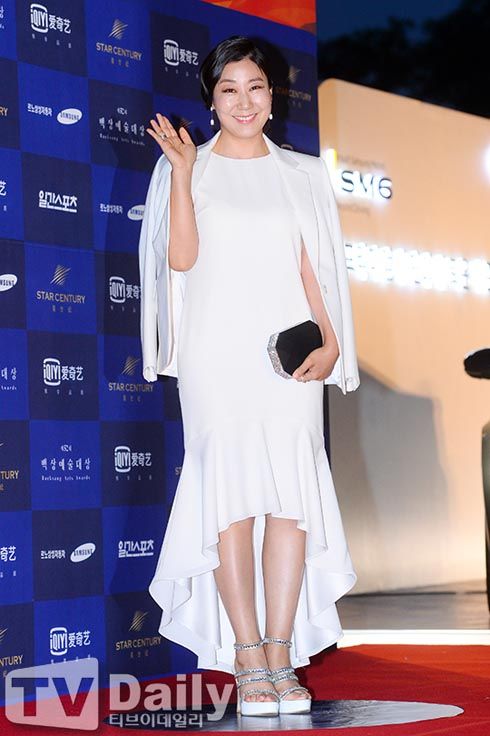 Baek Yoon-shik was nominated for best actor for the thriller Inside Men, and marches down the red carpet energetically.
Bae Sung-woo, who was also in Inside Men, and was nominated in the supporting actor category for Office.
This is a great look on Eom Ji-won, who was nominated as a supporting actress for The Silenced. The dress makes her look youthful and sexy, and it even looks comfortable to wear.
Jang Young-nam was also nominated for her supporting role in The Classified File, and was also in Haeohwa: Love, Lies this past year. I love that she wore something pink and flowery; it's lovely on her, even though I have no idea how she's breathing in that dress. Maybe breathing is for private places like the restroom and the car.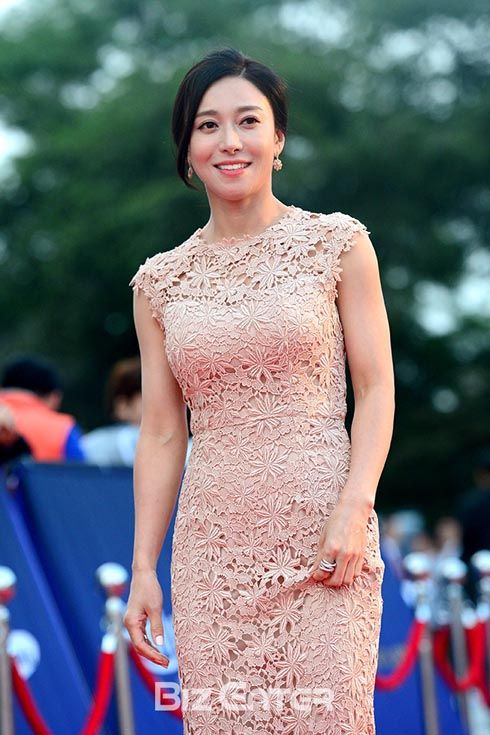 Lee Jung-hyun is having a great run this awards season with Alice in Earnestland, which got her a Best Actress nomination. I don't like her dress, which is literally a plain wedding dress with a green bow added, but I like her flippy hair.
Meh, another boring bridal look. This one's worse because of the severe makeup and center-parted hair. I wish Jung Ha-dam looked happier in the photos; I mean, she did get nominated as a New Actress for Steel Flower.
Kwon So-hyun was also nominated in the New Actress category for Madonna. The fit isn't great, but I'm so happy about the splash of color that her dress makes me smile.
Ryu Hyun-kyung was nominated for her supporting role in Office, and was also in You Call It Passion. The teal is lovely and so is the chiffon. I don't think it's the best neckline for her, but she looks pretty.
I still think of Tae In-ho as his evil manager character in Misaeng, but he picked up a New Actor nomination for his film Shadow Island. He looks less evil in real life, though kind of robotic on the red carpet. But that's the endearing appeal of newbies.
Aw, D.O. (Do Kyung-soo) looks pretty adorable in a three-piece tux. He's another monster rookie to watch out for, and tonight he went home with a popularity award for his sweet first love romance Unforgettable.
His Unforgettable co-star Kim So-hyun has my favorite dress of the night. I love the unbalanced two-piece, with the ankle-length billowy skirt and cropped top. She looks flawless head-to-toe, from sleek ponytail to the jeweled shoes. It's fresh and modern and sophisticated, and I CAN'T BELIEVE SHE'S SEVENTEEN.
Via Joongang
RELATED POSTS
Tags: awards, Baek Yoon-shik, D.O., Eom Ji-won, Go Ah-sung, Han Hyo-joo, Im Shi-wan, Jang Young-nam, Jeon Do-yeon, Kim So-hyun, Park Jung-min, Park Seo-joon, Park So-dam, Ra Mi-ran, Ryu Hyun-kyung, Shin Dong-yup, Suzy