My Fair Lady: Episode 10
Another enjoyable episode, although I have to admit it didn't top Episode 9 for me. Still, the drama is starting to feel solid, and although it comes a little late for my liking, I'm finally at a point where I'm rewatching episodes and getting emotionally invested.
SONG OF THE DAY
Kim Yoon-ah – "Girl Talk." Kim Yoon-ah, singer of rock band Jaurim, is awesome and this song makes me think of Tori Amos, who is also awesome. [ Download ]
Audio clip: Adobe Flash Player (version 9 or above) is required to play this audio clip. Download the latest version here. You also need to have JavaScript enabled in your browser.
First, a note on the terminology:
Dong-chan's former profession, a jebi [제비], is most often translated as "gigolo," but I think that word is too strong. (It's sometimes translated as "player," which is too mild.) A gigolo in English refers to a male prostitute, and is a pretty straightforward sex-for-money relationship. But jebi doesn't translate directly to English; he's more like a man at a host bar, who flatters rich women and accepts money.
(It's like that blurry area with being an escort, some of whom are prostitutes and some of whom provide services that aren't sexual but more social. And similarly, there are different classes of bar hosts and jebis, the highest tier of whom often make quite a lot of money.) A jebi's female counterpart is not as much "sex worker" as it is "gold digger." If that helps.
As for his current profession, he is a jibsa [집사], which can be translated as "butler" or "manservant," both of which I feel are awkward terms and not exact translations. A jibsa is more like a household manager or steward, but those are somewhat clunky to use in conversation ("I'm your household manager! I will continue to be your household manager!"). That's why I sometimes use the word "attendant," because in an emotional moment (as in this episode), it just seems silly to use the word "butler" when a jibsa is more than that. Also, Dong-chan is her su-haeng jibsa, or her personal, private steward. (The trio of pretty boys are regular jibsas.)
The drama attempted a bit of a pun by also making Dong-chan a jibsa at church — in church terminology, it means deacon. They haven't really done much with the church jibsa bit, though.
EPISODE 10 RECAP
Hae-na steps back from the hug first and starts to walk away. Dong-chan grabs her arm and suggests they go home, and drives back in silence.
As Hae-na broods alone, she ignores her phone, which causes Tae-yoon to worry because he can't get in touch with her.
In the morning, she hears that Dong-chan left early to go somewhere, and wonders where. He received permission to leave but hasn't told anybody his plans.
Eui-joo is still steaming over Hae-na's rudeness at lunch the day before, so she tags along on a flower delivery in order to have a word with her. Now that Hae-na knows the full truth, Eui-joo speaks openly and asks if Hae-na's harsh words the day before were to make Dong-chan feel bad about his former profession.
Eui-joo asks with some indignation, "Do you know why he had to live like that? Of course you don't. If you knew, you wouldn't have spoken like that."
Eui-joo: "Yes, he was a jebi, but that was because he had no choice — it was for his mother's hospital bills. He wanted to do whatever he could to save her. Yes, working for you intending to seduce you was wrong. But to be blunt, what did he do to you that was so bad? Did he hurt you, or seduce you and prevent you from dating someone else? Did he ask you for money? He didn't do any of that. He was treated badly but he looked after you and took your side. He was so good to you that it drove me crazy watching from the sidelines. What did he do that was so bad that you had to talk like that? What crime did he commit that you looked down on him and harassed him so much? I'm going to be very clear — you can't treat Dong-chan like that. So don't look down on him. And please, don't live like that either."
All throughout Eui-joo's speech, Hae-na's expression grows more troubled and contrite as she realizes she had judged Dong-chan unfairly.
Tae-yoon arrives to check on Hae-na, having grown concerned at her lack of response. He sees Eui-joo leaving and wonders what that was about.
Dong-chan, meanwhile, has traveled to his mother's mountainside grave. Fiddling with Hae-na's sparkly hair ornament (I called it!), he talks to his mother and sighs, "I don't know why I live like this either, but I really care for her. A lot."
That evening, Hae-na waits for him to come home anxiously, now that she knows the full story.
Dong-chan starts by apologizing for the previous night, but Hae-na takes the lead and admits that she's really glad to have him working for her. She may have given him a hard time, but she liked hearing him say, "Because I'm your attendant." She apologizes for treating him meanly: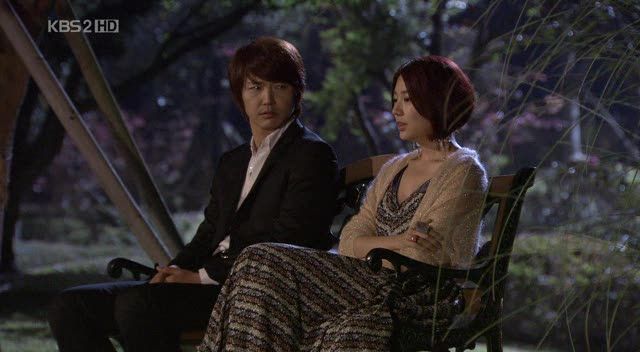 Hae-na: "But I really trusted you. I believed that everything you said and did for me was sincere. I think I felt so betrayed because of how much I trusted you. It's okay, that doesn't matter — but now, I'm afraid. Is it okay for me to trust you? Will I be able to trust in you again?"
I think Dong-chan realizes in this scene that the worst part of everything isn't that he betrayed Hae-na by lying — it's actually worse that he affected her so deeply that now she has trouble trusting in people.
Dong-chan: "You asked if I was hiding anything from you, and if I was, to tell you the truth. But I didn't want to tell you. Even if everyone else found out, I didn't want you to know who I was. And that's because…"
Here, he falters for a moment. Hae-na waits, and then snaps her eyes to his face at his next line:
"Because… I had feelings for you. That's why I quit before, and why I turned you down when you told me to come back. But now my reason for staying by you is to pay back my debt for approaching you with bad intentions. And I've stopped the feelings had for you, so you don't have to worry. You can believe that."
Dong-chan excuses himself, leaving Hae-na sitting bewildered. (Ah, isn't timing a bitch? Just when Hae-na seems to be warming to the prospect of liking Dong-chan, he tells her he's over her.)
Tae-yoon can't shake his twinges of doubt, so he requests a meeting with Eui-joo, and asks if there's something going on between Hae-na and Dong-chan that he doesn't know. He admits overhearing a bit of her conversation with Hae-na yesterday, and it seemed to be centered on Dong-chan.
Eui-joo denies that there's anything, but guesses, "You don't like him being around her, do you? I don't like it either." She suggests that there's one solution that would solve both of their problems — if Tae-yoon marries Hae-na. Since they'll probably marry in the end anyway, why not sooner than later? Tae-yoon is taken aback, not having thought that far ahead.
Dong-chan requests a favor of Eui-joo, handing her a flash drive. He suspects that Su-ah stole Hae-na's files and swapped out the images, and asks her to take a look around. Eui-joo agrees to help, but deflates to realize that this is another thing he's doing out of concern for Hae-na, and says that she envies her — not for Hae-na's money or lifestyle, but for the way Dong-chan looks after her as jibsa.
As work winds to a close, Dong-chan suggests going out for soju, and he and Hae-na end up at a pojangmacha. All day, Hae-na has been shooting him sidelong glances and acting awkward around Dong-chan, so he asks if she's uncomfortable because he confessed that he liked her.
Hae-na admits that she does feel uncomfortable, but for another reason — Dong-chan is no longer the person he used to be. He's different in her eyes. But she just needs time to get used to him, and to learn the things about him that she doesn't know.
She asks why he Dong-chan became a jebi to begin with, and he answers vaguely, "I was just a bad guy. I was immature and had no money, and wanted to live easily — why else would I live like that?" (Again she gives him a chance to be honest with her, but this time she's not upset at his response because he's declining to make excuses for himself.)
Hae-na wonders, "Why don't you say that it's because of your mother?" Dong-chan is dismayed that she knows about that, but answers philosophically, "Telling you that doesn't turn my mistakes into good deeds."
As they leave the pojangmacha, she announces, "I think it was a good thing, learning all about you." She recalls how Dong-chan had once said that the beginning is important in all relationships, and holds out a hand: "Let's start over, like we're meeting for the first time."
They shake hands.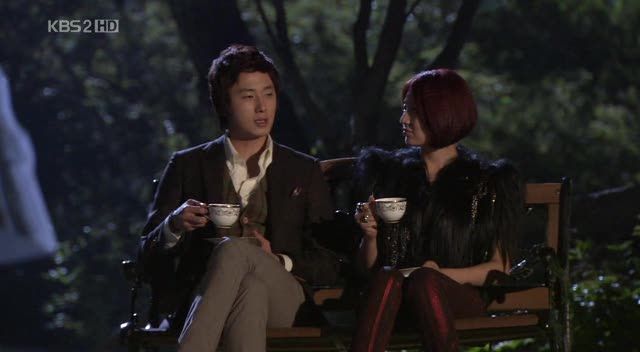 By the time they arrive home, a bit of their old camaraderie has returned, which immediately kills Tae-yoon's smile. He'd been outside the house eagerly awaiting Hae-na's return, but now he turns pensive.
He has patched things up with his brother (or rather, their business stand-off has been resolved), and wanted to tell Hae-na about it. Not noticing that his spirits dim whenever Dong-chan is mentioned, Hae-na happily congratulates him and says that he should have joined her and Dong-chan for drinks.
Dong-chan approaches with the phone for Hae-na — it's Grandpa Kang — and Hae-na steps aside to answer the call. While it's just the two men together, Tae-yoon asks whether Dong-chan regularly drinks with Hae-na. There's a hint of censure in his voice, which Dong-chan understands, and he apologizes.
Tae-yoon tells him, "I think you're a good person, and someone that Hae-na needs. Please don't make me change my mind."
In anticipation of her biking date with Tae-yoon, Hae-na prepares lunch at Dong-chan's prodding. As they roll the kimbap, she asks when he's going to use her birthday coupon, pointing out that there's an expiration date. She also reminds him that he'd offered her a wish, which she'll be claiming at some point.
She invites Dong-chan to join them in bike-riding if he's not busy, and tries to hide her disappointment when he says he has a "date" with Eui-joo.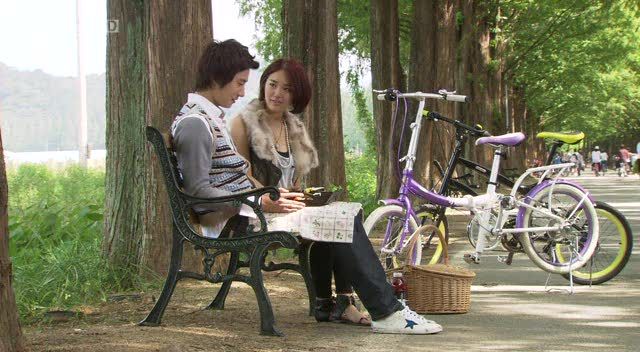 Tae-yoon is impressed and pleased with Hae-na's kimbap offering — until, of course, she says that she learned how to make kimbap from Dong-chan. He keeps his voice light but we know his meaning when he says, "You've learned to ride bikes and make kimbap from Seo Dong-chan — I guess you can't be without him."
Hae-na wonders what he means, and he asks, "Do you absolutely need a butler? Other people live fine without them."
Hae-na asks whether it's Dong-chan making him feel uneasy, or her lifestyle. He answers honestly, "I suppose it's both."
She understands how Tae-yoon feels, but explains that Dong-chan has helped them considerably. Without his intervention and assistance, they might not even have ended up dating. So considering the circumstances, could he think of Dong-chan in a thankful light instead?
When Dong-chan meets Eui-joo, he announces that he will be her attendant for the day, reminding her how she envied Hae-na for having a jibsa. Well, today he will look after her and act as her own jibsa.
Eui-joo is touched, and goes along as he insists upon buying her a pretty dress. They follow that with some street browsing, enjoying the day.
A bit hesitantly, Eui-joo broaches the topic of Hae-na: Does he ever get tired of always looking after Hae-na, of being stuck in his one-sided love? He admits that it's hard, "So I'm trying to get over it, but it's not easy. Is it harder to see her and feel pain, or to not see her and miss her? I don't know."
Hearing this hurts Eui-joo, who is cursed with being seen as "just like a sister" when she wishes he'd see her as a woman. It's particularly painful to hear him be so generous with Hae-na, admitting that he doesn't even hope for Hae-na to understand him.
Eui-joo warns him harshly, "Forget her. No matter what, you have to forget her." She stalks off angrily, crying in her taxi while Dong-chan sits and broods.
When Tae-yoon drops Hae-na off back at home after their date, his mood has lightened. He even takes back his comment questioning whether she needs a personal attendant, and promises to try his best to come to terms with her life as it is. However, he adds with a smile, if they were to potentially get married, "Then you have to come alone, not with your jibsa." (Hae-na isn't necessarily averse to the suggestion, but she says that it's a little early for that line of thinking.)
After Tae-yoon leaves, Dong-chan comes walking up the driveway into Hae-na's line of view. But before he sees her, a taxi pulls up to the house, and Eui-joo steps out, beelining for Dong-chan.
Eui-joo hugs Dong-chan and tearfully apologizes for speaking so harshly to him. He's just relieved that her problem is so minor: "Dummy, you came all this way just to tell me that?" He assures her that he wasn't hurt, and tells her not to worry.
He's about to dismiss her, but Eui-joo hangs there, working up the nerve to say something. He looks at her questioningly, and she musters her courage — and kisses him. (Hae-na watches in alarm, then tries to look away.)
As Eui-joo pulls away, Dong-chan's reaction is so stunned that he doesn't know what to say. She tells him, "I really like you a lot. For a really long time, I've only liked you."
Having said her piece, Eui-joo turns and leaves. It's only now that Dong-chan looks up to see Hae-na watching. Hurriedly, she assures him, "I didn't see anything! Really!"
However, Hae-na is distracted for the rest of the night, and in the morning she and Dong-chan face each other with awkwardness. This doesn't last long, however, because Grandpa Kang has returned from the States, and Hae-na rushes to welcome him home after his successful surgery.
Grandpa wastes no time getting back into the swing of things: He states his intention to formally announce Hae-na as Kang San's successor at the upcoming company anniversary party. This is unwelcome news to both Hae-na and Chul-gu — the former because she's not ready, and the latter because he's determined to claim that spot for himself.
Chul-gu tells his family that he has a plan. Mr. Jang senses the same thing and worries over Chul-gu's potential move, admitting to the housekeeper that the chairman couldn't get surgery for his advanced condition. He makes her promise to keep the truth a secret from Hae-na, and estimates that the chairman may survive the fall, but probably will not live through winter.
Hae-na confides to Dong-chan that she's not up to being the successor, nor does she want to do it. He responds by saying that people can't all do things they want: "However much we dislike doing things, if we work hard, we can learn from them."
He assures her that she's capable, but teases that she has a few flaws she'll need to correct first. Like talking rudely to people and threatening violence. Hae-na mock-complains that he's being a nag, and he answers, "It's because I'm your attendant… at least until this weekend." (The comment makes both of them sad, but that's what they'd agreed upon…)
Meanwhile, Tae-yoon shops for rings. (Despite the mentions of marriage in this episode, it looks like couple rings, although I leave open the possibility of being wrong.)
And now for the anniversary party, which is the company's largest event of the year. The staff prepares, fancy guests arrive, and Hae-na prepares for the big announcement while battling her nerves.
Also battling nerves is Eui-joo, who arrives intent on telling Dong-chan that she wants to date officially. She works up her nerve as she waits, then spots Dong-chan heading toward the house.
He heads back to accompany Hae-na, a bit awed at how especially lovely she looks today. Hae-na (of course!) stumbles on a stair and lands squarely in Dong-chan's arms, which is a cute move, if only we hadn't seen this multiple times already…
He escorts her to the prep room, where she nervously practices her speech.
In her anxiety, Hae-na drops her water glass and cuts her finger on a shard, which Dong-chan wraps with a handkerchief. He gives her a pep talk, urging her on with his favorite bit of encouragement: "After all, you're Kang Hae-na."
The words have their calming effect on Hae-na, but the opposite effect on Eui-joo, who has arrived in time to witness this cozy scene. She feels the sting of Dong-chan's gentle attentiveness to Hae-na, and turns away bitterly, remaining unseen by the couple.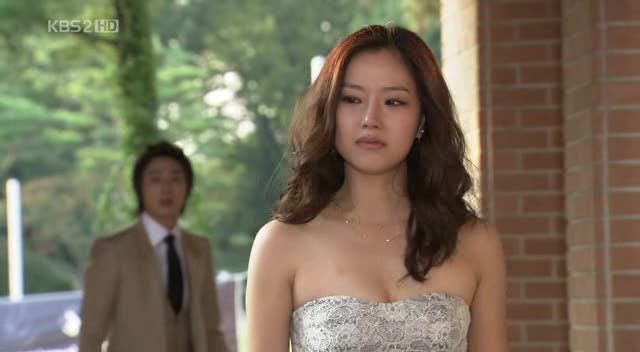 She doesn't escape the notice of Tae-yoon, however, who arrives just as Eui-joo walks rapidly away. He calls out to her, sees her stricken face, and looks at her in concern.
Eui-joo hesitates for a moment, then makes up her mind as she faces Tae-yoon: "How much do you know about Dong-chan?" She's ready to answer Tae-yoon's question about what's going on between Dong-chan and Hae-na.
Just about to head outside, Hae-an first tells Dong-chan that she's decided on how she wants to claim her one wish. If her speech goes well today, he has to grant it to her.
She plans to tell him the wish afterward, but Dong-chan wants to know what it is now. Hae-na stammers a little, then says, "Don't leave. Grandfather has returned, but don't leave. Stay with me — that's my wish."

COMMENTS
I know there have been a lot of comments dissatisfied with Eui-joo. I have to say that I understand those complaints, even though I don't have the same problem with her character. To me, Eui-joo is refreshingly likable for being a second female lead — recall the heyday of Hallyu trendy dramas where the second female lead always got clingier, angrier, crazier, and irrational-er as the drama wore on. Often they were caricatures, not real people, but thankfully the more recent trendies have given dimension to this oft-overlooked role.
Eui-joo is stuck in that limbo that women often find themselves in, that "He's just not that into you" purgatory. The outsider can see that yeah, the guy isn't into her in "that way," but he treats her so well and there are confusing moments where it's understandable that she'd get her hopes up. Dong-chan's affectionate with her, huggy, considerate, and protective. He brushes her hair aside, wipes her tears, and calls their meet-up a "date." Her disappointment is understandable.
So when she's reminded of his actual feelings for Hae-na, it's a rude crash back to earth for her, and that makes her angry. She's probably angry with herself more than anyone, but of course that gets channeled outward and causes her to lash out at Dong-chan defensively. I think she's relatable and realistic, so she rings true as a character in a way that, say, Tae-yoon doesn't. (He's getting better recently with the jealousy, though.)

RELATED POSTS
Tags: Jung Il-woo, Moon Chae-won, My Fair Lady, Yoon Eun-hye, Yoon Sang-hyun