Sungkyunkwan Scandal: Episode 18
Dear beloved readers,
I want to address the issue of there possibly being a second season to SKK Scandal. I, for one, am against the idea. Don't get me wrong, I would love to see more of our Jal-geum Quartet, as well as the other wonderful characters of this gem of a drama. But I feel the intensity and dramatic oomph of the first season would be lost – unless the focus were switched entirely to, say, Jae-shin or Yong-ha and away from Yoon-hee and Sun-joon. Or if the series were made into more fluff. Either way, I think the series would lose some of its charm. Besides, most sequels tend to, err, flop.
If there is to be a continuation of some sort, I vote for a movie. That would keep the narrative tight as well as retain the essence of the series. Anyone want to start a petition with me?
Love, red pill
PS. I know the above picture is kind of random, but for some reason I am in love with that shot. Maybe it's the lighting, maybe it's the chess pieces that are all in disarray, or maybe it's that that hand belongs to Jae-shin. All in all, it's beautiful.
SONG OF THE DAY
임재범 (Im Jae-bum) feat. 윤하 (Younha) – 사랑에 아파한 날들 (The Days We Spent Hurting Over Love) [download]
Audio clip: Adobe Flash Player (version 9 or above) is required to play this audio clip. Download the latest version here. You also need to have JavaScript enabled in your browser.
LESSON 18 RECAP
As the wonderful gat (hat) kiss becomes a distant memory in the matter of mere seconds, Yoon-hee and Sun-joon walk into the secret hideout completely stunned. Sun-joon's father is the mastermind behind the murders that happened ten years ago?
With his faith in his father on the line, Sun-joon takes on the task of finding out who the real owner of the land deed was. If his father is indeed the mastermind, then he should be the one to find out.
Yong-ha joins Jae-shin, who has already turned to the comforts of alcohol. Our nearly omniscient Yeo-rim astutely guesses that Jae-shin was willing to set aside the investigation for Yoon-hee's sake – to save her from the heartache that she'll have to endure if Sun-joon's father is indeed the culprit. But what Yong-ha didn't realize before (and Jae-shin did) is that Yoon-hee, too, loves Sun-joon. That complicates everything.
In true Sun-joon fashion, he goes directly to his father with the land deed. The supposed owner Baek Dong-su was the Lee family's butler – which means the true owner was Minister Lee. So why was the deed used to bribe a police officer ten years ago?
Here we get a peek into Minister Lee's political philosophy: Protecting the nation comes first and foremost, even above filial piety. Sometimes that leads to father and son becoming enemies, such as in the case of the late King Yeong-jo and the late Crown Prince Sado. What he fears is not the contents of the geumdeungjisa but the consequences of its reveal: the political sovereignty will be at the hands of a grieving son, and if swayed by foolhardy emotions like regret and grief, inevitably there will be more bloodshed and political unrest.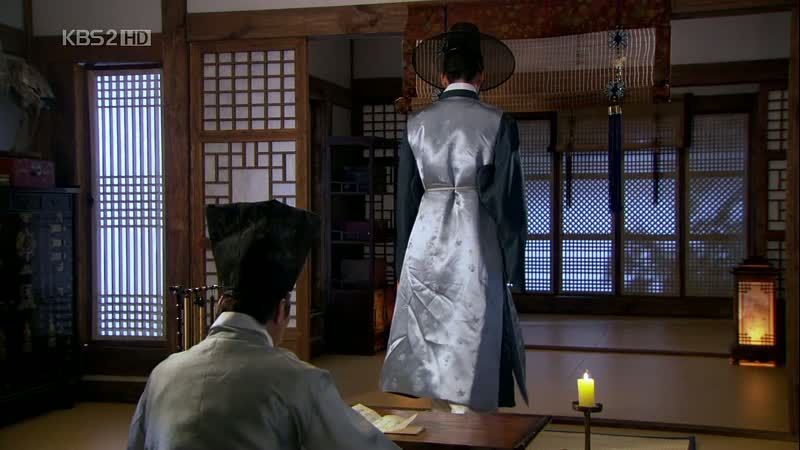 And if Sun-joon is swayed by the emotions of his youth, he could ruin the Lee family. Is that why, Sun-joon questions with brimming tears, his father sacrificed the late Professor Kim Seung-hun and the late Moon Young-shin and destroyed the geumdeungjisa?
No, his father denies, but Sun-joon is no longer so naïve to blindly believe his father; the land deed is glaring evidence that his father was involved.
Probably for the first time in their lives, Sun-joon turns his back (literally and figuratively) on his father. "Did you say that father and son can become enemies for the sake of the right path? From now on, I plan to be your enemy."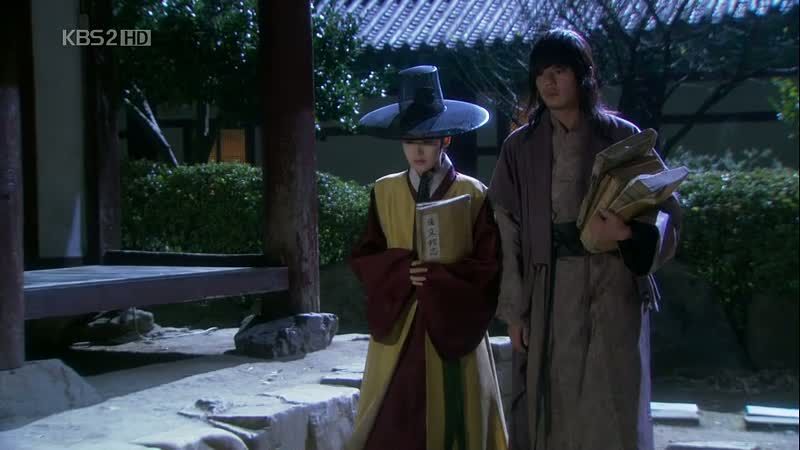 Jae-shin finds Yoon-hee burying herself among books in the school library and convinces her to call it a night ("If you read books and don't sleep enough, you won't grow tall") and walks her to the room.
She's all nervous energy, but he wants her to take things slow. In order not to intrude, he'll be spending the night with Yong-ha (wipe those naughty thoughts from your minds!).
She seeks reassurance from him, asking if he thinks it's true about Sun-joon's father. He offers her the best comfort he can at the moment: "Don't worry about it. We'll find out when Sun-joon comes back."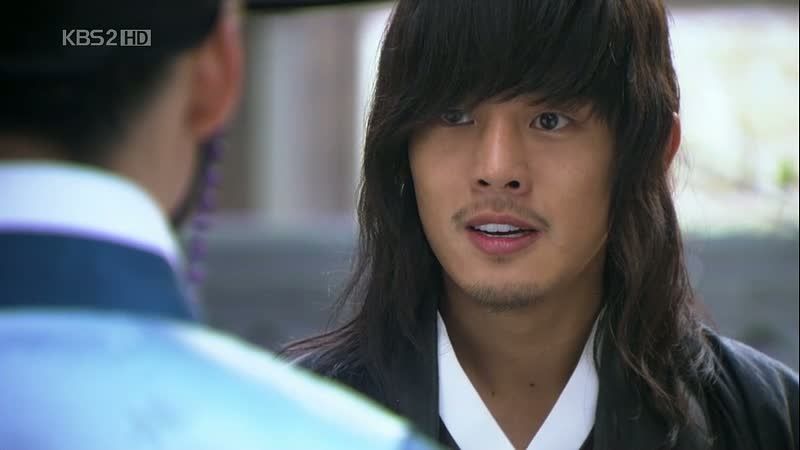 The following morning, Jae-shin is waiting outside the hideout for Sun-joon. Jae-shin tells Sun-joon to lie about the land deed; their secret mission is to find the geumdeungjisa, not to find out who was behind the murders. But Sun-joon points out that since they haven't solved the riddle of the secret letter, finding the mastermind may very well be their only clue to finding the geumdeungjisa. Besides, hasn't Jae-shin been looking for the murderer?
Jae-shin: Yes, I have – and I always said that hiding the truth is a cowardly act, I absolutely detested it – yet, I'm saying I'll bury the truth. So if you're gonna show off, wanting to be honest, just and honorable, then don't.
Sun-joon: Sa-hyung.
Jae-shin: People become cowards when they have someone they want to protect. Isn't that who Kim Yoon-shik is to you?
Jae-shin claims that Yoon-hee won't be able to forgive him if he tells her the truth, but Sun-joon knows that true repentance comes before forgiveness. And it's not just Yoon-hee that Sun-joon needs to ask forgiveness – there's also Jae-shin.
Sun-joon promises to try his hardest to make sure Yoon-hee doesn't get hurt.
So Sun-joon tells Yoon-hee the truth as he knows it. It's heartbreaking: Sun-joon explains that he thought it best if she knew, and Yoon-hee distractedly gathers her books and tries to leave. When he stops her, she says that asking her to listen to him any longer is too cruel.
Sun-joon chases her outside, wanting to beg forgiveness in his father's stead. If he can't be forgiven, he'd have to accept that as well, but if she'll allow him to stay, he'll do his hardest to set things right by finding the geumdeungjisa.
But things can't be set right because finding the geumdeungjisa won't change anything in Yoon-hee's world. She leaves, saying that she needs time to think, and this time Sun-joon is unable to stop her. Fortunately for him, Yong-ha and Jae-shin are there for him.
At Moran-gak, Minister Ha throws a stringful of money at Yoon Cham-gun, enough to convince him to go into hiding. They seem unconcerned that Cho-sun is hearing every word, which isn't surprising considering that gisaeng houses were known to host many a political tryst since gisaengs were (usually) deaf and dumb to political affairs.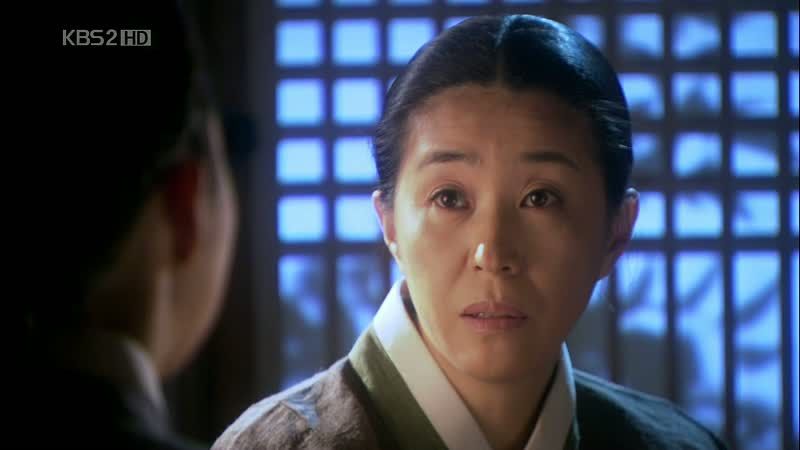 Back home, Yoon-hee asks her mother for the truth about her father's death. But her mother doesn't want her to fight against the world; the world always tries to crush those who rebel against it. That's what happened to Yoon-hee's father, and she doesn't want the same to happen to Yoon-hee. But Yoon-hee picks up on the unspoken confirmation that her father's death was wrongful, enough to make Yoon-hee resent and want to fight the world.
Yoon-hee laments that her mother didn't tell her sooner, before she ever met Lee Sun-joon and fell in love with him.
Yoon-hee: What kind of person do you think Father was? Yoon-shik, always when I thought of him, a cold wind blew through my heart. Father used to sit you on his knee and read to you, and my place was outside the door. So when I thought of him, I didn't remember his face. I'd remember the shadow I'd see from outside the door.
Yoon-shik: Sis, you didn't know? Father always sat near the door, reading as loud as he could. He read books that I was too young to understand. He wasn't reading to me, he was reading to you outside the door. You didn't know that all this time?
Kim Seung-hun: (from his lecture notes) To watch my daughter advance in her studies is a painful thing. If I were her teacher, I would have wanted to teach her. But is it right to teach her to have aspirations in a world where she cannot fulfill them? I am a foolish father who cannot provide any opportunities to his talented daughter. I listen with abated breath as my daughter reads aloud, and today, once more, I weep deep inside my heart.
And red pill is reduced to a babbling puddle of tears. Father-daughter moments always kill me.
Yoon-hee takes her father's lecture notes to Professor Jung with questions to ask. If her father wrote a secret letter, doesn't that mean he suspected that someone would try to kill him to take away the geumdeungjisa?
Yes, but her father undertook the danger and risk because he believed the geumdeungjisa to be the key to the new world of King Jeong-jo's dreams. The one hope he was willing to sacrifice his life to realize was to give his talented daughter a world in which she has more opportunities.
Having gained some insight into her father's thoughts, Yoon-hee figures out part of the riddle: the geumdeungjisa is at SKK. Two lines they thought were hints were actually part of an acrostic saying that spell out "sungkyun" and the original meaning behind the Sungkyun part of the school's name ("sung" for "complete the nation through its talented people" and "kyun" for "reform the customs").
So now they need to find the place within SKK to which education leads and which marks the beginning of the nation. Which means they need maps of the SKK campus.
In the school library, short Yoon-hee is unable to reach the maps on the top shelf, and Sun-joon gets them down for her. In the process, he notices that she's no longer wearing the couple ring. Heartbreaking. (I have a sneaking suspicion I'll be saying that word several more times before this recap is over.)
Now that she realizes that she's misunderstood her father all these years, she wants to know why he wanted to protect the geumdeungjisa. This might be the first and last time she'll truly understand him.
Sun-joon wipes away her tears, knowing that she's trying so desperately to explain to him why she has to do this. He fully understands and promises to help her find the geumdeungjisa.
It's painful and heartbreaking, but I love how even in this moment, you can feel the true friendship that originally bonded these two.
Minister Ha stops by to reassure Minister Lee that Yoon Cham-gun's lips have been sealed. Minister Lee turns the subject to the geumdeungjisa. Now that he knows his son is involved (as well as other SKK students), what better way to keep an eye on his prodigal son than by using In-soo?
Minister Ha isn't the complete idiot I thought he was, successfully guessing that Sun-joon is one of the SKK students looking for the geumdeungjisa. But then he overturns my thoughts again by foolishly bringing up the marriage issue.
Minister Lee blames Minister Ha for ruining everything, and he says curtly and with finality that their children will never marry. Huzzah!
Minister Ha is pissed off, and in the typical subordinate-turns-on-superior scenario, he gripes that he's the one who helped Minister Lee into a position of power. He vows to show Minister Lee just what he's capable of doing. And he'll start by catching the person who caused the ends to unfurl.
For that, he'll need Cho-sun. She starts to protest but they're interrupted by In-soo.
(Cho-sun, you will redeem yourself in some way, won't you?)
Sun-joon ditches the books and actually does legwork to find Yoon Cham-gun. He scours Yoon's house and what seem to be Yoon's usual haunts, but finds nothing and ends up late in meeting with the other three.
Jae-shin suggests waiting a bit longer; after all, Sun-joon's not one to break his promises. But Yong-ha bitterly points out that any human being would break this promise; it's not easy for a son to try and prove his father's guilt.
Meanwhile In-soo begins tracking the Quartet's movements, particularly what they're researching and reading up on.
Since the hints point to education, the remaining three members of the Quartet start looking into places related to studying, such as the lecture hall, the library and the examination room. But they mustn't forget the other hint (the start of a nation), as Jae-shin points out. He interprets this to mean civilization and connects that to ancestral tablets (in relation to founding fathers, I think). There are such tablets in all three places mentioned, so they start looking, but they find nothing.
Yoon-hee points out that the secret letter's purpose is to help find the geumdeungjisa, not to hide it. She's determined to find the answer to her father's riddle, and she'll start back at square one.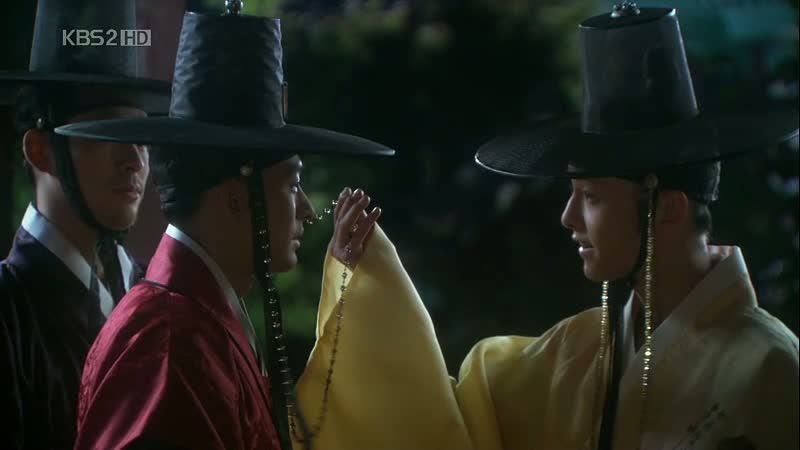 Yong-ha runs straight into In-soo and his henchmen. In-soo lets it be known that he's following their every move. Then he attacks Yong-ha's weakness once more: "You don't belong with them. You're different."
Yong-ha jumps into a fashion analogy to get a point across. Everyone knows he's the fashionista of SKK, and he's willing to share his secret with Insoo. "The more the clothes don't become you, boldly match the colors instead. Don't forget because right now, your look is very passé."
Sun-joon's search ultimately leads him to the gambling house, where he tries to get people to look at the sketch he has of Yoon Cham-gun. I don't really get why that random guy throws the first punch, but ultimately Sun-joon ends up in the middle of a brawl. And for the first time, we get to see violent Sun-joon.
Dear Sun-joon, why are you smiling as the kicks rain down on you? Physical pain does overshadow inner pain, doesn't it? Albeit briefly.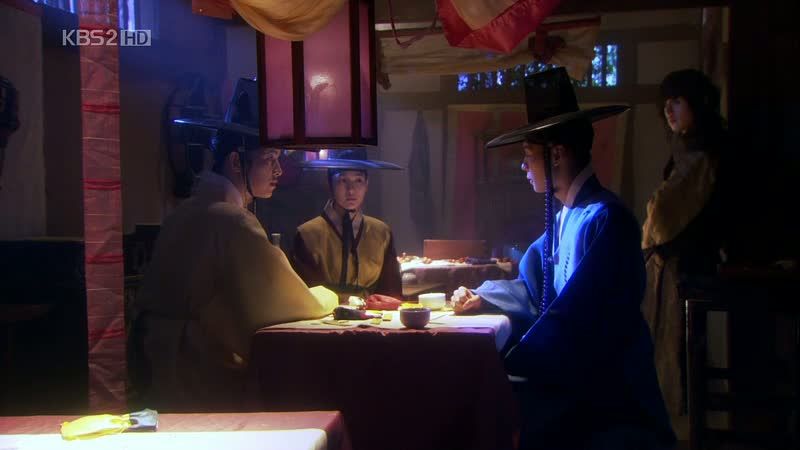 The other three hear of Sun-joon's trouble and hurry to the gambling house, where Sun-joon sits, beaten and forlorn. He looks so different from usual that Yong-ha asks seriously, "Are you the Lee Sun-joon I know?"
They find out that Sun-joon has been searching for Yoon Cham-gun. He refuses to sit around poring over a riddle and chose to get physical instead. In other words, he's acting the opposite of how he'd usually act, using his body before his brain.
Yong-ha: Did you push yourself this much because you want to find the geumdeungjisa? Or because you want to prove your father's innocence?
Sun-joon: What I want to know is the truth about that night ten years ago.
Yong-ha: Let me ask just one thing. If you find the geumdeungjisa, you might not be able to live the life you live now, as the Left State Councilor's son. Are you okay with that?
Sun-joon: No matter how I end up, it'll be better than living as the son of the criminal who stole a father and a brother from the friends I hold dear.
Unable to listen anymore, Yoon-hee leaves but Sun-joon quickly chases after her.
Yoon-hee: If you're doing this for me, stop. I hardly remember my father's face, and misunderstanding him hurt me so much. Your father means so much more to you. So stop, you can stop. I can't bear to watch you anymore.
Sun-joon: I wanted your forgiveness. In order to buy medicine for your sick brother, you dressed up as a male to find work in the marketplace in place of your father. I wanted to beg forgiveness for those cold and hungry and lonely times. Oblivious to your hard times, I was reading in a warm room, and I cannot forgive myself for that. I want to say I'm sorry. If I could, I would turn back time and give you everything that I had. So I wanted to ask you to forgive me.
Yong-ha is shocked by Sun-joon's change, astonished by Sun-joon's decision to become his father's enemy. Speaking of turning on one's father, Jae-shin knows only too well that hating one's father is a living hell.
In the palace, King Jeong-jo muses that the late Professor Kim Seung-hun's secret letter feels like a final lesson. He's quite curious to find out what the Quartet will learn by searching for the place to which education leads and where nations begin.
At the city gates, Yoon Cham-gun is leaving the city, being way too loud-mouthed and inconspicuous for someone going into hiding. Sun-joon tails him, thinking about Yong-ha's tip that someone paid Yoon a lot of moolah to have him move to the countryside.
Well, apparently that someone would prefer him dead. Fake Red Cho-sun appears, and Sun-joon shows off some decent fighting skills before Jae-shin appears out of nowhere and takes over. Turns out he was following Sun-joon, probably to make sure he doesn't get into trouble again.
Cho-sun makes a break for it, and Jae-shin gives chase. With a breathtakingly beautiful moon in the background, they engage in hand-to-hand combat. Jae-shin manages to unmask Cho-sun and confirm his suspicions before Cho-sun runs off again.
Please, Cho-sun, redeem yourself before the series ends.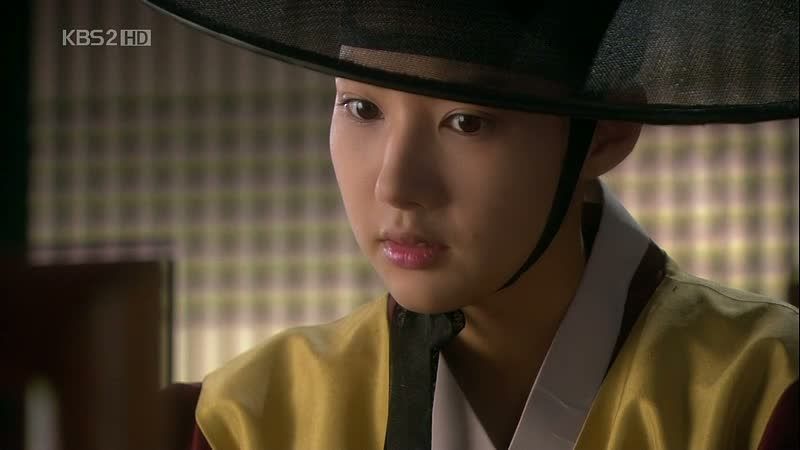 Back in the library, Yoon-hee traces the path her father must've taken when bringing the geumdeungjisa out of hiding and back into the capital. That's when she remembers Professor Jung's words that the geumdeungjisa was originally hidden at the Jongmyo Shrine (the Royal Ancestral Shrine). That's where the ancestral tablets for the past kings are – hence, where "the nation begins."
Professor Jung also told her that the late King Yeong-jo put the geumdeungjisa at Jongmyo in hopes that someday, it will help King Jeong-jo in solidifying his sovereignty. (Which fits with the second hint in that education leads to higher offices which leads to political power and ultimately, ruling power. Hence, education leads to the shrine where the past rulers are. At least I think that's the reasoning.) And so Yoon-hee concludes that the geumdeungjisa isn't at SKK, it's at Jongmyo.
She tears out the map of Jongmyo from the book and dashes off. Unfortunately, she's spotted by In-soo and his men, who quickly figure out that she tore out the page on Jongmyo.
As Yoon-hee arrives at Jongmyo, Sun-joon and Jae-shin question Yoon Cham-gun about who ordered the murders. He's awfully bold for someone who was almost killed – at least until Jae-shin fills him in that it was Cho-sun who tried to kill him. The light bulb goes on above his head and he realizes that Minister Ha wanted him dead.
Meanwhile, Yong-ha is at a local tavern doing what he does best: laying down cash in exchange for information. He successfully bribes a police officer into spilling that Yoon's been meeting Minister Ha an awful lot these days.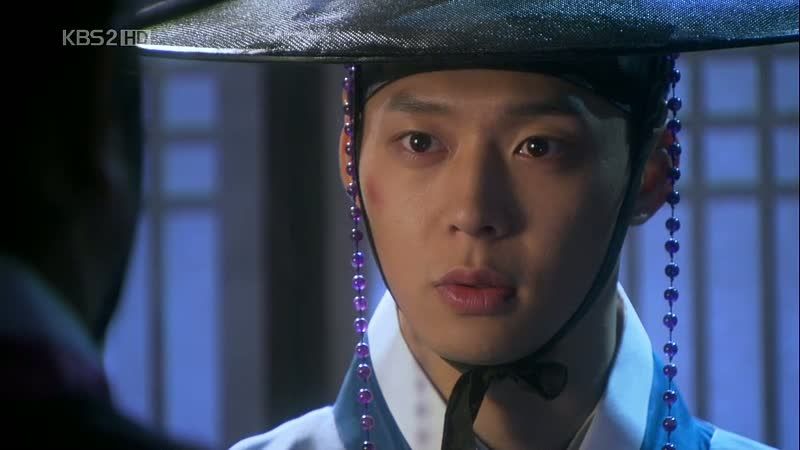 And so the truth finally comes out: It was Minister Lee who ordered Yoon to escort the late Professor Kim and Moon Young-shin that fateful night. But it was Minister Ha who tweaked the plan to include the murders. When Minister Lee found out, he realized there could be trouble and helped cover up the tracks by offering the land deed.
In other words, Sun-joon's father is NOT the mastermind. (Can I please hear a collective sigh of relief?)
Yong-ha is musing over his findings when he sees a gaggle of guards and In-soo rush by, heading in the direction of the Jongmyo Shrine.
Back at the library, Jae-shin advises Sun-joon to find Yoon-hee and tell her that his father is innocent. Jae-shin comments that things turned out well for everyone, himself included because it would be such a bother to loathe a guy like Sun-joon for the rest of his life. (Finally some Jae-shin/Sun-joon bromance?)
Feeling uneasy, Yong-ha joins them, looking for Yoon-hee. It doesn't take him long to realize that Yoon-hee, too, headed towards Jongmyo and she's in big trouble since In-soo knows the Quartet is looking for the geumdeungjisa. And by trouble, he means possible death.
The fearless (and reckless) Yoon-hee begins her search of the Jongmyo Shrine as the guards close in. In-soo and Minister Ha are willing to go full-out since this may be their last chance to get rid of the geumdeungjisa for good.
Jae-shin reminds Sun-joon of his promise that he won't let Yoon-hee get hurt before he rushes off to distract the guards. He reappears dressed in Red Messenger gear and manages to lead away at least half the guards. The rest continue on to Jongmyo.
Inside the shrine, Yoon-hee is having no luck finding the geumdeungjisa. Outside, Jae-shin is fighting way too many guards who are all armed. He ends up face-to-face with the captain of the guards, who is the better swordsman and knocks away Jae-shin's sword.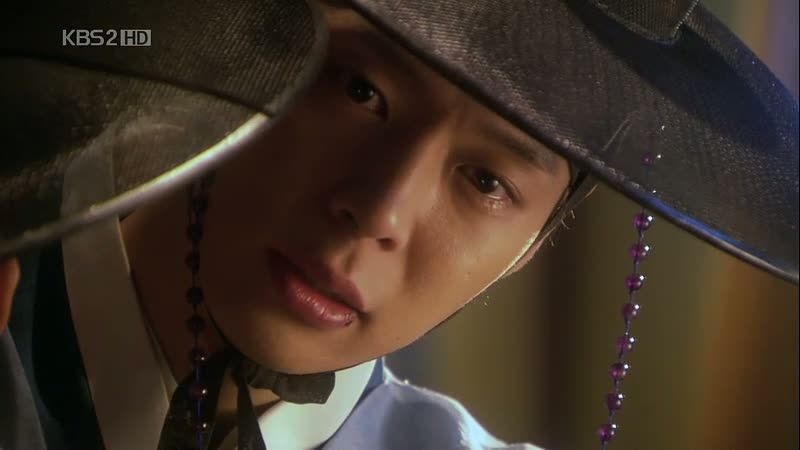 Yoon-hee freezes when she hears someone come in, but it's only Sun-joon. He's relieved to find her safe and sound and embraces her.
Just as Jae-shin is sliced across the chest. Heart… breaking… into… a million… slivers.
COMMENTS
I'll keep it short. Mostly 'cause my thoughts are in a jumble.
First, I continue to have faith about Cho-sun. I have a perpetual chant going on now: Redeem yourself, redeem yourself. It's coming, I can feel it in my bones. That aside, can I just point out that every time she comes onto the screen in her gisaeng attire, everyone else washes out of the screen for me. She's that charismatic.
Second, LOVE Sun-joon's ongoing change in personality. In a way he's becoming reckless, but I'd rather think of it as him becoming more passionate. So much that his body reacts instinctively now instead of checking and double-checking everything in his head first. And his bitter smile when he's getting beaten up – wow, that just about killed me.
Third, the angst. LOVE IT. I know a lot of people wanted more angst from Sun-joon earlier when he discovered Yoon-hee's secret, but this episode only confirmed for me that it was a good thing they downplayed that angst. Because we had this angst coming up. And this AND that would've led to angst overload. So me thinks.
I know a lot of readers out there already watched episodes 19 and 20 by the time this recap is posted, but please, PLEASE refrain from posting spoilers out of courtesy for those who haven't seen the final episodes yet. Thank you.

Darn those gats!
RELATED POSTS
Tags: featured, Micky Yoochun, Park Min-young, Song Joong-ki, Sungkyunkwan Scandal, Yoo Ah-in